This delightful Mediterranean Grain Bowl with Salmon is packed full of delicious flavors and makes a great addition to a weeknight meal plan. Plus, it is full of nutritious ingredients like sprouted lentils, farro, eggplant, zucchini, olives, and more delicious Mediterranean inspired flavors.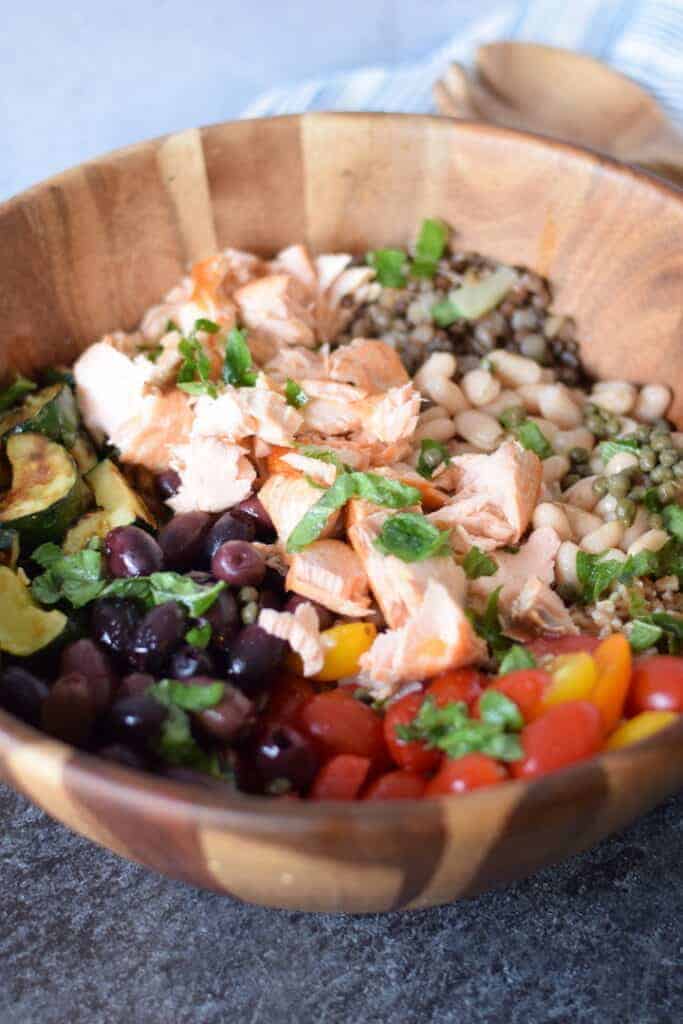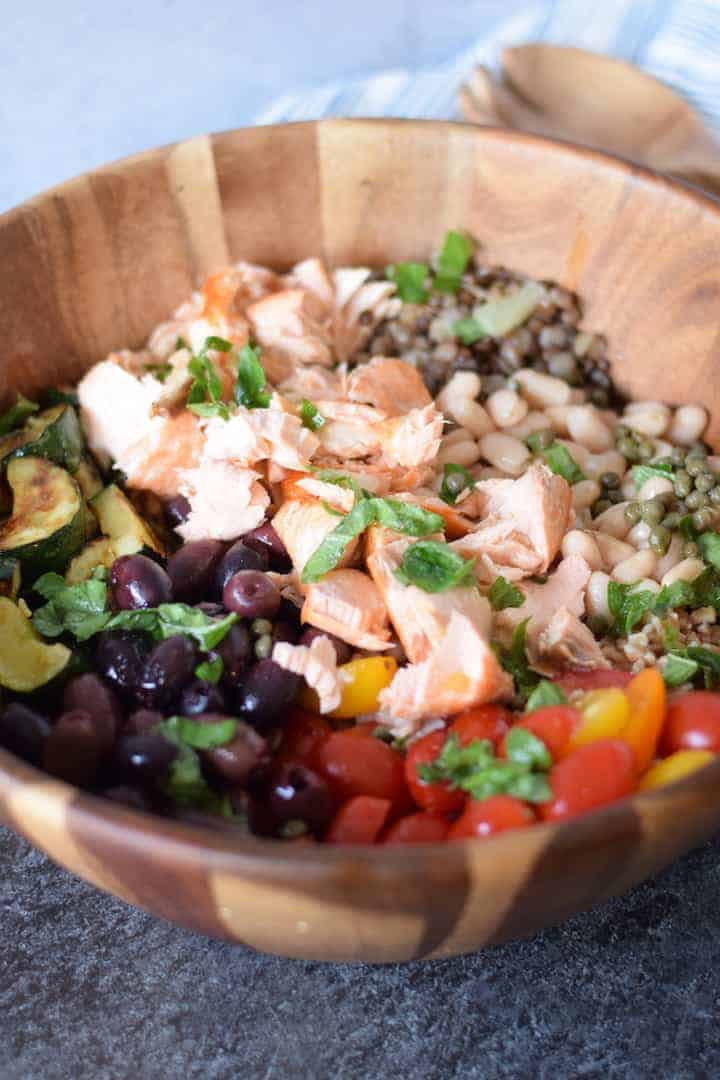 This grain bowl recipe makes a great quick weeknight meal, ready in under 30 minutes. If you're into meal prep ahead of time, it saves even more time!
As a mama of 4 little ones, I love to prep a lot of ingredients on a Saturday for my week ahead. And so I will often cook things like grains and have them ready to go ahead of time.
Making the grains ahead of time really helps make this meal easy to put together! I highly recommend doing that when meal planning.
This recipe is inspired by the Mediterranean diet food pyramid. Which is more of a healthy, well balanced lifestyle really.
Nutrient Rich Mediterranean Grain Bowl
I really love that this grain bowl is packed full of amazing healthy nutrients.
When making this recipe, I use these sprouted lentils. They contain green, brown, and black lentils. And have undergone the sprouting process already which boosts nutrients, increases vitamins and micronutrients.
Farro is an ancient grain from the Mediterranean that is high in fiber, B vitamins, iron, zinc, and magnesium. And it is a good source of antioxidants.
Here is some really good information about the benefits of Farro.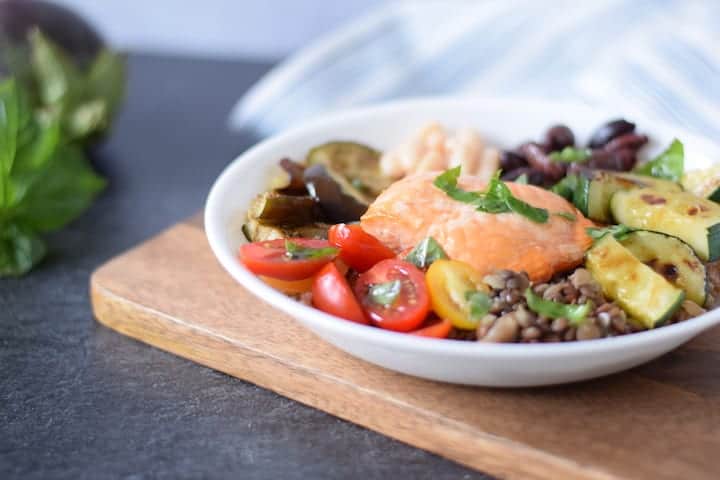 And then there's the addition of these Cannellini beans. I really like this variety of beans because they are properly soaked, the traditional way. This aids in nutrition and digestion.
For my grain bowl recipe, I use salmon which is full of Omega-3s and B vitamins.
More Mediterranean Recipes:
Mediterranean Salmon Sheet Pan Recipe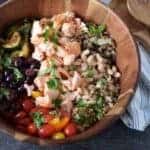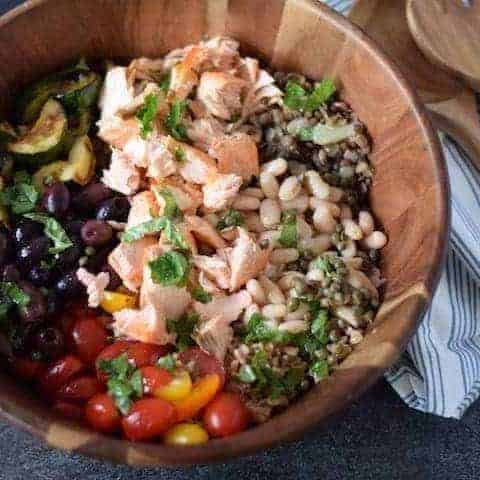 Salmon Mediterranean Grain Bowls
This Mediterranean Grain Bowl with Salmon is packed with delicious flavors and nutrients. And makes a great addition to a weeknight meal.

Ingredients
2 salmon portions 6 oz each
2 cups farro cooked
2 1/2 cups sprouted lentils cooked
1 cup cherry tomatoes halved
1/2 cup Kalamata olives
13 oz jar of Cannellini beans drained
1 1/2 cups eggplant chopped in cubes
2 cups zucchini chopped in cubes
1 tablespoon olive oil
1 tablespoon capers
Instructions
Start by preparing your farro and lentils according to package instructions.

Preheat the oven to 425 degrees F. And line a baking sheet with parchment paper. Add the salmon to the parchment paper lined baking sheet, drizzle with a little bit of olive oil to just coat the salmon and sprinkle with a pinch of salt.
Bake the salmon in the oven for about 20-22 minutes or until cooked through and flaky. (See note)

While the salmon is cooking, prepare the zucchini and eggplant. Cut them into cubes and sauté in a large non-stick skillet with 1 tablespoon of olive oil and pinch of salt. Make sure they fit in the skillet evenly and flat. A large grill pan also works well for this. Sauté until they are cooked through and browned on both sides.

Whisk together the ingredients for the vinaigrette in a separate bowl and allow to rest for a few minutes while preparing the rest of the grain bowl ingredients.

In a large bowl, begin to layer the cooked farro, lentils, eggplants, zucchini, halved tomatoes, kalamata olives, capers, drained cannellini beans.
Using a fork, flake the cooked and slightly cooled salmon in large chunks and then add to the top of the grain bowl.

Give the vinaigrette another stir and then drizzle it on the top of the grain bowl. Give the grain bowl ingredients a light tossing before serving to ensure that all of the ingredients are coated with the vinaigrette.

Serve and enjoy!
Notes
Before cooking salmon, it should be almost red in color. When it is cooked completely, it will be a light pink color and flaky. The amount of time needed to cook salmon can also vary depending on the size of the fish. You can test it for doneness, by taking a fork or knife to the thickest portion and if it flakes easily, it is ready. If it is still dark in color and doesn't flake, it needs more cooking time. This recipe comes together easily if prepared ahead of time. I suggest making some of the items prior to putting the grain bowls to save time.
Nutrition
Serving: 1cCalories: 855kcalCarbohydrates: 113gProtein: 43gFat: 27gSaturated Fat: 4gCholesterol: 31mgSodium: 387mgPotassium: 1437mgFiber: 39gSugar: 5gVitamin A: 352IUVitamin C: 17mgCalcium: 125mgIron: 10mg
Tried this recipe?Give it a 5 star rating and pin it to your Pinterest account!
More Delicious Recipes You May Like: