The light, fresh tastes of this Mediterranean salmon sheet pan recipe will be one to add to the regular dinner rotation! In addition to the amazing flavors, it is simple to make. And can be ready to eat in under 30 minutes!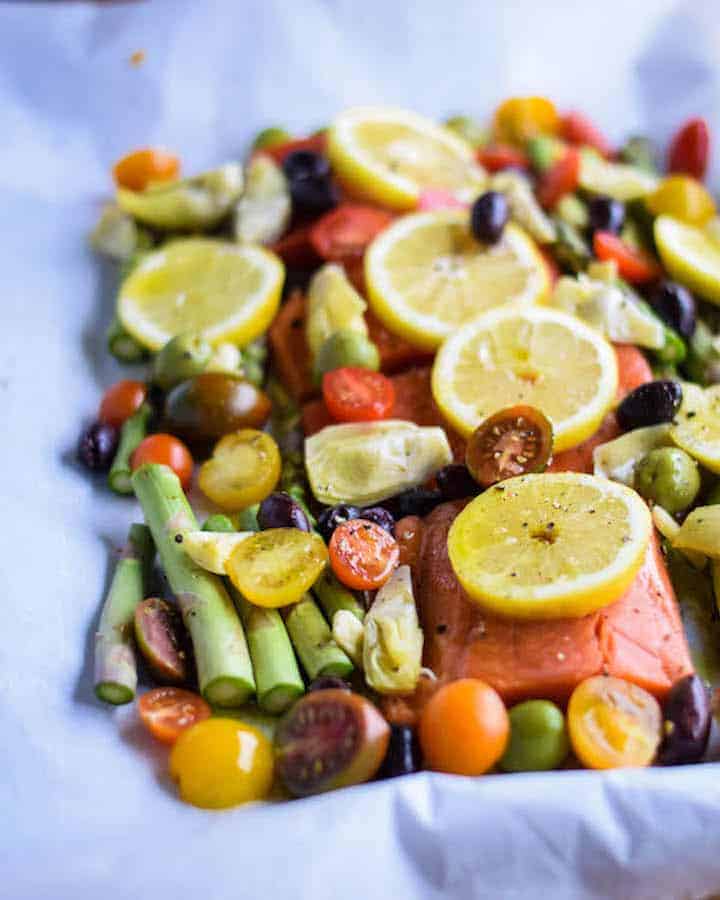 I love making this sheet pan dinner because it is quick and easy to make. It really makes getting a healthy meal on the table a breeze. And my children love this recipe. Total wins all around!
Mediterranean Salmon Sheet Pan Recipe
What makes this salmon recipe Mediterranean? It is inspired by the flavors found in the Mediterranean areas of Italy and Greece.
My great-grandparents are from various parts of the Mediterranean in both Italy and Greece. This recipe is a sort of tribute to those regions.
Flavored with common vegetables that are grown in the Mediterranean, like lemon, artichokes, olive oil, olives, tomatoes, and asparagus.
The toppings are healthy and full of color, creating a visually appealing meal.
How to Make This Sheet Pan Dinner
This recipe is super simple. While the oven is preheating, lay out a sheet of parchment paper on top of the sheet pan.
Lay the salmon on top of the sheet pan. Drizzle a bit of olive oil, seasonings, and begin the layer the Mediterranean inspired vegetables.
It only takes about 22 minutes or so to bake for delicious, flaky fish.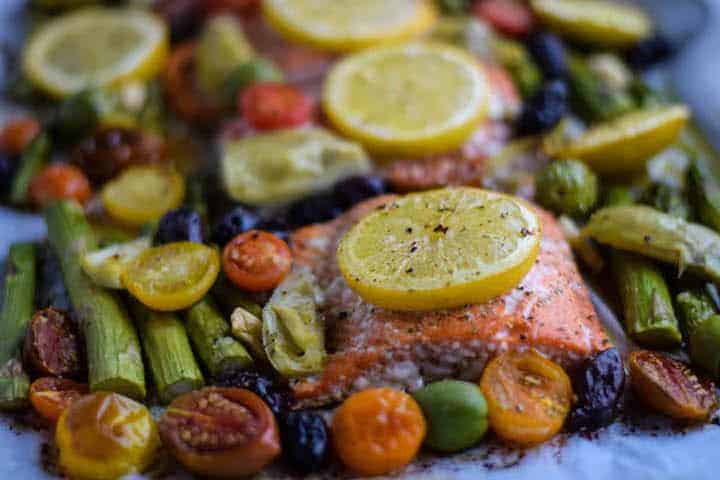 How to Tell if Your Salmon is Cooked
Before cooking salmon, it should be almost red in color. When it is cooked completely, it will be a light pink color and flaky.
You can test it for doneness, by taking a fork or knife to the thickest portion and if it flakes easily, it is ready. If it is still dark in color and doesn't flake, it needs more cooking time.
If you don't want to destroy the presentation of your fish, you can also use a toothpick to check for doneness. Stick the toothpick into the thickest part of the fish. If you feel a resistance, it is still not cooked. But if you feel it sink all the way through, it is ready.
Two things that you'd definitely want to avoid is over cooking the fish, it will taste dry.
More Recipes You May Like: