Easy to bake homemade honey oat bread is free of processed sugar. It is perfectly deliciously and slightly sweetened with a bit of natural honey.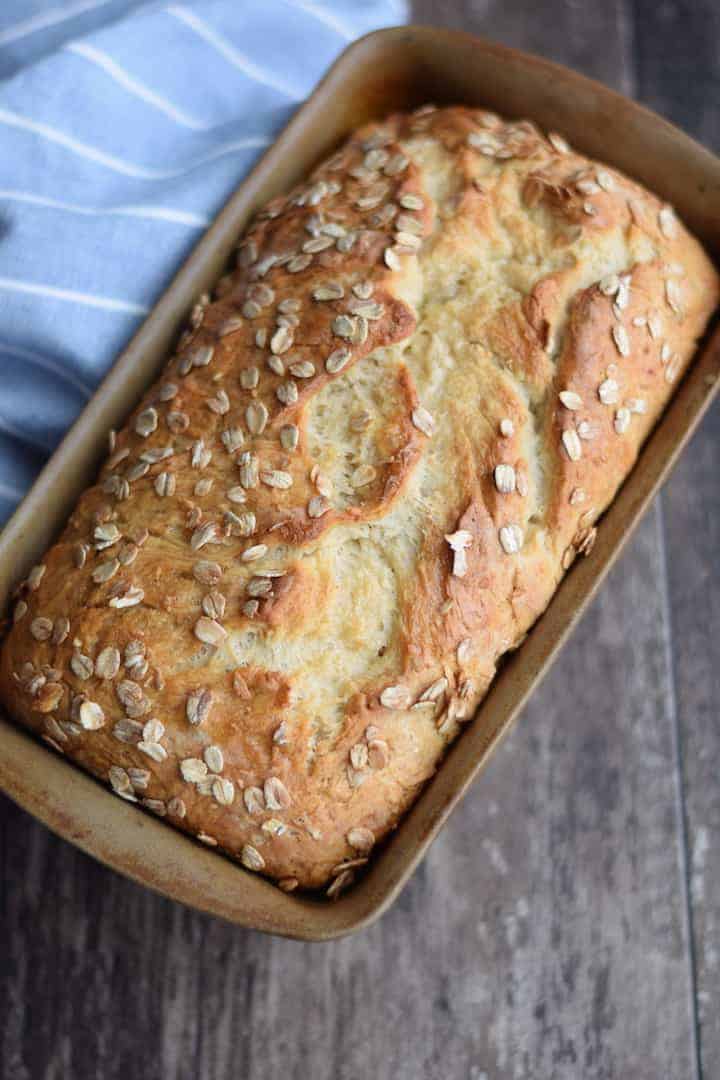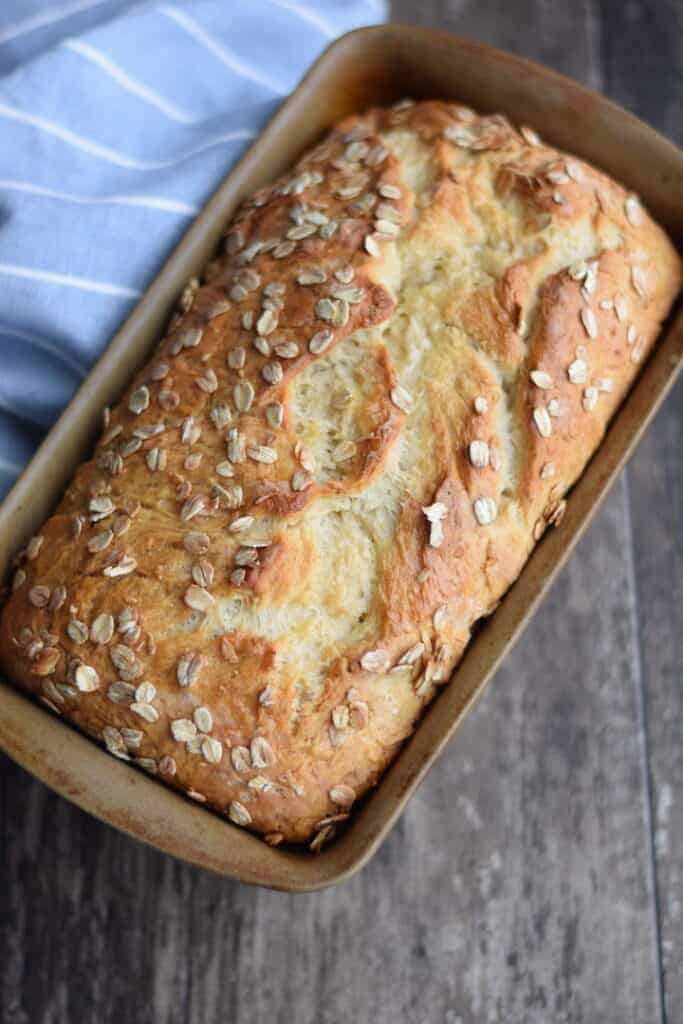 Honey Oat Bread
This bread recipe is a hit with my entire family, can easily be made and kneaded in a stand mixer or by hand – totally your preference.
I thoroughly enjoy kneading by hand, but sometimes we don't always have the time for that. I usually make a loaf about once or twice a week because my family likes it that much.
Around our home, we try to avoid as many processed or sugar filled foods as possible and since sugar is found in nearly everything, including bread, I bake my own.
This post has been updated and republished from it's original date of September 15, 2016.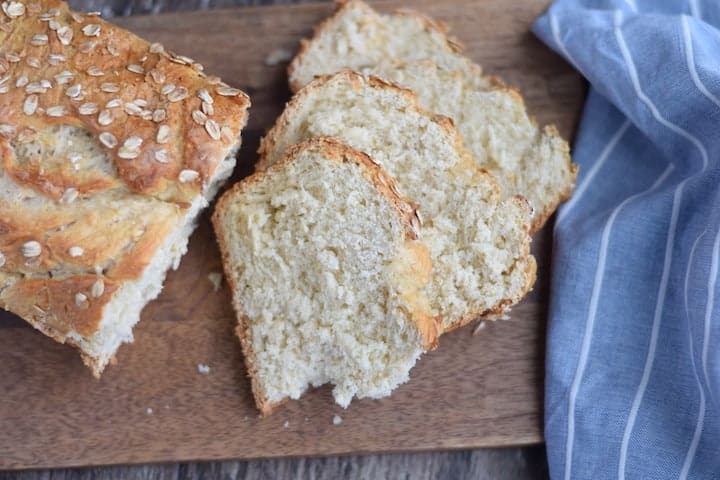 Gather the Ingredients:
all purpose flour
old fashioned rolled oats
dry active yeast
fine sea salt
butter
whole milk
lukewarm water
raw, natural honey
For the top of the bread: 2 tablespoons honey, 2 tablespoons oats
Tips for Making this Bread
When making this bread, I usually use whole milk. But I have also had success with using nut milks like almond and coconut.
I like to hand knead bread so I can get a feel for when it is ready. But sometimes, I'm pressed for time so I will use my stand mixer with the dough hook.
It is important to stop and check it periodically when using a stand mixer to ensure it isn't being kneaded too much.
When baking this loaf, check on it every now and then. I recommend "babysitting" homemade bread. It isn't something that you can just throw in the oven and call it good.
Oven times vary for most people. If the bread starts to brown on one side more than the other, rotate it.
More Delicious Bread Recipes:
Green Onion Cheddar Beer Bread
want more recipes?
Check out the recipe index where you can discover more homemade recipes from my homestead!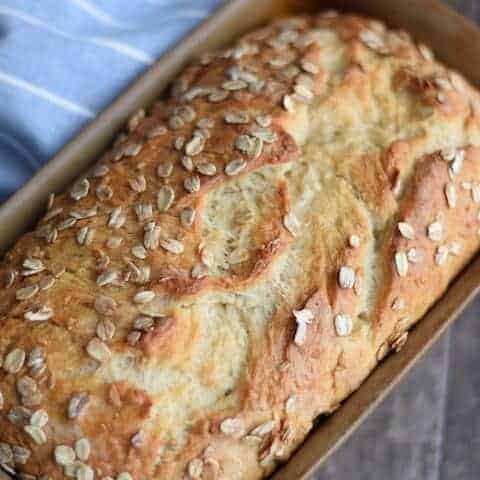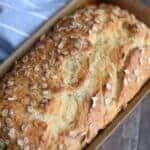 Honey Oat Bread
This slightly sweet and incredibly delicious honey oat bread is a great and fairly easy to bake loaf bread.
Ingredients
3 cups flour
3/4 cup oats
2 1/4 teaspoons yeast
1 1/2 teaspoons salt
2 tablespoons butter
1 cup milk
1/4 cup lukewarm water
1/4 cup raw natural honey
For the top of the bread: 2 tablespoons honey 2 tablespoons oats
Instructions
In a large bowl or stand mixer bowl, combine the dry ingredients.

In a small saucepan, add the milk and butter. Heat just until the butter melts, but don't allow to boil or scald.

Stir in the honey and water.

Add the milk mixture to the flour mixture. If using a mixer, use the dough hook. Check often to make sure it isn't becoming over kneaded. And knead for about 6-8 minutes.

If kneading by hand, you'll notice this bread is very sticky and may require more flour. Add a small amount at a time, approximately 1 tablespoon at a time, until it isn't very tacky, but don't allow to become too dry. Knead for about 10 minutes.

Place dough in an oiled bowl, cover with clean dry towel and allow to rise until doubled in size – approximately 1/2 hour to 1 hour.

If dough is still too sticky, flour your working surface and roll dough out into loaf size and place in pan. I use a standard 9×5 inch loaf pan. Allow to rise again until doubled. Again approximately 1/2 hour to 1 hour.

Fill a second loaf pan or something similar with approximately 2 cups of water and place on bottom rack of the oven. This will create steam in the oven.

Preheat oven to 350 degrees.

Brush the top of the bread with the honey and add the remaining oats.

Bake for 40 minutes.

Allow to cool completely (if you can!)

Slice up and enjoy!
Nutrition
Serving: 1cCalories: 264kcalCarbohydrates: 53gProtein: 8gFat: 2gSaturated Fat: 1gCholesterol: 3mgSodium: 457mgPotassium: 161mgFiber: 3gSugar: 11gVitamin A: 49IUCalcium: 50mgIron: 3mg
Tried this recipe?Give it a 5 star rating and pin it to your Pinterest account!
More Bread Recipes: