These easy maple overnight oats are naturally sweetened with maple syrup, this breakfast will help you get your day off to a sweet start! They are perfect for a quick grab and go breakfast on a busy morning.
The maple and cinnamon flavors give it that extra fall and winter touch! Top with your favorite seasonal fruits for a boost of healthy nutrition.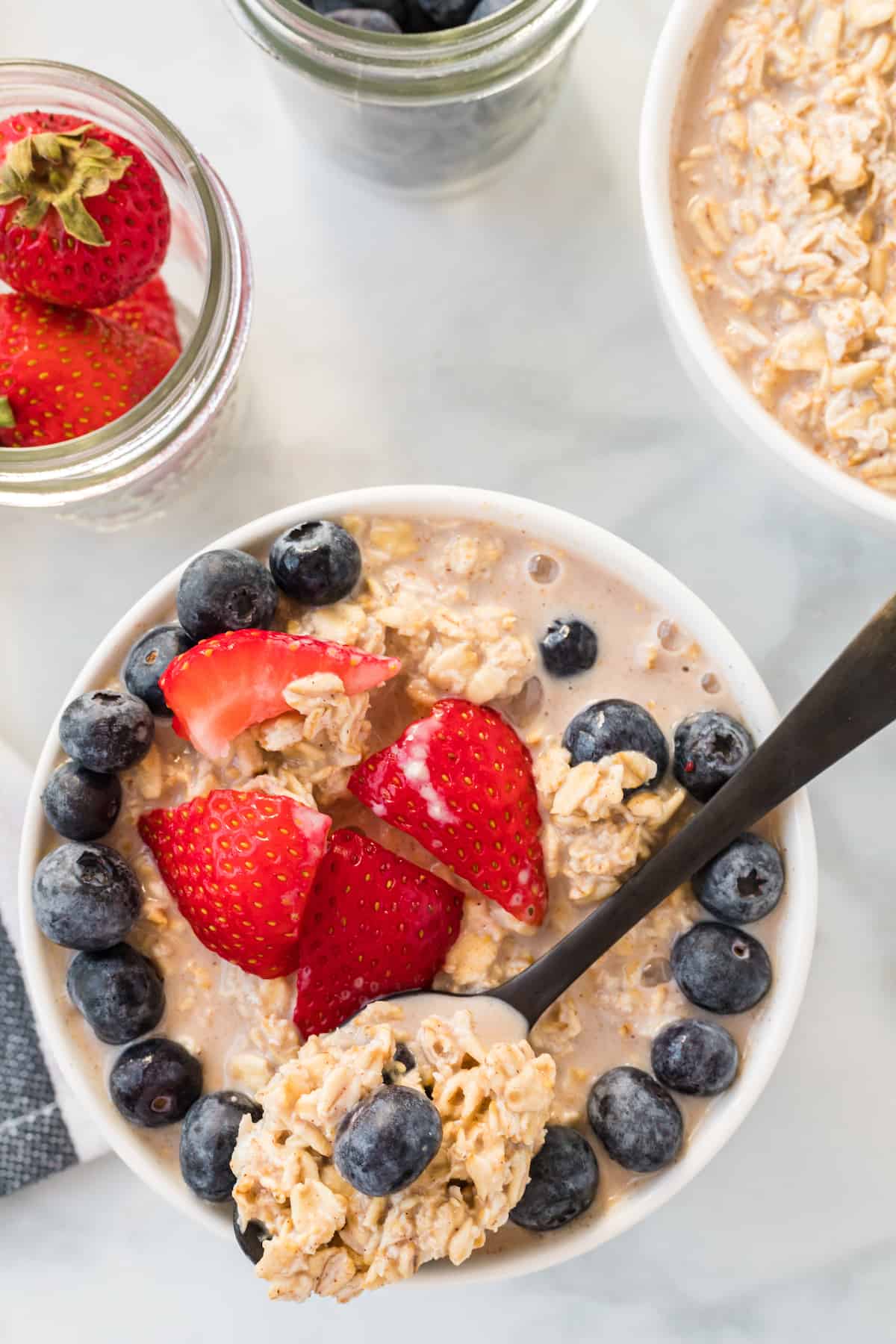 Healthy Maple Overnight Oats
Are you looking for a healthy breakfast recipe? Overnight oats are an easy make ahead meal. They are so quick and easy to put together. This recipe is perfect for the chilly days of winter because it is warming and comforting.
We just love making overnight night oats not only for the ease of breakfast the next morning. But also for the many healthy benefits that they provide.
When following along with a healthy whole foods and ancient nutritious diet, soaking and sprouting is necessary for maximum health benefits. It's an excellent source of fiber, protein, and are gut healthy too!
Soaking helps the starches break down and reduces the natural phytic acid. So this may help your body use up the nutrients much more efficiently.
So not only does this help with digestion, it also helps to get the most of the nutrients.
And when you soak the oats overnight in the fridge, the texture becomes soft like muesli. Because it is softer, it makes it easy to enjoy in the morning. Pair it with your favorite seasonal fruits, yogurt or to blend straight into a smoothie.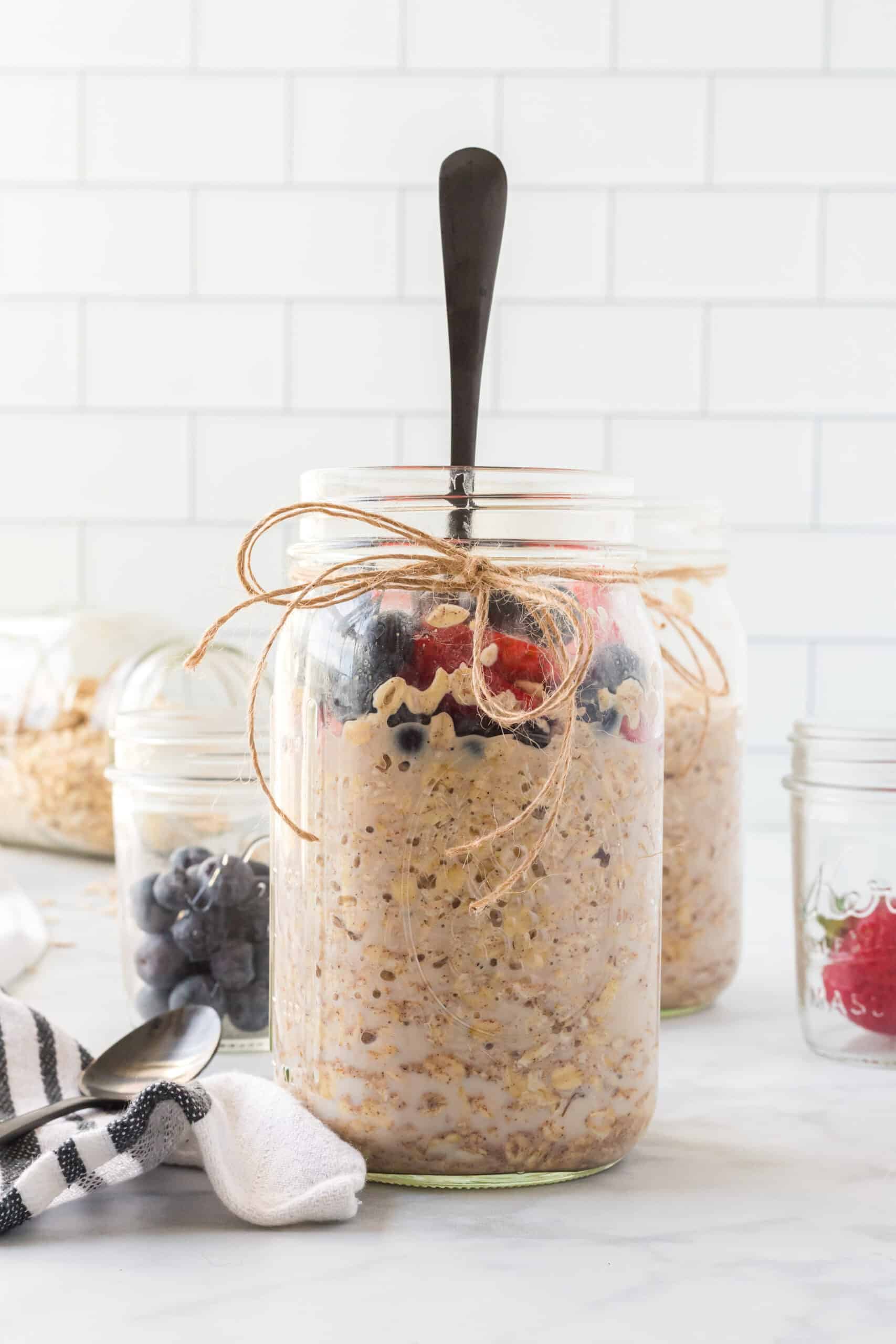 Ingredients needed for overnight oatmeal
This recipe is incredibly simple and only requires a handful of pantry staples.
Here's what you'll need:
whole rolled oats
vanilla extract
cinnamon
pure maple syrup
whole milk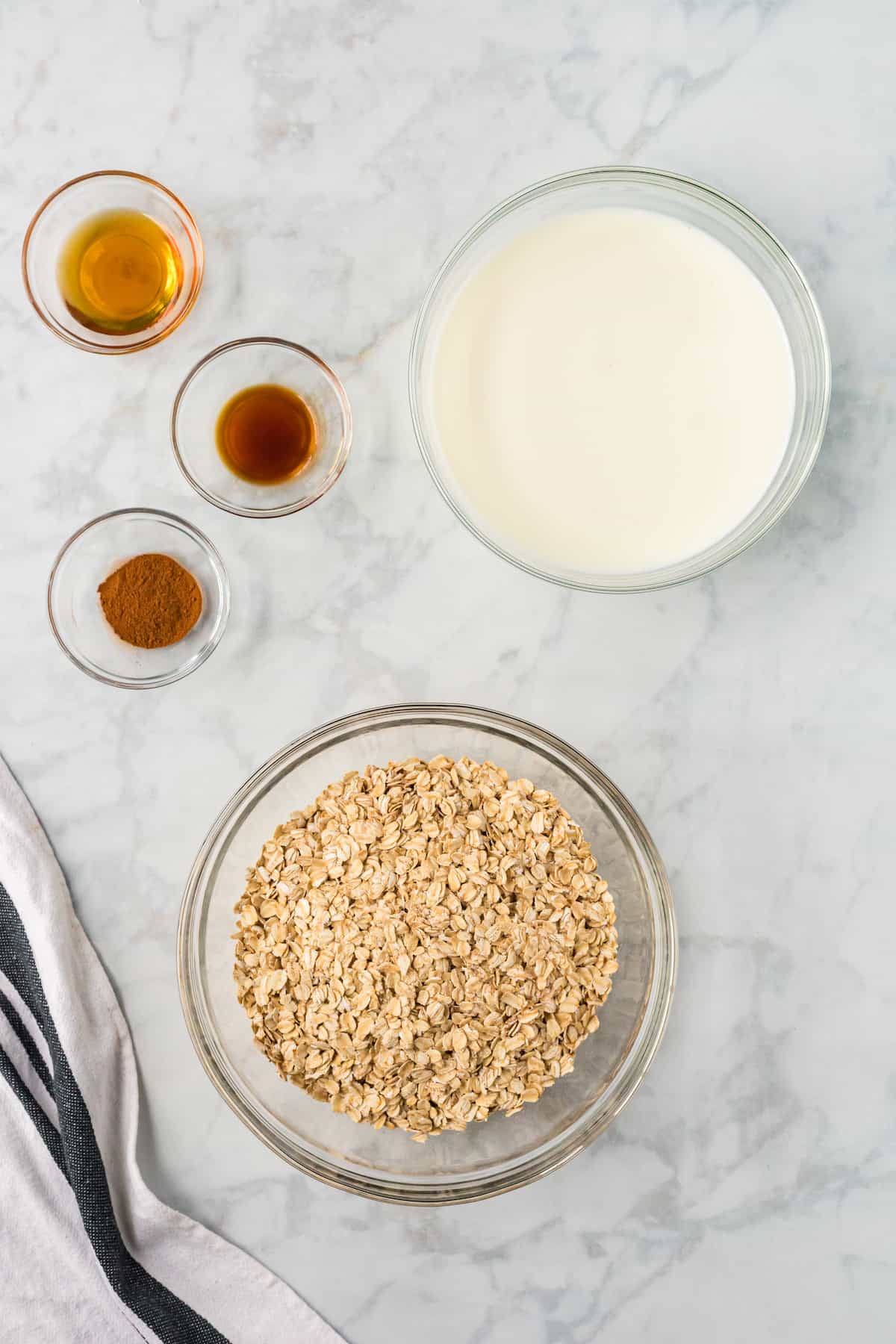 Instructions for overnight maple oats recipe
This recipe is super simple and is a perfect make-ahead breakfast! Here's how to make this recipe…
Begin by adding the oats, milk, maple syrup, vanilla extract, and cinnamon into a large bowl.
Stir well to combine all ingredients together.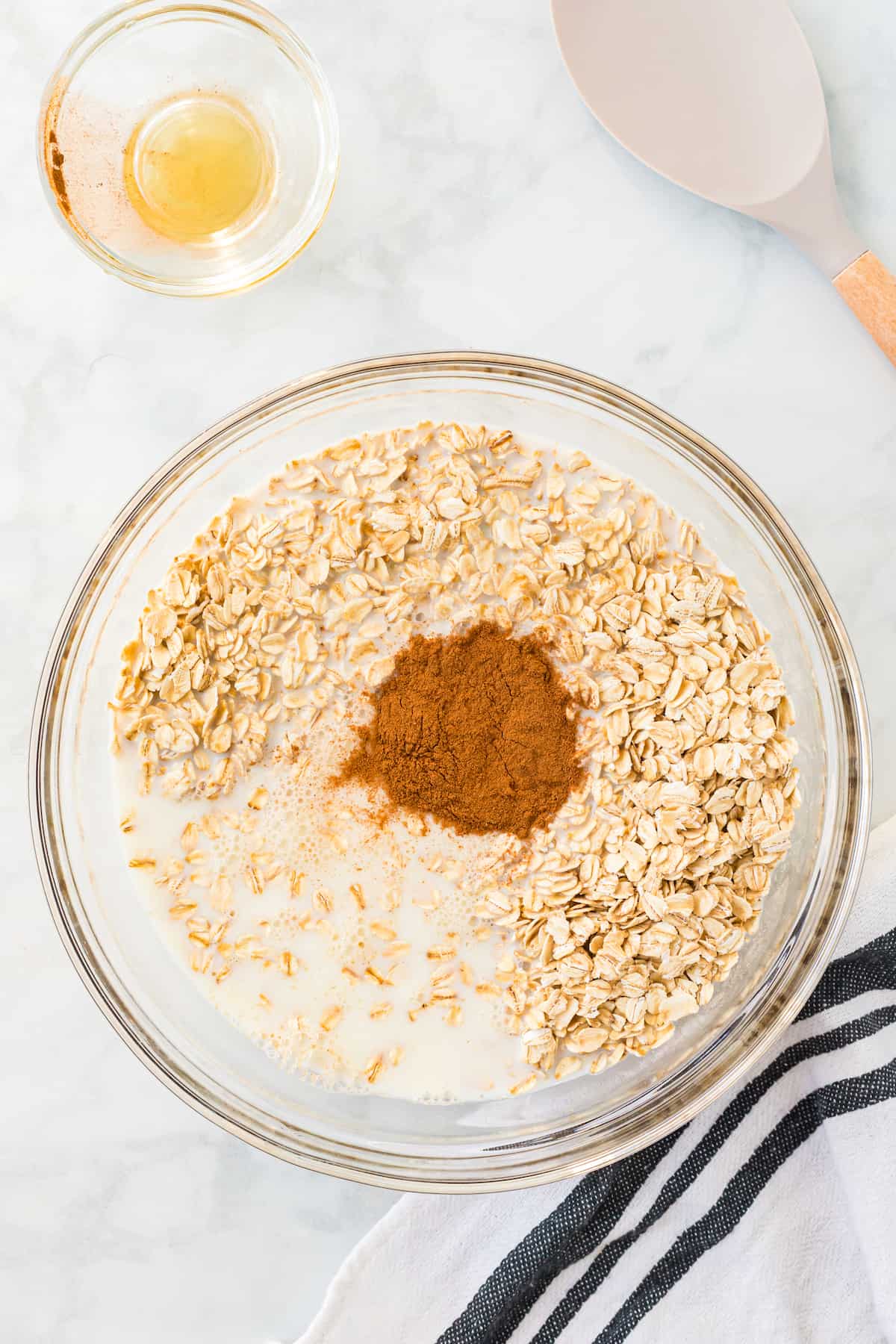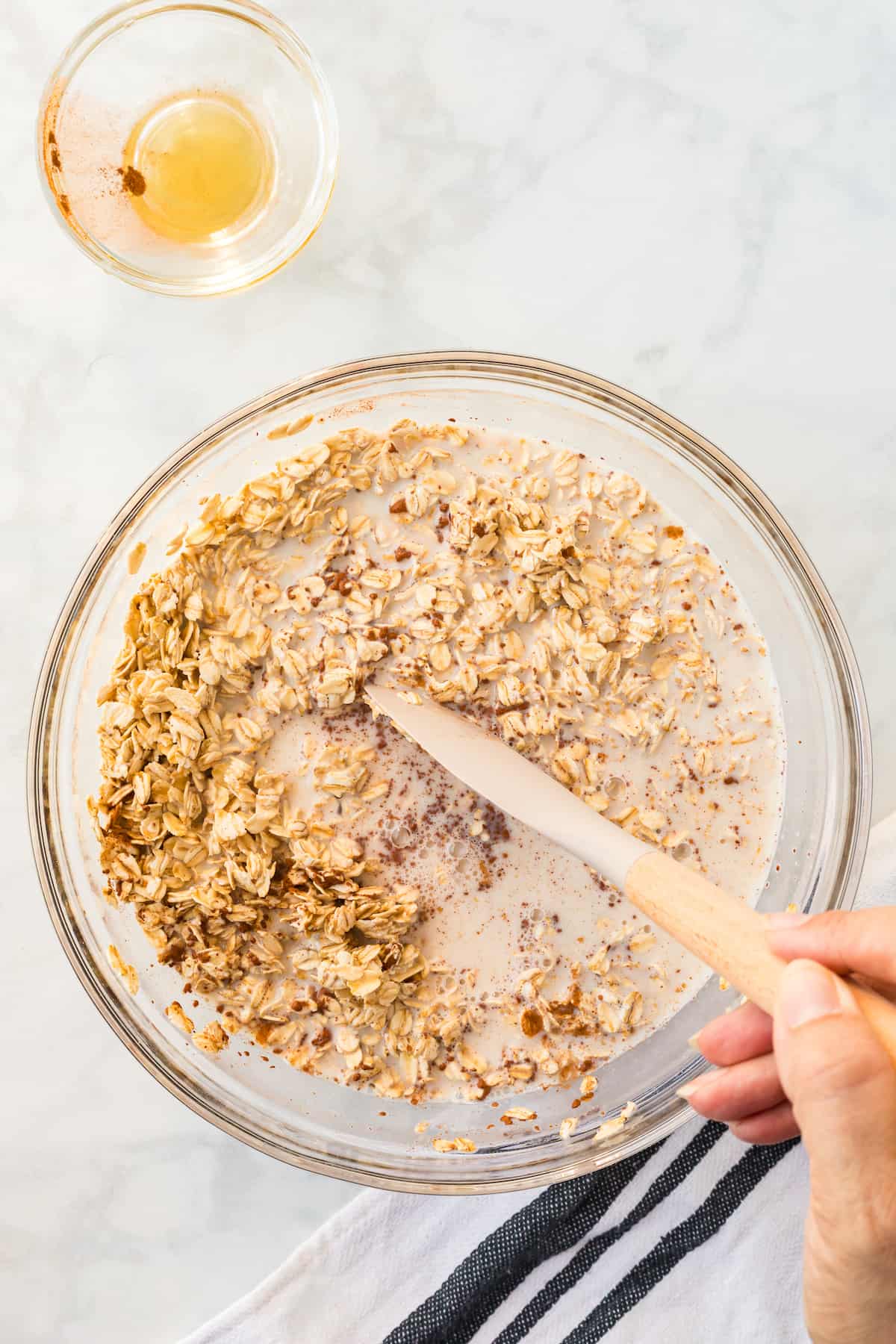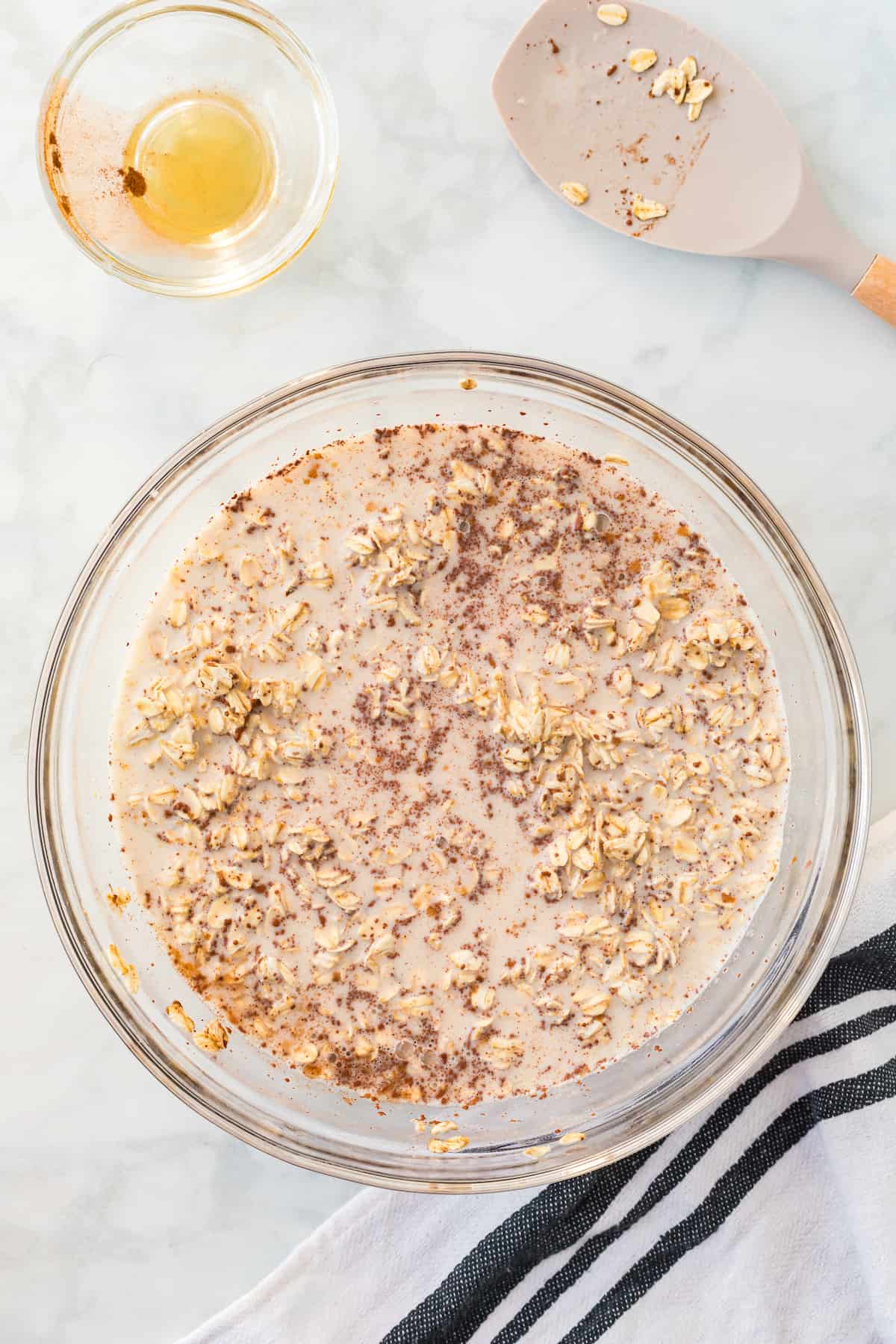 After the oats have been combined, store the oat mixture in the refrigerator overnight or at least 8 hours. They may be stored in a large glass bowl with an airtight lid.
Mason jars are also great for storage and saves room in the fridge!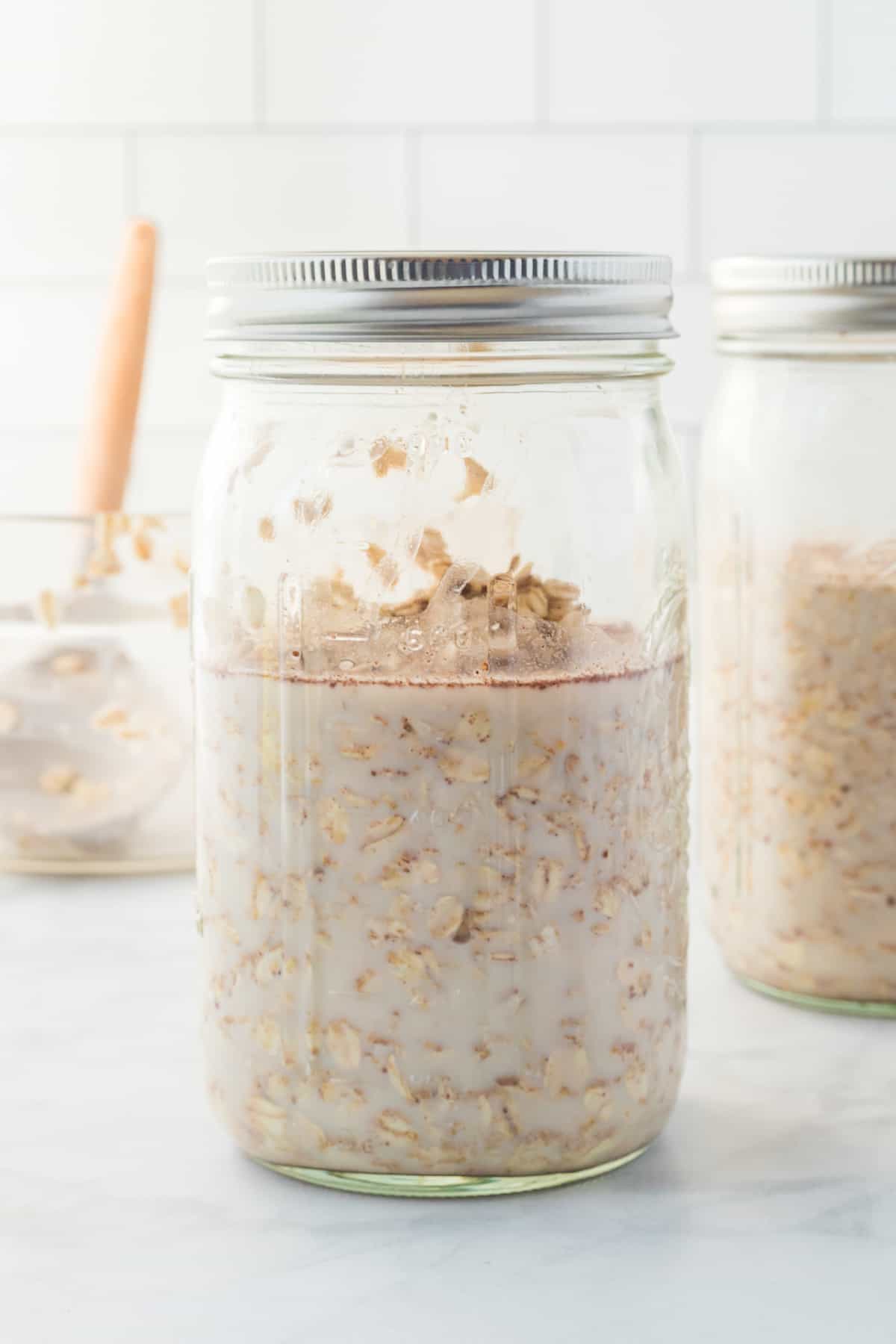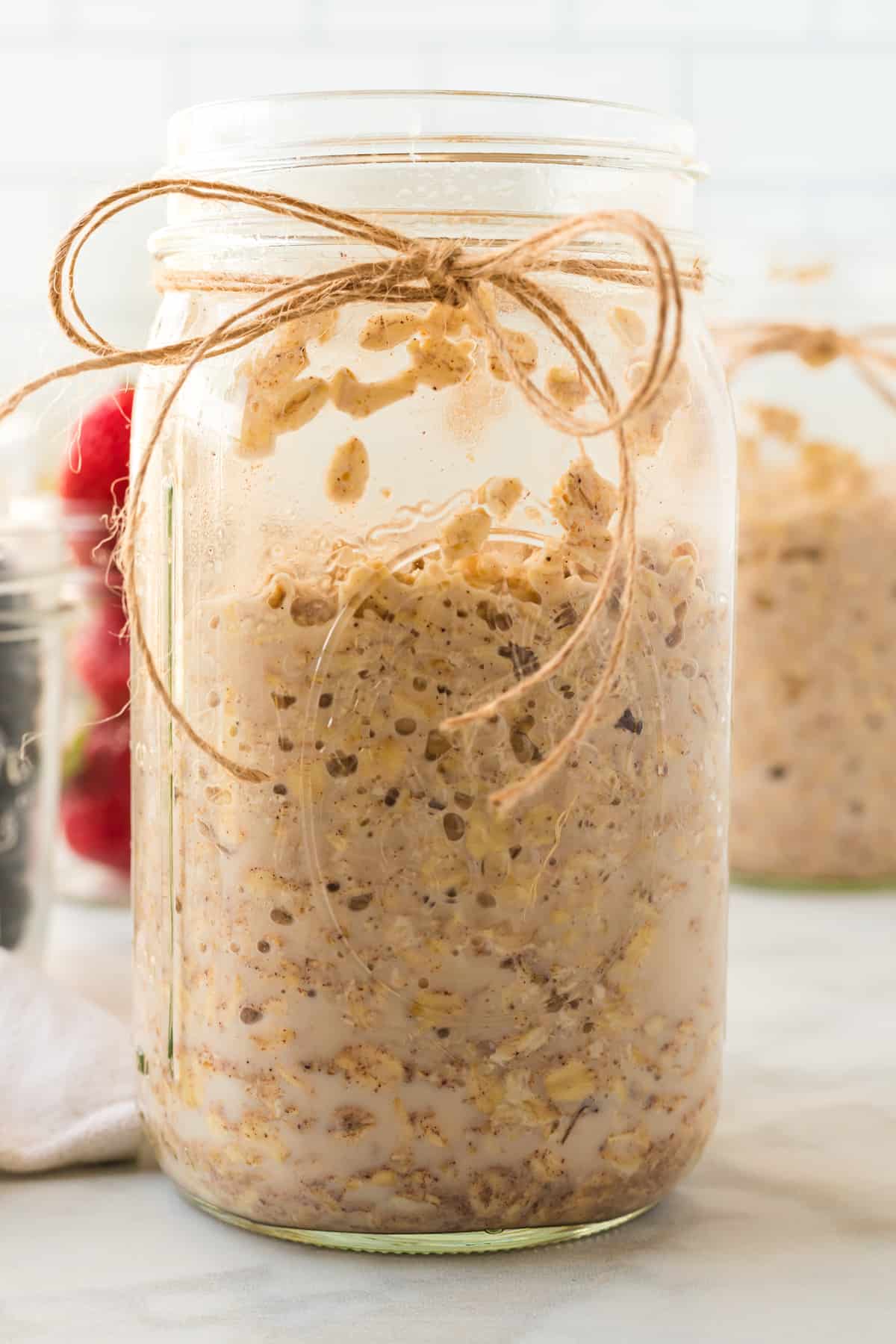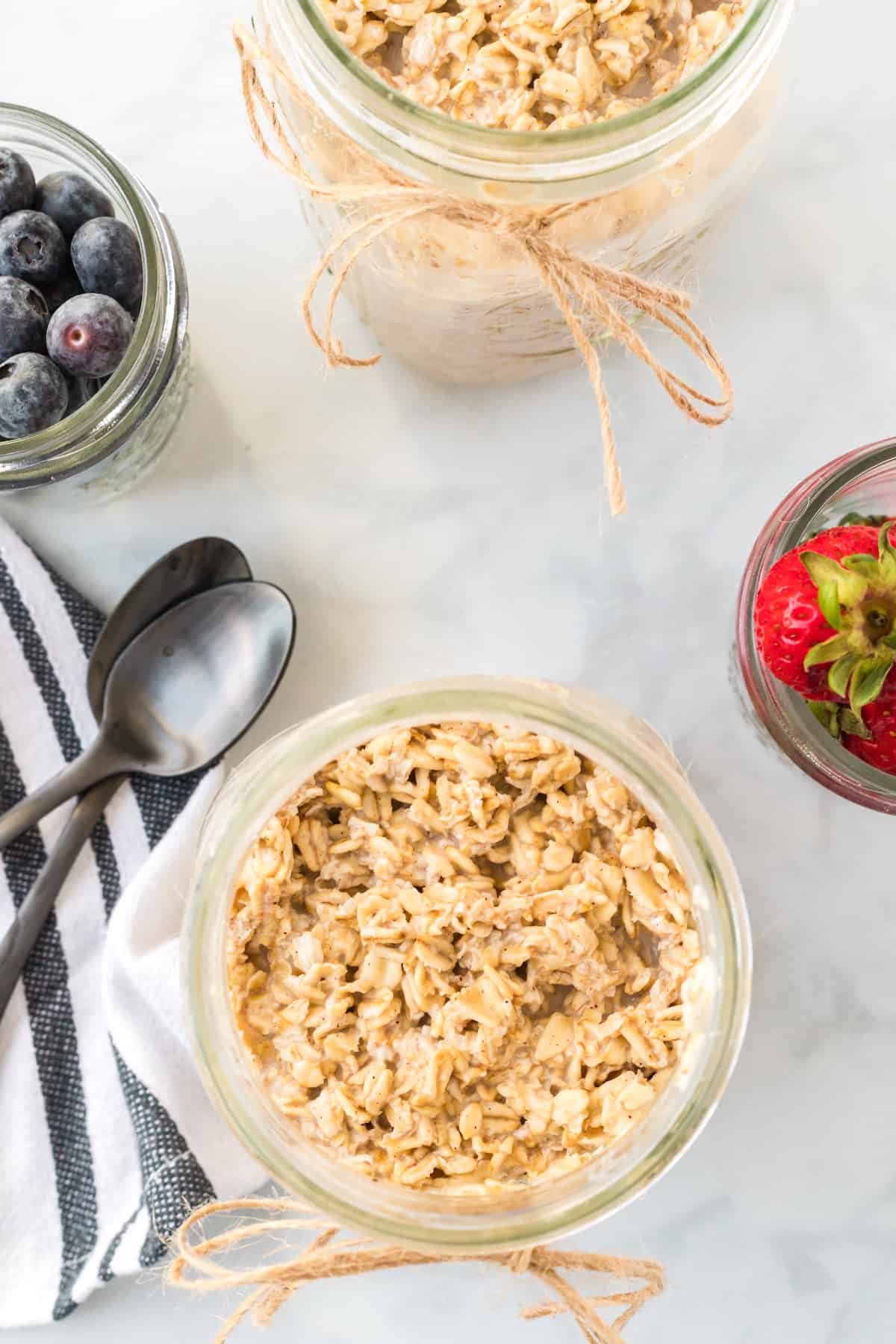 🥣 Tip: add overnight oats to smaller mason jars for individual grab and go breakfasts in the morning.
🍅 Recipe tips
I wholeheartedly believe that good quality ingredients make for the best recipes! I don't recommend any fake or overly processed ingredients and will usually recommend organic / non-gmo ingredients whenever possible.

Sourcing good quality ingredients can be difficult sometimes. Did you know that most of the olive oil in grocery stores isn't truly authentic? And some tomatoes labeled as true San Marzano tomatoes are not the real deal?

How do we find the BEST ingredients? If you're like me you are also feeling tired of being duped by all of the mislabeling! So, I've created a favorite shop page with all of my recommendations. Here you can find all of the best places to source good quality ingredients!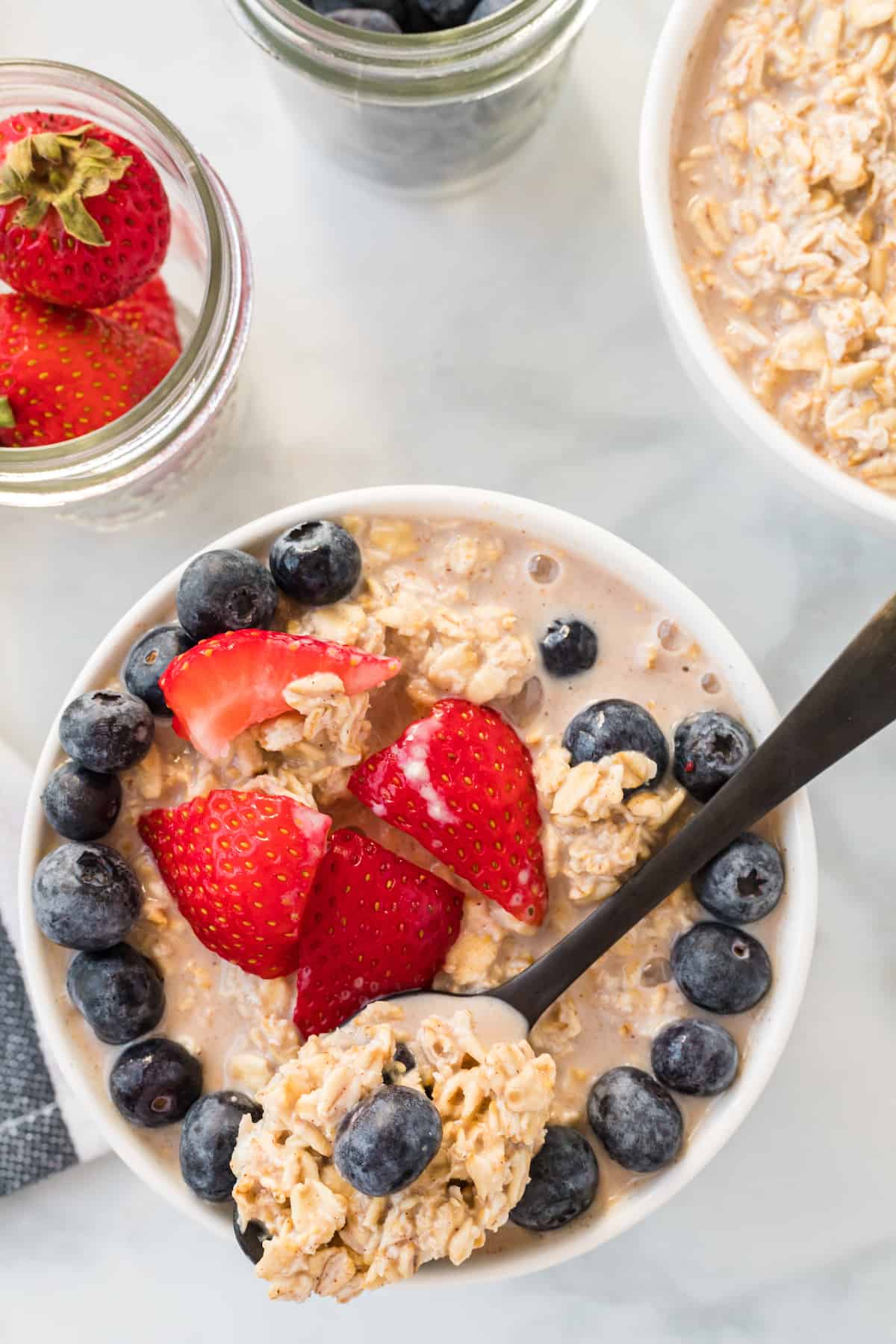 Serving ideas and variations:
Overnight oats has the consistency of a muesli – it is soft and can be eaten straight out of the refrigerator. But you can do so much more with it.
Heat it up in a sauce pan over the stove top like oatmeal, top with a little butter for a creamy warming winter breakfast!
Top with your favorite seasonal fruits.
One of our favorite ways to serve overnight oats is with bananas and drizzle of peanut or almond butter! And sometimes with chocolate chips too for a decadent treat.
Blueberries, strawberries, raspberries or your other favorites make excellent additions.
Walnuts, pecans, chia seeds, hemp seeds, or pumpkin seeds, and other nuts/seeds are also tasty toppings to try!
Mix in with your morning smoothie for extra fiber and as a filling hearty breakfast.
Replace the cinnamon with pumpkin pie spice for a fun fall treat.
These quick oats will keep in the refrigerator for up to one week. Just be sure to store in a glass bowl or Mason jars with airtight lids.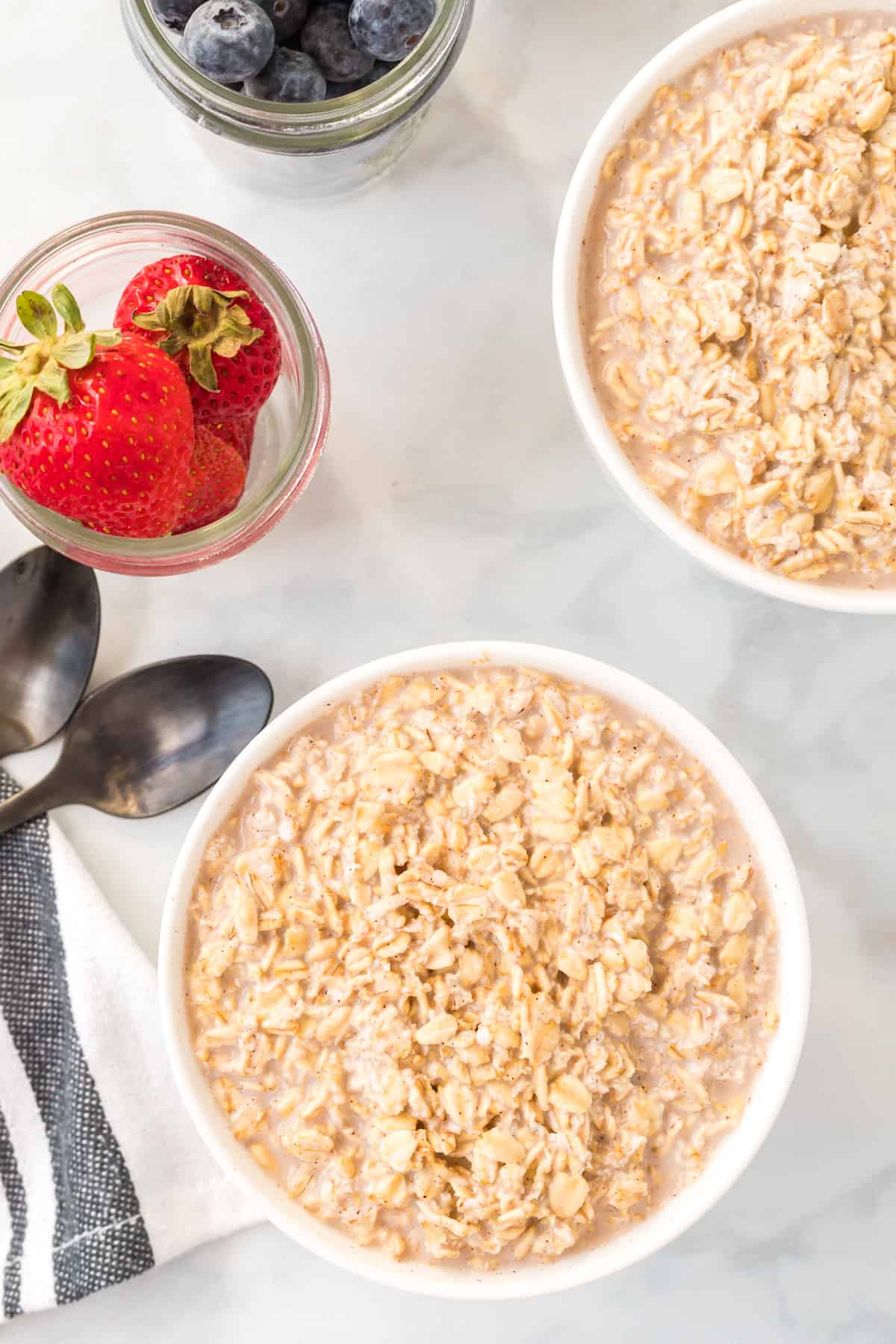 More delicious breakfast recipes to try
Mediterranean Breakfast Panzanella
Caramelized Onion & Cheddar Quiche
FAQ
Can I replace with a non dairy milk?
Absolutely! Almond milk works great in this recipe! However, I have not tested other non dairy or nut milks in this recipe.
What do I do with leftovers?
Store in the refrigerator for up to one week. Use an airtight glass container such as a bowl or Mason jar.
want more recipes?
Check out the recipe index where you can discover more homemade recipes from my homestead!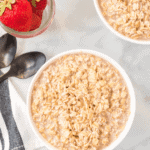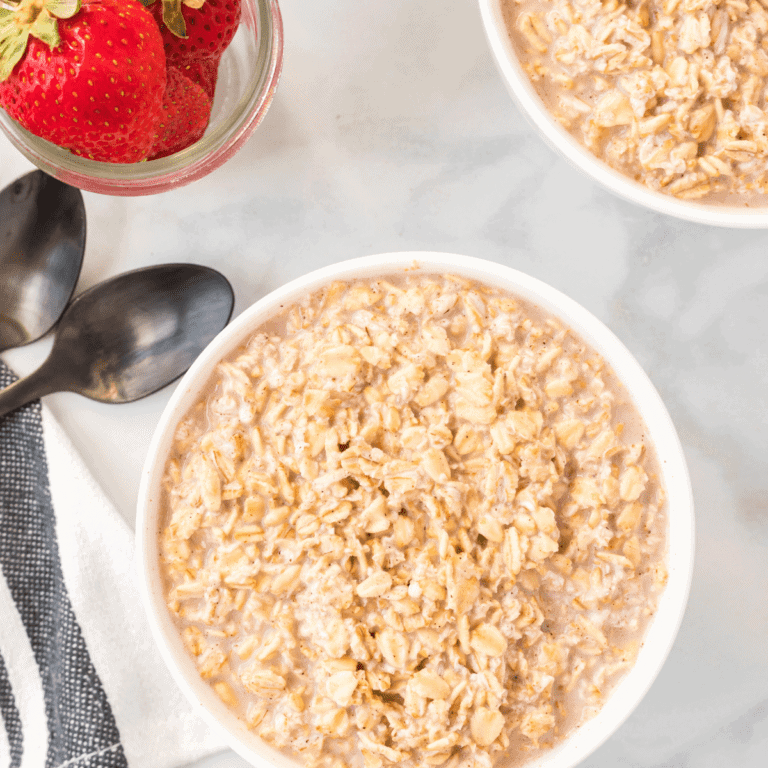 Maple Overnight Oats
This healthy, easy-to-make breakfast can be enjoyed cold or eaten hot. Overnight oats are a delicious and quick breakfast treat that the whole family will enjoy!
Instructions
Add the oats, maple syrup, vanilla extract, cinnamon, and whole milk to a large bowl. Stir well to combine all ingredients together.

Store in a bowl with airtight lid or add the oats to individual portions in mason jars with lids for storage. Add the oat mixture to a refrigerator overnight or for about 8 hours.

Serve as a cold muesli like cereal with your favorite seasonal fruits or warm up in a pan over low heat until warmed through.
Nutrition
Calories: 344kcalCarbohydrates: 54gProtein: 12gFat: 9gSaturated Fat: 4gPolyunsaturated Fat: 2gMonounsaturated Fat: 2gCholesterol: 16mgSodium: 75mgPotassium: 443mgFiber: 6gSugar: 17gVitamin A: 265IUVitamin C: 1mgCalcium: 230mgIron: 2mg
Tried this recipe?Give it a 5 star rating and pin it to your Pinterest account!