This easy Mediterranean Farro salad is the perfect addition to nearly any meal. It is light and has tons of flavor. And it can be adjusted to incorporate the best vegetables.
This simple and healthy summer salad is full of delicious flavors and vegan. It's also hearty enough to be served as a main dish.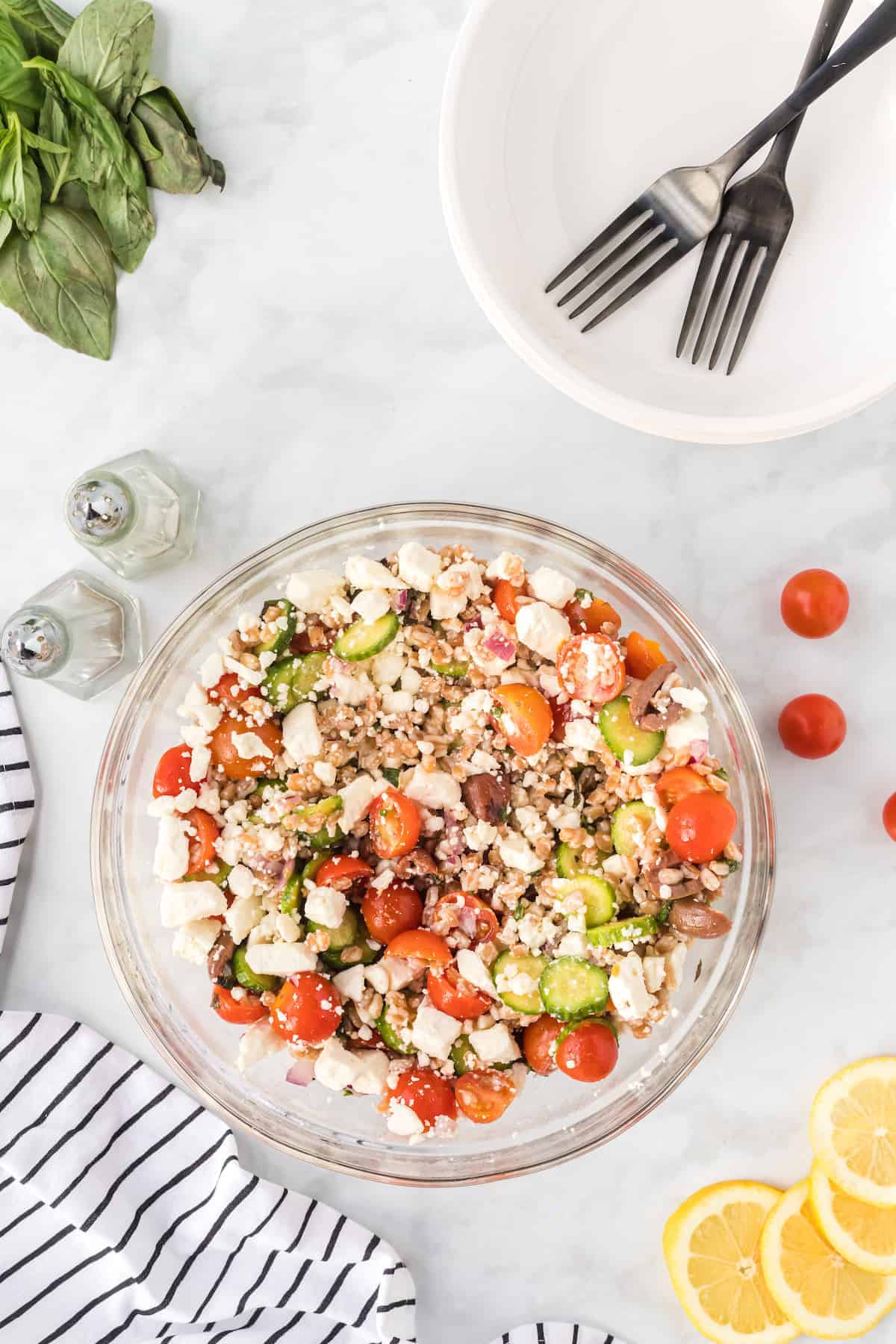 This post has been updated from the original publish date of 2019. It includes updated step by step images and helpful information.
Mediterranean Farro Salad Recipe
Farro is such a great staple to keep in the pantry. We make it around here at least once a week for easy meal prep. And my little ones are huge fans.
I try to avoid many overly complicated recipes or ingredients that are hard to find. In fact, if you're growing your own vegetable garden, you may have many of these ingredients on hand.

For this recipe, I used mini heirloom tomatoes, fresh lemon juice, olive oil, and fresh herbs. This fresh Farro salad includes a lot of simple ingredients, but still packed full of fresh flavor.
It is hearty enough to enjoy as a meal or try it paired with this Salmon sheet pan dinner.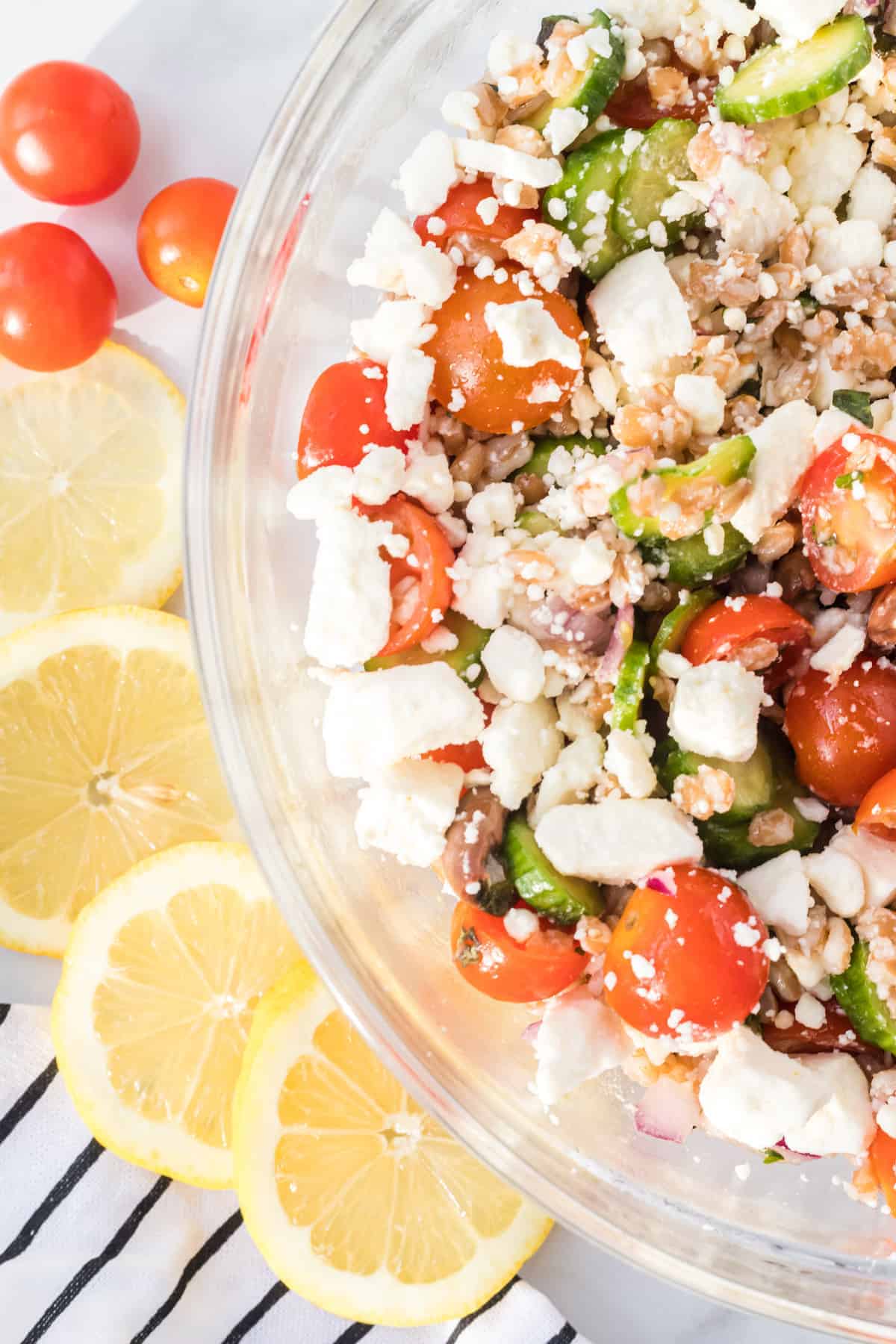 What is Farro?
Farro is an ancient grain that is derived from wheat. Farro is also known as Emmer (the most common variety) and is made in Italy.
This whole-grain has a slightly nutty flavor and perfect chewy texture.

This ancient variety of wheat that is experiencing a revival right now. Farro is different than most varieties of wheat as it has a higher protein content and a chewy, al dente texture.
The other two varieties are more commonly known as Spelt and Einkorn. Farro is packed full of nutrients – fiber, protein, good source of antioxidants, and B vitamins.
Since Farro gets it roots from Italy, it makes a great addition to the Mediterranean diet.
Ingredients
The star of this recipe is the farro grains. But it is paired with delicious fresh ingredients like tomatoes, cucumbers and fresh herbs inside of a fresh vinaigrette.
Here's what you'll need:
organic pearled Farro
water (for cooking the farro grains)
Kalamata olives
red onion
crumbled feta
little tomatoes (grape or cherry)
mini cucumbers
For the vinaigrette dressing:
large lemon juice fresh squeezed, (not bottled)
high quality extra virgin olive oil
fresh basil
fresh mint
garlic powder – minced fresh garlic clove can also be substituted
salt & black pepper to taste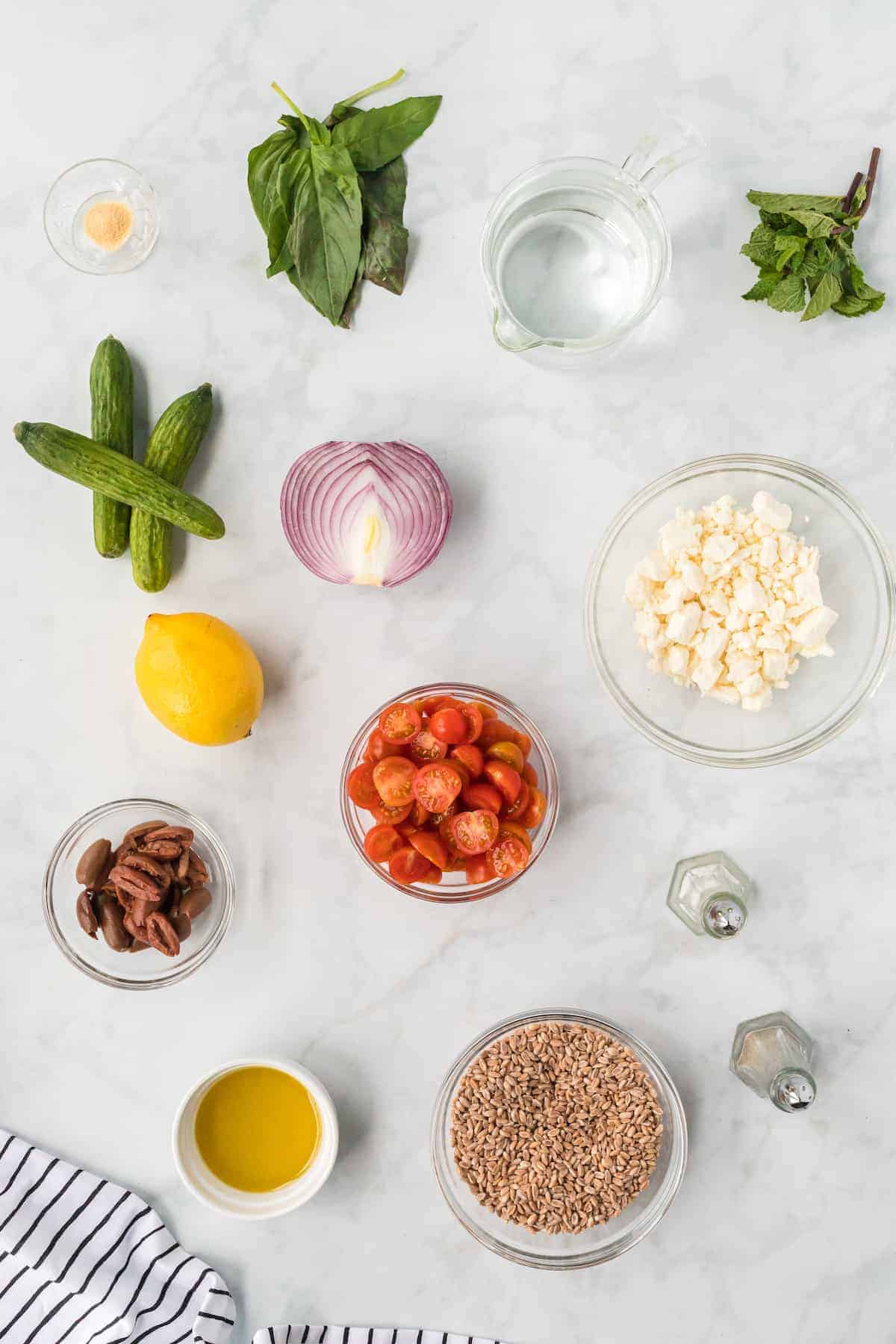 Instructions
We will begin this recipe by making the vinaigrette and setting aside. This will allow the flavors time to combine together.
Next we will cook the farro to al dente and set aside in a large serving bowl to cool down.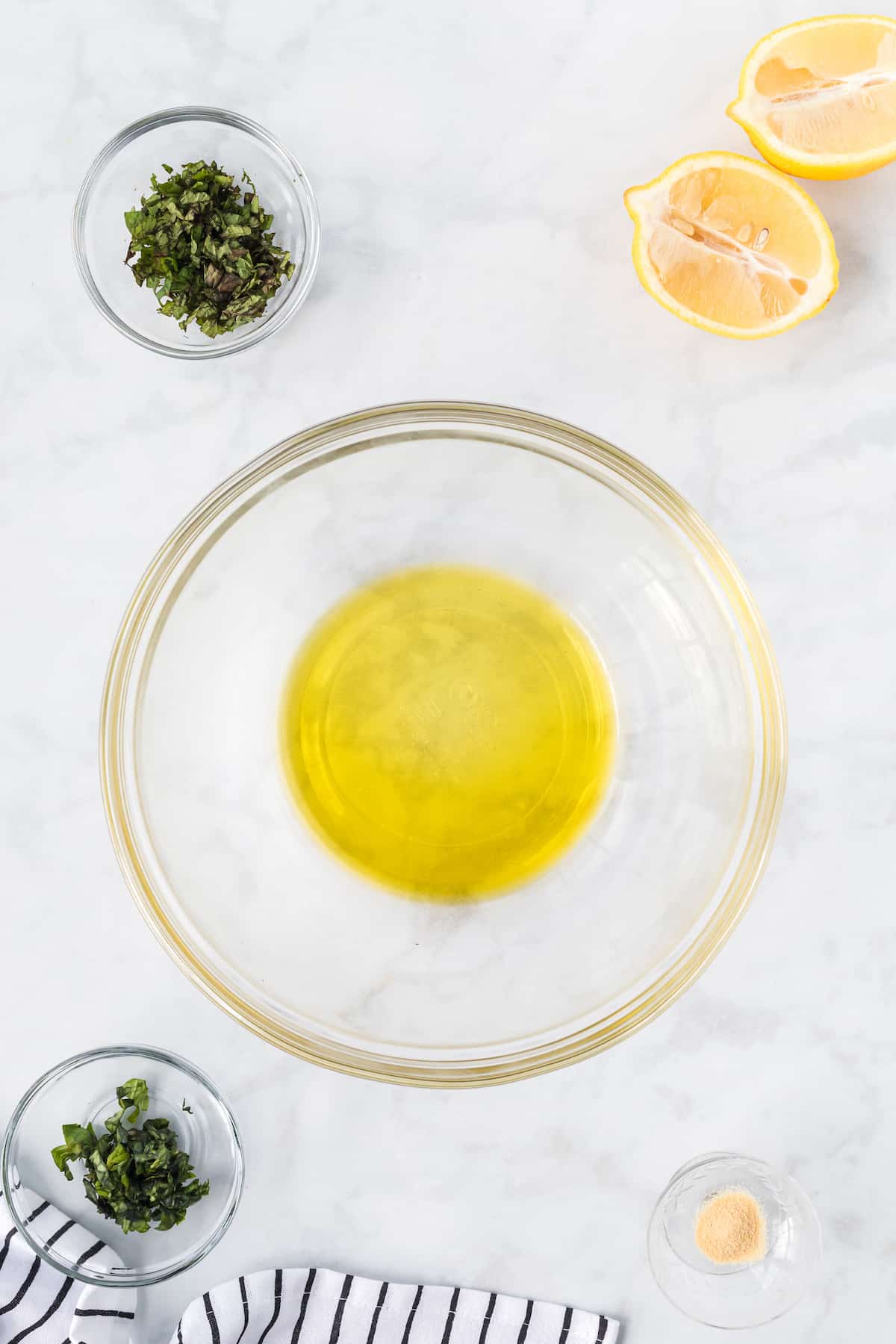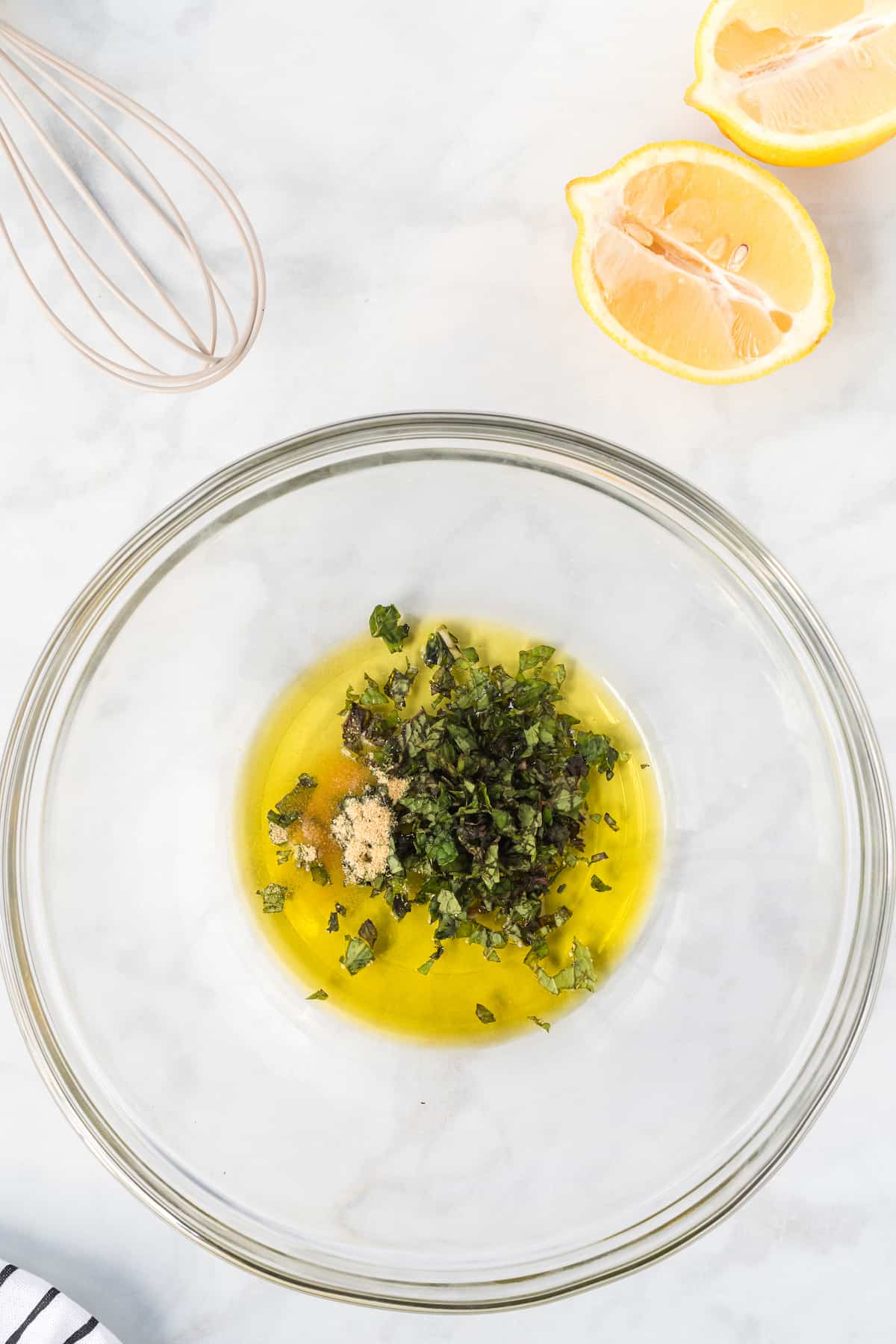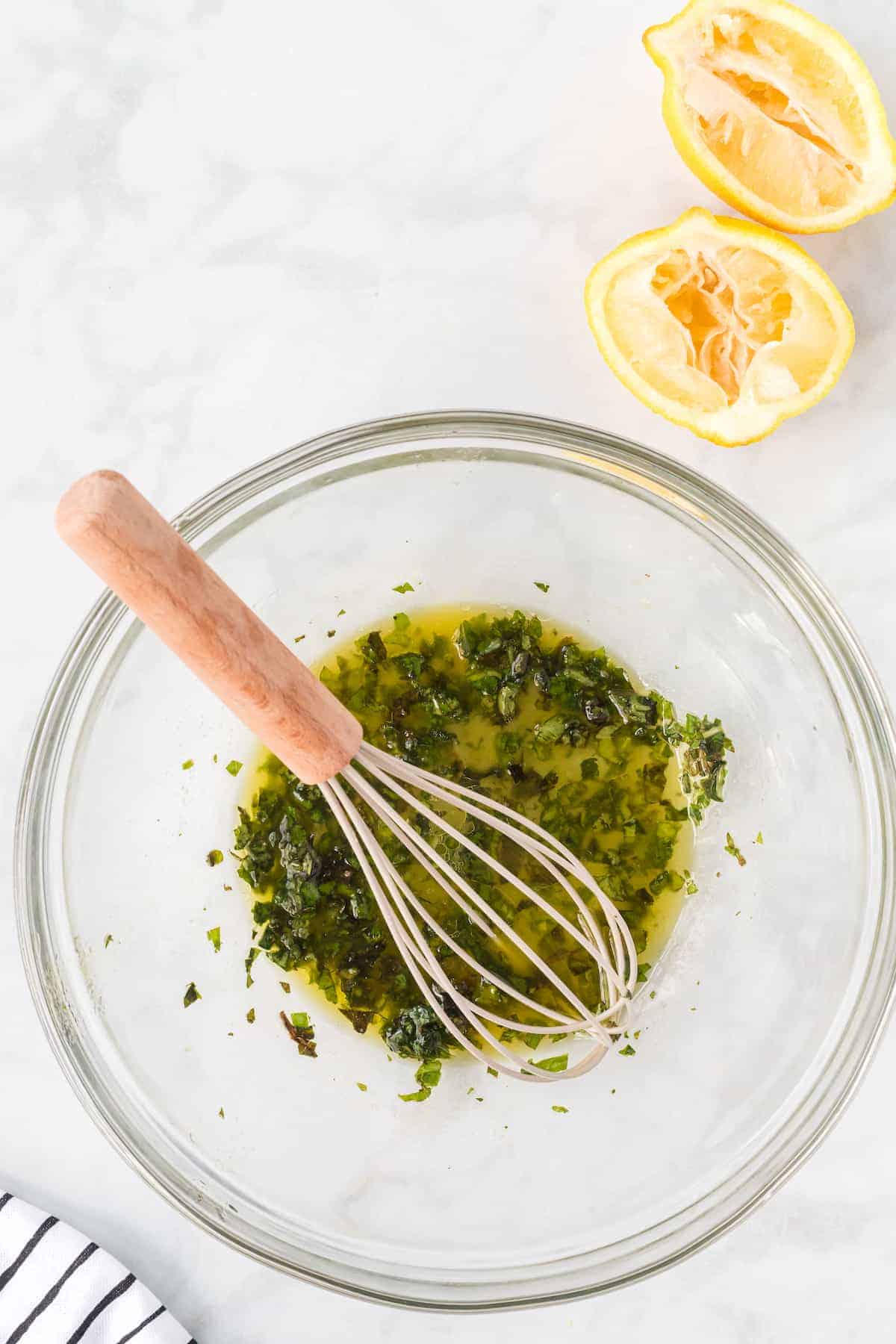 How to Cook Farro:
When cooking Farro, you want to be careful not to over or under cook it. It should have the consistency that is tender, but not mushy. It will have a slight bite to it – kind of like a properly cooked pasta.
To cook Farro, you will use a 2-1 ratio. So it will be about 1 cup of Farro to 2 cups of water.
Add 1 cup of Farro and 2 cups of water to a pot and bring to a boil. Add a lid to your pot and reduce to a simmer.
Cook for approximately 20 minutes. And drain any extra liquids.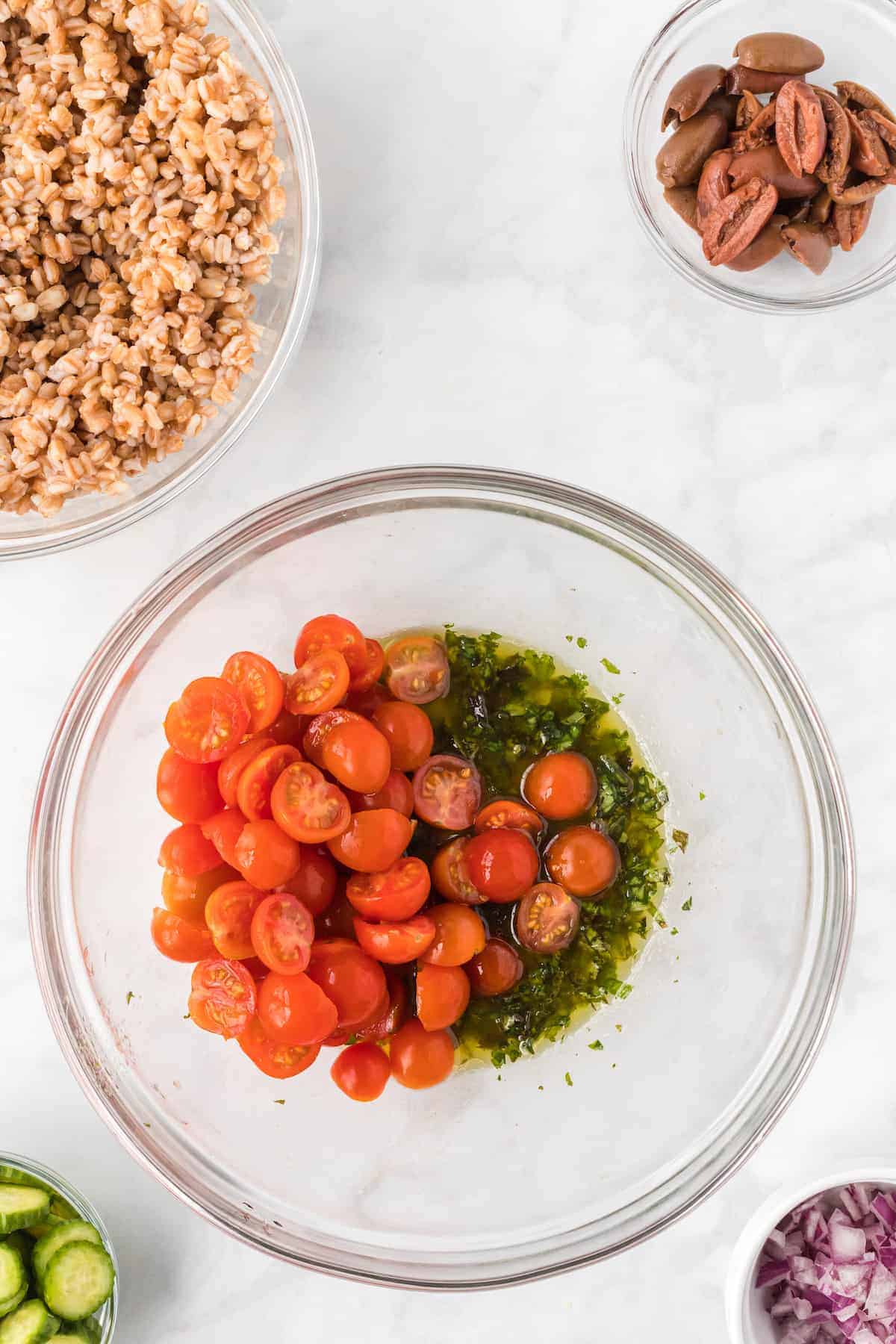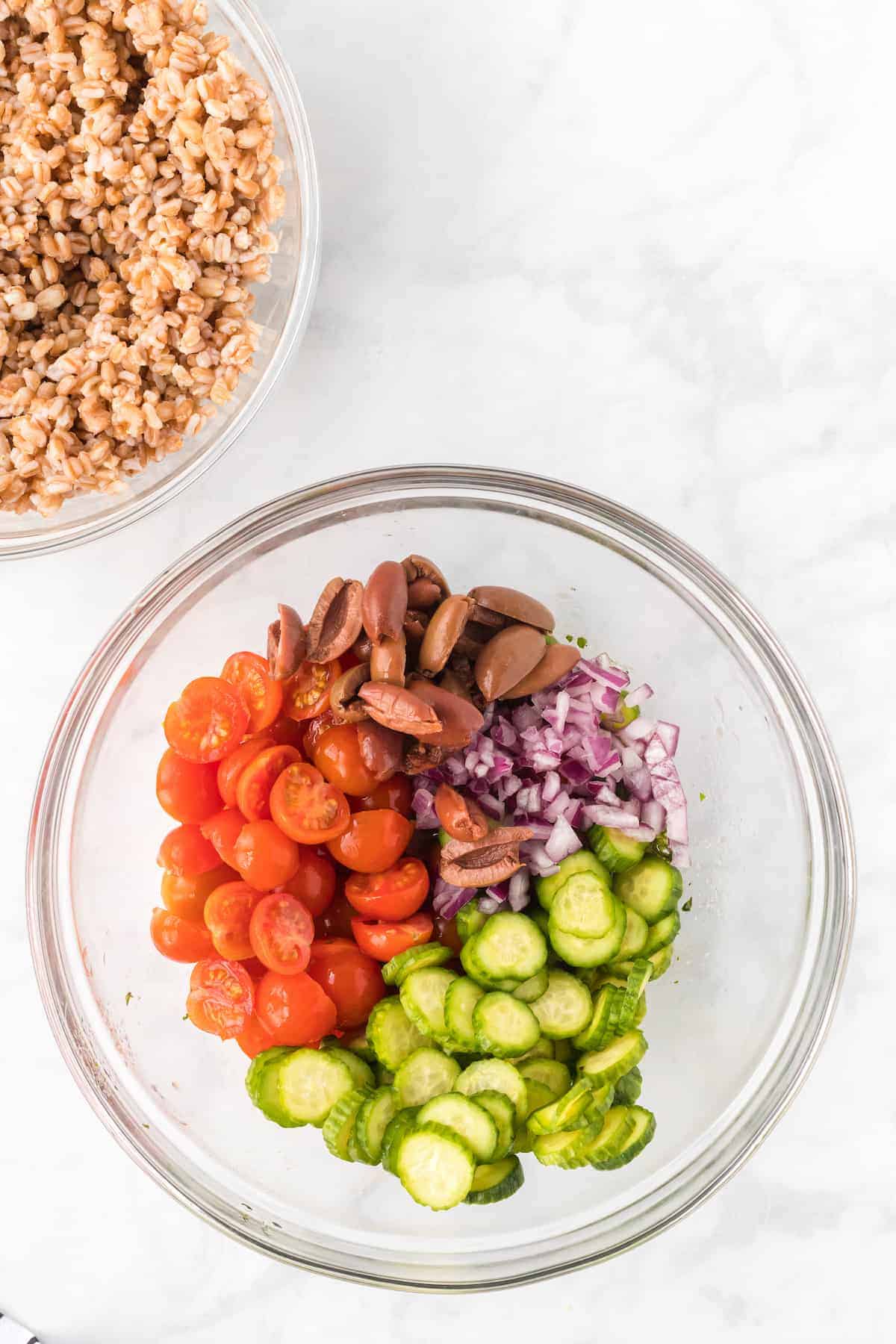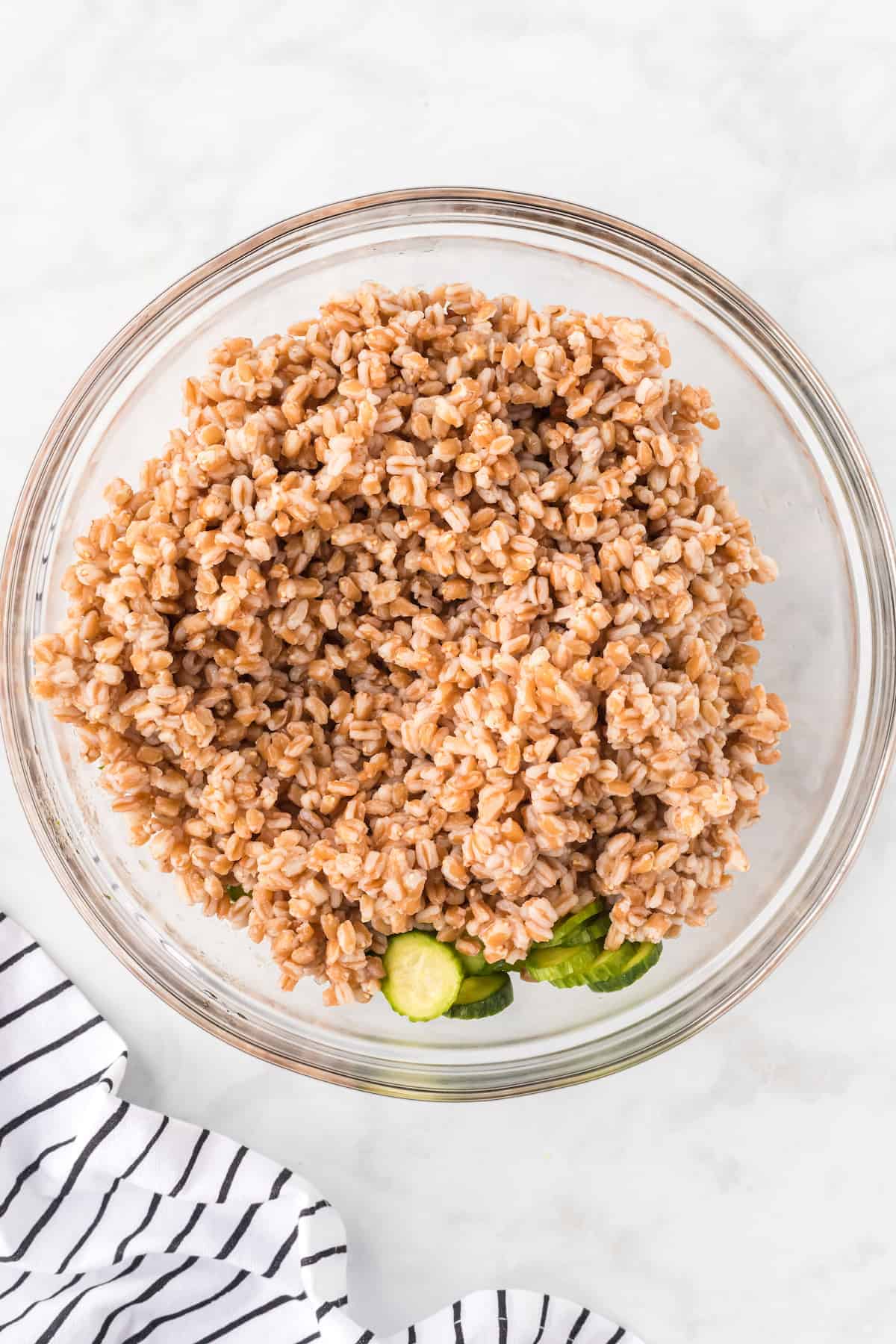 Prepare the veggies and begin to combine the ingredients together.
Ones the farro is cooled, combine farro with the prepared vegetables and lemon-herb vinaigrette.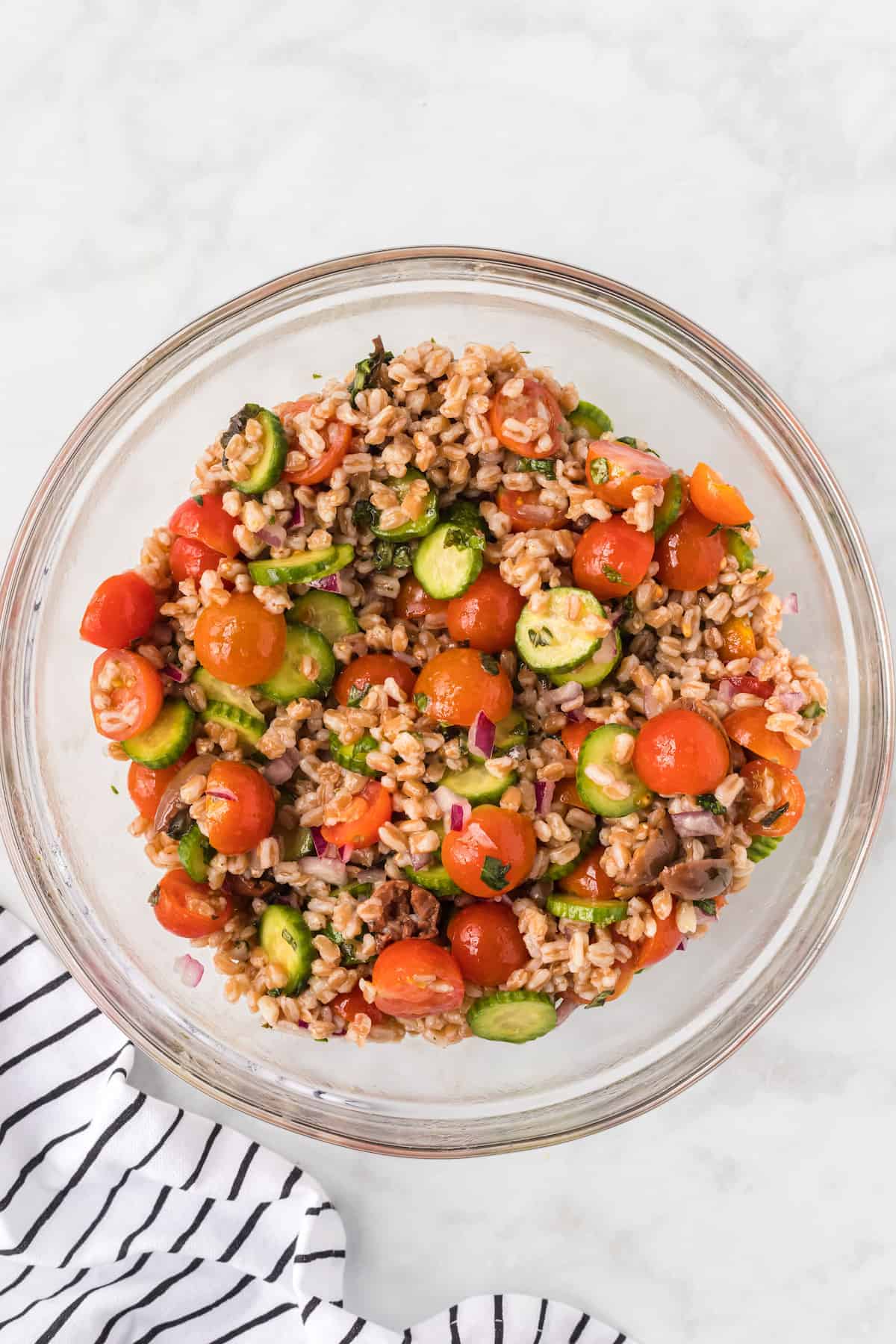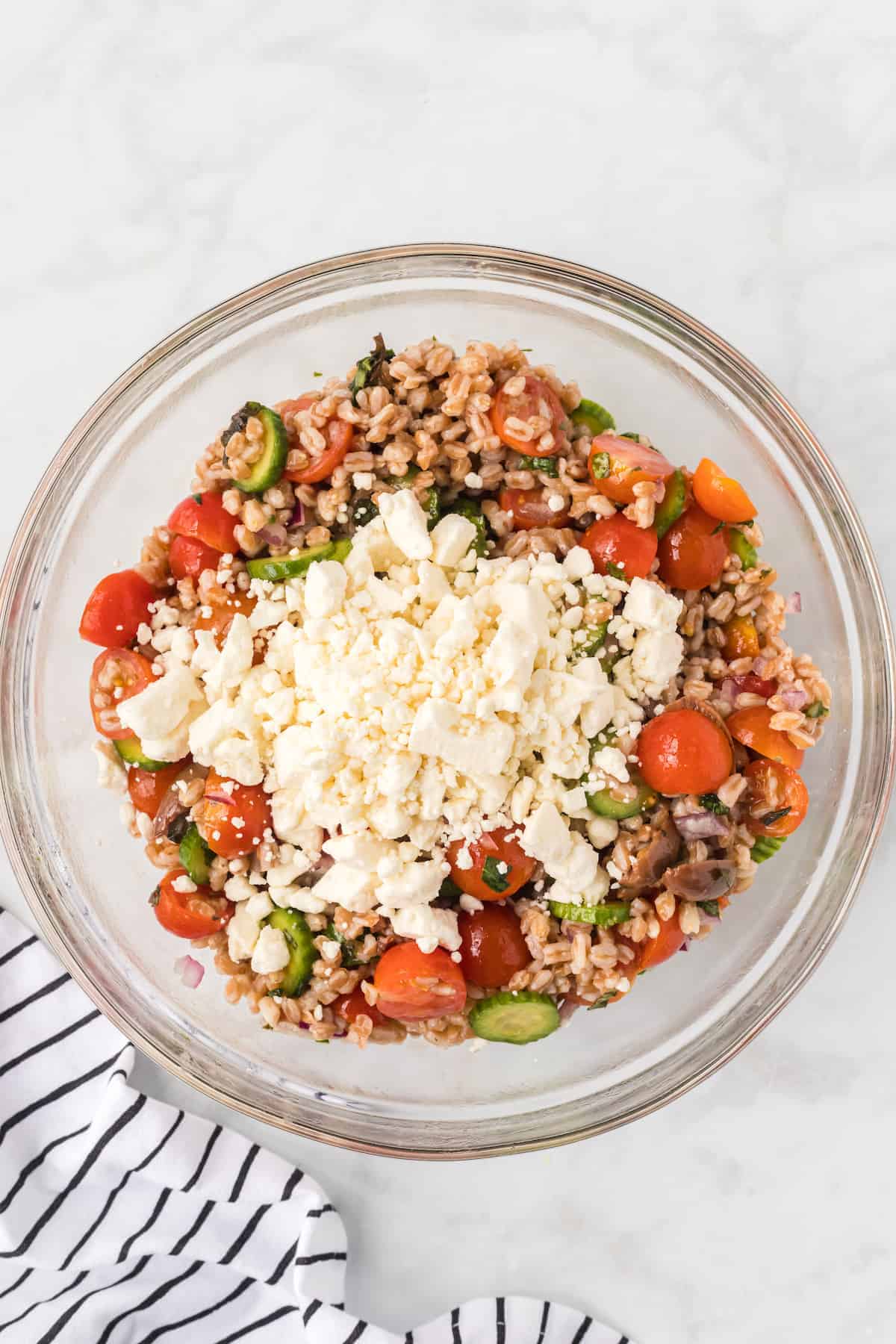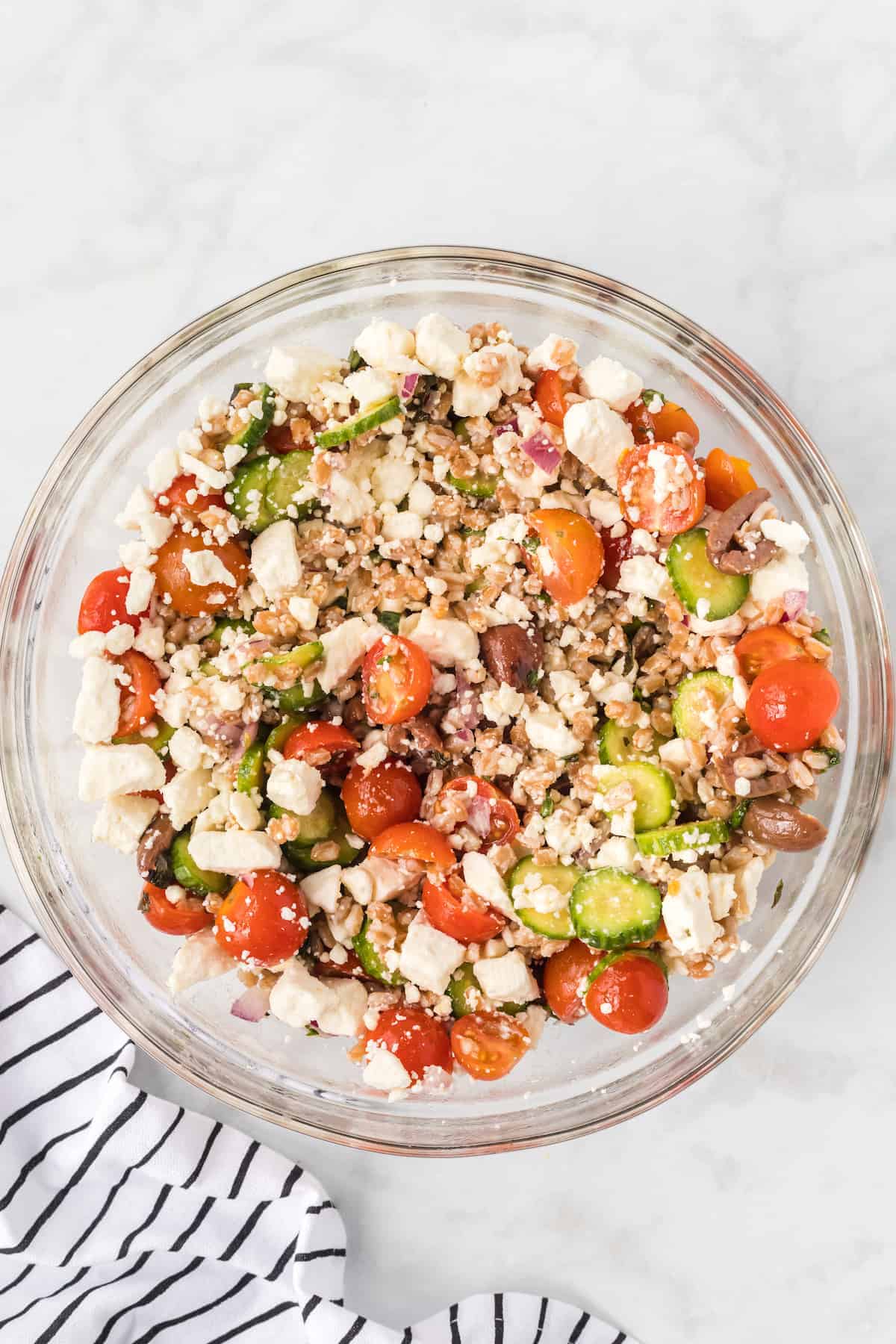 Top the grain salad with crumbled feta cheese and toss well to combine all of the ingredients.
Alternative ingredients
Other ingredients that would go great in this salad are green or red bell peppers, sun-dried tomatoes, artichoke hearts, fresh spinach or kale.
Additional herbs if desired are oregano, fresh parsley.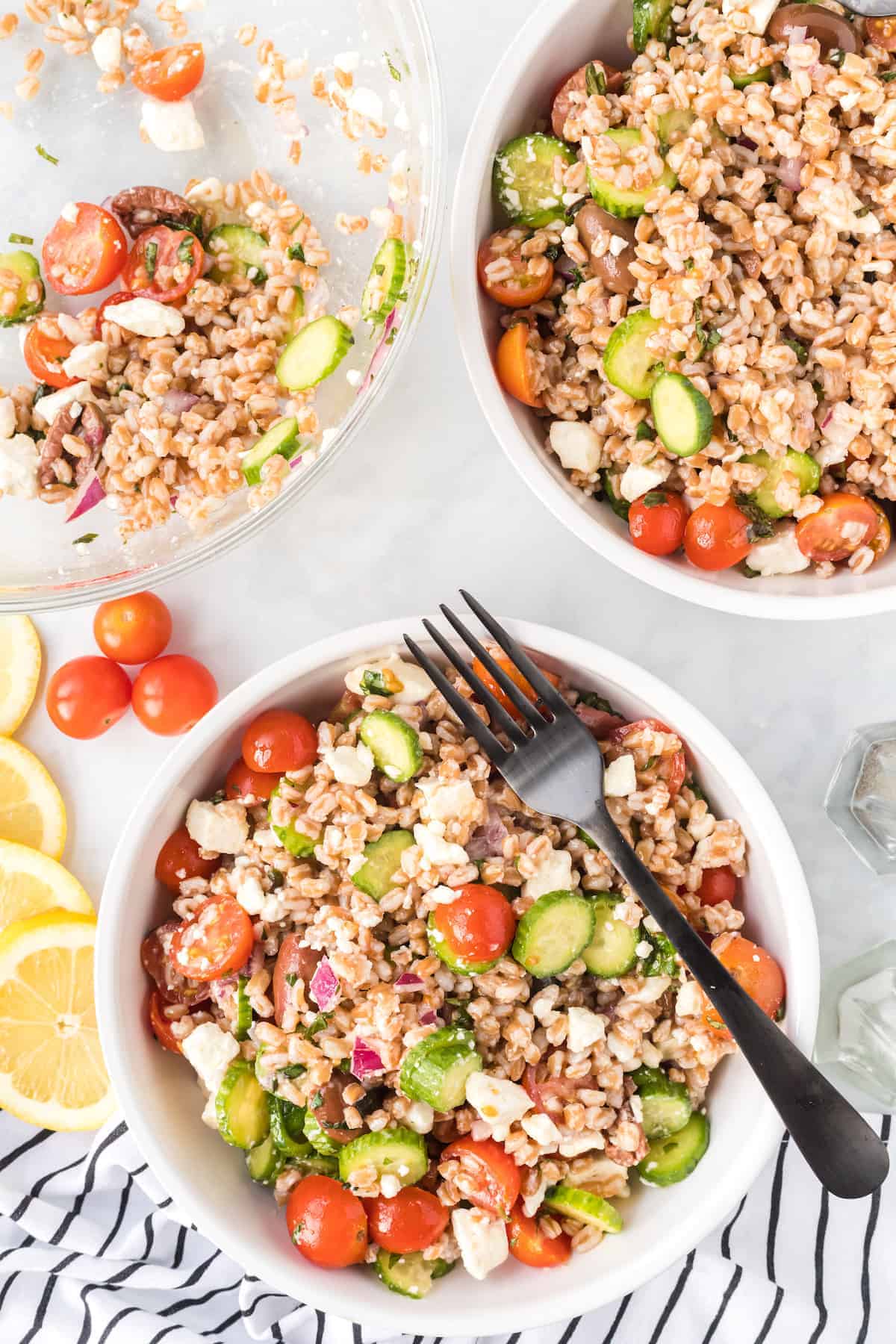 Tips for storing leftovers
If you have leftover farro salad or want to make this recipe ahead. It can be stored in an airtight glass container for a few days. It can be stored for about 3-4 days in the refrigerator.
More favorite Mediterranean recipes:
FAQ (frequently asked questions)
Can you eat farro on the Mediterranean diet?
Yes, absolutely. Farro is an ancient whole grain and is sourced in the Mediterranean country of Italy. Some of the other grains recommended for the traditional Mediterranean Diet are: barley, buckwheat, bulgur, millet, oats, polenta, rice, wheat berries, couscous, and some pastas.
What does farro taste like?
It has a little bit of a nutty taste with a bit of oats or barley, it looks and tastes like a lighter brown rice. And is slightly chewy.
Is farro better for you than rice?
Farro is a very nutritious whole grain derived from ancient varieties. It is far superior in nutrients than white rice or other refined grains.
want more recipes?
Check out the recipe index where you can discover more homemade recipes from my homestead!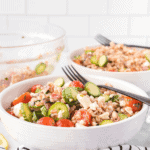 Mediterranean Farro Salad
This salad is a quick and easy-to-prepare Mediterranean-inspired lunch. Prepare a batch on Sunday and enjoy it throughout the week.
Ingredients
vinaigrette
Juice from 1 lemon fresh squeezed, not bottled!
¼ cup high quality extra virgin olive oil
½ tablespoon of fresh mint finely chopped
2 tablespoons fresh basil finely chopped
¼ teaspoon garlic powder
Instructions
Add farro and water to a pot on stovetop and bring to a boil. Once it is boiling, lower to a small simmer and add a lid to the pot. Cook for about 20 minutes until done (see note). Drain Farro and allow to cool.

While Farro is cooling, start preparing the vinaigrette dressing. In a bowl, whisk together the olive oil, fresh squeezed lemon juice, chopped fresh basil & mint, and the garlic powder.

Add cooled farro, tomatoes, cucumbers, onions, Kalamata olives, and vinagrette dressing to a large bowl and give it a gentle stir to combine all ingredients. Top with the feta cheese crumbles.

Salt & pepper to your preference & enjoy!
Notes
When Farro is cooked, it will be soft, but not mushy and have a slight bite to it. If it needs more cooking time, you can adjust up a few minutes. But be careful not to overcook! If the water gets too low, add a little bit more.
Nutrition
Serving: 1cCalories: 266kcalCarbohydrates: 33gProtein: 6gFat: 13gSaturated Fat: 3gPolyunsaturated Fat: 1gMonounsaturated Fat: 8gCholesterol: 11mgSodium: 271mgPotassium: 365mgFiber: 6gSugar: 4gVitamin A: 479IUVitamin C: 14mgCalcium: 102mgIron: 2mg
Tried this recipe?Give it a 5 star rating and pin it to your Pinterest account!
where would you like to start?