This easy Mediterranean Farro salad is the perfect addition to nearly any meal. It is light and has tons of flavor. And it can be adjusted to incorporate the best vegetables.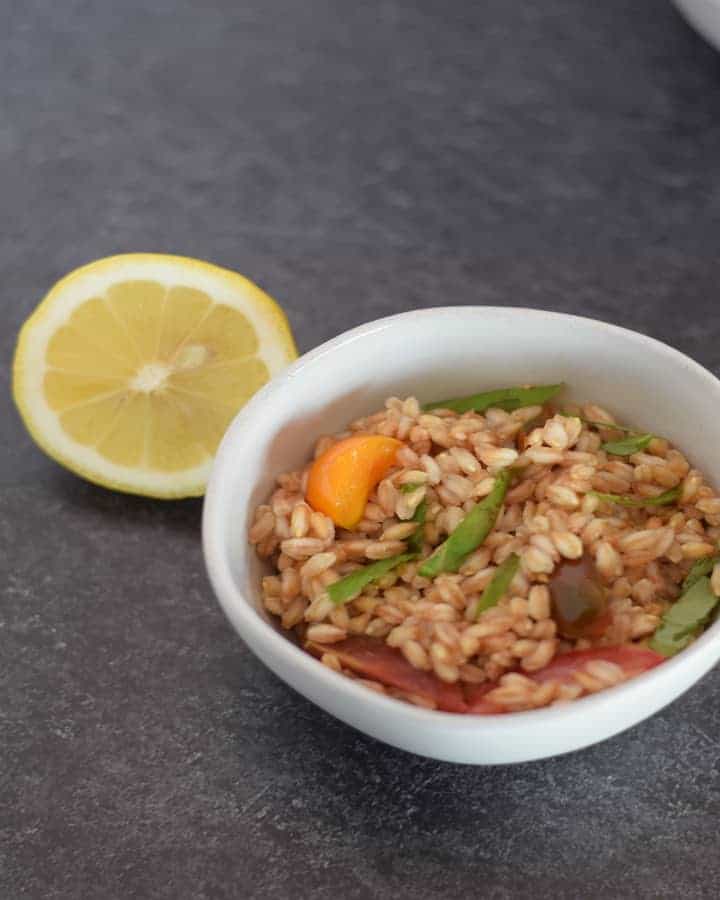 Mediterranean Farro Salad
Farro is such a great staple to keep in the pantry. We make it around here at least once a week. And my little ones are huge fans.
I try to avoid many overly complicated recipes or ingredients that are hard to find. In fact, if you're growing your own vegetable garden, you may have many of these ingredients on hand.
For this recipe, I used mini heirloom tomatoes, fresh lemon juice, olive oil, and fresh herbs.
This fresh Farro salad includes a lot of simple ingredients, but still packed full of fresh flavor.
Try it alone or paired with this Salmon sheet pan dinner!
What is Farro?
Farro is an ancient whole grain that is derived from wheat. Farro is also known as Emmer (the most common variety) and is made in Italy.
The other two varieties are more commonly known as Spelt and Einkorn.
Farro is packed full of nutrients – fiber, protein, good source of antioxidants, and B vitamins.
Since Farro gets it roots from Italy, it makes a great addition to the Mediterranean diet.
More awesome Farro nutritional and benefits.
How to Cook Farro
When cooking Farro, you want to be careful not to over or under cook it. It should have the consistency that is tender, but not mushy. It will have a slight bite to it – kind of like a properly cooked pasta.
To cook Farro, you will use a 2-1 ratio. So it will be about 1 cup of Farro to 2 cups of water.
Add 1 cup of Farro and 2 cups of water to a pot and bring to a boil. Add a lid to your pot and reduce to a simmer.
Cook for approximately 20 minutes. And drain any extra liquids.
More Delicious Recipes: