This creamy lemon pasta is ready to eat in 15 minutes, thanks to the help of a few convenience items in the pantry.
What to do for dinner tonight? Pasta is a great option for something hearty and super quick. A creamy, flavorful lemon pasta is a perfect quick & easy meal!
Quickly turn a few basic pantry staple ingredients into a flavorful pasta dish that the entire family will enjoy.
Creamy Lemon Pasta Recipe
This light lemon cream sauce for pasta is the perfect light crisp recipe for spring and summertime. But it also satisfies those comfort food cravings!
Add some grilled chicken or shrimp, and a fresh green salad for the ultimate dinner.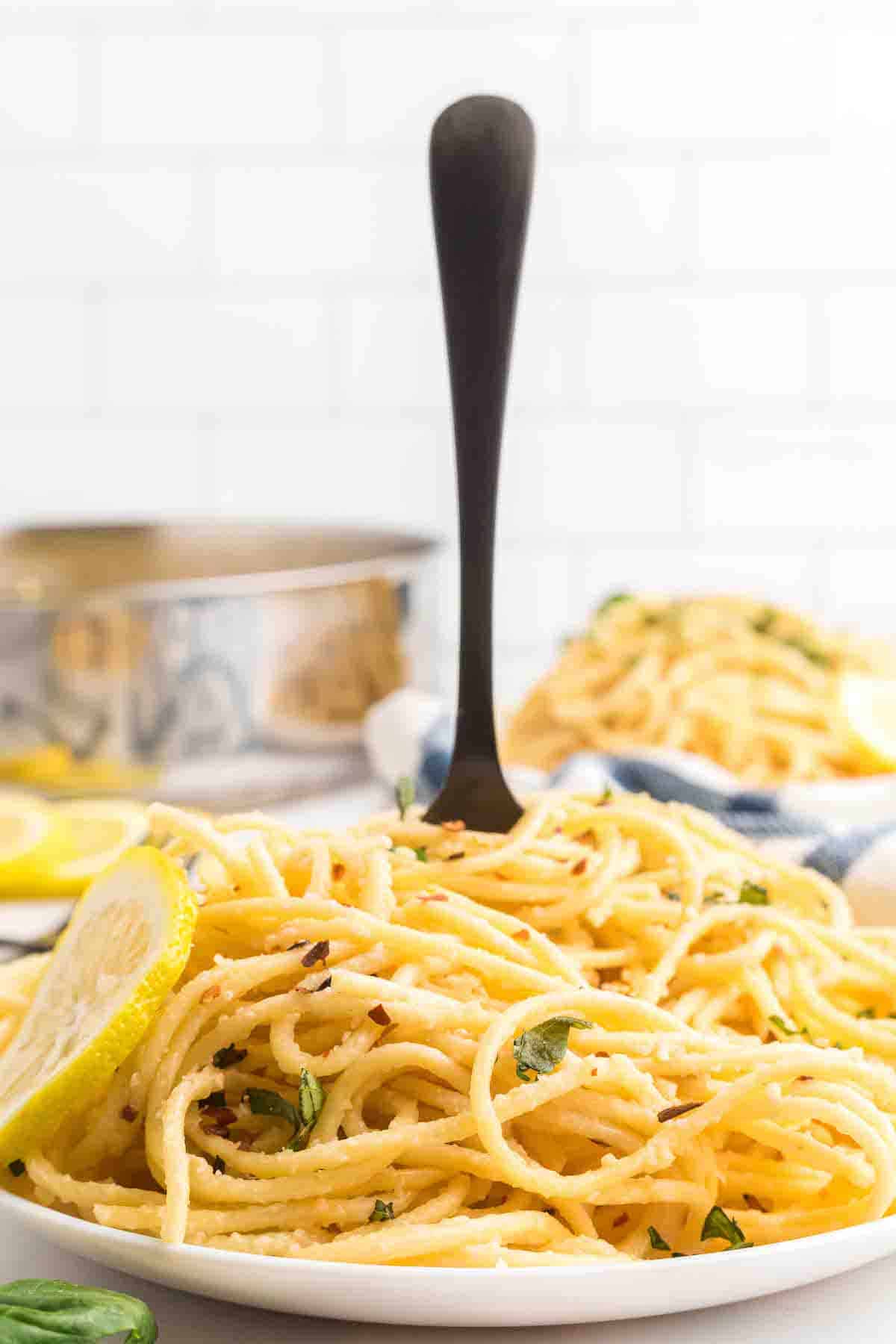 Ingredients
I love that this recipe is so simple to make and does not need any complicated ingredients. You can easily find these items in your local grocery store.
Here's what you'll need:
spaghetti noodles — you can definitely substitute this pasta. So use your favorite pasta noodle
extra virgin olive oil — quality is key here!
garlic cloves
fresh lemon for zest and juice — you'll want fresh lemon juice for this recipe and not a bottled variety.
mascarpone cheese
heavy cream
salt
crushed red pepper
freshly grated parmigiano cheese
fresh basil or parsley (optional)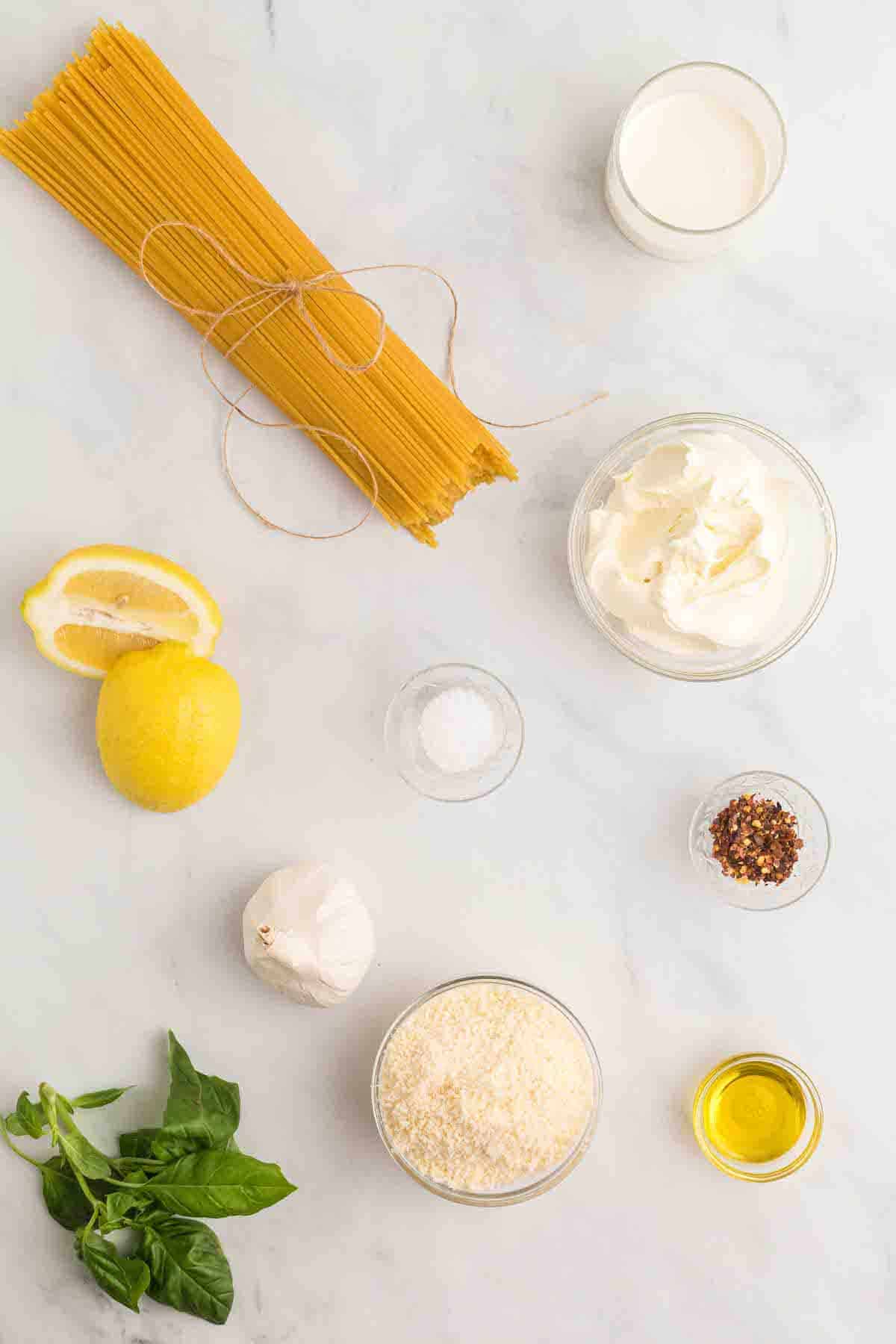 Instructions
This recipe is incredibly quick and easy to make. You can have the entire recipe done in the time that it takes to cook the pasta! And depending on which pasta you choose, it can go really quickly.
Although, I prefer a spaghetti, linguine pasta, or other thicker noodle — you can substitute and use your favorite.
Angel hair pasta only takes like 5-6 minutes to cook which makes this recipe come together even faster.
Begin by bringing a large pot of water to a boil. And don't forget to salt your pasta water! To do this, add the salt to the water just as it's boiling and before adding the pasta.
Then drop the noodles without breaking them up to the boiling large pot of salted water.
Cook the pasta noodles until al dente or desired doneness.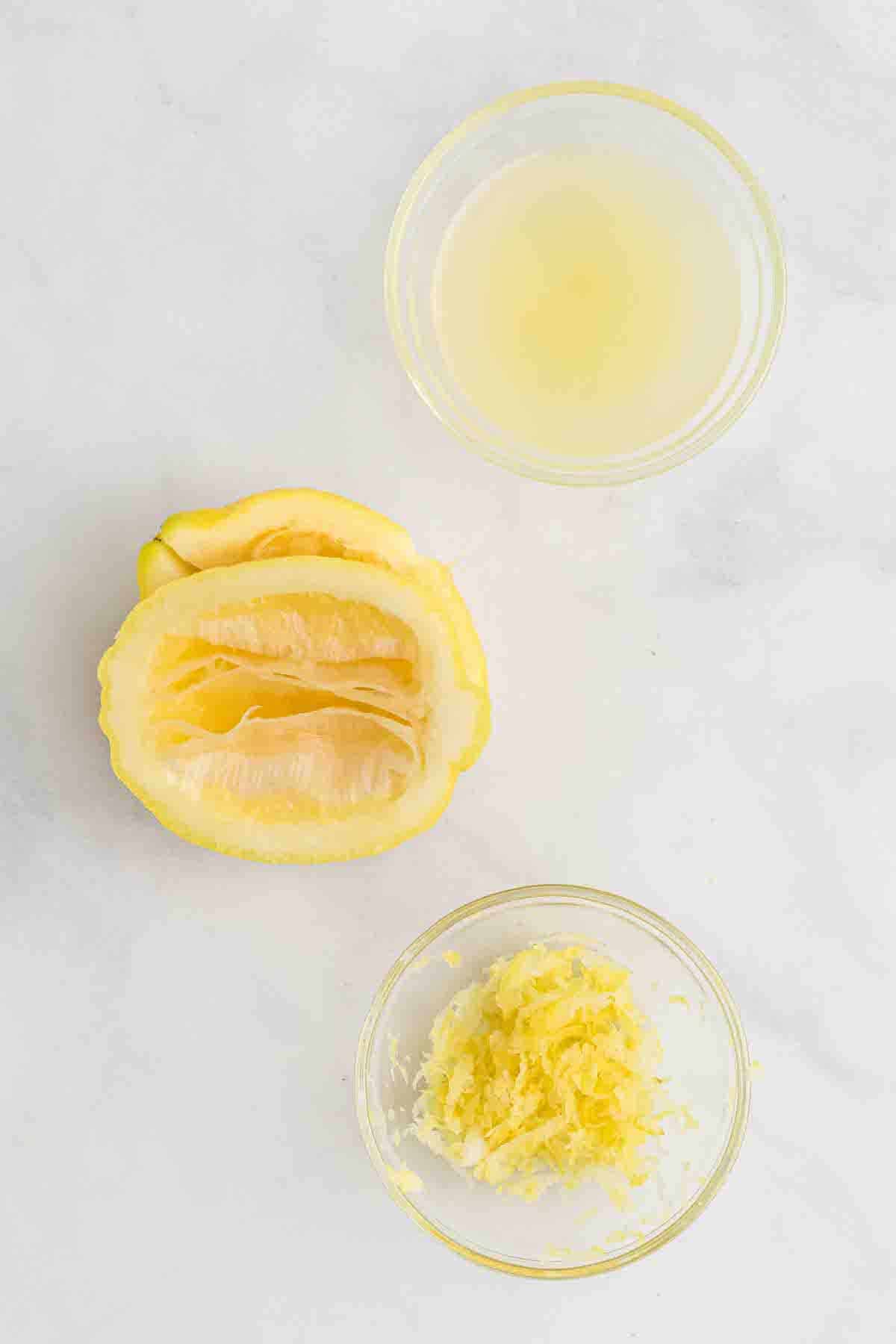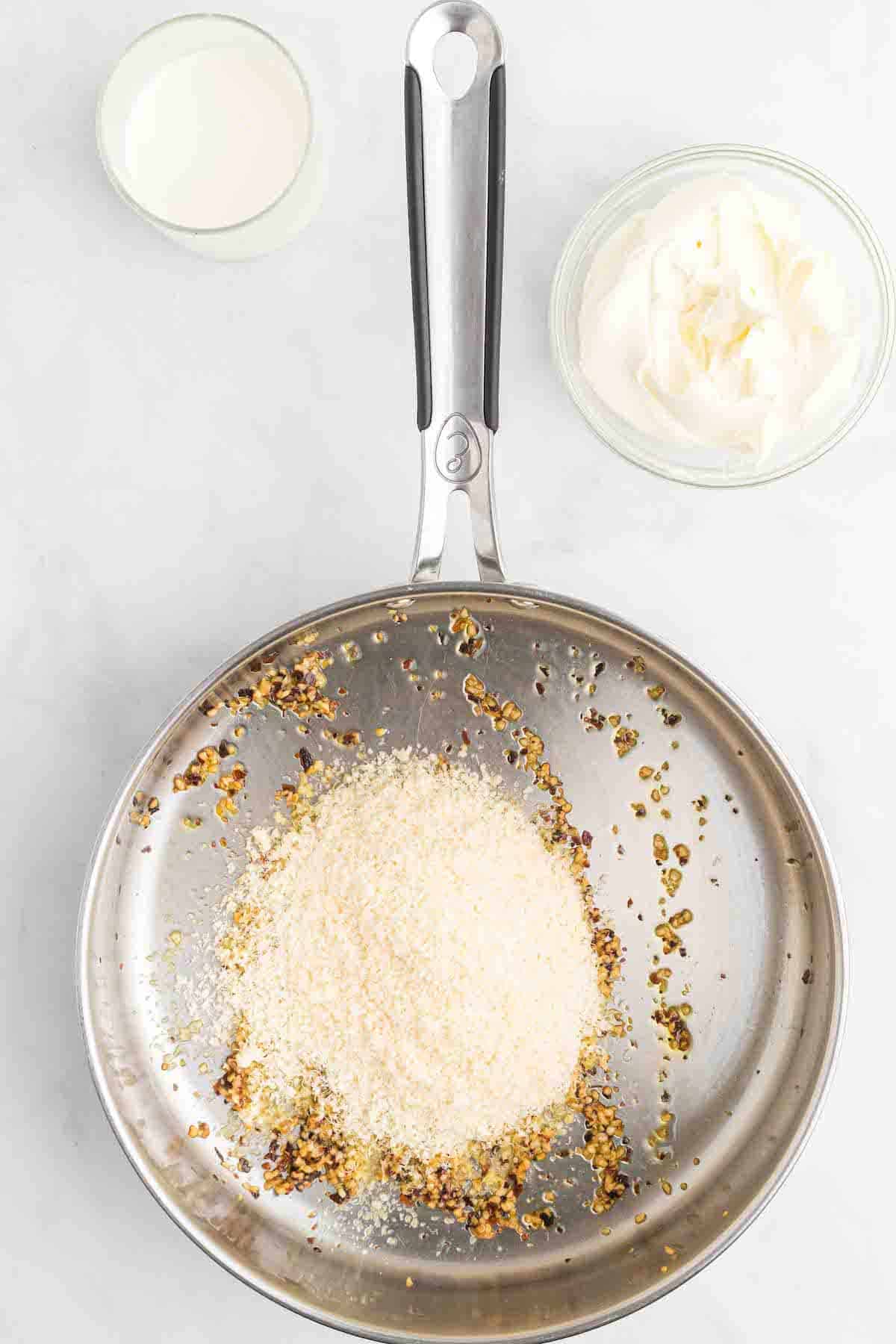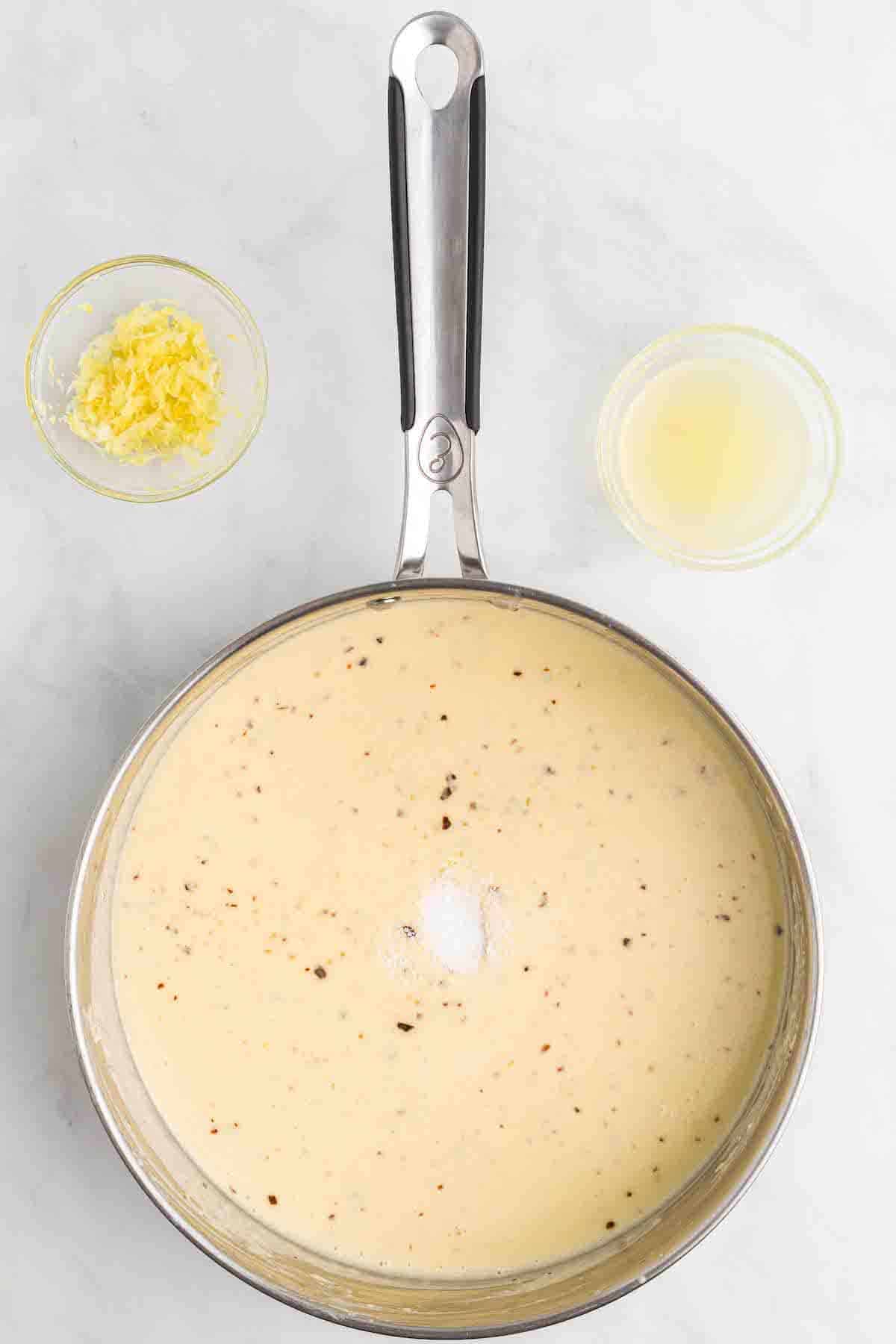 Next, grate the zest and squeeze the juice from lemon.
In a large saucepan or skillet, heat up the olive oil over medium heat. Add garlic and crushed red pepper, stir until fragrant, just about 1 minute.
Stir in the mascarpone cheese, parmesan cheese, heavy cream and simmer over medium heat, stirring until combined.
Stir in the lemon juice, lemon zest, and the salt.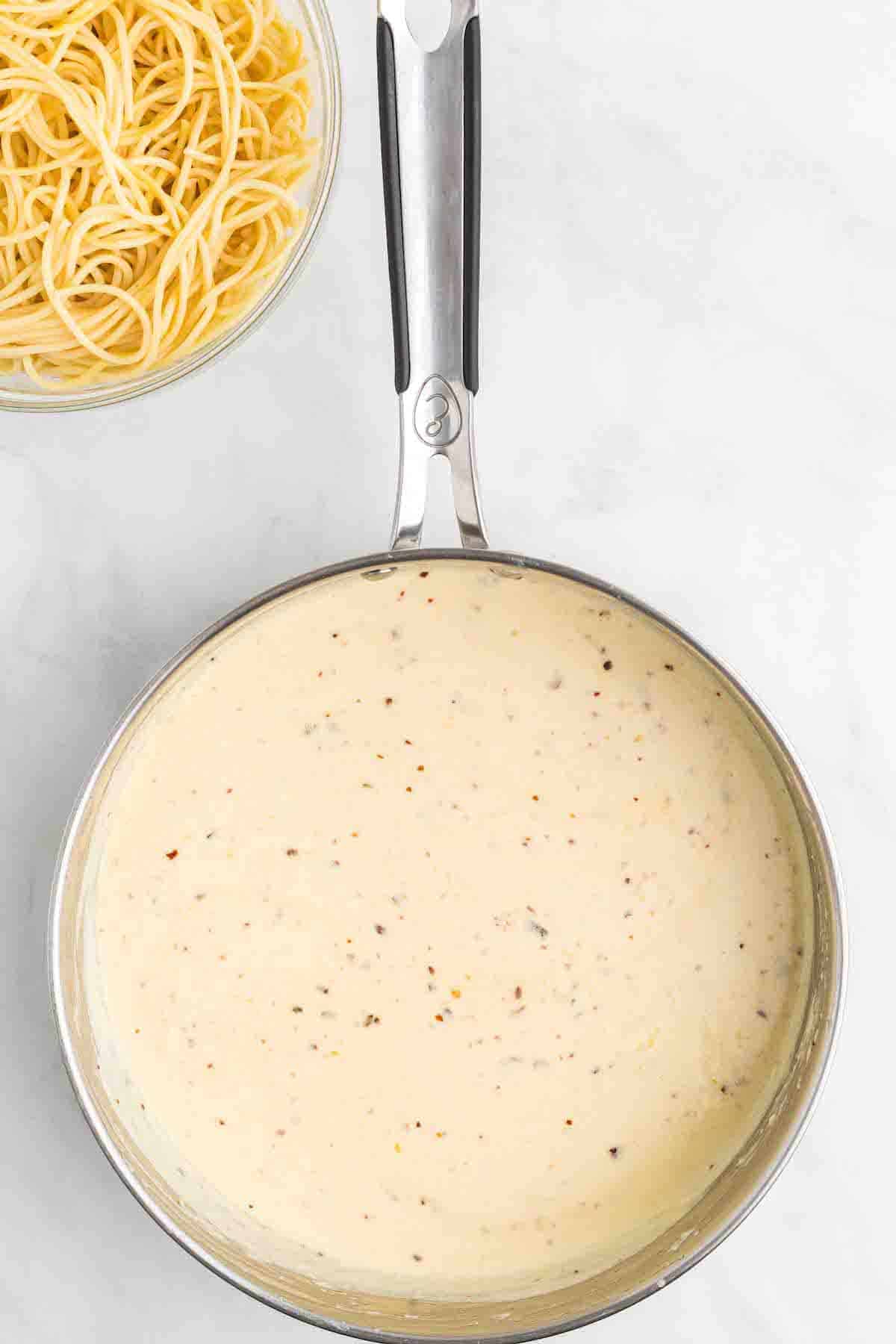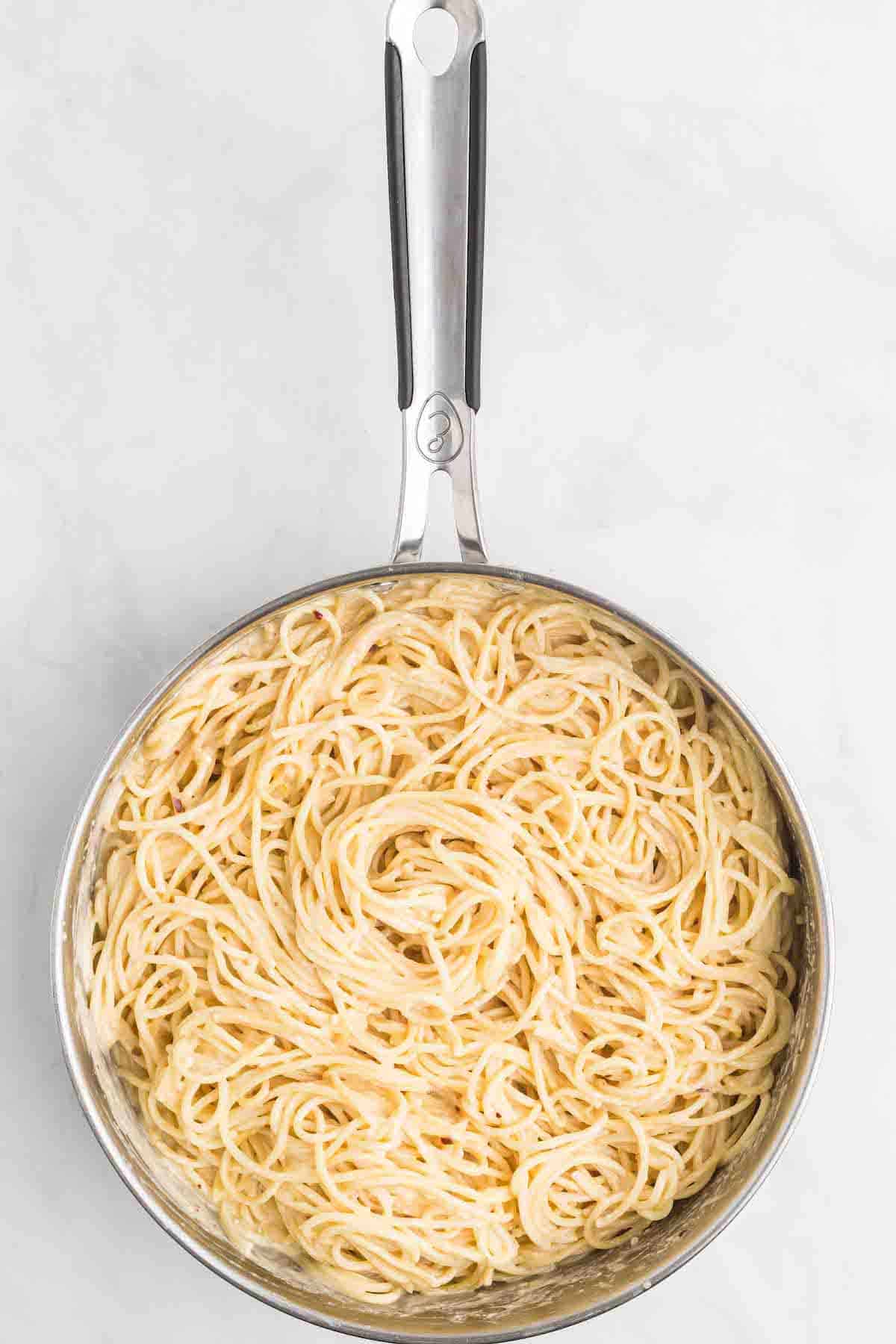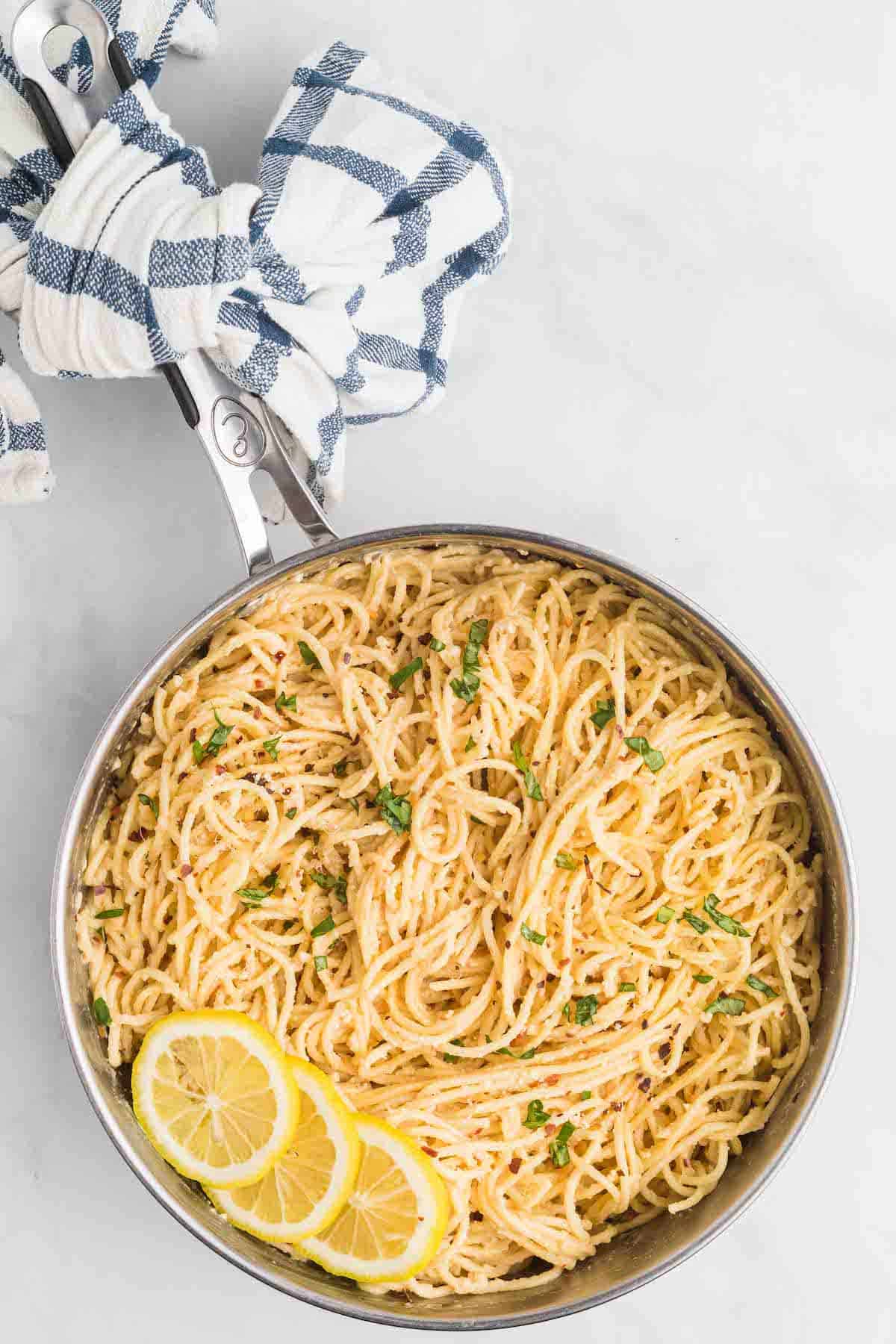 Drain the cooked pasta and add directly to the large skillet pan of creamy lemon sauce. Combine together and garnish with fresh herbs.
Sprinkle additional red pepper flakes, black pepper, and more fresh parmigiano cheese to taste, if desired.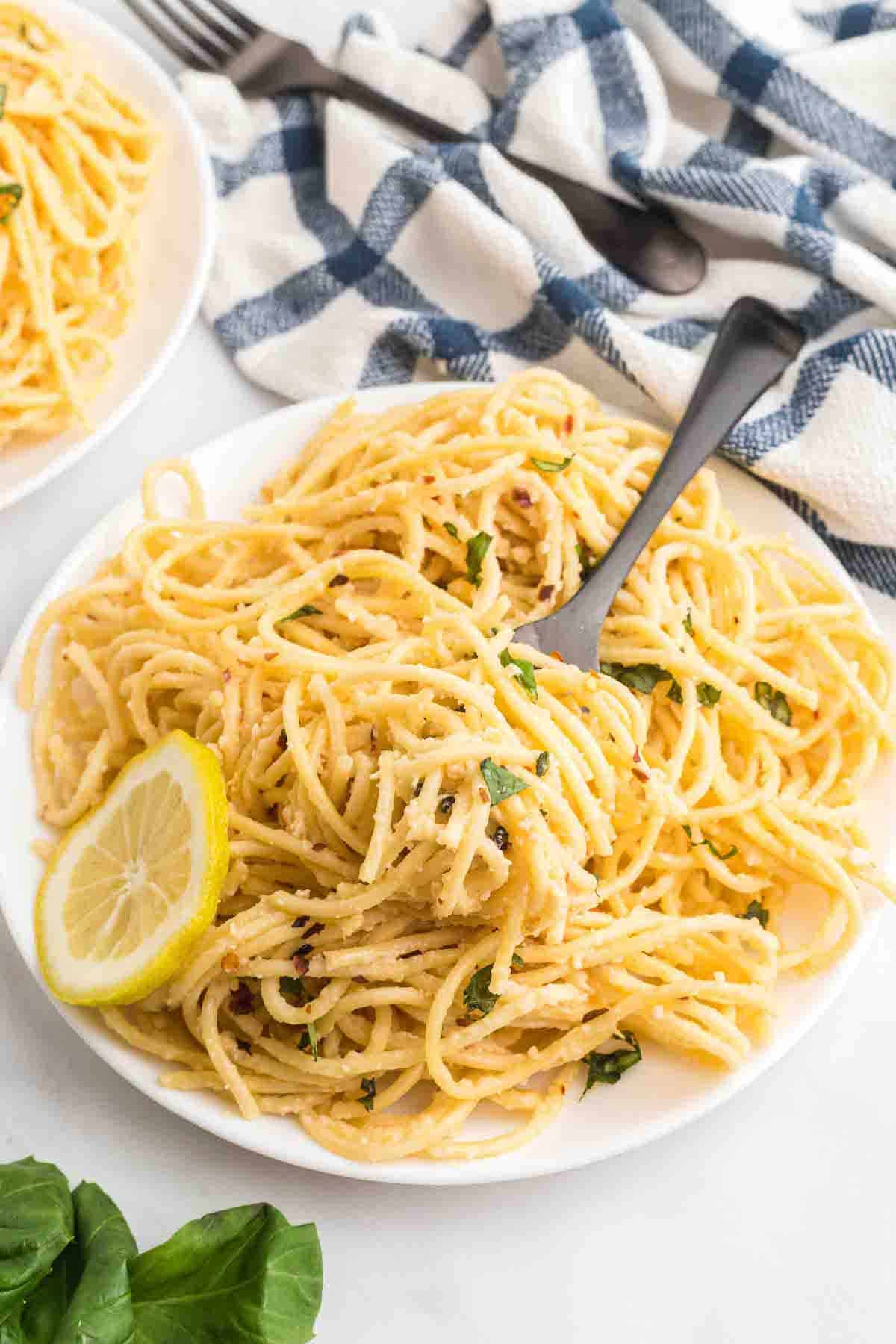 How to store leftovers
This is a pasta that you should enjoy fresh. Most pastas don't store well depending on their sauce. If you do have leftovers, be sure to store in an airtight container for about 3-4 days. Add additional cream or milk when heating up the pasta as it becomes dry during storage. Heat over low heat on the stove top inside of a saucepan.
More favorite pasta recipes
Here's a few of our favorite pasta recipes that we think you'll love too!
FAQ (frequently asked questions)
When to add lemon to cream sauce?
The lemon should be added after making the cream sauce and just before adding the pasta noodles. This will help prevent it from curdling the creamy sauce.
What do you pair with creamy lemon pasta?
We love to pair this pasta with a fresh green salad, grilled chicken, or shrimp, or other light grilled fish. Salmon is definitely another favorite!
want more recipes?
Check out the recipe index where you can discover more homemade recipes from my homestead!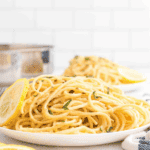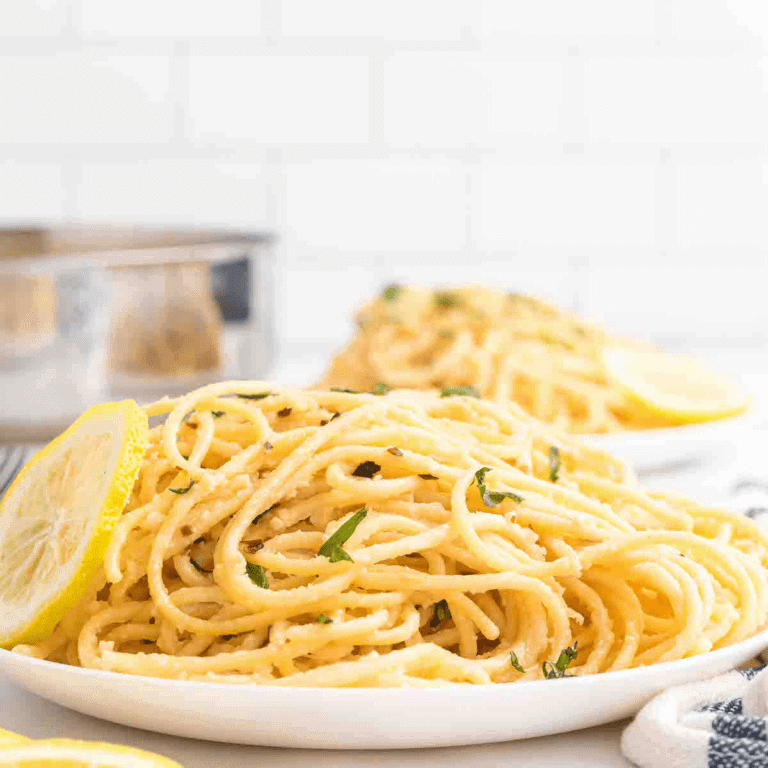 Creamy Lemon Pasta
If you're in search of a light, creamy, and easy-to-make pasta dish, look no further. Lemon zest and lemon juice pair with creamy marscapone and parmesan to make this pasta dish. Plus, it takes 15 minutes to cook!
Instructions
Cook pasta according to package directions and don't forget to salt the pasta water.

Meanwhile, grate zest and squeeze juice from lemon, set aside. In deep skillet, heat up the olive oil over medium heat.

Add garlic and crushed red pepper to the olive oil in the, stir until fragrant, just about 1 minute. Be careful not to burn the garlic.

Stir in the mascarpone cheese, parmesan cheese, heavy cream over medium heat, stirring until combined.

Stir in the lemon juice, lemon zest, and salt. Add the lemon cream sauce to the drained pasta noodles.

Serve immediately. Optional: Serve pasta sprinkled with additional fresh shredded parmigiano cheese and, fresh herbs, if desired.
Nutrition
Calories: 611kcalCarbohydrates: 60gProtein: 19gFat: 32gSaturated Fat: 18gPolyunsaturated Fat: 1gMonounsaturated Fat: 5gCholesterol: 72mgSodium: 495mgPotassium: 235mgFiber: 3gSugar: 3gVitamin A: 1004IUVitamin C: 10mgCalcium: 286mgIron: 1mg
Tried this recipe?Give it a 5 star rating and pin it to your Pinterest account!
where would you like to start?