This Traditional Italian Beef Ragu Recipe simmers slowly to give it tremendous flavor. It is sure to be a favorite weekend meal. Toss it with your favorite pasta and enjoy with a nice glass of wine.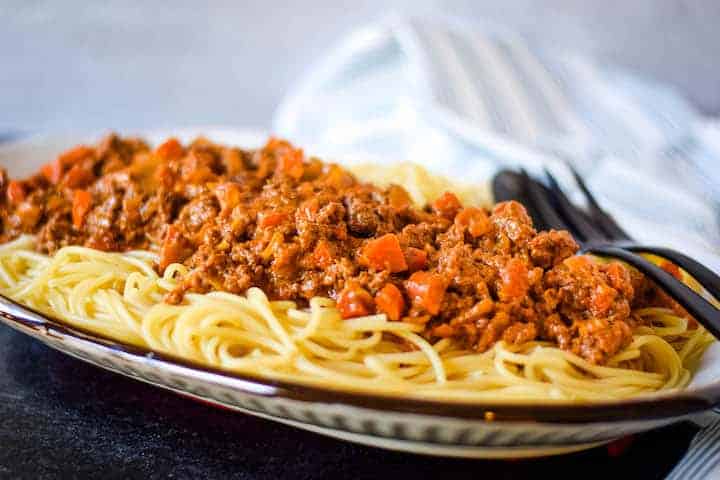 This is a family favorite meal and it is another classic Italian dish that we like to make on a Sunday afternoon. The slow simmer allows the family time to spend together.
And it makes a great fall time cozy comforting meal.
What is the Difference Between a Ragu and a Bolognese?
I'd like to explain this a bit because they are similar sauces. However, there are some slight differences to each sauce.
A ragu is a meat based sauce with a little bit of tomato added to it. It also contains a combination of minced vegetables, such as, carrots, onions, and sometimes celery.
A ragu sauce also simmers slowly in red wine, beef broth, and usually has a little bit of heavy cream added towards the end to lighten the color.
Now, a bolognese is a variation of ragu — Ragu alla Bolognese. It uses a white wine and less tomatoes.
So really it comes down to slight variations.
What Pasta to Use with the Beef Ragu Recipe
Usually I serve a ragu sauce with spaghetti noodles. But feel free to pair this sauce with your favorite pasta noodle!
The general rule of thumb is to serve a thicker sauce with a wider noodle. A couple of varieties of wide pasta noodles are pappardelle and mafalde.
A ragu sauce also makes a great choice for a homemade lasagna.
More Delicious Recipes You Might Like: