Flavorful and incredibly satisfying, this easy Greek Lentil Soup recipe is incredibly easy to whip up. A perfect one-pot soup that simmers slowly and is ready in about 40 minutes. This soup is a perfect winter or fall comfort food.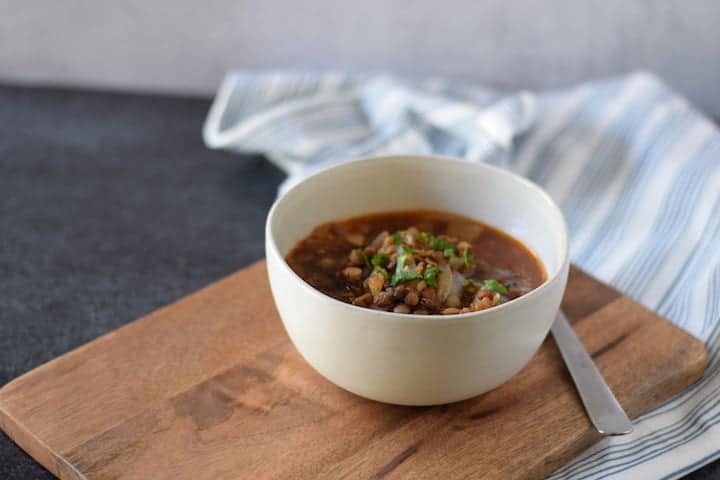 With just a few simple ingredients, you'll have a nutritious and hearty meal that isn't overly complicated to make. I love to make this soup year round for lunch or a quick healthy dinner.
More Soup Recipes
Easy Greek Lentil Soup Recipe
The heart of this soup are the lentils. And I love to use these sprouted trio of lentils for my recipes. I like these lentils because they are pre sprouted, which adds to the nutrition benefits.
I know many people are put off by lentils because they are pretty bland on their own.
However, with this soup, you won't find it wanting in flavor! With the combinations of fresh garlic, tomatoes, Greek inspired seasonings, and quality olive oil.
Quality olive oil is key to making flavorful dishes. And quality doesn't have to be super expensive.
One thing that I always look for is olive oil that is certified by the California Olive Oil Council (COOC). This way I know that I'm purchasing authentic olive oil.
I like Wild Groves olive oils. Very flavorful and amazing quality!
Tips for Making This Soup
Rinse and pick the beans clean prior to adding them to the soup pot. I've found mini stones in lentils and peas before!
Lentils do not require soaking prior to cooking like beans would. They cook easily within 30-40 minutes, depending on the method of cooking.
This Greek lentil soup stores well in the refrigerator for about 3-5 days. I will make a batch of it and enjoy for several days of lunches during the week. I just heat it up in a pan on the stove top.
More Delicious Recipes You May Like