This recipe for Italian Roast Chicken is a definite family favorite. The skin is nice and crispy and the meat is perfectly tender. It has amazing Italian flavors from garlic, lemons, onions, and seasonings like rosemary, oregano, thyme, and more delicious herbs.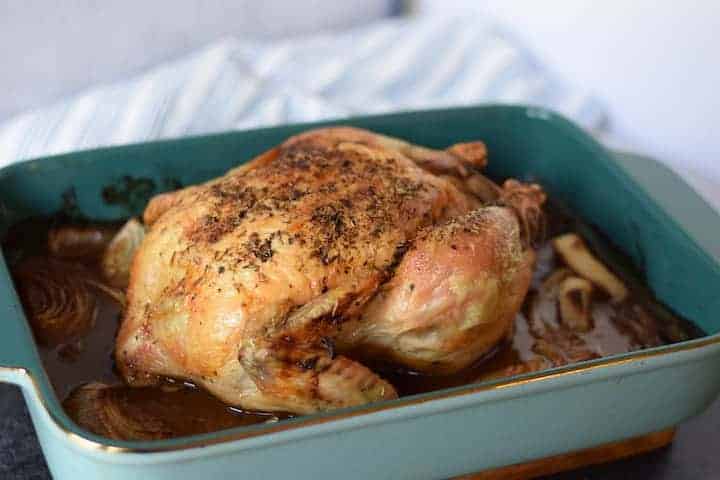 It is sure to become an instant hit and new favorite Sunday family dinner. Serve it up for a special family meal or when you have dinner guests.
Everyone will be pleased with the yummy results!
More Sunday Favorite Meals:
Creating the Perfect Italian Roast Chicken
This recipe for roast chicken isn't overly complicated. What's not to love about that? I really like to make this chicken recipe for an easy going Sunday meal.
It takes just a few preparations and time to roast in the oven. And you're left with a perfectly juicy and tender chicken with flavorful crispy skin.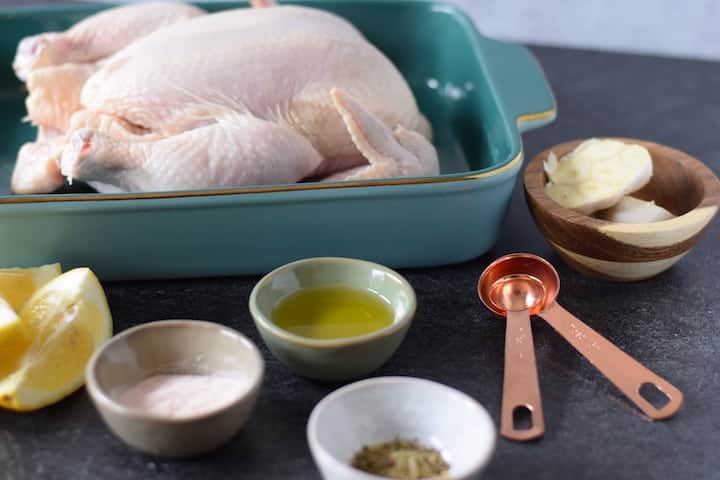 When I'm creating a recipe, I like to measure out the ingredients and prep everything ahead.
Some of the things that give this roasted chicken its amazing flavor are:
Lemon and garlic inside of chicken
Generously salted inside and out
Quality olive oil drizzled on chicken skin
Primal Palate Amore seasoning, which contains: garlic, rosemary, onion, oregano, thyme, basil, parsley, red chili flakes
How to Get a Crispy Chicken Skin
A trick to getting that flavorful and delicious crispy chicken skin is to make sure that you pat the chicken dry before baking. Simply use a couple of paper towels and blot the outside of the chicken to dry it.
Drizzle olive oil over the top of the chicken before baking. This will help with crisping the chicken skin.
And roast the chicken uncovered. Covering up the chicken will leave you with a soft and soggy skin. Which works for other chicken recipes, but not with a roasted chicken.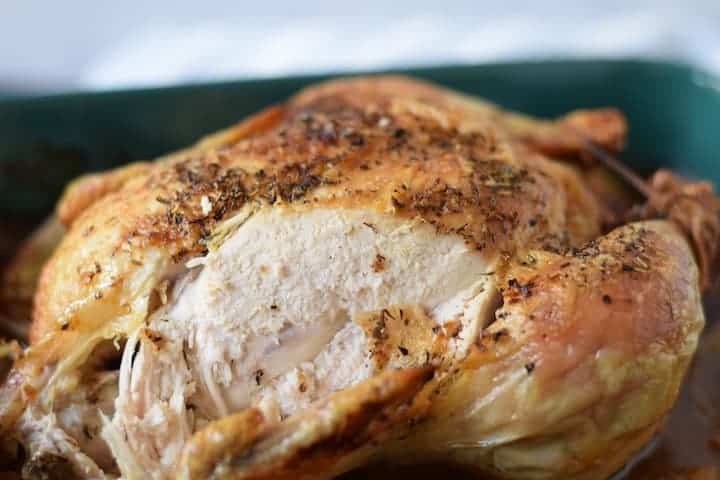 Tie the chicken legs together with kitchen twine to help with roasting the chicken more evenly. And it helps to give the chicken a better presentation by holding it together during the baking process.
How Do I Make My Chicken Tender and Juicy?
The secret to to making a roast chicken tender and juicy is in the techniques. The chicken should be roasted at a high temperature (425 degrees F in this recipe) and left uncovered.
Roasting it uncovered helps to create that perfect crispy skin and tender, juicy chicken meat.
When the chicken is done roasting and fresh out of the oven, allow it to rest for a few minutes (about 5 ish) before carving it.
How to Tell When a Whole Chicken is Cooked
A whole chicken is cooked completely when the internal temperature reads 165 degrees F.
I recommend using an instant read thermometer for checking the proper temperatures of meat. And check at various parts of the chicken, especially the thickest areas.
What to do with Chicken Bones
Don't throw them out! I save my meat bones and create a delicious broth.
Homemade bone broth is nutritious and makes a delicious addition to many recipes. Such as, this Italian meatball soup!
Here's more information on bone broth and how to make your own!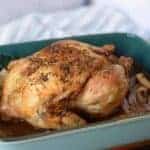 Italian Roast Chicken
The BEST Italian Roast Chicken recipe! This is sure to become an instant family favorite. Perfectly tender, juicy, and flavorful and delicious crispy skin!
Ingredients
5-6

pound

whole chicken

1

tablespoon

of salt

1

lemon

quartered

1

whole garlic

halved

1

large onion

sliced into large pieces

3

tablespoons

of olive oil

1 1/2

teaspoons

of Primal Palate Amore Seasoning

see note
Instructions
Preheat oven to 425 degrees F.

Place chicken inside of a baking dish. Pat the chicken dry with paper towels – this is a trick to preparing the chicken skin for crispiness.

Remove the giblets or any organs if necessary. Season the chicken inside and out with the salt.

Place half of the quartered lemon and the two halves of garlic inside of the chicken.

Tie the legs together with kitchen twine. Place the remaining half of the lemon and the sliced onions around the sides of the chicken.
Season the top of the chicken with the Primal Palate Amore seasoning.

Drizzle the olive oil over the top of the chicken and the onions, ensuring that the entire chicken is coated well with the olive oil.

Bake for 45 minutes and then rotate the entire pan in the oven so the other side is evenly roasted.

Continue roasting in the oven for about another 20-30 minutes. Or until the internal temperature of the chicken is 165 degrees F.

Start checking for doneness around 1 hour of cook time. Use an instant read thermometer to check all parts of the chicken for doneness. Allow the chicken to rest for a bit before slicing.

Serve & enjoy!
Notes
Primal Palate seasonings are packed full of delicious herbs & flavors and they're one of my favorite seasoning brands. I recommend the "Amore" seasoning for this whole chicken. But you can use any similar Italian seasoning that you prefer.
Nutrition
Serving:
1
c
Calories:
467
kcal
Carbohydrates:
4
g
Protein:
34
g
Fat:
34
g
Saturated Fat:
9
g
Cholesterol:
136
mg
Sodium:
1291
mg
Potassium:
401
mg
Fiber:
1
g
Sugar:
1
g
Vitamin A:
263
IU
Vitamin C:
14
mg
Calcium:
37
mg
Iron:
2
mg
More Delicious Recipes: