This healthy strawberry lemonade is naturally sweetened with a little honey. The best part about it – it's easy to make and tastes delicious.
It's sweetened with honey instead of processed white sugar, making it good for you.
This sweet drink is perfect for a hot day! The strawberries add a nice contrast to the tart lemonade and pairs deliciously with the real honey, making it the perfect summer drink.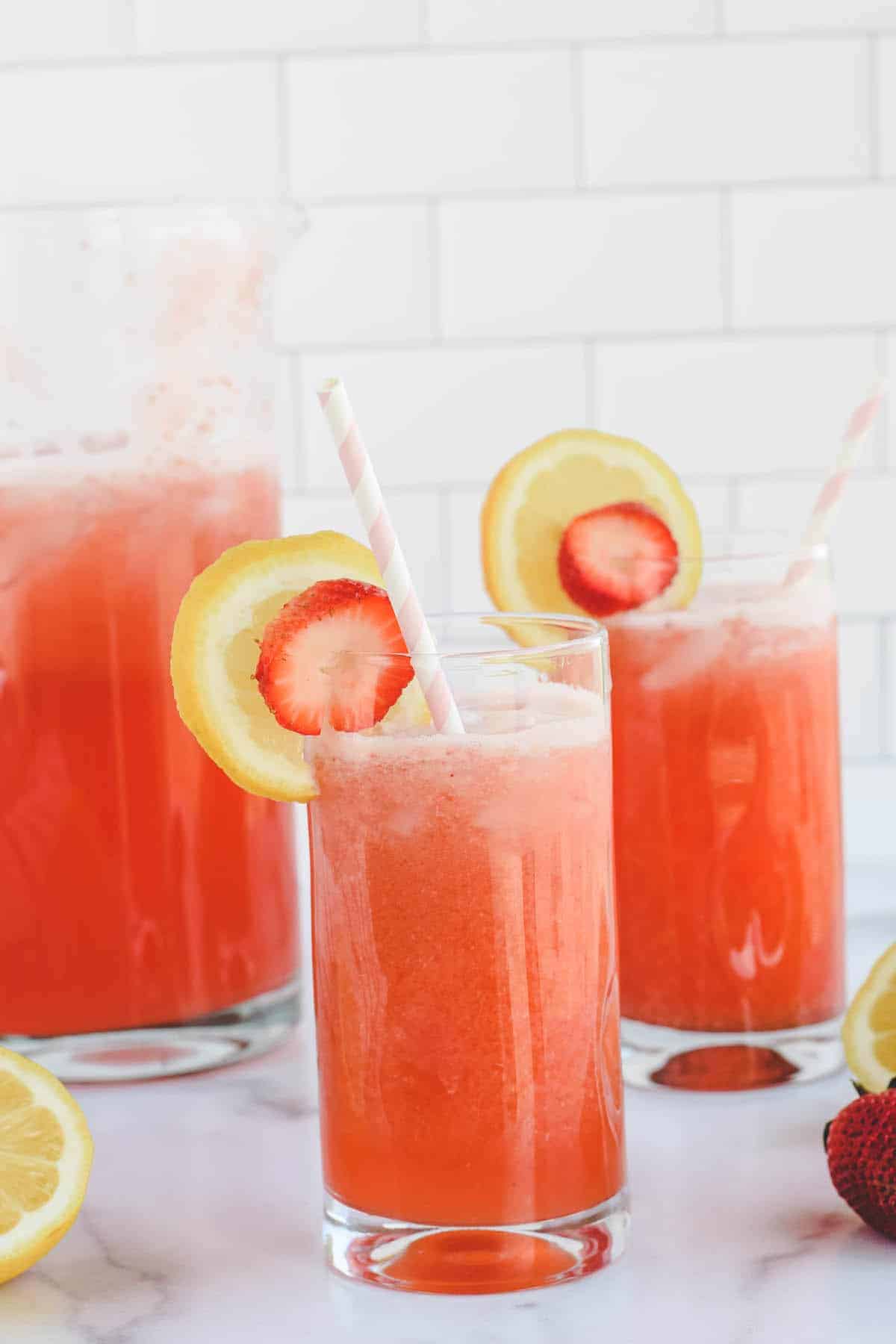 homemade strawberry lemonade – made healthy!
We love this recipe because it includes fresh ingredients and is sweetened naturally with raw honey. It's super refreshing after spending time in the garden!
Enjoying a glass of homemade lemonade can be a healthy part of any diet, but many lemonade recipes are high in sugar. We try to avoid using processed ingredients and unnatural sweeteners as often as possible.
Strawberries and lemon juice add vitamin C, antioxidants, and potassium to this refreshing lemonade. So, you can enjoy this delicious summertime favorite without any guilt!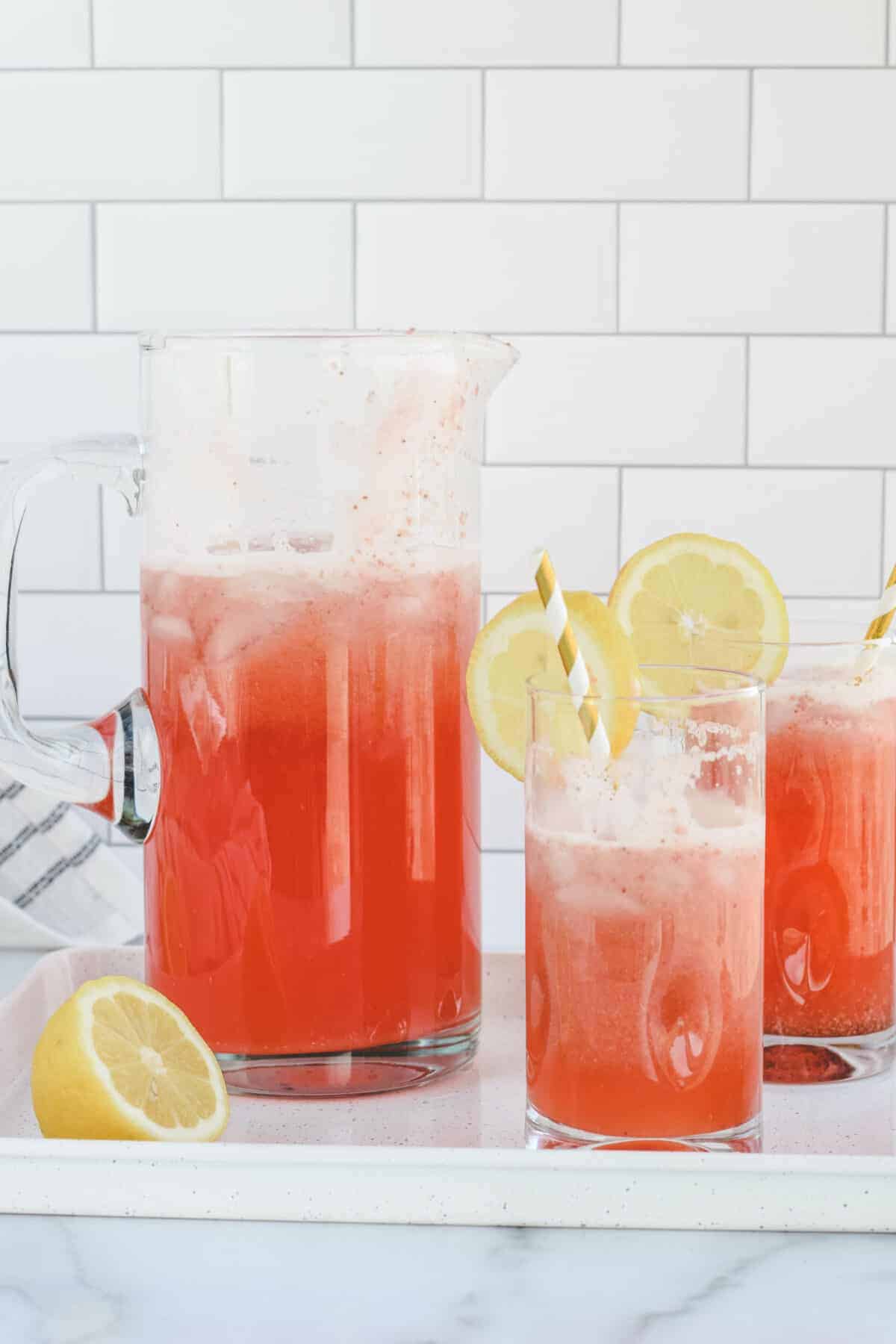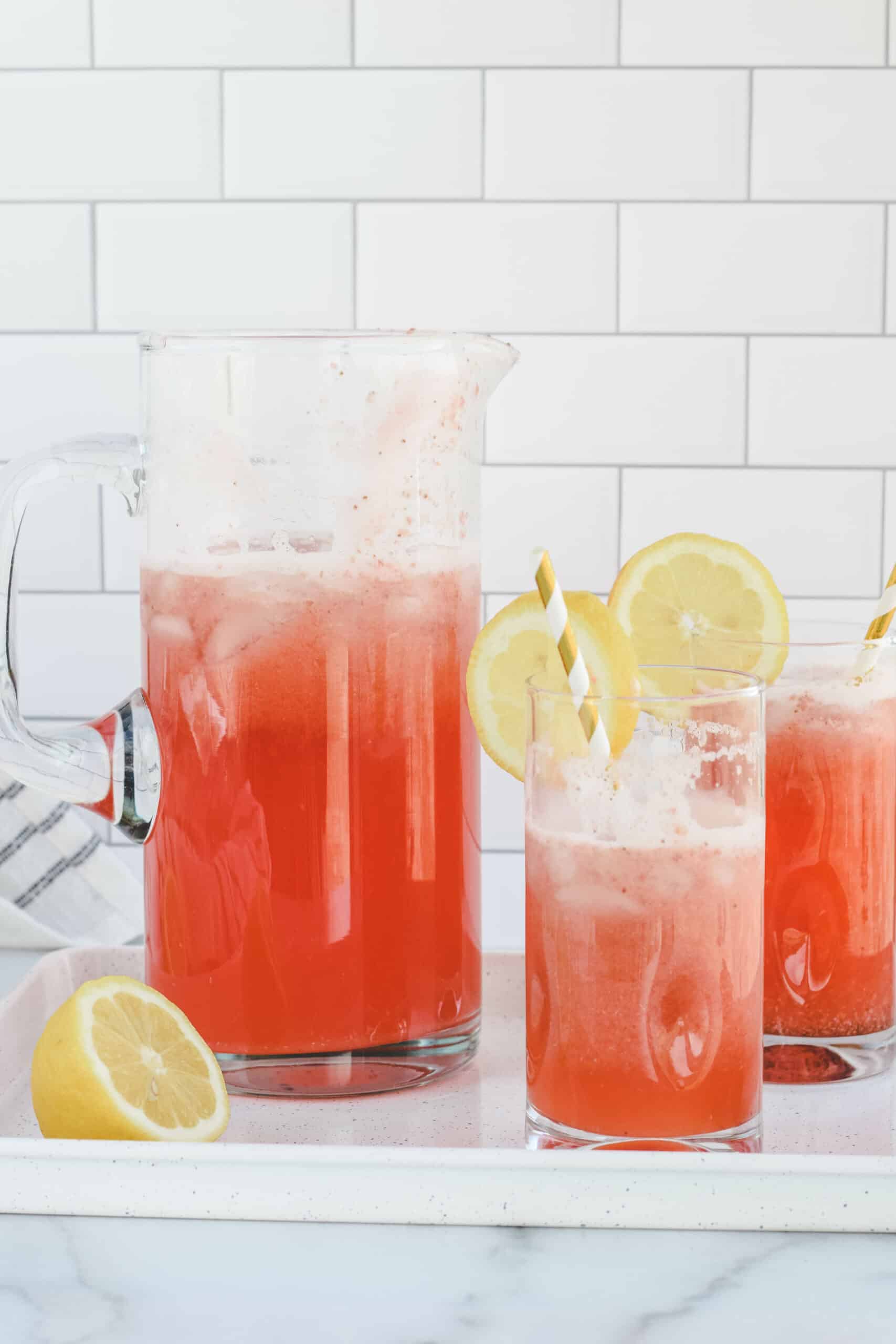 Ingredients
This fresh strawberry lemonade recipe is super easy to make and uses only a handful of real food ingredients. Here's what you'll need:
organic strawberries
organic honey – raw is best!
filtered water – we love our Berkey water filter for making all of our drinks on the homestead.
organic lemon juice – fresh squeezed!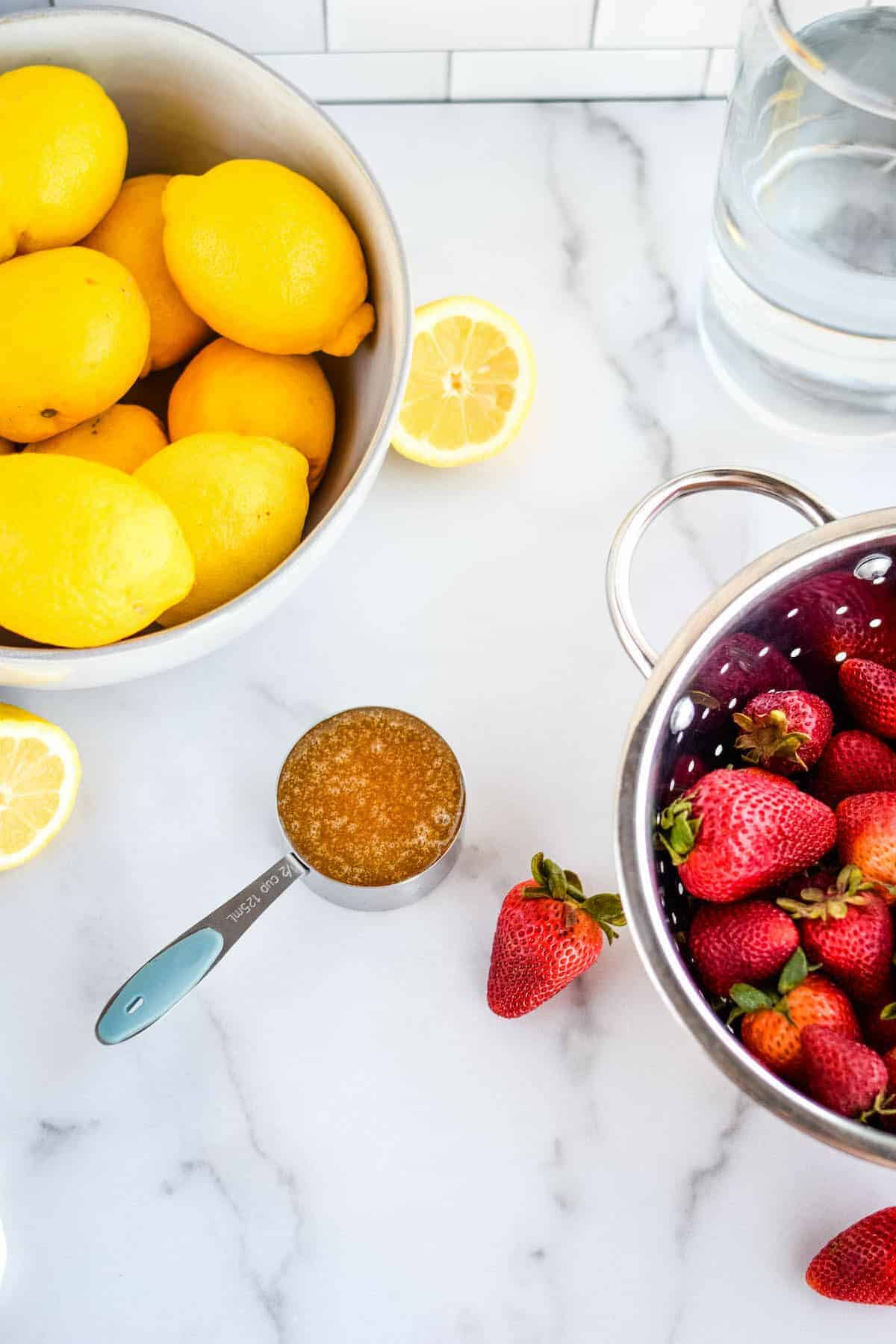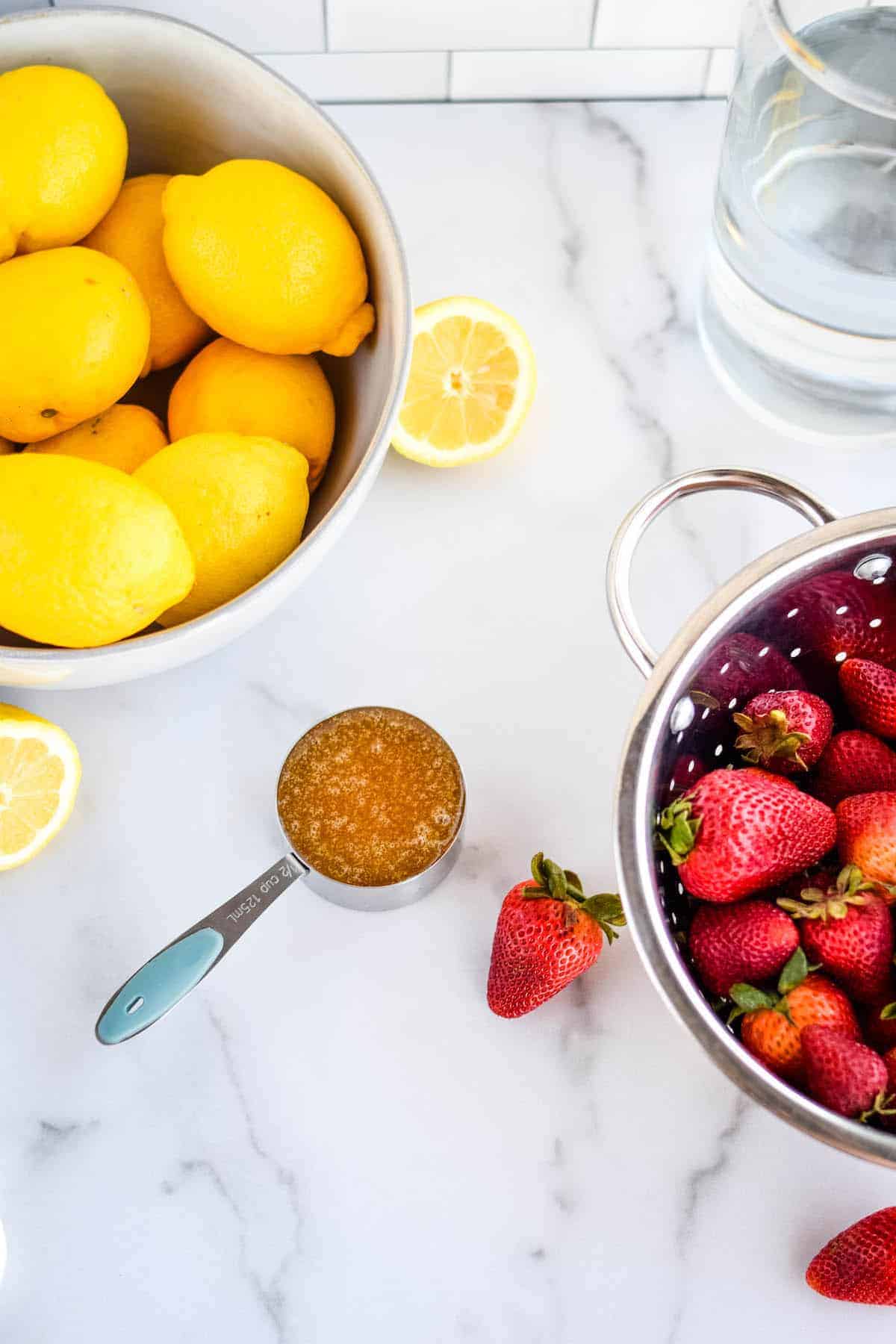 Instructions
This summer drink is super easy to whip up! Learn just how simple it is to make your own easy strawberry lemonade recipe at home.
Wash and strain the fresh strawberries, remove the tops, and then cut them into fourths.
Add the strawberries, honey, and 1/2 cup of the filtered water to a small saucepan to create a bit of a simple syrup. Heat over medium heat until the honey dissolves and the strawberries become soft. Whisk to combine, remove from heat and allow to cool.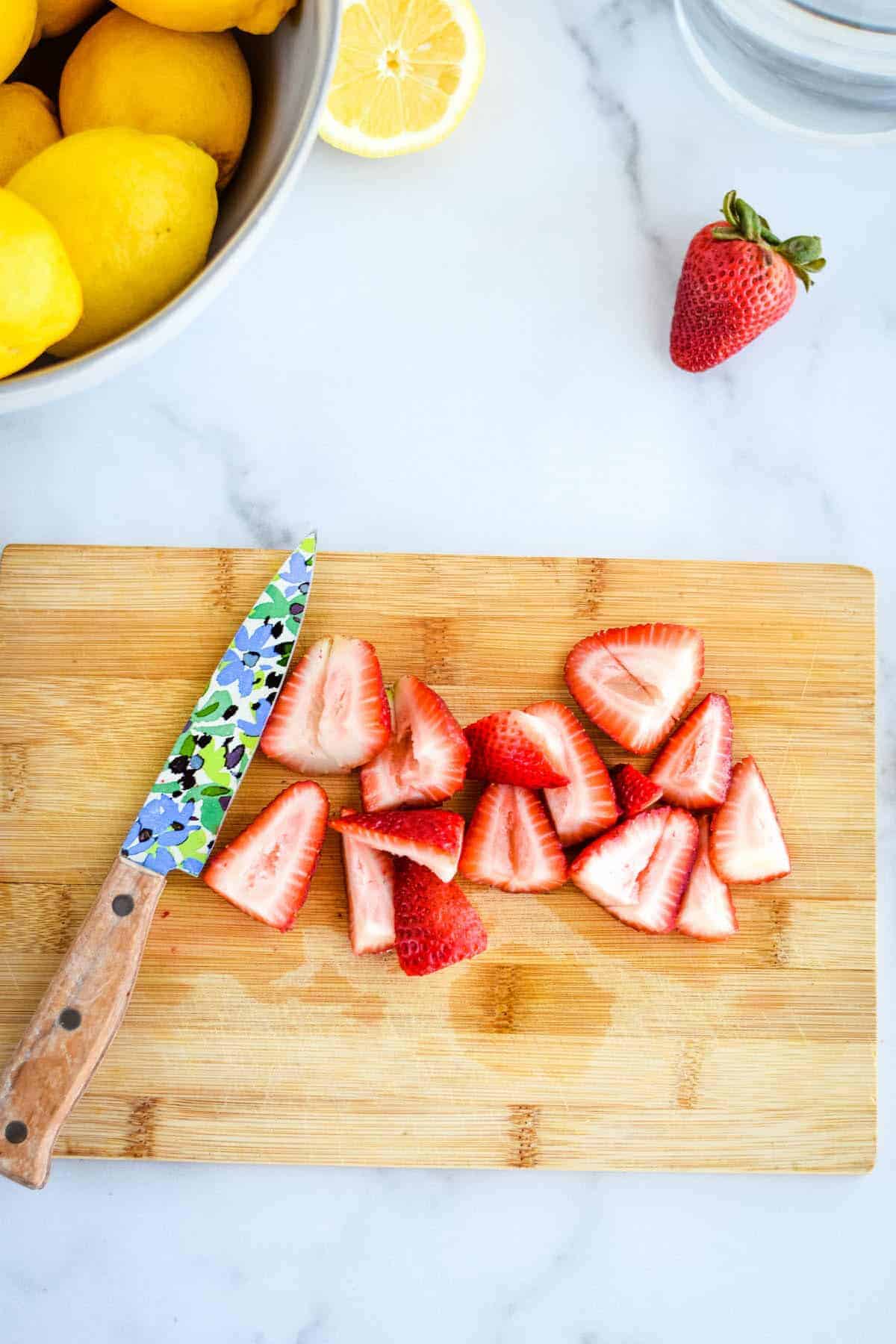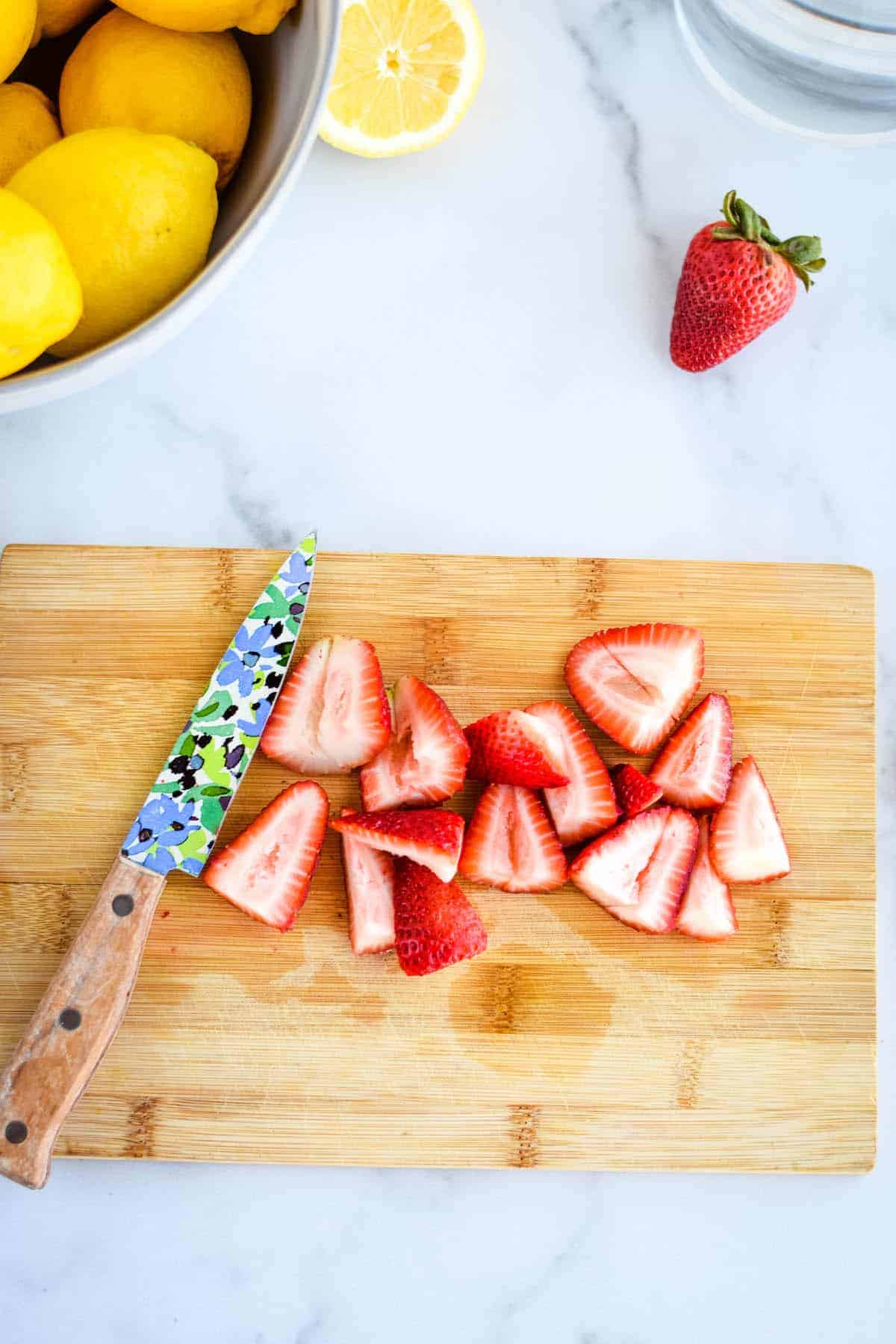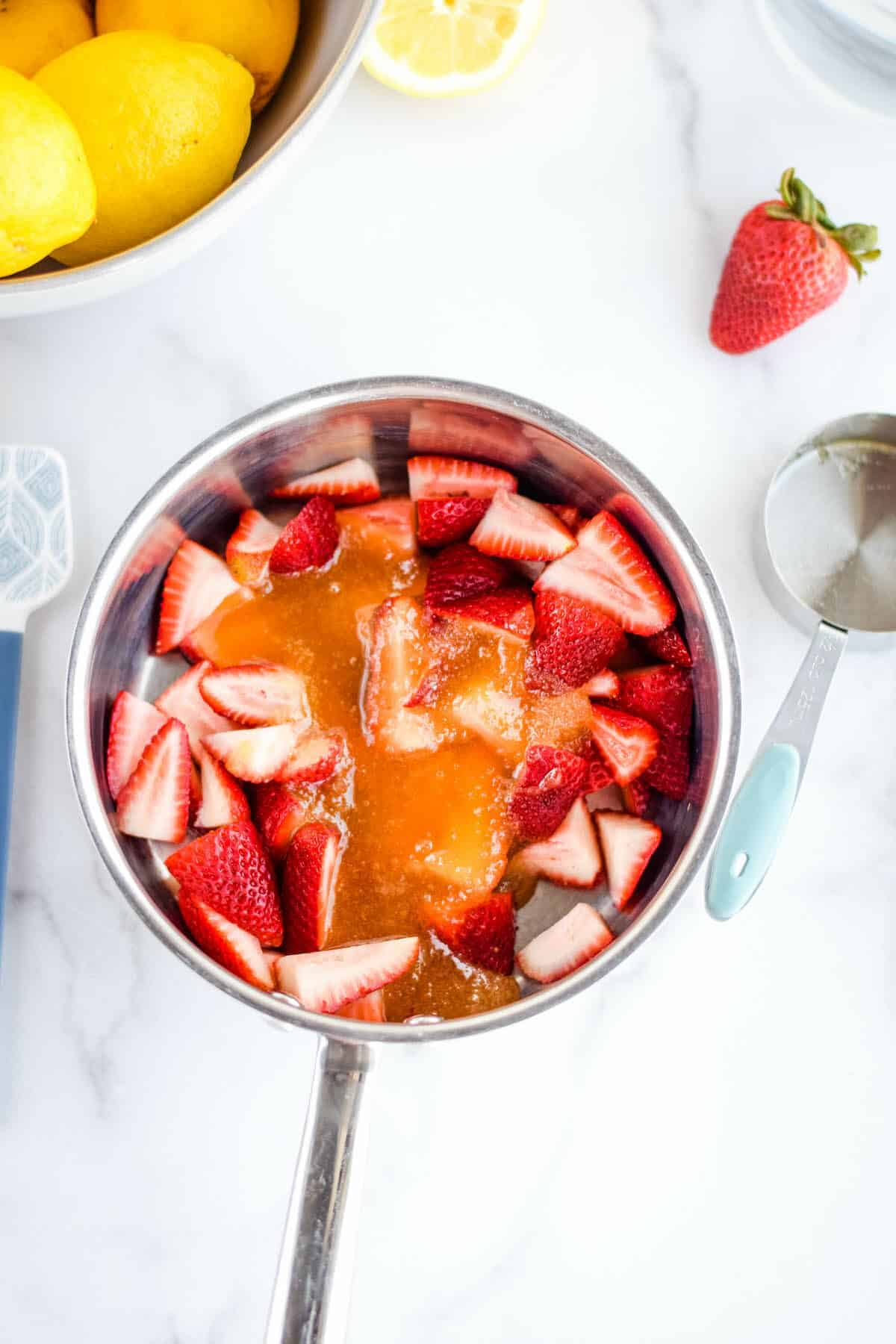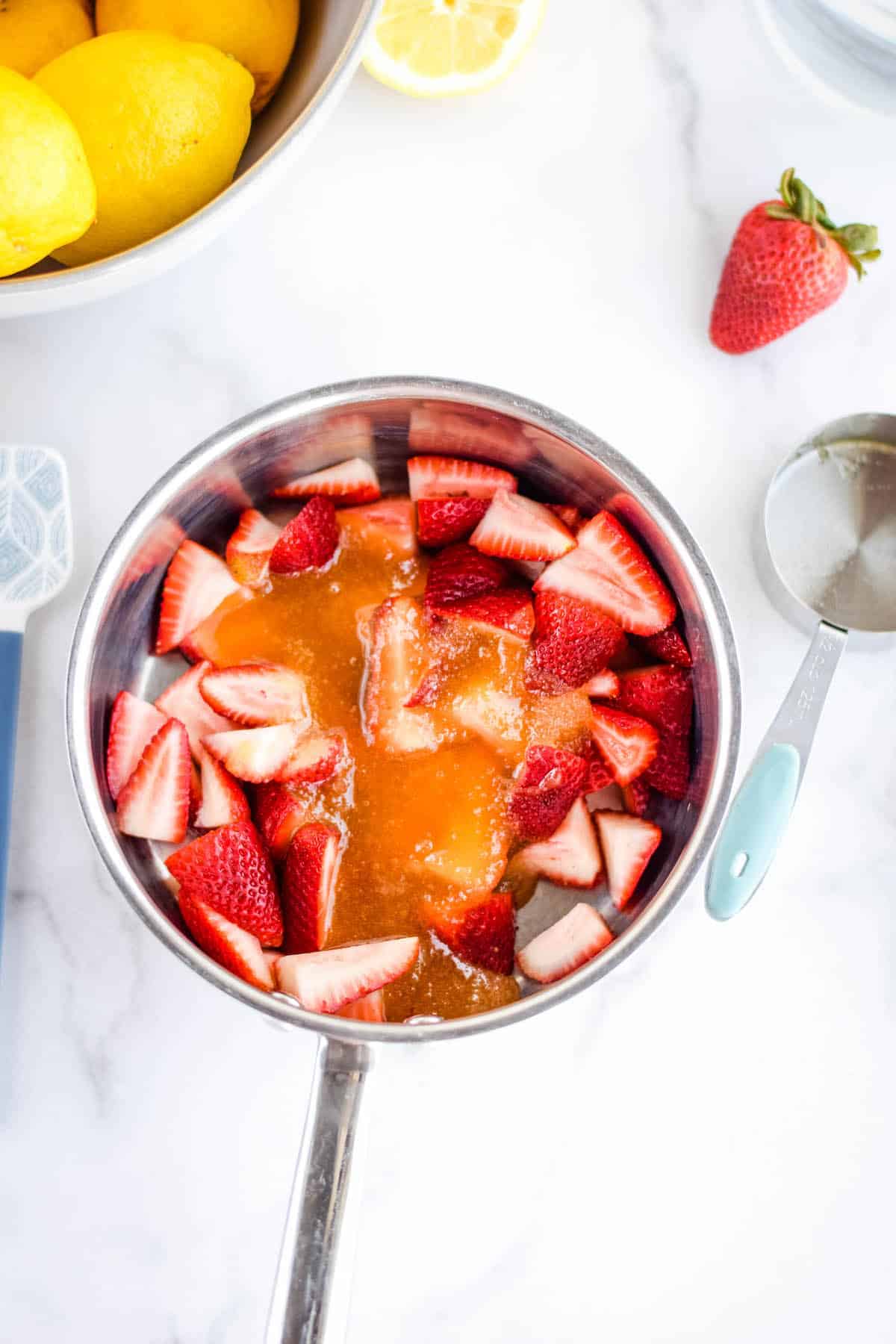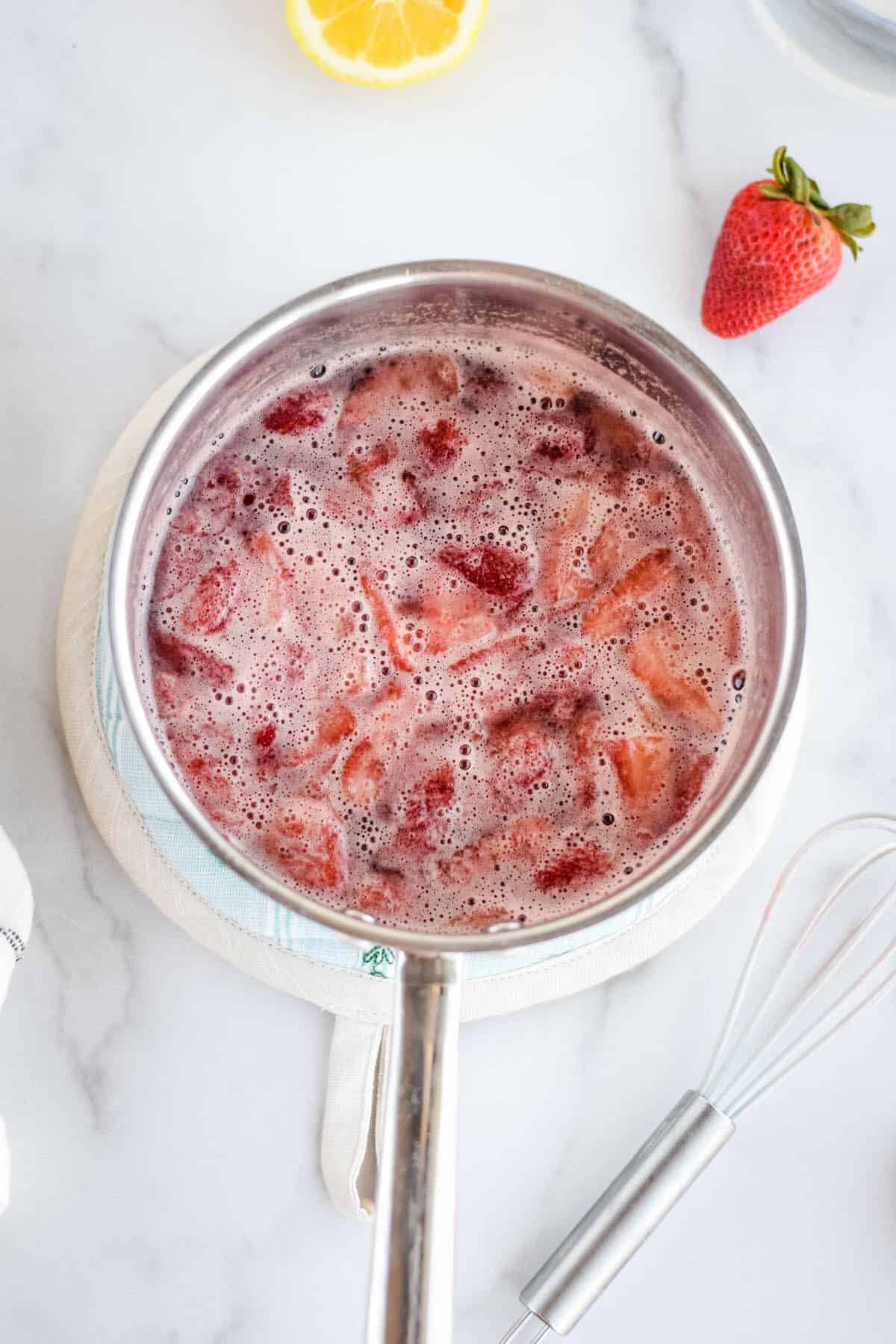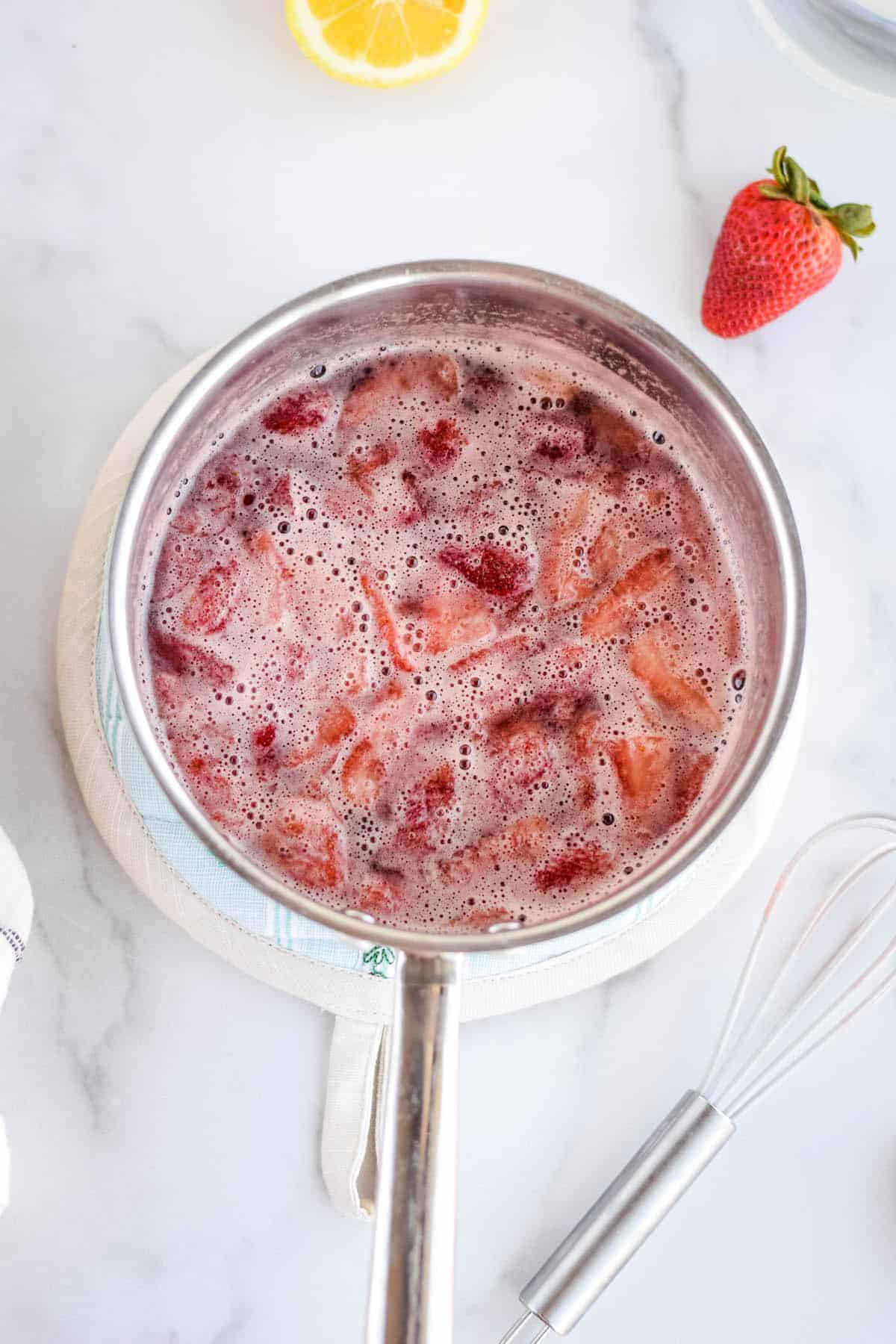 Meanwhile, juice the lemons and set aside.
After the strawberries are cooled, blend together using a stick blender. Combine the strawberry puree mixture with the lemon juice and remaining cups water in a large pitcher.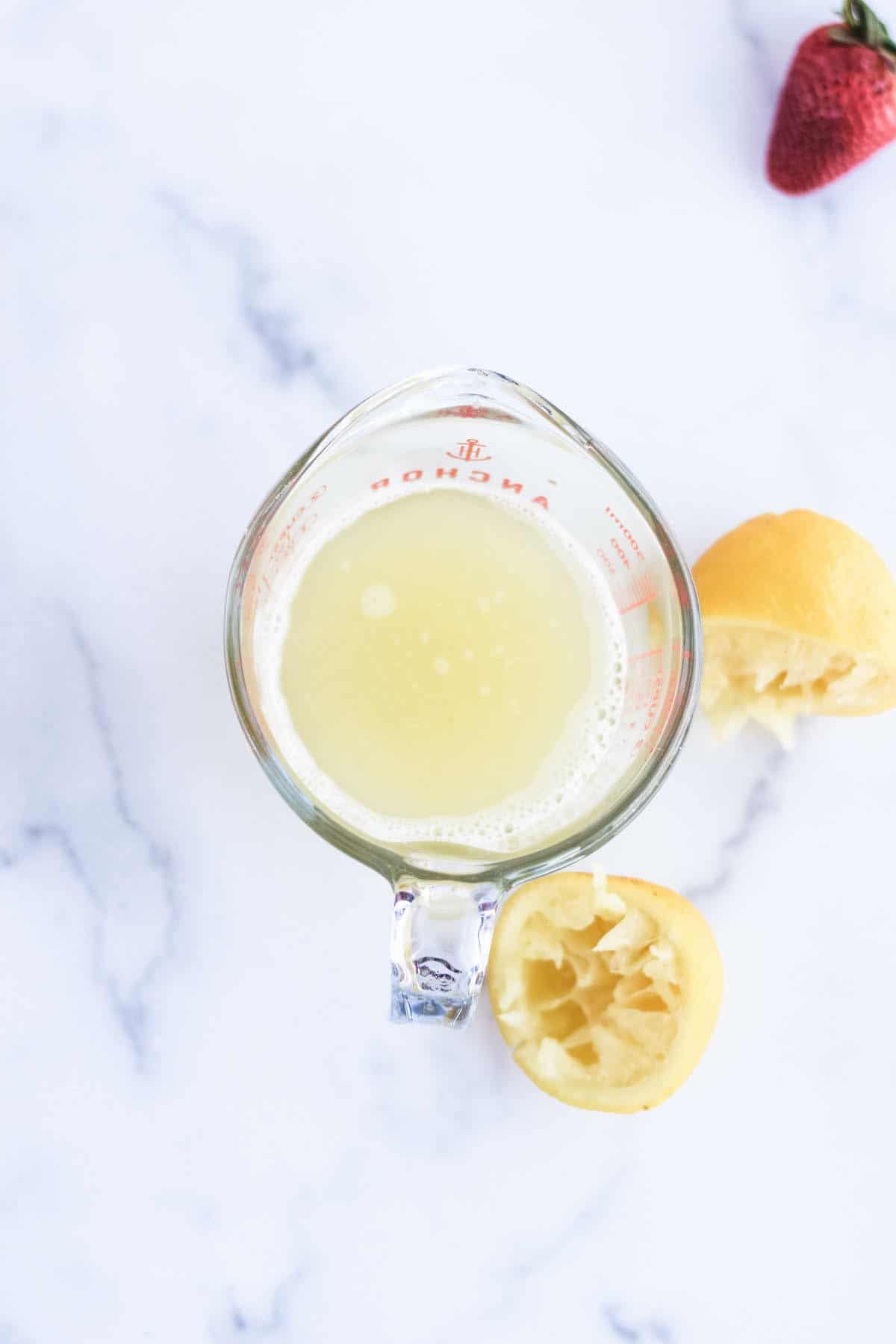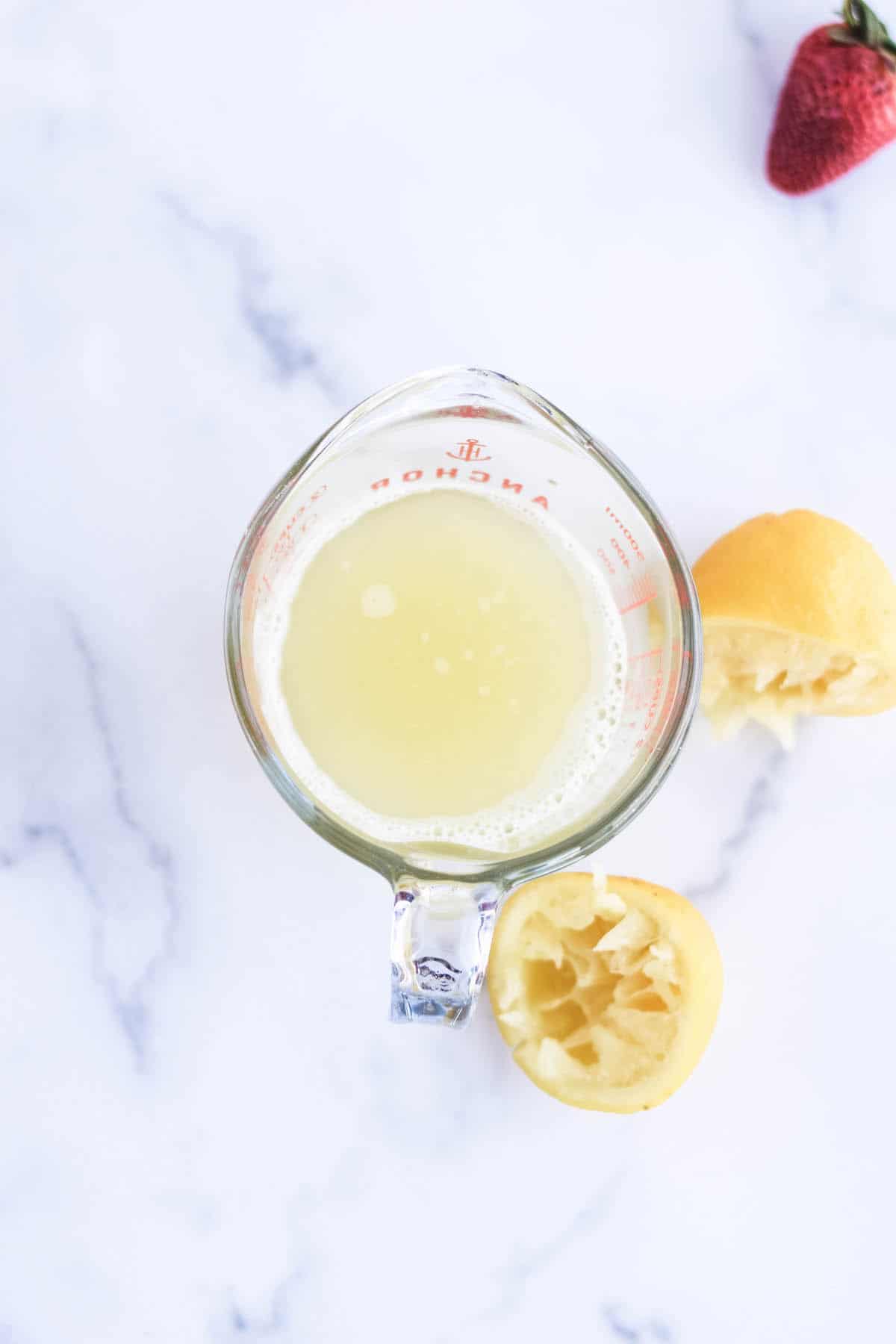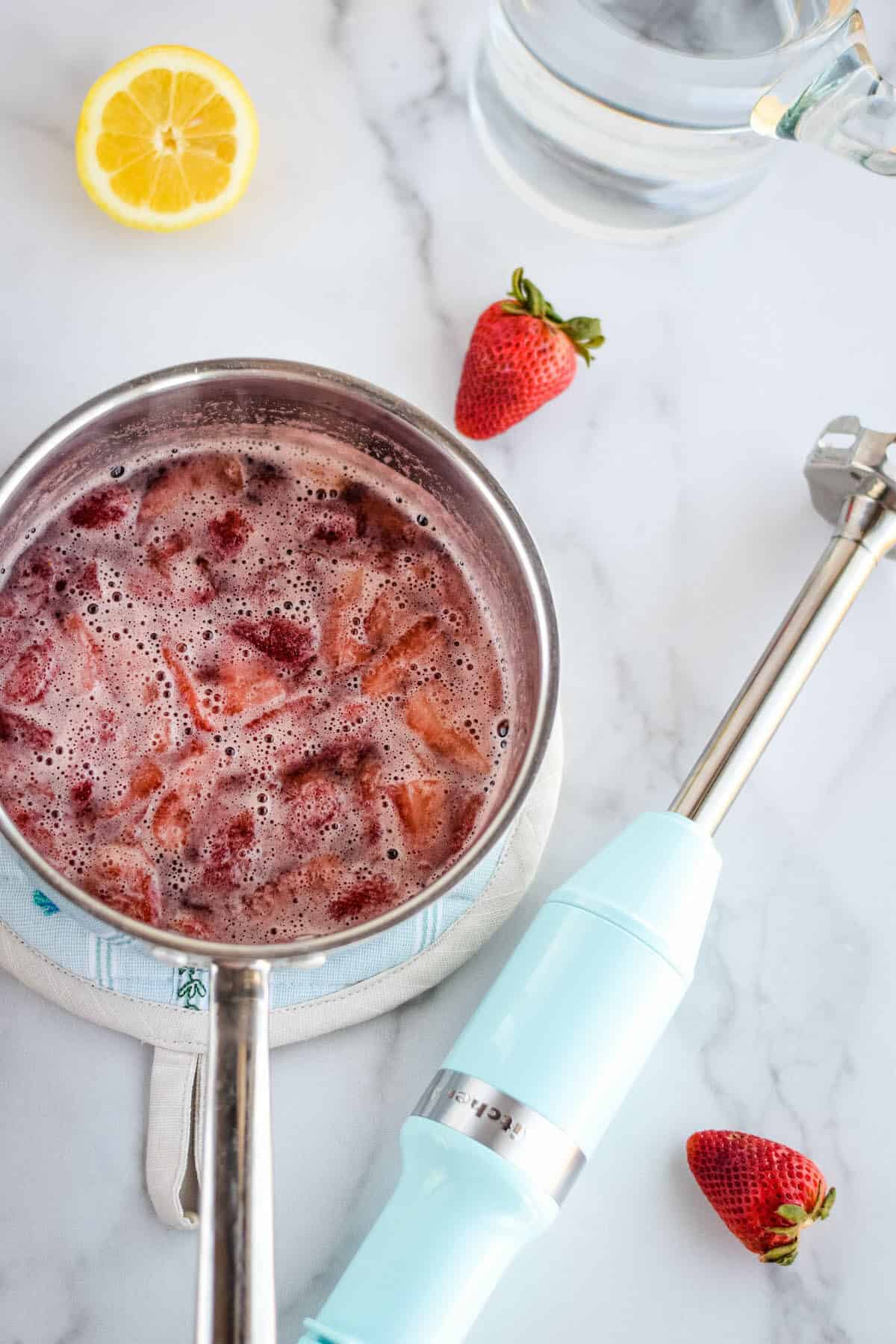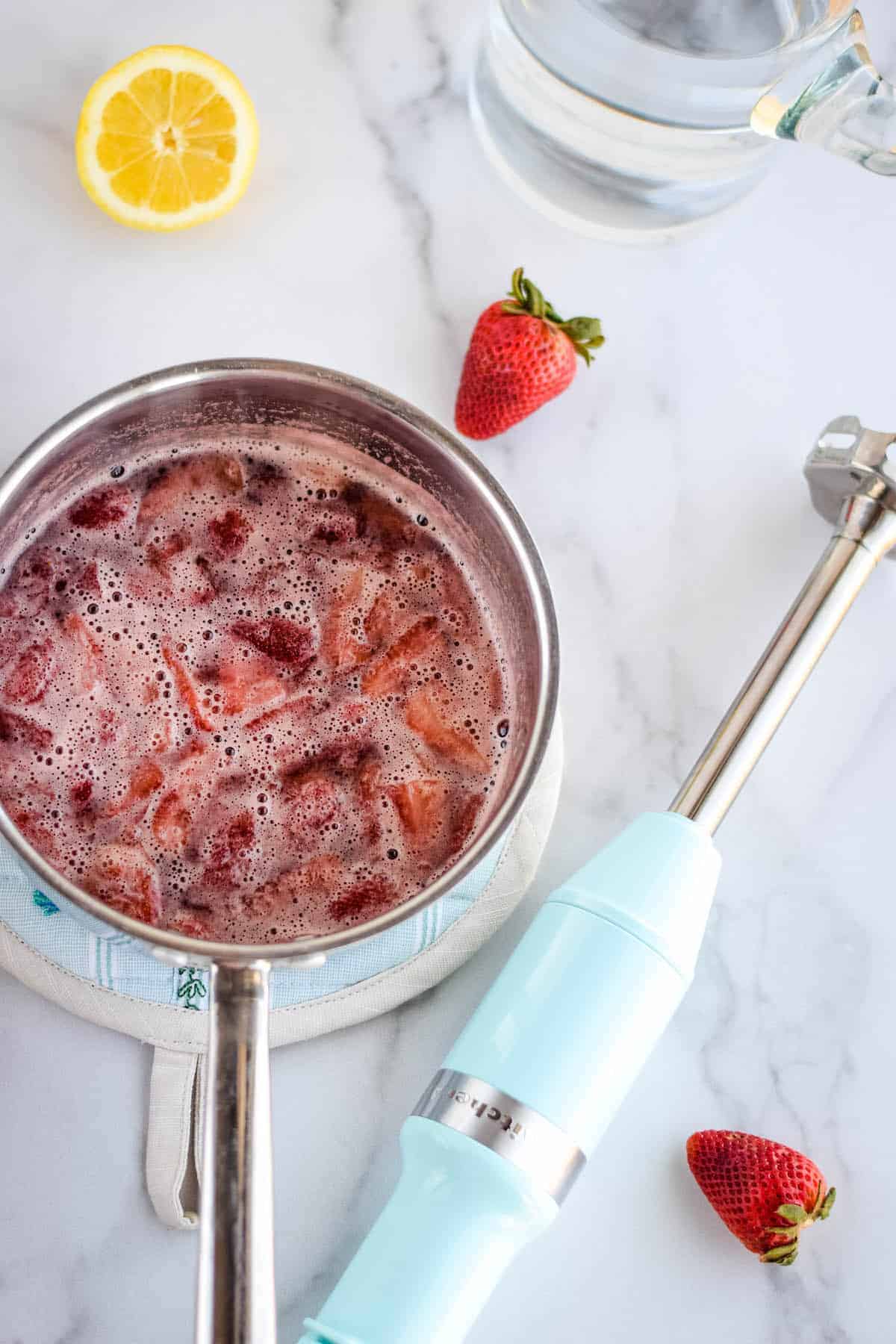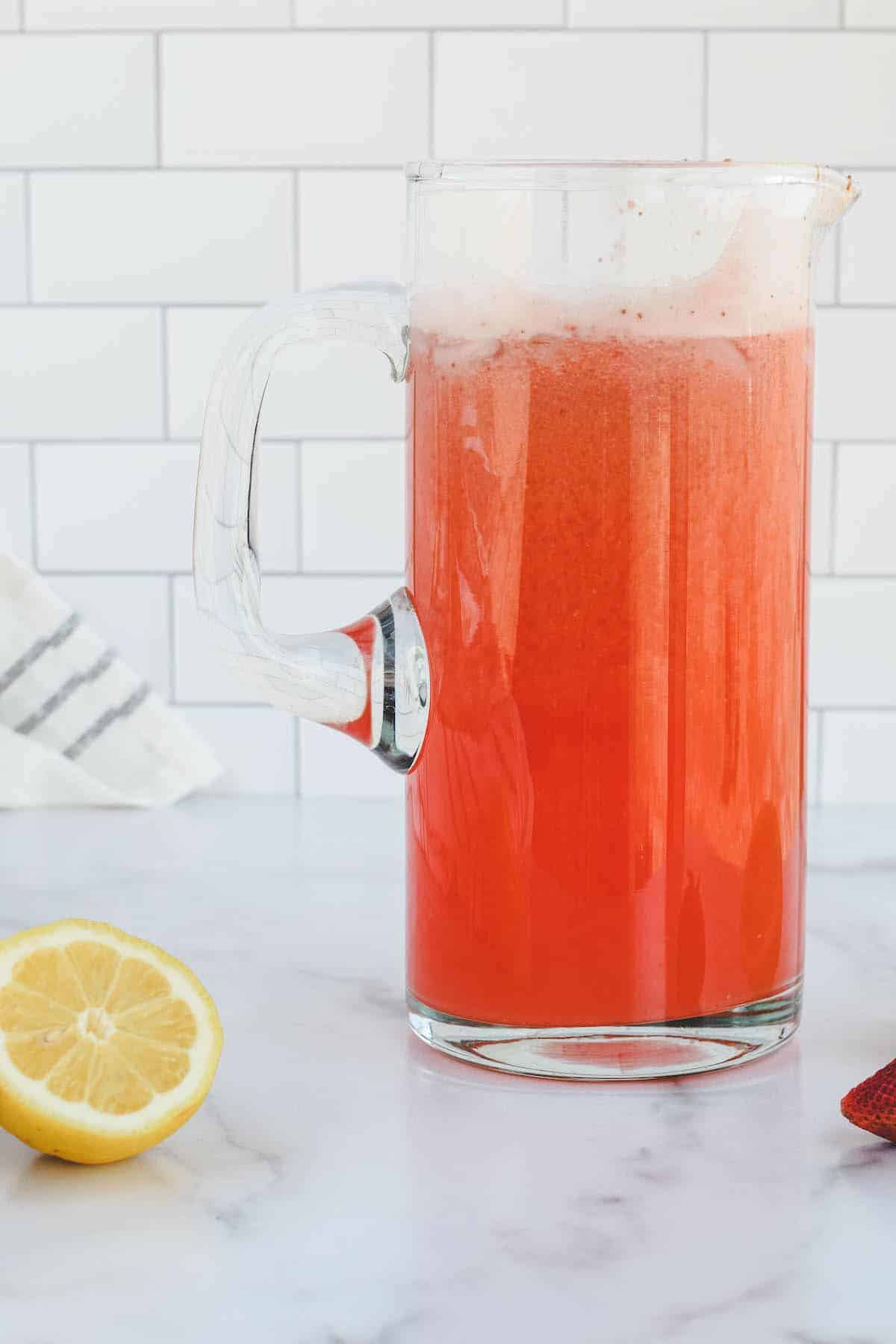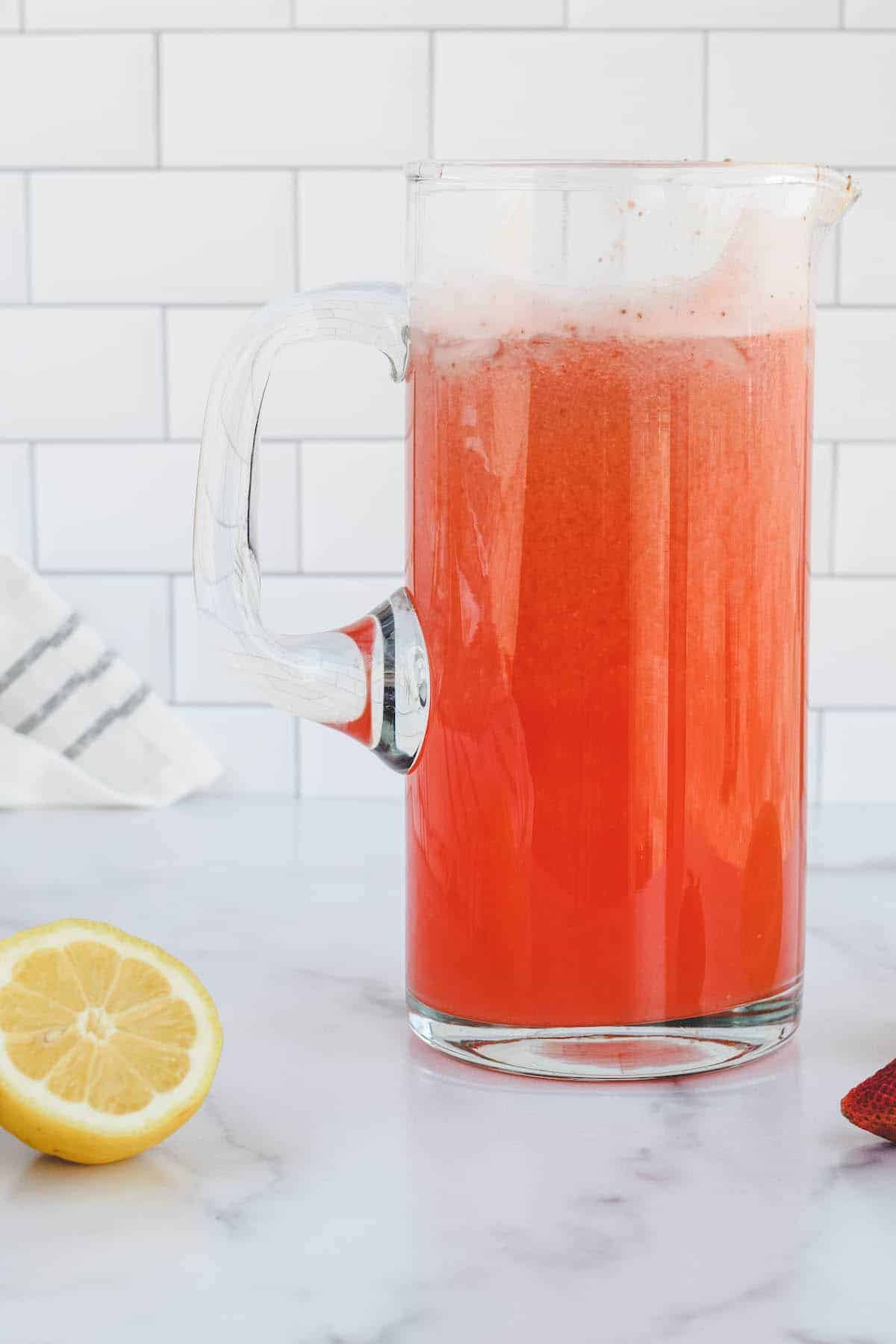 Serve the strawberry lemonade right away over ice. Or store in the refrigerator for up to a couple of days until ready to serve, stir together as the berries may settle.
We like our lemonade a bit tart and with a light sweetness. If you like yours sweeter, add additional honey or sweetener to preferred flavor is reached.
🍅 Recipe tips
I wholeheartedly believe that good quality ingredients make for the best recipes! I don't recommend any fake or overly processed ingredients and will usually recommend organic / non-gmo ingredients whenever possible.
Sourcing good quality ingredients can be difficult sometimes. Did you know that most of the olive oil in grocery stores aren't truly authentic? Or that most seafood is farmed and sourced from China? These are just a couple of examples of confusing product labels.
How do we find the BEST ingredients? If you're like me, then sourcing clean ingredients is important to you! So, I've created a favorite shop page with all of my recommendations. Here you can find all of the best places to source good quality ingredients!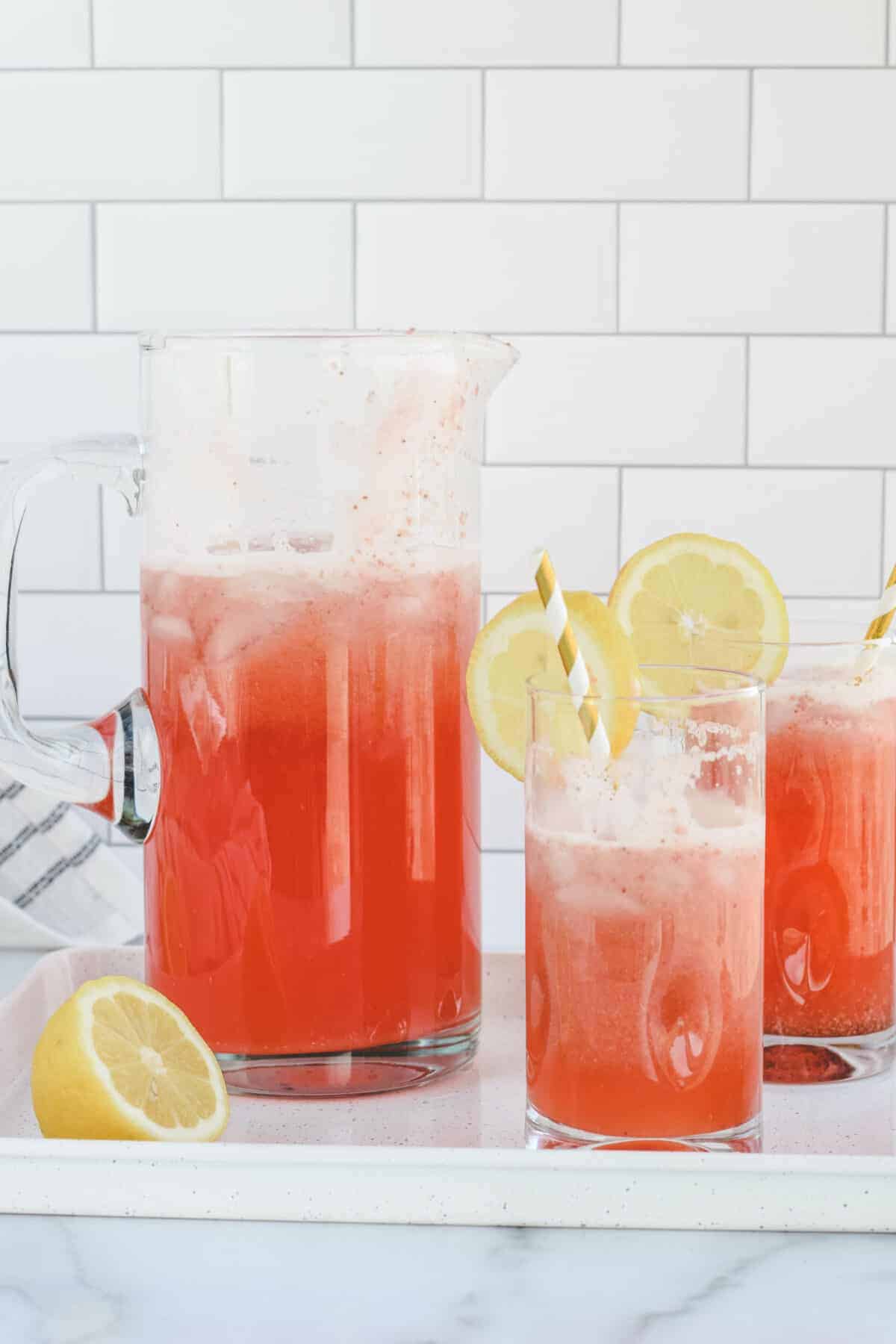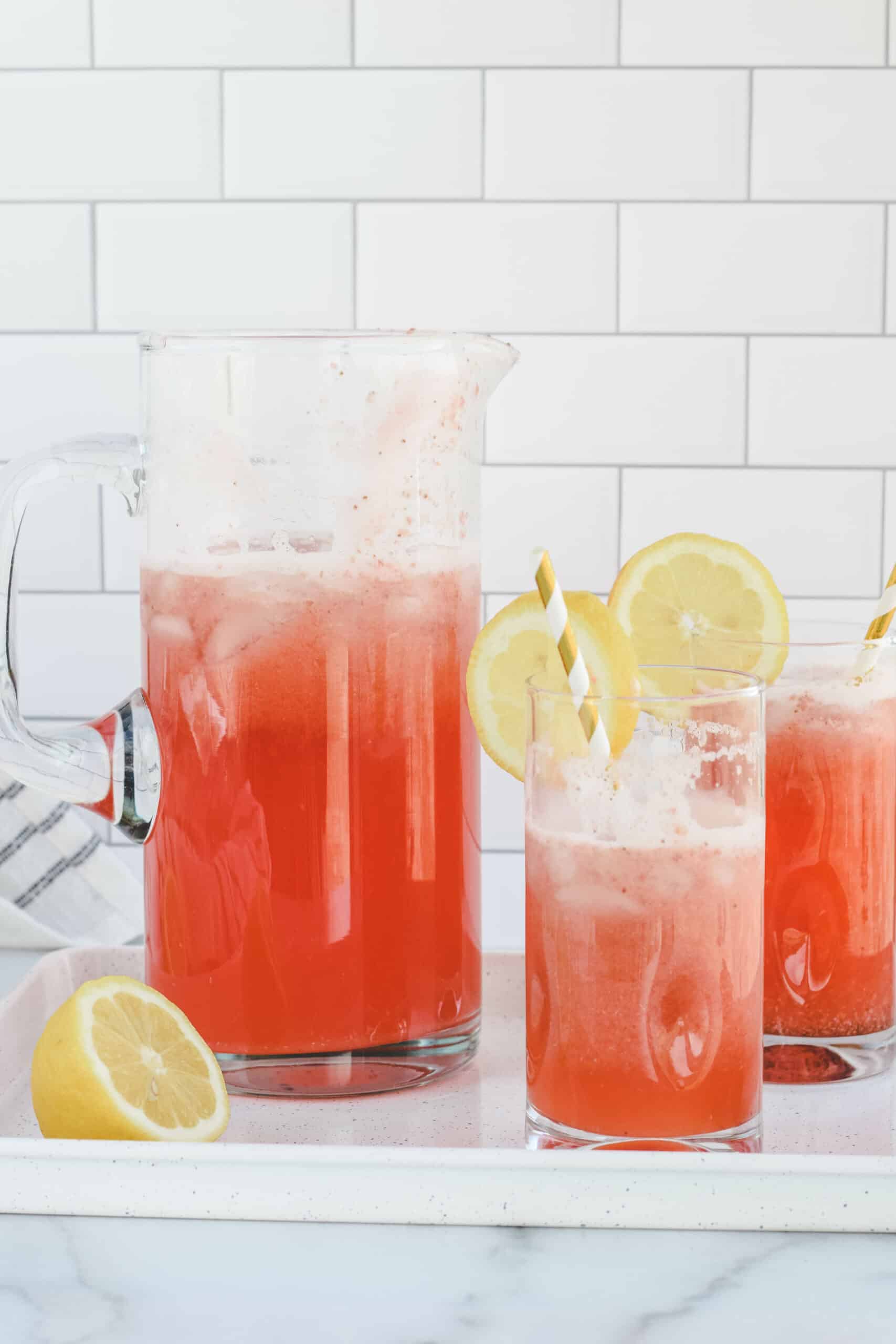 How to store leftover lemonade
If you have leftovers, store them in the refrigerator for about 2-3 days in an airtight container or pitcher. Stir well to combine before serving as the strawberries may settle to the bottom.
More favorite summer recipes
Here's a few of our favorite summertime recipes that we think you'll love too!
FAQ (frequently asked questions)
Is drinking strawberry lemonade good for you?
Strawberries and lemon juice add vitamin C, magnesium, and potassium to this refreshing lemonade. Paired with the benefits of using real raw honey, you'll have a delicious and beneficial summer drink!
What can I do with a lot of fresh strawberries?
In addition to making your healthy strawberry lemonade, try adding them to fermented water kefir for a boost of flavor and gut health! Here's how to make water kefir and how to flavor water kefir. If you have never tried to make your own kefir, you'll love how easy it is to do!
want more recipes?
Check out the recipe index where you can discover more homemade recipes from my homestead!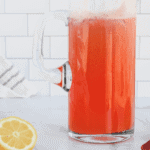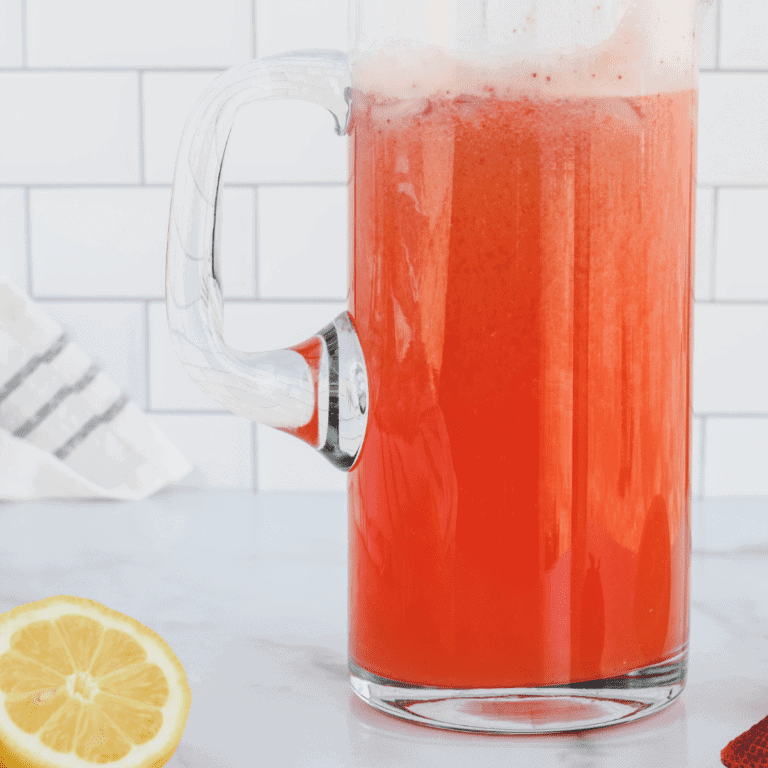 Healthy Homemade Strawberry Lemonade
This Healthy Strawberry Lemonade recipe contains honey, lemons, strawberries and water. It's not only delicious, but it's also – of course – healthy!
Instructions
Cut up strawberries into fourths and add to a saucepan with the honey and 1/2 cup of the water. Heat the saucepan over medium heat until the honey is dissolved and the strawberries become soft (about 5-7 minutes). Whisk together occasionally to prevent burning. Remove from heat and allow to cool slightly.

While the strawberry syrup mixture is cooling, juice the lemons. Use a strainer over your measuring cup to catch the lemon seeds.

Use a stick blender to combine the cooled strawberry mixture together. Once blended, combine with the lemon juice and remaining water.

Pour the strawberry lemonade mixture into a pitcher over ice. Stir well to combine and enjoy cold.
Notes
We like our lemonade a bit tart. Depending on the sweetness of the strawberries, add more or less sweetener to your taste preference.
Nutrition
Calories: 120kcalCarbohydrates: 32gProtein: 1gFat: 1gSaturated Fat: 1gPolyunsaturated Fat: 1gMonounsaturated Fat: 1gSodium: 14mgPotassium: 177mgFiber: 2gSugar: 28gVitamin A: 12IUVitamin C: 62mgCalcium: 24mgIron: 1mg
Tried this recipe?Give it a 5 star rating and pin it to your Pinterest account!
where would you like to start?