This recipe for chicken bacon carbonara is an ultra satisfying comfort food dish. It uses simple ingredients and is easily made in one pot!
With the delicious flavoring of chicken and bacon, plus ranch seasonings, you'll add this yummy pasta recipe to the regular dinner rotation!
And best of all, it only takes about 30 minutes to have dinner on the table!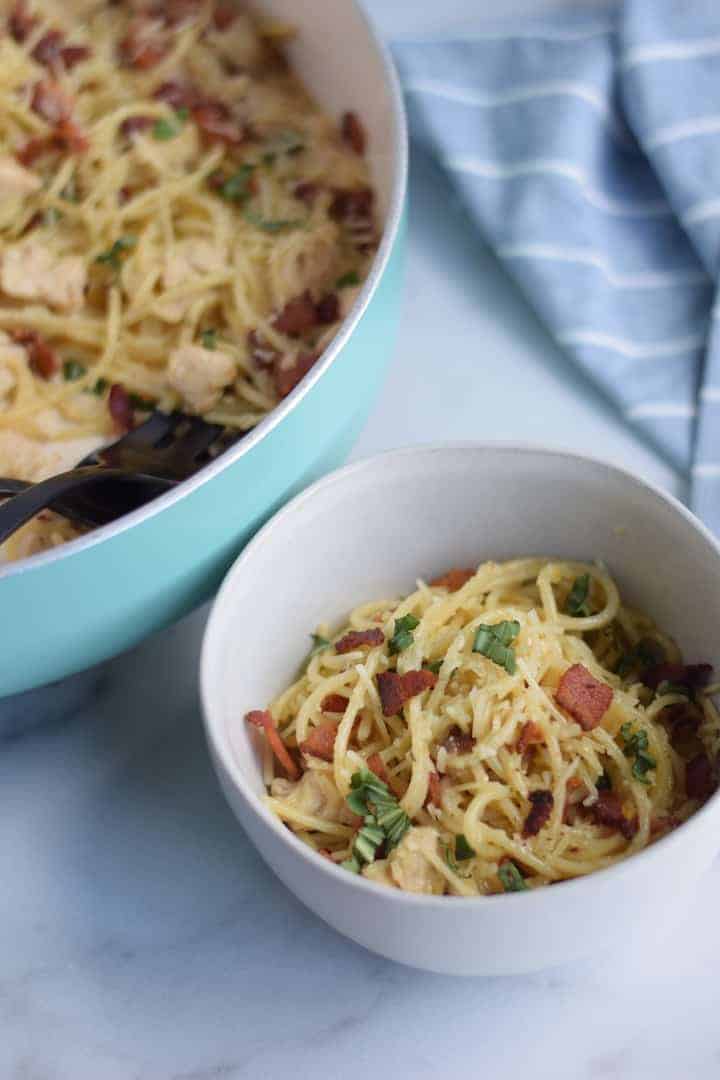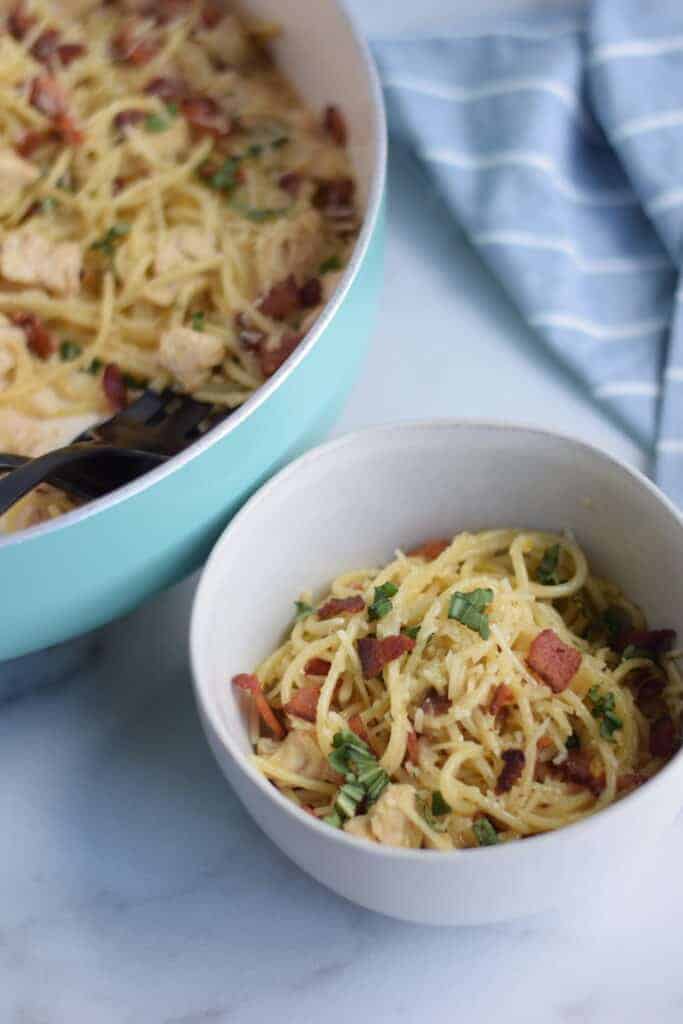 Chicken Bacon Carbonara
If you're a fan of carbonara pasta, you'll love this American take on the classic Italian dish.
And if you've never had carbonara before, you need to make this recipe!
What is spaghetti carbonara?
It is a classic Italian recipe from Rome. Usually made with cured pork, grated hard cheese, black pepper, and egg yolk. Sometimes it also includes heavy cream.
The egg yolk is added at the very end just before serving. And it gives it this velvety smooth texture that is simply scrumptious.
It is legit. Seriously.
In this version, there is the addition of chicken and ranch seasoning to give it a nice American comforting take.
One-Pot Cooking
This recipe is posted with permission by Megan Marlowe of Strawberry Blondie Kitchen and Page Street Publishing Co.
I was recently sent a copy of the Incredible One-Pot Cooking cookbook to review. This recipe is taken from Megan's book.
However, all opinions are my own.
Comfort foods are pretty much my jam. And this cookbook is loaded with incredible and flavorful comfort dishes. All made in one pot! We love that simplicity.
But don't let the simplicity fool you! These recipes are packed full of incredible flavor!
Here's just a few of the yummy recipes you'll find in this cookbook:
Jalapeno Popper Chicken Burgers
Peach & Ginger BBQ Pulled Pork
Spicy Salmon BBQ Bowls
Bloody Mary Chicken Pasta
I mean…yum! These are all on my must try list!
If you're looking for flavorful, easy to make one-pot meals, this cookbook is a must! Grab your copy here!
Comforting Pasta Recipes:
Caramelized Onion Pasta with Gorgonzola
Creamy Italian Sausage Tortellini Soup
More Comfort Foods To Try: