This recipe for chicken bacon carbonara is an ultra satisfying comfort food dish. It uses simple ingredients and is easily made in one pot! With the delicious flavoring of chicken and bacon, plus ranch seasonings, you'll add this yummy pasta recipe to the regular dinner rotation!
And best of all, it only takes about 30 minutes to have dinner on the table!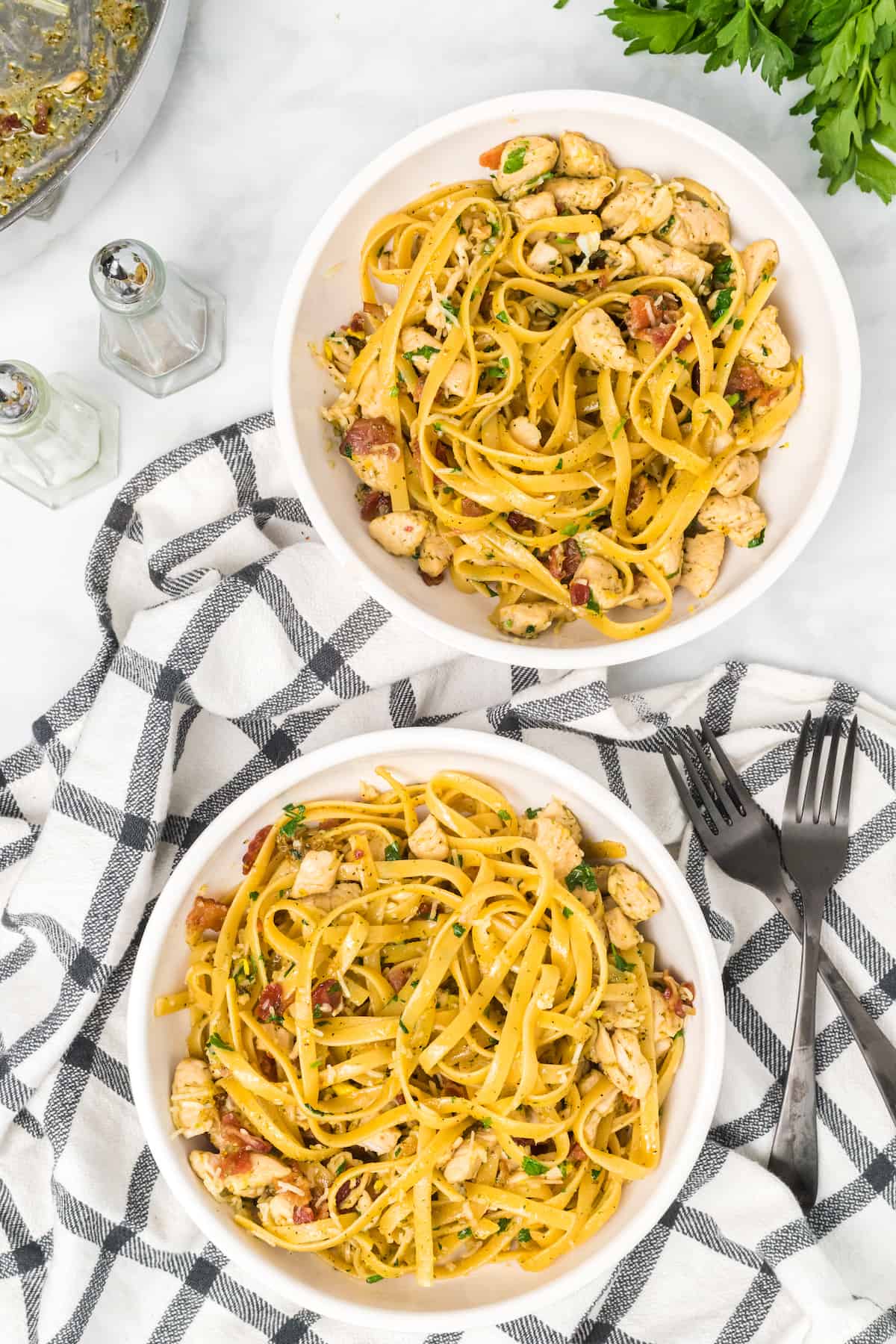 This post has been updated from the original publish date of April, 2020. It has been updated to include better step by step photos and instructions.
Creamy chicken carbonara recipe
If you're a fan of carbonara pasta, you'll love this American take on the classic Italian dish.
And if you've never had carbonara before, you need to make this recipe!
What is spaghetti carbonara?
It is a classic Italian recipe from Rome. Usually made with cured pork like a pancetta, grated hard cheese, black pepper, and egg yolk. Sometimes it also includes heavy cream.
The egg yolk is added at the very end just before serving. And it gives it this velvety smooth texture that is simply scrumptious.
It is legit. Seriously.
In this version, there is the addition of chicken and ranch seasoning to give it a nice American comforting take.
Ingredients
This carbonara recipe is elevated to give even more delicious flavor without a ton of ingredients. Here's what you'll need:
olive oil
chicken breasts
bacon
ranch seasoning
chicken stock
egg yolks
fettuccine pasta – can also substitute for linguine
parmesan cheese – can also be subbed for pecorino romano cheese
black pepper
fresh parsley or basil for garnish (optional)
salt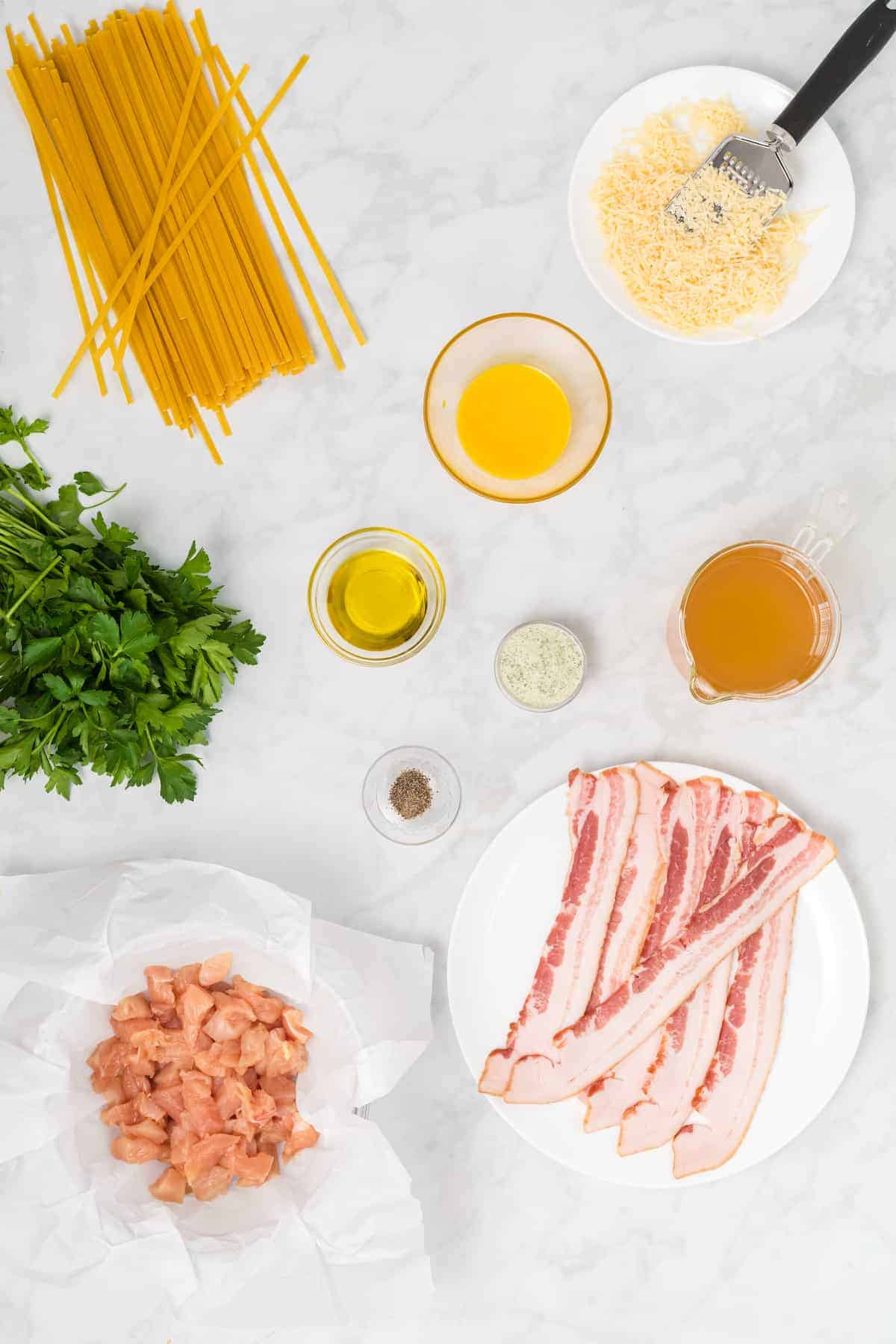 Instructions
This recipe isn't complicated to make – you'll be surprised at how easy it is to make your own carbonara at home! And you will only need one pot to make it! So this is a great recipe for a quick and easy family dinner!
Here's what you'll need to do…
Begin by heating some of the oil in a large skillet over medium heat. Add the bacon and cook until the bacon is brown and crispy. Remove from the skillet and leave the bacon grease in the skillet.
Add remaining olive oil to the skillet with the bacon grease and cook the chicken. Then add the ranch seasoning to the cooked chicken in the pan.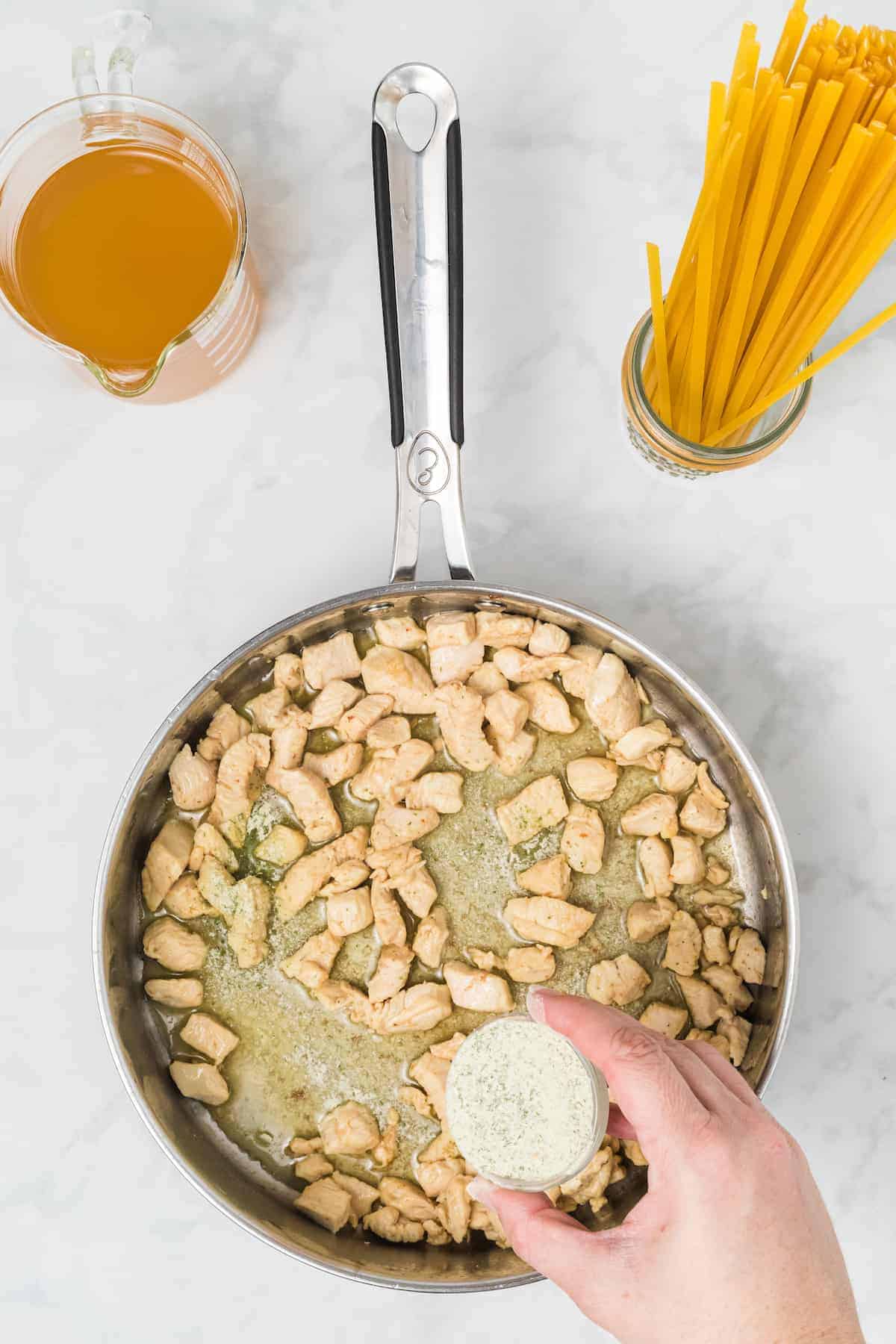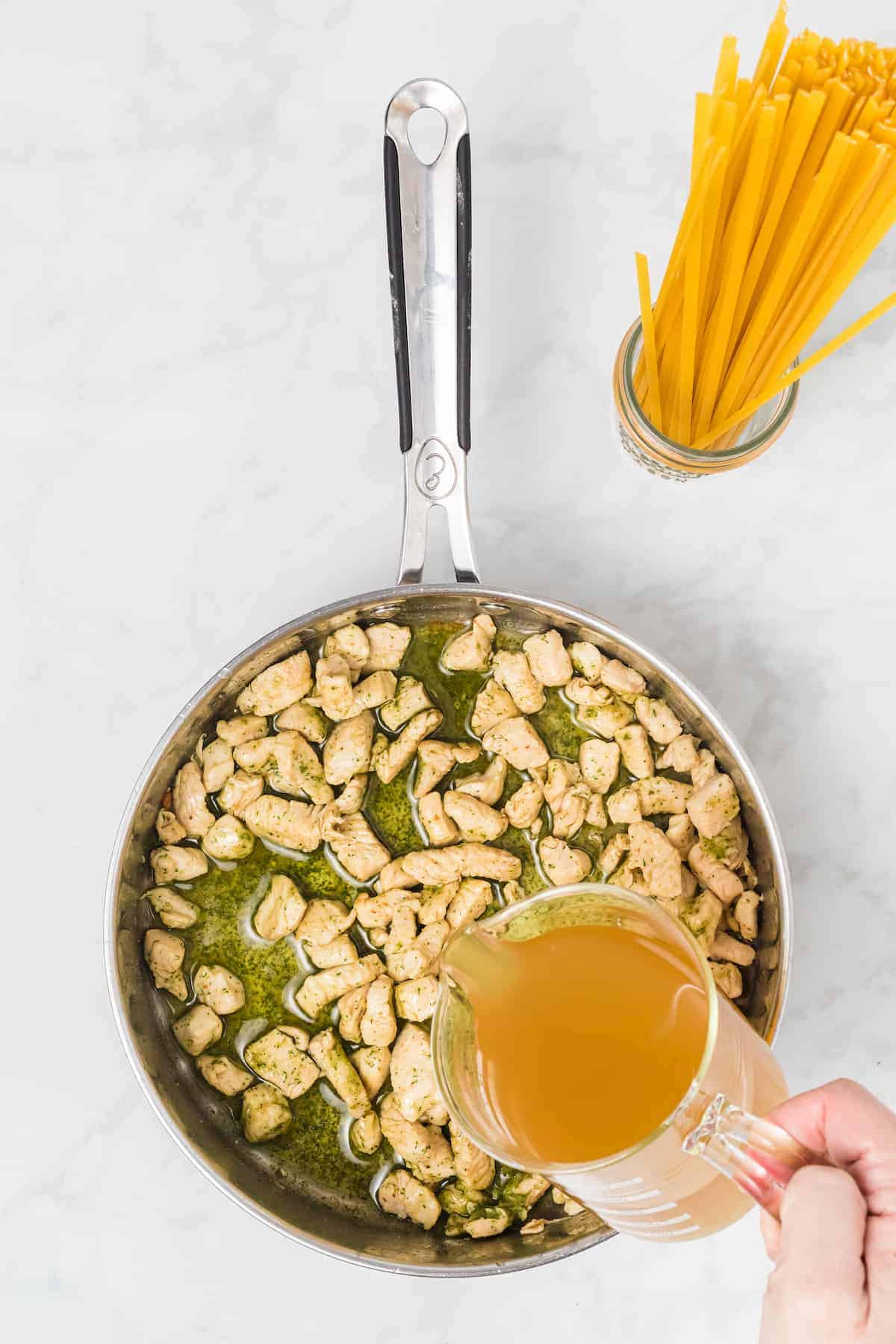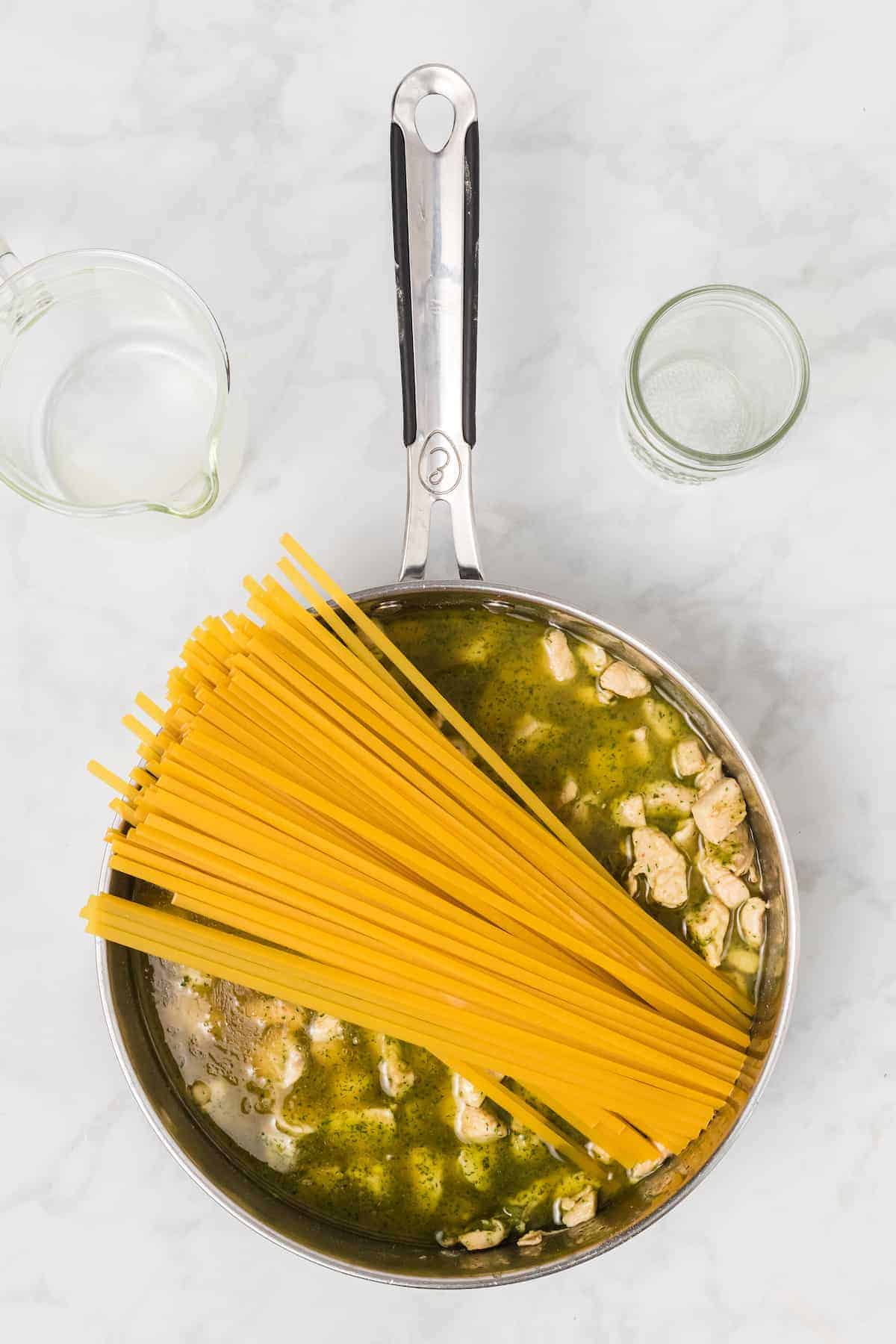 Add the chicken broth and fettuccini pasta to the skillet.
The pasta cooks in the broth so no need to heat up a pot of boiling water.
Bring the broth mixture to a boil. Reduce the heat to medium-low and cook until the pasta is cooked according to the package directions, until al dente.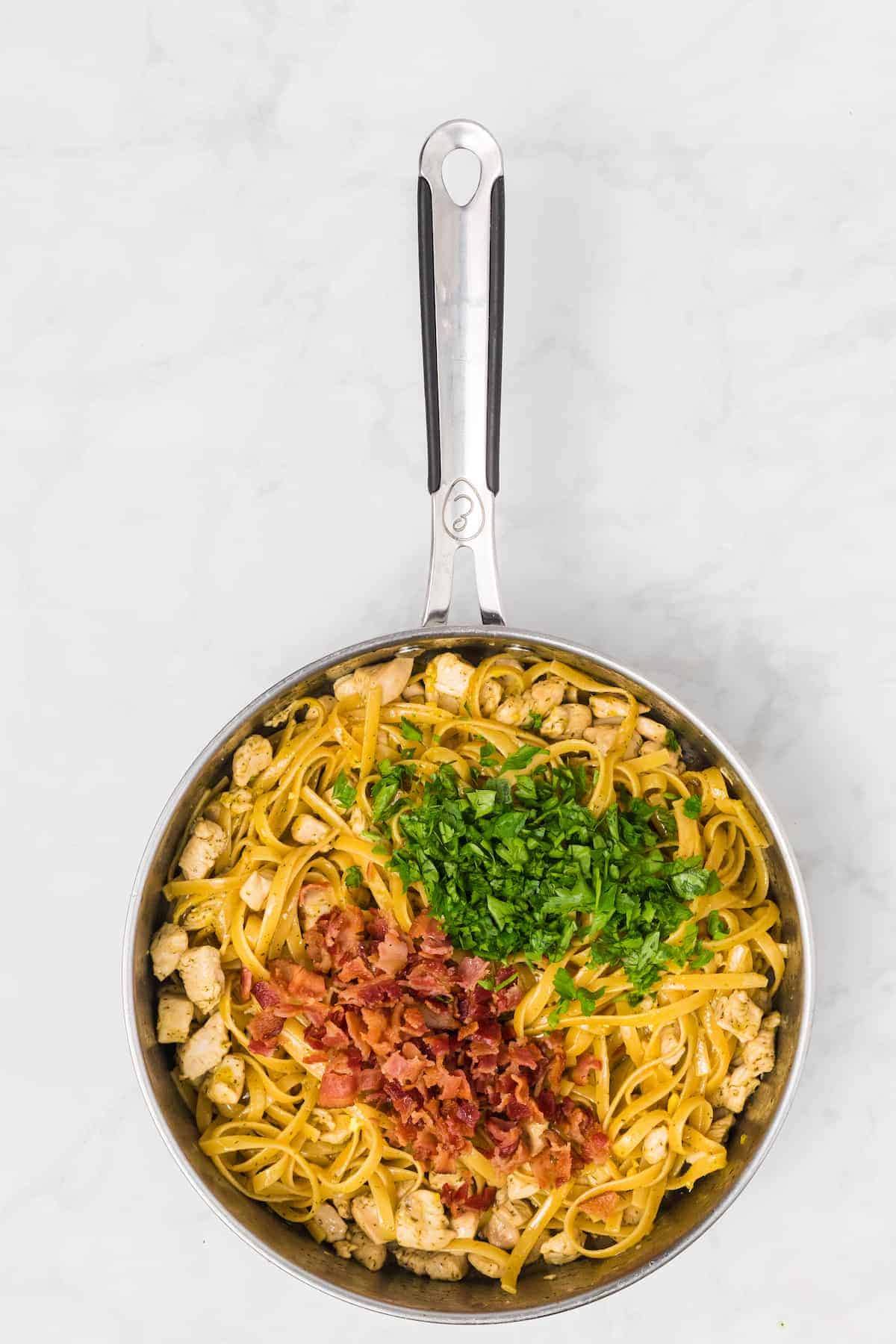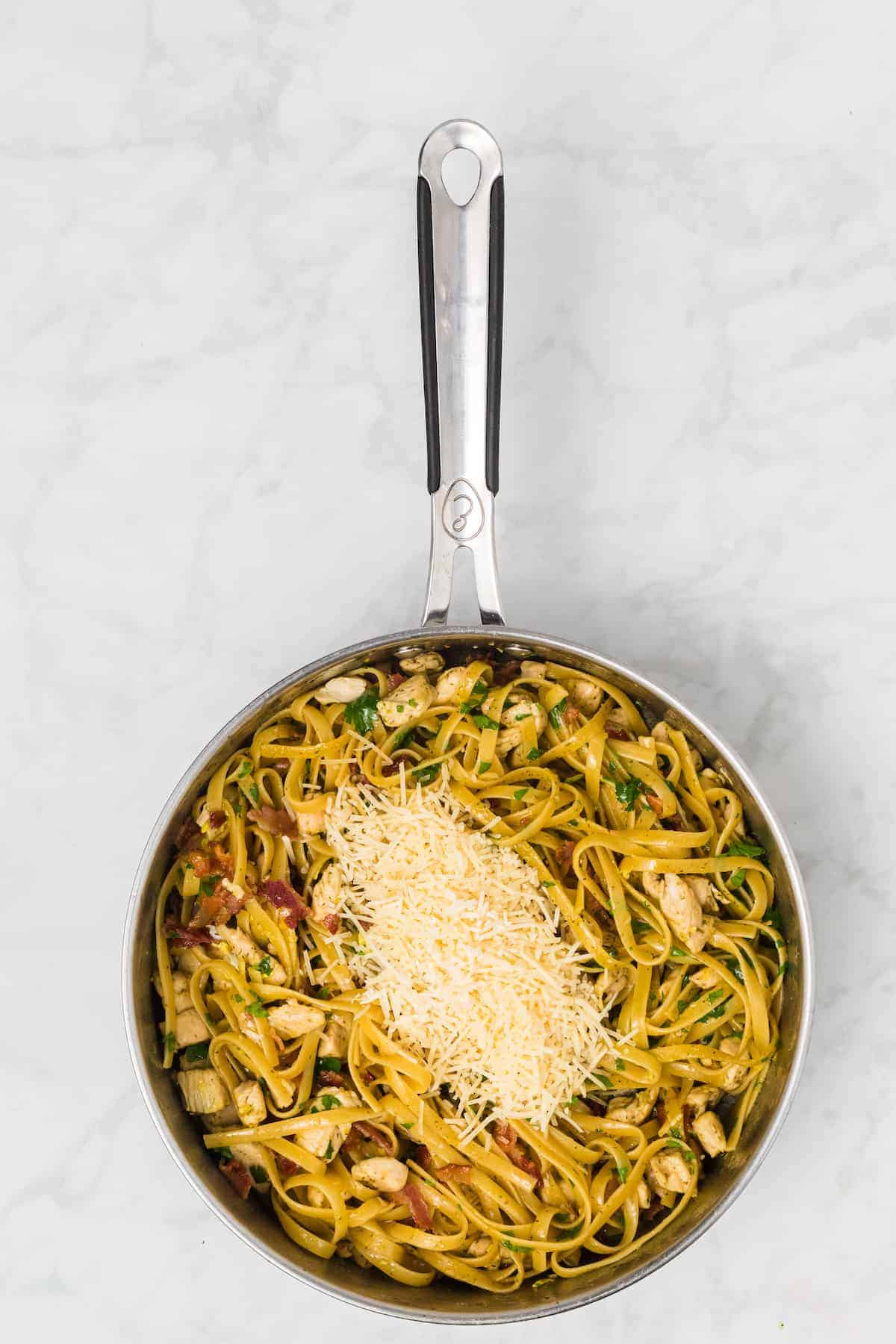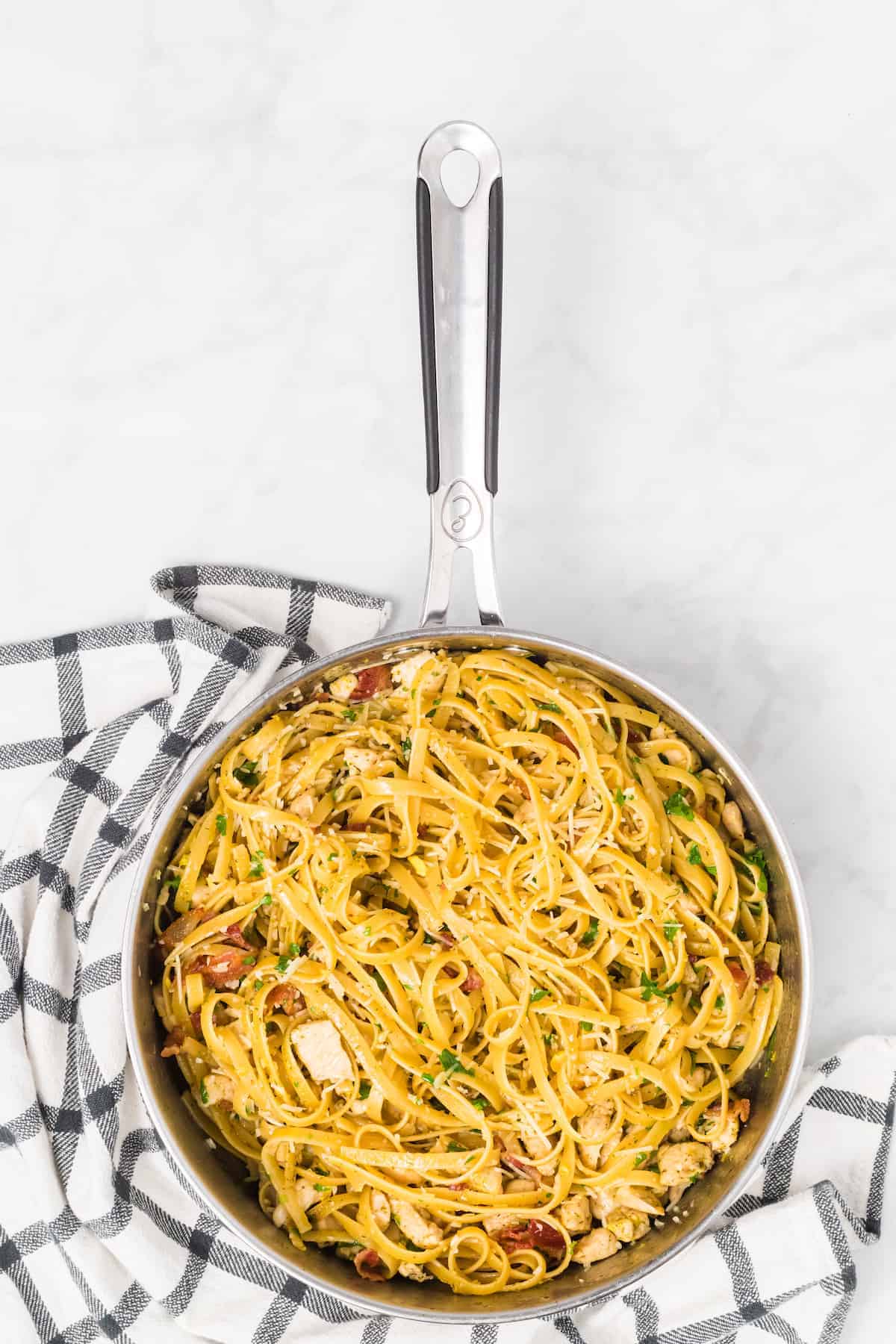 Whisk the egg yolks in a separate bowl. Then add the egg mixture to the pasta and stir until the pasta is coated.
To serve, sprinkle the pasta with the crumbled bacon, parmigiano-reggiano cheese, and black pepper. Garnish with the fresh parsley or basil, if using.
Salt & pepper to taste.
🍝 Helpful Tips:
If using a different type of pasta, you may need additional broth. I recommend starting with the amount specified in this recipe and increasing extra broth if needed.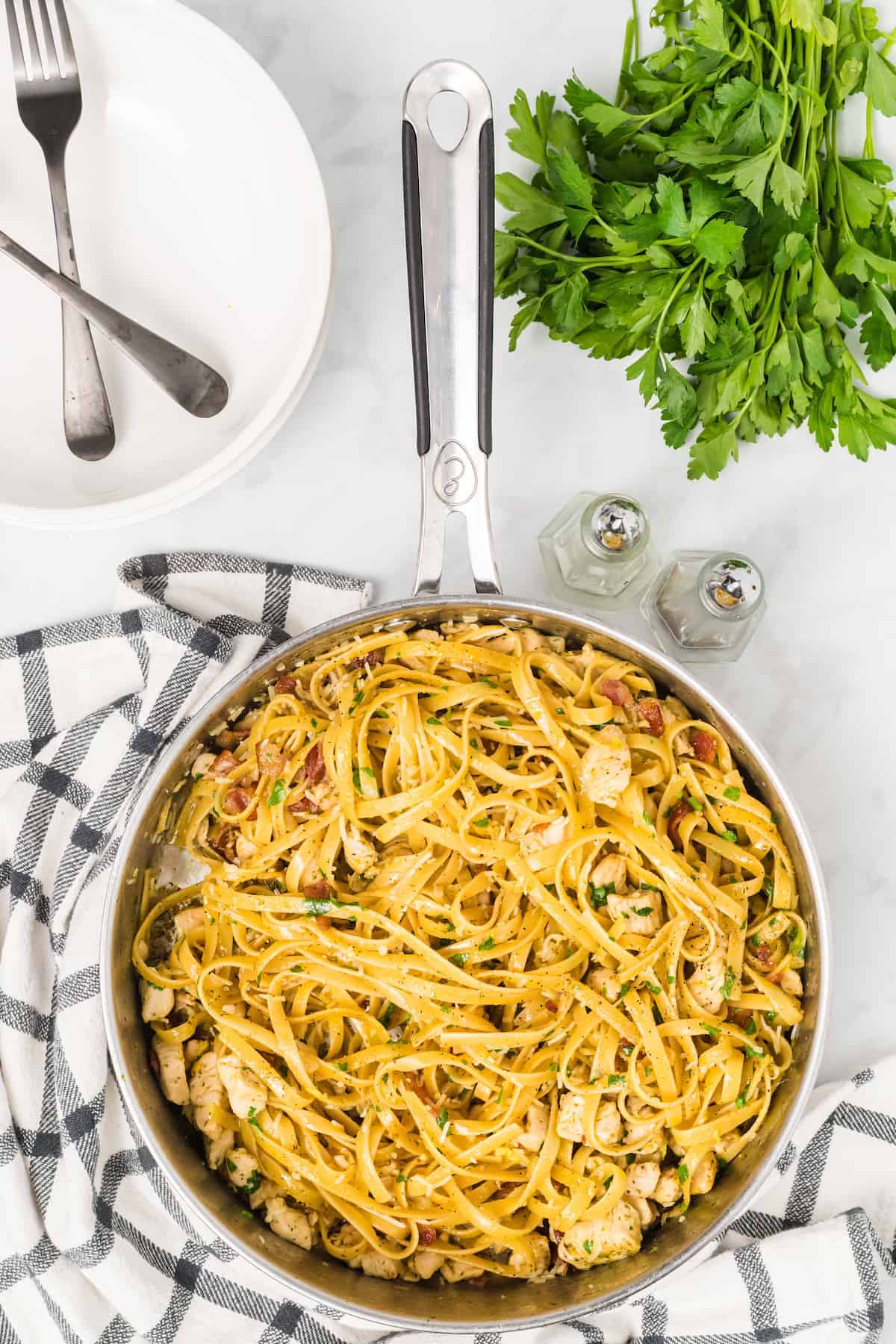 How to store leftovers:
If you have leftovers, they can be stored in the refrigerator for a few days in an airtight container. To reheat, heat on medium low until warmed through.
Comforting Pasta Recipes:
want more recipes?
Check out the recipe index where you can discover more homemade recipes from my homestead!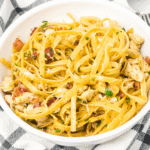 Chicken Bacon Carbonara Recipe
Classic Carbonara gets only better when you add bacon, chicken, and ranch seasoning. This delectable dinner entree is fast and easy to make!
Instructions
Heat 2 tablespoons of the oil in a large skillet over medium heat. Add the bacon and cook until the bacon is brown and crispy, about 5 minutes.

Transfer the bacon to a plate lined with paper towels. Do not drain the skillet. When the bacon is cool enough to handle, crumble it.

Add the remaining 1 tablespoon of olive oil to the bacon grease in the skillet. Add the chicken and cook until its no longer pink in the center, 8-10 minutes. Sprinkle with the ranch seasoning.

Add the stock and pasta. Bring the mixture to a boil. Reduce the heat to medium-low and cook for 8 minutes, or until pasta is cooked. Remove from heat.

Pour in the egg yolks and stir so they coat the pasta.

To serve, sprinkle the pasta with the crumbled bacon, parmesan cheese, and black pepper. Garnish with the fresh parsley or basil, if using.
Notes
I have a couple of notes regarding the original recipe as found in the cookbook:
When cooking the pasta with the broth, I didn't seem to have enough and increased it a little at a time during the cooking process so that I didn't end up with too much. I ended up with 3 cups total. So, I would recommend having a bit extra and add additional broth if needed.
The original recipe calls for fettuccini. I have tried other pastas like spaghetti and linguine and they work well for this recipe.
Nutrition
Serving: 1cCalories: 295kcalCarbohydrates: 6gProtein: 30gFat: 16gSaturated Fat: 4gPolyunsaturated Fat: 2gMonounsaturated Fat: 8gTrans Fat: 1gCholesterol: 143mgSodium: 759mgPotassium: 520mgFiber: 1gSugar: 1gVitamin A: 184IUVitamin C: 2mgCalcium: 115mgIron: 1mg
Tried this recipe?Give it a 5 star rating and pin it to your Pinterest account!
One-Pot Cooking
This recipe is posted with permission by Megan Marlowe of Strawberry Blondie Kitchen and Page Street Publishing Co. I was recently sent a copy of the Incredible One-Pot Cooking cookbook to review. This recipe is taken from Megan's book. However, all opinions are my own.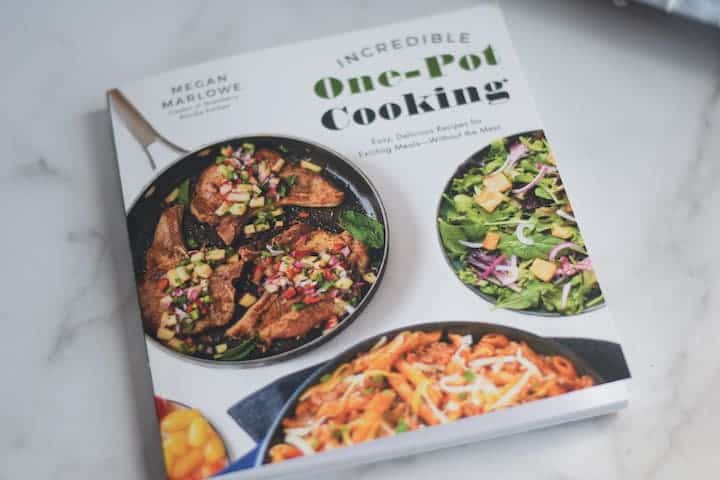 Comfort foods are pretty much my jam. And this cookbook is loaded with incredible and flavorful comfort dishes. All made in one pot! We love that simplicity.
But don't let the simplicity fool you! These recipes are packed full of incredible flavor!
Here's just a few of the yummy recipes you'll find in this cookbook:
Jalapeno Popper Chicken Burgers
Peach & Ginger BBQ Pulled Pork
Spicy Salmon BBQ Bowls
Bloody Mary Chicken Pasta
I mean…yum! These are all on my must try list!
If you're looking for flavorful, easy to make one-pot meals, this cookbook is a must! Grab your copy here!
where would you like to start?