Perfectly soft on the inside and deliciously crispy on the outside. These Italian air fryer potatoes are amazingly delicious and they're ready in about 30 minutes using a Ninja Foodi. These are sure to become an instant favorite side dish.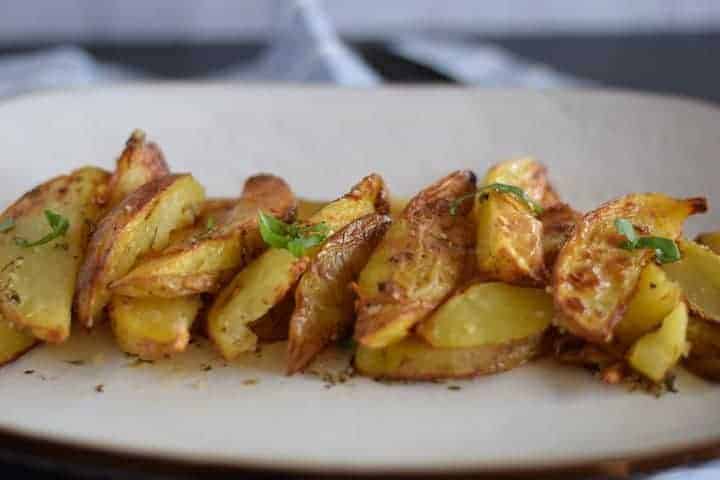 Potato Wedges in a Ninja Foodi
Making potatoes in a Ninja Foodi is super convenient. I've been experimenting with my new favorite appliance ever since my husband surprised me with one. He's the best!
Easily pressure cook the potatoes so they're nice and soft and then air crisp them all in one pot! Not only does it save time, it also saves on the dishes.
Unlike a basic air fryer, you can make a batch of potatoes for about 4 people at a time. With a smaller unit, you would have to make smaller batches.
I have this Deluxe 8-qt Ninja Foodi and this air crisp potato recipe makes enough to feed my family in one batch.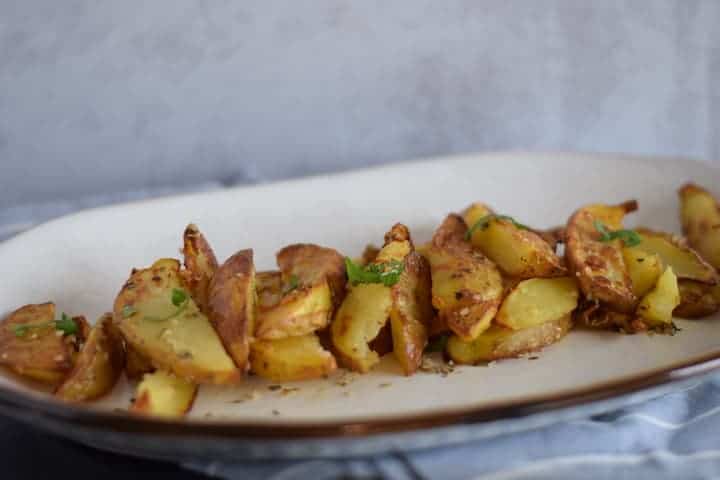 Italian Air Fryer Potatoes
It only takes 4 minutes to pressure cook the potato wedges until they are soft and tender!
Next, it takes about 15-20 minutes to air crisp the potatoes. You're left with a perfectly soft inside and yummy crispy exterior.
Head up, it does take about 10 minutes to get the pressure cooker up to the proper pressure prior to cooking.
Pair these air fryer potatoes with this Crispy and Juicy Italian Roast Chicken for a delicious weeknight meal.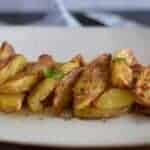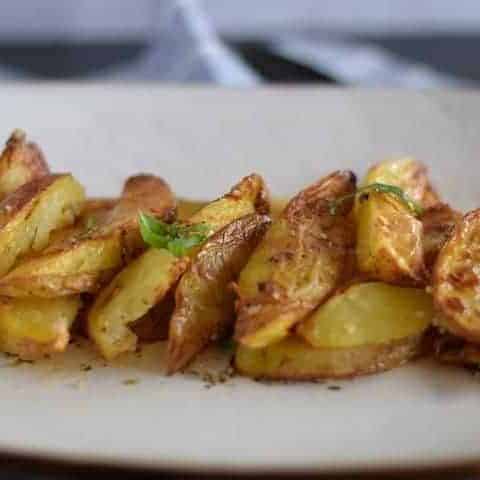 Italian Air Fryer Potatoes
Soft and tender on the inside, crispy on the outside. These Italian flavored air fryer pototatoes have the right amount of crispiness.
Ingredients
6 medium Yukon gold potatoes
2 tablespoons olive oil divided
1 tablespoon of fresh squeezed lemon juice see note
1/2 teaspoon of salt
1 teaspoon Primal Palate Amore seasoning
1/2 teaspoon Primal Palate Garlic and Herbs seasoning
Instructions
Wash potatoes and cut into wedges. Cut the potatoes in half lengthways, again in half lengthways, and then again in half or thirds if too big.

Add the inner pot to the Ninja Foodi and add 1/2 cup of water to the inner pot.

Next, add the cook & crisp basket to the inner pot and add the cut potato wedges.
Install the pressure cooking lid and make sure the pressure release valve is in the seal position. It takes about 10 minutes for the pressure cooker to come to proper pressure.

Pressure cook on High for 4 minutes. Prepare the seasoning oil mixture. Add all seasonings, lemon juice, and olive oil (reserve 1 tablespoon of olive oil) to a mixing bowl and set aside.

When the potatoes have finished, quick release the pressure by switching the valve to vent. When the pressure has been released, remove the lid.
Drizzle the potatoes with 1 tablespoon of olive oil. Using a pot holder, grab the cook & crisp basket and give it a gentle shake to spread the oil. Be careful not to break up the potatoes, they will be soft and cooked at this point.

Set the Ninja Foodi to the Air Crisp function and air fry for 15 minutes. After 10 minutes, use tongs to gently rotate the potatoes so all pieces can crisp evenly.

Air fry for an additional 3-5 minutes until desired crispiness is achieved.

Remove potatoes from basket and gently toss around in the olive oil and seasoning mixture.
Notes
Fresh squeezed lemon juice is recommended over bottled lemon juice for this recipe. I'm a big fan of Primal Palate seasoning blends. If they are hard to find, use your favorite Italian or Greek blend for best results.
Nutrition
Serving: 1cCalories: 174kcalCarbohydrates: 30gProtein: 3gFat: 5gSaturated Fat: 1gSodium: 204mgPotassium: 716mgFiber: 4gSugar: 1gVitamin C: 34mgCalcium: 28mgIron: 2mg
Tried this recipe?Give it a 5 star rating and pin it to your Pinterest account!
More Ninja Foodi recipes