This Italian pasta sauce recipe comes from my Nana (great-grandmother) who grew up in Italy. But with a few slight variations that I've made to it.
Most of my childhood was filled with memories surrounded around good old fashioned family meals. One of my grandmothers moved here from Greece and my Nana & Papa were both from Italy.
They had many amazing recipes that have been passed down through my family.
Growing up, I always enjoyed time in the kitchen learning these recipes. One of which was my Nana's pasta sauce. It is that amazing kind of sauce that simmers on the stove all day, leaving one hungry and in anticipation for dinner time.
The only problem with this recipe, it takes all day to make. This busy mama of (soon to be) four kiddos doesn't have time for that anymore.
Disclosure: Boots & Hooves Homestead may earn a commission for purchases made after clicking links on this page. View our disclosure policy for details.
Italian Pasta Sauce Variation
So, I recently had a thought. What if I attempted to make her sauce in our slow cooker? I had to make some additions and changes to her recipe.
Gasp. Family, please don't kill me over this. Ha.
But she never added wine to her sauce and I feel like it needs a little bit of that kick. I also add in some bone broth for a bit more flavor and added health benefits.
One of the many benefits of being a blogger, we create these types of projects just so that we can share them with all of our virtual friends. And then our husbands also get to enjoy all of the yummy creations we make.
Mine never complains!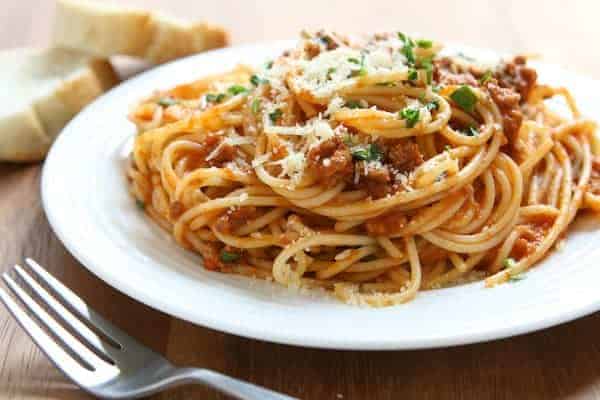 Ingredients:
1 medium onion, chopped small
6 cloves of garlic, thinly sliced
2 roma tomatoes, diced
1/4 cup of good olive oil, plus a little more for the pan. Here's my favorite.
2 large cans of crushed tomatoes (28 oz)
2 small cans of tomato paste (6 oz)
1 tablespoon of oregano
2 bay leaves
2 teaspoons of salt
1/2 cup of red wine (I like a sweet red wine for this pasta sauce. Something like a good Lambrusco would work)
1/2 cup of bone broth (chicken or beef work great)
1 pound of ground beef, browned and drained
Instructions:
Turn the slow cooker on to high and drizzle with a little bit of olive oil to coat the bottom.
Add in chopped onion and sliced garlic. Allow to cook until translucent, approximately 15 minute and time will vary depending on your slow cooker. Check on it and stir periodically. You can cook this on a stove top a lot faster, but I wanted to save myself any extra dishes.
Add in remaining ingredients. Turn slow cooker down to low, allow to simmer for about 6-8 hours.
Serve over your favorite pasta or for a low carb option, over spaghetti squash. Tonight, I'm using some of this sauce for a delicious lasagna.
This recipe makes a huge batch for storage, it also freezes and cans really well.
You can also make a few variations, like making meatballs instead of ground beef. Or even throw in some Italian sausages to cook with the sauce.
Serve & enjoy!
Related: How to Make Homemade Pasta Noodles
More delicious recipes: