This bone broth recipe is a cinch to put together. Simply gather the ingredients and simmer slowly in a crock pot or other slow cooker.
Nearly every week, I have a batch of bone broth simmering so that I can sip on it throughout the week ahead. Because it has many amazing health benefits.
In the past, this was a regular routine for many households and is such a great way to use up every last item and practice frugality! Something that many of us seem to have forgotten all about.
Around here, we take cattle in for meat, so we have plenty of bones to use up for this purpose. I even save the scraps from veggies, like the ends of celery and onions for my broth.
Frugal, frugal, frugal!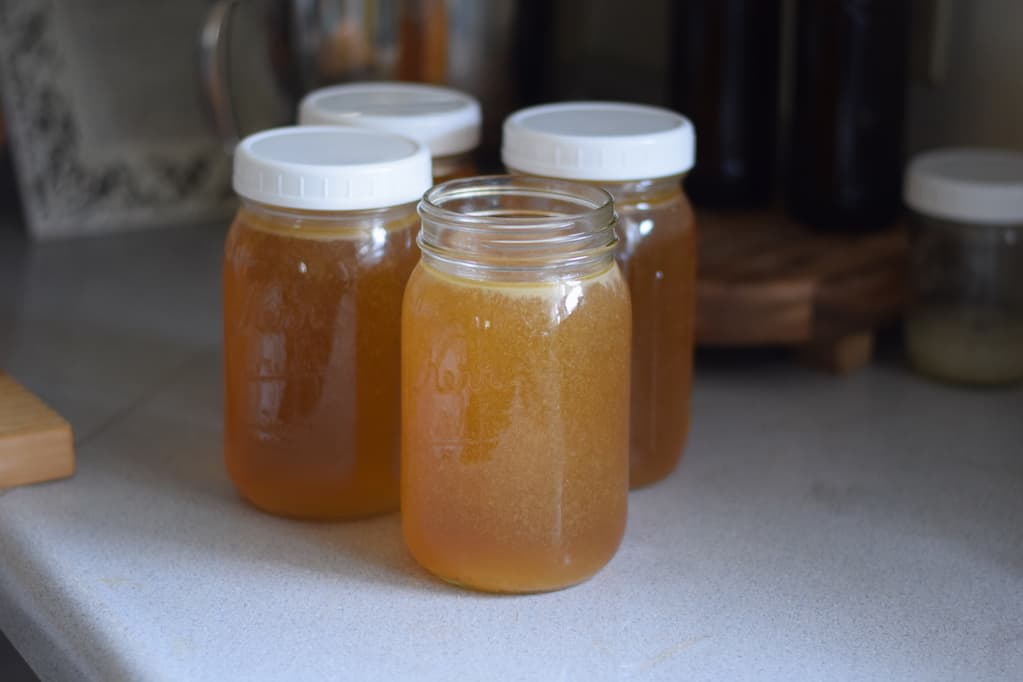 So, what exactly is bone broth and what are its benefits?
Bone broth is an incredibly nutritious and health-boosting food that is simple to make and tastes pretty good, too. I throw all of my ingredients in a crock pot and let it simmer for a few days. Ah, simplicity!
Bone broth contains minerals in forms that your body can easily absorb. Such as, calcium, magnesium, phosphorus, silicon, sulphur and many more.
It is recommended that when making your broth you use bones from animals that have been grass-fed, hormone and antibiotic free – if possible.
Here's a few of the many benefits of bone broth:
Boosts Immune System
Treats and Heals Leaky Gut Syndrome
Improves Joint Health
Reduces Cellulite
Promotes Beautiful Hair, Skin and Nails
Reduces Inflammation
Helps with Food Sensitivities and Allergies
Frugal – Saves Money (by using up all parts of the animal)
And so much more…
What are the differences between bone broth and stock?
Broth
Broth is water simmered with vegetables and meat, and can include some bones. It is cooked for a short period of time, usually 45 minutes to a couple of hours, then strained and seasoned. The goal of broth is to use a combination of ingredients to create a flavorful liquid that can be enjoyed on its own as a soup, or a soup base along with other ingredients.
Stock
Stock is water simmered with vegetables and bones, and sometimes with some meat still attached. It is cooked for a few hours, then strained. The goal of stock is to extract the collagen from the connective tissues and bones being simmered, which give stock its thick, gelatinous quality.
Bone Broth
Is cooked for a long period of time, more than 24 hours, and the goal is to not only extract the gelatin from the bones, but also release the nutritious minerals. It is then strained and seasoned to be enjoyed on its own, like broth.
Bone broth is incredibly easy to make. You could simmer it on your stove top in a large stock pot. Some even roast their bones beforehand, I haven't found a need to do so. I've also found that using a crock pot works best for me.
On occasion, I've had to add a little more water as it has simmered down. I generally make beef bone broth, but this can be used on many other animal bones; such as, chicken, turkey, pretty much all poultry, fish, bison, etc.
Bone Broth Recipe
Ingredients
Approximately 1 ½ – 2 lbs of bones. Use leftover bones, soup bones, or preferably bones with the marrow exposed.
2 carrots, rough chopped
1 onion, peeled and halved
2 stalks of celery, rough chopped
2-3 cloves of garlic…but, I like to add a little more…I tend to go heavy on my garlic.
Optional – additional herbs to your taste. (I love adding bay leaves and rosemary to my chicken broth, but it is whatever is preferable).
Salt & pepper to taste
2 tablespoons Organic Apple Cider Vinegar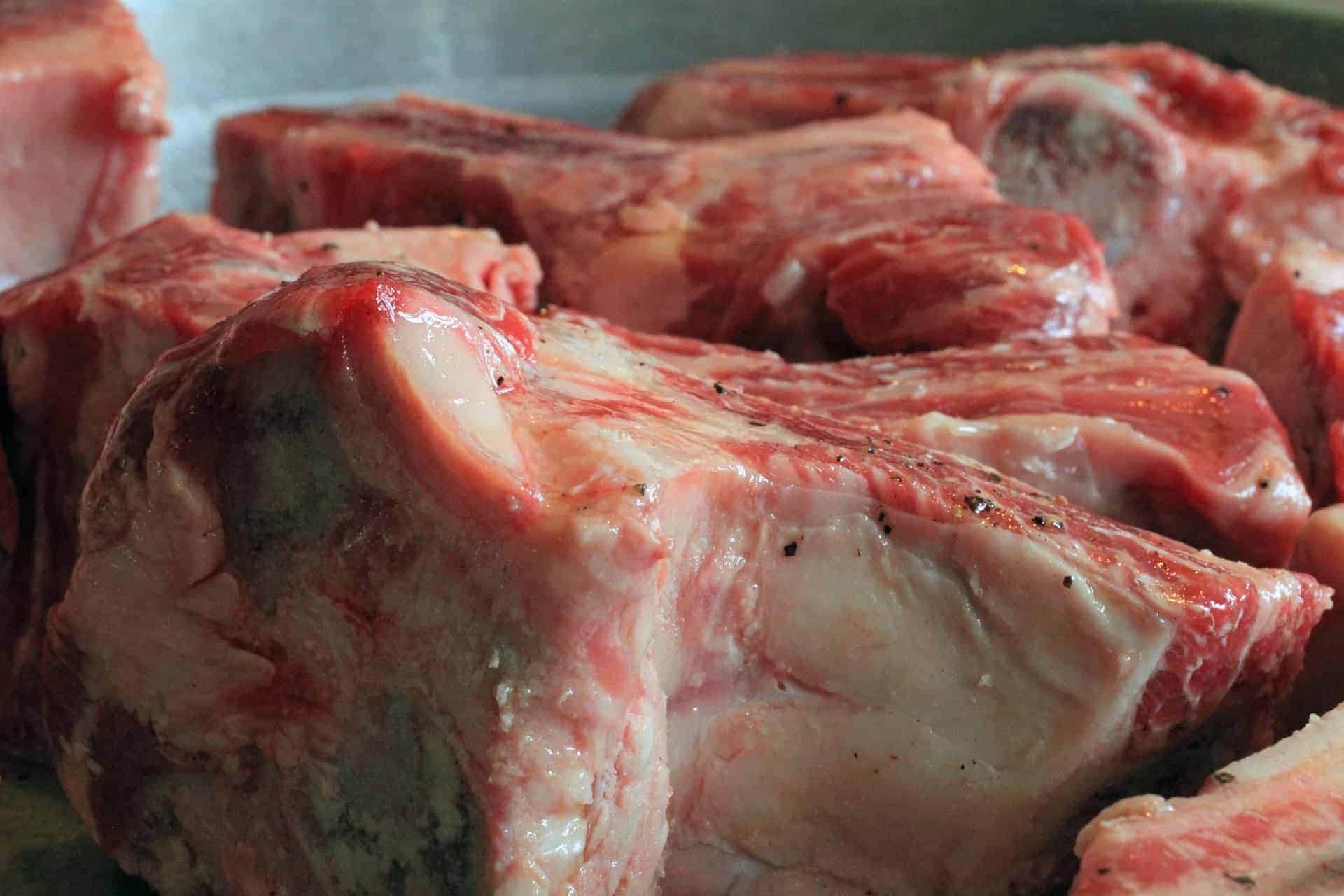 This recipe should make approximately one gallon of bone broth.
It will keep in the refrigerator for no longer than one week. If you don't intend on using it within the week, be sure to freeze it.
You can freeze to your preference, but I've found that filling ice cube trays and moving them to storage containers once frozen, works really well. You'll be able to pull out however much you'll need each time.
That's pretty much it. Super simple, tasty and incredibly beneficial!
More Soup Recipes: