If you love comfort food, this caramelized onion pasta is the perfect cozy pasta dish for you! It is slightly sweet from the caramelized onions and tangy from the addition of the gorgonzola cheese.
This comforting classic pasta is so delicious, it is sure to become a new family favorite.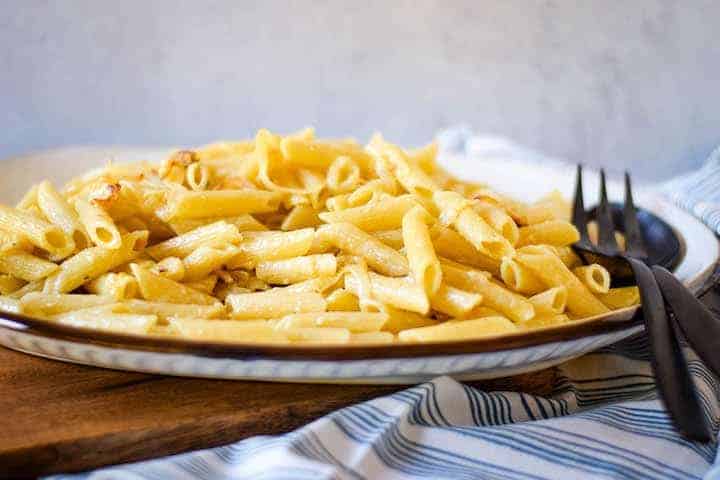 This satisfying pasta dish is simple to make and is perfect for those weeknights when we are short on time! We can have dinner ready to go in under 30 minutes.
And if you're in need of a quick, yet super scrumptious meal, this is for you!
Related: Caramelized Onion & Gorgonzola Cheese Pizza
Caramelized Onion Pasta with Gorgonzola Recipe
The combination of caramelized onions and gorgonzola cheese is out of this world – amazing! It all started with a craving for some cheesy comfort food.
Gorgonzola cheese is wonderful to cook with. It gives this sauce a little bit of tanginess. And it pairs so well with the slightly sweetness from the caramelized onions.
It gives a little bit of that salty sweet deliciousness that we sometimes crave.
Another delicious and simply pasta to try is this Spaghetti Aglio e Olio.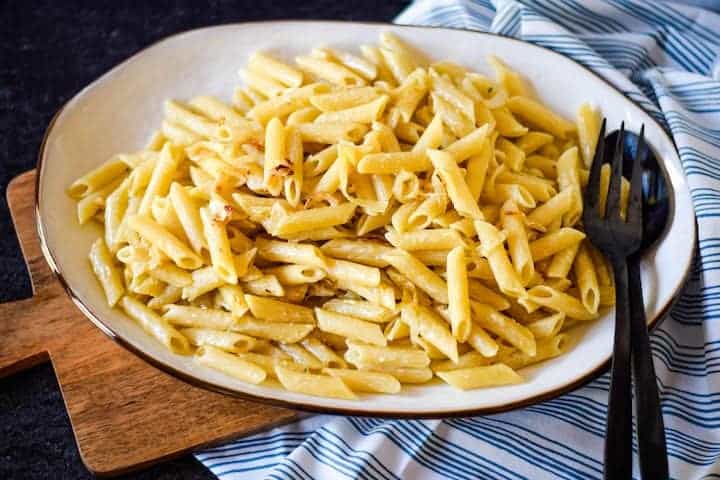 What Type of Pasta to Use
For this recipe, I like a thicker pasta because we believe it adds to the comforting factor of this dish. A pasta like a penne, rigatoni, tagliatelle, or mafalda works well.
But feel free to use whatever pasta you have on hand or prefer.
Quick Steps to Making This Pasta Dish
Begin by caramelizing the onions, set aside when done.
Bring the pasta water to a boil. Don't forget to salt the pasta water!
Shred the parmigiano cheese – fresh is best.
Use a fork to break off pieces of the gorgonzola cheese.
Cook the pasta according to package instructions.
While the pasta is cooking, make the cheese sauce.
Put it all together. Serve & enjoy.
It's incredibly simple to make. And oh so satisfying!
More Pasta: