In this post, you will find 40 of the BEST cast iron recipes. You'll find a variety of one-pot meals, decadent desserts, and healthy recipes to make for your family or loved ones.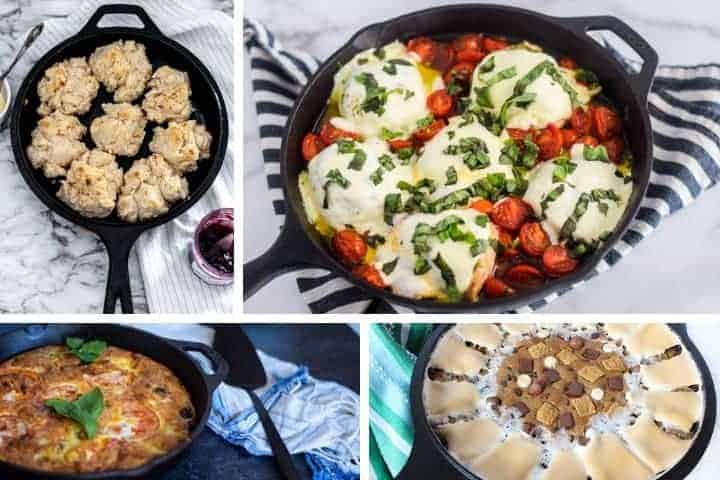 Cast Iron Recipes
Cooking with a cast iron skillet is a favorite for many homesteaders and home cooks. They are incredibly versatile for one.
You can create your own roasted coffee at home, bake brownies or a giant skillet cookie. And make the perfect fried chicken with homestyle drop biscuits.
These are just a few of the recipes you'll find in this amazing list of cast iron recipes.
You'll definitely want to save this list and come back for more new and deliciously inspiring recipes!
More Farm Fresh Recipes: 40 + Healthy Egg Recipes
New to Using Iron Skillets?
Here are a few helpful tips to get you started with cast iron cooking.
I have used and absolutely love Lodge cast iron. They arrive pre-seasoned, but that doesn't quite give them with a perfect non stick surface.
To properly season your cast iron, clean it and dry it completely. Preheat an oven to 350 degrees F. Rub a thin layer of vegetable or canola oil over the surface with a paper towel.
Do not use Olive oil or butter to season – this will leave your skillet sticky. But you can cook with them!
Place upside down on baking sheet that is lined with foil. And bake for 1 hour.
To keep it clean, wash with hot water and a soft wash cloth or sponge. Dry thoroughly.
You can also give it a super light wipe down with vegetable or canola oil. And heat it up over medium heat on the stove top for a few minutes.
Skillet Recipes
Break out that cast iron skillet and get ready to make a delicious one-pot meal! Here are 40 of the BEST skillet recipes for you to enjoy with your loved ones.
More Recipes: