This sourdough stuffing is a delicious side dish that makes the ultimate comfort food. It is perfect for all of the holidays or your next family Sunday dinner!
The combination of sourdough bread cubes and sausage make a great savory stuffing to serve on the side for turkey, roasted chicken, Cornish hens, or other poultry.
You'll definitely want to make this Thanksgiving stuffing recipe for your next family gathering.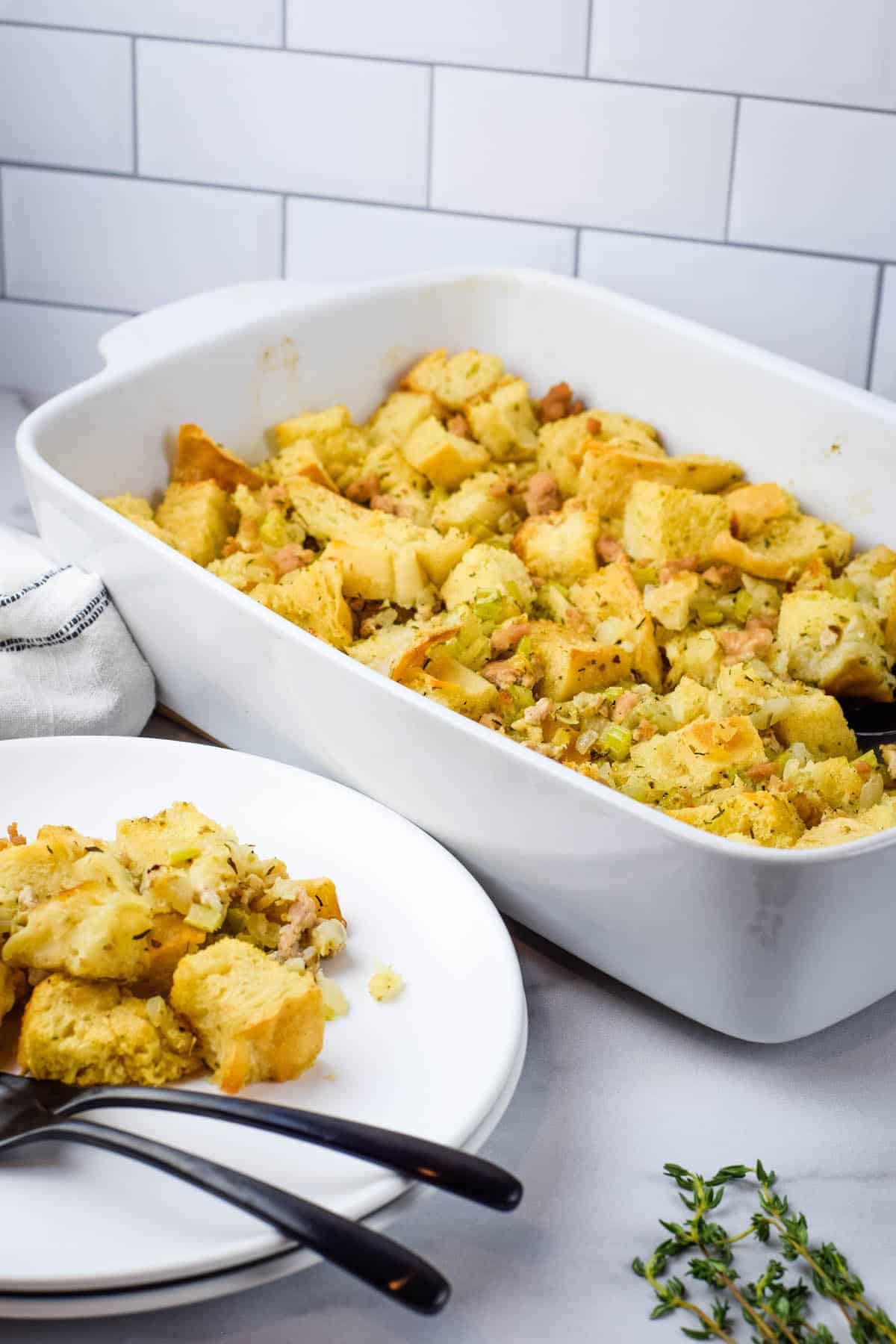 How to make this sourdough stuffing recipe
This has become a favorite family recipe and the BEST Thanksgiving stuffing I've ever made! It isn't complicated to make and the flavors are just so scrumptious!
It is perfectly moist, slightly fluffy, and a bit crispy on the outside!
Making this recipe from scratch might take a little longer than the boxed/bagged varieties at the grocery store. But it isn't full of bad-for-you-ingredients!
Boxed mixes have ingredients like high fructose corn syrup, BHA, MSG, and horrible highly processed oils. Skip those ingredients and make this healthy from scratch version instead!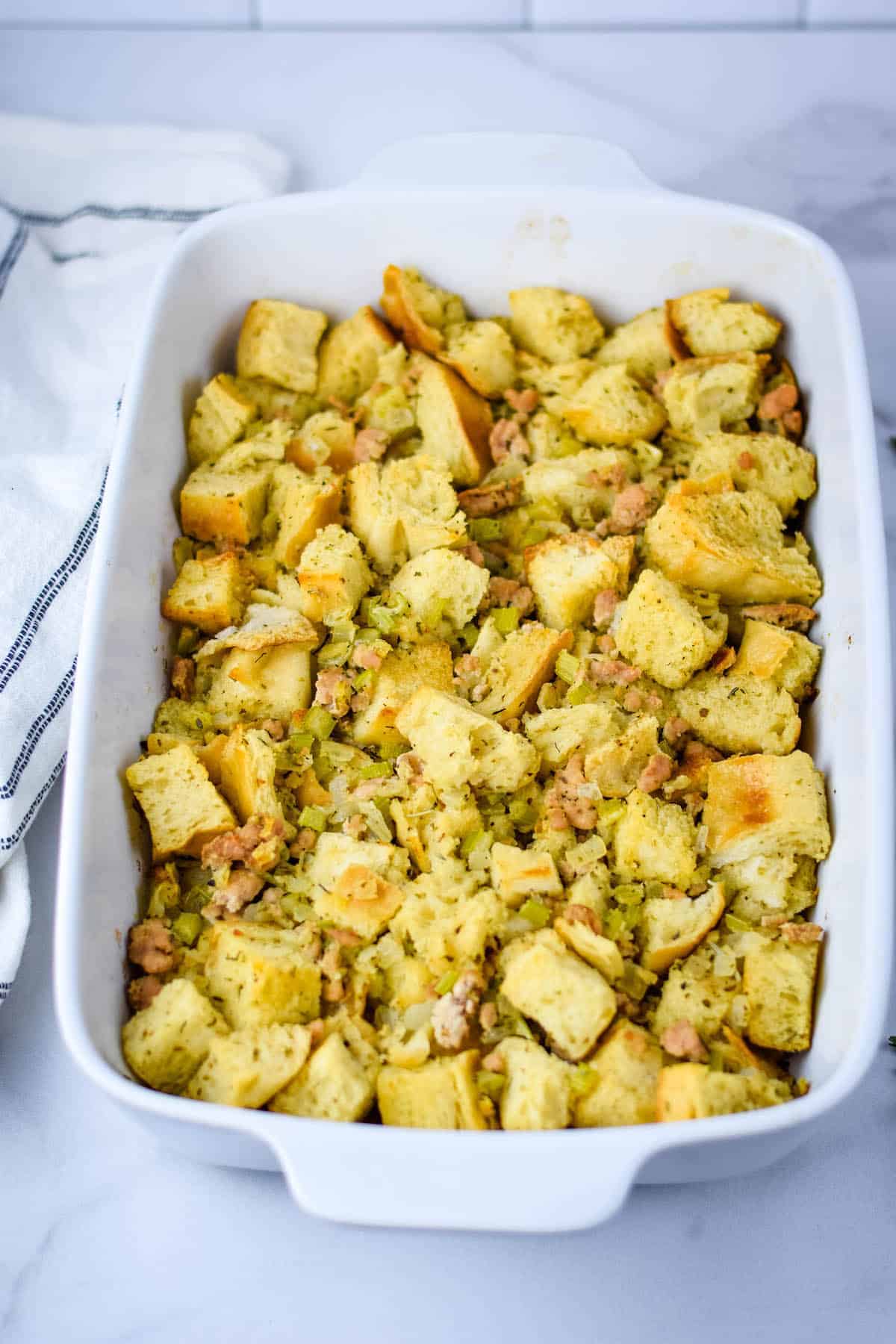 ingredients
The star of this show really is the sourdough bread. But the combinations of pork, Italian seasonings, and chicken broth really elevate the flavors. This recipe does not require anything super complicated!
Here's what you'll need:
Alternatively, you can use fresh herbs if you prefer. I made this recipe without fresh herbs because sometimes they are difficult to find good quality options in the stores – especially during the holiday season.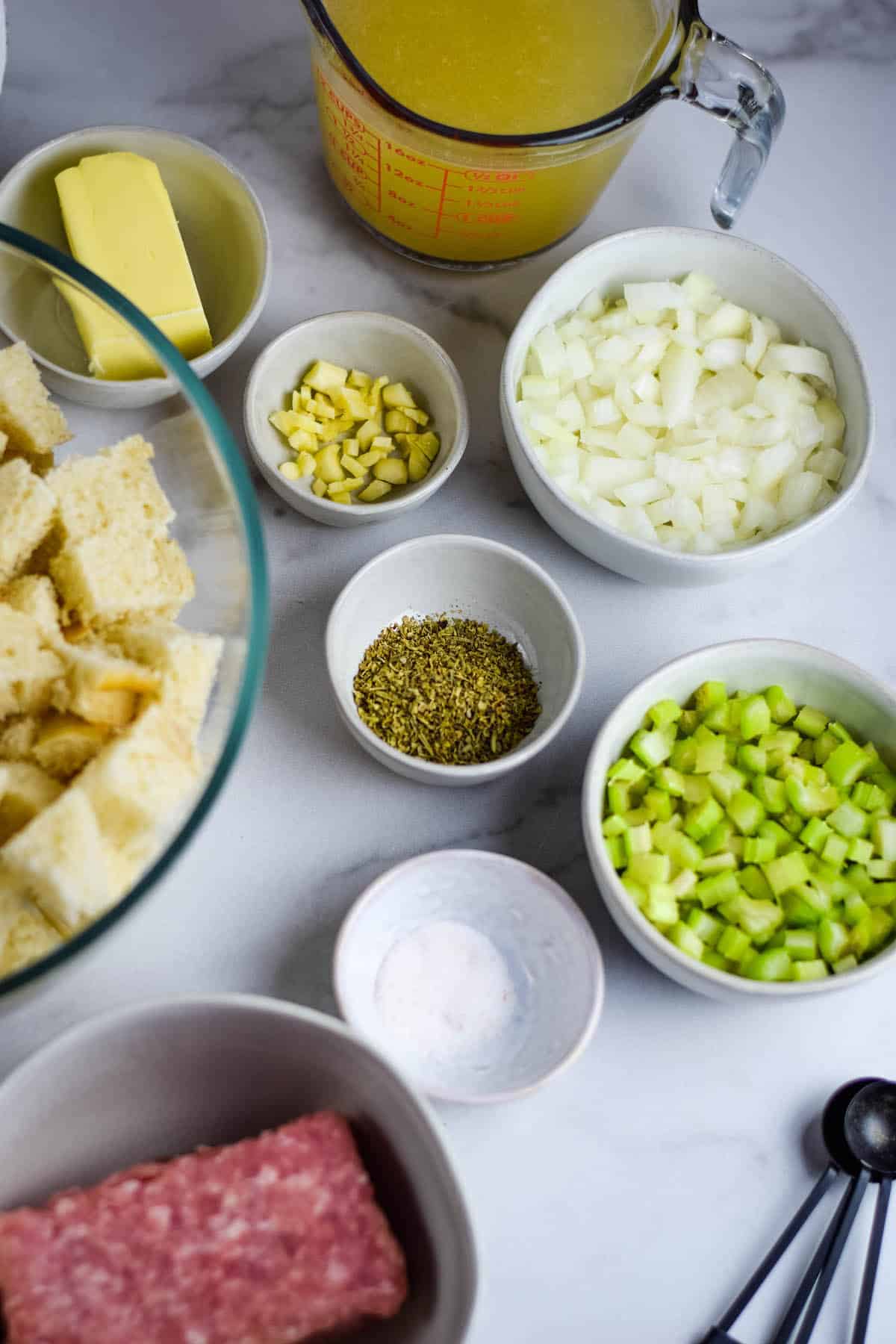 instructions
Begin by preheating the oven to 400 degrees F. Grease a casserole dish with butter and set aside.
Then slice and cube up the sourdough loaf into about 1 inch size and as consistent as you can for the stuffing.
Spread the cubes onto a single layer on a baking sheet. Then toast them in the preheated oven for about 15 minutes until nice and crispy. Set aside in a large mixing bowl.
Meanwhile, in a large skillet melt the butter and sauté the onion and celery until soft and translucent. Remove from the pan and set aside.
In the same skillet, add the sausage and cook over medium heat until brown and no longer pink in the middle. Add the garlic, salt, and Italian seasoning until combined.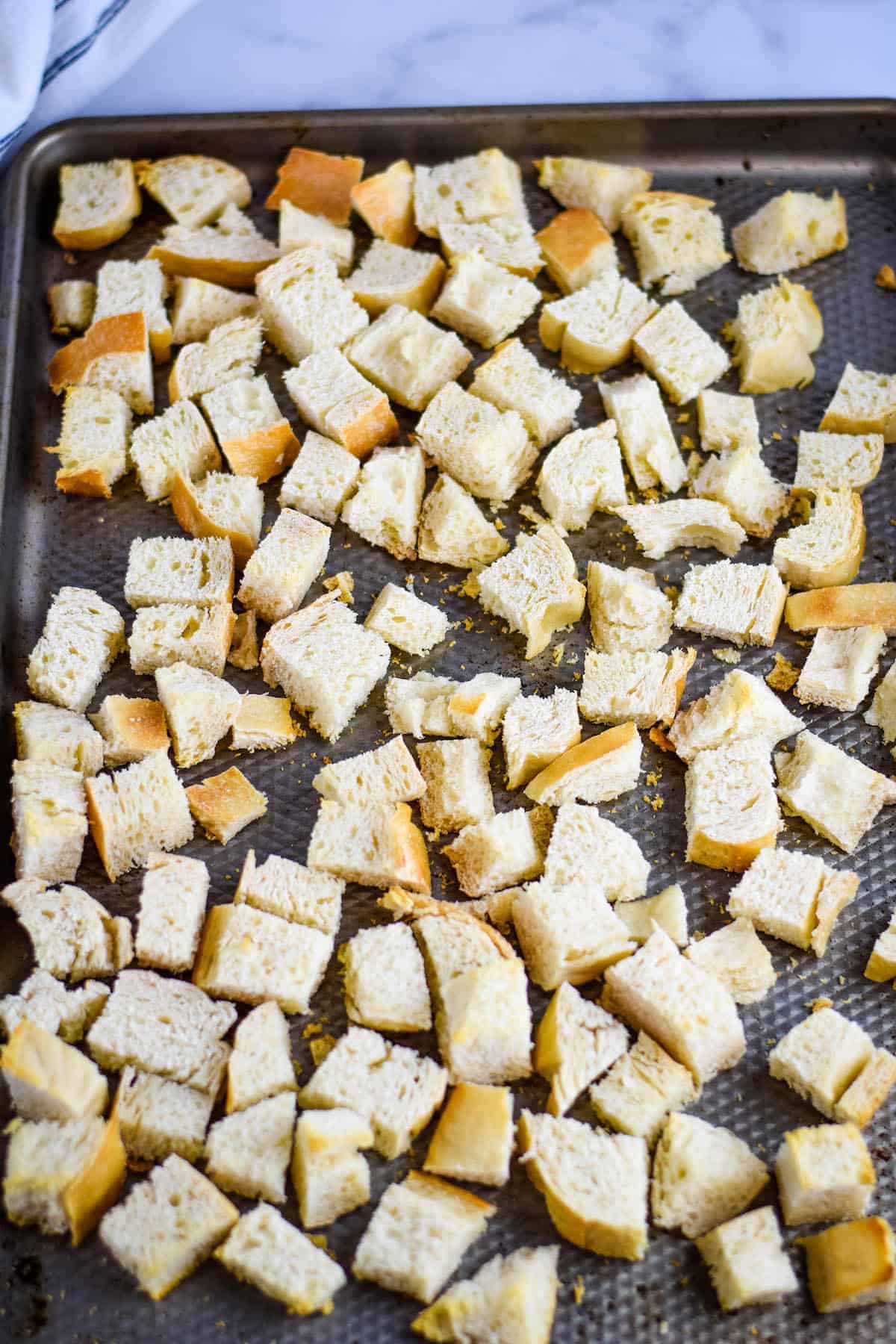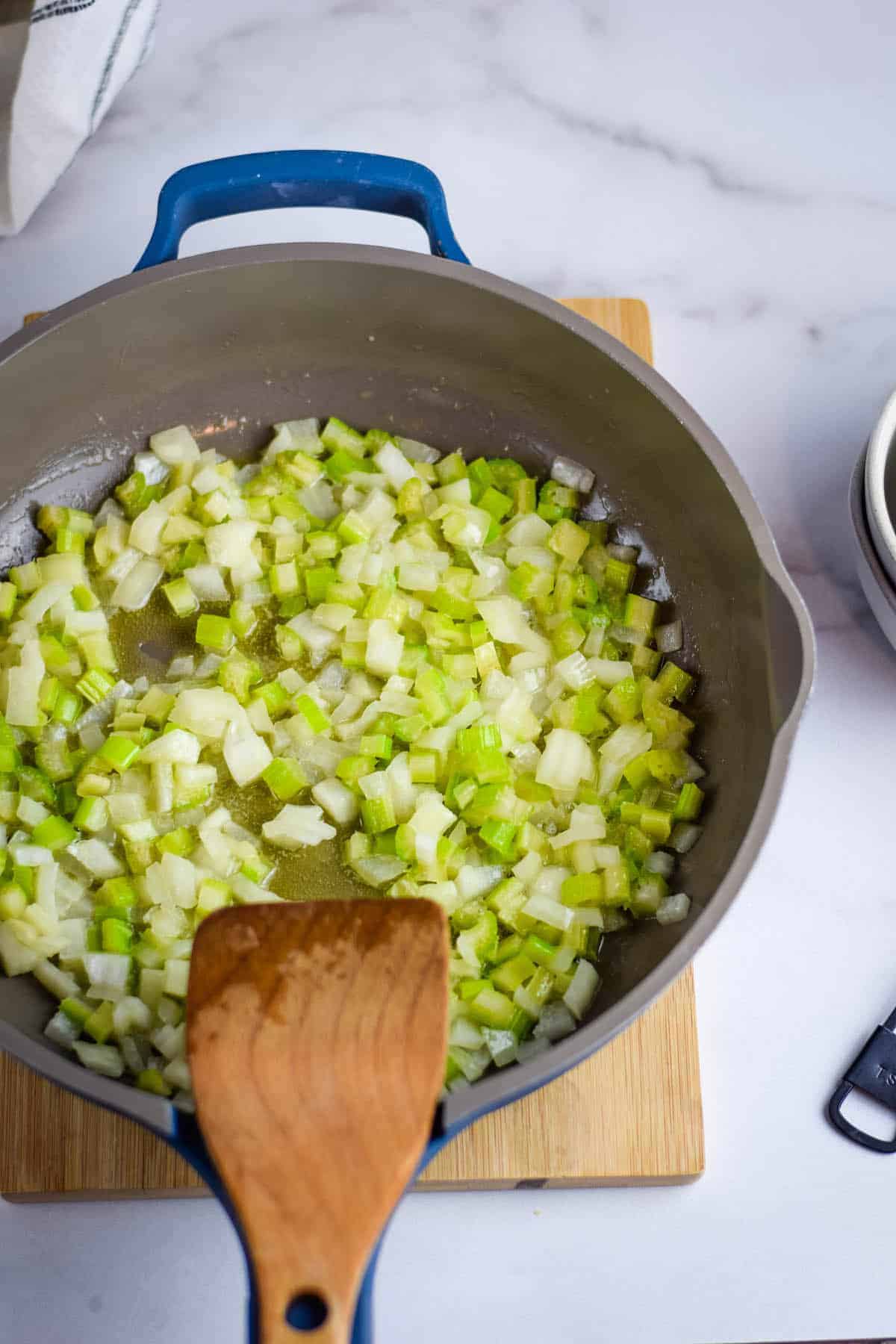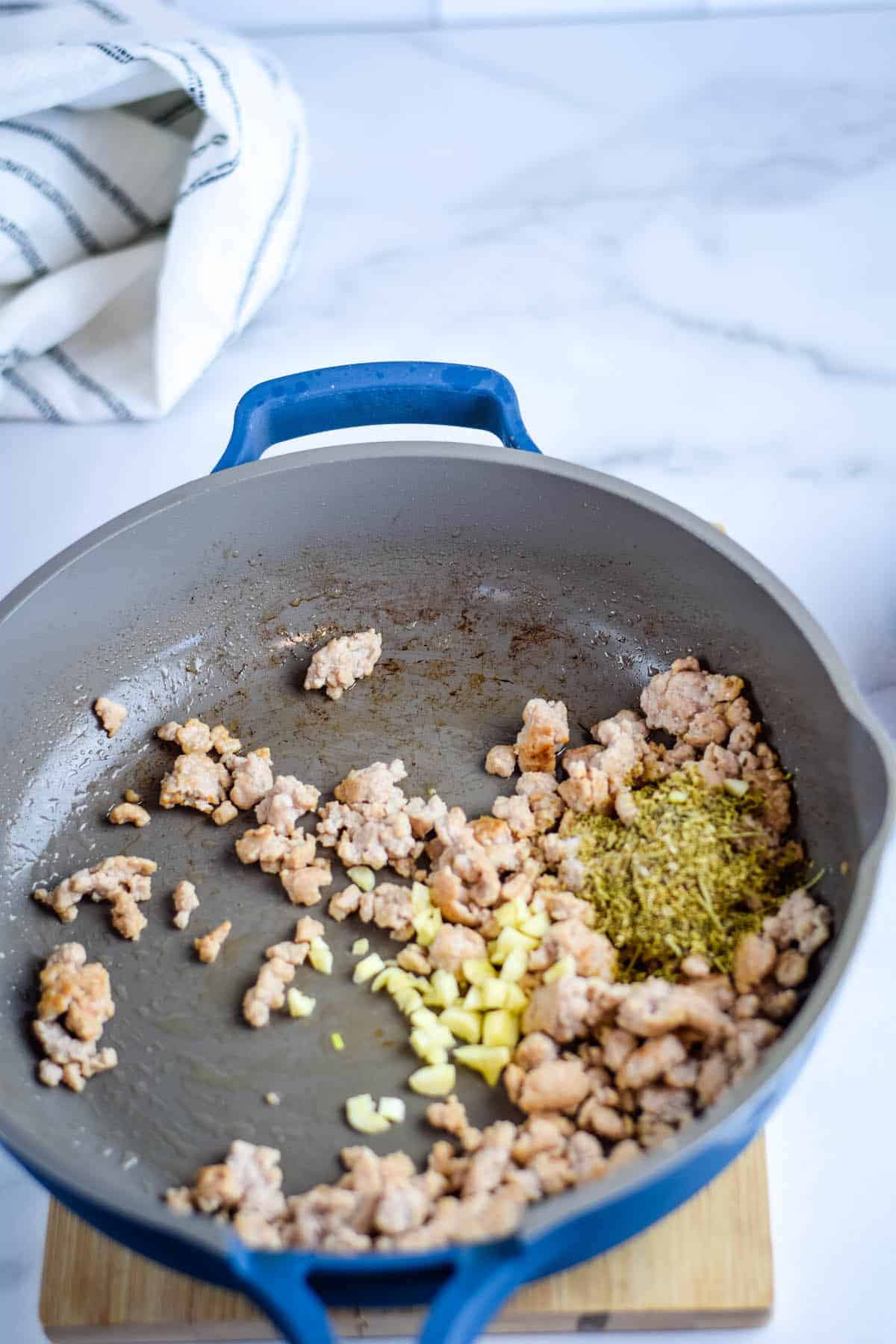 Return the onion / celery vegetables mixture to the skillet with the sausage and saute for about 1 minute more until the garlic is slightly warmed and fragrant. But don't allow the garlic to burn. Remove from heat and add to the large bowl with the toasted bread cubes.
Toss to combine and then pour the broth mixture over the top while you stir to combine. It should be moistened but not soggy.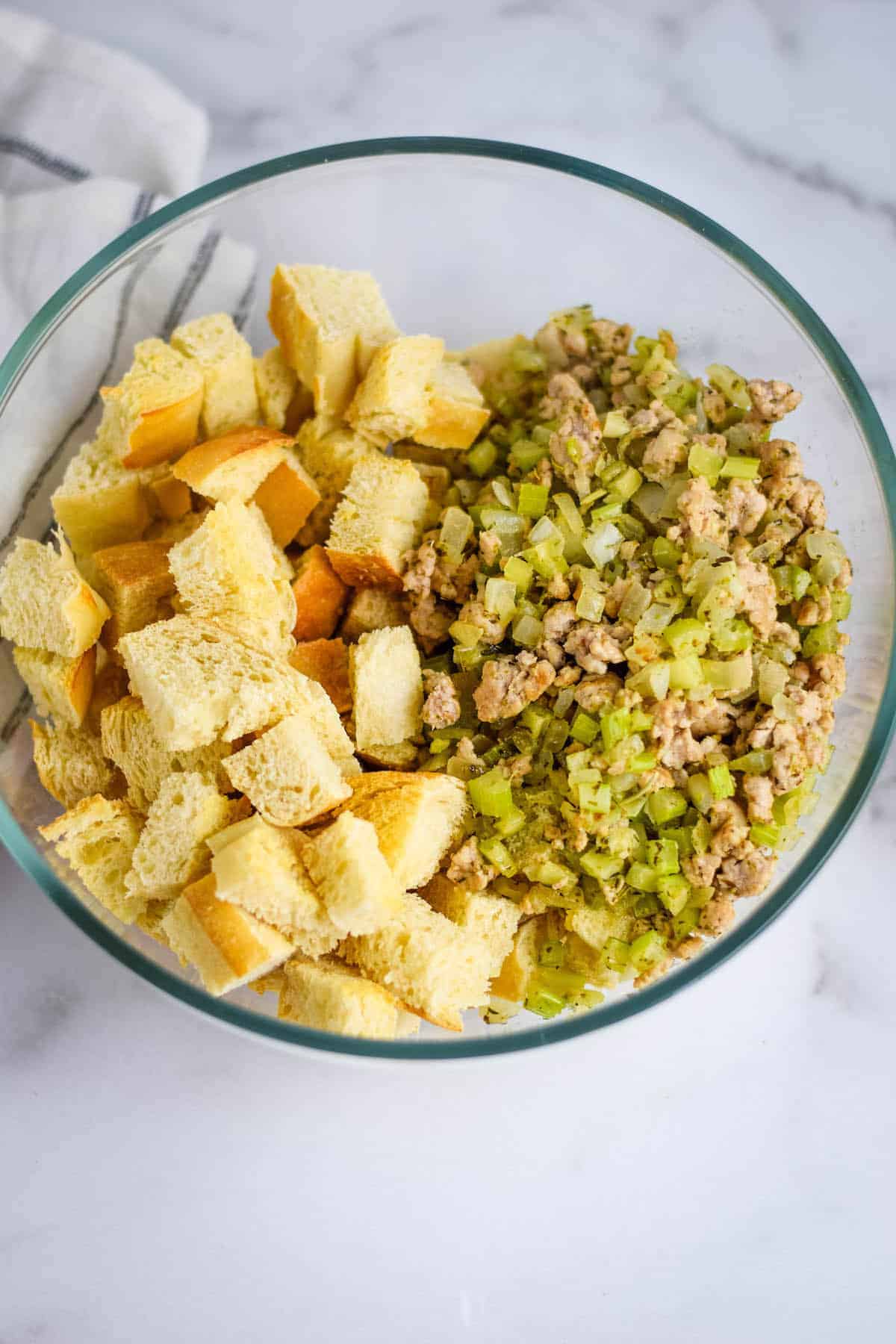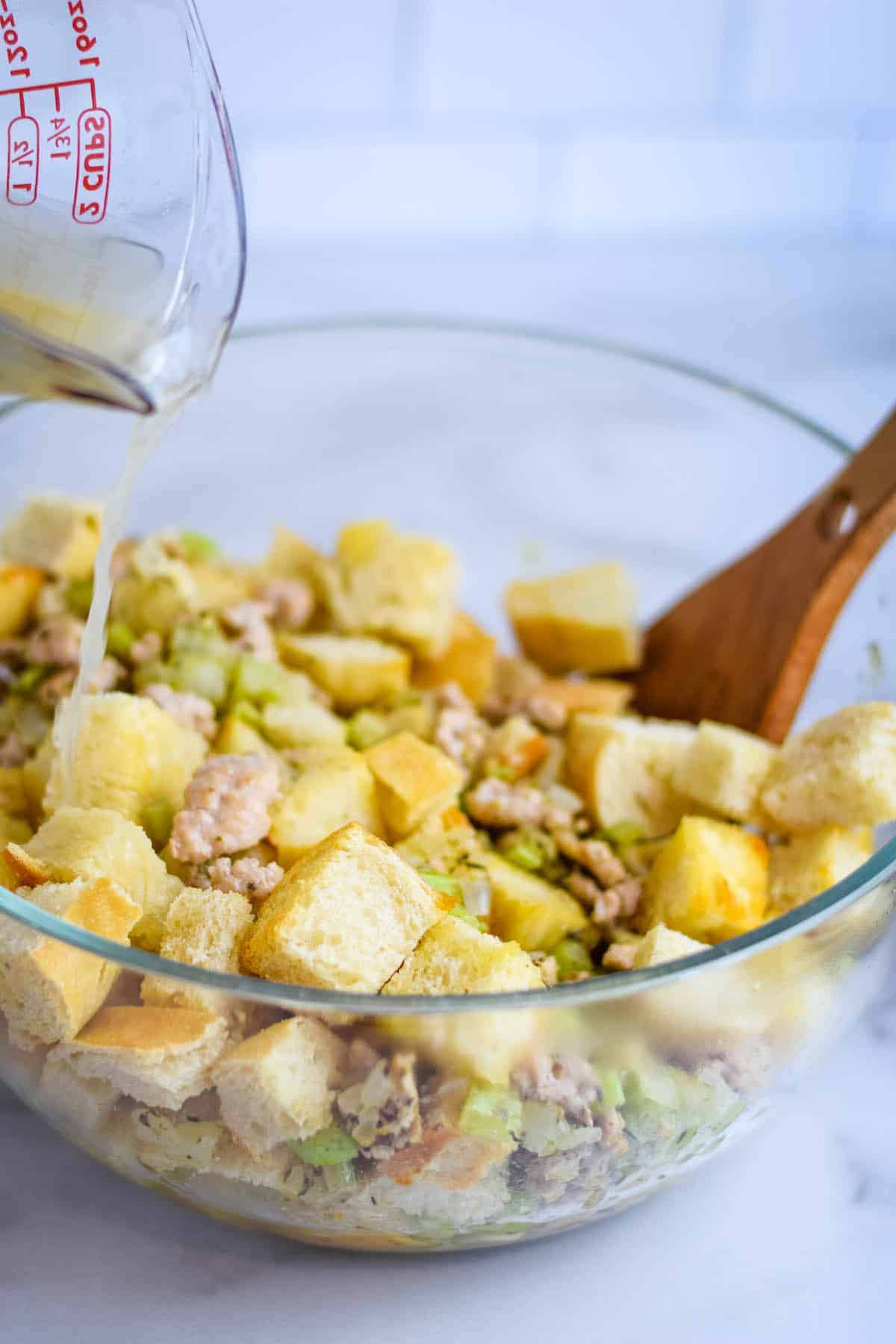 Add the stuffing to a greased 9X13" baking dish and bake for about 20-30 minutes until the edges are crispy and the stuffing is warmed through.
🥖 Helpful Tips
You can use any sourdough loaf that you prefer. This homemade stuffing recipe makes a great use of stale bread too. You could even use a gluten-free sourdough bread if you'd like!
Alternatively you can use fresh herbs if you desire. I just really LOVE the flavors that the Italian seasoning gives to this recipe. If using fresh herbs, fresh thyme, parsley, fresh sage leaves, and fresh rosemary are great options to consider.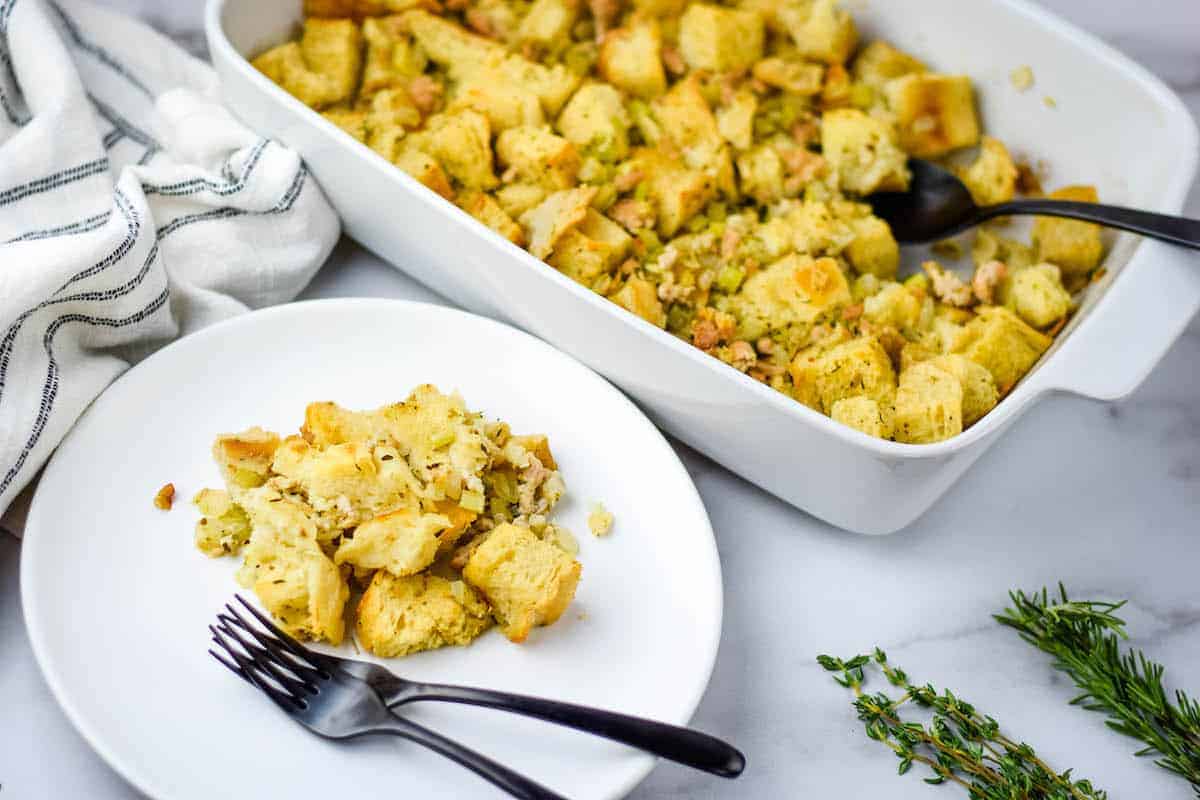 How to store & reheat leftovers
If you have leftovers, you can store in the refrigerator for a few days, up to about one week. Be sure to store in a glass container with an airtight lid.
To reheat: preheat the oven to 375 degrees F and bake for 10-15 minutes or until warmed through.
More delicious holiday favorites
These recipes make an excellent addition to your Thanksgiving dinner or any holiday meal plan!
Honey Sweetened Cranberry Sauce
FAQ (frequently asked questions)
What bread is good for stuffing?
For this sourdough stuffing, I recommend a bread that has a good crumb – a baguette or crusty artisan style bread works perfectly. If you have a loaf that is becoming stale also works great. I would avoid using a sandwich style bread as it may become flat and soggy in this stuffing recipe.
Can this recipe be made vegan?
Yes, absolutely! Just swap out the chicken broth for veggie broth and use your favorite plant based butter option. Try mushrooms and favorite plant based substitution for the sausage.
want more recipes?
Check out the recipe index where you can discover more homemade recipes from my homestead!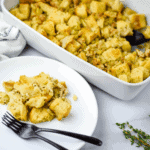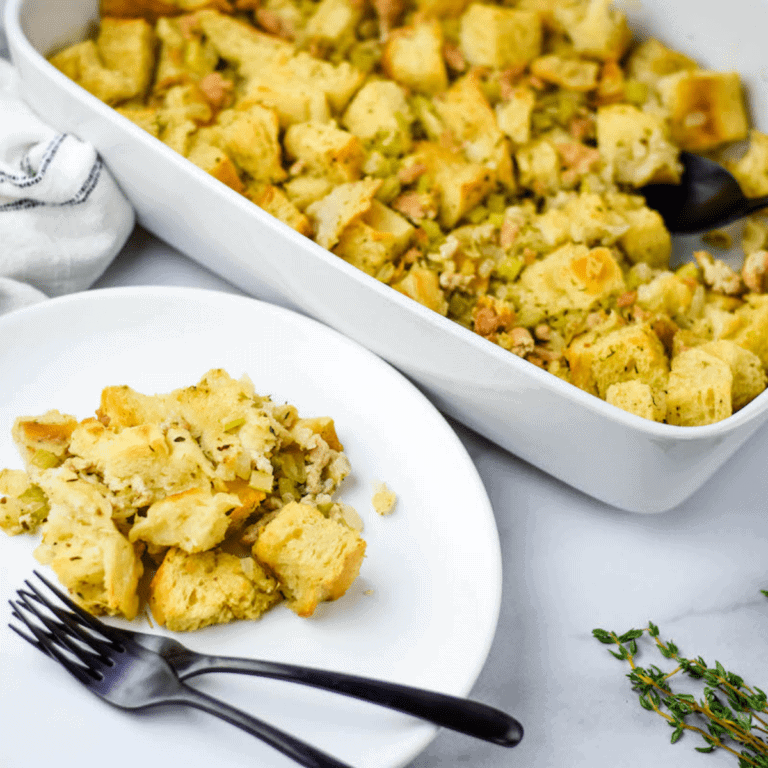 sourdough stuffing
Sourdough Stuffing is an old fashioned recipe with a twist. The sourdough adds a delightful taste to stuffing. Here is a relatively quick sourdough stuffing recipe for the holidays involving sausage and delicious Italian flavors. And trust us, it's great!
Instructions
Preheat oven to 400° F. Grease a 9×13 inch baking dish with butter and set aside.

Cut the sourdough loaf into 1-inch cubes and lay in a single layer on a baking sheet. Toast bread cubes in preheated oven for about 15 minutes, until crispy. Place the toasted bread cubes in a large bowl and set aside. Reduce the oven heat to 375° F.

Meanwhile, melt the butter in a large skillet over medium heat. Add the chopped celery & onions and sauté until translucent, remove from heat and set aside.

Add sausage to the same skillet and cook over medium heat until browned and no longer pink. Stir in the salt, Italian seasoning, and the garlic. Return the onion/celery mixture back to the skillet to combine with the sausage and saute just for one minute more.

Remove the sausage & onion/celery mixture from the skillet and add to the bowl with the toasted sourdough bread cubes. Stir to combine together. Pour the chicken stock over this mixture, a little add a time, until stuffing is moistened but not soggy. You may not need all 2 cups of stock depending on the bread.

Spoon the stuffing into the greased 9×13 baking dish. Bake stuffing for 20-30 minutes at 375° F.
Notes
You can use any sourdough loaf that you prefer. This homemade stuffing recipe makes a great use of stale bread too. You could even use a gluten-free sourdough bread if you'd like! An artisan style or baguette style bread works great in this recipe vs a sandwich style loaf which could leave the stuffing flat and a little soggy.
Nutrition
Calories: 357kcalCarbohydrates: 46gProtein: 16gFat: 12gSaturated Fat: 4gPolyunsaturated Fat: 2gMonounsaturated Fat: 5gTrans Fat: 1gCholesterol: 28mgSodium: 1136mgPotassium: 356mgFiber: 3gSugar: 4gVitamin A: 145IUVitamin C: 8mgCalcium: 75mgIron: 4mg
Tried this recipe?Give it a 5 star rating and pin it to your Pinterest account!
where would you like to start?