This collection of healthy Mediterranean recipes are filled with a variety of savory Greek & Italian flavors. Get inspired to make healthy dishes with this roundup of the best Mediterranean flavors.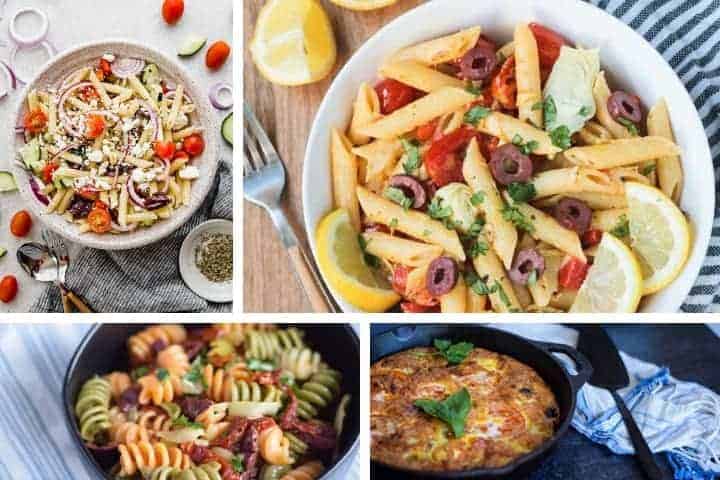 Healthy Mediterranean Recipes
Are you a lover of the flavors of the Mediterranean? Me too! I have you covered in this post. And so, I'm sharing a round up with more than 20+ super delicious Mediterranean food recipes.
The Mediterranean diet is often considered one of the world's healthiest. And this is due to the many awesome benefits.
And with good reason, too! Because this diet is full of vegetables, and fruits, legumes, olive oil (good fat!), and whole grains.
The Mediterranean way of eating has been long thought of helping to reduce inflammation, heart disease, stroke and Alzheimer's. (Source)
New to the Mediterranean diet? Here is more information about how to begin this way of life.
Related: The Mediterranean diet for beginners.
The Best Mediterranean Health Food Ideas
I've teamed up with some of the most talented and inspiring food bloggers to share this collection of nearly 30 healthy recipes.
You'll find a little bit of soups, salads, main dishes, and appetizers. Save this list and come back for more delicious recipes!
Healthy Mediterranean Dishes
This collection of healthy Mediterranean food recipes is sure to inspire you to make a tasty dish full of amazing flavors!
More Mediterranean Healthy Food Dishes
Check out this amazing list of Mediterranean Seafood Recipes. It is filled with over 45 of the most scrumptious seafood dishes inspired by the flavors of the Mediterranean!
More Recipes You May Enjoy