This Chicken Saltimbocca Recipe is a slight variation from the traditional dish. This recipe is incredibly delicious and full of flavor. And best part, it is made in under 20 minutes.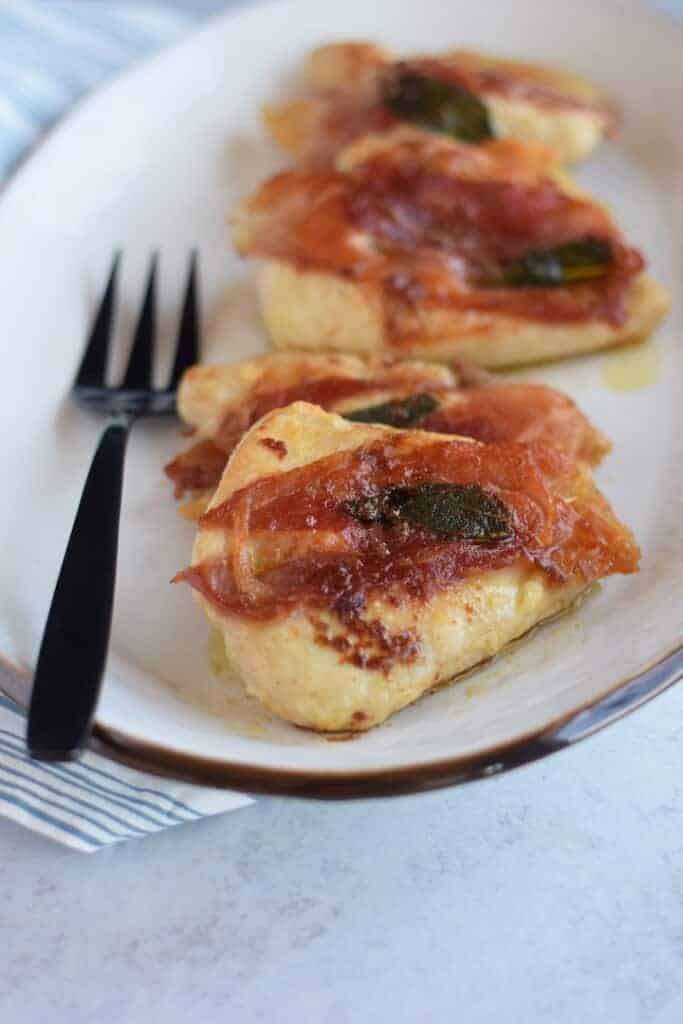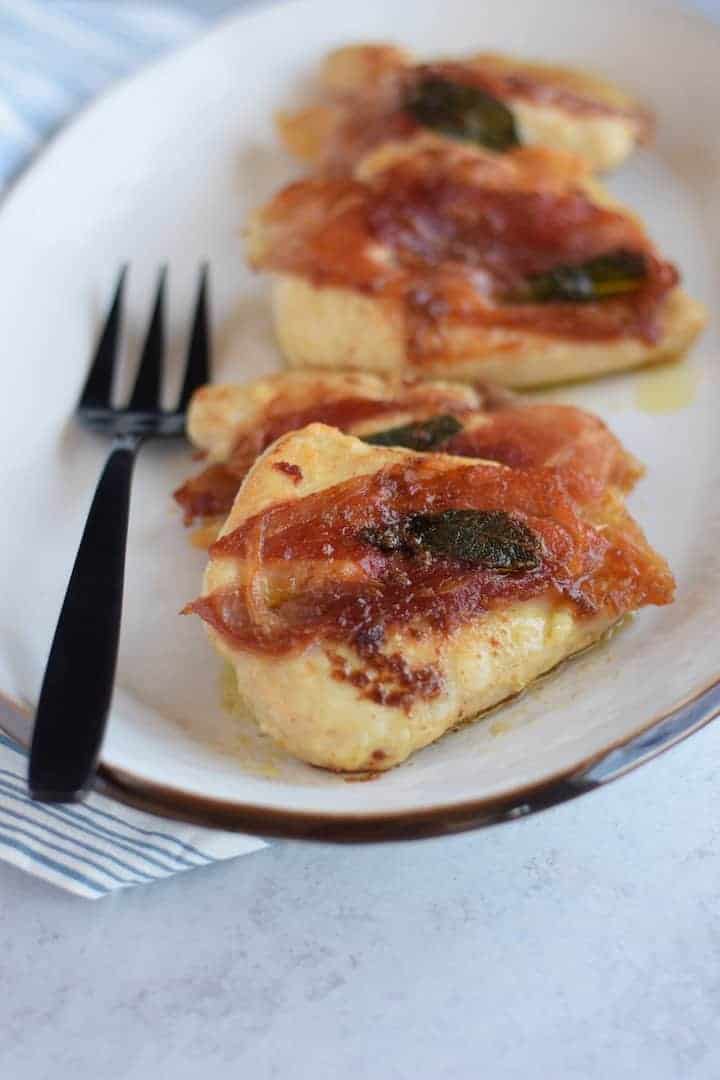 I was recently sent a copy of the 20 Minute Italian cookbook by Andrea Soranidis to review. I have been given permission to make and republish one of the recipes from the book to share with you. All opinions are my own.
If you love Italian food and also enjoy meals that don't take all day to make, this is a book worth checking out! I love many of the traditional Italian meals that my family made. But some of them literally take all day to make.
I still absolutely love those meals. I just believe that there is a time and place for them. And weeknights usually isn't the time for them.
So, 20-Minute Italian is a great solution!
In the cookbook, you'll find many great recipes like:
Sicilian Pasta alla Norma
Creamy Pumpkin & Smoked Pancetta Pasta
Easy Pillowy Ricotta Gnocchi
Quick Lemon Chicken Piccata
Easy Awesome Beer Turkey Meatballs
Tuscan Style Cannellini Beans & Shrimp Salad
and so many other delicious recipes.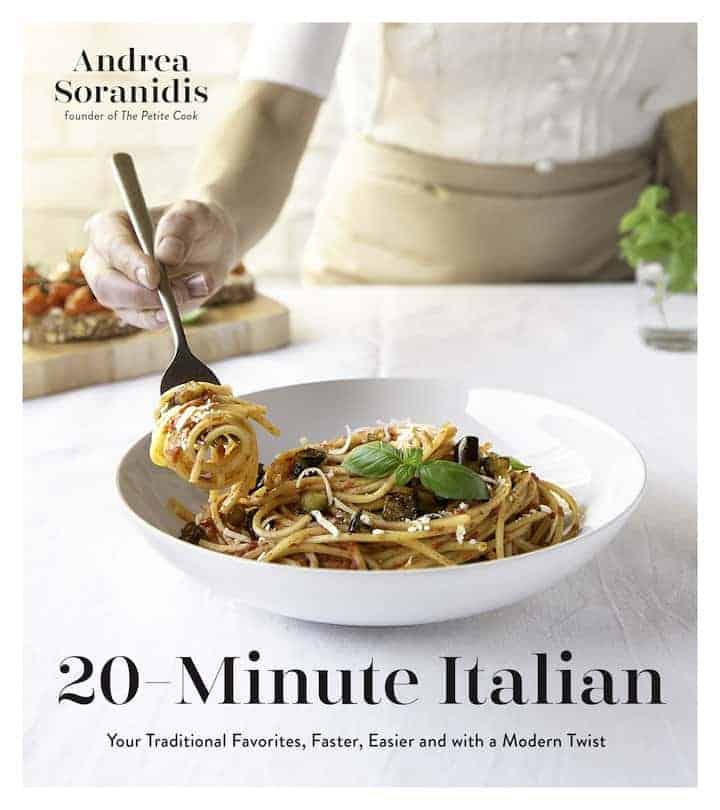 Grab your copy of the 20 Minute Italian cookbook.
What is Saltimbocca?
Translated from Italian, saltimbocca literally means 'leap into the mouth'.
Traditionally this dish will call for veal or poultry rolled and wrapped with prosciutto and herbs like sage or rosemary.
And it is typically marinated in wine, oil, saltwater, or some other brine.
This chicken saltimbocca recipe uses similar techniques, but is not rolled. So, it definitely saves a bit of time with cooking!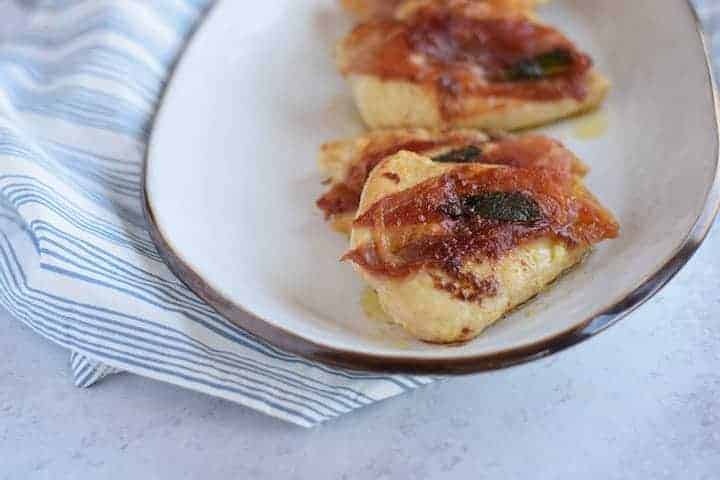 Making Chicken Saltimbocca Recipe
This recipe is pretty simple to make. What I find most helpful is make sure all ingredients are laid out and ready to go before beginning to make it.
And you'll have a delicious recipe on the table in under 20 minutes!
Here are a few recipes to make with this chicken dish: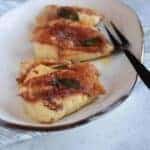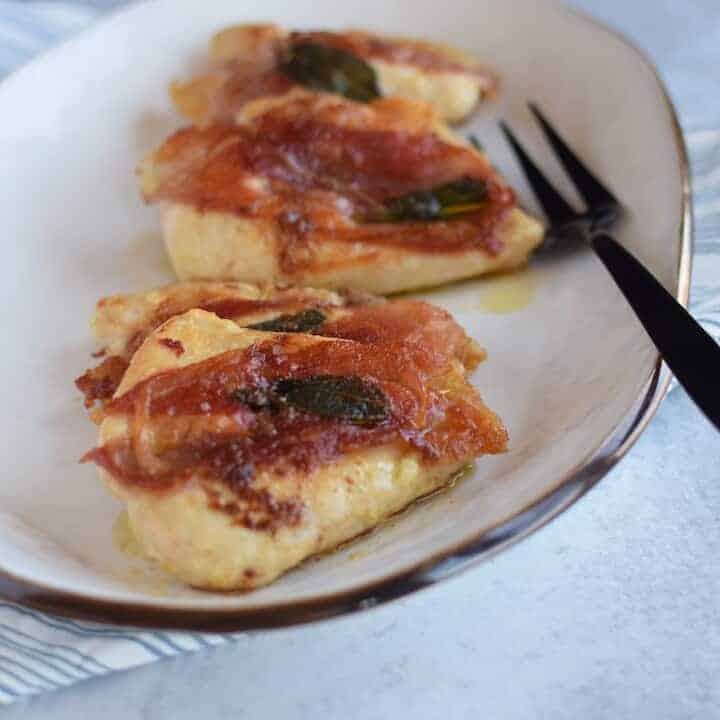 Easy Chicken Saltimbocca
This Chicken Saltimbocca is a slight variation from the traditional dish. This recipe is incredibly delicious and full of flavor. And best part, it is made in under 20 minutes.
Ingredients
2 1/2 tablespoons all-purpose flour
4 slices parma prosciutto
4 large fresh sage leaves
3 tablespoons extra virgin olive oil
freshly cracked pepper
1 tablespoon butter
splash of white wine see note
Instructions
Arrange the flour in a shallow dish. Dip each chicken cutlet into the flour and coat evenly. Then shake off the excess flour and arrange cutlets on a plate or cutting board.

Gently layer a slice of prosciutto onto each cutlet, top with a sage leaf, and secure with a toothpick or a cocktail stick.

Heat the extra virgin olive oil in a large skillet over medium heat. Add the chicken cutlets in a single layer to the preheated skillet, prosciutto side down.
Sear the chicken for a few minutes until golden and crispy. Flip the cutlets and season with pepper.

Continue searing until browned and chicken is cooked through. Remove the chicken from the pan, arrange on a platter and cover with foil to keep warm.

Add the butter to the pan and cook until foamy. Add the wine and stir gently to combine.

Pour the sauce over the chicken cutlets. Serve immediately.
Notes
The ingredients call for a splash of white wine. When I made this recipe, I ended up adding a little more wine. So approximately 1 tablespoon was used.
Nutrition
Serving: 1cCalories: 403kcalCarbohydrates: 4gProtein: 50gFat: 20gSaturated Fat: 4gCholesterol: 150mgSodium: 319mgPotassium: 852mgFiber: 1gSugar: 1gVitamin A: 68IUVitamin C: 3mgCalcium: 16mgIron: 1mg
Tried this recipe?Give it a 5 star rating and pin it to your Pinterest account!
More Recipes: