This DIY Cinnamon & Oatmeal Easy Soap Recipe is so simple to make. Using a melt and pour soap base that contains clean ingredients. And because it is all plant based, it is Vegan friendly too.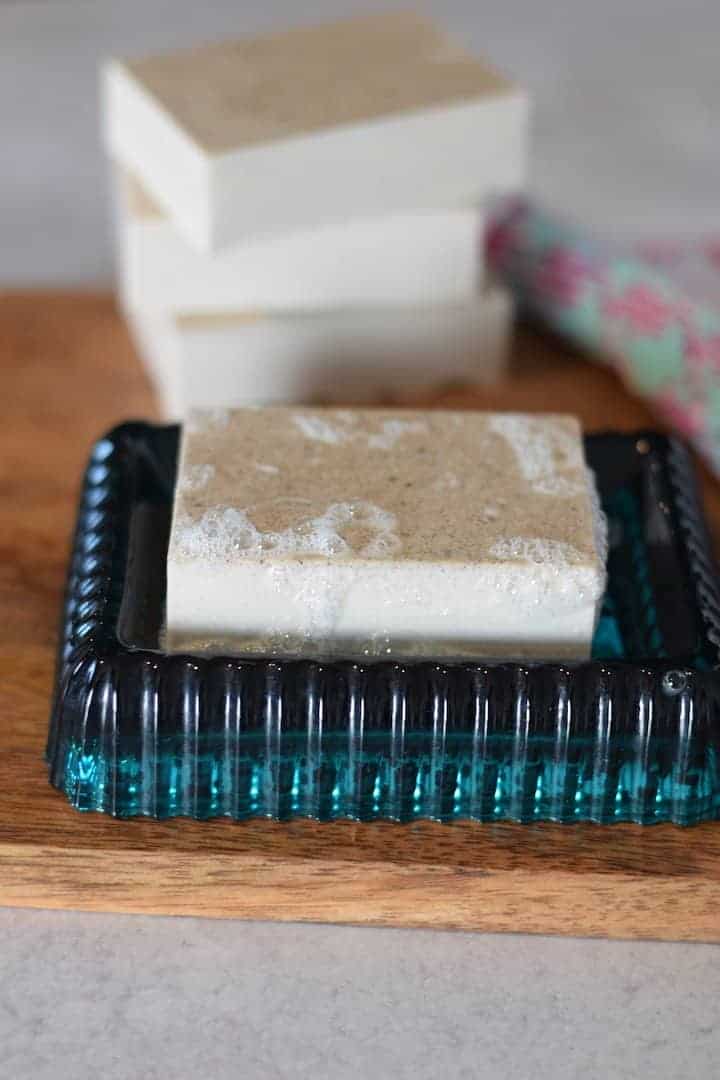 For a long time I have used Goat Milk melt and pour soap bases. But have been slowly moving to more plant based products.
And this soap base is pretty incredible.
Related: Easy Homemade Goat Milk Soap
Using Cinnamon and Oatmeal in a Bar Soap
There are many benefits to adding cinnamon and oatmeal to a homemade soap recipe.
Oatmeal exfoliates the skin naturally. It helps to reduce skin irritation and itching. I find it to be perfect for my little ones and for my sensitive skin!
Cinnamon has anti-fungal and anti-bacterial properties.
However, some people may be sensitive to the effects of cinnamon on the skin. Test a small amount out first if you're unsure if you have this sensitivity.
I use such a small amount in this soap, you could easily omit it and just make the soap base alone.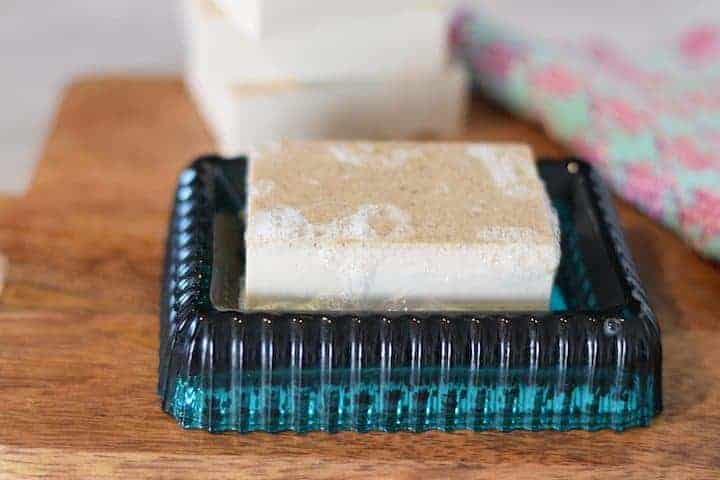 How to Make this Easy Soap Recipe
What I really like about using a melt and pour soap is that is simple to make. Using lye in a homemade soap bar needs special safety processes.
I have little ones at home and it is just too risky for me.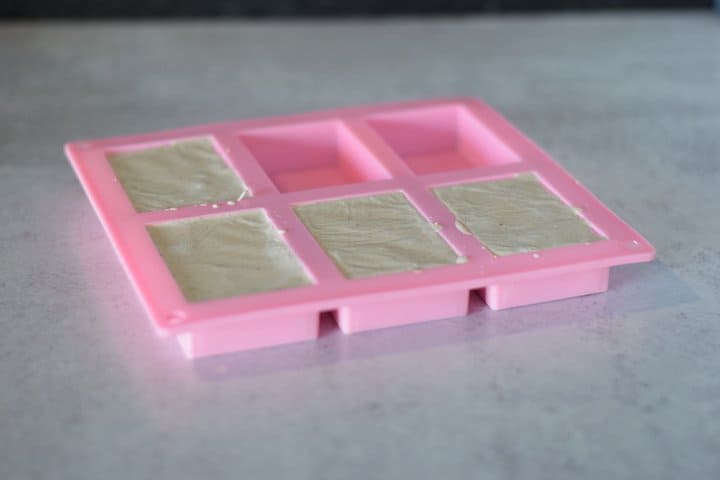 The process for making this soap is as easy as setting up a double boiler, melting the soap base, and pouring the liquid into the soap molds.
It also only takes a couple of hours to cool unlike a completely from scratch soap, which takes weeks to cure.
More Soap Recipes:
Bentonite Clay & Charcoal Soap Bar
25+ All Natural Soap Bar Recipes
What is Needed for this Oatmeal Soap
This is the soap base that I used for this recipe. I really like that it is easily divided in half so I didn't need to grab my scale to weigh out the exact amount.
You'll also need:
soap mold
cinnamon
additional oatmeal (optional)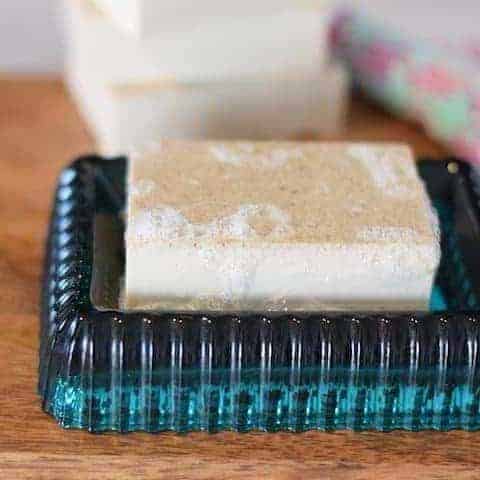 Oatmeal Soap Bar Recipe
This skin soothing oatmeal soap bar recipe is incredibly simple to make. Using a melt and pour soap base, you'll have a custom soap ready in hardly any time.
Ingredients
1 lb of Plant Based Oatmeal Melt & Pour Soap Base
1 – 1 1/2 teaspoons of Ground Cinnamon
Additional Oatmeal optional
Instructions
Set up a double boiler on the stove top with about an inch or two of water in the bottom pot. Use a large glass bowl that will just rest over the top of the pot without falling into the water. Bring the water to a low boil.

Divide the soap base in half. The base comes in a two pound size and for this recipe, we are only using 1 pound.

Add the soap base to the top of the double boiler and allow to melt slowly. To speed up the process, cut up the soap base prior to adding it to the double boiler.

Once soap is completely melted, add in the ground cinnamon, if using. Mix well.

Remove the double boiler from heat. Immediately (and very carefully) ladle the melted soap to the silicone soap molds.

If using additional oatmeal, use about 1 tablespoon or so. And grind with a spice grinder until desired consistency is reached. Then sprinkle the ground oatmeal over the soap bars before it dries. You can also mix it into the liquid for a smoother exterior soap bar.

Allow the soap bars to cool compeltely over a couple of hours before removing them from the molds.
Tried this recipe?Give it a 5 star rating and pin it to your Pinterest account!