Are you a lover of the flavors of the Mediterranean? And do you crave a succulent seafood dish? Look no further! I'm sharing a huge variety of Mediterranean Seafood Recipes.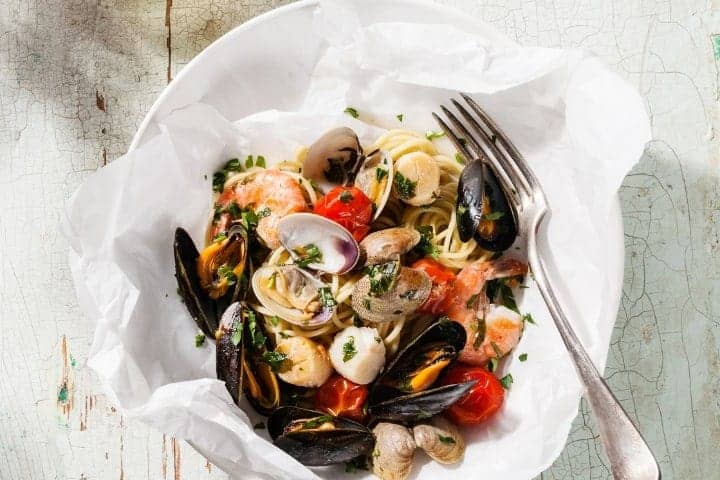 Here you will find classic seafood dishes from various places in Italy, Greece, Spain, and France. There is a little of something for all to enjoy with this delightful compilation of delicious Mediterranean flavors.
Some of the more common seafood used in Mediterranean dishes are:
clams
crab
sea bass
lobster
flounder
mussels
octopus
salmon
oysters
shrimp
squid
tuna
and sardines.
Just to name a few.
Fatty fish like salmon, tuna, mackerel, and herring are great additions to anyone looking to begin a Mediterranean diet. They are all full of beneficial omega 3s.
And omega 3s are excellent for heart health, improve eye health, helps fight inflammation, may help improve bone & joint health, among many other things! (Source)
Related: Mediterranean Frittata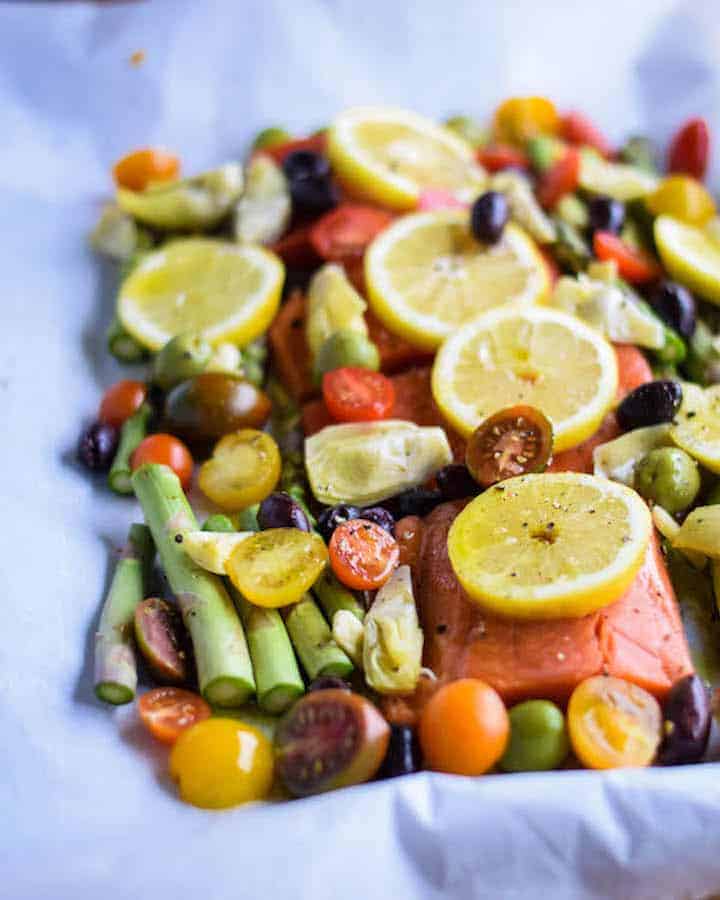 Mediterranean Seafood
Aside from a focus on fresh fruits and vegetables, the Mediterranean diet is filled with a lot of fresh seafood.
Depending on what part of the Mediterranean you're visiting, you will find a few similarities. And it is their love of seafood. This is mostly because of the availability along the coastal regions.
In Italy, along the Amalfi Coast especially, where they boast of the world's greatest seafood. You'll find dishes such as, scialatielli ai frutti di mare. Which means, fruit of the sea. It contains a variety of seafood and is usually served with pasta.
In Greece, however, a pretty classic Greek seafood dish is octopus with pasta. And in Spain, it is a seafood paella.
In France, in the port city of Marseille, Bouillabaisse is well known. It is a hearty fish stew with broth and saffron.
One thing that none of them is short on is the flavor of fresh ingredients!
Mediterranean Seafood Recipes
45 of the most mouthwatering and succulent Mediterranean inspired seafood recipes. You'll find traditional inspired recipces and modernized versions from regions of Italy, Greece, Spain, and France.
More Seafood Recipes: