This healthy peppermint mocha is deliciously made and no artificial flavors or colors are added. It's a great sweet treat without unwanted ingredients! And it has just the right combination of chocolate and light peppermint flavor.
Learn how to make a peppermint mocha latte with clean and simple ingredients. You won't have to resort to an expensive cafe next time you're craving one.
How to make this healthy peppermint mocha
We like this recipe because it's simple to make your own delicious holiday inspired drink at home.
Before moving to the middle of nowhere on the ranch, I was a daily Starbucks supporter. Like, I would have to make a daily stop on my way in to the office. If you're like me, you totally get this.
But, years of living in country and also trying to choose better, non-toxic & healthier ingredients, I've decided to create my own version.
And this is not only simple to make, it's delicious and doesn't contain any bad for you ingredients!
So, let's dive in…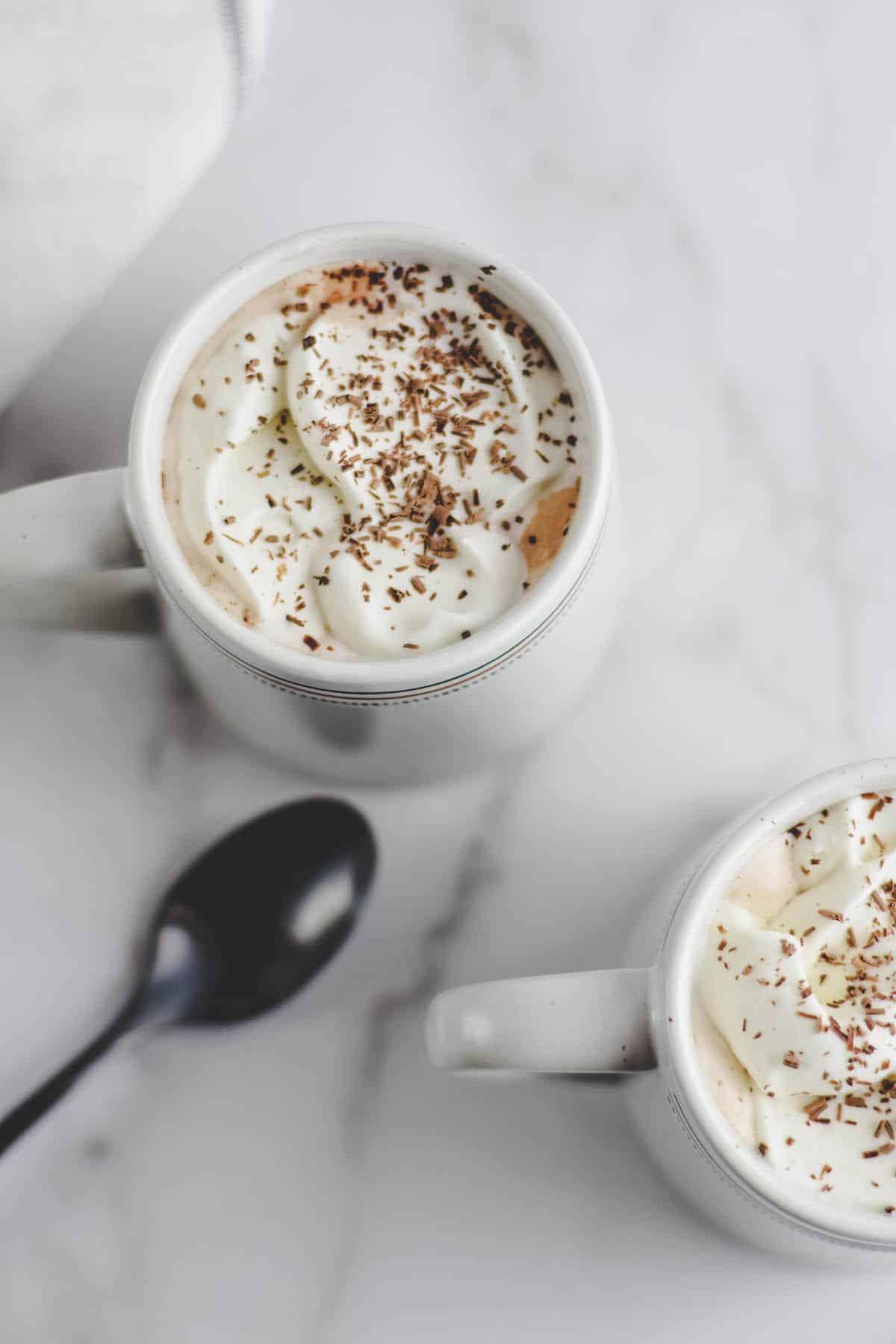 Ingredients
With only a few basic ingredients, you can make your own homemade mocha, easily.
Here's what you'll need:
milk of choice – I prefer to use whole milk, but you can easily sub this for your preferred milk.
cocoa powder – cacao powder can be used instead if you prefer.
pure vanilla extract (this one is my favorite – its such great quality!)
pure maple syrup – go for the good stuff! pure, grade a is what I recommend. Honey can also be used in it's place, but I prefer maple syrup in this recipe.
mint extract
espresso or strongly brewed coffee
If you don't have an espresso machine, just brew up a little bit of strong coffee.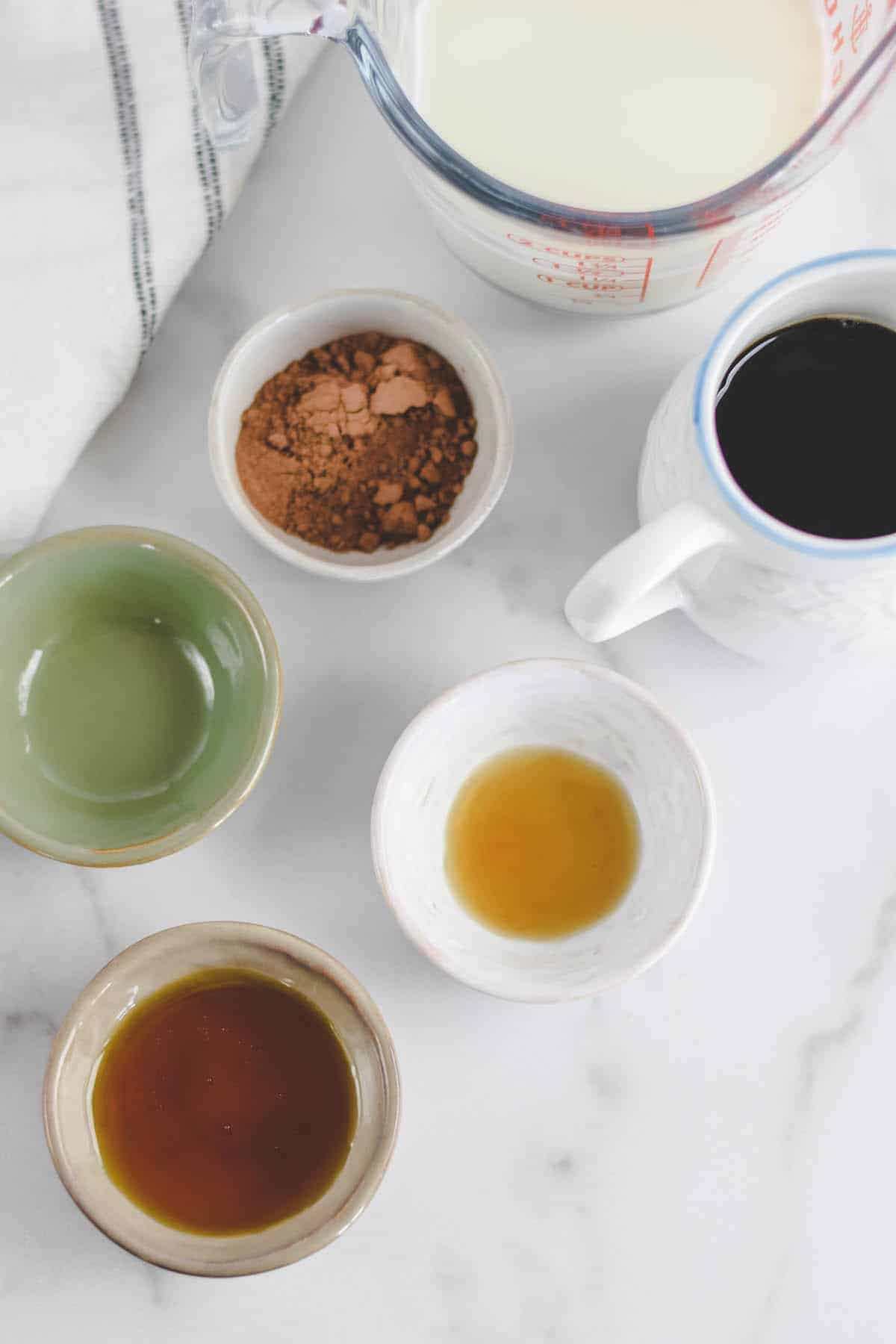 Instructions
This is the easiest coffee recipe! Essentially you'll heat up the ingredients in a small saucepan and combine with the espresso or coffee mixture.
And if you have a Nespresso machine or other latte machine (this Ninja Coffee Bar is what I use & love!), it makes the process a little simpler.
But in this version, I've simplified the process that you don't even need to use fancy machines!
Here's what you need to do:
Begin by adding all ingredients to a small saucepan over low heat. And whisk together to combine well.
Continue to whisk until warmed and desired heat has been reached.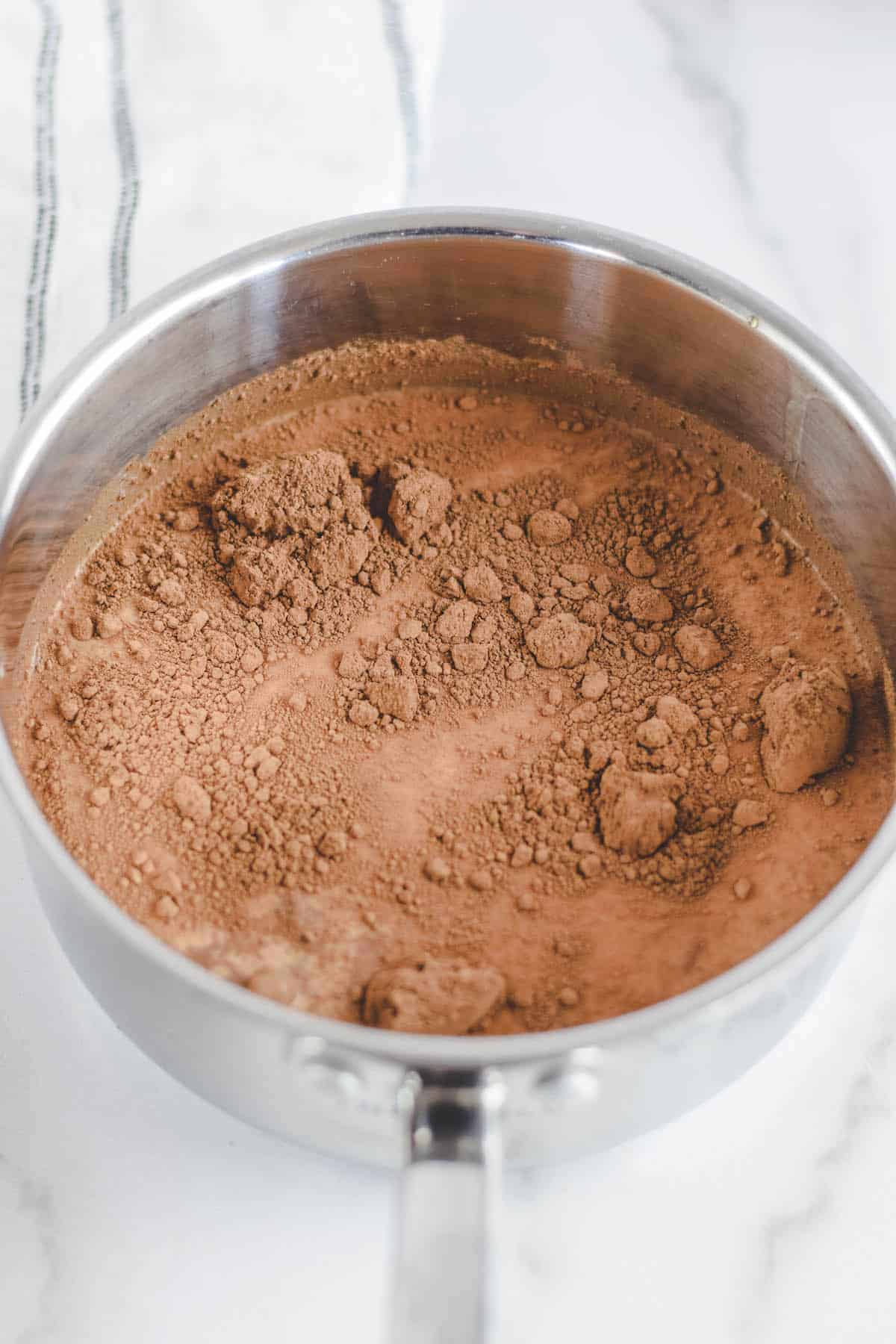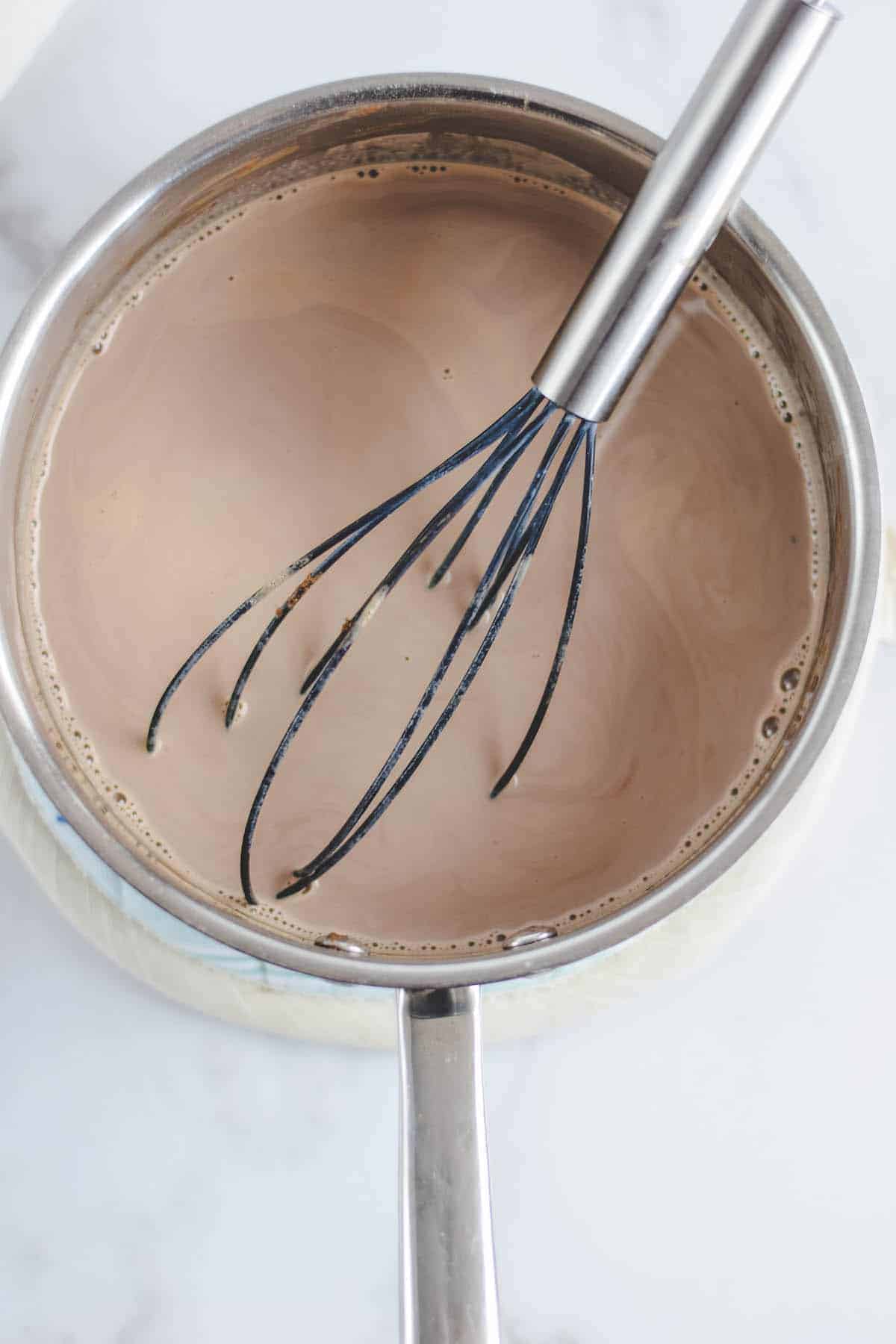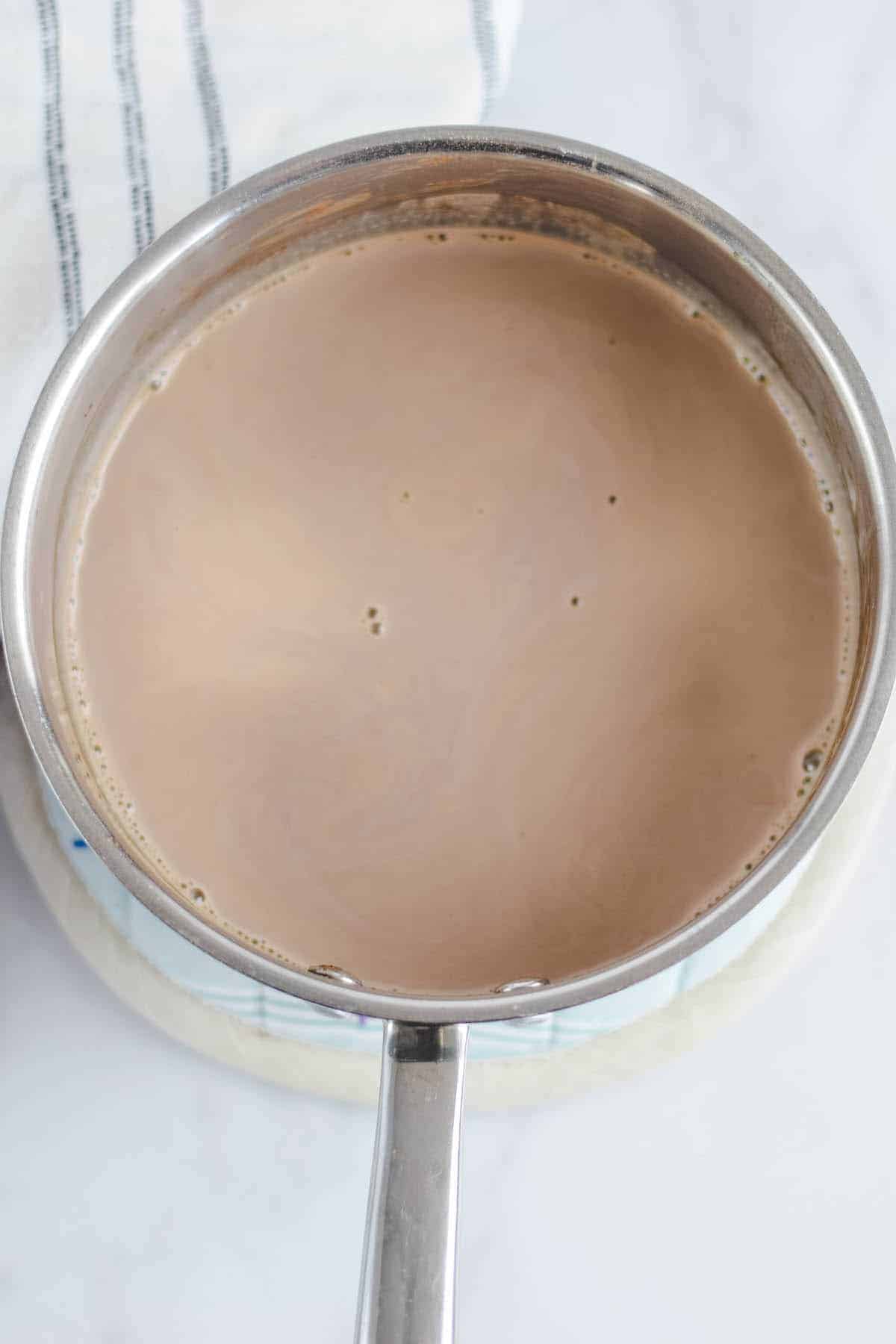 Remove from the heat and add to a coffee mug. Brew 1-2 shots of espresso or strongly brewed coffee. Pour over the mocha mixture and stir gently to combine well.
Top with homemade whipped cream and dark chocolate shavings. And for even more extra minty sweetener, top with a candy cane or crushed candy cane pieces.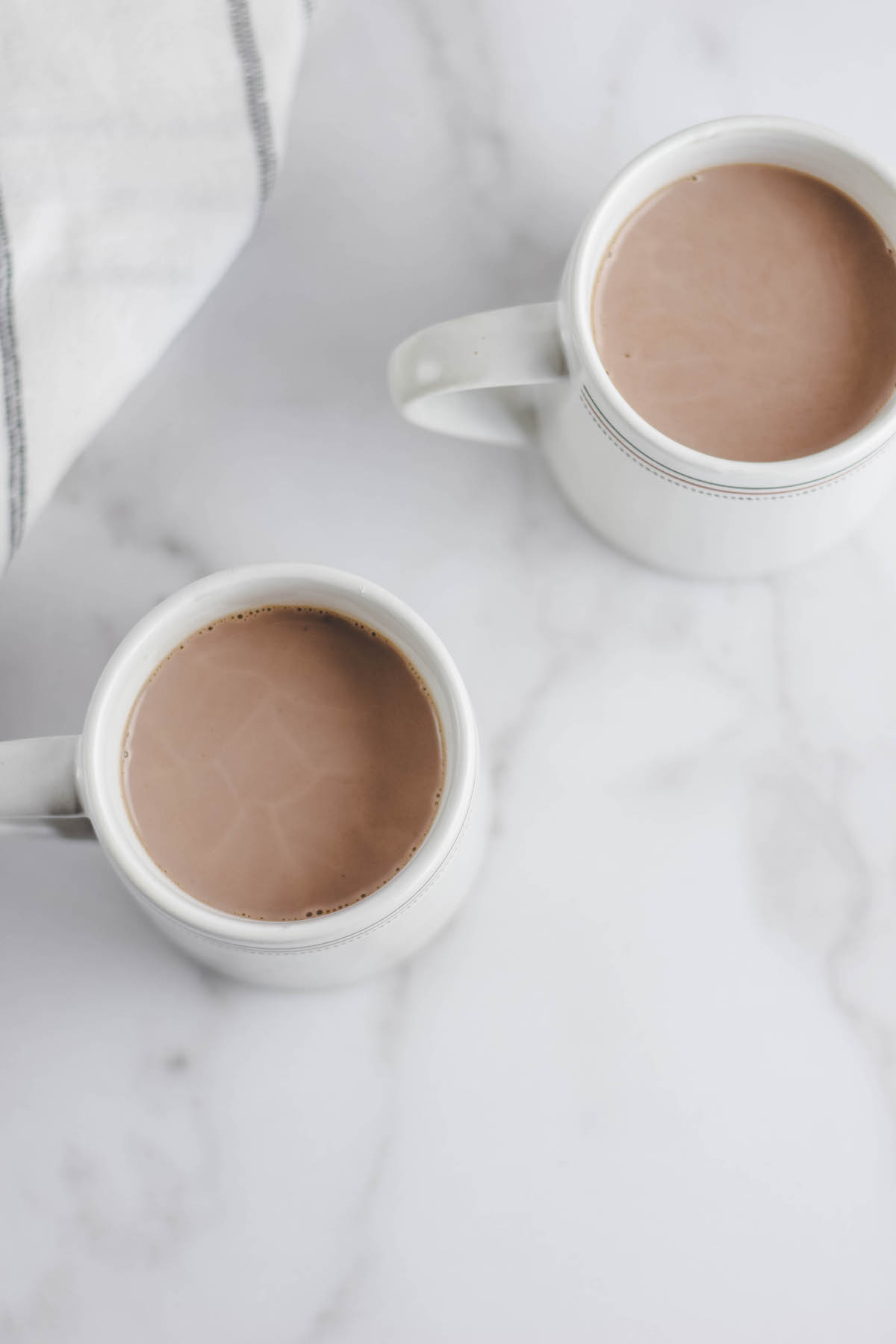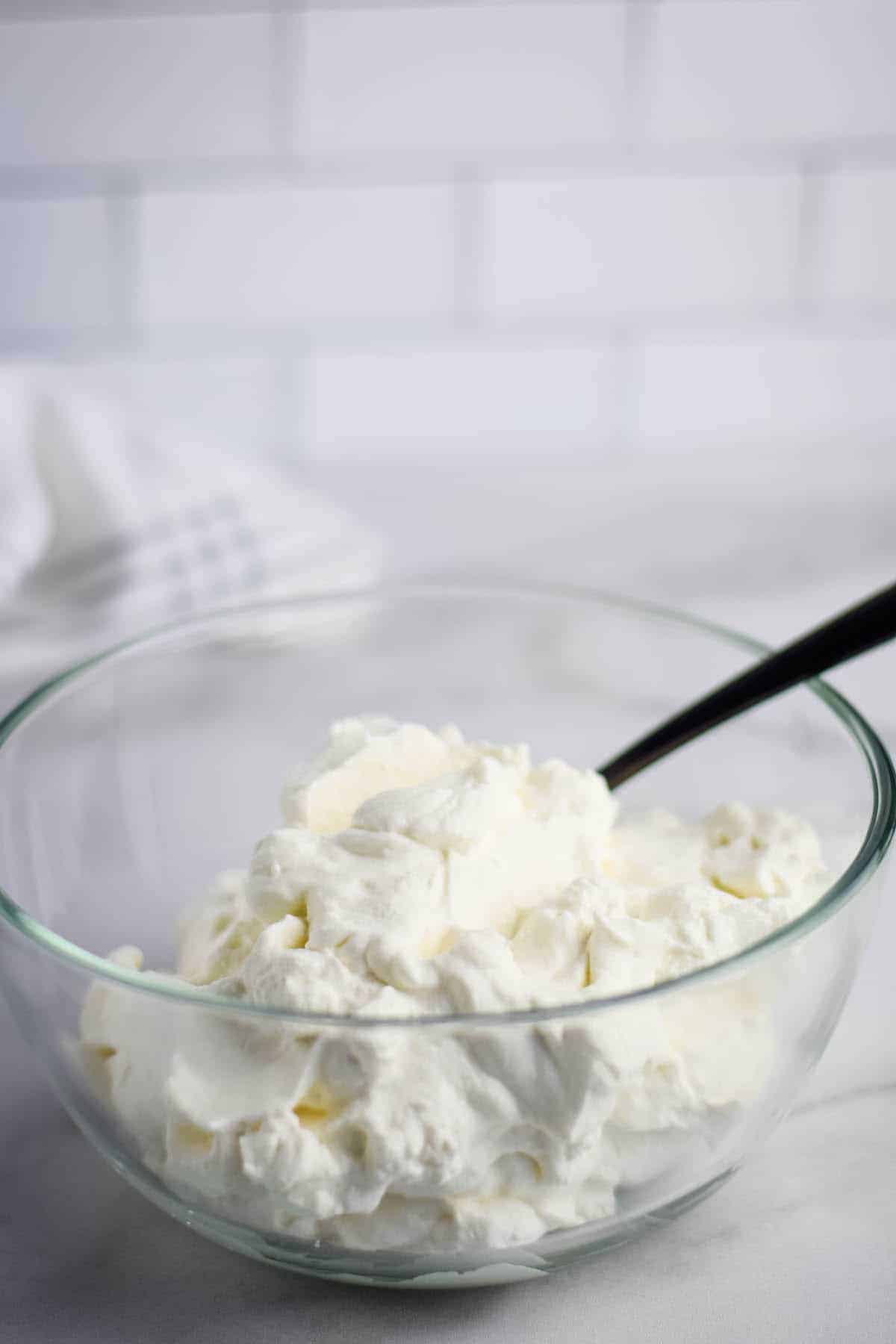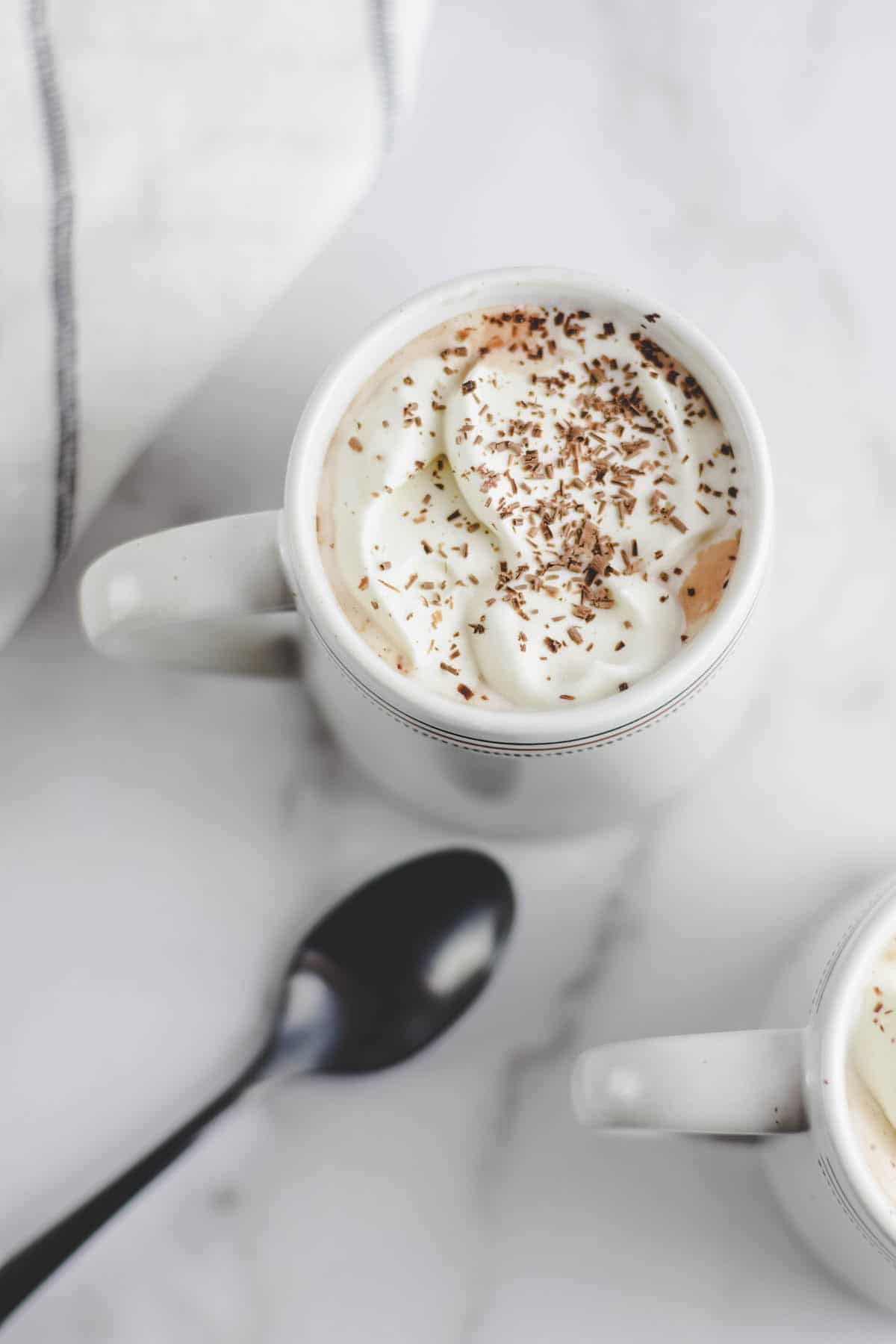 🍫 How to froth your milk
Using an espresso machine, this is usually included in the machine.
However, this can easily be done without one. Use a stick blender or frother to blend the heated milk (before adding the coffee) until desired fluffiness is reached.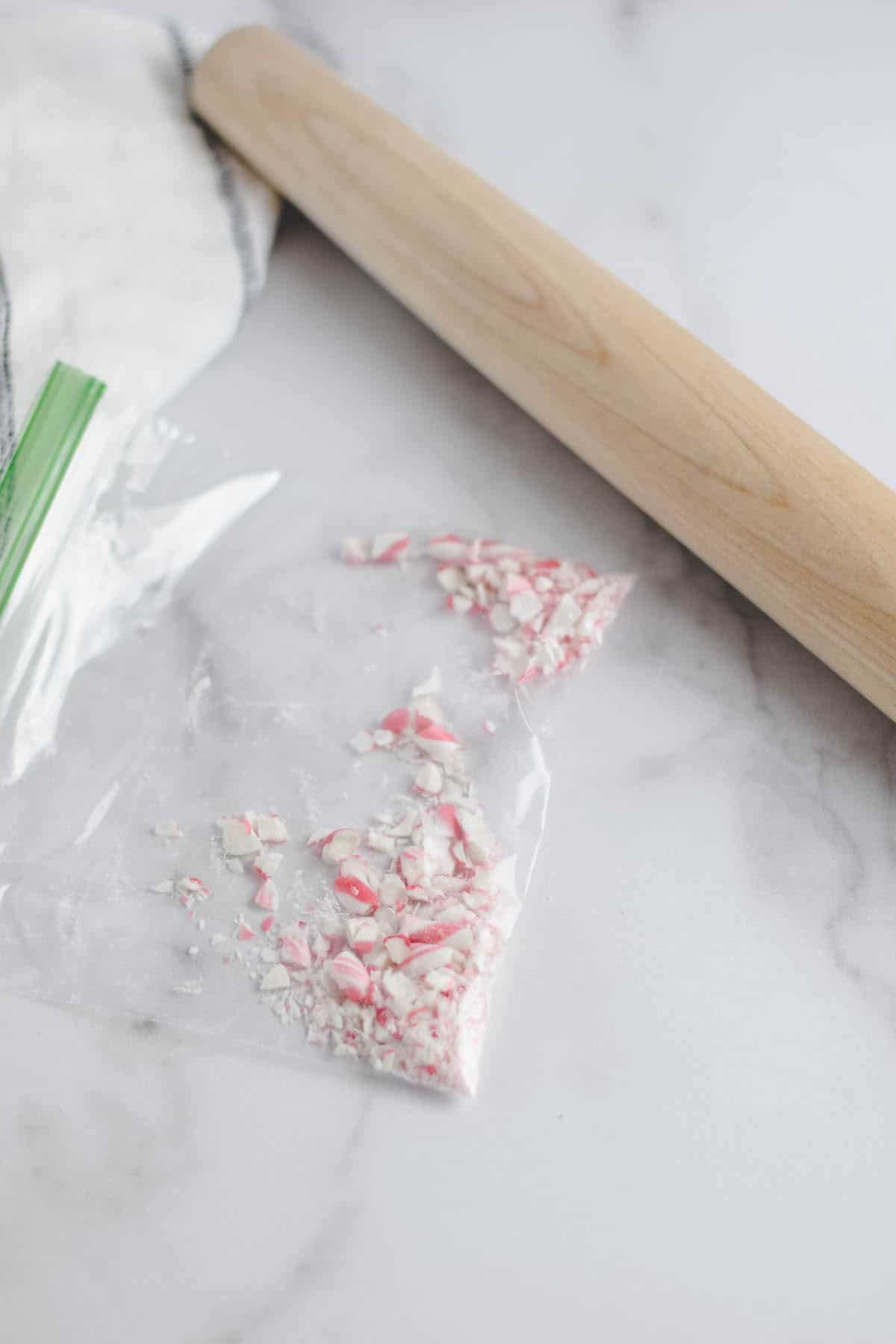 Extra serving idea
For an extra decadent treat, top off your homemade mocha with fresh whipped cream, chocolate shavings, and crushed peppermint candy pieces.
I use up broken pieces of our favorite organic candy canes by crushing them up for decorating sugar cookies, and various sweets for the Christmas season.
This can be done easily without extra mess by adding the candy pieces to a ziplock bag and gently using a rolling pin to crush them up into desired crumbles.
More sweet treats
Here are a few of our favorite holiday and winter sweet treats that you'll love too! All with healthier ingredients.
FAQ (frequently asked questions)
Can this latte be made dairy-free?
Yes, absolutely! This latte can be made vegan friendly by using your favorite dairy-free milk. Such as almond milk, coconut milk, cashew milk or other preferred milk of choice!
What makes this peppermint mocha healthy?
When making this recipe from scratch, you know exactly what ingredients are added. They are all natural and a much healthier alternative to those purchased in stores. Often times, store bought options have hidden ingredients like "natural flavors", processed sugars, and carrageenan – among others.
Can I use different sweeteners?
Yes. I prefer a pure grade a maple syrup in this recipe. But have also tested it with a good pure honey as well. Stevia may work too, but I have not personally tested that option out.
want more recipes?
Check out the recipe index where you can discover more homemade recipes from my homestead!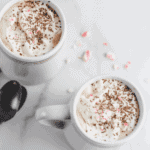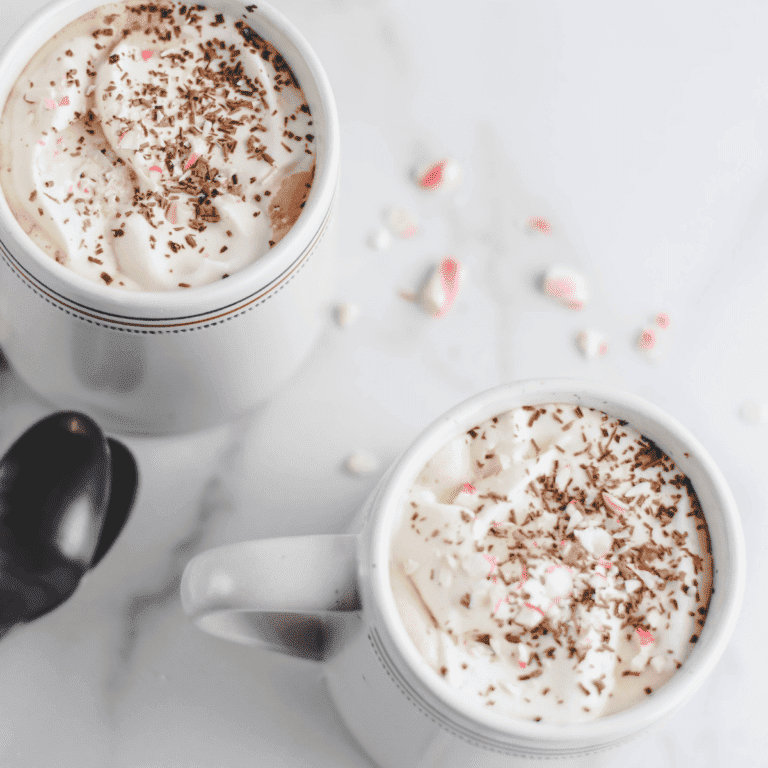 Healthy Peppermint Mocha Recipe
Creamy, smooth and refreshing, this peppermint mocha recipe is certainly a treat that you need during the cold winter months. It's ultra satisfying without all of the unnecessary ingredients.
Instructions
Add all ingredients to the saucepan and heat over low on the stove top.

Whisk until well combined and stir periodically until warmed through and desired heat has been reached.

Remove the mocha ingredients from heat and carefully pour into a mug.

Brew 1-2 shots of espresso or strong coffee. Pour the coffee over the mocha in the mug and gently stir to combine.

Top with homemade whipped cream if desired and dark chocolate shavings. Serve & enjoy.
Notes
If you're not using an espresso machine, you can simply brew and add about 1 ounce of strongly brewed coffee to this latte.
Nutrition
Calories: 323kcalCarbohydrates: 50gProtein: 12gFat: 9gSaturated Fat: 5gPolyunsaturated Fat: 1gMonounsaturated Fat: 2gCholesterol: 24mgSodium: 119mgPotassium: 1450mgFiber: 2gSugar: 25gVitamin A: 395IUCalcium: 344mgIron: 2mg
Tried this recipe?Give it a 5 star rating and pin it to your Pinterest account!
where would you like to start?