This easy to make traditional cannoli filling recipe makes a delicious dessert and you can use it several ways. From stuffing it inside of cannoli shells, enjoying it with graham crackers, on a fresh pastry…or even eat it right off of the spoon!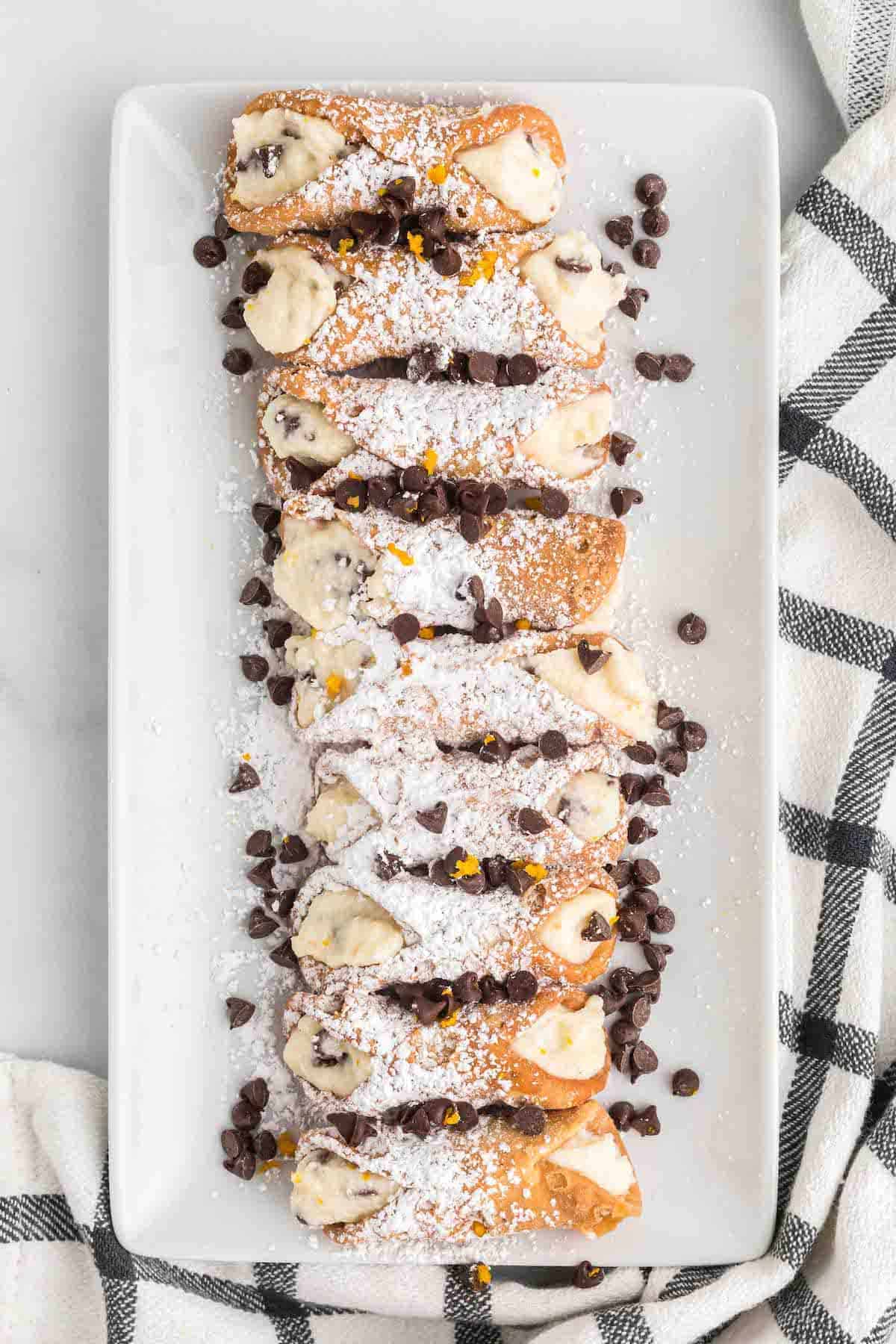 This post has been updated from it's original publish date of July 13, 2019. It has been updated to provide better photos, additional helpful information and step by step instructions.
How to make cannoli cream filling
My Italian great grandmother was from Sicily. Shortly before she passed away, she shared a number of her delectable recipes with me.
And with each recipe came a story. Italians are pretty wonderful with their story telling and nostalgia. So whenever I recreate a recipe from years ago, I'm filled with many great memories.
Those memories are often times filled with family, a table full of excessive amounts of food, and of course good wine. Hearty laughter fills the room while little ones run around the table.
I believe in the importance of family meal times. And memories created while breaking bread together. This is why I am on a mission to recreate some of these recipes (and memories) for my little family.
This recipe does not require any fancy ingredients or equipment like a mixer or whisk attachment. Although a pastry bag is super helpful and recommended for filling the the cannoli shells.
I also use pre-made cannoli shells for the sake of simplicity. So no need to roll out the dough with a rolling pin, use a cannoli mold or deep fry the shells in vegetable oil.
This version is simplified so you can enjoy the family meal together! And saves your work surface for rolling out homemade pasta noodles instead!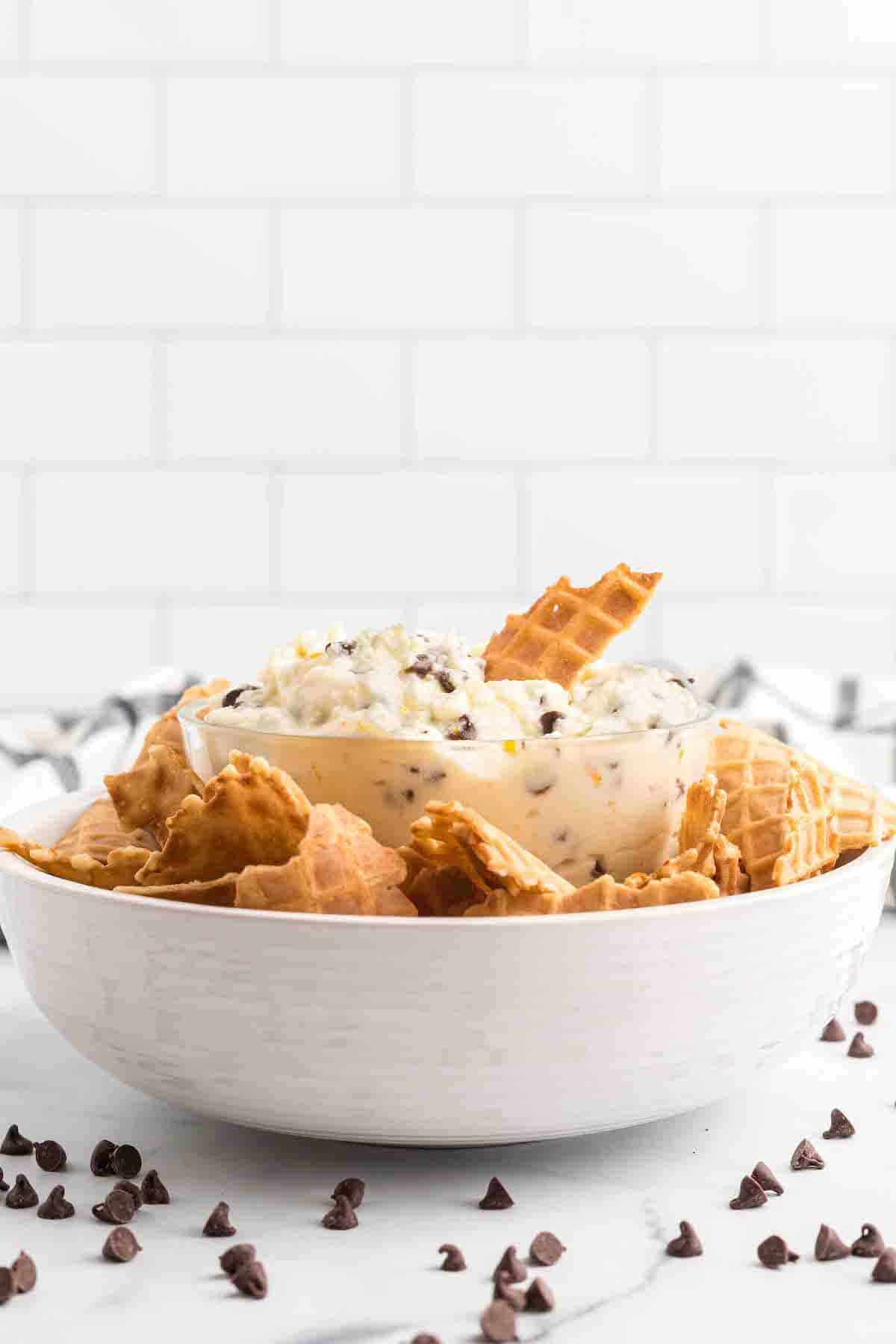 Ingredients
Simple & easy to find ingredients are all you'll need to make your own homemade cannoli cream. You can easily find the cannoli shells at a local Italian market. If you don't have one nearby, they are easily sourced online.
Here's some options: mini cannoli shells or full size cannoli shells.
whole milk ricotta cheese
zest from one orange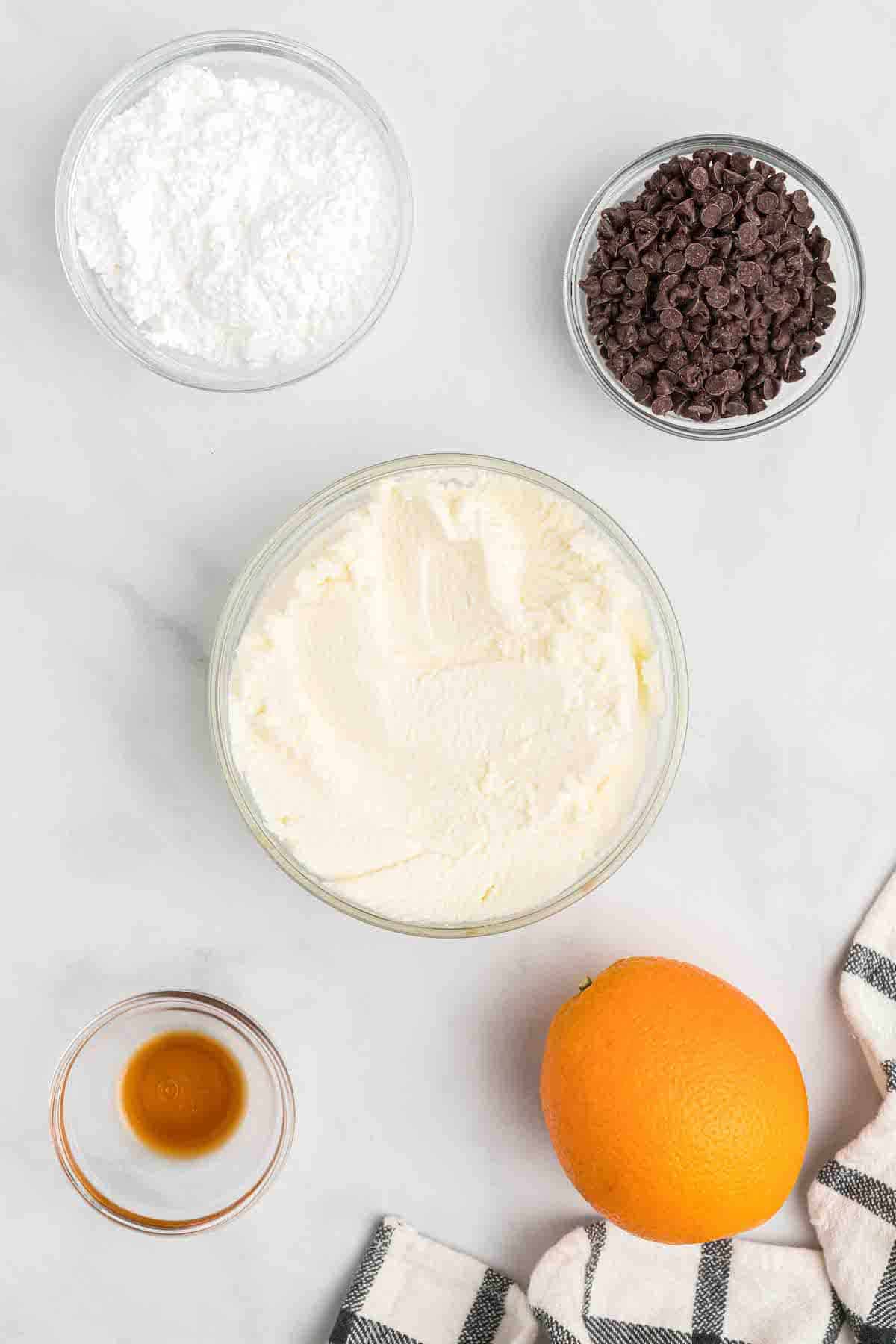 Instructions
This cannoli filling is a fun way to enjoy the flavors of the classic Italian dessert, without an overly complicated recipe.
What I really like about making this cannoli recipe, is the simplicity of it. I'm not usually one for making a recipe overly complicated, so you can easily make this recipe without having to find fancy ingredients!
This recipe can be made ahead of time and can be stored in the refrigerator for a couple of days before it no longer tastes fresh.
However, I would not recommend filling your cannoli shells ahead of time because they can become soggy. And you definitely want the shell to be crispy.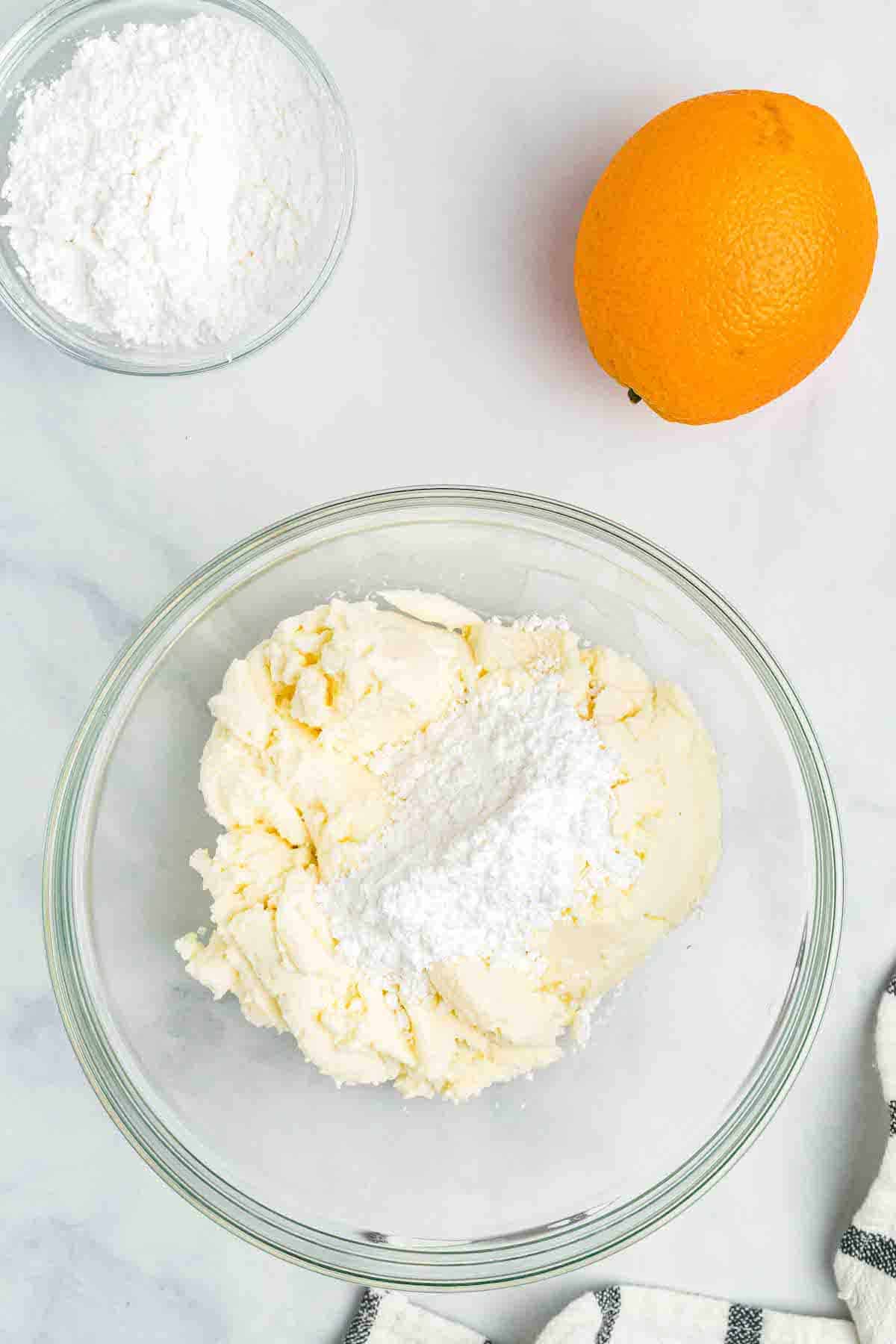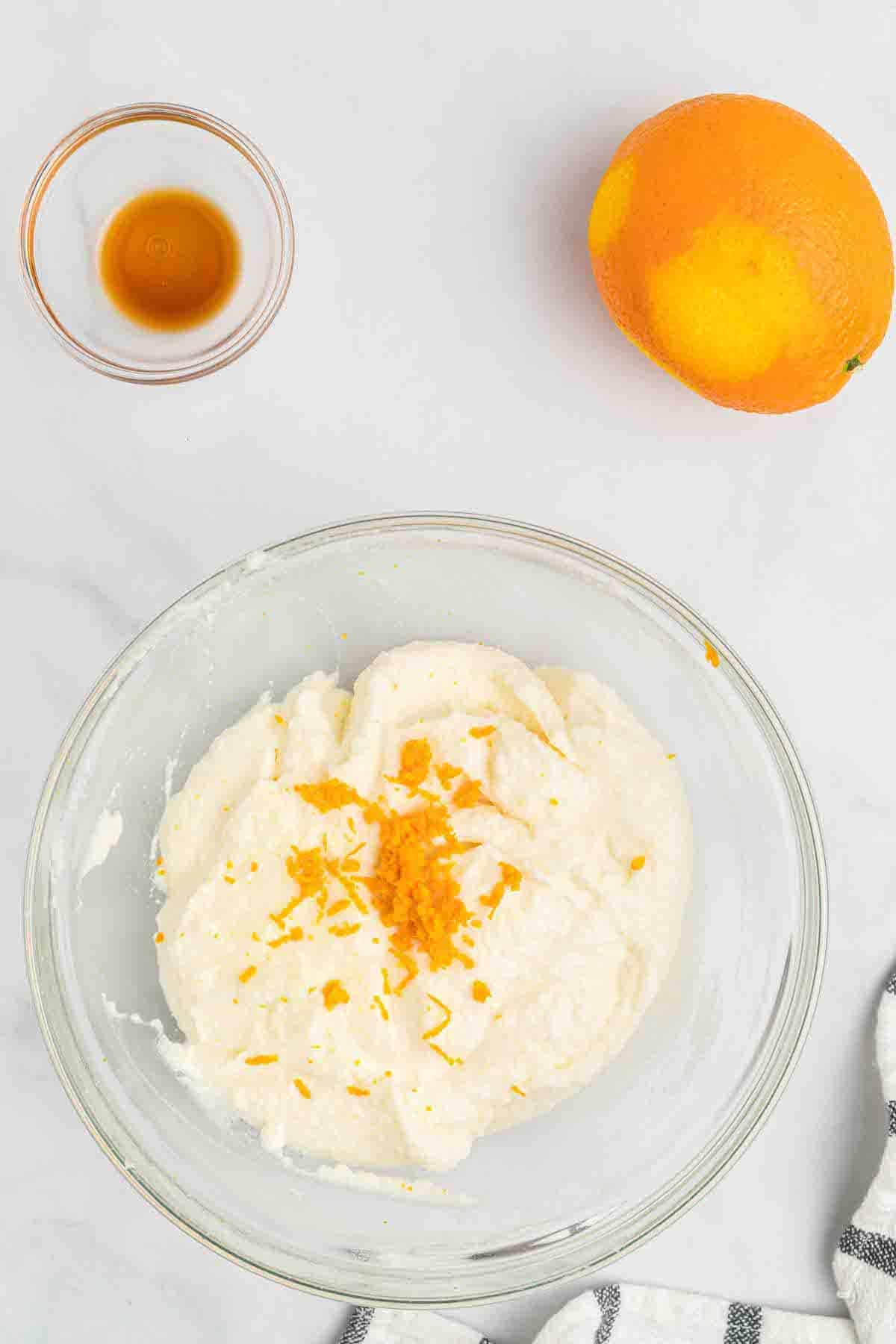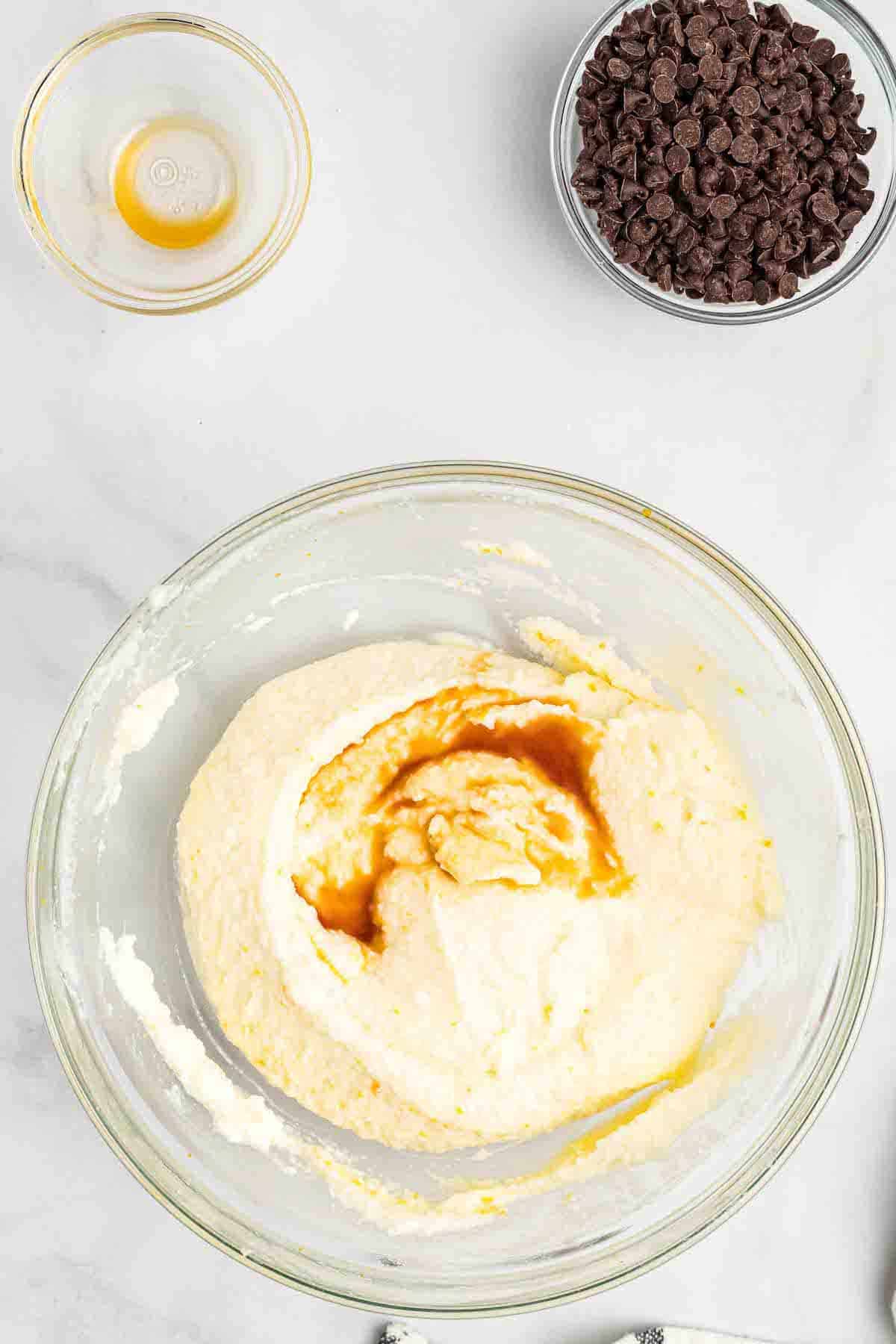 Begin by stirring the powdered sugar with ricotta cheese a little at a time. You may not need all of the sugar if the mixture starts to become watery.
Next, gently fold in the orange zest, vanilla extract, and chocolate chips.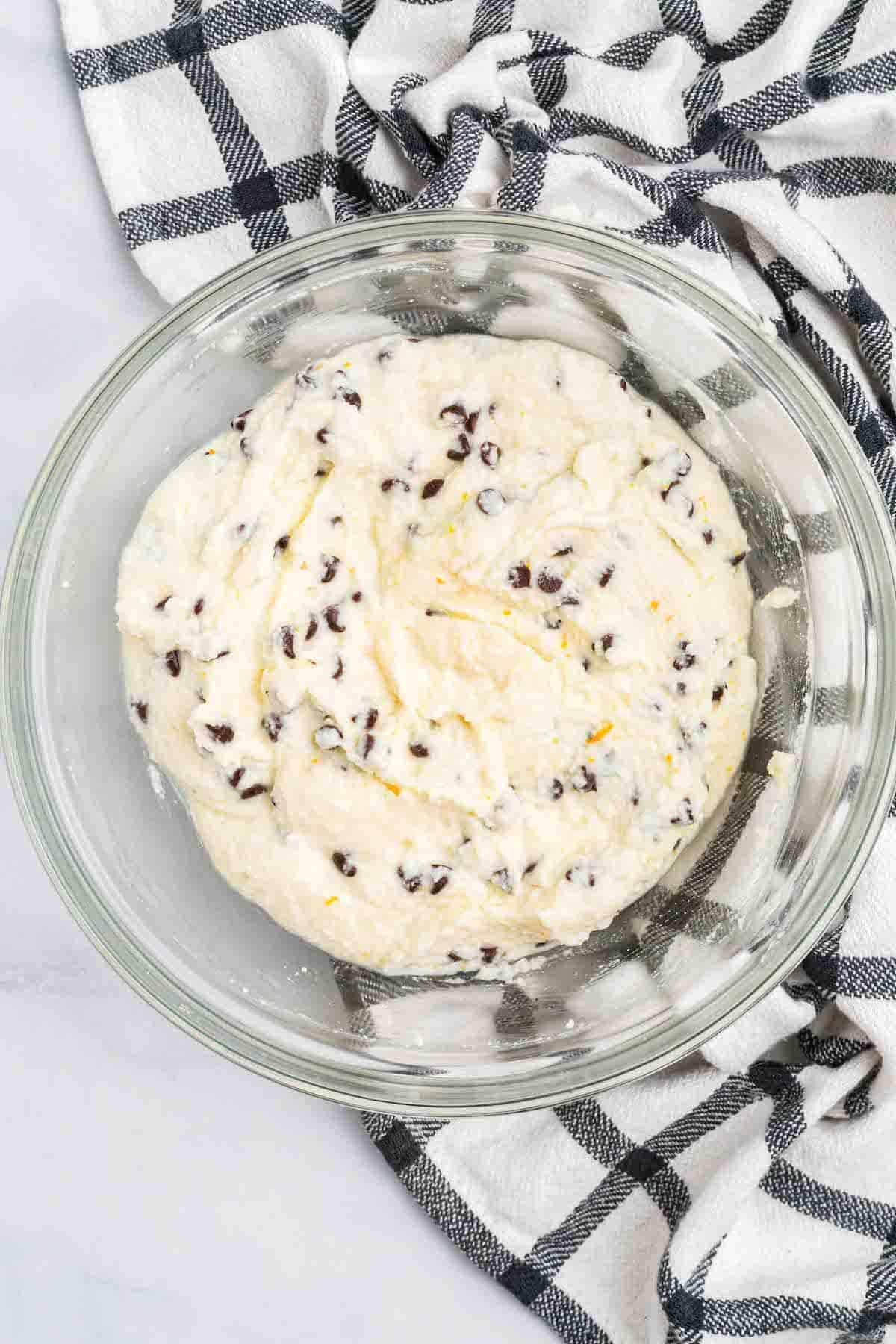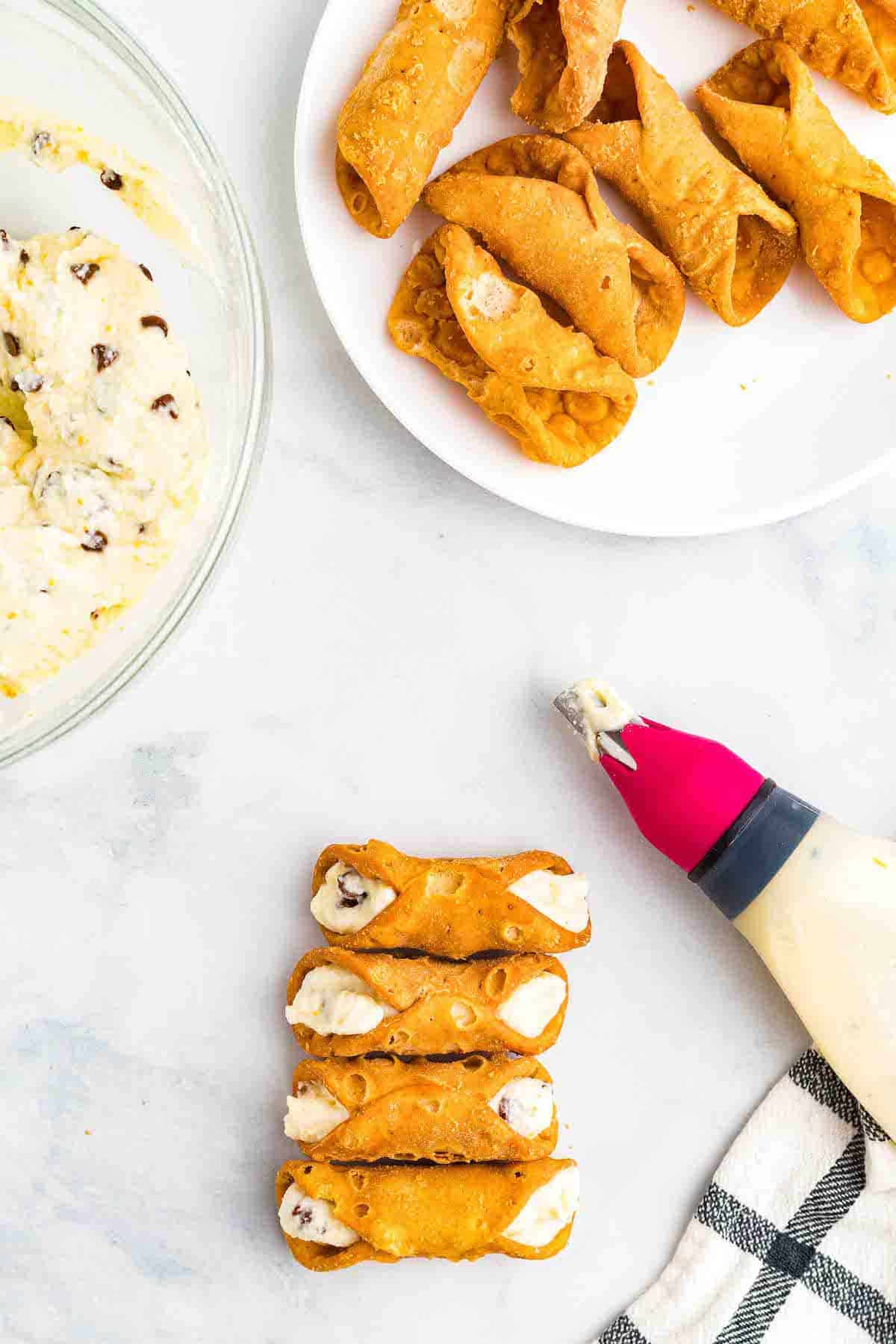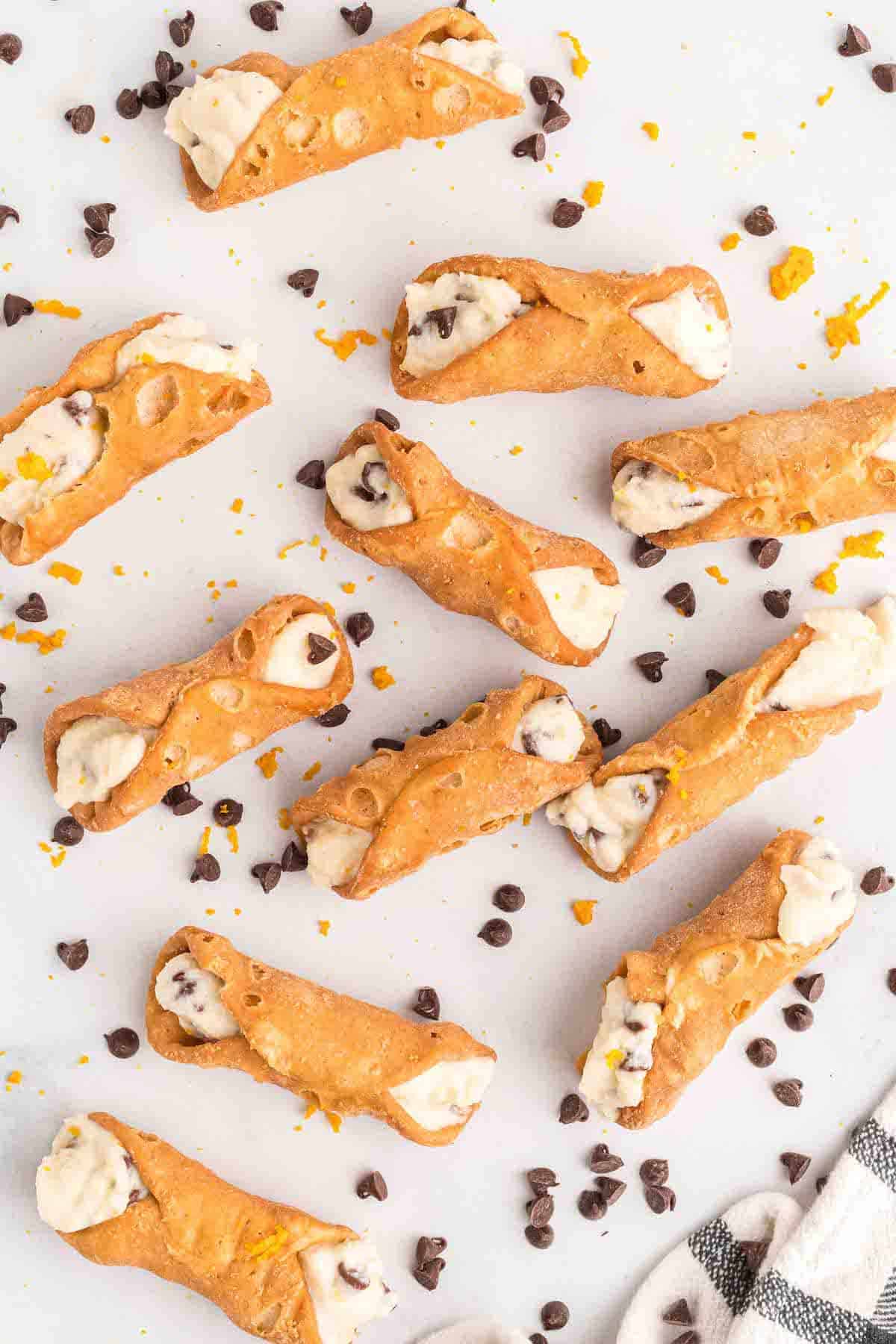 If you're going to use this cannoli filling cream as a dip, then add to a serving bowl and use your favorite pastries, graham crackers, or cookies to serve.
If making cannolis, take some pre-made cannoli shells and a pastry bag for filling easily. You could also fill a large sandwich bag and cut the tip off to fill these if you don't have a pastry piping bag handy.
Top off with additional mini chocolate tips on the ends if desired. Sprinkle with a little more powdered sugar or cocoa powder.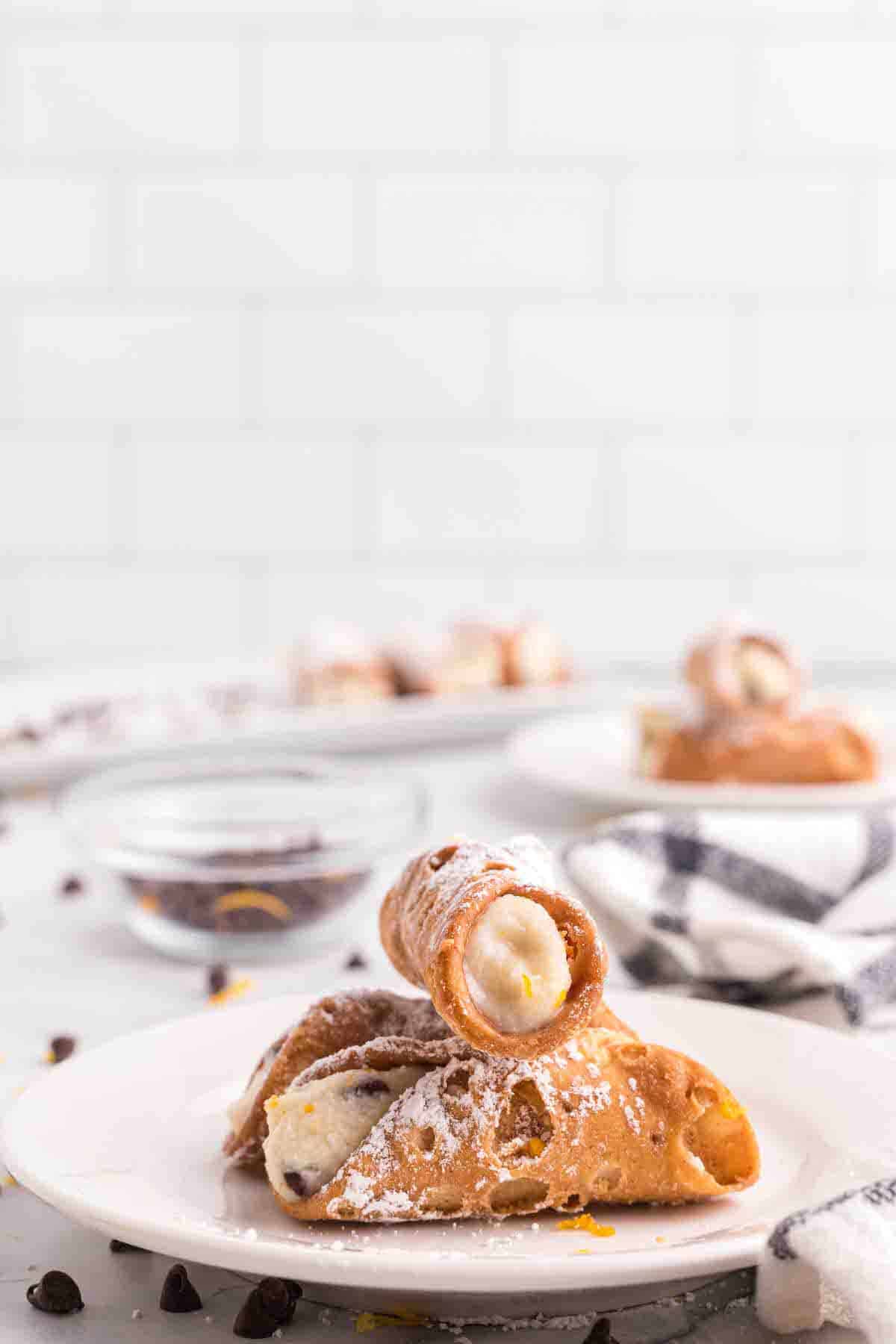 How to store leftovers
If you have extra cannoli cream, it can be stored in the refrigerator for about 3-4 days in an airtight container. However, be sure to store the cream before filling the cannoli shells. The shells will become soggy if stored with the cream filling.
It is also normal for the cannoli filling cream to become a little watery during storage time. Just be sure to give it a gentle stir before enjoying.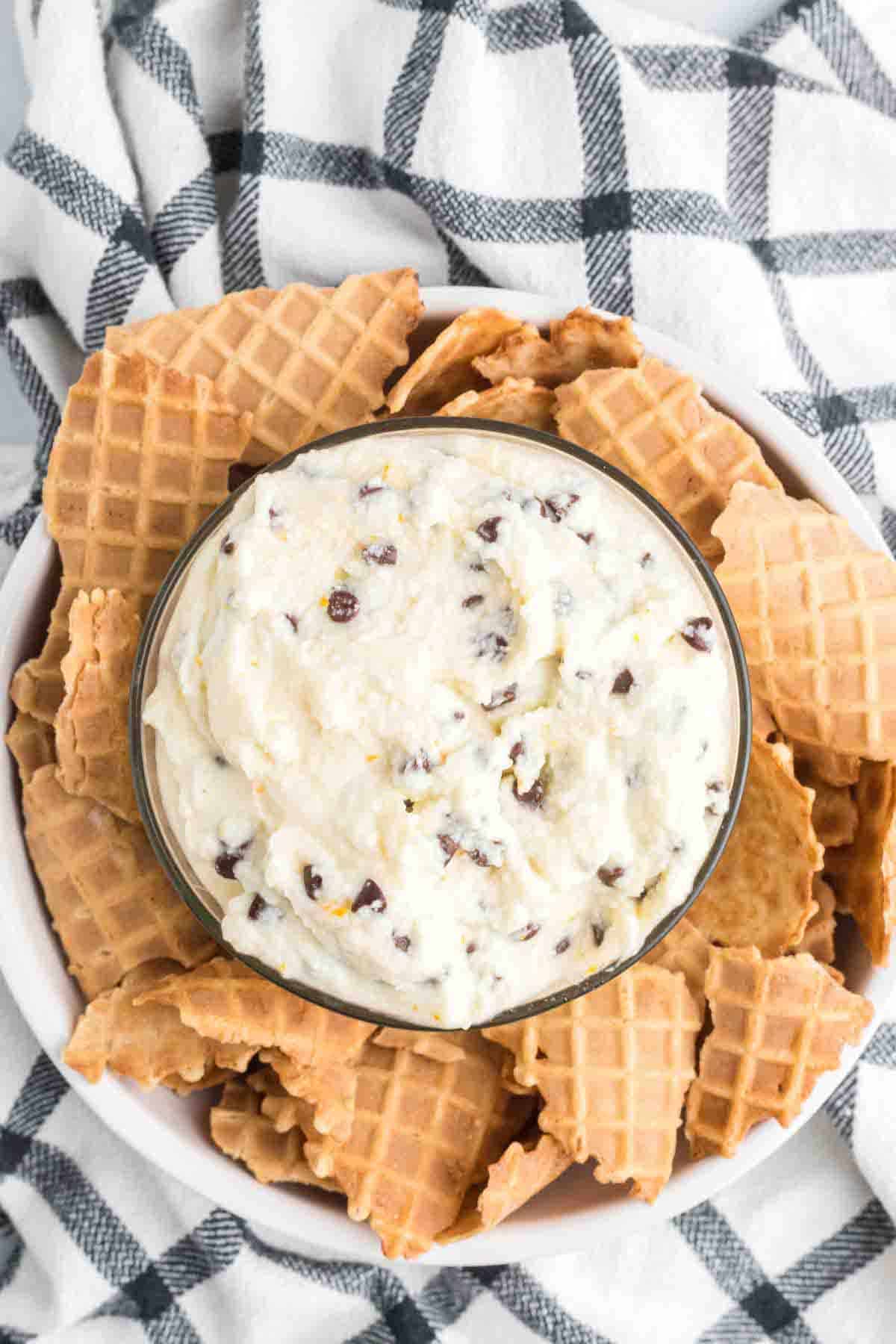 Cannoli Variations
This cannoli dip is a fun take on the Italian classic dessert. I will make it every once and awhile for my husband and children to eat with pastries for a sweet treat. Or filled inside of the cannoli shells as part of the family style meal.
Here are a few more varieties to try out:
Spread this filling over an Italian pastry or on a croissant for a decadent breakfast. Served with your own homemade cafe latte.
Use chocolate shavings on the ends of your cannoli instead of chocolate chips.
Or use chopped up pistachios on the end.
Make it with or without the orange zest – although the zest is what makes it more authentic.
Replace the orange zest with lemon zest.
FAQ (frequently asked questions)
What is cannoli filling made of?
Ricotta cheese, powdered sugar, orange zest, vanilla, and chocolate chips are used in this cannoli filling recipe.
How do you stuff a cannoli?
Use a pastry bag for ease of filling a cannoli shell. A gallon size ziplock bag will also work in a pinch, just be sure to add the filling first, and then cut a small tip off of one ends of the bag. Then pipe it into the cannoli shells.
want more recipes?
Check out the recipe index where you can discover more homemade recipes from my homestead!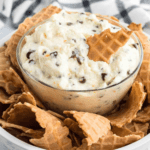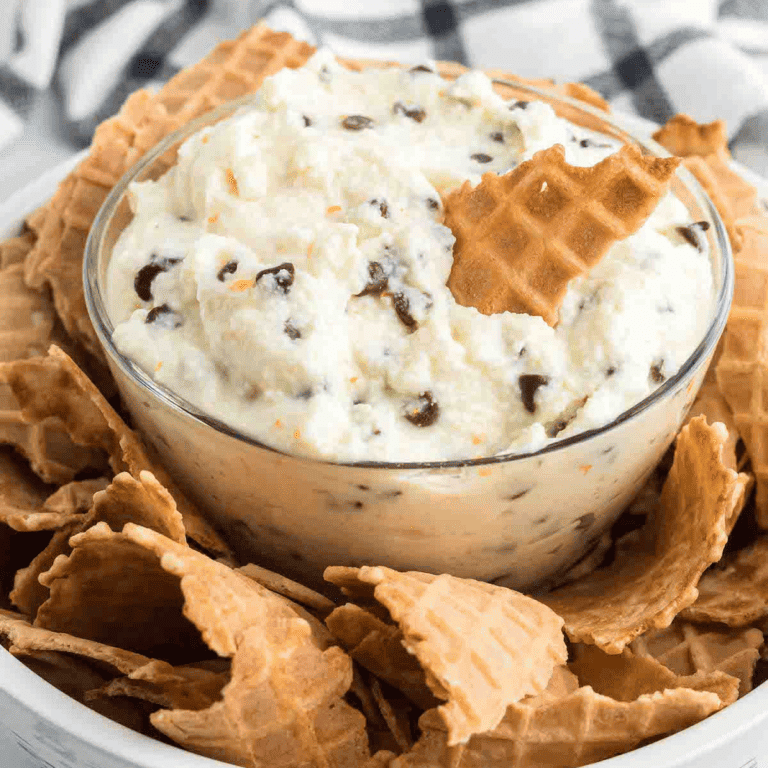 Cannoli Filling Cream
Cannolis are an Italian pastry with a sweet, creamy filling made from ricotta cheese. This homemade cannoli filling dip can be made ahead of time and stored in the refrigerator for later.
Instructions
In a large bowl, add the ricotta cheese.

Begin stirring in the powdered sugar a little at a time. You may not need all of the sugar if the mixture becomes watery.

Gently fold in the orange zest, vanilla extract, and chocolate chips.

If using cannoli shells, you can fill them now. The easiest way to do this is by using a piping bag. You could also use a gallon size storage zip bag by filling with the cannoli cream and cutting a little tip off of one end.
Notes
Add a little of the powdered sugar at a time. You may not need the full amount if the mixture starts to become watery.
Nutrition
Serving: 1cCalories: 247kcalCarbohydrates: 23gProtein: 9gFat: 13gSaturated Fat: 8gPolyunsaturated Fat: 1gMonounsaturated Fat: 3gTrans Fat: 1gCholesterol: 41mgSodium: 74mgPotassium: 80mgFiber: 1gSugar: 19gVitamin A: 370IUVitamin C: 1mgCalcium: 174mgIron: 1mg
Tried this recipe?Give it a 5 star rating and pin it to your Pinterest account!
where would you like to start?