Share this Post:
From salads and pasta sauces, to pico and savory soups, find the very best farm fresh tomato recipes here. I'm sharing over 50+ of the very best from vine to table recipes.
Save this amazing list to help inspire your summer meal plans!
Farm Fresh Tomato Recipes
Tomatoes and summertime are like peanut butter and jelly. A perfect match!
And it is a source of nostalgia around here. I'm willing to bet that most of you have memories surrounded around growing fresh tomatoes in the garden.
But if not, it definitely isn't too early to start. You can even grow them in a pot on your apartment balcony or deck! That is exactly how I got my start into growing tomatoes before moving to the ranch.
Another one of my favorite things to do make during the summer is fried green tomatoes!
Here are more ideas to use up those green tomatoes.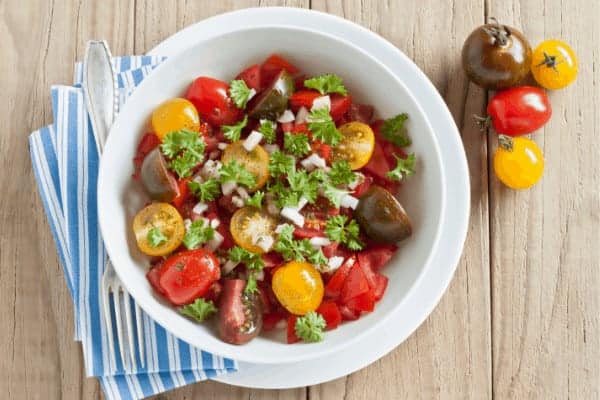 What Flavors Pair Well with Tomatoes?
Well, I for one think they go with nearly everything! I also love recipes that aren't overly complicated and have simple ingredients.
Recipes that allow the flavors to marry. But also don't overpower each other.
A few of my favorite tomato pairings are:
Italian seasonings! Of course this is a great flavor combination. Things like a simple caprese salad, pasta sauces, and antipasto salads. Just to name a few.
Tomatoes pair well with fresh herbs like basil, oregano, and cilantro.
They work well with acidic fruits like lemon and lime.
Olive oil, balsamic vinegar, and garlic, peppers, and onions.
Of course, this is just a small list. And the possibilities are really endless. Here is a nice list of tomato flavor matches!
50+ From Vine to Table Tomato Recipes
I've partnered with some of the best and most talented food bloggers from around the web. So, I can bring you this delicious list of fresh tomato recipes. You'll find a huge assortment of summer fresh ways to use up your garden haul.
Enjoy the best flavors of summer with this incredible list!
Farm Fresh Recipes:
Share this Post: