This simple homemade latte recipe is so good and is really easy to make! Learn how to make homemade lattes at home easily, without breaking the budget.
Um yes, please!
And in this post I have a few variations to make delicious flavored lattes at home. And don't worry if you don't have an espresso machine!
Can't make it to your favorite coffee shops for a latte or beloved cup of coffee? Try this delicious latte recipe instead!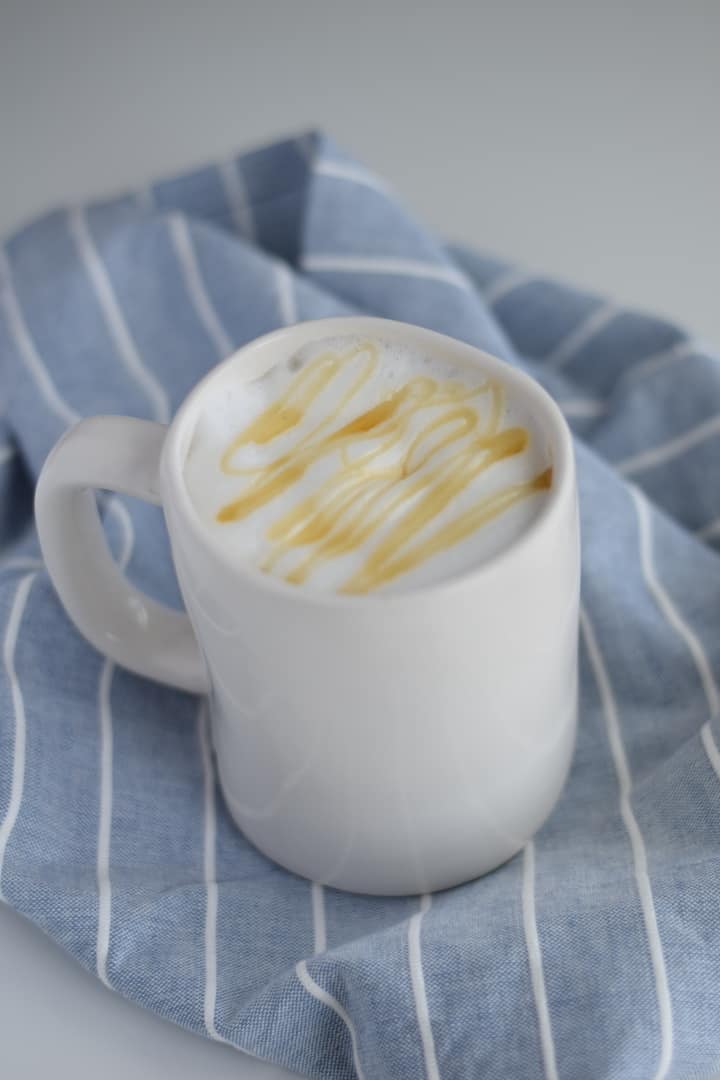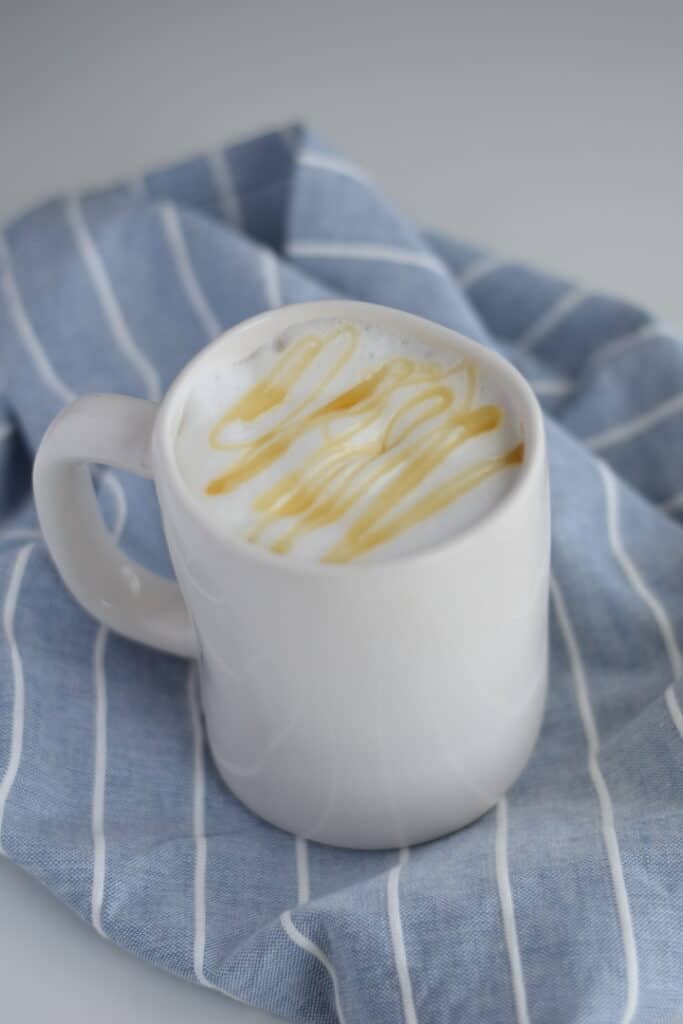 This post has been updated from its original published date of August 2017.
How to make homemade lattes
You don't need fancy equipment to make your own homemade latte! A simple frother (is that even a word?) or an immersion blender is all that is needed to get the milk to foam up perfectly.
I mean, an espresso machine would be awesome, but that's just not in the budget!
I'm a regular coffee addict, because mom life.
Plus, I'm a work at home/homeschool teaching mama too. So…I pretty much need this habit in my life.
For even more awesome, try to roast your own coffee beans at home! Seriously, you won't even be sorry.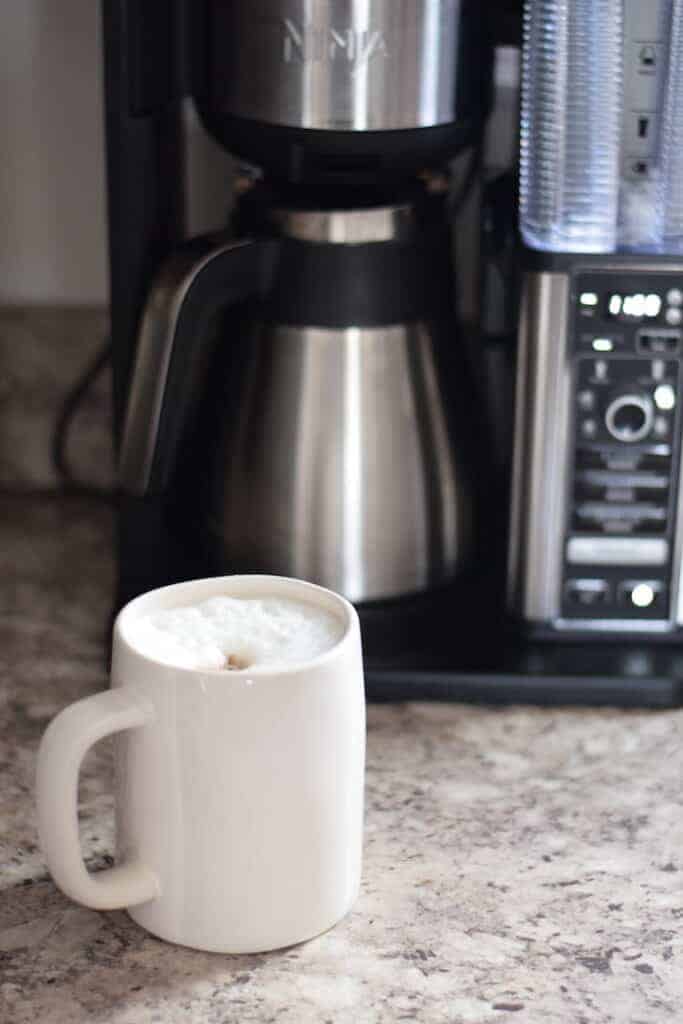 Ingredients Needed
Let's start off with a very basic latte recipe. All it requires is for you to brew some extra strong coffee and heat up some milk.
This will also be the base of all of the other latte recipes in this post.
4 oz of super strongly brewed coffee
1 cup of milk (or fill it ⅓ of the way full)
But this will also vary depending on the size of your coffee cup. You'll want to make sure the cup is about ⅓ of the way full of milk.
How to make lattes at home
Heat up your milk in either a microwave or over the stove top to steam milk.
Froth the milk with frother or immersion blender. Be super careful!
Combine the coffee and the milk together. Or add the frothed milk over top of the coffee. Stir in any added in flavors. See below for several delicious flavorful latte recipes!
Making a latte with a Ninja Specialty Coffee Maker
For years, I've been making my homemade latte with an immersion blender or sometimes with my regular blender.
But my husband recently surprised me with this super cool Ninja Coffee Maker.
Holy smokes, you guys. This thing is gold!
It has a swing out frother. And you can brew 4 oz of super dark espresso shots for these homemade lattes without measuring them out!
Single brew without adding the waste of those single k cups, too!
I just love this thing! If you have the opportunity to pick one up, do so! It makes life so much more easy.
This post is not sponsored by Ninja. We bought this with our own money and are absolutely obsessed with this product!
Latte Stir in Additions to Try
After you make the basic cafe latte recipe, you may want to try to add in more flavoring or sweeteners.
Here are a few of my favorites additions.
You could also try flavored coffee instead of regular for an extra kick of flavor!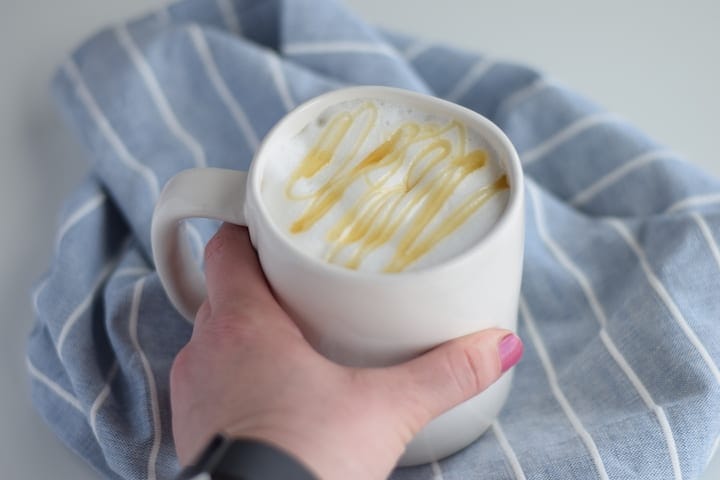 Honey Latte
Follow the below instructions for the homemade latte recipe, except stir in 1 tablespoon of real honey in with the coffee.
Slowly add the brewed coffee with the frothed milk and sprinkle a little bit of cinnamon to the top of the latte. Cinnamon makes all the difference to this latte!
Pumpkin Spice Latte
Following the basic recipe, stir in 1 tablespoon of canned pure pumpkin , ½ teaspoon of pumpkin pie spice and ½ to 1 tablespoon of real honey (depending on how sweet you want it) to the brewed coffee.
Slowly add in to the frothed milk. Add whipped cream and a dash of pumpkin pie spice on top.
Mocha Latte
For this variation, you will mix in a packet of hot cocoa to the coffee and then add in the frothed milk.
Add whipped cream to the top. For a peppermint mocha variation, add in a couple of drops of peppermint extract to the coffee mixture.
Enjoy, my friends.
More Comforting Recipes: