Learning How to Make Homemade Pasta
I have been wanting to learn how to make homemade pasta noodles for years. I always seemed to be too busy to try to learn.
Or I thought it would be an overly complicated process.
But it really isn't!
And I don't know about you, but I believe that homemade food just tastes better. There's something ultra satisfying about creating a meal from scratch.
I always say that my meals are made with love.
It's the truth, though. I create meals for my family, made straight from my heart.
Disclosure: Boots & Hooves Homestead may earn a commission for purchases made after clicking links on this page. View our disclosure policy for details.
A Family Tradition
Two of my great-grandparents are from Florence and Sicily. I always have wanted to learn more about my family history by someday being able to visit their hometowns. And trying to pay a little tribute to both my nana and papa; by attempting to replicate their recipes from scratch.
I'm a big dreamer and often fantasize about sipping on wine while strolling through the vineyards. Or taking a romantic tour of Tuscany. (hint. hint, Hubs.)
Maybe, I can convince my rancher husband to travel for one of our big anniversaries down the road? We have a long time to start building up the savings for such a trip! Just saying…
Homemade Pasta Noodles Steps
I literally couldn't believe how easy this was to make when I first started. It only takes a couple of ingredients, is super fast to roll out and create. And it cooks incredibly fast!
I'm also on board for any way to use up our farm fresh eggs.
Ingredients:
2 cups of all-purpose flour (this is my favorite)
3 medium-large eggs (make it 4 if you have smaller eggs)
splash or two of water if dough is too dry (not always necessary)
Are you ready for how easy this is to make?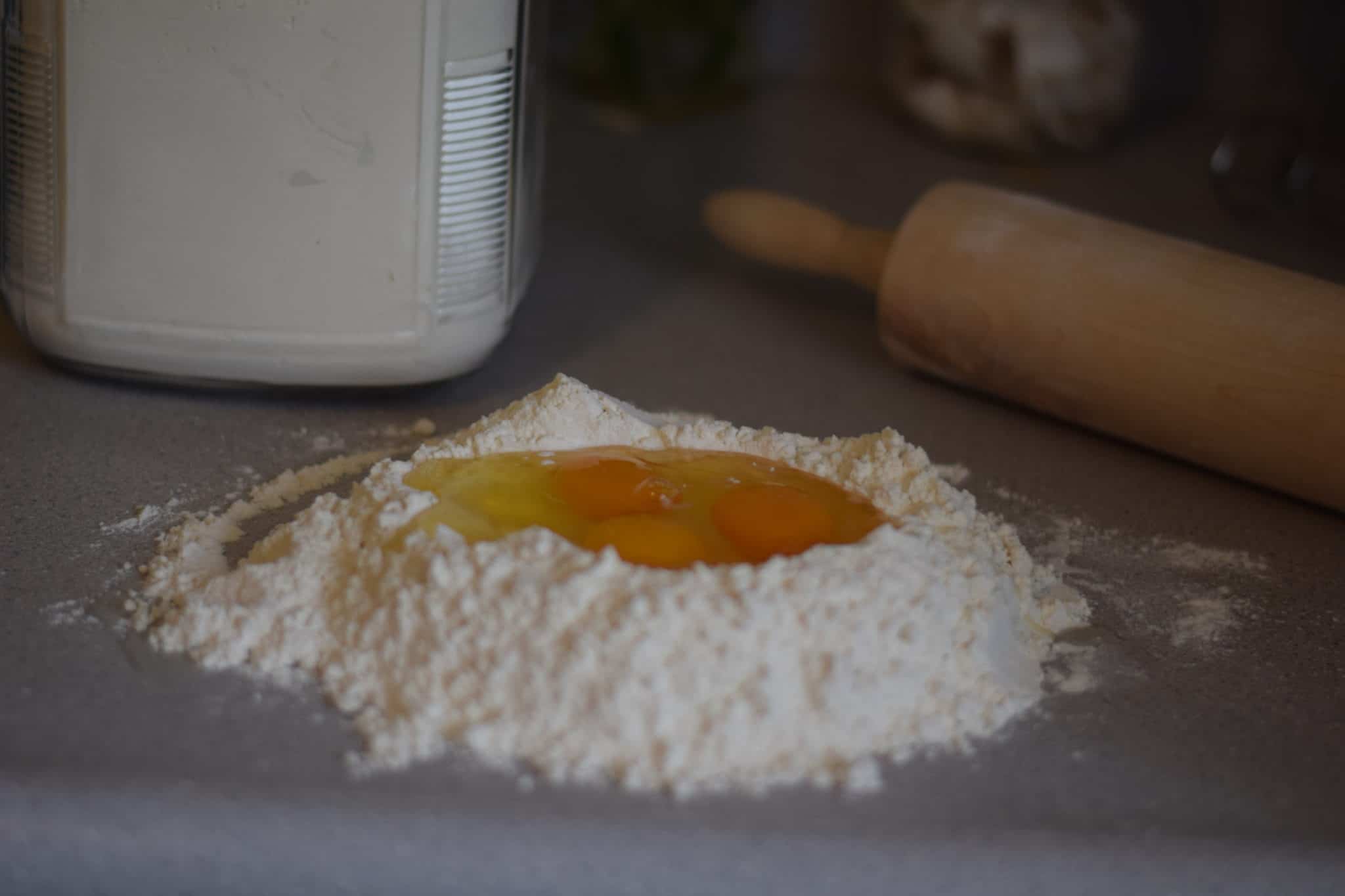 First step. Measure out the flour and create a little well in the center. Then you'll add the eggs to the middle of this well.
Using your fingers, slowly work the eggs and flour together. Knead until you make the dough into a nice little ball. If it's too moist add a couple of pinches of flour. Too dry? Add a splash of water. I have only needed to add water once, so it's not too often that it's needed.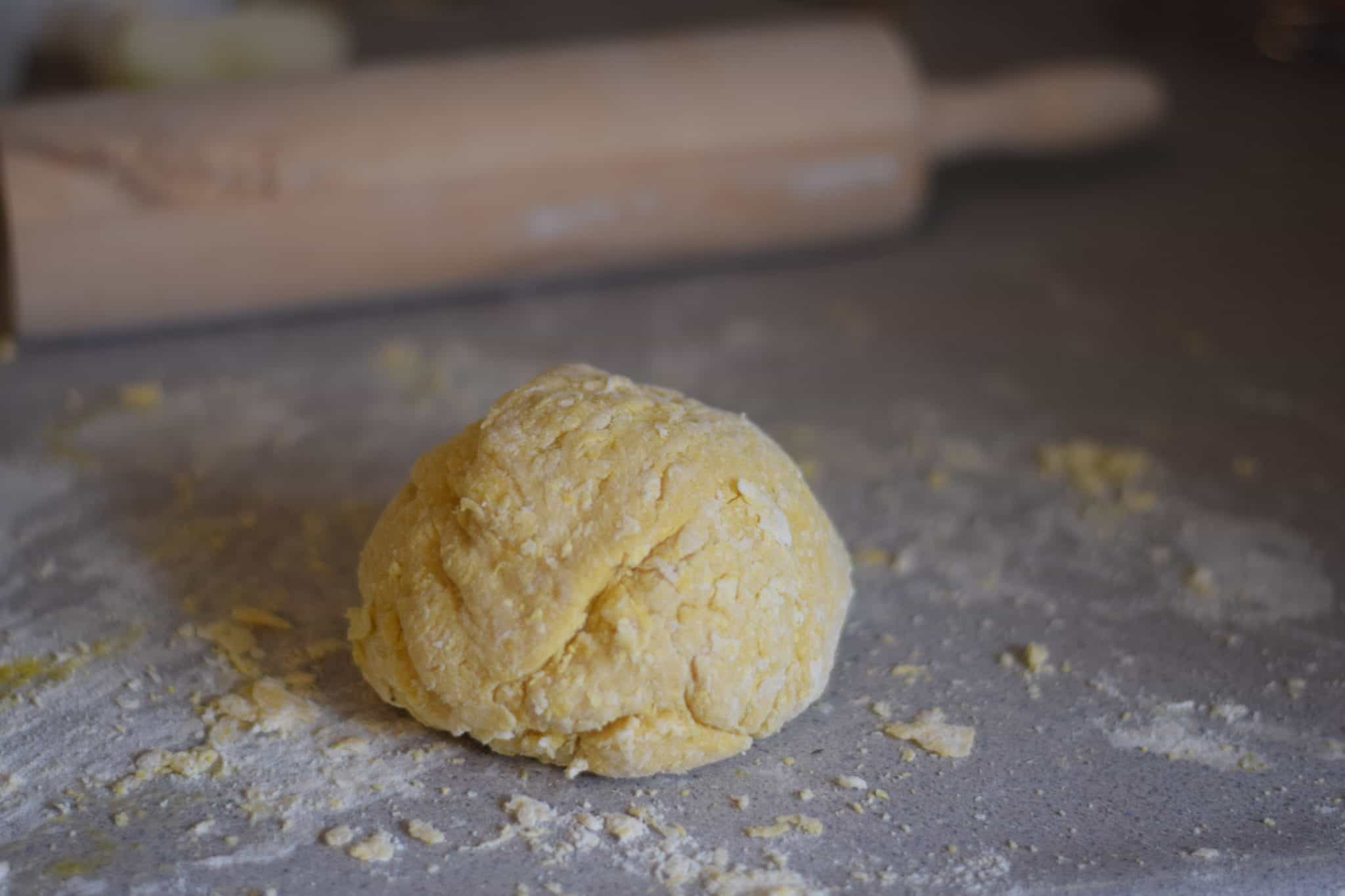 Hint: it will be a little sticky at first, but becomes only slightly tacky after working it a little. But the more you work it, the dough will become smooth. It's important to knead well.
From here, I like to cut my dough into four semi even pieces. This helps me to roll it out before I use my pasta machine. Rolling it out isn't super important, but I like to try to get my dough into as consistent of pieces that I can.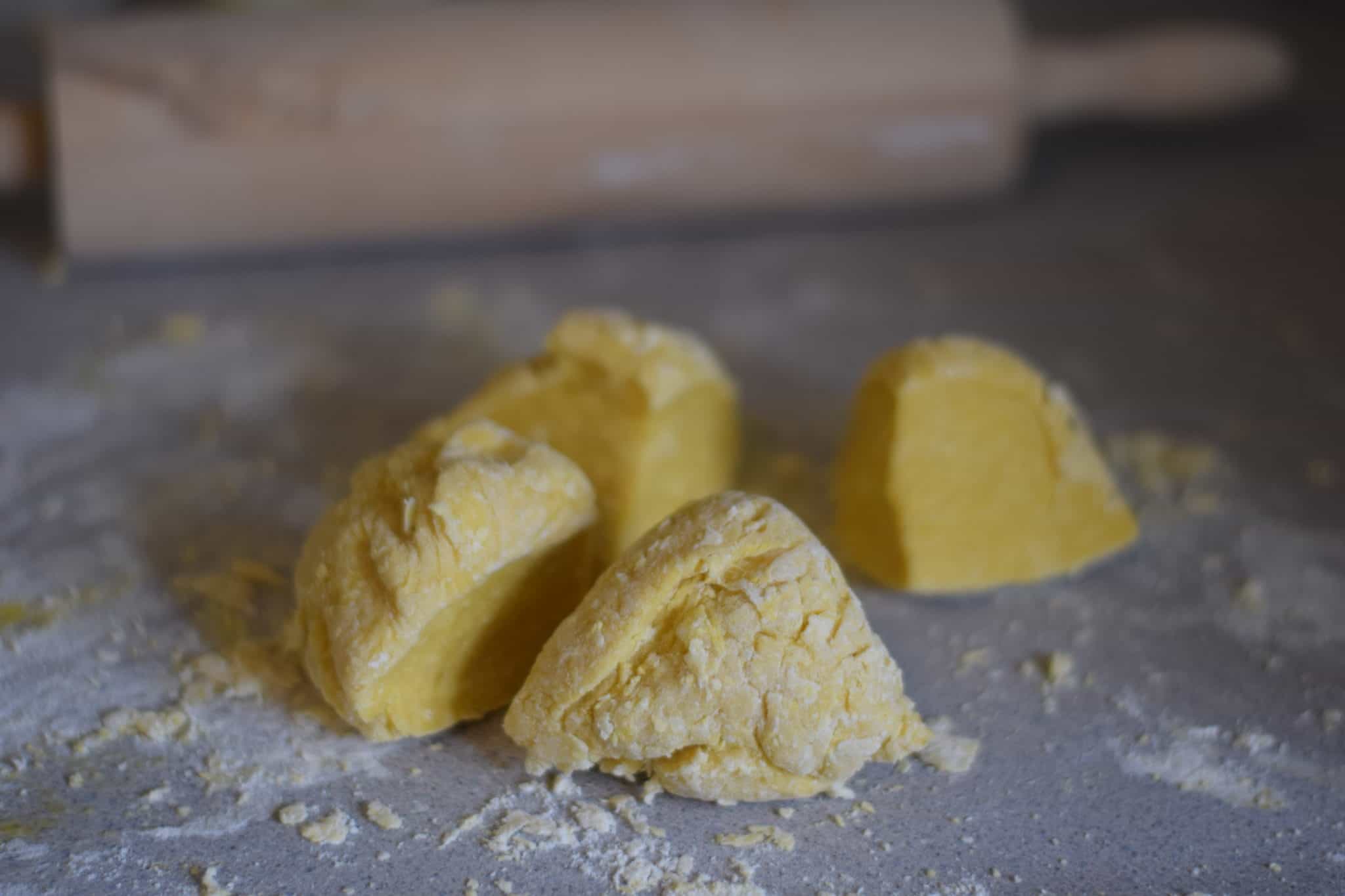 I recently purchased this pasta machine and it's very nice to use for a variety of types of pasta. It isn't necessary to use a machine though, you can cut your pasta with a knife, pizza cutter, or scissors.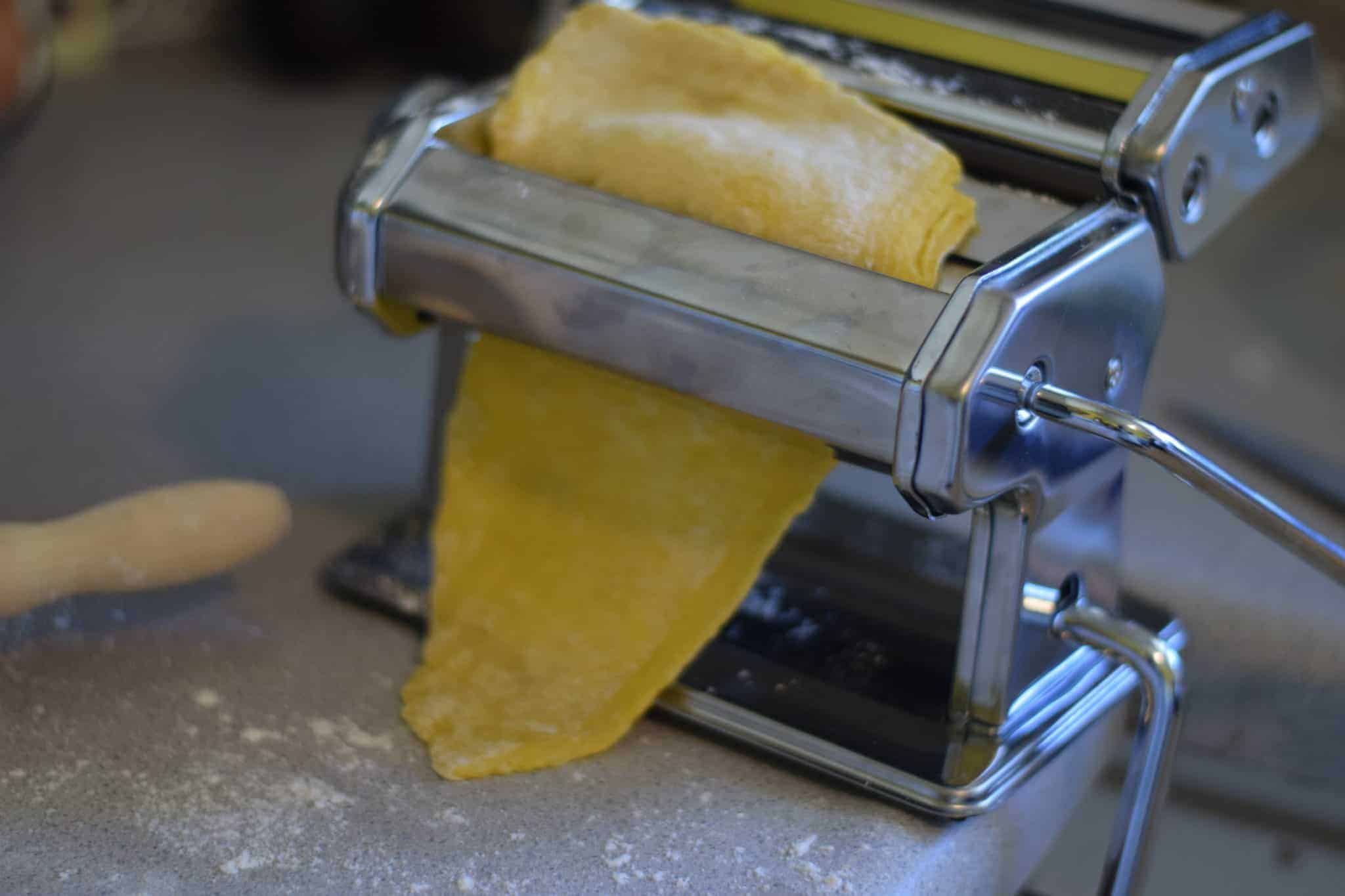 I really just enjoy how easy it is to use a pasta machine. And it makes the noodles a little more consistent in shape and size.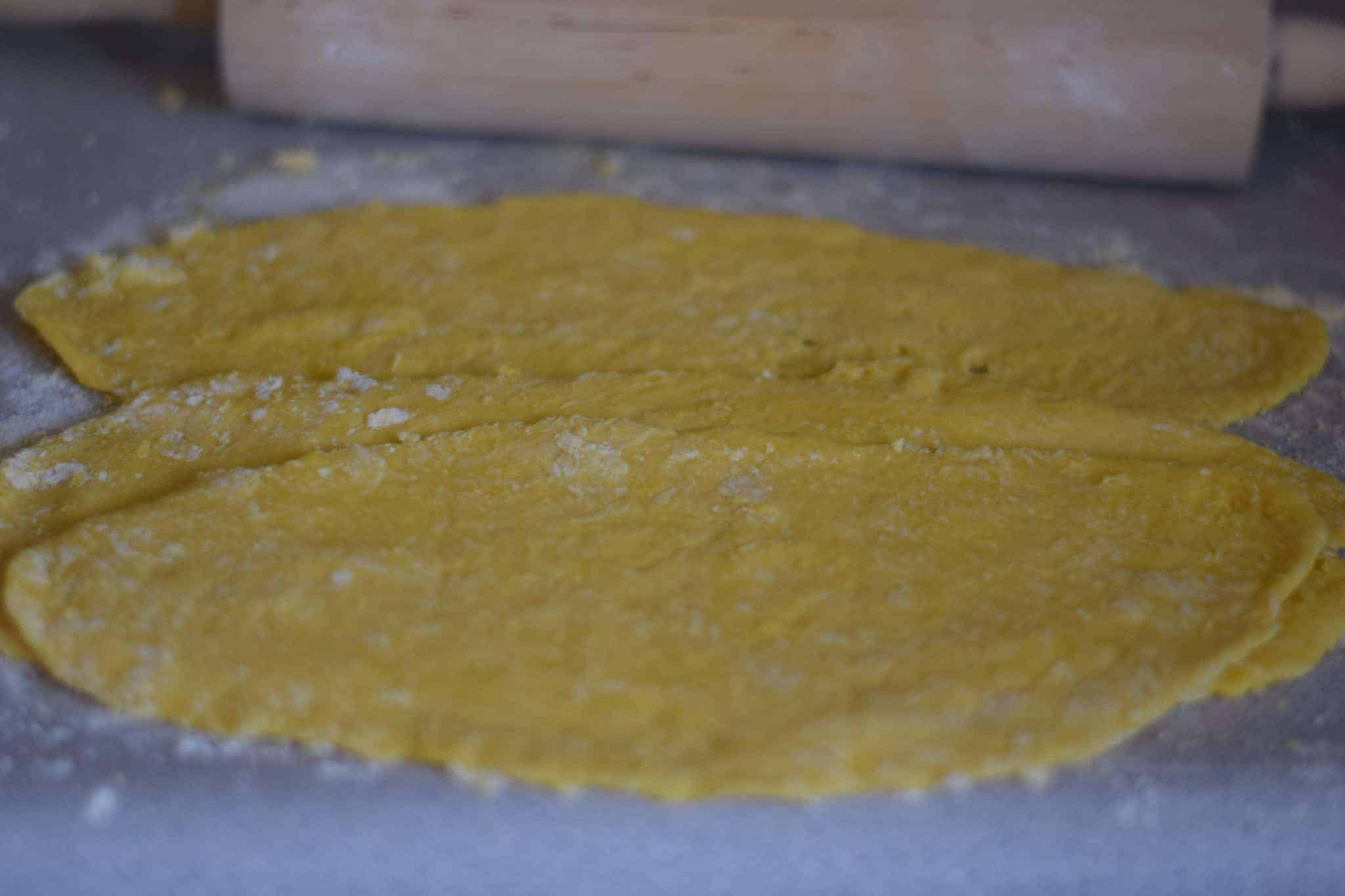 After I have rolled out the dough into four pieces, it's time to cut them out into whichever pasta shape I have desired. My family mostly likes thicker pasta, so I went with linguine this time.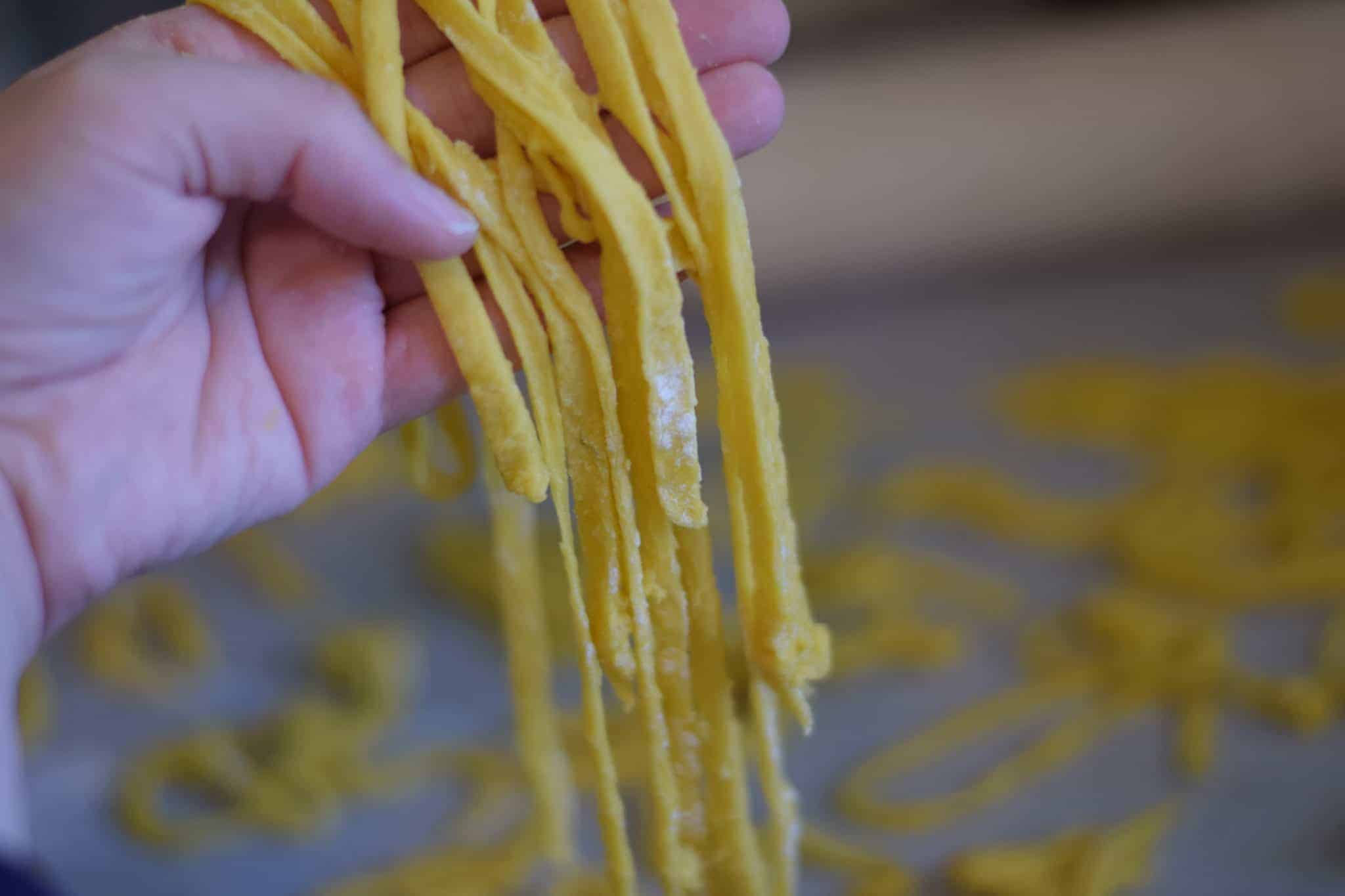 And now on my wish list is one of these handy, dandy pasta drying rack things. So that my kitchen counter doesn't look like this…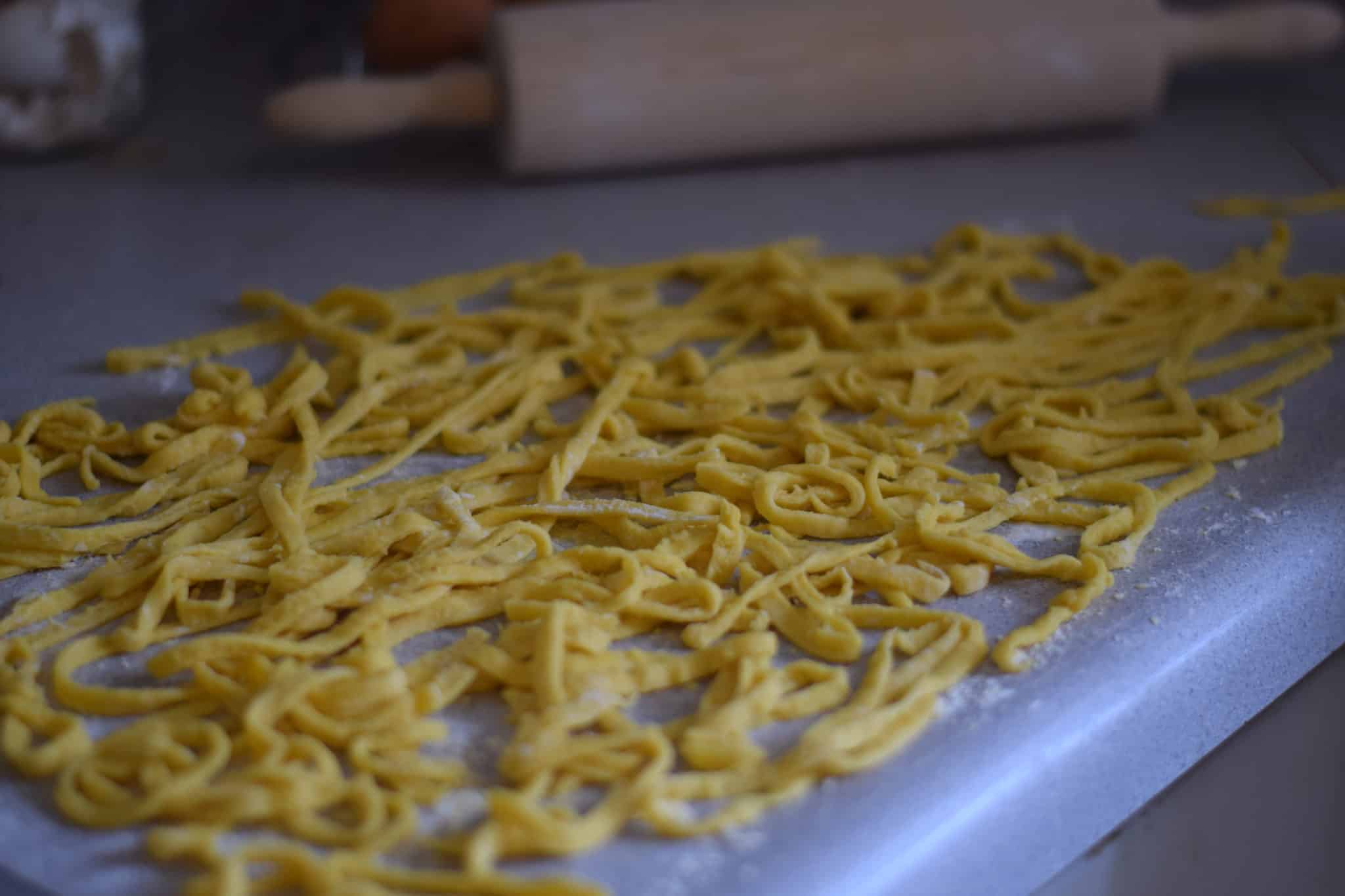 Cooking homemade pasta is really easy and super fast, too! You'll want a big ole pot of water boiling on the stove.
Don't forget to salt your water.
Drop your pasta in and allow to boil for about 3 minutes or so, sometimes less. It doesn't take very long at all. Give it a taste test before draining the water.
Now serve with your sauce of choice! Here's my nana's pasta sauce recipe (straight from Italy). I only made a few small changes to it. Sorry, nana.
This is such an easy homemade pasta recipe. It's delicious and my entire family loves it.
A simple recipe that is perfect for teaching little ones how to make their own homemade pasta noodles. And they'll totally love the experience!
I mean, who doesn't love to make a mess with flour while "helping" mama cook?
More farm fresh recipes: