This BBQ Chicken Nachos recipe is perfectly tangy and full of delicious flavor. It uses shredded chicken made in under 15 minutes using a Ninja Foodi pressure cooker.
So it can easily be adapted to other pressure cookers, such as an Instant Pot. Or set it and forget it with a Crockpot / slow cooker.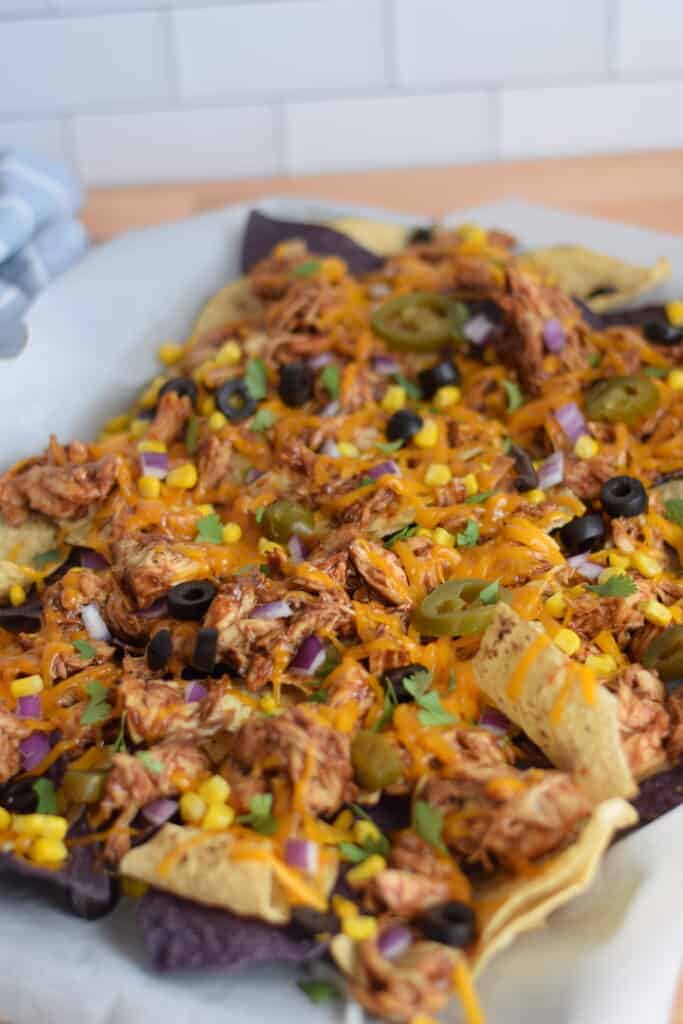 BBQ Chicken Nachos
This is such a perfect quick and easy weeknight meal. It is full of delicious flavor combinations.
One of my favorite things about putting together a nachos recipe – is how flexible they are.
They can be set up as a nacho bar and allow others to add whichever ingredients or toppings they desire.
Aside from cooking the shredded bbq chicken, the rest of the ingredient amounts are suggestions. It can be as little or as much as is preferred.
Preparing the Chicken
The chicken can be cooked in under 10 minutes time when using a Ninja Foodi or other pressure cooker, like the Instant Pot.
I follow my Shredded BBQ Chicken recipe by cooking it in the Ninja Foodi. Simply, add the chicken tenders, chicken broth, and salt.
Pressure cook for 8 minutes, drain & shred the chicken. And then add your favorite BBQ sauce.
We love this homemade honey bbq sauce recipe. Its so delicious and doesn't use processed sugar!
If using a crockpot or slow cooker, add the chicken, broth, and salt. Slow cook for about 3 hours, or until fork tender.
Drain the liquid, shred the chicken and mix in the bbq sauce.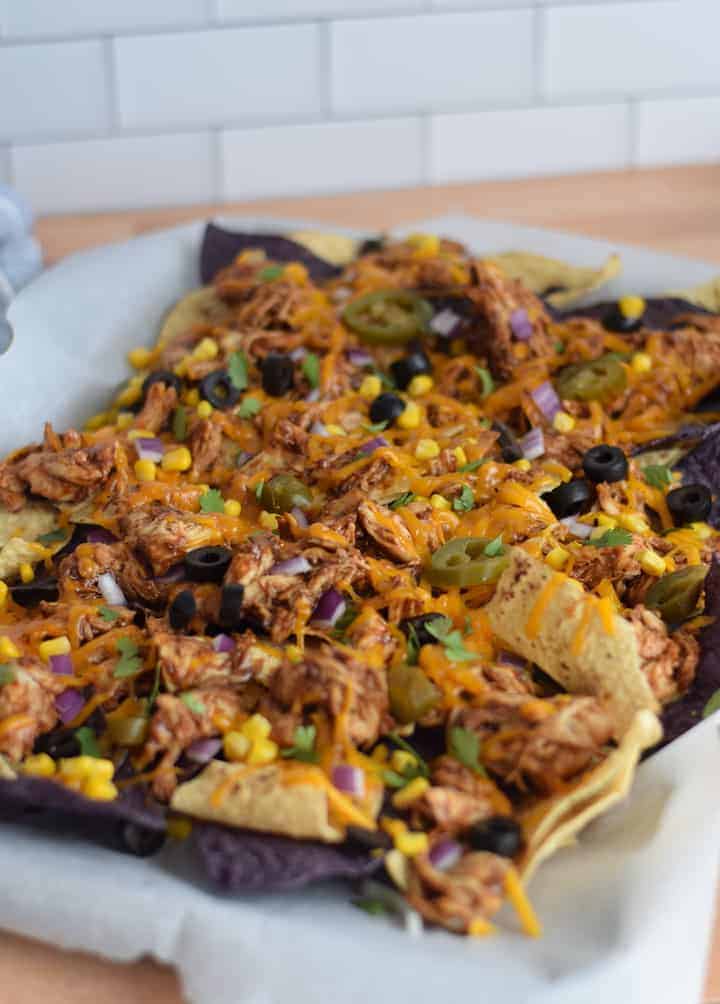 Assembling the Nachos
Baking Sheet Method:
I like to use parchment paper over my baking sheet for easy clean up. Who's with me?? Hey…busy mama of four over here!
And then I'll begin to layer my ingredients.
Preheat oven to 350 degrees, F
Add a layer of tortilla chips to the baking sheet
Layer with the BBQ chicken and corn
Evenly distribute the shredded cheddar cheese
Bake for about 5-10 minutes, or until cheese is completely melted
Layer on additional toppings
Nacho Bar Method:
Prepare the chicken and keep in the pressure or slow cooker on warm until ready to serve.
Add tortilla chips to favorite serving bowl or basket
Prepare toppings into small serving bowls
Allow everyone to prepare their nachos with favorite toppings
Nacho Toppings
For this BBQ Chicken Nachos recipe, I have included our favorite topping combinations.
shredded cheddar cheese
corn
sliced black olives
chopped red onion
jarred jalapeños (fermented jalapeños make a great choice!)
cilantro
More Easy Comfort Recipes:
Slow Cooker Italian Roast Beef
More Recipes: