All you need for this authentic Italian pizza dough are a few simple ingredients and a little bit of love. Make your own homemade pizzas at home, Italian style!
This is the pizza dough that my Italian grandmother used to make. And it is how she taught me to make homemade pizza dough. It makes a thick style crust and I divide it in half to make two different pizzas for my family.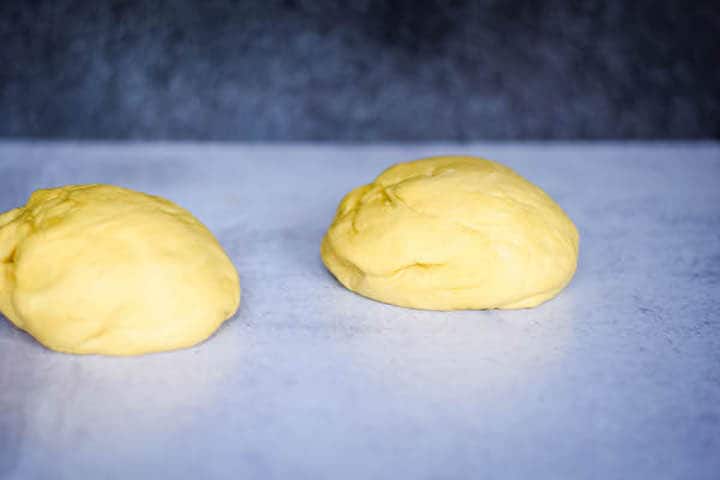 When it comes to pizza, it all starts with the dough!
You don't need special equipment to make this simple and authentic pizza dough. In fact, I just mix it up on my countertop! This is exactly how I learned how to make it.
Skip the frozen pizza or carryout and create your own pizza night at home! It isn't overly complicated and just takes a little bit of preparation and a little bit of TLC.
Plus, homemade food just tastes better! There's something sort of special and self satisfying in creating your own food.
And the kids really enjoy helping make a homemade pizza. Think of it like a sensory activity, math & science lesson all in one!
Tips for Making Homemade Pizza Dough
When measuring the ingredients, it is pretty important to level off the measurements. But don't pack the flour down when measuring. You want to make sure that you get the proper texture to the pizza dough.
Using warm water helps activate the yeast which helps the dough to rise. Anywhere between 95-115 degrees F is recommended for activating the yeast.
How to Make an Authentic Italian Pizza Dough – Step by Step
Making this pizza dough is pretty simple. And the more often that you make it, the easier it becomes. The trick is to measure out the ingredients and to properly knead the dough.
Measure out and mix the flour and salt and put it straight on your clean countertop. This is exactly how it is done in Italy. In the center of the flour, create a well.
My children call the well a "volcano" and the yeast mixture is the "hot lava".
Mix the yeast, warm water, honey, and oil in a mixing bowl. I usually use a medium glass measuring cup because it is easier to pour the liquid into my flour mixture.
Slowly pour a little bit of the yeast mixture into the flour mixture and incorporate together. Continue to add a little more of the liquid and work together with the flour.
The flour and yeast mixture will be a little bit sticky at first.
Once all of the liquid has been incorporated into the flour mixture, begin to knead the dough. Using the palms of the hands, work the dough to help activate the gluten.
As the pizza dough is kneaded, you'll notice the stickiness beginning to go away.
After the dough is soft and only slightly tacky, add it to a well oiled bowl. For this, I just drizzle a little bit of olive oil into a glass bowl and wipe the sides of the bowl with a paper towel.
Cover the bowl with a towel and allow to rest and rise for an hour. The best place for this is somewhere free from drafts and is warm or room temperature.
I usually use either my oven (turned off) or in my pantry.
Making Homemade Pizza
Once the dough is ready, you can either make one really large pizza or divide it in half and make two different pizzas. I've done both and they always come out great.
When ready to make the pizza, preheat the oven to 475 degrees F.
Next, add a couple of pinches of flour to the counter top and dust a little bit on a rolling pin. This helps keep the dough from sticking a little when rolling it out.
After rolling out the dough, create little wells and drizzle with a bit of olive oil. Then brush the oil around the dough to make sure all is distributed.
Add your desired toppings and bake at 475 degrees F for 10-15 minutes. If making one large pizza, bake for up to 20 minutes.
Tip: when making pizza, I always use parchment paper on my baking sheet. It prevents the dough from sticking without having to grease the pan. And it saves on clean up time, too!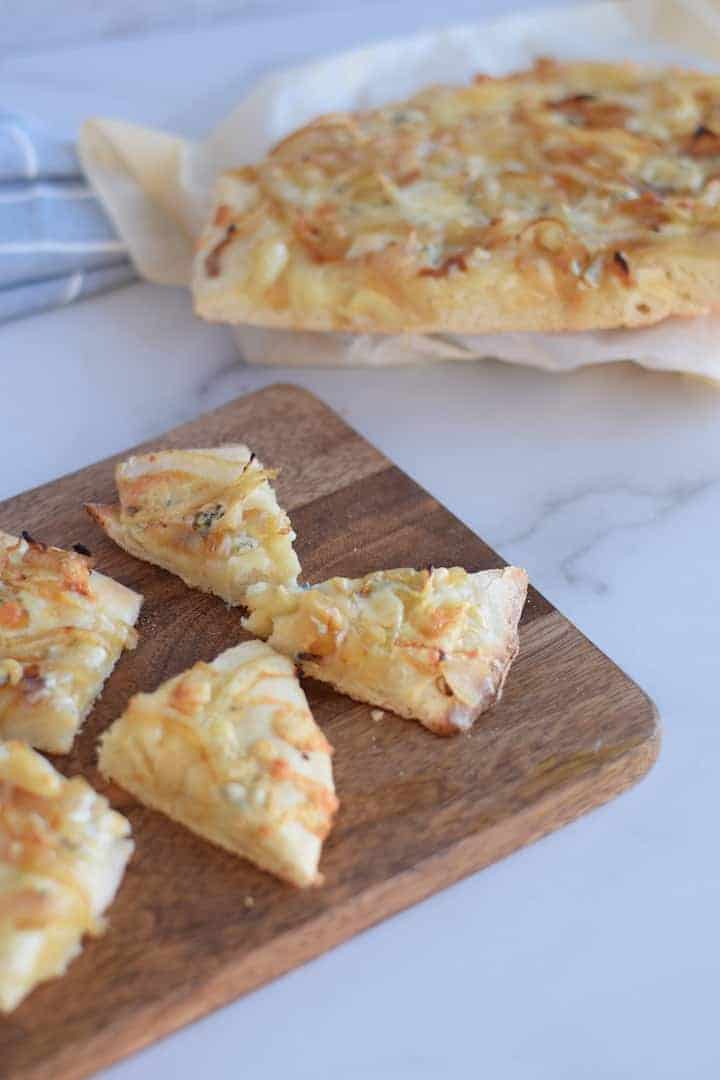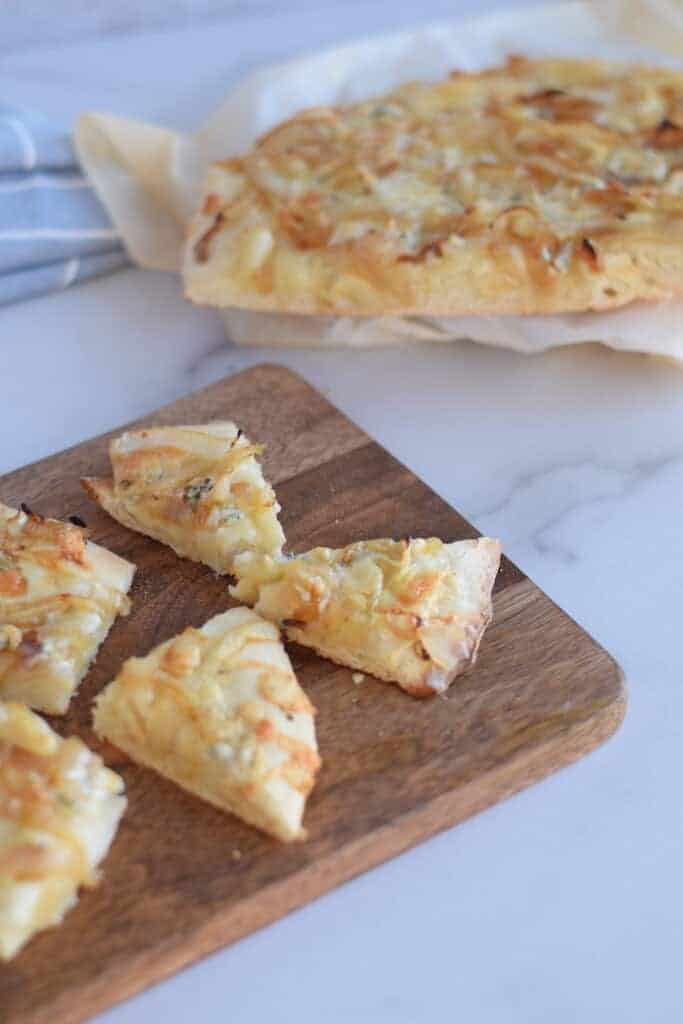 Pizza Topping Ideas:
Sautéed onions & mushrooms
Tomatoes & basil
Italian Sausage & fresh mozzarella
Ricotta & crushed tomatoes
Shredded Pecorino or Parmigiana Reggiano
More Recipes: