Using a few simple ingredients for this tomato, basil, and ricotta pizza give it tremendous flavor. Perfect fall comfort food or great use of those fresh summer tomatoes!
The ricotta gives this pizza a nice bit of creaminess. And paired with fresh cut herbs and garlic really gives this homemade pizza some great flavor.
Bring a little taste of Italy to your home with this homemade pizza recipe. It isn't overly complicated either.
However, it does take a little bit of planning to allow for the amount of time for your homemade pizza dough to rise.
Yummy Garlic, Basil,Tomato, Ricotta Pizza
Add in a few more toppings are all you'll need to make this pizza full of delicious Italian flavors.
One of the best parts about this pizza is the ricotta cheese. It is incredibly creamy and mild, and almost sweet. And because of the moisture of the ricotta cheese, you don't need to add a sauce.
Instead, I use some diced tomatoes that I crush up a little with a fork. My Italian grandmother would just crush them with her hands. You can always try that, too!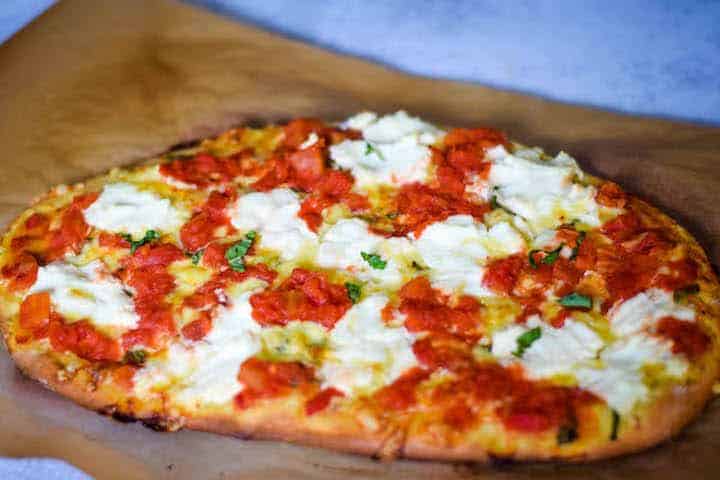 How to Make a Ricotta Pizza
You can make this pizza with whichever dough you prefer. But I'm all for making it completely from scratch. You really can't beat those homemade flavors!
Try this authentic Italian Pizza Dough Recipe. This is the dough recipe that I use for all of my homemade pizzas. It makes either two of the pizzas in this recipe or one really large one.
After the dough of your pizza is ready to go, preheat the oven to 475 degrees F.
Begin by rolling out the dough. Next, you will create little wells on the top of the dough and give it a little brush of olive oil to the top.
Start Layering the Ingredients
My grandmother always put the tomatoes on top. Something very different than we are used to in most places here in America.
When I make my pizzas, I use parchment paper to prevent it from sticking to the pan. It helps save clean up time, too!
For this ricotta pizza, I start with adding the chopped garlic, basil, and mint. Reserve a little bit of the basil for a garnish on the cooked pizza, if desired.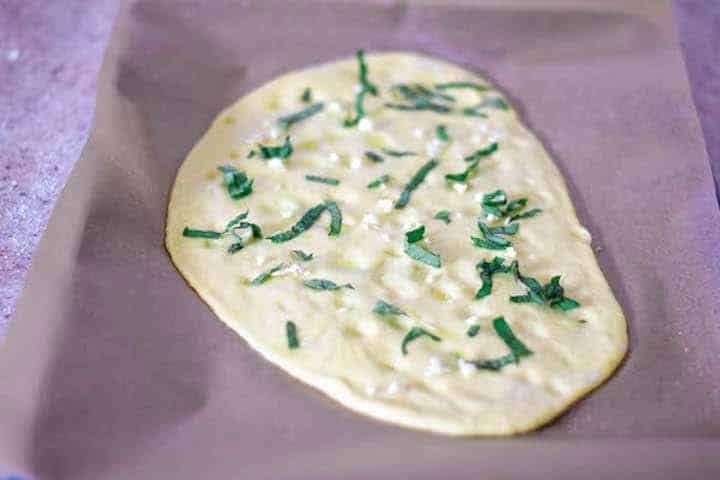 Shred up 1/2 cup of mozzarella cheese and distribute it evenly on top of the garlic and herbs.
Next, take a spoon and drop spoonfuls of ricotta to the pizza in various places. Then you will slightly spread the ricotta a little bit with your spoon.
After you've done this, you can begin crushing up your diced tomatoes slightly. You can either crush them in your hand or with a fork.
It really all depends on how messy you want things to get. They say that the best cooks are the messiest. So, there's that.
The pizza should look something like this…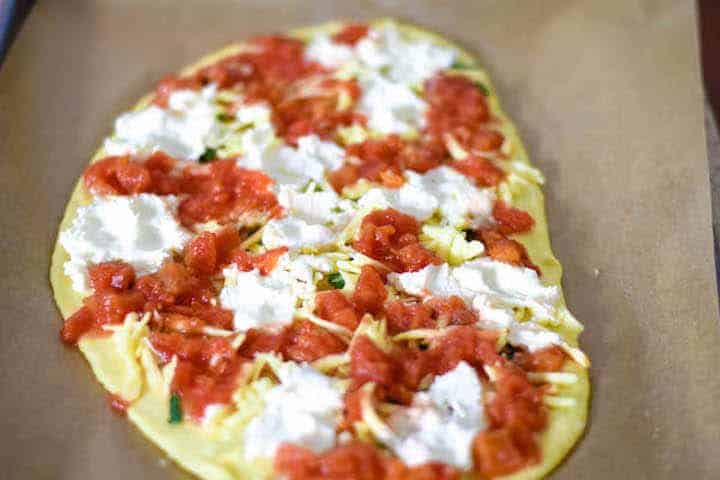 Bake pizza in a preheated 475 degree F oven for about 15 minutes. Keep an eye on the pizza and check periodically after 13 minutes. If the pizza crust looks nice and golden brown, it should be ready to come out.
Allow the pizza to cool slightly before slicing. Add the shredded pecorino cheese to the top of the finished pizza. And a little bit of fresh basil leaves as a garnish, if desired.
More recipes to try: