This is an easy way to make hard boiled eggs using a Ninja Foodi. Set on the pressure cooking function, this can easily be adapted to an Instant Pot. Or any pressure cooker.
These hard boiled eggs come out perfectly. And they are super easy to peel, too.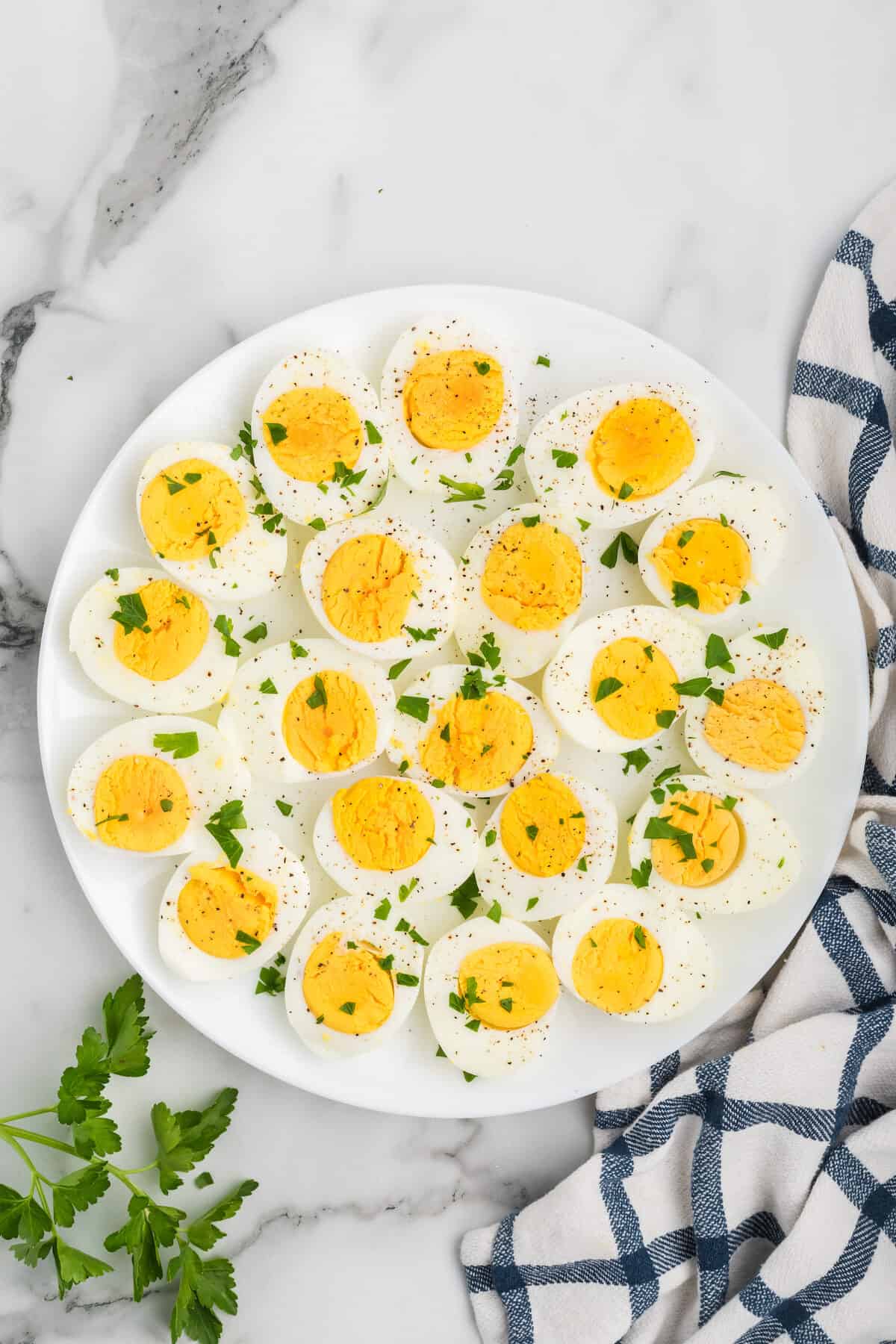 This post has been updated from its original publish date of January 28, 2020. It has been updated to provide better photos, additional helpful information and step by step instructions.
Ninja Foodi Hard Boiled Eggs
We've had our Ninja Foodi since 2019 and love to use it for so many things! Making hard boiled eggs in the Foodi makes them super quick and easy to peel!
Are you new to using a Ninja Foodi? Here are a few tips to help you get started and make the perfect hard boiled eggs.
Pressure cooking eggs in a Ninja Foodi simplifies the process.
You basically add the eggs & water to the Foodi, select the proper function & timer, and set up the lid.
There's no need to wait for the water to boil. Or carefully draining the boiling water when done.
Looking for more for more recipes to make in your Foodi? We have put together this collection of Ninja Foodi Recipes that you'll love!
Ingredients
farm fresh eggs
water
ice bath (water & ice in a large glass bowl)
seasonings of choice to enjoy your fresh hard boiled eggs with!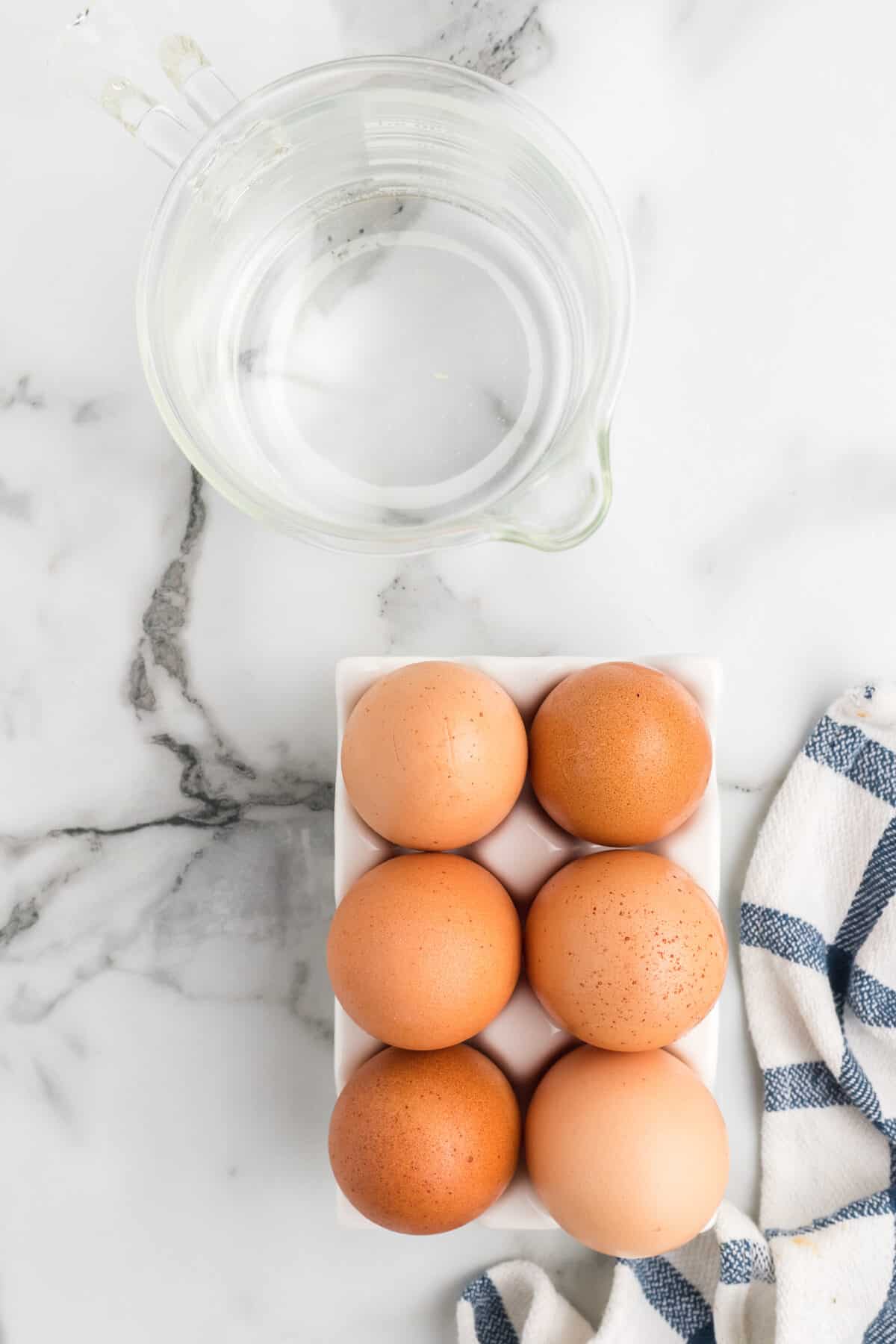 Favorite ways to use hard boiled eggs:
egg salad sandwiches
as part of charcuterie board
alone with fresh cracked black pepper & sea salt
deviled eggs
with fresh herbs like chives or parsley
Easter eggs
Instructions
When setting up the Ninja Foodi, add 1 cup of water into the cooking pot.
Using either the air fryer basket or the rack (both come with the Foodi), place eggs on a single layer and close lid on the Foodi.
It is important that when using the pressure cooking lid, it is locked into place and the vent lock is set to "seal". Otherwise, you'll end up with steam coming out the top and it will not properly come up to pressure. And set the pressure to "high".
After the timer goes off, quick release the remaining pressure. And carefully, using a slotted spoon move the eggs to an ice water bath (bowl of ice water) for 1 minute.
Drain the water and peel the eggs. Roll the egg gently between your hands and the counter top to loosen the shell and remove the shell from the egg.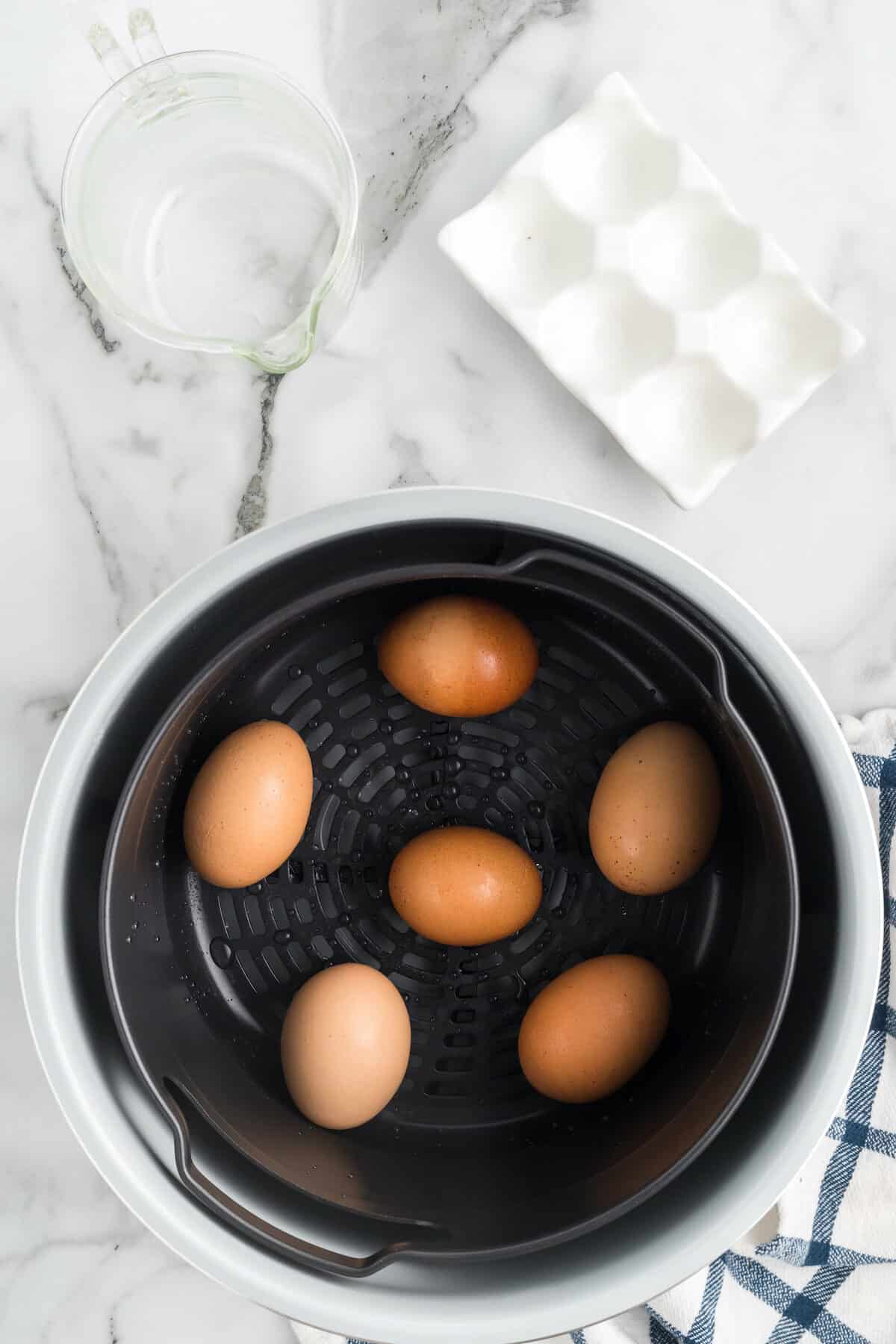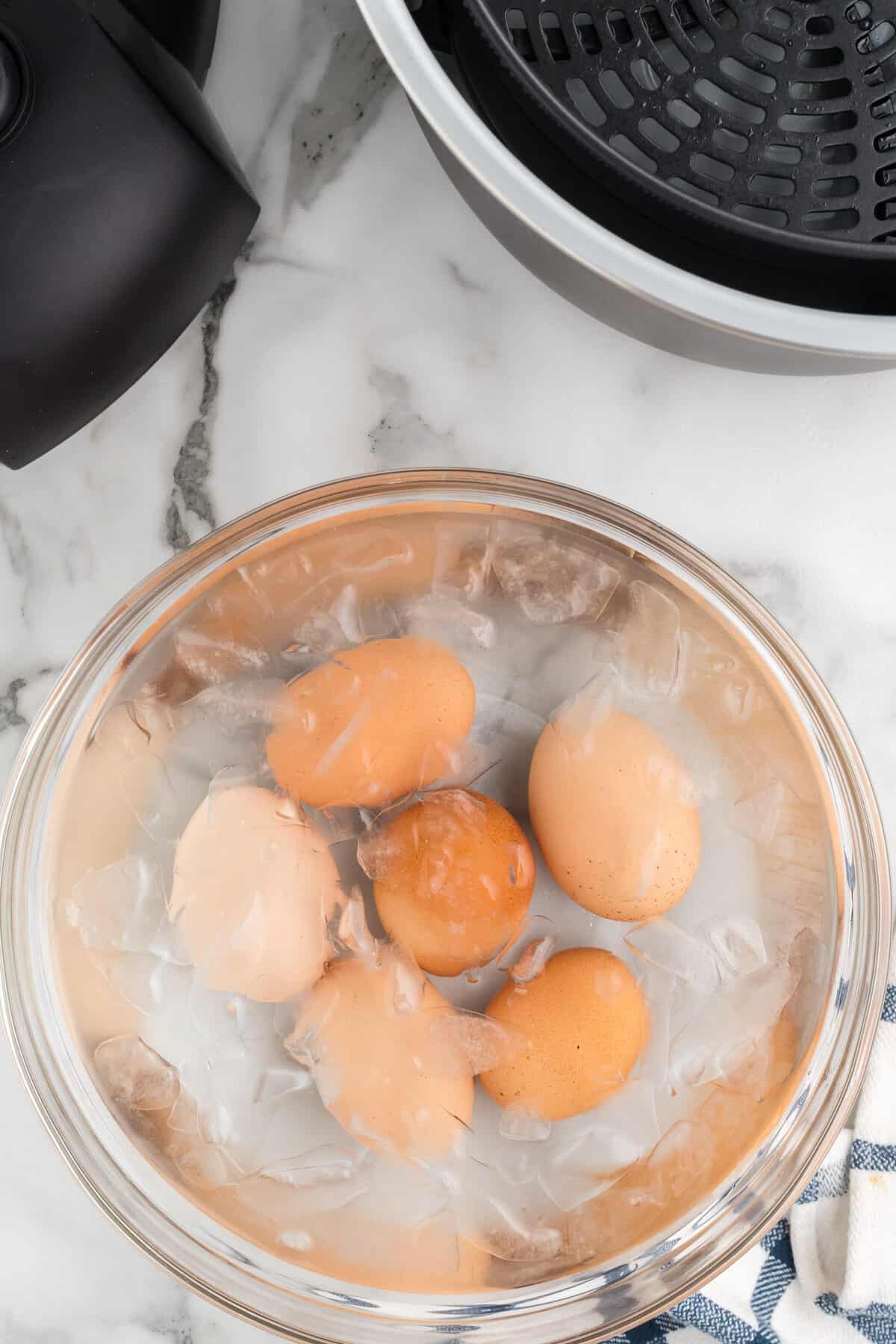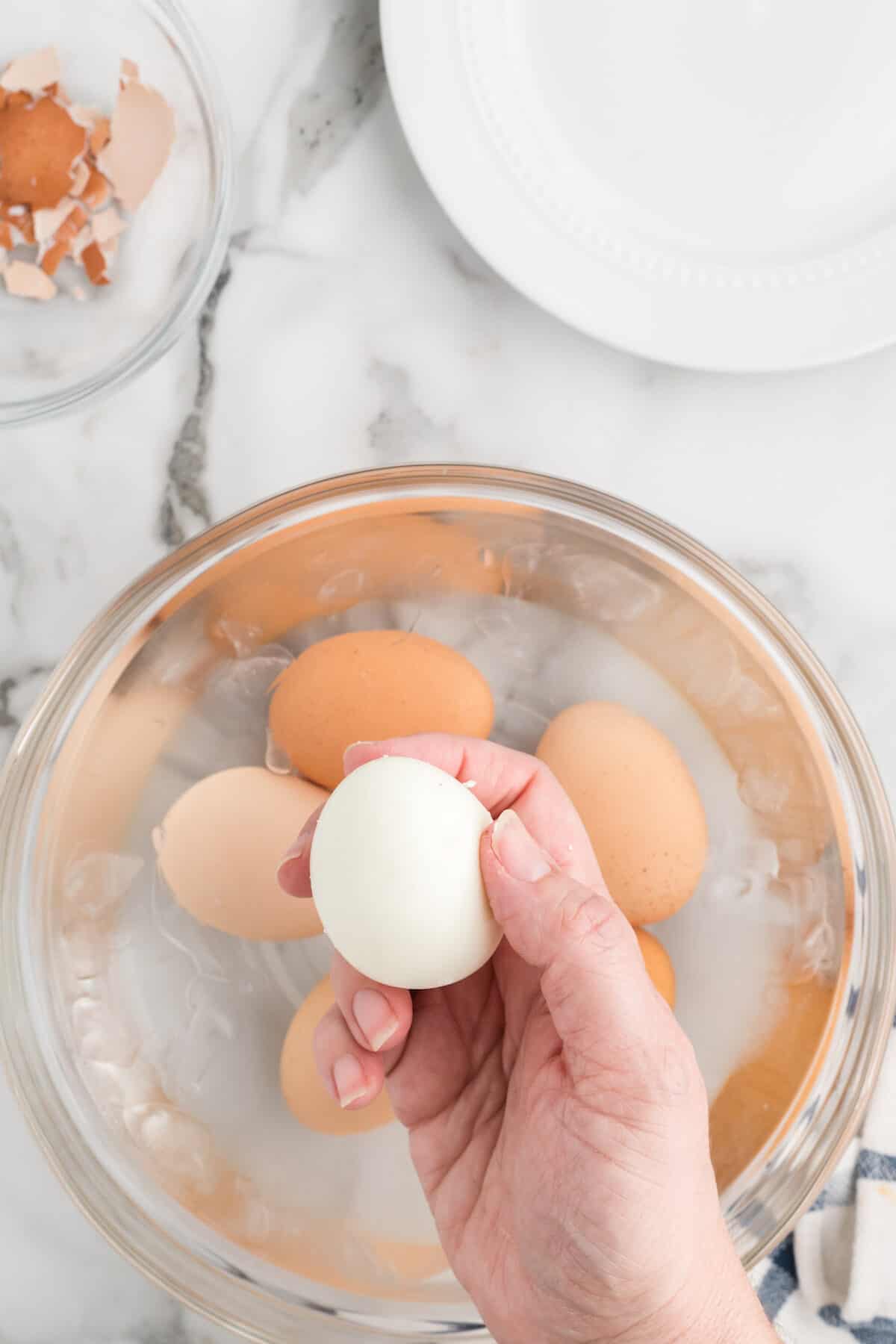 Below is how they come out based off of the various cook times. No matter what you prefer, this guide will help you to make hard boiled eggs, easily!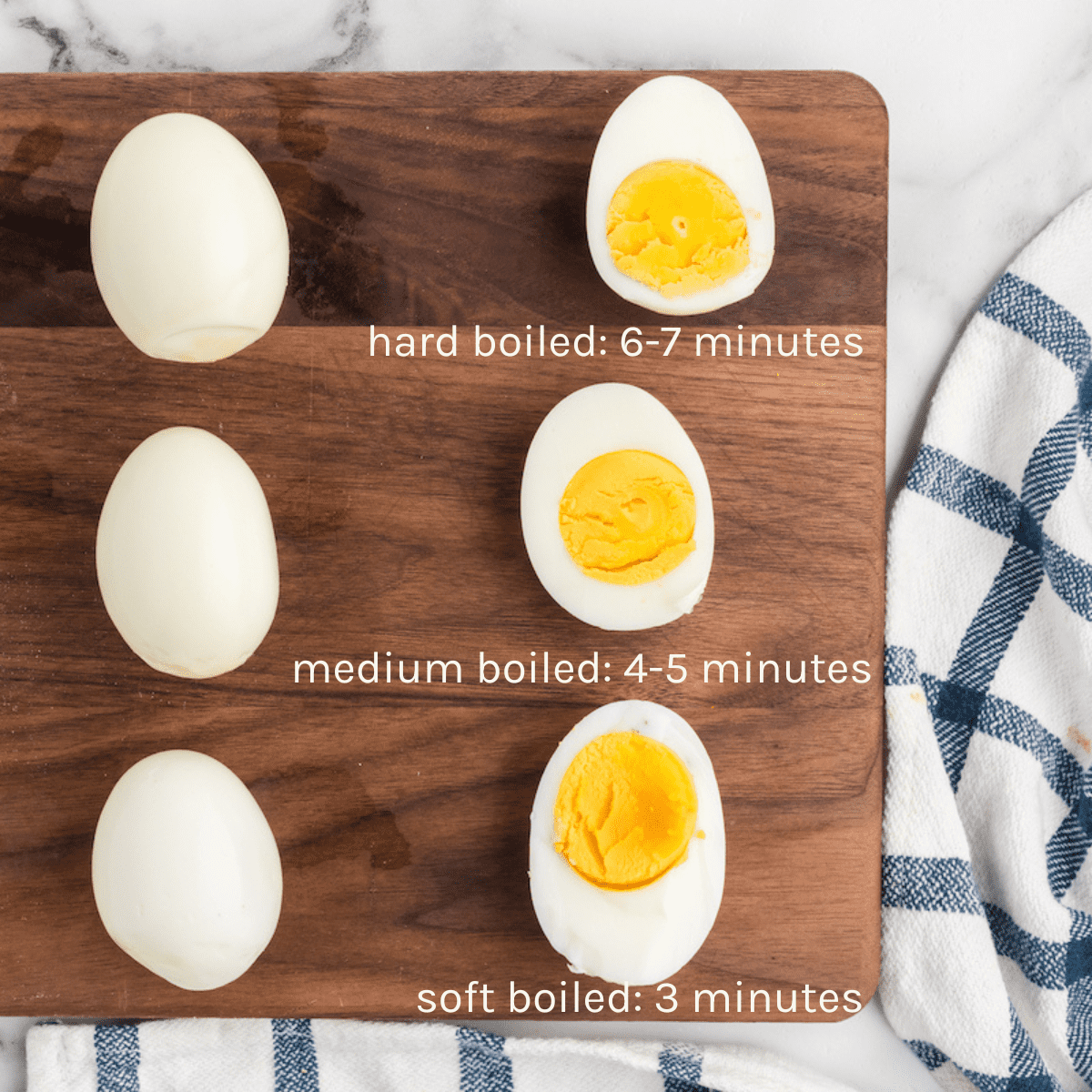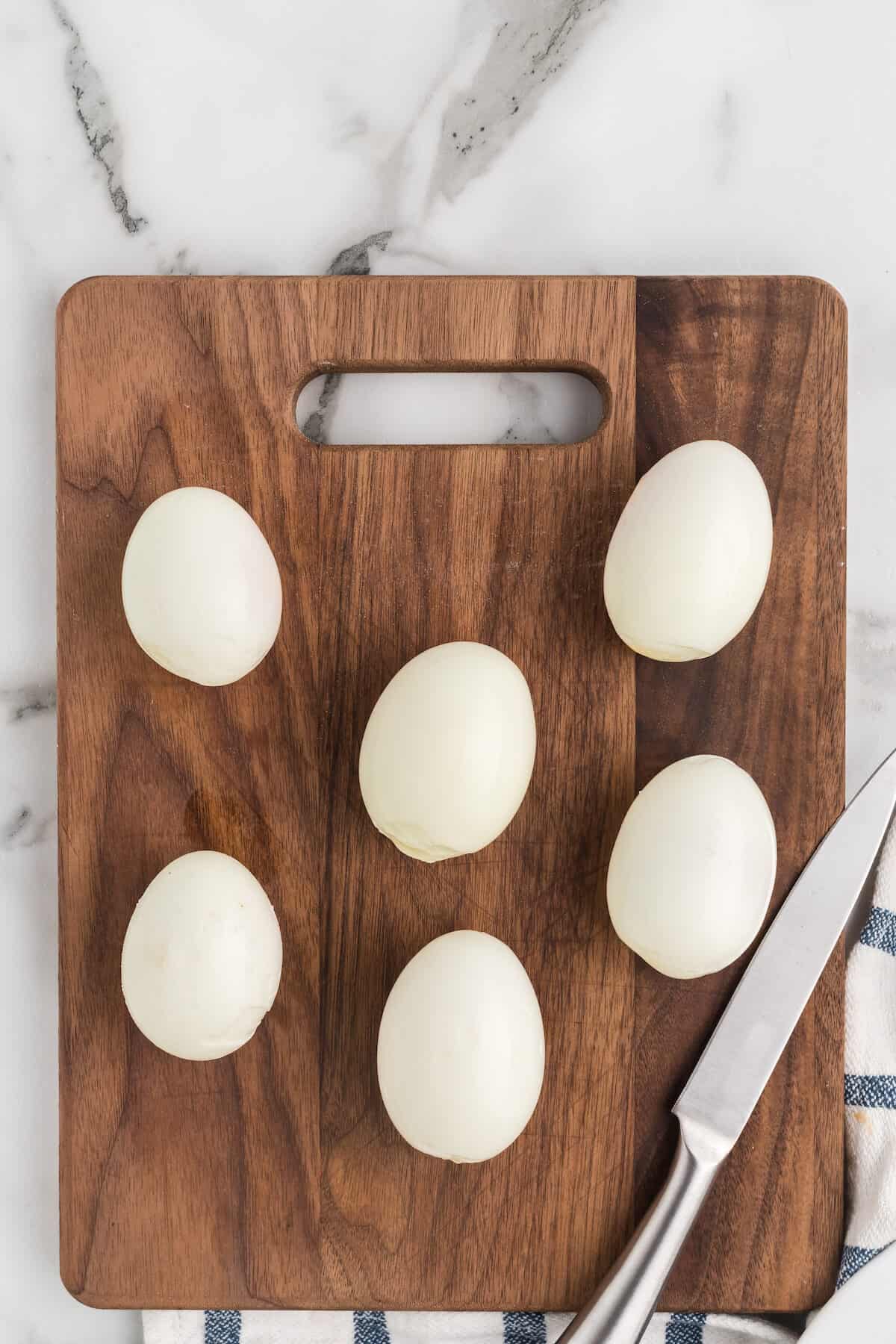 How to store hard boiled eggs
Hard boiled eggs will keep in a refrigerator for about a week. I prefer to store them unpeeled to keep them fresh for as long as possible. Store deviled eggs or peeled hard boiled eggs in an airtight container in the fridge for about 3 days.
More favorite egg recipes
Eggs can make a delicious breaks or enjoyed as a nice healthy boost of protein or as snacks.
Here's a few of our favorite egg recipes that we think you'll love too!
Related: 40 + Healthy Egg Recipes
want more recipes?
Check out the recipe index where you can discover more homemade recipes from my homestead!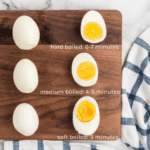 Ninja Foodi Hard Boiled Eggs
Make the perfect hard boiled eggs, simply using a Ninja Foodi or pressure cooker.
Ingredients
6-12 farm fresh eggs
1 cup water
Instructions
Place the cooking pot inside of the ninja foodi and add 1 cup of water to the bottom. Depending on how many eggs you will make, add the air crisp basket or rack to the Foodi to comfortably allow eggs to rest in a single layer.

Place your eggs in the basket (or rack). Add the pressure cooking lid to the Ninja Foodi and lock into place. Set the vent valve to "seal" And set the pressure to "high"..

Turn the Ninja Foodi Function to pressure and adjust the time to 3-7 minutes. See note below on cooking times.

It takes approximately 10 minutes for the Ninja Foodi to come up to pressure.

When the timer goes off, quick release the pressure. Switch the vent valve to "vent". Once the pressure is released, carefully remove the lid.

Carefully remove the hard boiled eggs from the Foodi. Place in a large bowl of ice water for 1 minute and remove. Drain well and peel.
Notes
For soft boiled eggs: 3 minutes, medium boiled eggs: 4-5 minutes, hard boiled eggs: 6-7 minutes.
Nutrition
Serving: 1cCalories: 126kcalCarbohydrates: 1gProtein: 11gFat: 8gSaturated Fat: 3gPolyunsaturated Fat: 2gMonounsaturated Fat: 3gTrans Fat: 0.03gCholesterol: 327mgSodium: 127mgPotassium: 121mgSugar: 0.3gVitamin A: 475IUCalcium: 50mgIron: 2mg
Tried this recipe?Give it a 5 star rating and pin it to your Pinterest account!
where would you like to start?