Maple Whipped Cream is a quick dessert recipe that is easy to whip up from only 3 simple ingredients from the pantry. It has a slightly sweet and light maple flavor that is perfect for so many treats.
The natural sweetness from the real maple is perfect for topping homemade pie, on top of your homemade lattes, hot cocoa, pancakes, waffles, fruit, drinks, and more.
Easy Homemade Maple Whipped Cream
Don't you just love finding a healthy recipe swap for the store bought alternatives? I sure do!
The holiday treats like homemade pumpkin pie, and other decadent sweets just aren't the same without pairing a sweet dollop of whipped cream on top.
But the stuff that comes in a can or plastic bowl at the grocery store has ingredients that many of us want to avoid!
And most homemade recipes use processed sugar – again something that we try to avoid.
This recipe uses organic grade a maple syrup. So you can feel good about serving up a delicious treat to your family.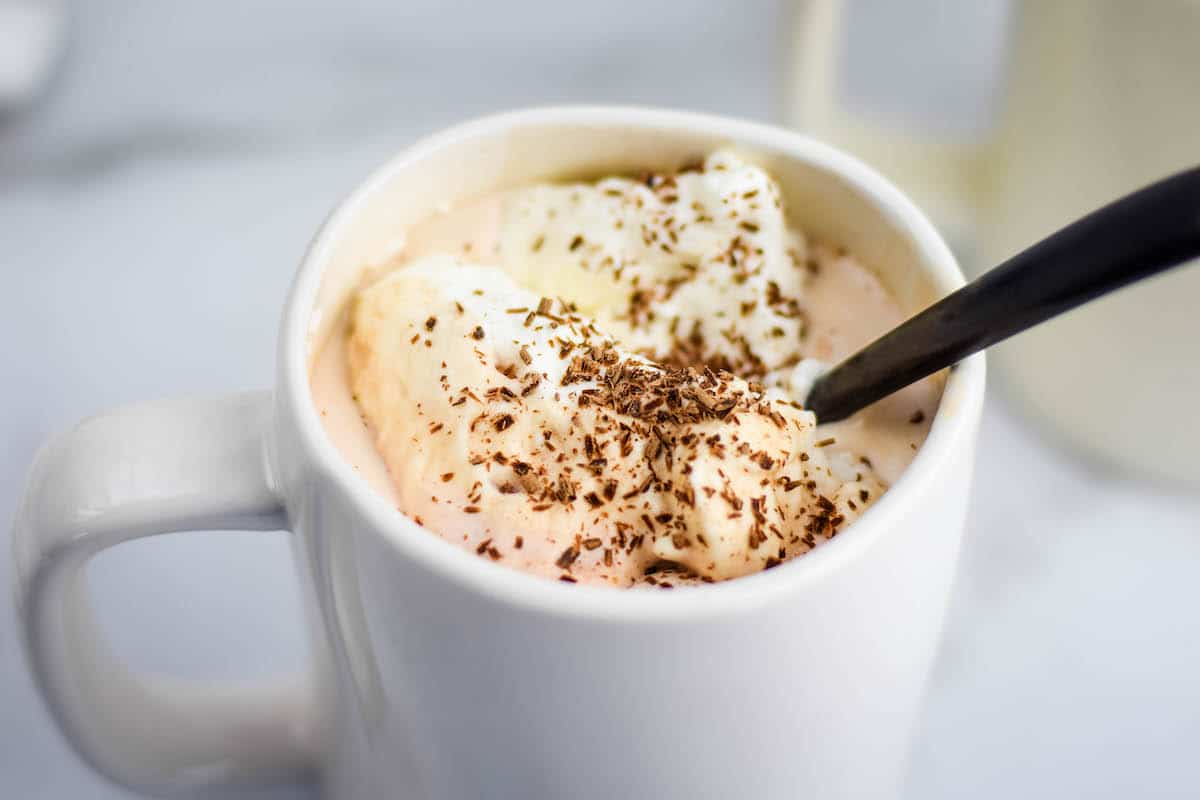 Ingredients needed
This recipe only takes 3 simple ingredients to make and you may already have them at home!
Here's what you'll need:
heavy whipping cream
pure grade a maple syrup
vanilla extract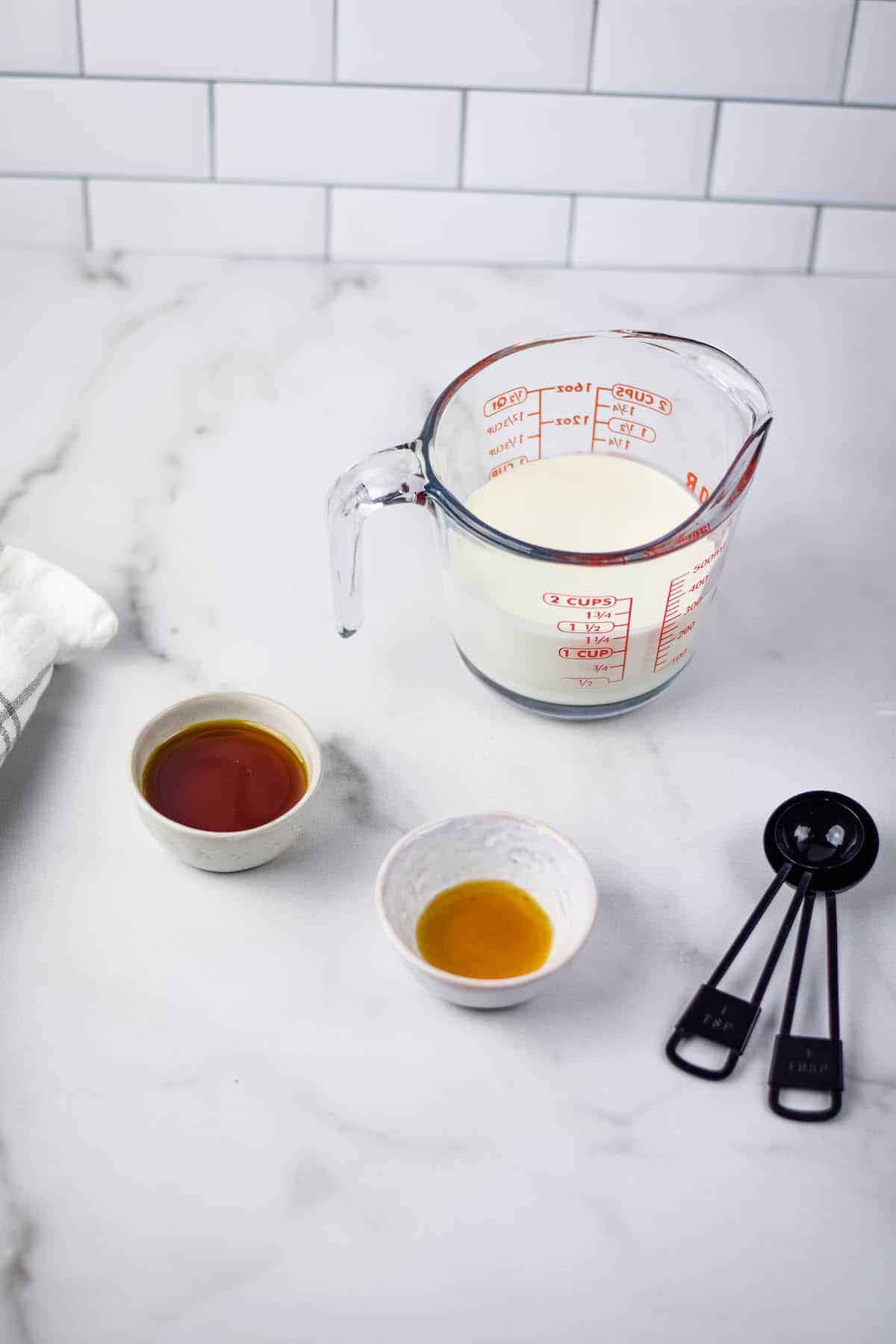 Instructions
Add the heavy cream, pure vanilla extract, and real maple syrup to the bowl of the stand mixer and use the whisk attachment. Alternatively you can use a large bowl and hand electric mixer.
Beat the ingredients in the stand mixer on medium speed until it starts to become foamy, for about 1 minute.
Then increase to high speed and whip until soft peaks form, 1-2 minutes. Be sure to stop when you see stiff peaks form. Over mixing it can ruin the texture.
Be careful not to over mix because it will create a flat and milky texture – definitely not what you want!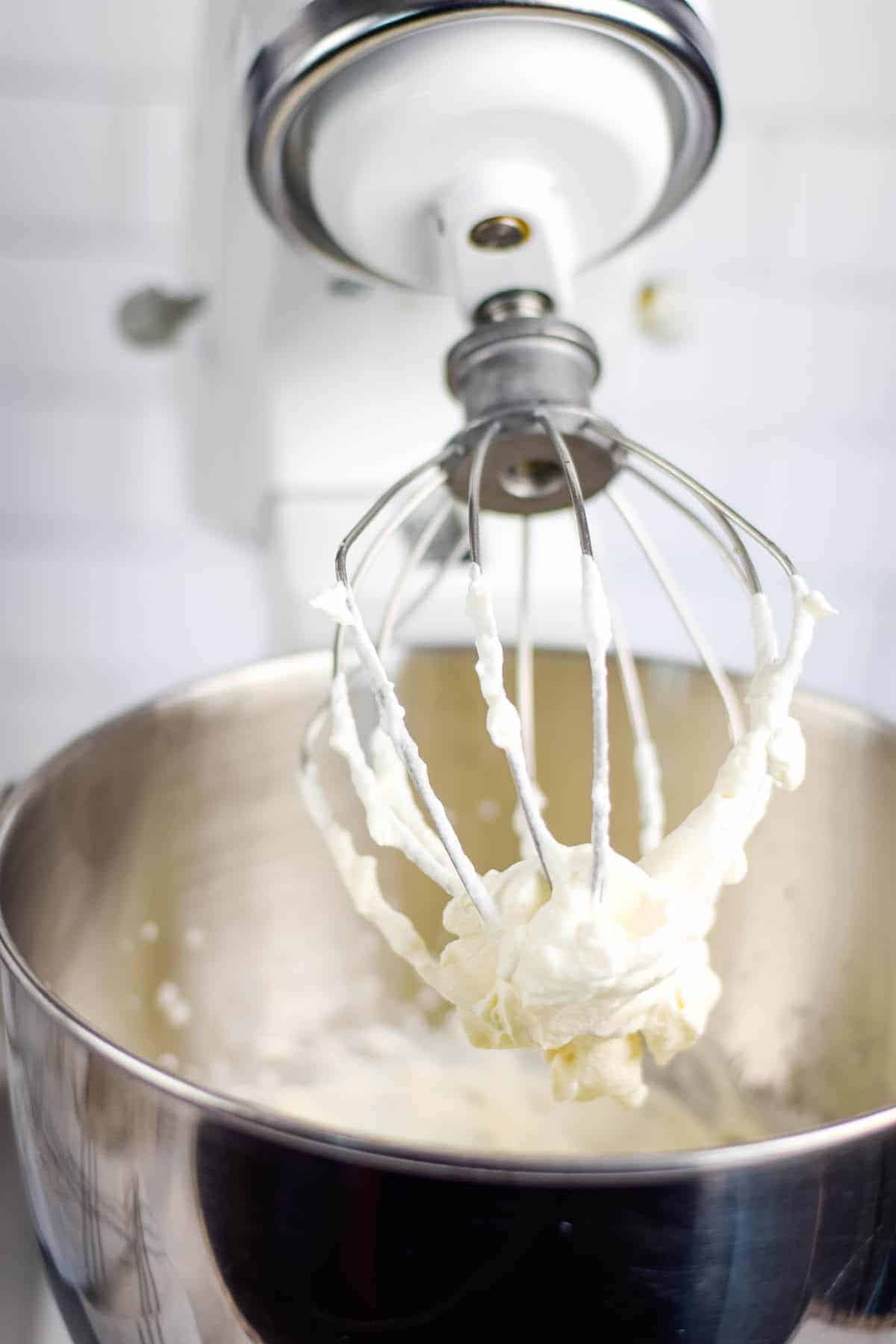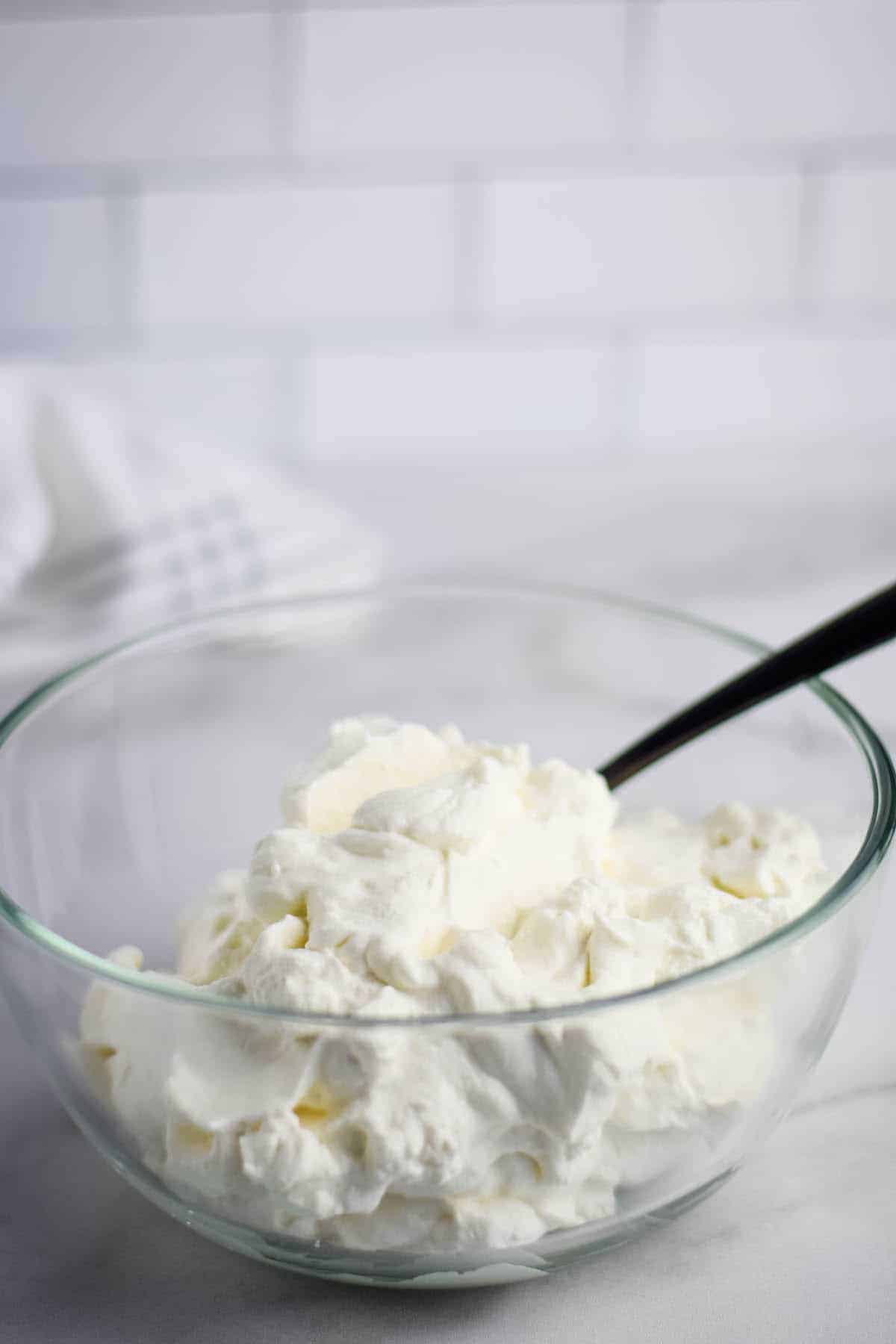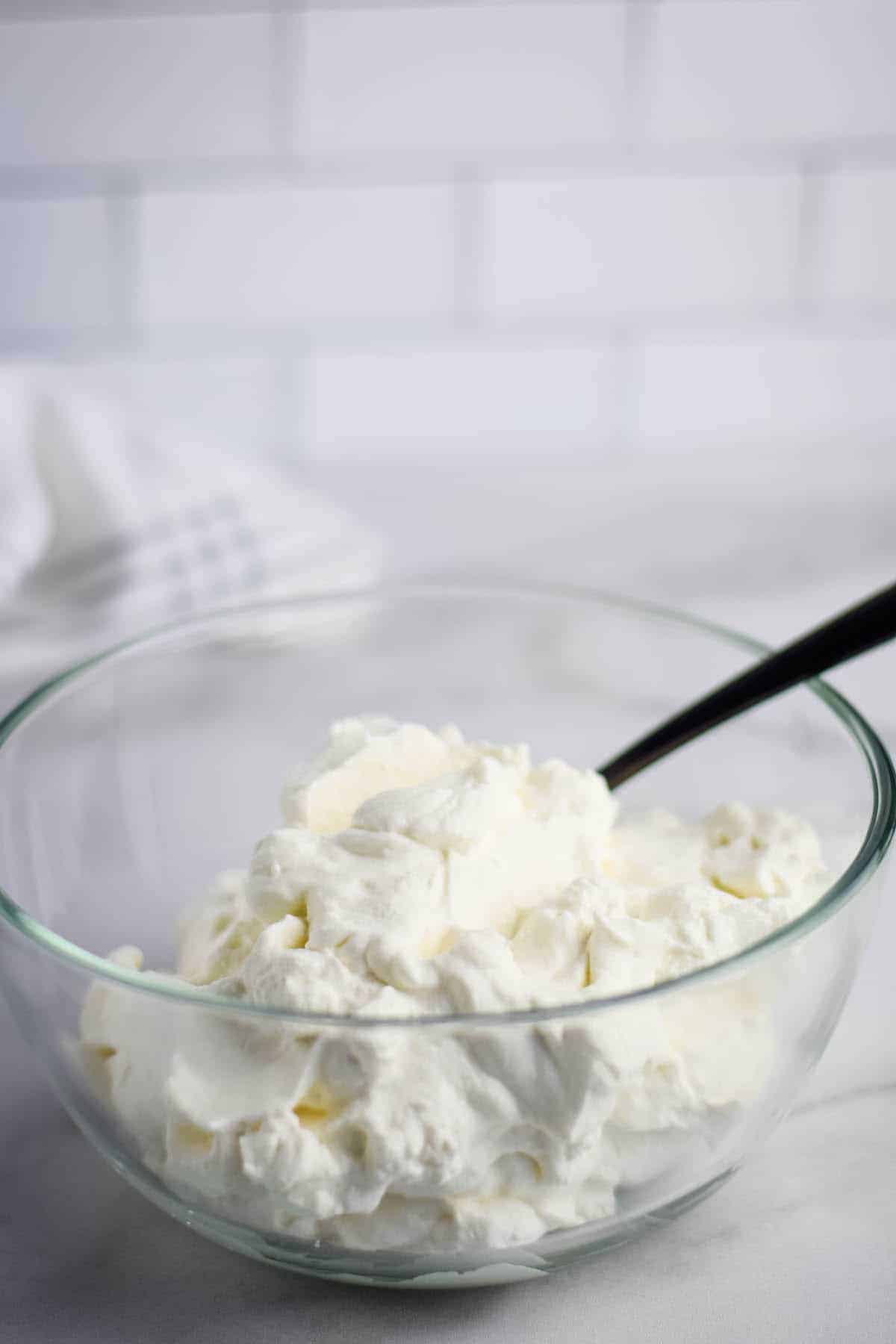 How to store this recipe:
When making this homemade whipped cream recipe, you'll want to make sure to serve it right away. It can be made a little bit ahead of time but storing it for too long will result in separation and lacking in texture.
For best results, store in the refrigerator in an airtight glass container for up to 24 hours.
What to pair homemade maple whipped cream
There are so many delicious ways to enjoy homemade whipped cream! Here are just a few of our favorite things to pair together.
as a whipped frosting for cupcakes
for an ice cream sundae
on top of pudding – especially chocolate!
with fresh berries and other fruit
with drinks like homemade lattes or healthy hot cocoa
FAQ
Can I use another sweetener like honey?
Yes, absolutely. I would recommend natural sweeteners vs processed sugars. To use a sweetener like honey, just use the same measurements as the maple syrup in this recipe. To use something like stevia drops, add a few drops at a time until desired sweetness is reached.
How long will this whipped cream stay fluffy?
It will hold its shape for up to 24 hours if stored properly in the refrigerator. It is best served immediately and begins to lose texture, the longer it is stored.
want more recipes?
Check out the recipe index where you can discover more homemade recipes from my homestead!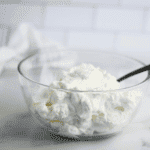 Homemade Maple Whipped Cream
Maple whipped cream is a natural and healthy replacement for store-bought varieties. Here we'll show you how to make your own.
Instructions
Add the heavy cream, vanilla extract, and maple syrup to the bowl of a stand mixer. Or to a large bowl if using a hand mixer.

Use the whisk attachment of the stand mixer and whisk together on medium low speed for about 1 minute or until the cream begins to become foamy.

Increase the speed to high and mix for about 1-2 minutes more until stiff peaks have formed.

This recipe comes together quickly! Be sure to keep an eye on the mixture as the peaks begin to form. And avoid over beating! Make sure to stop as soon as the peaks are stiff.
Notes
Do not over mix! The texture will become flat and milky which is not what you want. Once you see the peaks beginning to form, be sure to stop mixing. Serve this whipped cream immediately for best results. It can be stored in the refrigerator for up to 24 hours in an airtight container. But it does begin to lose its texture and consistency if stored for too long.
Nutrition
Calories: 157kcalCarbohydrates: 6gProtein: 1gFat: 15gSaturated Fat: 9gPolyunsaturated Fat: 1gMonounsaturated Fat: 4gCholesterol: 54mgSodium: 16mgPotassium: 46mgSugar: 4gVitamin A: 583IUVitamin C: 1mgCalcium: 33mgIron: 1mg
Tried this recipe?Give it a 5 star rating and pin it to your Pinterest account!