Are you looking for a simple DIY natural laundry detergent made without using bar soap? It is super simple, free of toxic chemicals, and only requires four ingredients!
And this one will save money too. At one time I figured it to cost about .06 per load.
In the past, I've tried many different versions of homemade laundry recipes. Most of them required the use of a bar of soap, something like Dr Bronner or similar grated soap.
Which may work perfectly fine for most folks who use that type of laundry soap. However, when I would use it, I would find issues with build up on my laundry.
It didn't matter which recipe I would follow or what type of laundry bar soap I used. And this was especially problematic for my cloth diapers.
Plus, most of the bar soaps contain ingredients that I didn't want to use in my home. That's when I scrapped the idea and bought an all natural laundry detergent. But I really prefer to make something myself.
Fast forward to present days. I've wanted to find a way to make a detergent that would not only clean our dirty farm clothes. But is also totally natural.
Not into making your own detergent? Try this all natural detergent from Branch Basics.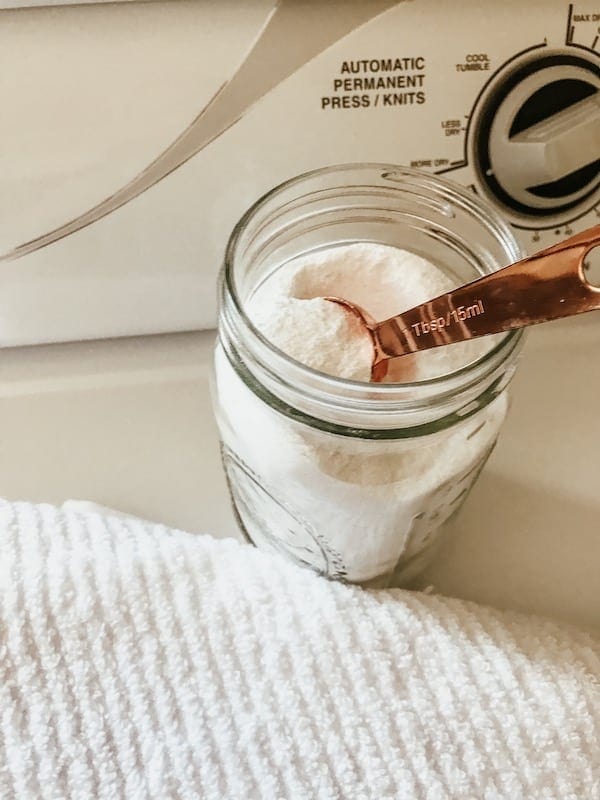 DIY natural laundry detergent
Not only is it more frugal and helps to eliminate waste. To me, zero waste is all about making small changes over time.
But it is also better for our overall health. And around here, we want to avoid as many harsh chemicals as we possibly can.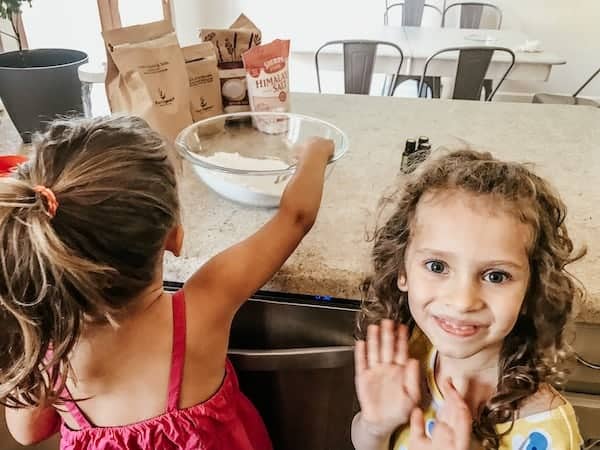 More Natural Cleaning Posts:
Getting Started with Natural Cleaning Products
10 Homemade Cleaning Products with Essential Oils
How to Use Lemon Essential Oil Around the Home
What Ingredients to Avoid in a Laundry Detergent:
Fragrances – Synthetic fragrances contain phthalates, parabens, allergens, or other irritants.
Bleach (chlorine) – This is known to be an irritant for many.
Dyes – They can be contaminated with heavy metals like cadmium, arsenic, and lead. Dyes really serve no purpose in the effectiveness of the cleaning product. They are used to make a product more visually appealing.
Phosphates — This is main cleaning agent used in most detergents and other cleaning products. They are known to cause skin irritation among other things.
More information and toxic laundry ingredients are listed in this post.
One important piece of advice that I always share, always do your own research! Find the best options for you and your family. Here is a great place to start.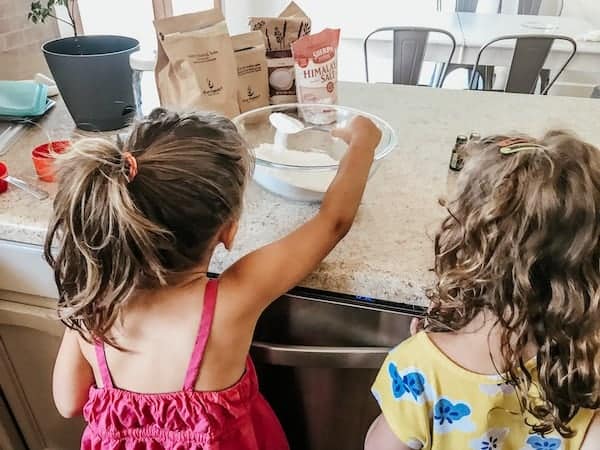 Simple ingredients for this DIY natural laundry detergent
With only 5 simple and all natural ingredients, this homemade laundry powder is a breeze to make. And it makes a great science, math, and sensory activity for little ones!
I've tested this detergent on our dirty farm clothes, on kid messes, stinky laundry, white towels and sheets, hot water and cold water washes.
I have a heavy duty Speed Queen with agitator top load machine. Because farm clothes & kids!
So, I have NOT tested this in a front loader or high efficiency machine. But it is low sudsing so I don't imagine it being a problem.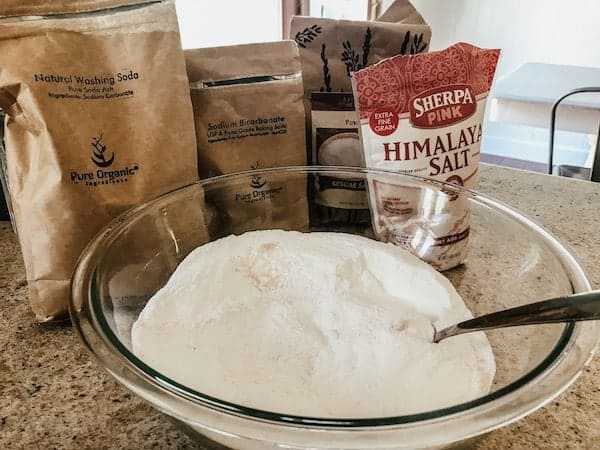 Ingredients used:
You can omit the essential oils if you prefer. However, I think that certain oils contain a nice cleaning boost. And some like lemon essential oil, help brighten laundry.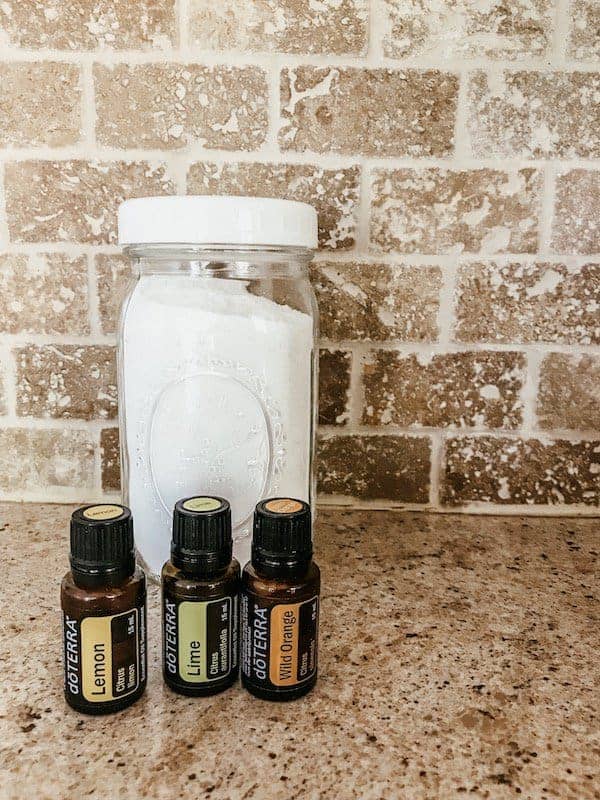 For this batch, I used a combination of my favorite citrus oils for an awesome fresh scent.
And eucalyptus and Mint are more favorites that make great laundry scent options.
This recipe is not overly complicated. And the kids can help, too!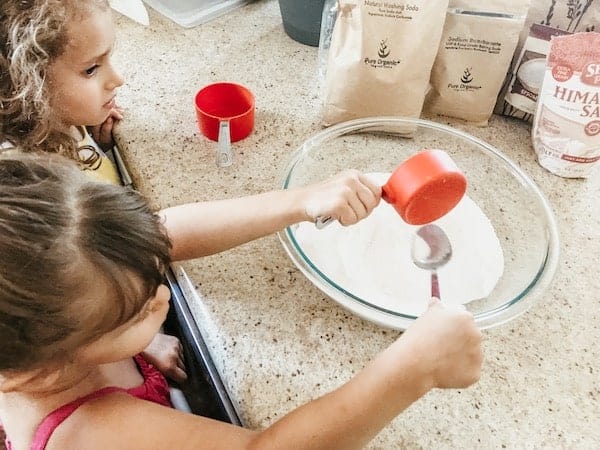 Mix all ingredients and really work to incorporate the essential oils completely.
Store in a mason jar or glass jar of choice with a lid.
To use this laundry detergent:
I measure out about 1 heaping tablespoon of this laundry detergent per regular load of laundry. For heavily soiled or larger loads, I will use another scoop of detergent.
No extra boosters have been necessary over here. That's all there is to it! Easy, peasy!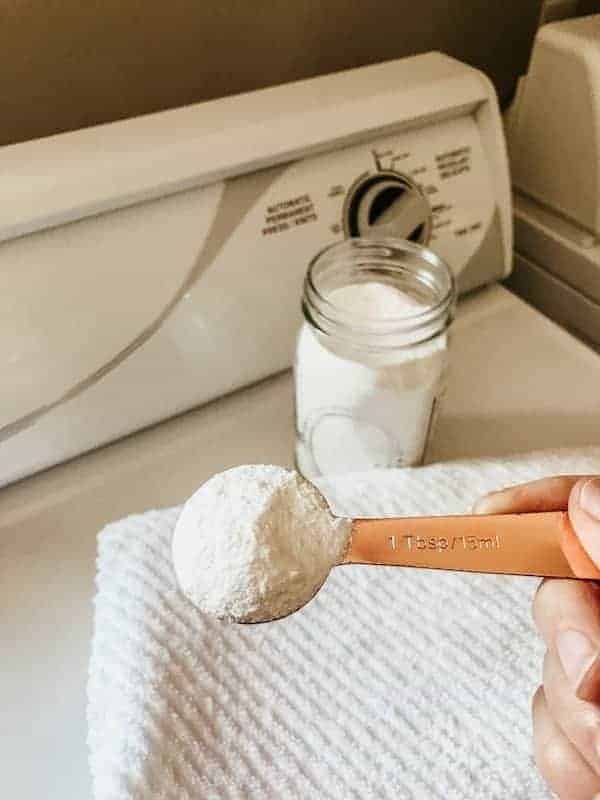 Frequently Asked Questions (FAQ)
As this post has grown in popularity, I've received many questions about this detergent. I hope to cover most of them for you here.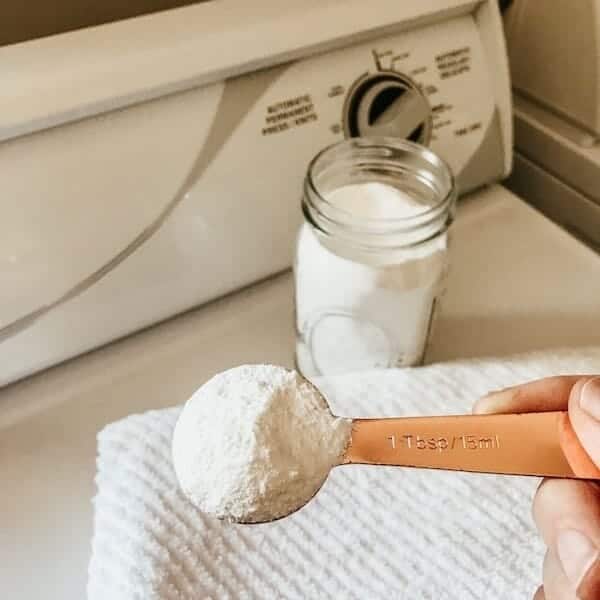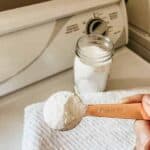 Print
DIY Natural Laundry Detergent
A simple DIY natural laundry detergent made without using bar soap! It is super simple, free of toxic chemicals, and only requires four ingredients!
Equipment
Measuring cups

Large glass bowl

Quart Mason jar with lid
Materials
½

cup

Epsom Salt

1 ½

cups

Sodium Bicarbonate

1 ½

cups

Washing Soda

¼

cup

Sea Salt

20-25

drops Essential Oils

optional
Instructions
This recipe is not overly complicated. And the kids can help, too! To make, measure out the ingredients.

Mix well and be sure to incorporate all ingredients, including essential oils, if using.

Store in a Mason jar or other glass jar of choice with a lid.

Use approximately 1-2 tablespoons per load.
Notes
Essential oils are optional. However, I believe that certain ones like citrus give this laundry detergent an extra cleaning boost.
And it really helps to keep my whites nice and bright!
More DIY Posts: