Are you looking for a simple DIY natural laundry detergent made without using bar soap? It is super simple, free of toxic chemicals, and only requires four ingredients!
Laundry detergents usually contain several ingredients that you do not want in the home are super harmful if a small child accidentally ingested them! Learn how to make an all-natural, environmentally friendly laundry detergent that is easy to use.
And this homemade detergent will save money too. At one time I figured it to cost about .06 per load.
Of course we know that prices always fluctuate, so it can vary. But it is definitely still much more budget friendly than most alternatives!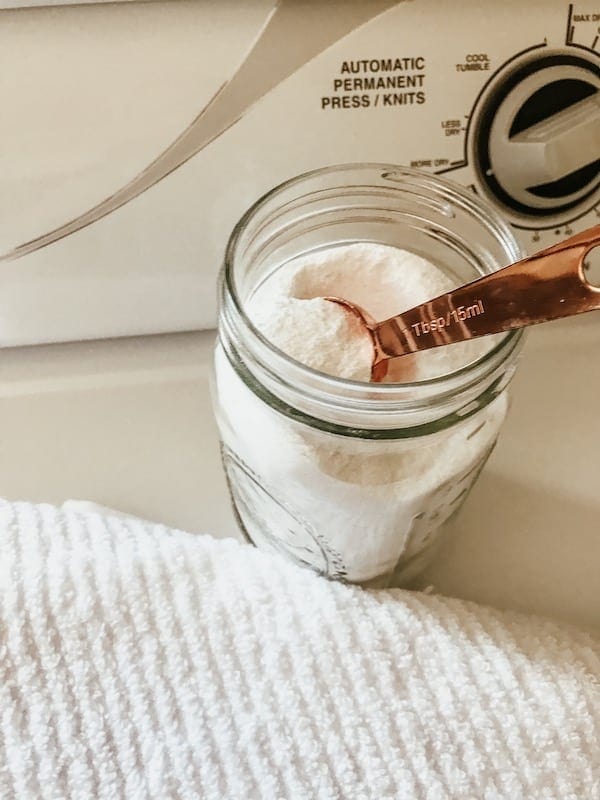 Why make your own laundry detergent?
When I began my natural living journey, cleaning supplies were the first thing that I began to replace. I've made my own and some I found great natural alternatives for too.
In the past, I've tried many different versions of homemade laundry soap recipes. Most of them required the use of a bar of soap, something like Dr Bronner castile soap or similar grated soap.
Which may work perfectly fine for most folks who use that type of laundry soap. However, when I would use it, I would find issues with soap residue and build up on my laundry.
It didn't matter which recipe I would follow or what type of laundry bar soap I used. And this was especially problematic for my cloth diapers.
Plus, most of the bar soaps contain ingredients that I didn't want to use in my home. That's when I scrapped the idea and bought an all natural laundry detergent. But I really prefer to make something myself.
Fast forward to present days. I've wanted to find a way to make a detergent that would not only clean our dirty farm clothes. But is also totally natural.
And since this diy laundry detergent doesn't use bar soap, it also doesn't require fancy equipment like a cheese grater or food processor to mix up. Let's say "yay" for no more grating!
What Ingredients Are Safe For Your Family?
First let's start with the hidden toxins that are in the laundry room. Many laundry products contain VOCs (volatile organic compounds).
Why is this bad? According to the EPA, they can lead to numerous shorter term health effects like headaches, asthma, eye irritation and more. But there are also many longer term effects that we can easily avoid by making good natural changes. (source)
After taking some time away from toxic ingredients and walking down the laundry aisle at the local grocery store. You'll immediately notice the toxic fumes and may even have a reaction to it.
The ingredients in this recipe are simple (only 4) and they aren't hazardous to health! This detergent recipe is free of borax and bar soap too!
But not only is it safe, it really works to remove dirt and stains.
What Ingredients to Avoid in a Laundry Detergent:
Fragrances – Synthetic fragrances contain phthalates, parabens, allergens, or other irritants.
Bleach (chlorine) – This is known to be an irritant for many.
Dyes – They can be contaminated with heavy metals like cadmium, arsenic, and lead. Dyes really serve no purpose in the effectiveness of the cleaning product. They are used to make a product more visually appealing.
Phosphates — This is main cleaning agent used in most detergents and other cleaning products. They are known to cause skin irritation among other things.
And these are just a few bad ingredients!
Be careful with so called "natural" fragrances. They still contain VOCs and many of them labeled with natural or even organic still contain as many hazardous chemicals as conventional products with fragrance.
The problem is these brands do not have to label these "fragrance" ingredients because they are "trade secrets" and this is problematic to health.
More information and toxic laundry ingredients are listed in this post.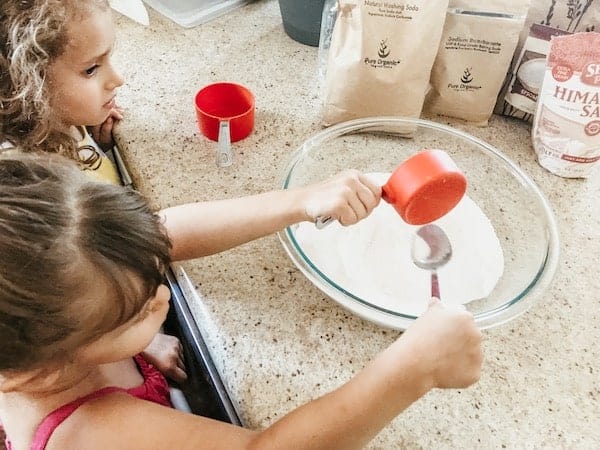 This recipe is non toxic and safe for the children to help create!
💡 Not sure where to start with natural living?
One important piece of advice that I always share when beginning. a natural living lifestyle, always do your own research! Find the best options for you and your family. And I know that this can be challenging when you don't know where to look. Here is a great place to start.
There is a lot of valuable resources on the ewg database for replacing toxic household cleaners!
DIY natural laundry detergent
Not only is it more frugal and helps to eliminate waste. To me, zero waste is all about making small changes over time.
But it is also better for our overall health. And around here, we want to avoid as many harsh chemicals as we possibly can. So that is why we tested natural options and made our own homemade laundry detergent.
More Natural Cleaning Posts:
Getting Started with Natural Cleaning Products
Naturally Cleaning the Air in the Home
10 Homemade Cleaning Products with Essential Oils
How to Use Lemon Essential Oil Around the Home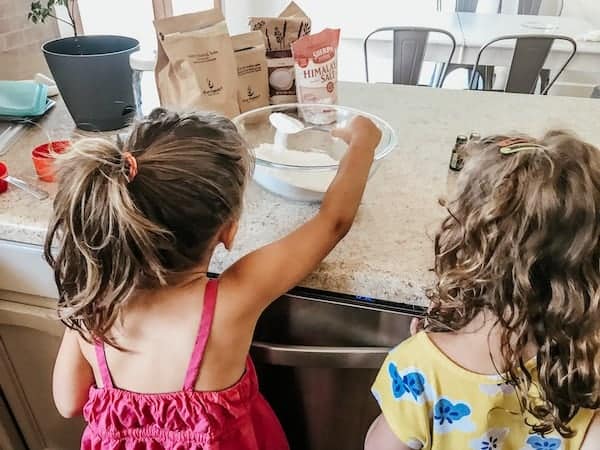 Simple ingredients for this DIY natural laundry detergent
With only 5 simple and all natural ingredients, this homemade laundry powder is a breeze to make. And it makes a great science, math, and sensory activity for little ones!
I've tested this detergent on our dirty farm clothes, on kid messes, stinky laundry, white towels and sheets, hot water and cold water washes.
I have a heavy duty Speed Queen with agitator top load machine. Because farm clothes & kids!
So, I have NOT tested this in a front load washer or high efficiency washing machines (he washer). But it is low sudsing so I don't imagine it being a problem.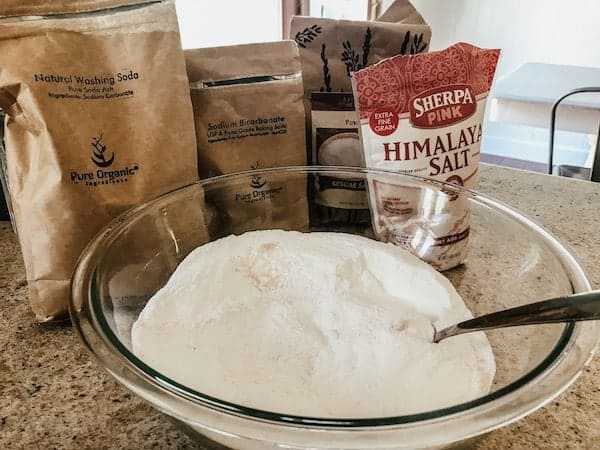 Ingredients used:
You can omit the essential oils if you prefer. However, I think that certain oils contain a nice cleaning boost. And some like lemon essential oil, help brighten laundry. Lavender essential oil also gives it a nice calming scent.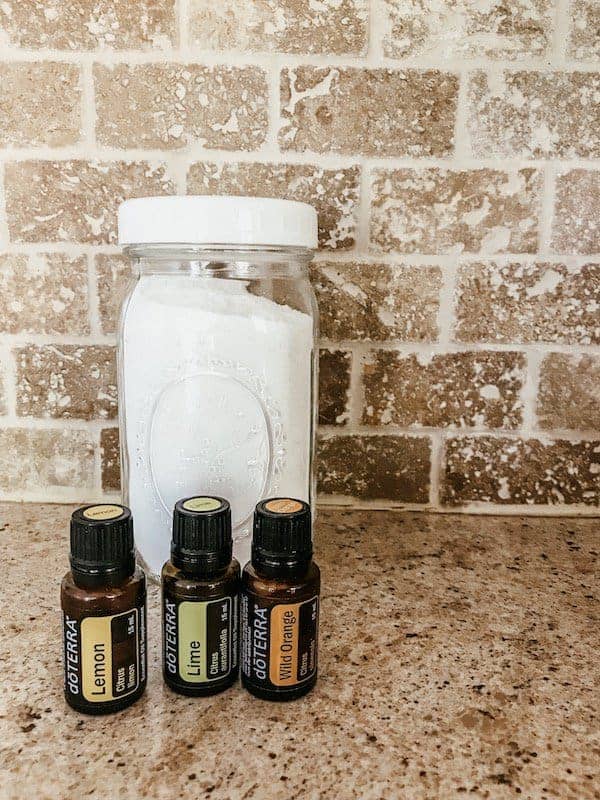 For this batch, I used a combination of my favorite citrus oils for an awesome fresh scent.
And eucalyptus and Mint are more favorites that make great laundry scent options.
This recipe is not overly complicated. And the kids can help, too!
Mix all ingredients and really work to incorporate the essential oils completely.
Store in a mason jar or glass jar of choice with a lid.
To use this laundry detergent:
I measure out about 1 heaping tablespoon of this laundry detergent per regular load of laundry. For heavily soiled or larger loads, I will use another scoop of detergent.
No extra boosters have been necessary over here. That's all there is to it! Easy, peasy!
Looking for a natural option to replace toxic fabric softeners? Try adding a little bit of white vinegar to the rinse cycle of your laundry.
Wool dryer balls also make an excellent natural option to replace toxic dryer sheets for use in the dryer.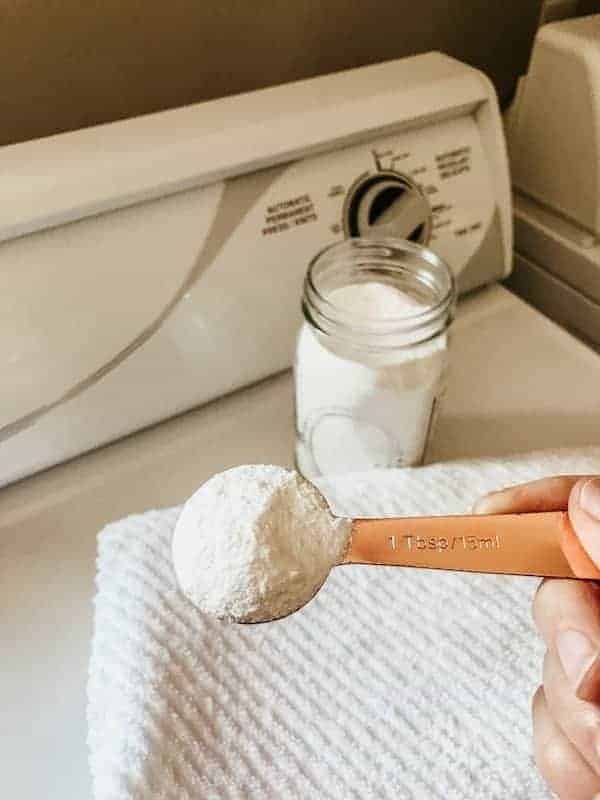 If you're on a mission to ditch the toxins in the home, you'll be surprised to learn that even our sheets are full of unwanted ingredients! I've been using American Blossom Linens now and they are not only incredibly soft, but have improved our sleep too.
A real game changer!
Frequently Asked Questions (FAQ)
As this post has grown in popularity, I've received many questions about this detergent. I hope to cover most of them for you here.
Will these ingredients make suds and bubbles?
It doesn't…it is comparable to a natural detergent like Molly's Suds or something similar.
What is the purpose of the salts?
The salt helps keep the colors from fading and helps lift stains. The epsom salt helps to soften the clothing.
What can be a substituted for sea salt? Would rock salt be fine?
They have different properties so the outcome would not be the same.
Do you know if it's safe for septic tanks?
Yes, there isn't anything harmful to a septic system…which is what we also have. The ingredients are similar to a natural product I was using before making my own.
Does this work ok for cold water washes?
Yes, this works in cold and warm water. I usually use cold water for most of our laundry too.
Can I use Arm and Hammer baking soda instead of the sodium bicarbonate you recommended?
Yes, you can use any baking soda. The one I recommended is aluminum free though…so it is a great option if that's something you would like to avoid.
Can you use Oxy Clean instead of Sodium Bicarbonate?
You can use Oxy Clean as a booster to your laundry detergent but not as a replacement for the sodium bicarbonate. Those are two different things with different purposes.
How many loads will it make?
Honestly, I have never counted! It makes about 3 3/4 cups of dry powder. And I will use 1 tablespoon per regular load of laundry. And then 2-3 tablespoons for my husband's dirty farm jeans or heavily soiled clothing.
where would you like to start?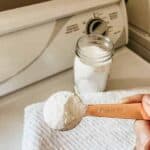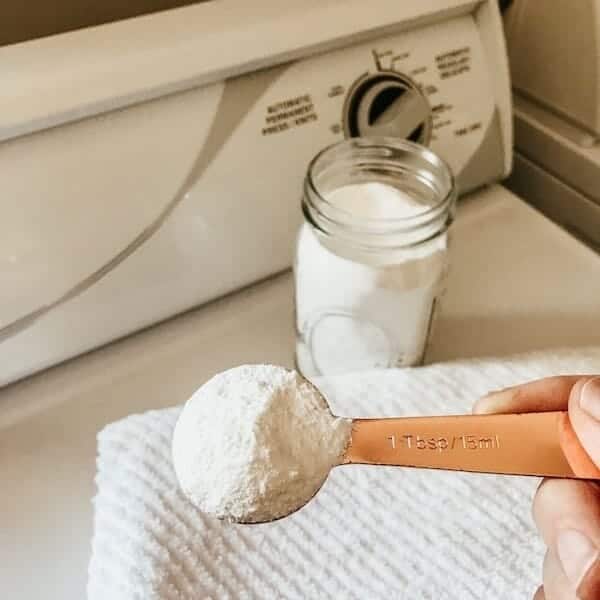 DIY Natural Laundry Detergent
A simple DIY natural laundry detergent made without using bar soap! It is super simple, free of toxic chemicals, and only requires four ingredients!
Ingredients
1/2 cup Epsom Salt
1 1/2 cups Sodium Bicarbonate (baking soda)
1 1/2 cups Sodium Carbonate (washing soda)
1/4 cup sea salt
20-25 drops Essential Oils optional
Instructions
This recipe is not overly complicated. And the kids can help, too! To make, measure out the ingredients.

Mix well and be sure to incorporate all ingredients, including essential oils, if using.

Store in a Mason jar or other glass jar of choice with a lid.

Use approximately 1-2 tablespoons per load.
Notes
Essential oils are optional. However, I believe that certain ones like citrus give this laundry detergent an extra cleaning boost. And it really helps to keep my whites nice and bright!
Tried this recipe?Give it a 5 star rating and pin it to your Pinterest account!