This Giant Chocolate Chip Cookie is a perfectly delicious sweet treat for the family. It's sure to become an instant favorite comfort food. And it is simply baked in a 10" cast iron skillet.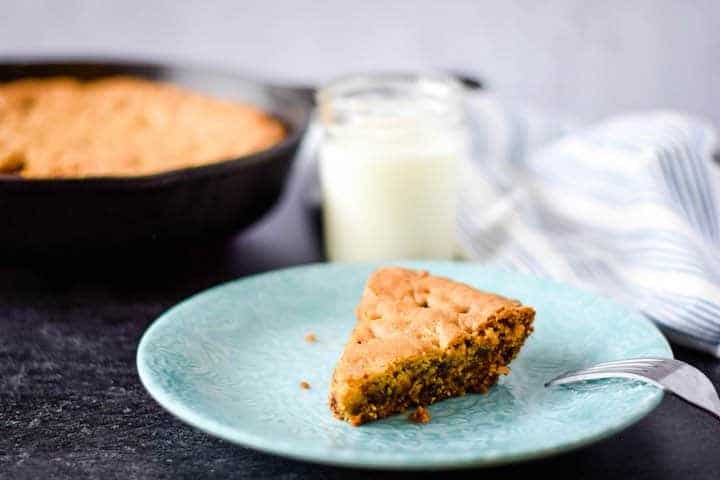 Disclosure: Boots & Hooves Homestead may earn a commission for purchases made after clicking links on this page. View our disclosure policy for details.
Giant Chocolate Chip Cookie Recipe
This giant chocolate chip cookie is the perfect combination of soft & sweetness.
Save the time of having to wait on multiple batches of cookies to come out of the oven. Set the timer and relax with a cup of afternoon tea.
Since discovering how to bake in my cast iron (it all started with cornbread), I am constantly searching for new ways of doing so.
This giant cookie is a family favorite and may even replace regular cookie baking around here. Because it's incredibly simple and it's super delicious.
It's a perfect occasional treat around here.
(This post has been updated from the original post date of November 2016)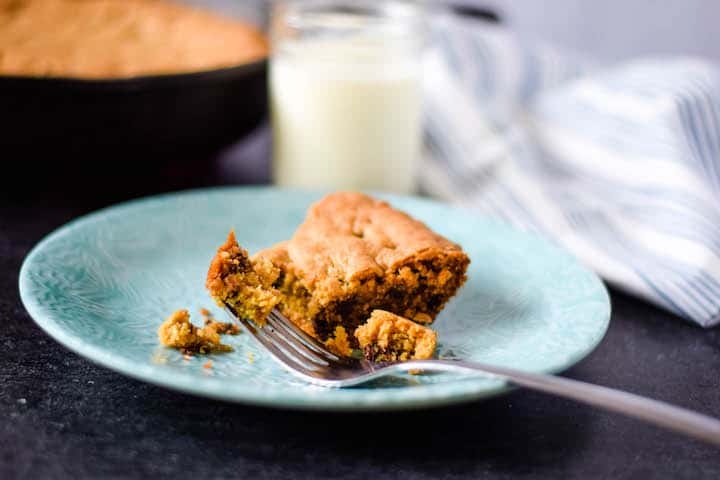 Cookie Recipe Variations
I like mixing half & half of chocolate chips and peanut butter chips in this cookie recipe.
But you can totally try various options.
Some more favorites include:
Chocolate Chunks
Chocolate Chips and Peanut Butter Chips
Mini Chocolate Chips
Chocolate Chips and Butterscotch Chips
White Chocolate Chips with Macadamia Nuts
Dried Cranberry and White Chocolate Chips
M&M's (like a monster cookie)
Toffee Chips
I don't really know of a bad combination yet. Share your favorite variations with me!
If you like chocolate chips, check out this delicious Cannoli Filling Dip Recipe
A Few Tips:
If your cast iron skillet is well seasoned, you shouldn't need to grease it. However I still use a little bit of coconut oil spray. Just in case.
When adding the cookie dough to the cast iron skillet, try to roll it out as evenly as you can.
I used a 10″ cast iron skillet, but you can use a larger or smaller one if that's all you have. Just be sure to adjust the baking time.
Be sure to let the cookie cool before cutting to prevent it from breaking apart.
More Dessert Recipes: