This Pomodoro Sauce Recipe is deliciously creamy and zesty. Made in under 20 minutes, you can have a homemade pasta sauce ready in the time it takes to cook the pasta. It is incredibly tasty and satisfying!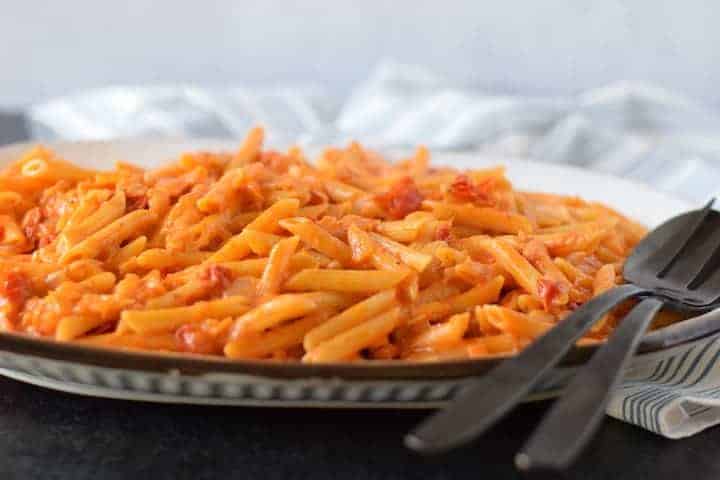 Skip the jarred pasta sauce! This pomodoro sauce recipe is simple to make. And it is so much better when homemade!
This version is one of my favorite easy to make pasta sauces. Cooked with real ingredients and made creamy with a bit of heavy cream and fresh shredded parmigiano cheese.
More Delicious Pasta Recipes: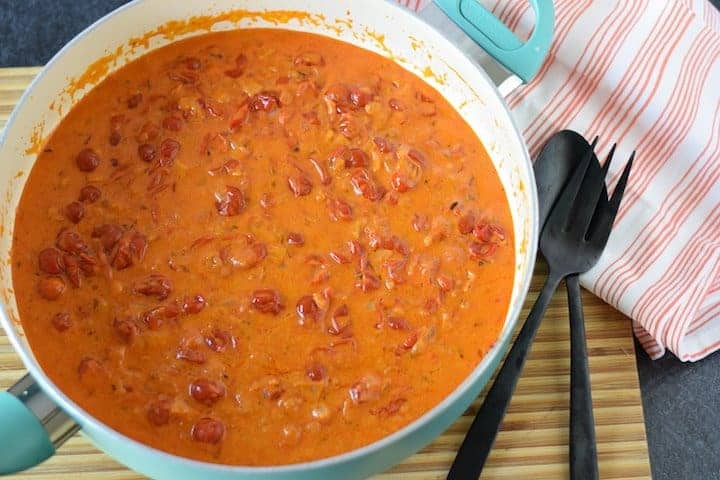 What is the Difference Between Pomodoro vs Marinara?
The main differences are in the texture of the sauce. A pomodoro sauce is usually thicker and a bit smoother.
And a marinara is thinner, a bit more runny, and chunkier.
The texture of this pomodoro sauce is creamy and smooth. Almost velvety. The tomatoes are cooked whole so there is a bit of a chunky element to the sauce.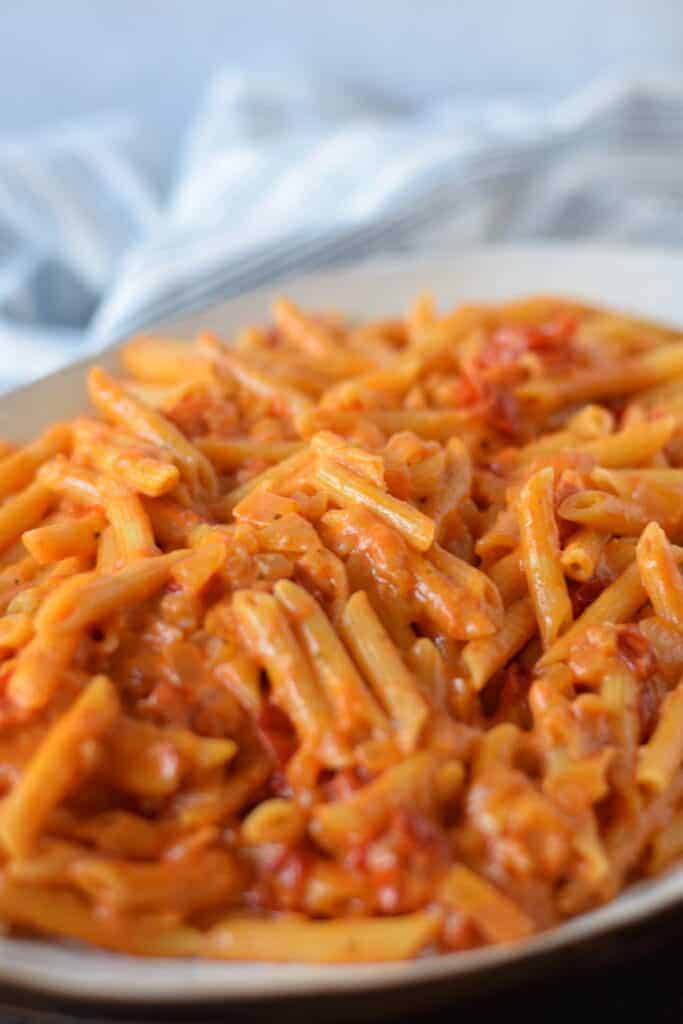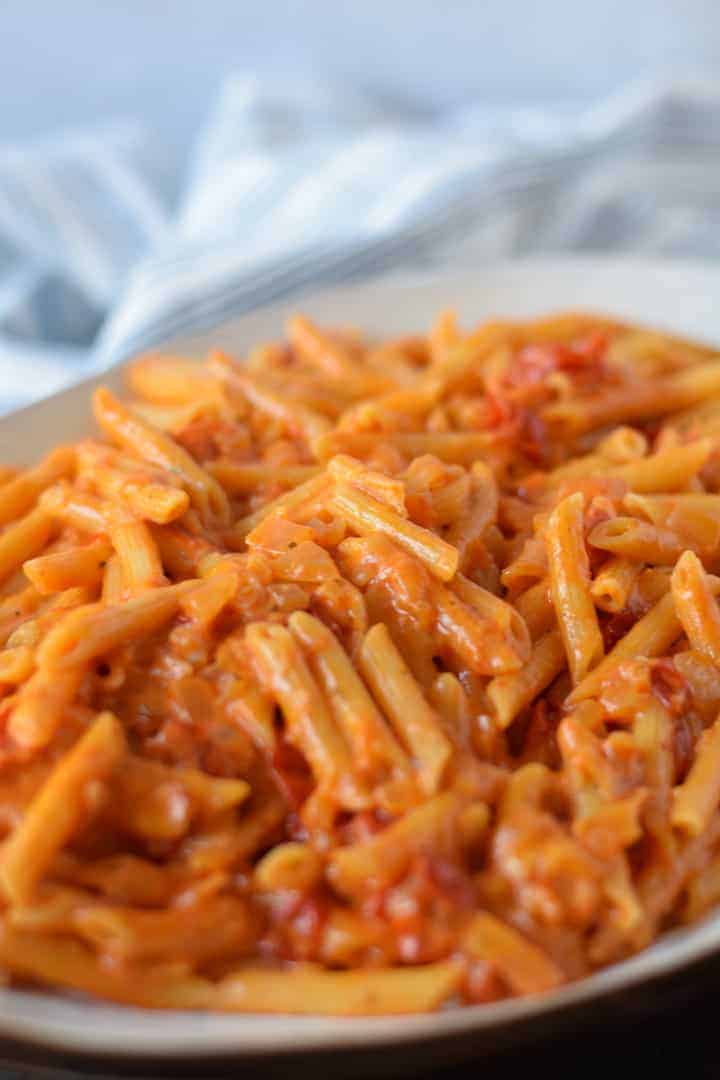 How to Make this Pomodoro Sauce Recipe – step by step
With a few simple ingredients, dinner can be on the table in about 20 minutes!
Start with sautéing the onion and garlic in heated olive oil. Cook until translucent.
Mix in the tomato paste.
Add the salt & Italian seasoning.
Add the fresh mini tomatoes (whole). Cook until soft.
Stir in the freshly grated parmigiano cheese & heavy cream.
Serve over your favorite pasta.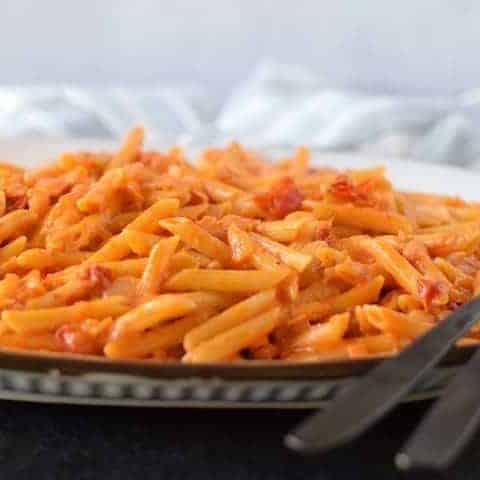 Creamy Pomodoro Sauce Recipe
This creamy and delicious pomodoro sauce is easy to make with a few simple and flavorful ingredients. Have dinner on the table in about 20 minutes!
Ingredients
1/2 cup quality extra virgin olive oil
2 cloves of garlic chopped
1 medium onion finely chopped
2 tablespoons tomato paste
1/2 teaspoon salt
1/2 teaspoon Primal Palate Amore seasoning see note
2 cups of mini heirloom tomatoes see note
1/2 cup fresh shredded parmigiano cheese
1/2 cup heavy cream
1 pound cooked & drained pasta
Instructions
In a large pot, bring pasta water to a boil and cook according to package instructions. Don't forget to salt the water.

In a large skillet, heat up the olive oil over medium heat. Chop up the garlic and onion, finely and evenly. Add to the olive oil and cook until soft and translucent

When the onions are cooked, stir in the tomato paste, salt, and Amore seasoning. Combine the tomato paste well. However, it is normal for it to look like it is separated from the oil.

Add the whole mini tomatoes and cook until they become soft. Once soft, use the back of a wooden spoon and gently press on the tomatoes.

Stir in the parmigiano cheese to slightly melt. Then stir in the heavy cream.

Allow all of the ingredients to simmer for about 5 minutes until slightly thickened.

Serve over cooked pasta. I used penne for this recipe but any works well.
Notes
Note about the seasoning. I love the flavor of the Primal Palate Italian seasoning "Amore". If you don't have access to it, replace it with your preferred Italian seasoning. For the tomatoes, I used a variety that is called "midget". They are slightly smaller than a cherry tomato. Cherry tomatoes will also work well for this sauce. It is preferred to use heirloom or organic tomatoes that are full of flavor.
Nutrition
Serving: 1cCalories: 283kcalCarbohydrates: 6gProtein: 4gFat: 28gSaturated Fat: 8gCholesterol: 33mgSodium: 381mgPotassium: 221mgFiber: 1gSugar: 3gVitamin A: 852IUVitamin C: 10mgCalcium: 127mgIron: 1mg
Tried this recipe?Give it a 5 star rating and pin it to your Pinterest account!