This super easy DIY Clay and Charcoal Soap Recipe is incredibly beneficial. It uses a melt and pour goat milk soap base. And it can easily be made vegan friendly by changing the soap to plant based soap.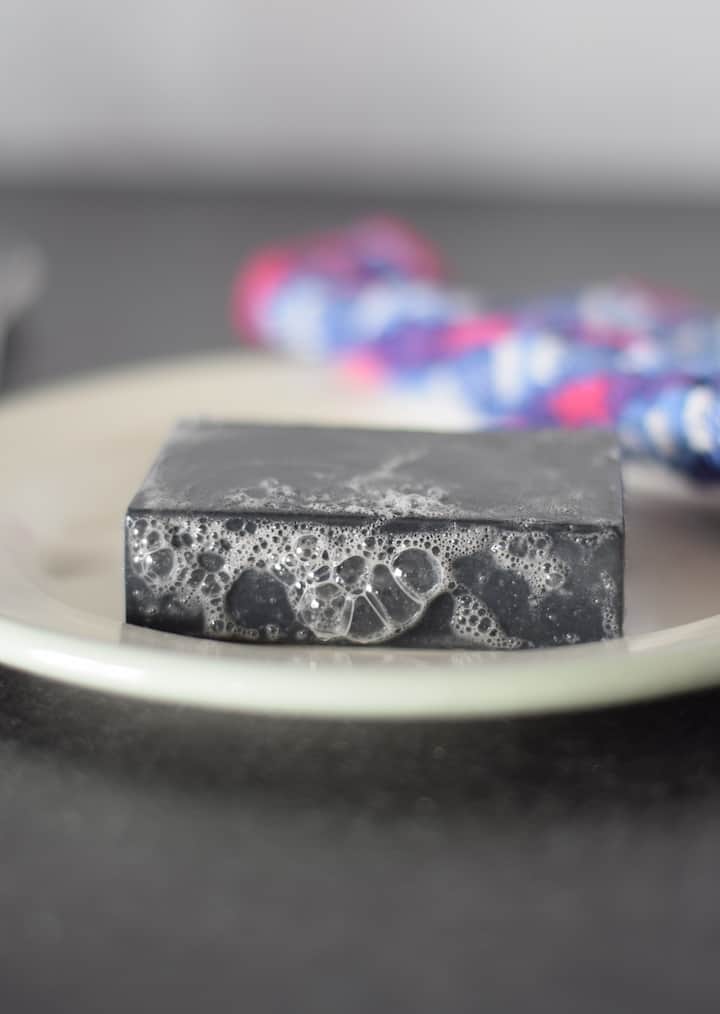 I like using a simple melt and pour soap base because it doesn't require me using lye. And I still have very young children running around.
The risk of them getting into it while I would make a from scratch soap just isn't worth it to me.
And using a melt and pour soap base is incredibly easy. Plus, it is super quick to make a bunch of soap bars. I make as many or little as I want to make at a time.
Related: Easy DIY Goat Milk Soap Recipe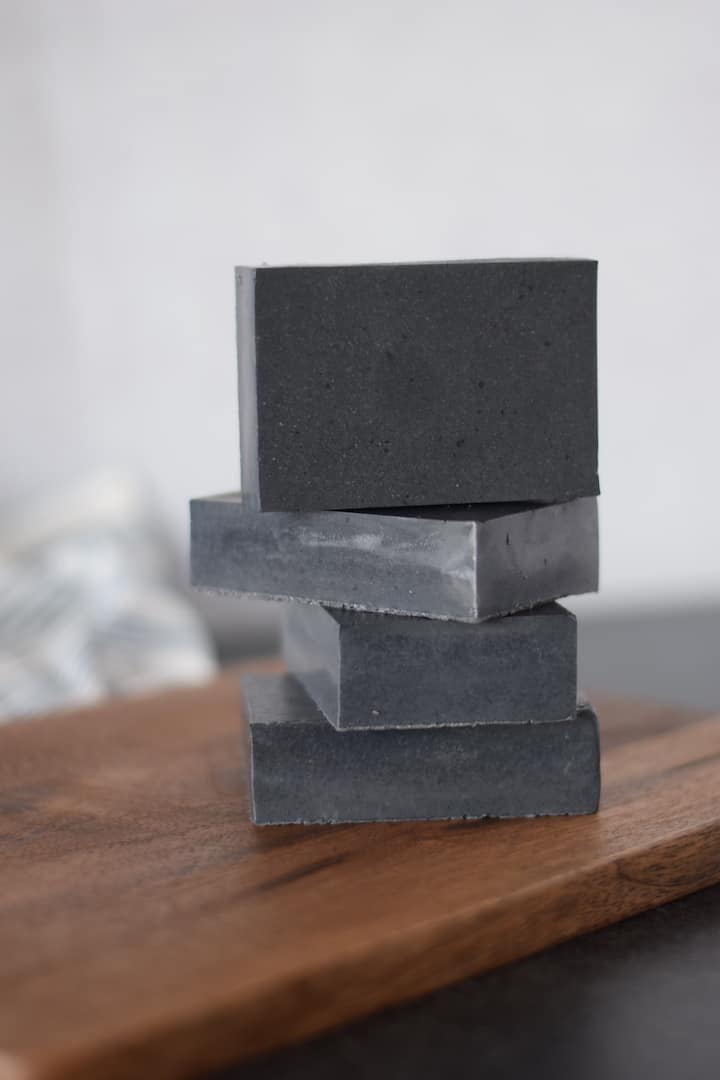 Supplies Needed for Clay & Charcoal Soap
Two pounds of melt and pour soap base. I used goat milk soap for this, but you can easily use another plant based option if you prefer.
bentonite clay
activated charcoal
Essential oils (optional) I used Frankincense, Copaiba, and Lavender
Double Boiler
Soap Molds
Check out: 20+ All Natural Homemade Soap Bar Recipes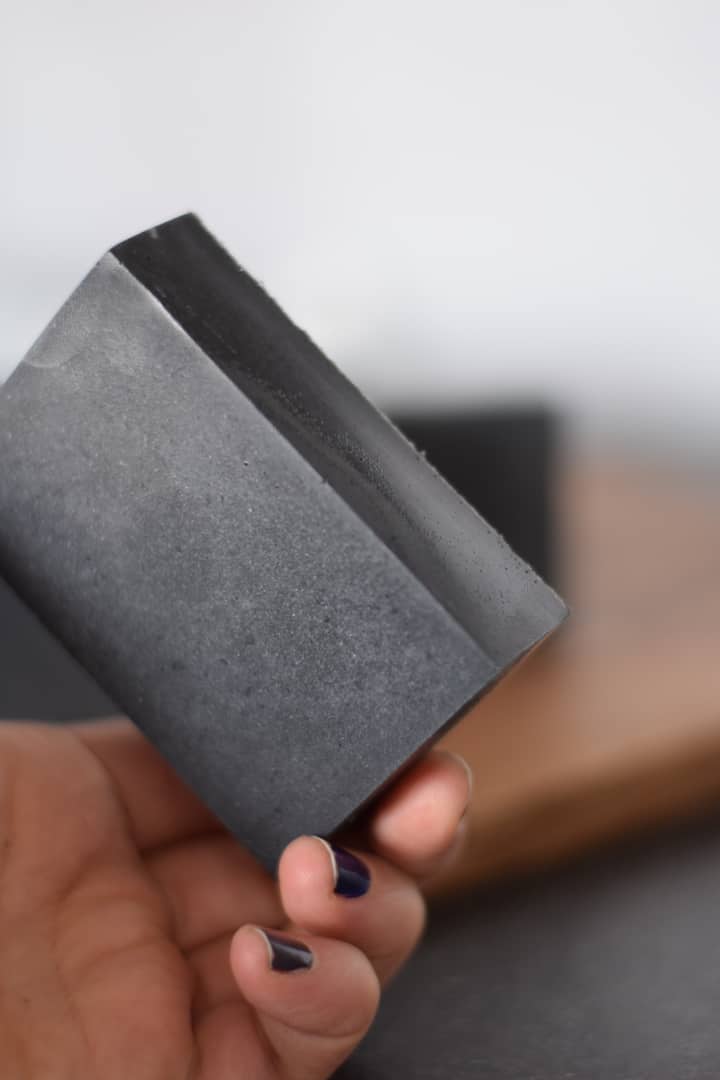 How to Make This Clay Charcoal Soap Recipe
This recipe is incredibly simple to make because it uses a melt & pour base. And begins by setting up a double boiler on the stove top and bringing the water to a low boil.
The next step is to cut up the soap base into pieces to help it melt faster and more evenly.
After the soap is melted, I mix in both the bentonite clay and the activated charcoal. It takes a little bit of time to mix it in.
I've used an immersion blender to help speed up the process. But it is really important to be super careful that you don't splash the hot liquid soap and burn yourself!
And you also don't want to blend it up to much to create a bunch of suds from the soap.
After those ingredients are combined, I stir in my essential oils. Then, super carefully ladle the melted soap base to the molds.
It takes a couple of hours to dry and set before they can be removed from the molds.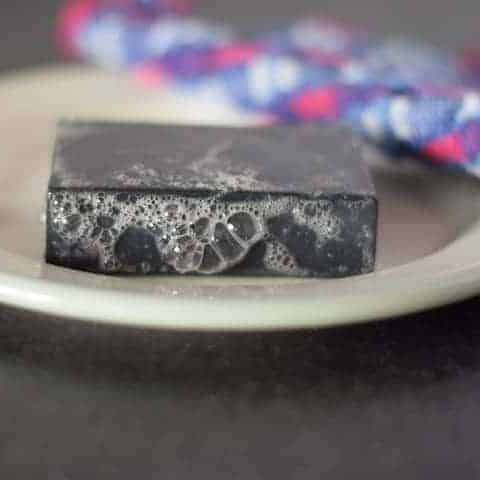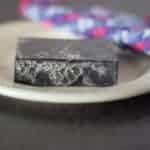 Clay & Charcoal Soap
This super easy DIY soap bar combines the benefits of bentonite clay with activated charcoal in a quick melt & pour goat milk soap base. And it can easily be converted to a vegan friendly soap by switching to a plant based soap base.
Ingredients
2

pounds

melt & pour goat milk soap

2

tablespoons

bentonite clay

2

tablespoons

activated charcoal

10

drops Frankincense essential oil

20

drops Lavender essential oil

10

drops copaiba essential oil
Instructions
Set up double boiler by filling a large pot with about an inch or two of water and bring to a low boil over medium/low heat. Place a large glass bowl over the top of the large pot so the bowl is resting above the pot.

Cut up the goat milk soap base into pieces and place inside of the glass bowl. Stir occasionally with a wooden spoon while it is melting.

Once the soap has melted completely, gently stir in the activated charcoal and the bentonite clay. Turn off the burner.

If using essential oils, add them to the melted soap.

Immediately and very carefully, ladle the liquid soap to soap molds. I use a soap bar mold that will make 4 oz bars. So this recipe makes 8 soap bars. (See below for recommended products.)