This simple homemade body butter recipe is easily made in under 20 minutes. It makes a nice treat to dry hands and feet. Or a perfect homemade gift idea for a loved one. With a few all natural ingredients and scented with essential oils.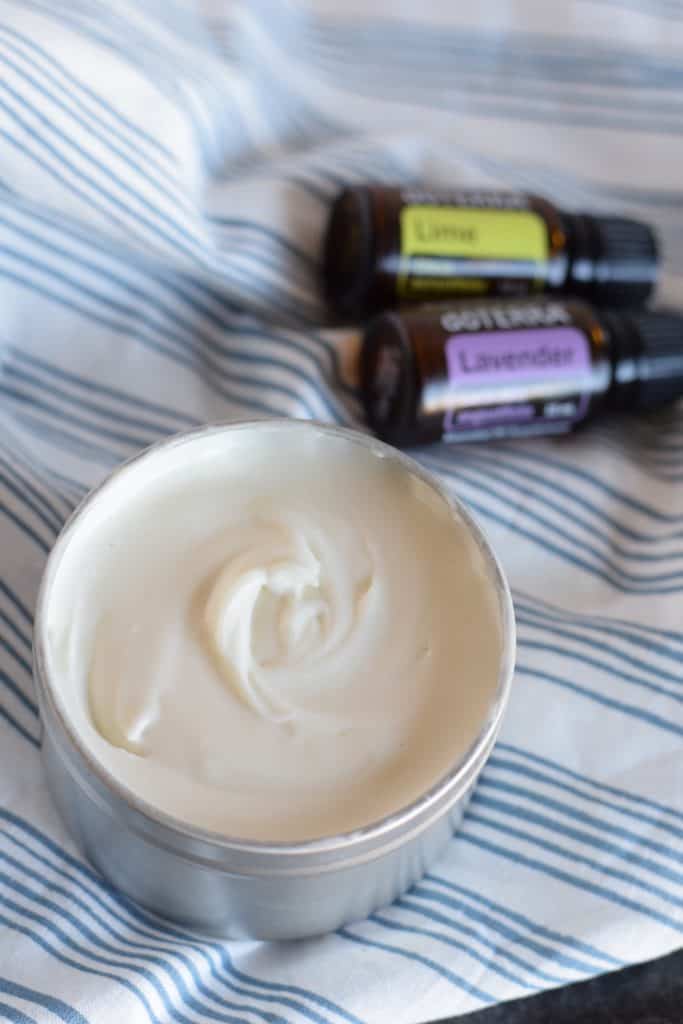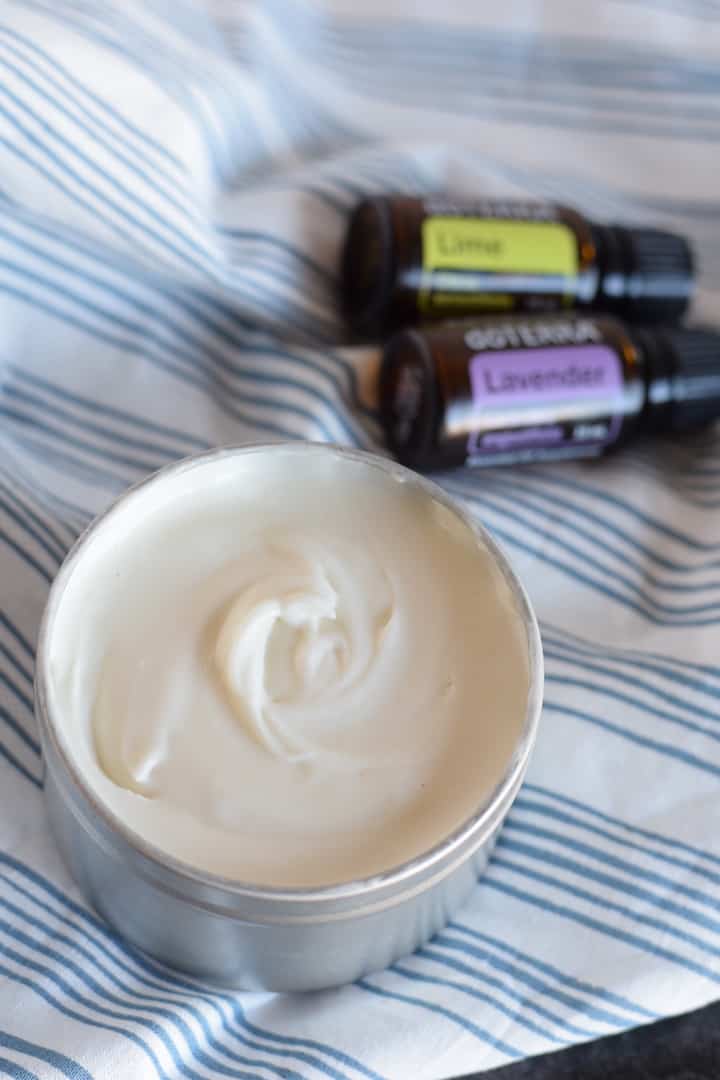 Blustery weather has been a nemesis. It wreaks havoc on life around the ranch and my skin suffers terribly. I'm sure many of you can relate.
I'm a huge fan of DIY natural beauty products. I've been making a variety of things around here for several years. One of my favorites is this all natural deodorant (that actually works!)
For this homemade body butter, I simple whip it up in my stand mixer. Typically when I make homemade beauty products, I use separate supplies and tools.
Especially when using beeswax or things that are difficult to clean. But this body butter cleans up easily. You can use separate tools if you prefer.
This recipe is a little more of an oil based and gives a much different consistency than traditional body butters or lotions. I prefer this method for my extra dry skin during gardening season or blustery winter weather.
If you prefer a less greasy texture, try to mix in a bit of arrowroot powder until your desired consistency is reached.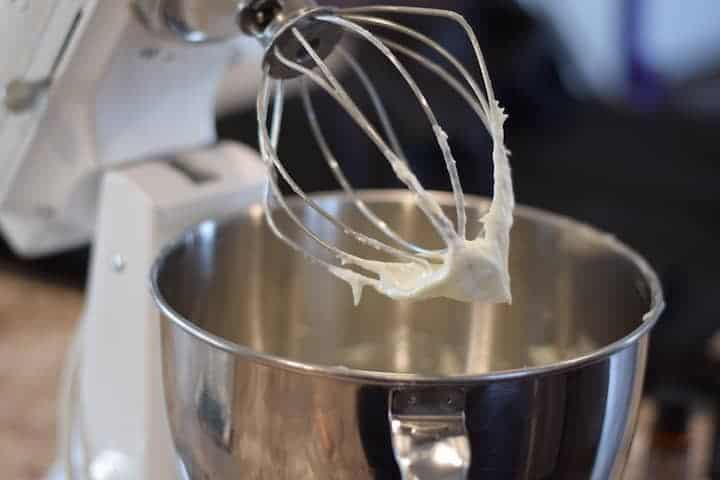 Supplies Used for this Body Butter
For this recipe, I used a few all natural products. And a couple of essential oils. (Where to buy)
Lavender essential oils smell amazing and has a nice calming effect. Lime is pretty uplifting for me, but doesn't effect my sleep.
If you're concerned about citrus and sleep, Frankincense is another amazing oil to use in beauty products.
This is one of my favorite diffuser blend combinations! So I thought, why not try it with a body butter!
Note on essential oils: be care with sun exposure and essential oils. Citrus oils can cause photosensitivity.
I use this combination at night before bed on my hands and feet. If you want to use it for daytime, I'd suggest trying a different combination.
Other supplies used:
Shea butter, almond oil, cocoa butter.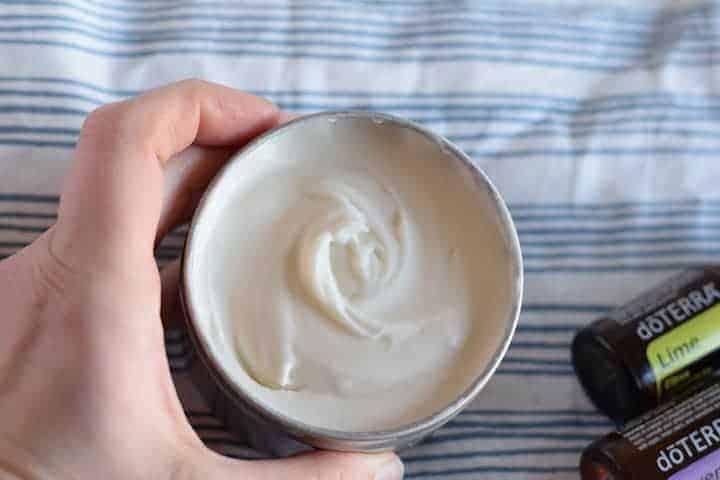 More DIY with Essential oils:
Natural Skincare Routine for the Face
Natural Deodorant (that actually works)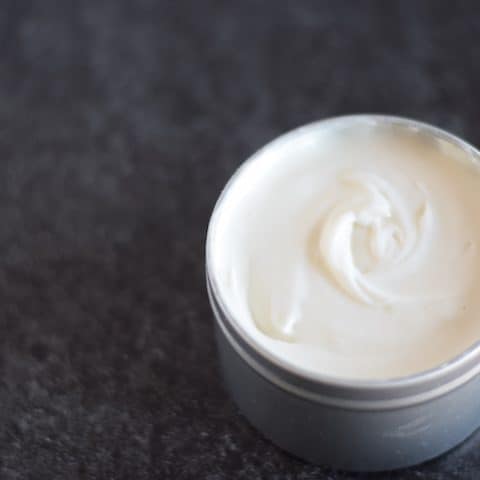 Natural Homemade Body Butter
This simple homemade body butter recipe is easy to make in under 20 minutes. It makes a nice treat to dry hands and feet.
Equipment
4 oz metal tin for storage

Stand mixer with whisk attachment
Instructions
Melt cocoa butter on stovetop. Add the melted cocoa butter, shea butter, almond oil, and essential oils to a stand mixer bowl.

Use the whisk attachment and mix together on low to combine. Scrape the sides of the mixer bowl.

Mix again on low. Slowly increase the speed to high and mix ingredients together on high for a few minutes until light and fluffy.

This makes about 4 oz and fills a 4 oz tin nicely for storage.
Notes
Since this is a natural homemade product, there isn't an artificial preservative added. It can last for a couple of months if stored away from heat and moisture, or other elements. You can store it in the refrigerator in a glass mason jar if you prefer.
Tried this recipe?Give it a 5 star rating and pin it to your Pinterest account!