This Creamy Italian Meatball Soup makes the perfect comforting meal for the family. No joke, my four children devoured it! It is ultra scrumptious, cheesy, and amazingly creamy.
This is such an easy meatball soup recipe that is perfectly hearty to warm you up on a cold winter's night. Or anytime you want an amazing comfort food recipe!
Pair it with a fresh baked loaf of Italian bread or dinner rolls for the ultimate meal.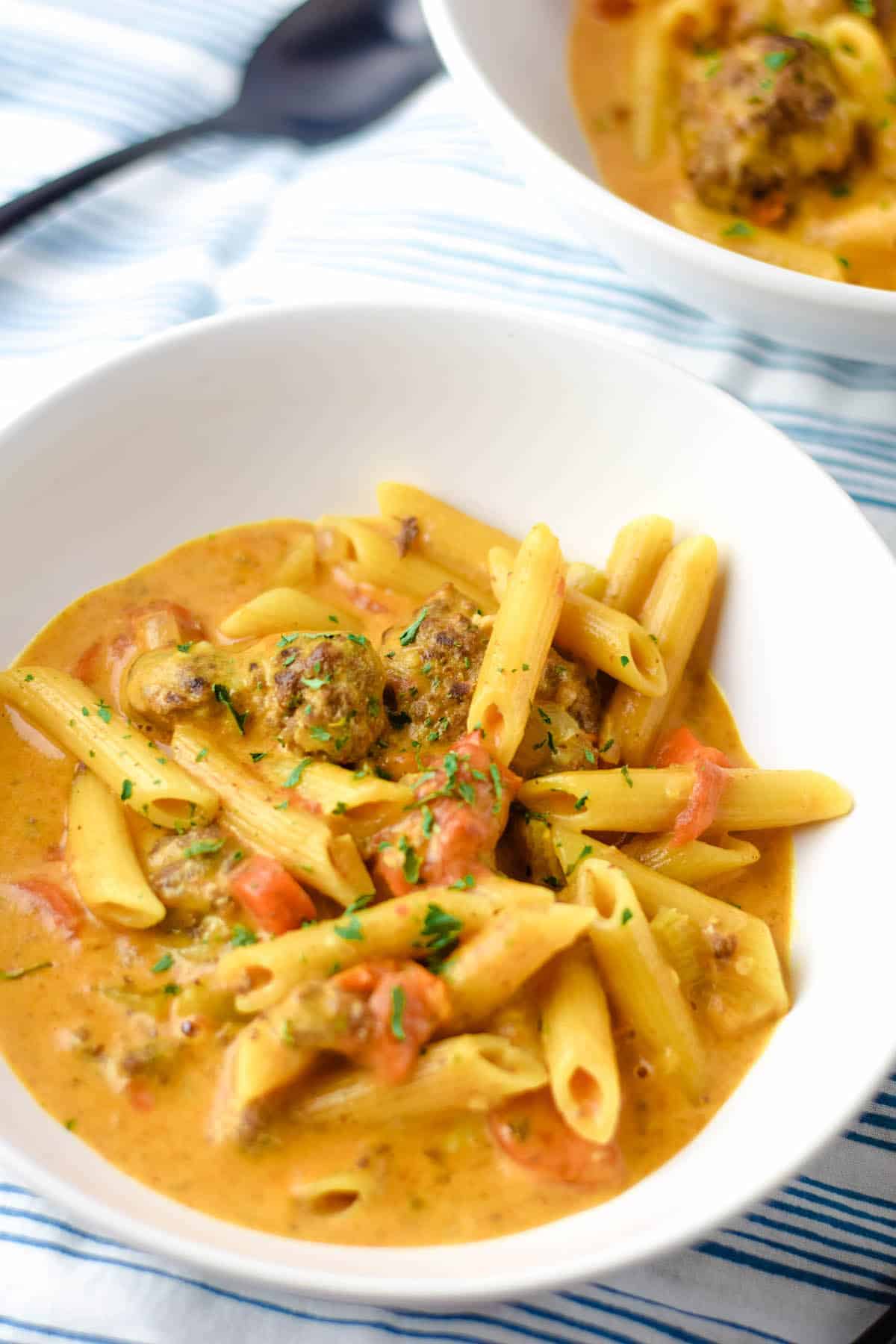 The best comforting meatball soup recipe
We just love this meatball soup recipe because it is hearty and comforting! Its deliciously flavored and it is kid friendly too! It has become one of our family favorites for the cool fall and winter months!
I love the addition of homemade bone broth in my soup recipes to give them an additional gut healthy boost. Quality ingredients are key to making this recipe super delicious. Cozy up with a bowl of soup for a new family favorite meal, Italian style!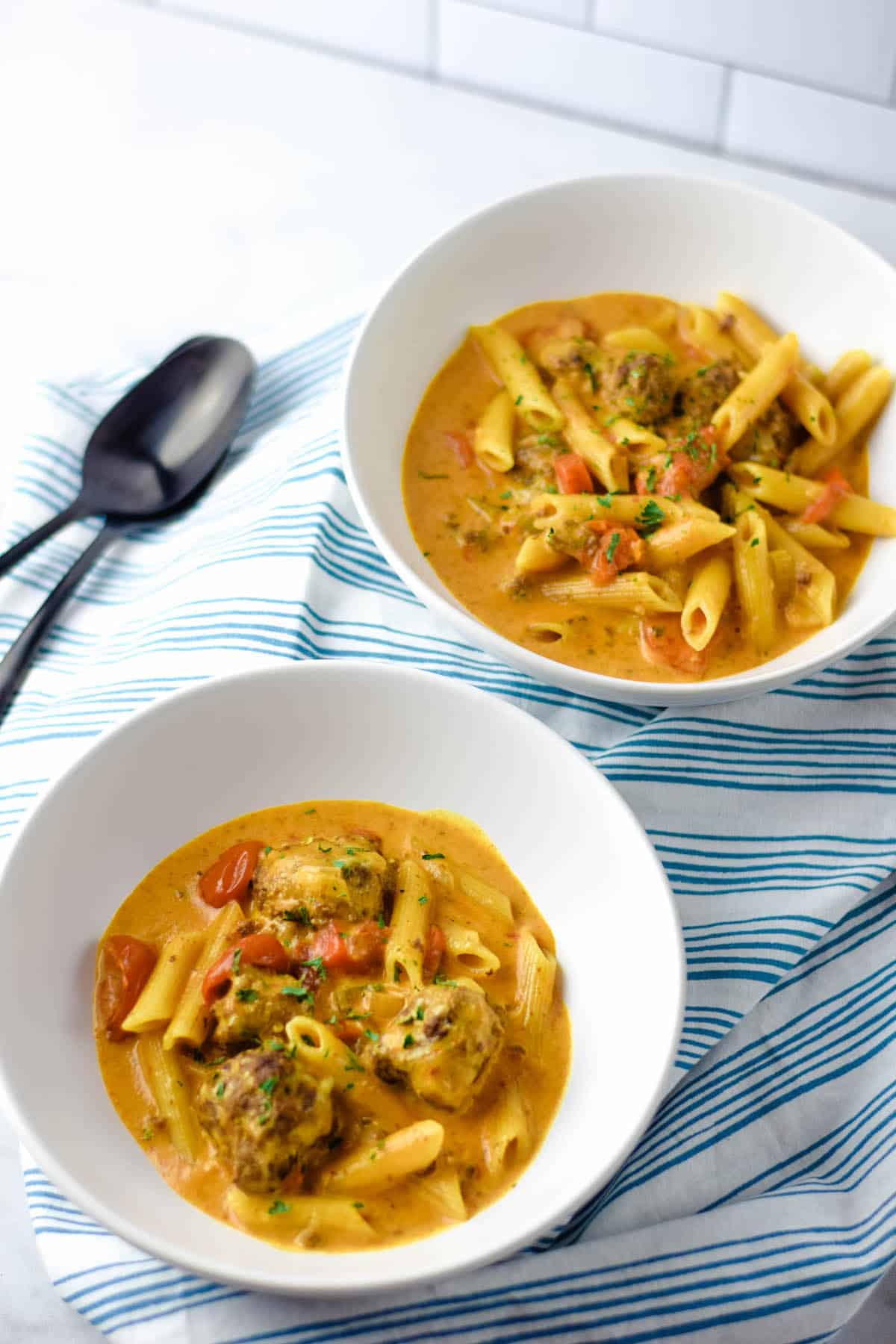 What is needed for this recipe
Meatball ingredients:
ground beef
garlic cloves
1 egg
Italian bread crumbs
Italian seasoning
pinch of salt
Soup ingredients:
extra virgin olive oil
medium onion
celery stalk
carrots
garlic cloves
tomato paste
chicken broth (you can also sub for beef broth if desired)
salt
whole cherry tomatoes
penne pasta
shredded Parmesan cheese
heavy cream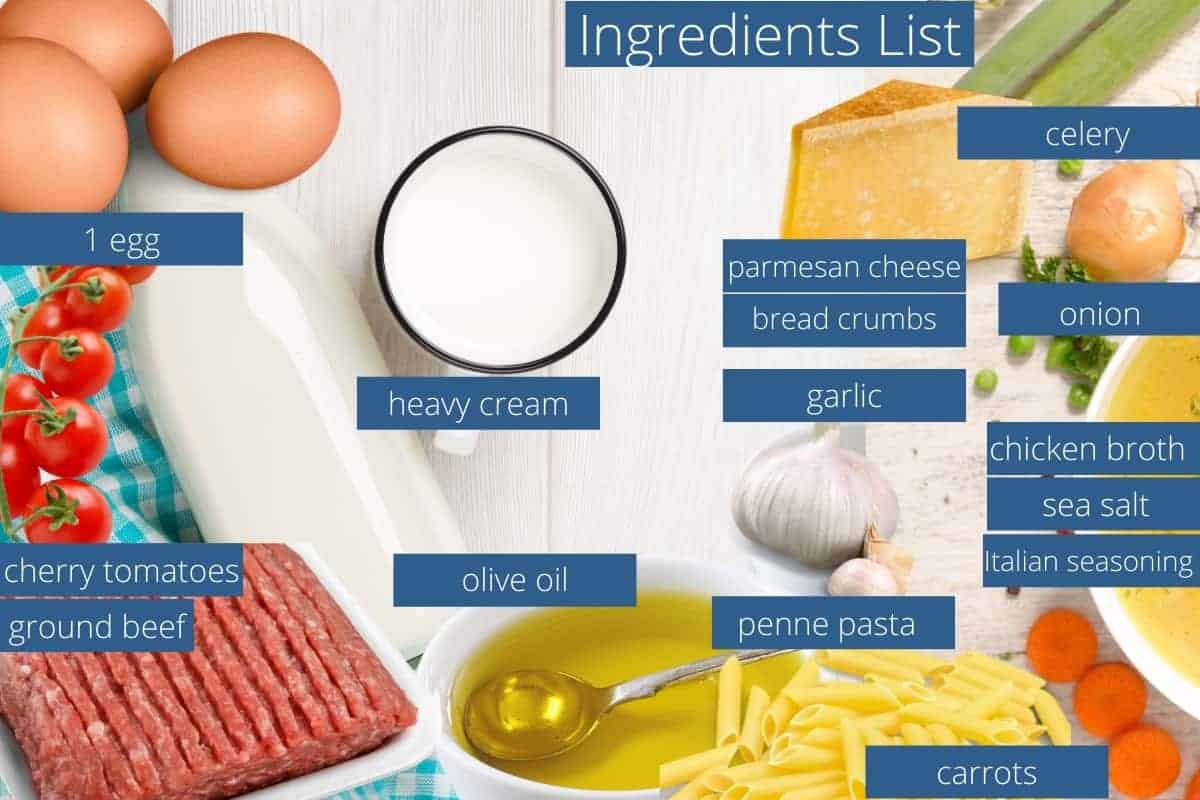 How to make this creamy Italian meatball soup
It is not overly complicated to make, which makes it perfect for a weeknight meal! And you probably have most of the ingredients at home already.
You'll start by making the meatballs! Gather all of your meatball ingredients, add to a large bowl and mix up with the ground beef until well combined.
Be careful not to overwork the ground beef or the meatballs will come out tough. Shape the meat mixture into meatballs – this should make anywhere from 15-20 meatballs depending on how large you shape them. But you can also make mini meatballs too!
The meatballs will cook in a skillet over medium-high heat, browning on all sides.
Meanwhile, prepare the soup ingredients and sauté the vegetables in a large pot or dutch oven until translucent. Simmer with the meatballs and broth until the vegetables are tender, but not mushy.
Add remaining ingredients. (complete recipe is below in a printable recipe card).
Serve & enjoy with sea salt and black pepper to taste if desired.
🥣 How to store and reheat leftover soup:
This soup can be stored in airtight containers in the refrigerator for up to one week. To reheat: add the leftover soup to a large saucepan or stock pot and heat over medium heat until warmed through. It makes a great lunch the next day!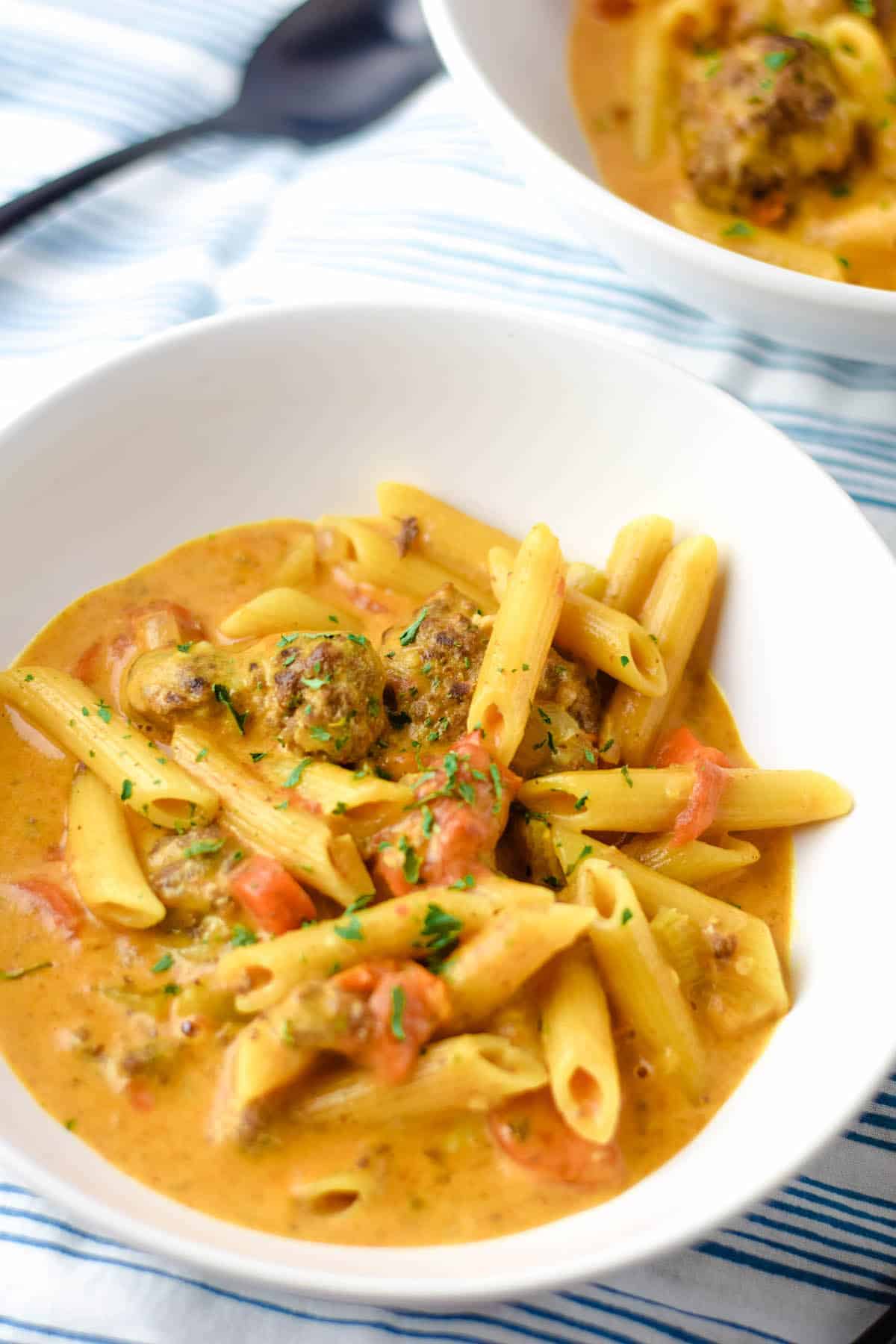 Recipe pairings:
Here are a few excellent ideas to pair with this delicious creamy soup to make a complete meal for your family or friends.
sprinkle with red pepper flakes for a bit of spice!
serve with a few fresh herbs like Italian parsley, mint, or oregano
bread sticks or fresh baked Italian bread loaf
Classic Italian side salad to add something fresh
wine pairings like a Chianti Classico or an American Italian-style Red
🍅 Recipe tips
I wholeheartedly believe that good quality ingredients make for the best recipes! I don't recommend any fake or overly processed ingredients and will usually recommend organic / non-gmo ingredients whenever possible.

Sourcing good quality ingredients can be difficult sometimes. Did you know that most of the olive oil in grocery stores isn't truly authentic? And some tomatoes labeled as true San Marzano tomatoes are not the real deal?

How do we find the BEST ingredients? If you're like me you are also feeling tired of being duped by all of the mislabeling! So, I've created a favorite shop page with all of my recommendations. Here you can find all of the best places to source good quality ingredients!
More soup recipes you will love:
Creamy Italian Sausage Tortellini Soup
Creamy Carrot and Acorn Squash Soup
Italian Meatball Soup with Pasta & Beans
The Best Easy Greek Lentil Soup
FAQ & Tips
How do you keep meatballs from falling apart in soup?
By making the meatballs and pan frying them before adding them to the soup, it will help to ensure that they stick together.
How do you keep meatballs round when frying?
Add the meatballs immediately to a hot skillet or frying pan with olive oil after shaping. Leaving them to sit too long before cooking them and they will lose their shape.
How do you prevent dry meatballs?
The secret is to not overwork the meat when mixing and not to overcook when frying. Ensure that the meat is cooked through but not overdone.
Can this recipe be made in a slow cooker?
Yes, however, you will need to make a few adjustments. The meatballs will still need to be cooked prior to adding to the slow cooker. You can add them with the remaining ingredients to the crock pot or slow cooker on high for a couple of hours. But be careful not to overcook the pasta or have the meatballs disintegrate. Then stir in the cream and cheese to the soup at the end.
want more recipes?
Check out the recipe index where you can discover more homemade recipes from my homestead!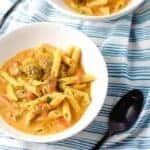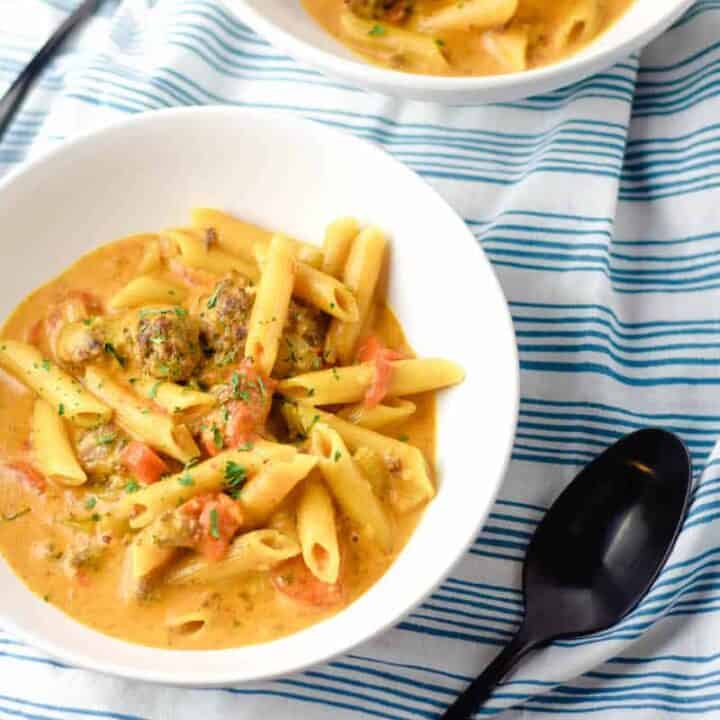 Italian Meatball Soup
This Italian meatball soup is even more comforting with pasta and made super delicious with parmesan cheese and heavy cream. It makes the perfect hearty soup for a chilly fall or winter night!
Instructions
In a large bowl, use your hands to combine the ground beef, 2 minced garlic gloves, egg, bread crumbs, Italian seasoning, and pinch of salt. Form about 15-20 meatballs.

Heat up a large skillet over medium heat. Add the meatballs, gently roll over to cook on all sides so they hold their shape.

Meanwhile, in a large stock pot or dutch oven, heat up the olive oil over medium heat. Add the chopped onion, carrots, and celery. Cook until translucent and become soft. About 8-10 minutes.

Stir in the minced garlic, chicken broth, tomato paste and cherry tomatoes until well combined.

Add the meatballs to the pot. Bring soup to a boil and then lower to a simmer. Cook for about 10 minutes until the tomatoes burst and the carrots are soft.

Add in the pasta and cook according to the package instructions. Once pasta is cooked, stir in the heavy cream and parmesan cheese.

Serve immediately.
Notes
Be careful not to overwork the ground beef or the meatballs will come out tough. Shape into meatballs – this should make anywhere from 15-20 meatballs depending on how large you shape them. Sub half of the ground beef with half ground pork for extra flavor. If the pasta absorbs too much of the broth while cooking, you can add a little more before adding in the cream and parmesan cheese. Just be careful not to overdo it.
Nutrition
Serving: 1cupCalories: 632kcalCarbohydrates: 43gProtein: 29gFat: 39gSaturated Fat: 19gCholesterol: 147mgSodium: 1454mgPotassium: 832mgFiber: 3gSugar: 5gVitamin A: 4524IUVitamin C: 33mgCalcium: 297mgIron: 4mg
Tried this recipe?Give it a 5 star rating and pin it to your Pinterest account!
where would you like to start?