All natural DIY dishwasher detergent is made with 4 simple ingredients. It smells amazing with essential oils and has incredible cleaning ability!
When thinking of power outages and emergencies, stocking up for essentials is usually a priority. Somehow I neglected to remember to add dishwasher detergent to my list. Luckily I had enough supplies on hand to make a diy dishwasher detergent.
Nebraska has seen our share of crazy weather lately. We recently went through two bomb cyclones and it left us without power on a couple of occasions. And even worse, many bridges & roads have been out or unable to use since the first bomb cyclone hit.
There was a period of time where we couldn't make it to town. Or even off of our dirt road. This hasn't been our first time with disasters that have left us shut off from the rest of the world.
Last year we survived a survived a 75 hour power outage.
These crazy storms have brought their fair share of struggles. But they have also taught me to work on preparedness even more than I have in the past.
Why Make a DIY Dishwasher Detergent?
First off, I'm all about trying to create an environment in our home that is as naturally clean as possible. I really focus on eliminating anything that I find to be toxic or harmful for my family.
Most of the commercial cleaning products have ingredients and chemicals that we don't want in our home. I use two resources for researching products.
They are the Environmental Working Group and Skin Deep. They have thousands of products which haven been tested and helps make research a lot easier for me.
Always do your own research to find a solution that works best for you and your family!
Here are just a few of the ingredients in most toxic cleaning products that I want to avoid in our home.
Fragrances – Synthetic fragrances contain phthalates, parabens, allergens, or other irritants. Also can include other endocrine disrupters.
Bleach (chlorine) – This is known to be an irritant and cause of asthma for many.
Dyes – They can be contaminated with heavy metals like cadmium, arsenic, and lead. Dyes really serve no purpose in the effectiveness of the cleaning product. They are used to make a product more visually appealing.
These are just a few of the potentially harmful ingredients in most products. In addition to avoiding these, I also like to make sure my cleaning products are free of phosphates and are biodegradable.
Related: Getting Started with Natural Cleaning Products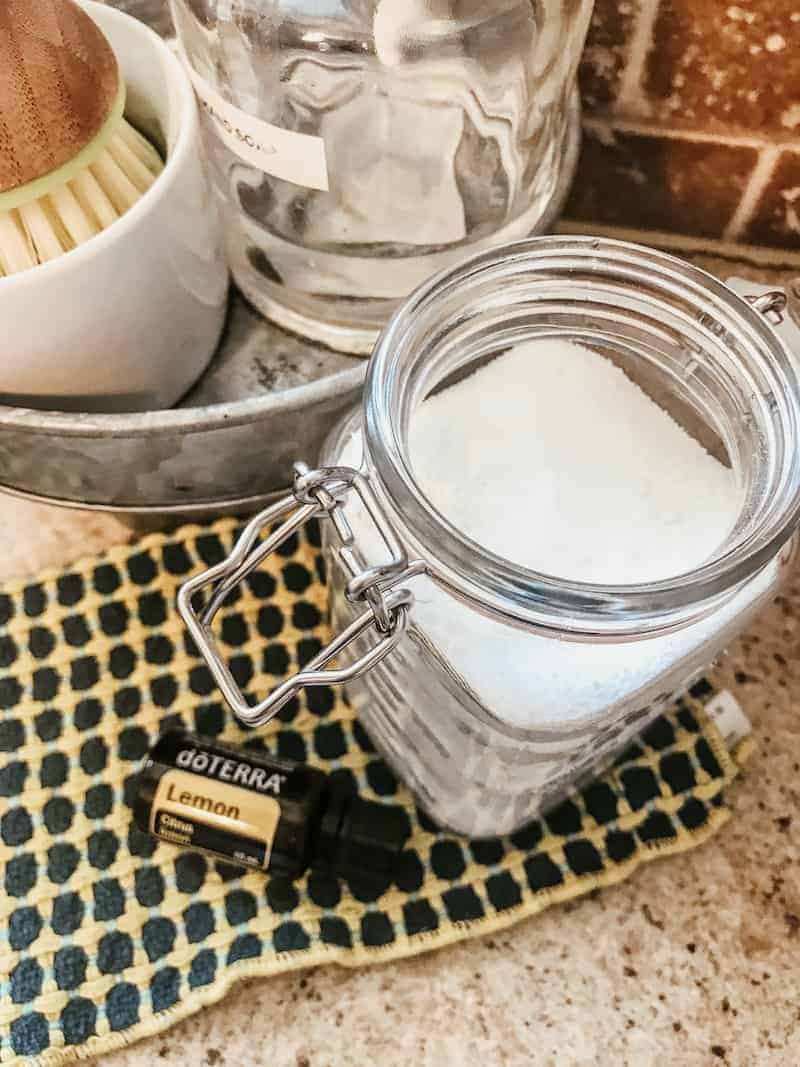 Making Dishwasher Detergent with Essential Oils
Essential oils have replaced so many toxic things in our home. Lemon essential oil is my powerhouse when it comes to natural cleaning. So you know I found a spot in my dishwasher detergent for it!
This recipe only includes 4 ingredients and it actually works! We have well water that is really hard, so the lemon essential oil is key to keeping my dishes bright, clean, and free of water spots.
I'm sure that other citrus oils like wild orange, grapefruit, tangerine, and others may work, too. But honestly, I haven't tried them.
Lemon essential oil is kind of my jam.
Related: 10 Homemade Cleaning Products with Essential Oils
Ingredients for a Natural Dishwasher Detergent
One thing that I really enjoy about making homemade products is knowing exactly what I'm putting into them. I can control the ingredients and ensure nothing toxic is being used.
And this homemade dishwasher detergent only has four simple ingredients!
Baking soda is a great cleaning ingredient for a lot of diy products because it is slightly abrasive and is an alkaline substance. It's also a pure, natural product that makes it non-toxic and safe to use.
Citric acid is a powerful cleaning product because of its ability to kill bacteria, mold, and mildew. It is also great at removing soap scum, hard water stains, and much more.
It also acts as a preservative in a lot of homemade cleaning products.
doTerra On Guard Cleaner Concentrate This concentrate is slowly replacing all of my other household cleaners. I only use cleaners that are super low rated for toxins. This cleaner concentrate is filled with a powerhouse combination of essential oils: wild orange, clove, cinnamon, eucalyptus, and rosemary.
Don't want to make your own? Try these all natural Dropps dishwasher pods!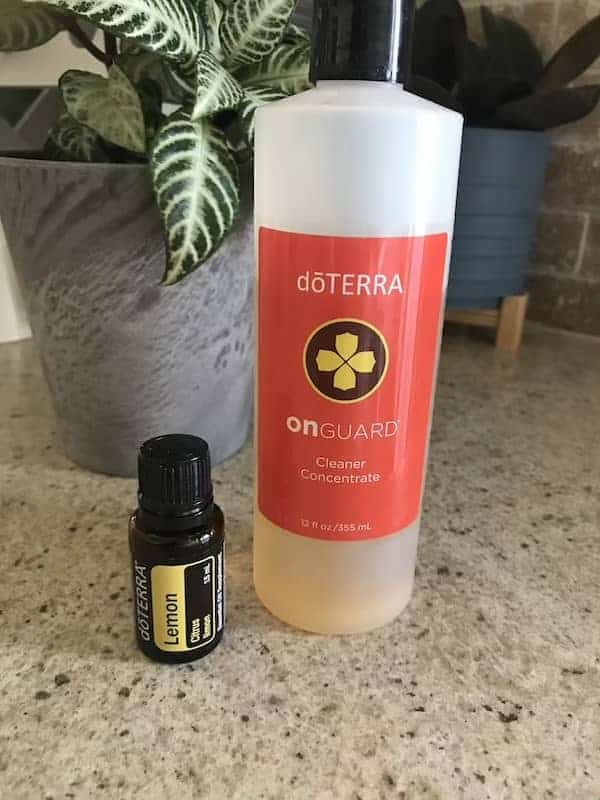 The On Guard cleaner concentrate helps to eliminate odors, and the blend smells amazing. It reminds me of my favorite Christmas scents. And my husband loves it, too!
And the fourth ingredient is the lemon essential oil.
So, not only does it smell amazing, it cleans amazingly well.
I have been an essential oil user for years, but I didn't become a true advocate for them until I tried doTerra. The difference in the quality compared to the other brands I was using is definitely noticeable.
How to Make a Homemade Dishwasher Detergent
This process is really easy to make. Basically you mix up all ingredients and allow to dry.
It does take a little more effort than this though. The citric acid will make the detergent puff up a little.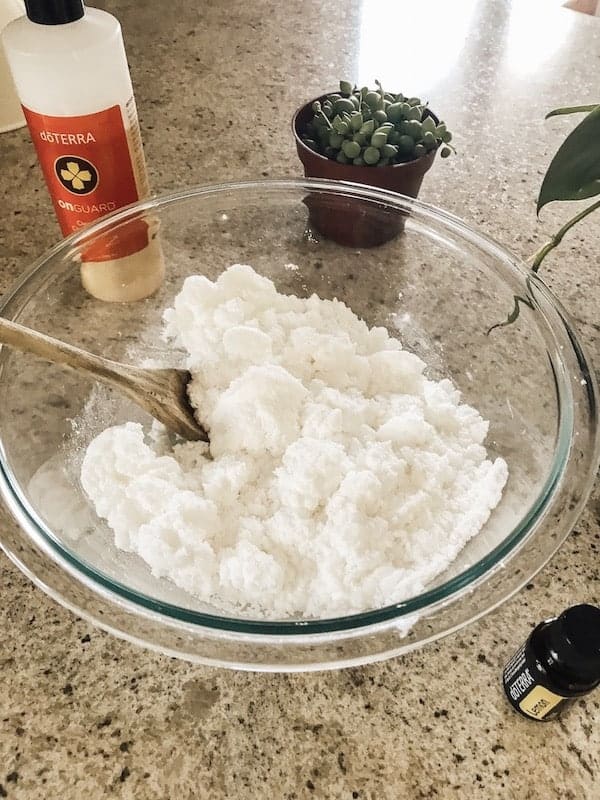 So, you'll need to stir it periodically…approximately every half hour until it dries. It really isn't overly complicated. And only takes a few hours to dry.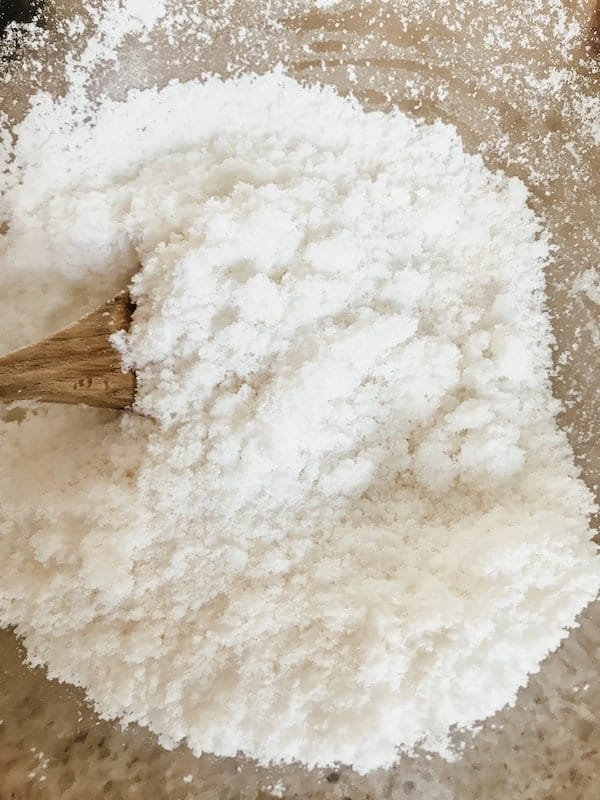 Ingredients:
1 cup baking soda
1/4 cup citric acid
1 tablespoon doTerra On Guard Cleaner Concentrate
10-15 drops of Lemon essential oil
I like to use either doTerra or Mountain Rose Herbs essential oils. And you can substitute for another citrus essential oil if you prefer. I just prefer lemon because it works really well at cleaning and smells great in this recipe.
Add all ingredients to a glass bowl and mix well. Stir occasionally (about every half hour or so). Once completely dry, add to a glass jar with a well fitting lid.
To use: add about 1 tablespoon of detergent mix to dishwasher detergent dispenser.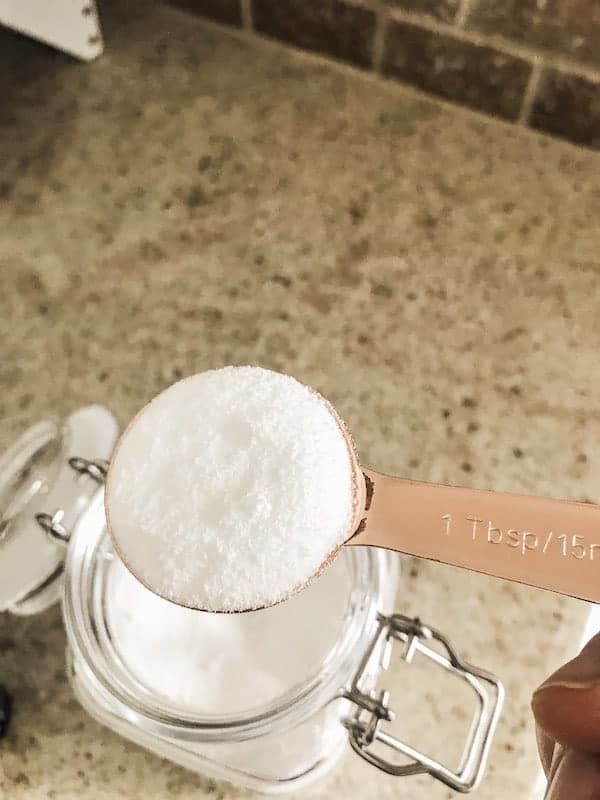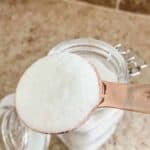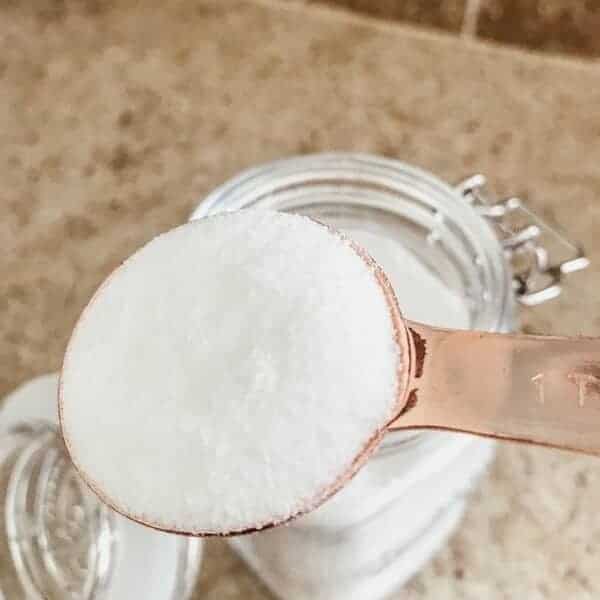 Natural DIY Dishwasher Detergent
An all natural & clean homemade dishwasher detergent.
Equipment
Glass mixing bowl

Mason jar with tight fitting lid
Instructions
Add all ingredients to a glass jar and mix well.

Stir periodically to avoid clumping together.

Allow to dry completely.

Store in a glass jar with a tight fitting lid.

Use about 1 tablespoon per regular load in the dishwasher. Add to the detergent dispenser.
Tried this recipe?Give it a 5 star rating and pin it to your Pinterest account!