Lemon essential oil is one of my favorite oils to use in my DIY cleaning recipes. It is incredibly beneficial and has many uses. Here's how to use lemon essential oil around the home. And some of my favorite uses in cleaning products and easy DIY projects.
How to Use Lemon Essential Oil Around the Home
Lemon oil is best known for its ability to cleanse toxins from the body. And for its ability to fight bacteria and fungi.
There are so many uses and benefits! Here are just a few:
natural teeth whitener
mood booster
nausea relief
natural disinfectant
laundry brightener
dishwasher cleaner
many other household cleaners
These are just a few of my favorite uses and benefits I've discovered while using essential oils. Always do your own safety research. Citrus essential oils can create a photosensitivity when used topically.
This means that it is important to avoid direct sunlight for up to 12 hours when these oils are used directly on your skin.
When choosing an essential oil, not all of them are created equal. I've been using essential oils for several years and have experimented with many different brands. Last year, I tried DoTERRA for the first time and fell in love. It is my own personal favorite and recommendation.
But I always suggest doing your own research until you find the brand you love.
#1 Natural Degreaser
Use a glass spray bottle fill with water and 5-10 drops of lemon essential oil. This mixture will remove grease and grime from the stove top and helps clean up pots and pans.
Or you can add it to your natural cleaning sprays like using Castile soap, vinegar, or using doTERRA's On Guard Cleaner Concentrate for some extra cleaning boost.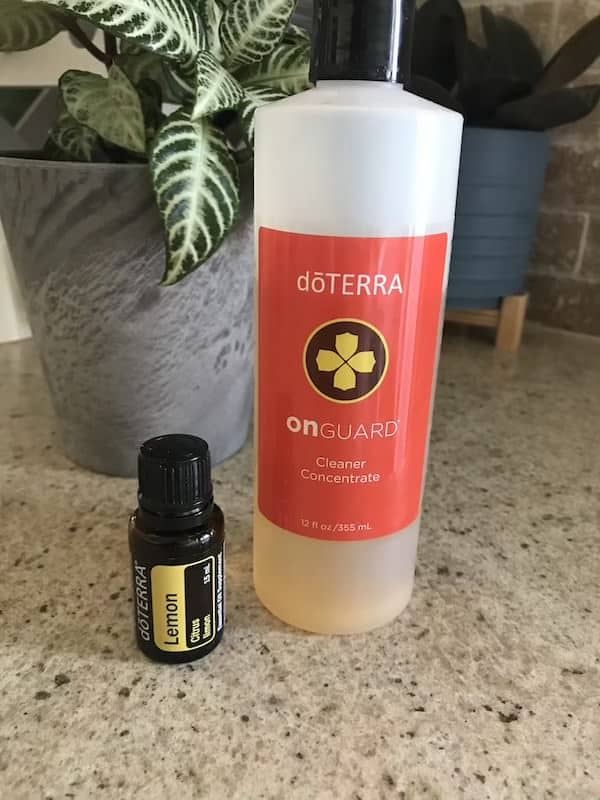 #2 Odor Neutralizer
When diffused, lemon essential oil provides an uplifting environment and promotes a positive mood.
I love to diffuse lemon essential oil first thing in the morning or when I'm cleaning. It not only makes the home smell fresh, but also helps to give me a little more motivation.
I'll usually diffuse it alone, sometimes with lavender or with doTERRA's On Guard blend. Super refreshing!
#3 Remove Sticky Residue
Lemon essential oil is great at removing sticky residues like those annoying barcodes left on products. Or when your toddler receives stickers as a gift from grandma and leaves them all over the walls.
But no worries, lemon essential oil is a lifesaver!
I recently purchased a new Lifefactory glass water bottle. And I couldn't get the barcode removed. Lemon essential oil to the rescue! I added a drop of oil and spread it around, let it sit for a few minutes and wiped it off with a damp cloth. It came right off!
#4 Refresh Wood Cutting Boards
I give my wooden cutting boards a little refresh and clean using Epsom Salt and lemon essential oils. I don't measure out the Epsom Salt.
I'll add a little sprinkle and about 1-2 drops of the oil. And then scrub with a damp cloth or sponge.
#5 Remove Marks on the Wall or Furniture
Whether it is scuff marks or pen/marker art on the wall from our little ones. Lemon oil helps to remove these with ease.
For a little mess, I'll just add a drop to a damp cleaning cloth and wipe clean. For the bigger messes, I'll add 5-10 drops of essential oil to a glass spray bottle and a little squirt (approximately 1/2 teaspoon) of liquid Castile soap, top off with distilled water and scrub clean.
#6 Use as a Rinse Aid in Dishwasher
I mix up white vinegar and about 10-15 drops of lemon essential oil in a Mason jar with lid. Then I'll add to my dishwasher rinse compartment.
The lemon rinse aid helps to keep hard water spots away.
*Always check your appliances for recommendations. I personally never have issues with natural ingredients and prefer them over conventional products. But always do your own research.
#7 Create a Homemade Dishwasher Powder
I use this recipe to create a natural dishwasher detergent. It's a powerhouse and really affordable!
Plus, all the ingredients are things that are safe for the entire family.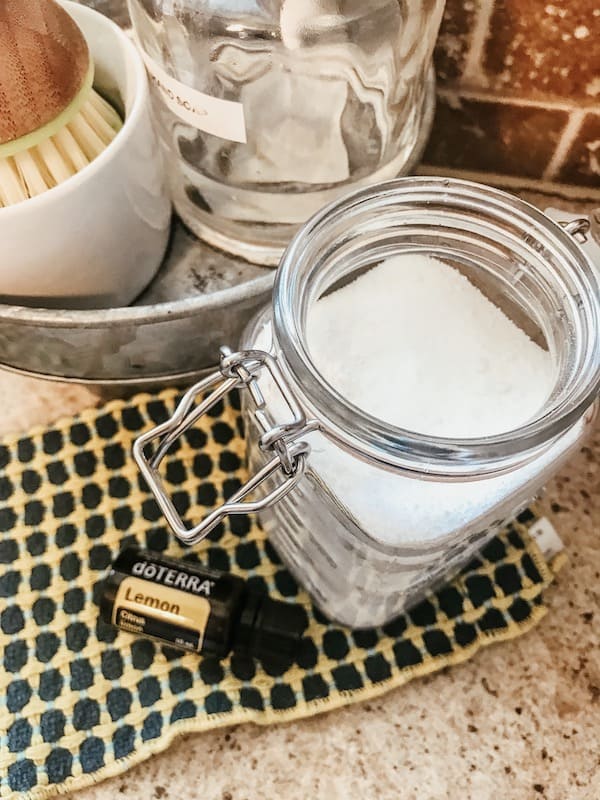 #8 Carpet Cleaner/Brightener
When steam cleaning our carpets, I use a natural cleaning solution. This Puracy brand is amazing and is the best I've found yet.
To give it a little brightening boost, I add a couple of drops of lemon essential oil right to the carpet cleaning machine.
The lemon oil also helps eliminate odors.
#9 Laundry Softener/Booster
This oil really is a powerhouse with so many different uses. I use it multiple ways in my laundry routine. It acts as a brightener which I use mixed in with my Branch Basics Oxygen Booster.
I also create a laundry softener using vinegar and lemon essential oil to help freshen my laundry.
It has helped refresh my old towels and also keeps my washing machine fresh and clean!
#10 Polish Wood Furniture
Create a natural wood polish cleaner using olive oil and lemon essential oil. To make: mix 1/4 cup olive oil, 1/4 cup vinegar, and 10 drop of lemon essential oil.
Add to a glass bottle and give it a very good shake. The vinegar and oil will separate, so be sure to shake well before each use. To use: I add a small amount to my dust cloth and dust furniture as usual.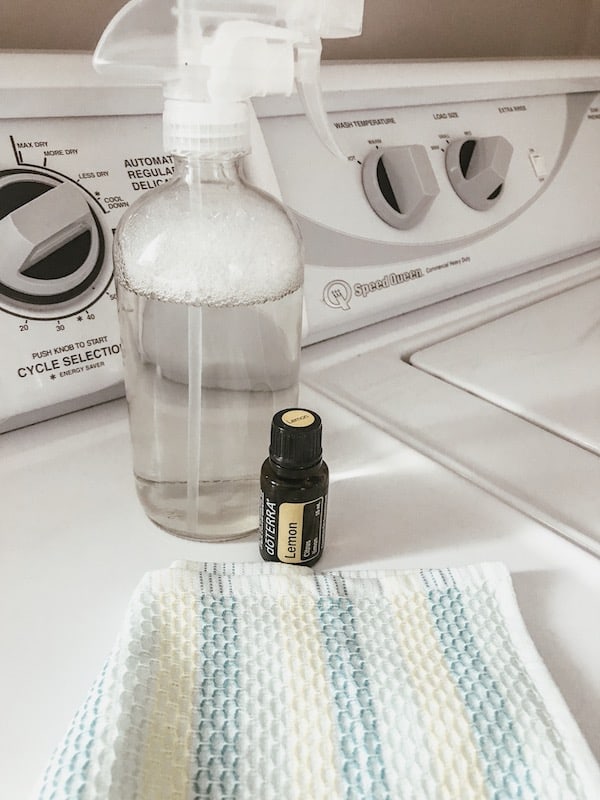 For more natural cleaning, check out these posts:
10 Homemade Cleaning Products with Essential Oils
Getting Started with Natural Cleaning Products
Natural Living Posts: