You can make homemade garlic powder and it's easier than you'd think! Learn how to make it easily, in a Ninja Foodi. Plus, there are several different methods for grinding up the dehydrated garlic and transforming it into garlic powder.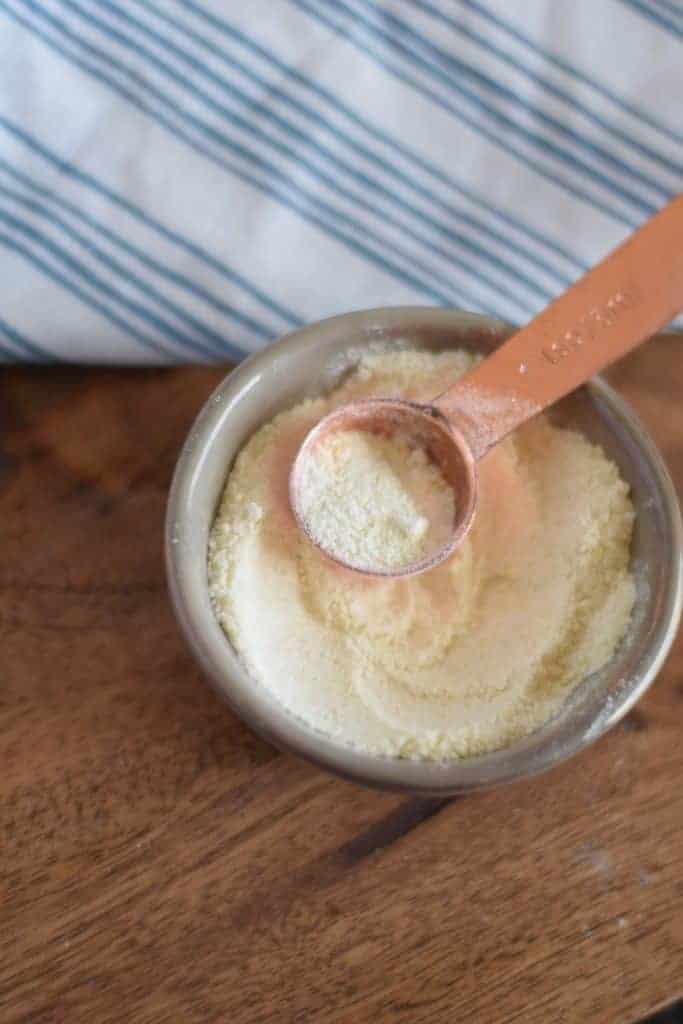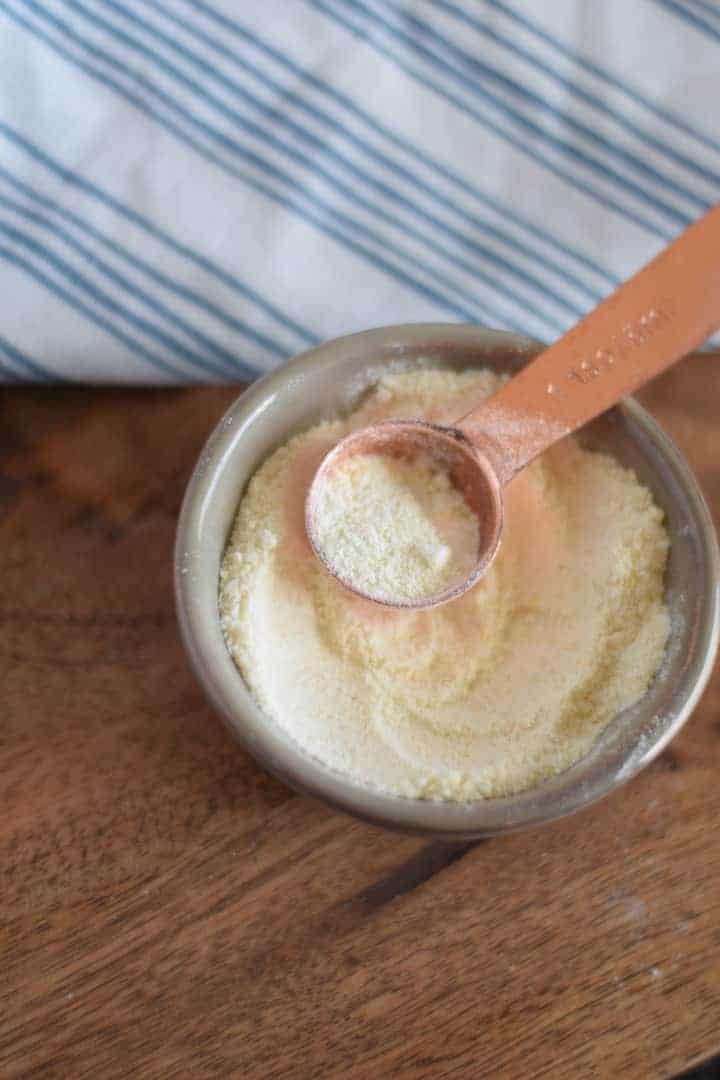 My husband recently bought me a Ninja Foodi. He's the best! And I've been gearing up for the holidays and winter by using it to make all the things!
If you don't know what a Ninja Foodi is, I'll just share briefly. It is the ultimate of kitchen appliances!
It can:
pressure cook
dehydrate
steam
slow cook
sauté
sear
air crisp
bake
roast
broil
make yogurt
and more that I'm probably forgetting
So you see, it really is the ultimate of home appliances. I'm pretty impressed.
And since I'm making all of the things in this Ninja Foodi, I decided to test out the dehydrator functions. Ninja makes a rack specifically for dehydrating. But it is an add on accessory.
I do a lot of dehydrating of our garden bounty, so I definitely ordered one. While, I waited for it to come in, I used the racks that came with my Foodi. I just lined it with parchment paper to prevent the garlic from falling through.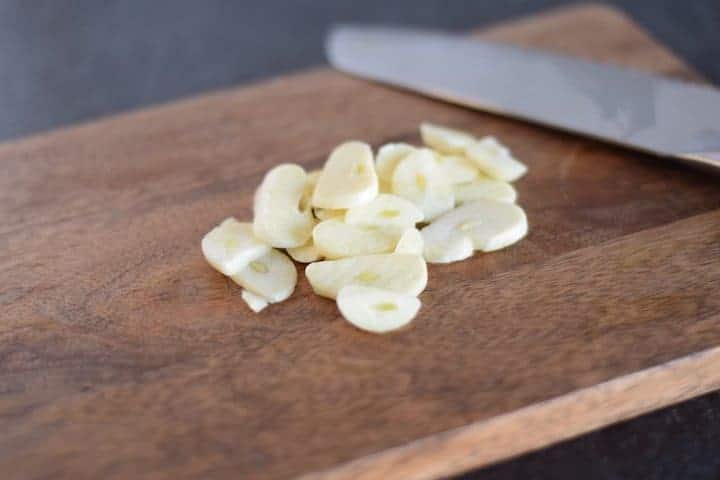 How to Make Homemade Garlic Powder
Begin by peeling and slicing up garlic cloves. When slicing up the garlic cloves, try to make them as uniform in size as possible.
They don't have to be precise, but as close as you can get them. This will help them to dehydrate evenly.
Using the racks provided with the Ninja Foodi, I was able to dehydrate 3 large heads of garlic at a time. And this gives me enough garlic powder to last several months.
If you want to dehydrate more at a time, purchasing the dehydrator trays, would be recommended.
Place the sliced garlic on the parchment paper lined racks in a single layer.
Set the Ninja Foodi function to dehydrate, turn the temperature to 135, and dehydrate for about 6-8 hours. Or until the garlic is completely dried through.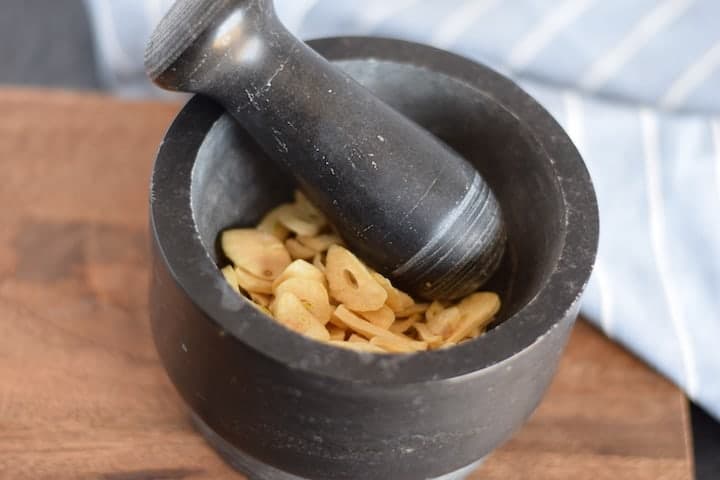 Methods for Grinding Garlic
I like to use a couple of different methods for turning my dehydrated garlic into powder.
The first is more hands on and it helps me to get the consistency that I prefer. I use a motar and pestle.
It is more time consuming, but I like to use it to get better control of the size of grind.
When I'm more pressed for time, I like to use a coffee grinder for making homemade powders.
If using this method, I'd definitely make sure that you're using a coffee grinder that you use specifically for herbs and spices.
And not one for grinding your coffee beans. Garlic flavored coffee just doesn't sound awesome to me. Right?
If you prefer you could use a food processor to grind up the garlic. However, when I've tried this method, I couldn't get the garlic powder fine enough for my preference.
Another tool that I've used with great success is the individual single serve from my Ninja blender set. This is the method I've used before purchasing a designated spice coffee grinder.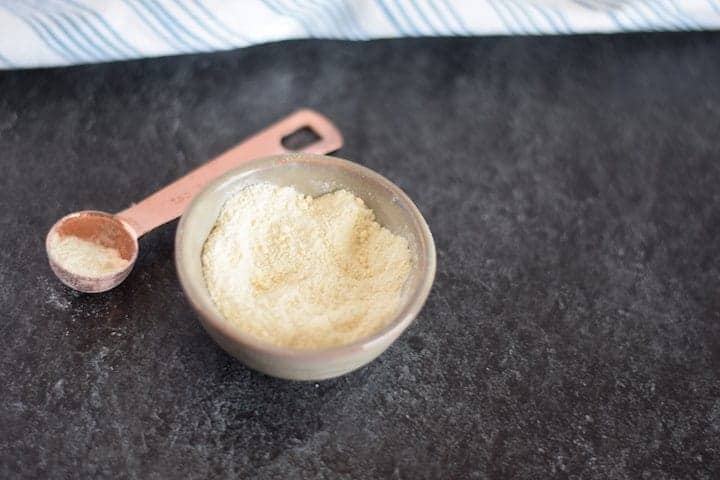 How to Store Garlic Powder
It is very important that when storing your garlic powder, it is completely dehydrated. Storing it if slightly wet still, could create mold.
It should be stored in an airtight container and kept in a cool place, like a spice cabinet or pantry.
If stored properly, the garlic powder can last for a couple of years. However, if you're a garlic lover like we are, it won't last that long!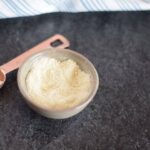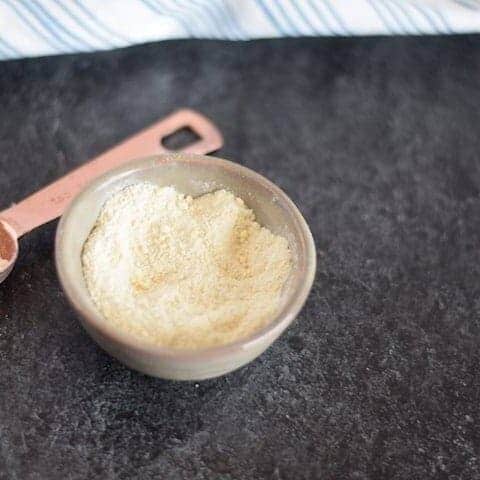 Homemade Garlic Powder
Easy homemade garlic powder, easily dehydrated with a Ninja Foodi.
Instructions
Peel and slice garlic cloves.

Arrange garlic on parchment paper lined racks.

Set the Ninja Foodi to the dehydrator function and turn the temperature to 135 degrees.

Dehydrate for 6-8 hours or until completely dried through.

Grind the garlic into powder using your preferred method and until your desired texture.

Store in an airtight storage container.
Nutrition
Serving: 1cCalories: 2kcalCarbohydrates: 1gProtein: 1gFat: 1gSaturated Fat: 1gPolyunsaturated Fat: 1gSodium: 1mgPotassium: 5mgFiber: 1gSugar: 1gVitamin A: 1IUVitamin C: 1mgCalcium: 2mgIron: 1mg
Tried this recipe?Give it a 5 star rating and pin it to your Pinterest account!
More Ninja Foodi Recipes Recipes: