This scrumptious Mediterranean frittata is packed full of flavor and makes a great addition to your breakfast, lunch, or dinner meal plans. It is an inexpensive dish, and it is quick, & easy to make.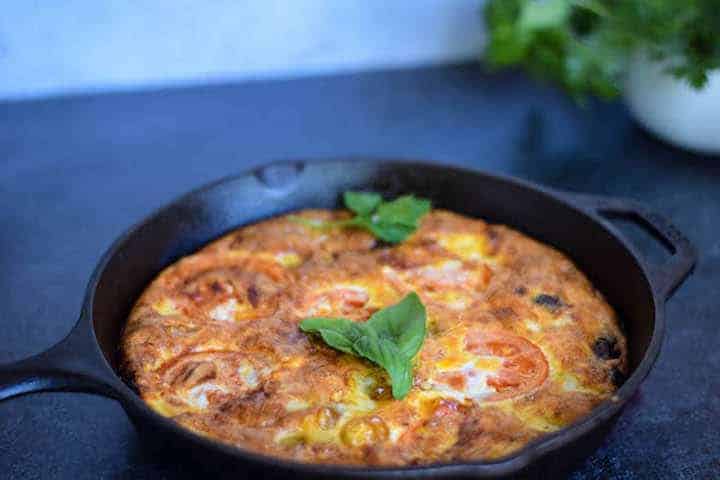 Making a Mediterranean Frittata
I love making this Mediterranean frittata for my family because it is a simple weekday meal. And it is a dish that the entire family enjoys!
Whenever I can find something that the entire family loves – including our children, I call it a win!
Filled with delicious Mediterranean flavors like olives, tomatoes, artichokes, it is both packed with flavor and easy to make.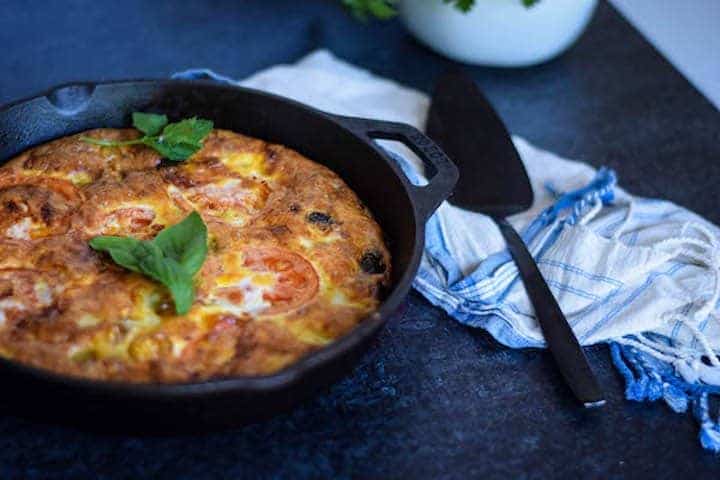 What is the Difference Between a Frittata and a Quiche
A frittata is an Italian dish made of eggs and additional ingredients like vegetables and sometimes meats.
Both frittatas and quiches are delicious egg dishes that are pretty similar. However, there are a couple of slight differences.
A frittata is made starting out on a stove top and is typically finished off in the oven or sometimes broiler.
A quiche is always made in the oven. It will usually have a crust, but doesn't always have to.
Usually there is more cream in a quiche than a frittata. However, I love the addition of creaminess to this frittata recipe. It really is a combination of both frittata and quiche!
Tips for Making a Frittata
Choose the right pan. I prefer to use a cast iron skillet. Make sure that yours is well seasoned, including the sides of the skillet. This will prevent the frittata from sticking to the pan.
Because a frittata starts off on the stovetop and finishes in the oven, you'll want to make sure to use a pan that can easily be transferred from stovetop to oven.
Choosing the right size pan is also important. I used a 10" cast iron skillet for this recipe. If you use a different size, the cook times will need to be adjusted a bit.
Use full fat dairy. Trust me here. Using a full fat dairy helps contribute to the creaminess of this dish.
Avoid overcooking your frittata. A frittata should be creamy and custard like. An overcooked frittata will be spongy. Pull the frittata out of the oven when it starts to set, but before it is finished. Then add a little bit of cheese to the top of the frittata to give it a more golden crust on top.
You can also try adding it to the broiler for just a few minutes to help give that gorgeous golden crusty top. But be careful not to overcook!
A couple quick tips:
Bake for about 20-30 minutes. Or until eggs are set. A good rule of thumb to prevent overcooking — check about 10 minutes before the frittata is supposed to be done.
To add a little bit of golden brown "crust" to the top, add a handful of shredded cheese. This is optional, but I like to use shredded Parmesan cheese for the topping.
More breakfast recipes: