Over these past few months I have found a natural skin care routine that is amazing and has fixed my skin issues.
I'm currently 4 months postpartum from my 4th pregnancy. And boy have the hormones been out of whack and wreaking havoc on my skin.
I'm talking major break outs. I felt like a teenager again and it wasn't necessarily a good thing. This was a new experience for me since my previous three pregnancies did not bring these kind of changes to my skin.
This is the best natural skin care routine that I've found to work for me and my needs. And I hope that it will work for you, too! This routine also includes some of the very best essential oils for face care!
What's Included in My Natural Skin Care Routine
I follow the same routine for morning and nighttime. And I start my routine with washing my face with a dead sea mud & charcoal bar soap and use a konjac sponge as an exfoliator.
Next, I'll use my homemade face toner and top it off with my homemade face serum moisturizer.
And I'm sharing details on each of these, the benefits, and how to make your own skin care easily at home.
You've probably heard the phrase, "beauty is only skin deep". Meaning that what's on the inside is more meaningful. And while this is probably referring to character, I believe that it impacts so much more.
The same goes with what we eat. I really believe that our diet plays an important role in our outward appearance. A healthy, whole food diet free of processed ingredients and regular hydration is super important.
This article by Dr Axe explains a bit more about how diet contributes towards healthy skin.
Hindsight. I really should have taken before pictures of my skin issues, but I didn't anticipate sharing.
And my selfie game is usually non existent. Ha.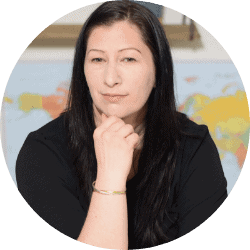 Here's a recent photo after I started this natural face care routine, although not the best quality.
Disclaimers:
This information is based off of my experiences. I am not a medical professional and this information is in no way to be used to treat or cure.
It is also important to note that it may take a couple of weeks before a person would experience results. I initially broke out a little more in the beginning. But research led me to realize that I was getting rid of more impurities and detoxing.
I always encourage anyone to do your own research.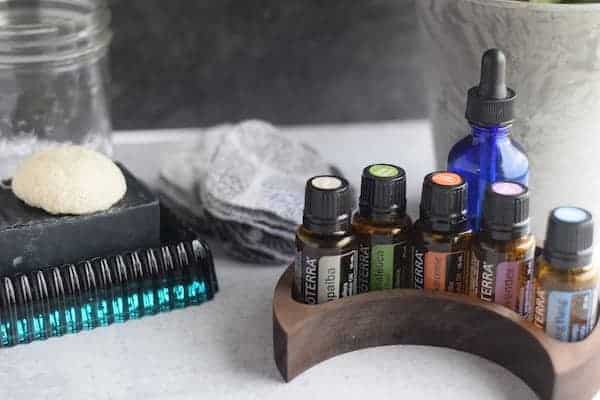 Dead Sea Mud & Charcoal Bar Soap Benefits
Dead Sea mud and the charcoal are both deep cleansing and draws out impurities, toxins, and dirt.
It helps tighten the pores (hello, anti-aging!)
Moisturizes and hydrates.
Can be helpful with skin issues like acne, eczema, psoriasis
Here is the Dead Sea mud & charcoal bar that I use now.
Konjac Sponge Benefits
The konjac sponge is 100% natural and made from the konjac plant.
It is moisturizing and gently helps fight acne through its alkaline properties.
The sponge is hard when dry. Simply wet it with water and use in circular motion on the skin. Hang to dry between uses.
When the sponge has reached the end of its life, you can throw it in the compost pile!
Here is a great option to buy!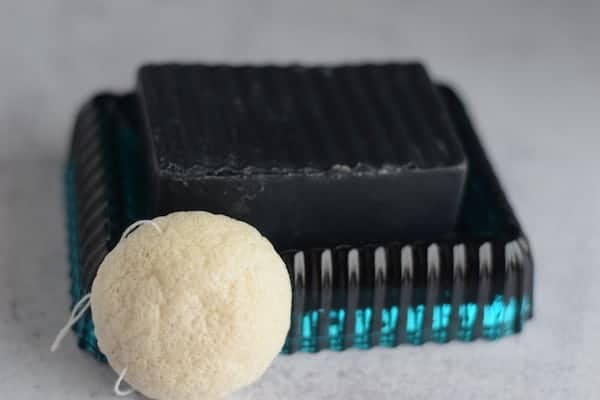 Face Toner with Essential Oils & Witch Hazel
After I wash my face, I pat dry with a clean towel and then will wipe my face with my homemade face toner. I use a combination of essential oils that have are known to improve skin problems and also hold anti-aging abilities.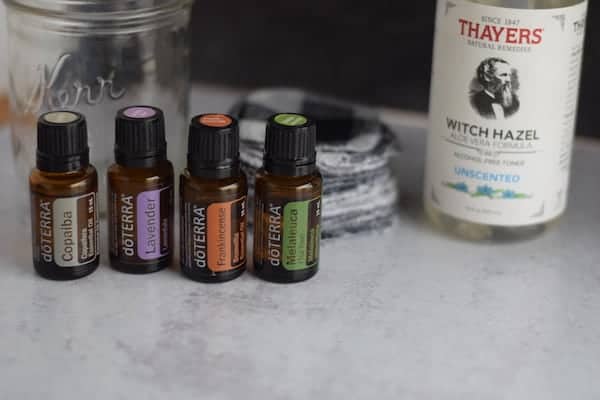 Copaiba Essential Oil for Face Care
Copaiba essential oil comes from the resin of the copaiba tree. It is a powerful antioxidant and has a variety of amazing uses.
For skin care, this oil promotes clear, smooth skin and reduces the appearance of blemishes.
Lavender Essential Oil for Face Care
Lavender essential oil adds a lovely fragrance to my skin care routine. And it is soothing for the skin.
It is helpful in soothing skin irritation so it makes a welcome addition to an all natural skin care routine.
Frankincense Essential Oil for Face Care
Known as the king of essential oils, and for good reason. This essential oil is a powerhouse! I love to use it for so many things.
Frankincense essential oil helps maintain cellular function. It soothes the skin while reducing the appearance of imperfections and rejuvenates the skin. Perfect for anti-aging and wrinkles! It also helps fight acne.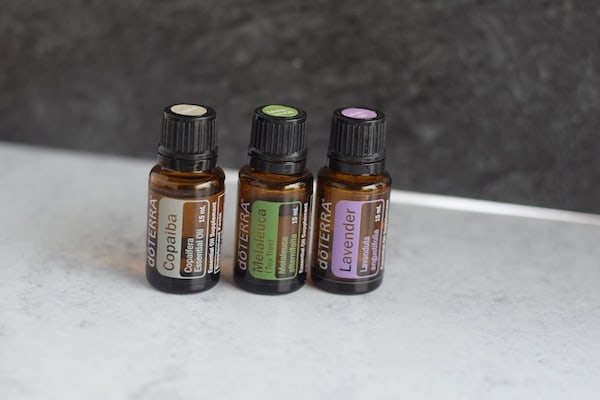 Melaleuca (Tea Tree) Essential Oil for Face Care
Melaleuca essential oil is known for its purifying properties. And when used on the face it not only cleans, but also helps rejuvenate the skin.
This essential oil is also great for supporting a healthy complexion.
Ylang Ylang Essential Oil for Face Care
This essential oil helps to promote healthy skin. Ylang ylang essential oil is known to help with anti-aging by giving one a youthful glow.
Ylang ylang essential oil helps to balance skin and excess oil production.
Witch Hazel for Skin Care
Witch hazel has many anti-inflammatory properties and it makes a powerful aid in fighting acne and other skin blemishes.
It acts as an astringent that helps shrink pores, soothes skin, and reduces inflammation.
I personally prefer the witch hazel that is free of alcohol.
Here is the kind I love to use.
How to Make An All Natural Face Toner
This recipe is incredibly simple. All you'll need to do is place all of the ingredients into a mason jar, add a lid, and shake well to combine.
Then I add my reusable cloth face wipes. Mine are purchased from Etsy, but here is something similar. And I will probably purchase these when mine are no longer useable.
This face toner is enough for about 15-20 reusable face cloths depending on the size and thickness.
Natural Face Toner Ingredients
3 tablespoons Witch Hazel
2 tablespoons distilled water
5 drops each of:

copaiba essential oil
Frankincense essential oil
lavender essential oil
melaleuca essential oil
Add all ingredients to your mason jar, add lid, and give it a good shake. Then add your face cloths.
To use: wash face with facial cleanser and then use toner as the second part of your skin care routine.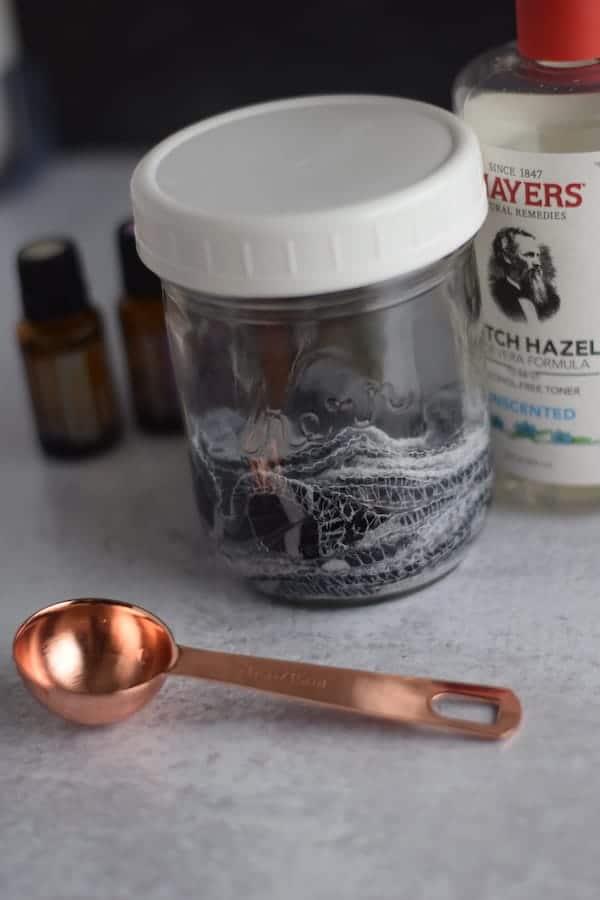 Face Serum Moisturizer
For this recipe, I like to store it in a dark blue dropper bottle. And I use jojoba oil as the carrier oil. Jojoba oil makes a great moisturizer for the face because it is natural and resembles the natural oils in the skin.
It adds moisture to the skin without it feeling greasy. Plus, it doesn't clog the pores!
Jojoba oil is also an anti-fungal, antibacterial, and anti-inflammatory.
Ingredients for Face Serum Moisturizer
2 tablespoons jojoba oil
10 drops of Frankincense essential oil
4 drops of lavender essential oil
3 drops of copaiba essential oil
3 drops of ylang ylang essential oil
Add all of these ingredients to your dropper bottle and mix well. Give it a gentle shake before each use.
To use: drop a small amount (approximately dime size) and apply to face.
I use this morning and nighttime as the third and final step of my natural face skin care routine.
Here are more essential oil posts you may like:
10 Homemade Cleaning Products with Essential Oils
How to Use Lemon Essential Oils Around the Home
More DIY Posts: