You really can't get much more simple than this delicious take on the traditional Spaghetti Aglio e olio. In this version, I add a bunch of fresh herbs and a little bit of cheeses to boost the flavor a bit.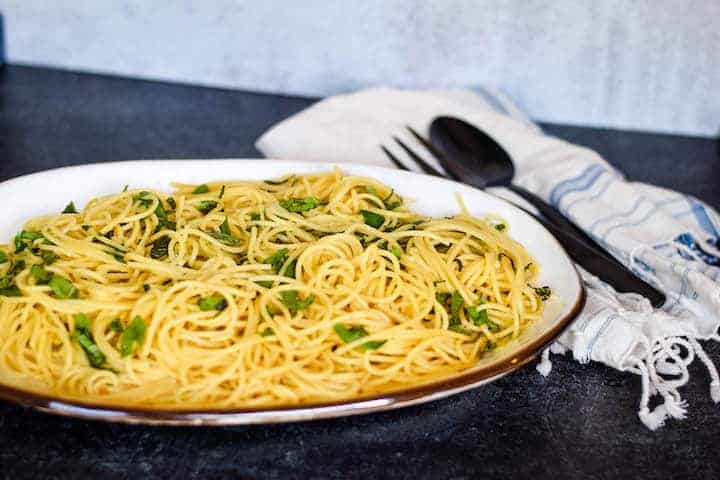 Spaghetti Aglio e olio is a classic Italian pasta dish. It is traditionally made by sautéing garlic in olive oil, and adding red pepper flakes, then is tossed with spaghetti noodles.
In my version, I include fresh herbs and a little bit of fresh Italian cheeses.
The sauce is made up of olive oil and a small amount of pasta water. Pasta water retains a lot of starch so it is helpful to use to create a sauce. It will help the oil sauce to stick to the pasta.
Sourcing Quality Olive Oil
I believe that quality ingredients play an important part in creating a great tasting meal. And olive oil is a key ingredient in a lot of Mediterranean cooking.
Surprisingly there is a lot of fraud in most olive oils on the market. And sadly it isn't always easy to spot.
When I purchase olive oil, I try to always purchase an oil approved by the COOC (California Olive Oil Council). This is because they have very strict testing standards and I can be sure that I'm buy an authentic Olive Oil.
Other authentic olive oil seals:
I'm sure that there are others out there, these are just the few that I know of.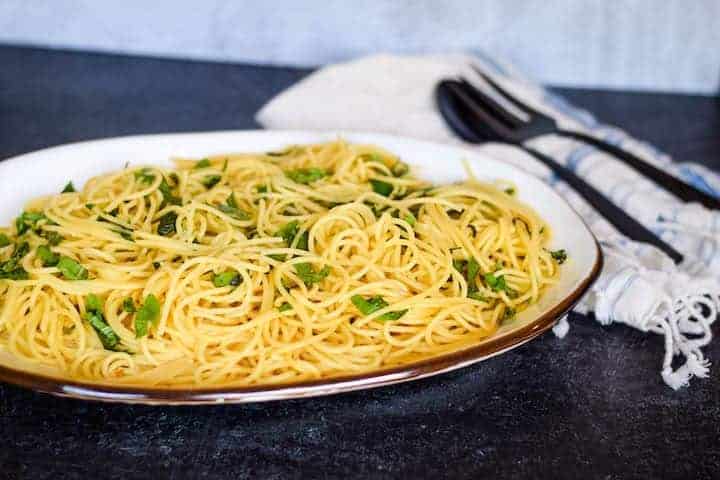 How to Make Spaghetti Aglio e Olio
The sauce of this pasta dish is comprised primarily of olive oil. And it takes less time to make than it does to cook the pasta.
I don't drain my pasta water, but will scoop the pasta and add it directly to the garlic & pepper oil. This carries some of the pasta water with it. If you prefer to drain your water completely, make sure that you reserve a bit of the pasta water to make the sauce stick to the pasta.
Reserve about 2 tablespoons of the pasta water.
Typically what I do is cook the pasta according to package instructions. Make sure to salt the pasta water – this is super important when cooking pasta because it helps to properly season the pasta.
The pasta should be cooked to al dente, not over cooked and mushy. Usually this would be about 8-10 minutes or so. Test the pasta towards the end to make sure it doesn't cook too long.
While the pasta is cooking, chop up the garlic and herbs. Heat up the oil in a sauté pan over medium heat. Add the garlic and heat until fragrant but not toasted. You'll want it to be soft and slightly light brown.
Be careful not to burn the garlic! This will make it bitter.
Add the crushed red pepper flakes and gently stir. Then, add the pasta and pasta water.
Next add in the parmigiana or pecorino cheese, herbs, and mix well.
Remove pasta from sauté pan and serve immediately over a platter.
More Recipes: