This recipe for creamy sun-dried tomato pasta is simply scrumptious. It is packed full of flavor from the combination of sun-dried tomatoes, pecorino cheese and heavy cream. And best of all, it's ready in under 20 minutes.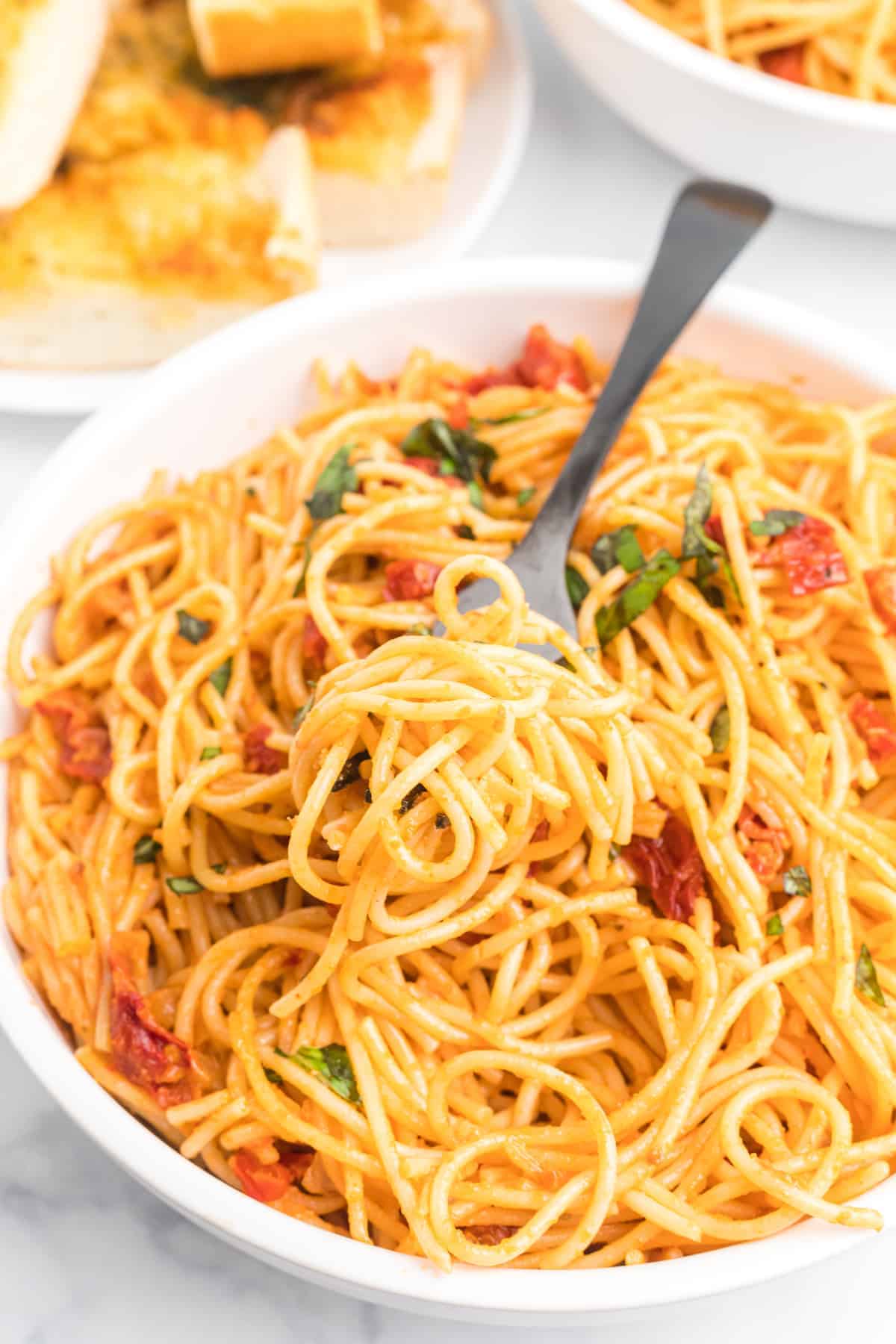 This posts has been updated from its original publish date of December 26, 2019 from my old food blog, Olive & Artichoke. It has been updated to provide better photos, additional helpful information and step by step instructions.
Creamy sun-dried tomato sauce
Ok, so this may not be the most healthiest of recipes. It is loaded full of heavy cream and cheese. But it is super delicious and makes a nice, easy meal.
It is especially tasty when you are craving a comforting meal.
I highly recommend the use of a good quality olive oil. Especially when making a sauce that uses a fair amount of it.
Using a good quality oil is packed full of healthy fats and beneficial ingredients. And if using one that is certified, there's no risk of it being a fake.
If you are looking for another amazing creamy tomato pasta sauce recipe, check out this Creamy Pomodoro Sauce. Which this creamy pasta sauce recipe is adapted from.
This recipe is a family favorite and a great quick option for a lunch or weeknight when you need dinner made fast.
Which pasta shape is the best?
Almost any pasta works well for this sauce. I have used a variety and they've all come out well. Generally it is recommended to use a wide pasta noodle for a creamy sauce.
However, I prefer either a basic spaghetti or something like a penne, rigatoni, or farfalle. Pappardelle, fettuccini, and linguine are also great options that we enjoy.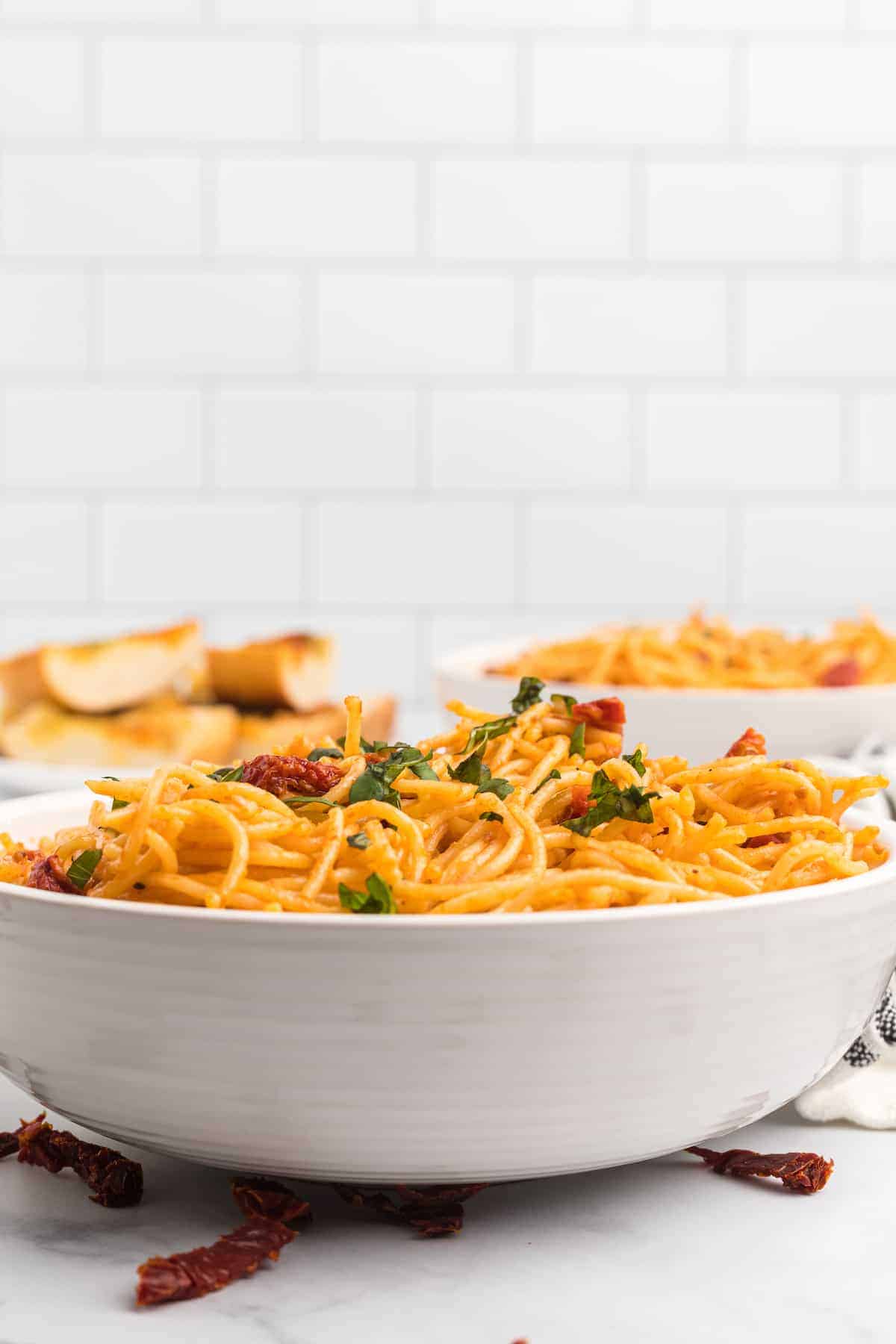 Ingredients
This creamy pasta doesn't use anything super complicated! You can easily find these items in your local grocery store.
good quality extra virgin olive oil
medium onion
garlic cloves
jarred sun dried tomatoes julienned and drained of oils
tomato paste
freshly shredded pecorino cheese
heavy cream
salt
Primal Palate Amore seasoning or Italian seasoning of choice
spaghetti – or use your favorite pasta for this cream sauce
fresh basil as garnish (optional)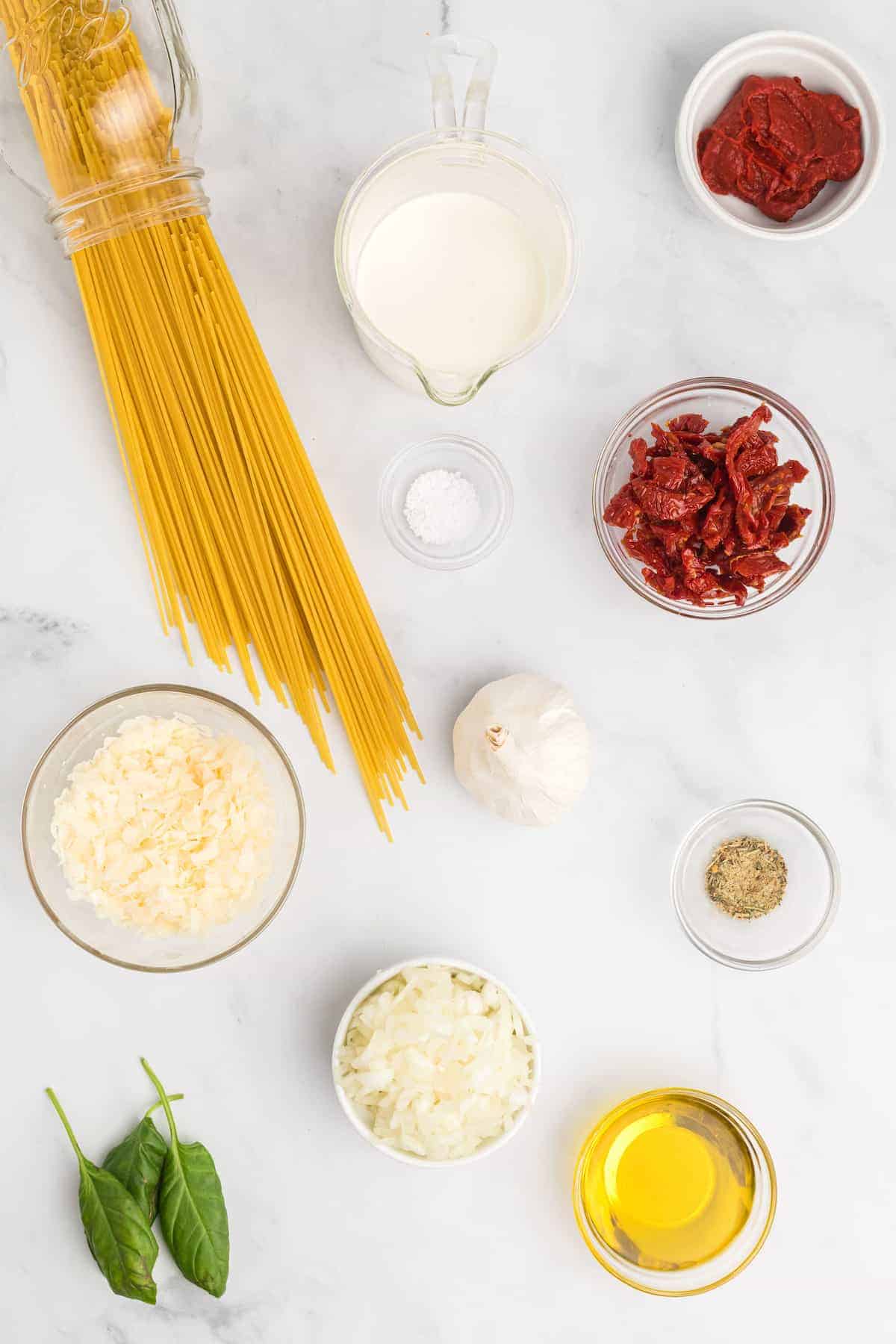 Instructions
Begin by bringing a large pot of water to a boil. Cook the pasta according to the package instructions. And be sure to salt your pasta water – do this just as the water is boiling and right before adding the pasta noodles to the water.
Meanwhile in a large skillet add the olive oil and heat oil over medium heat. Add onions and garlic and sauté until soft and onions are translucent.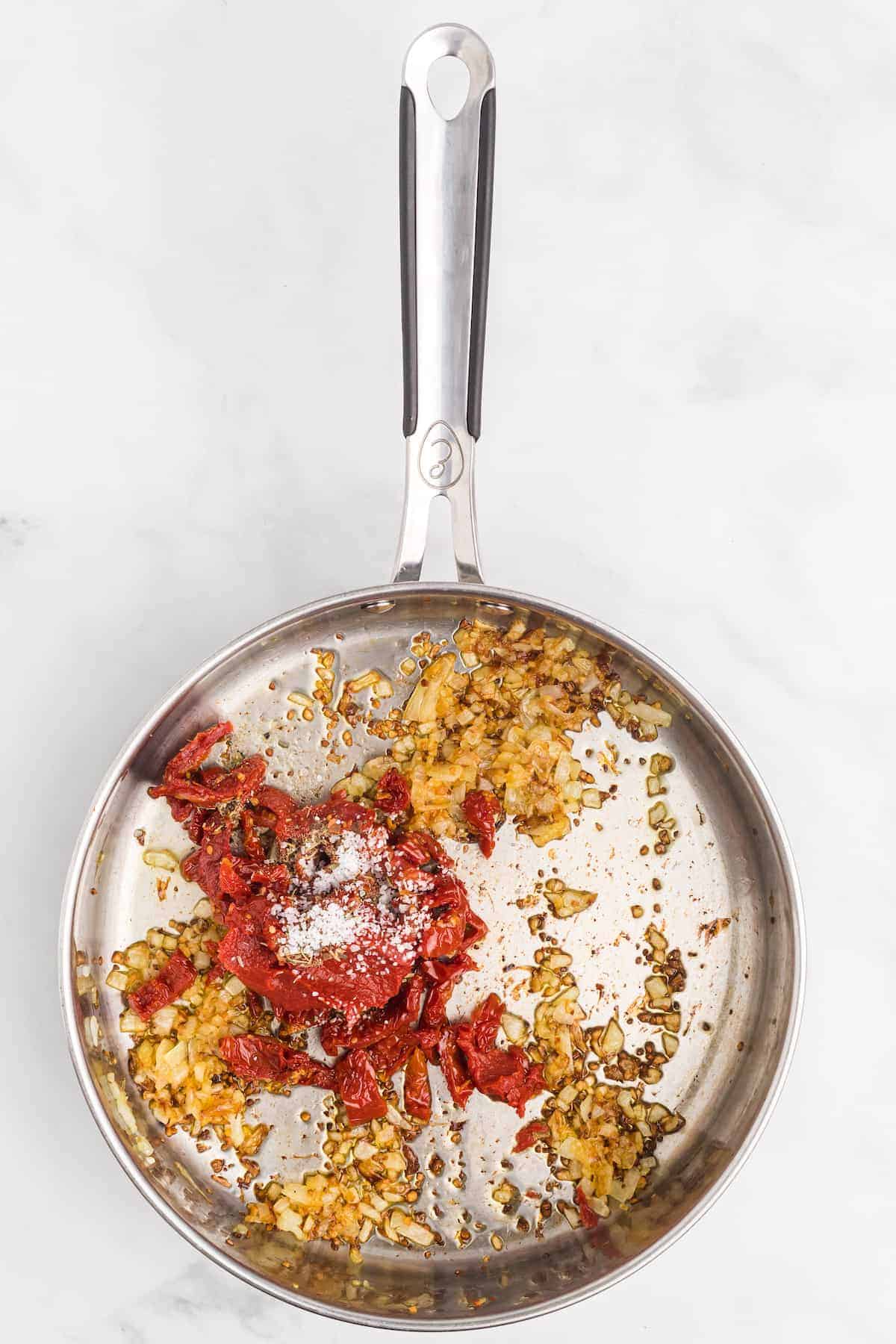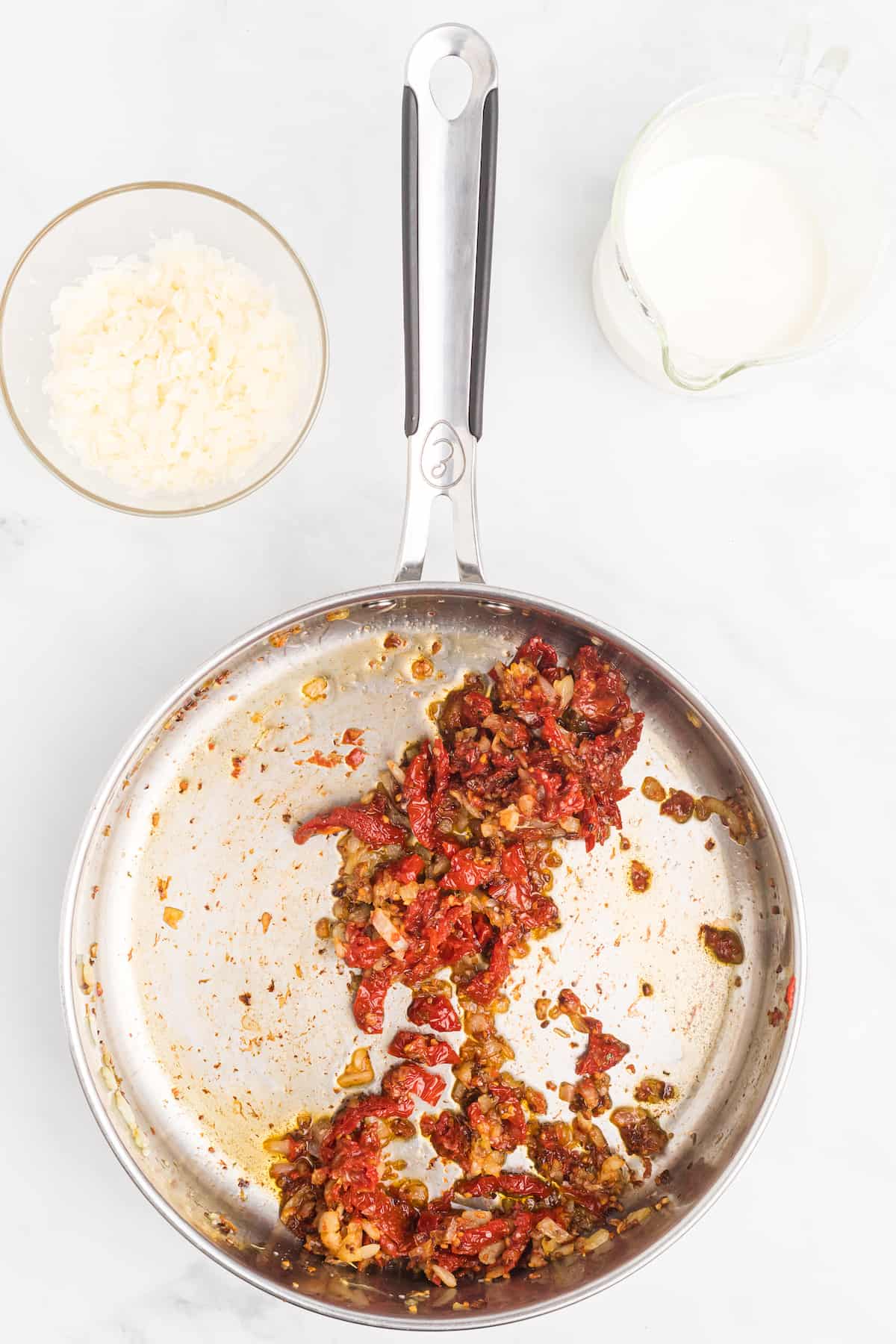 Combine the sun-dried tomatoes and tomato paste with the sautéed onion and garlic mixture. Add the salt and Italian seasonings.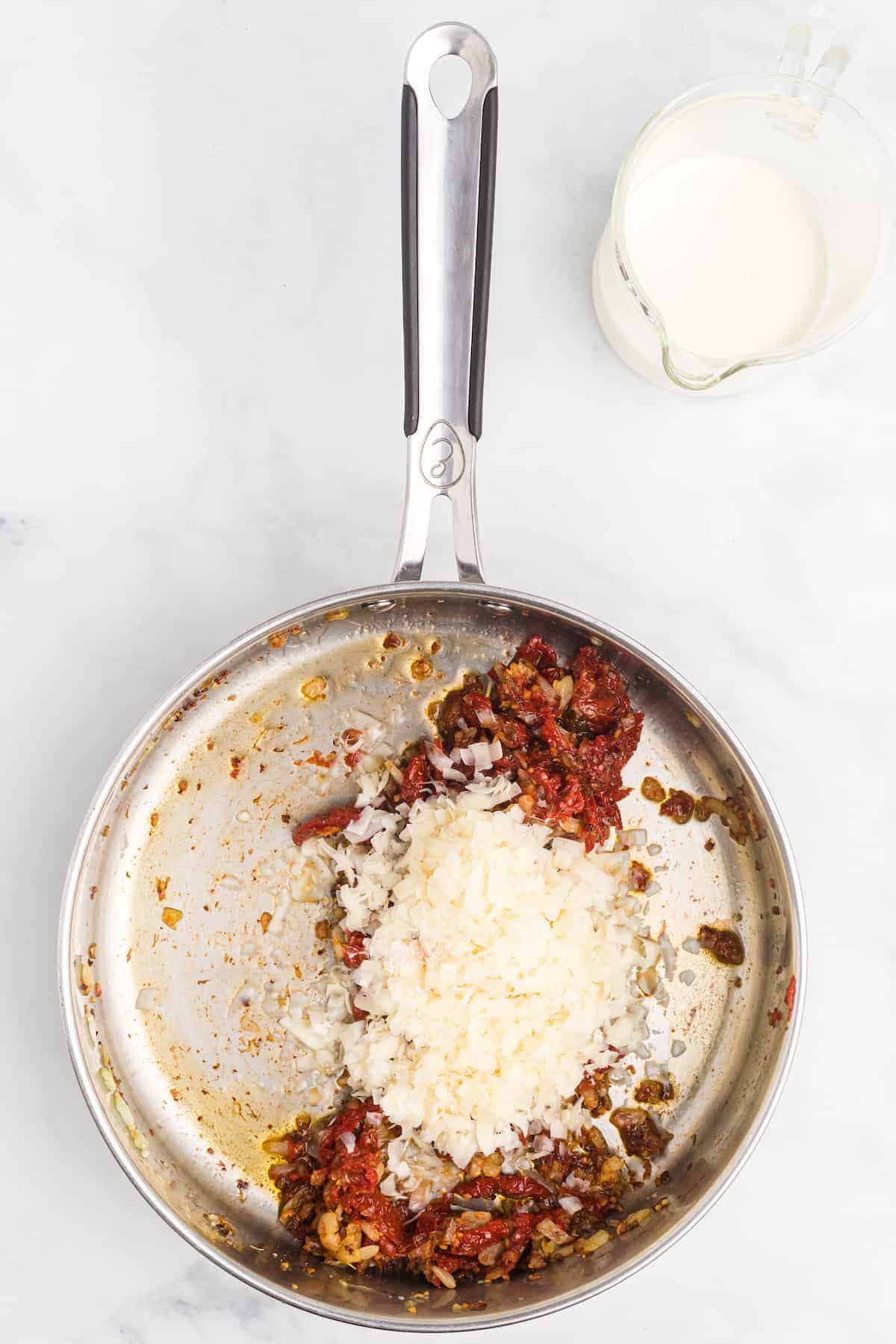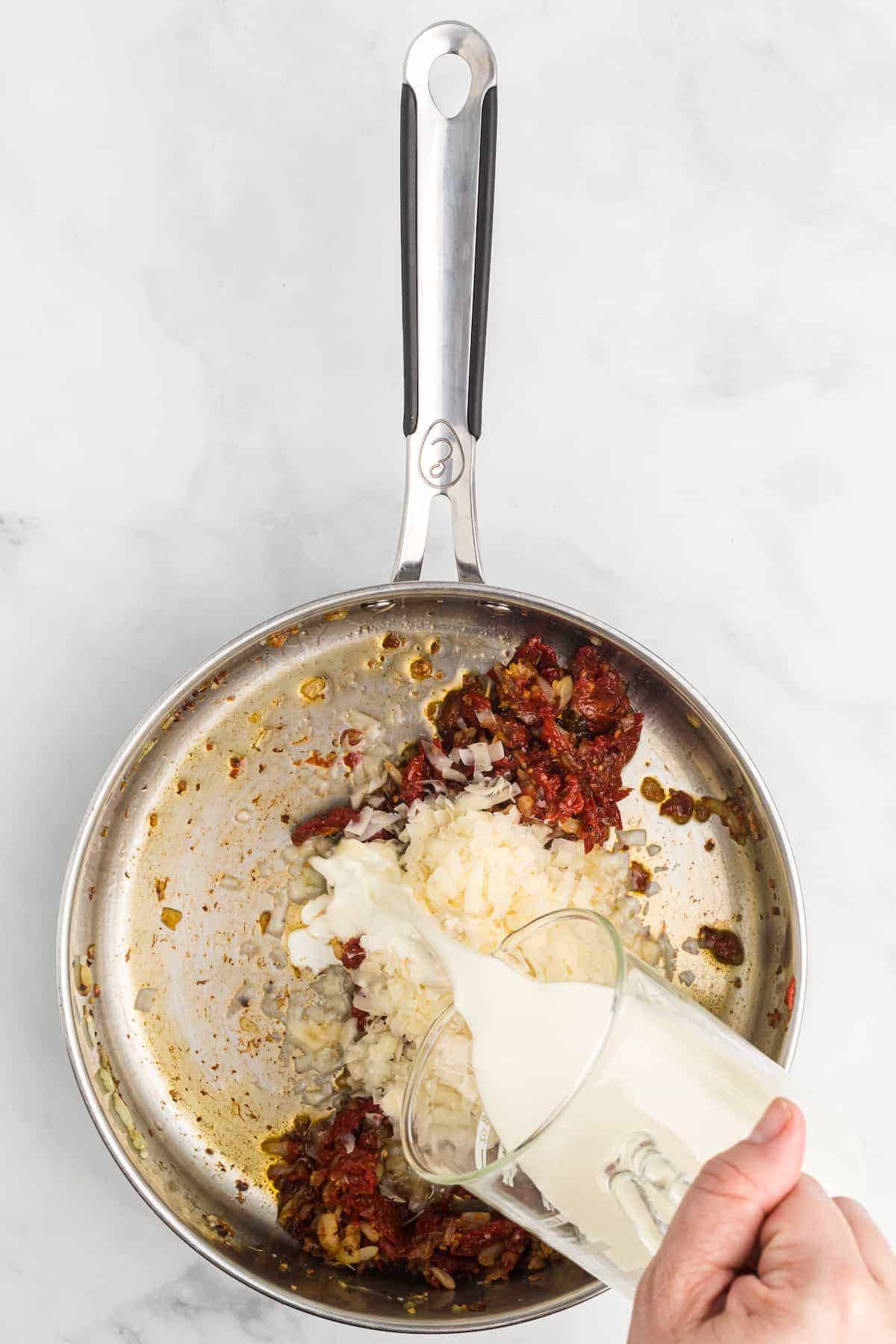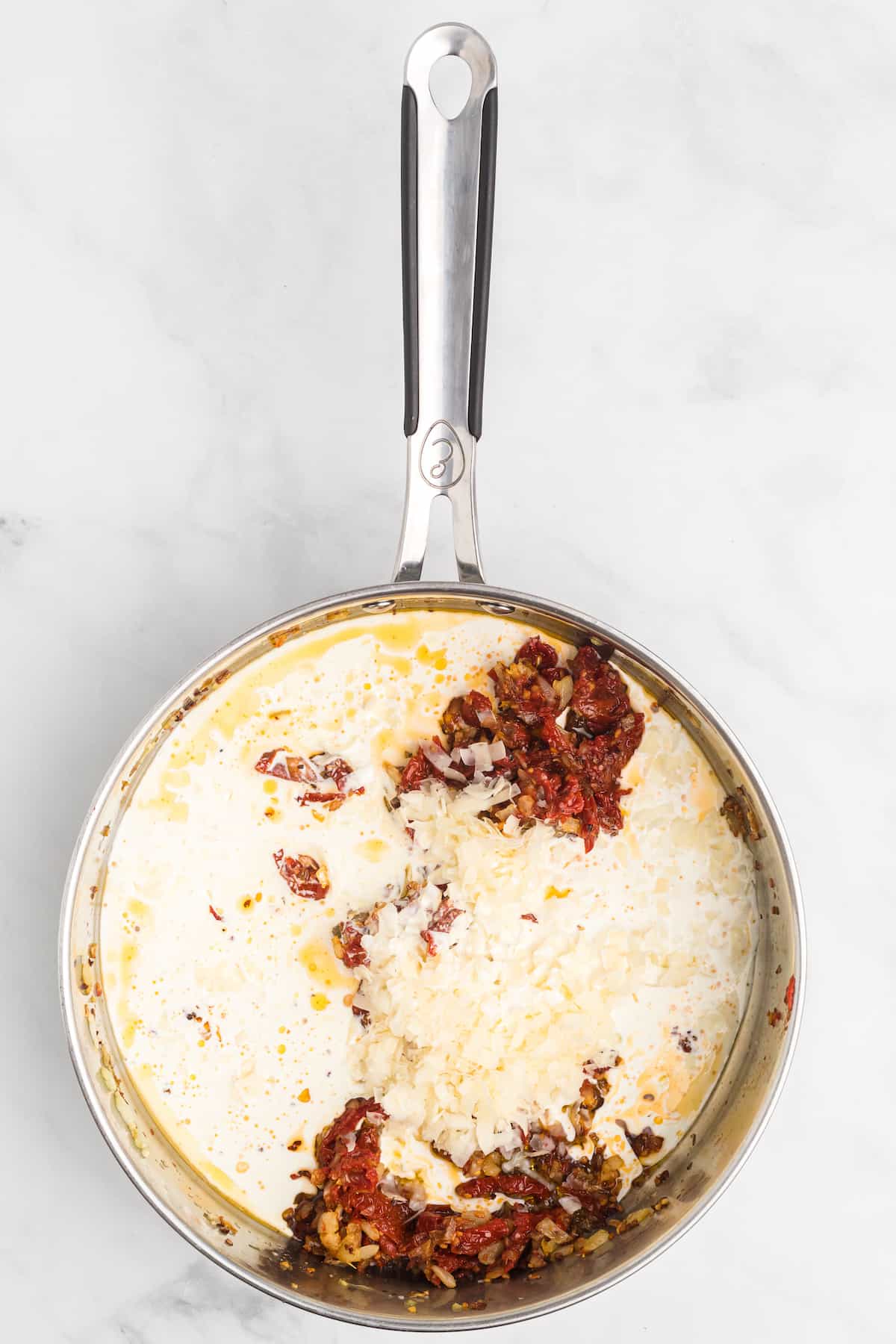 Whisk in the pecorino cheese and the heavy cream, combine well.
After the pasta has cooked to al dente or desired doneness, drain the water and stir the noodles into the sun-dried tomato cream sauce.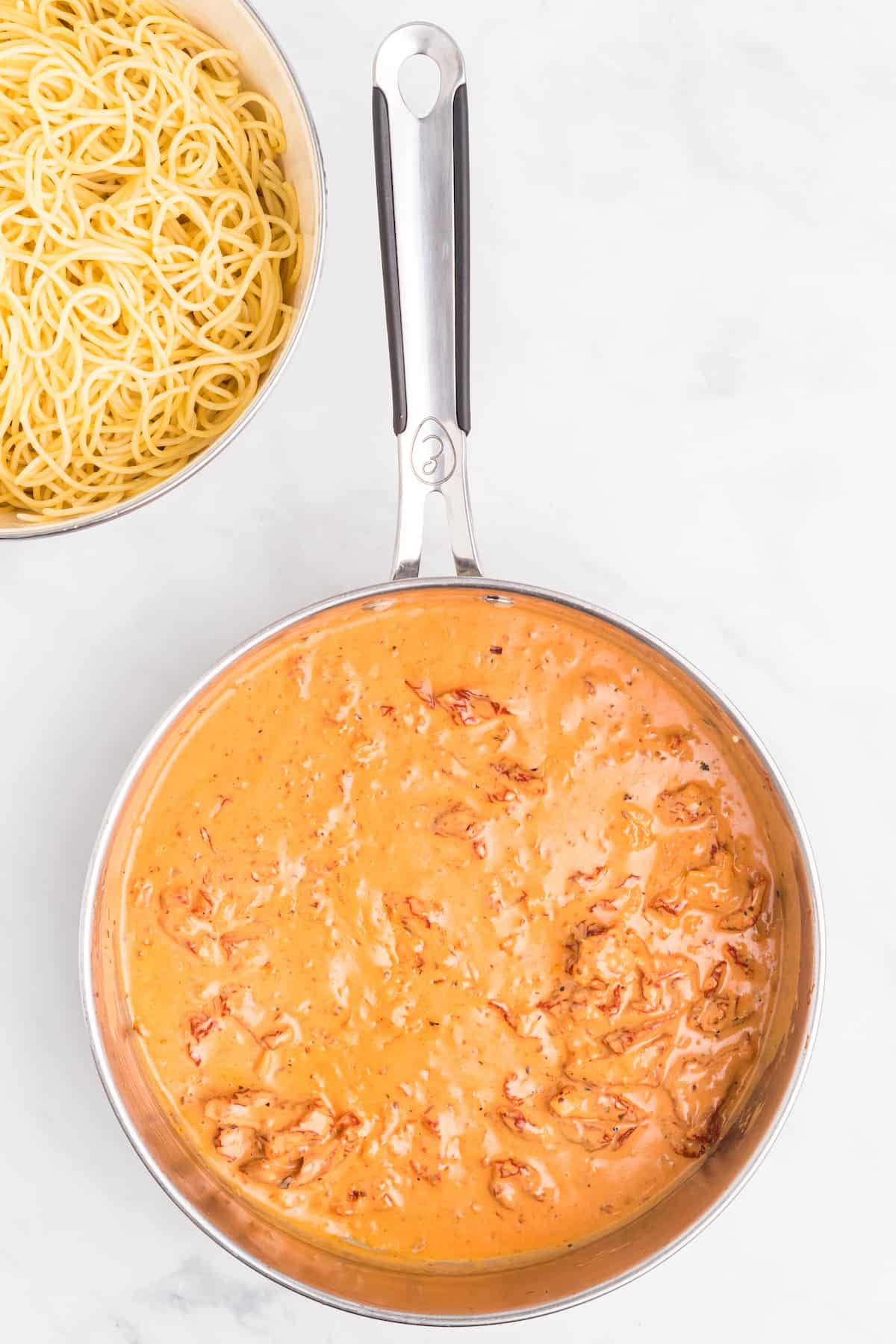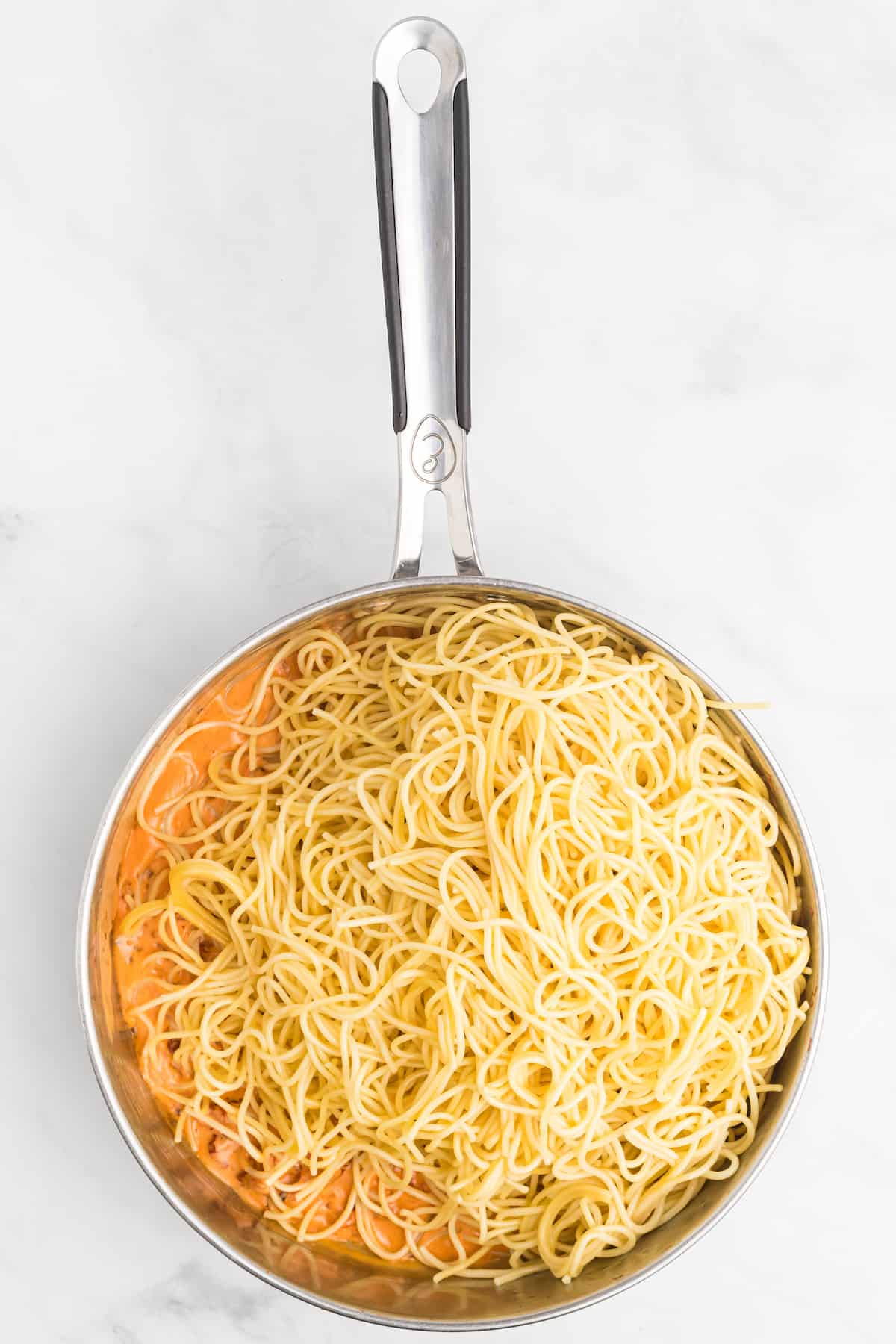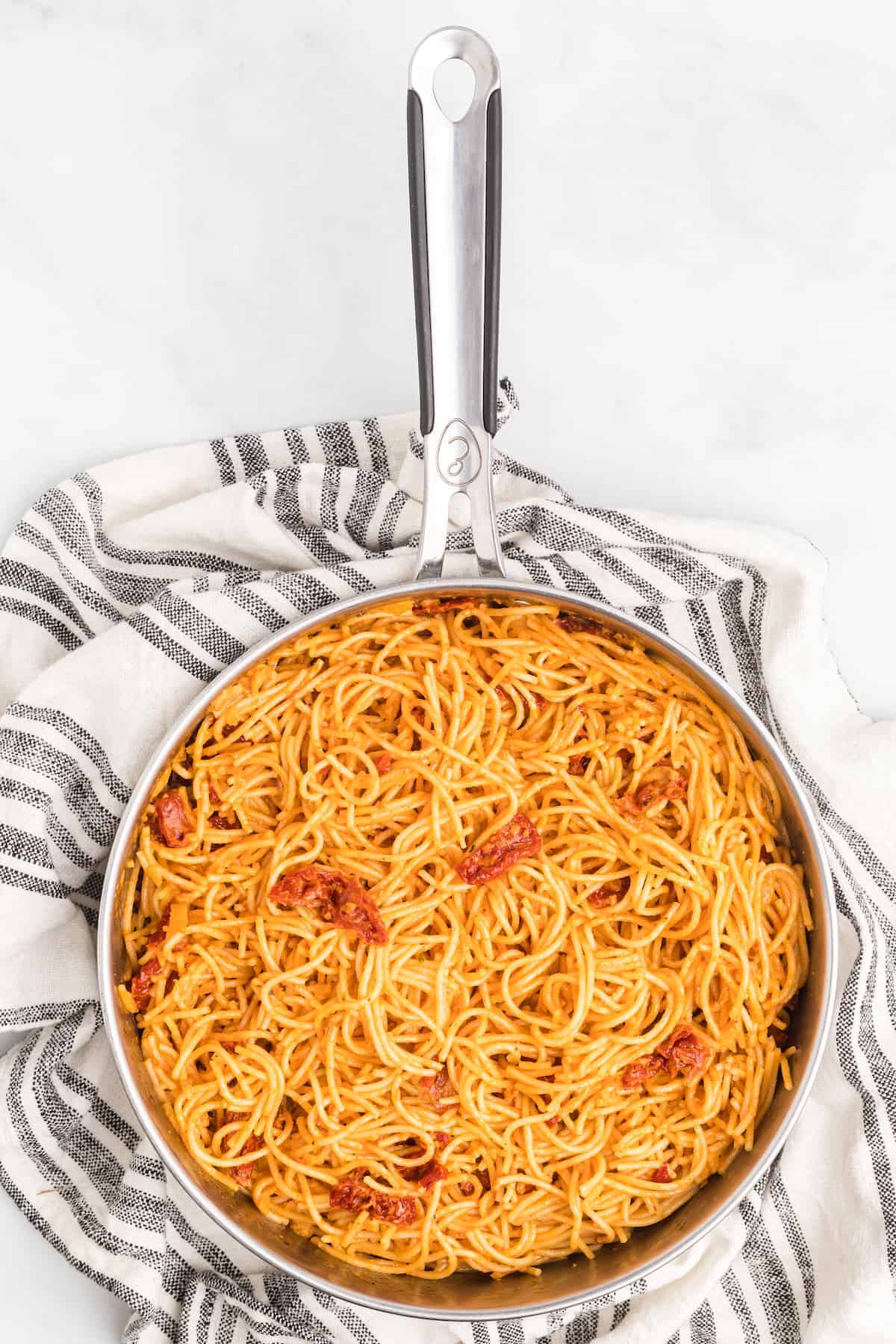 Add the drained pasta noodles directly to the pan with the creamy sauce mixture. Top with fresh herbs like parsley or basil to garnish – optional, or crushed red pepper flakes for a little extra heat.
🍅 Recipe tips
I
I wholeheartedly believe that good quality ingredients make for the best recipes! I don't recommend any fake or overly processed ingredients and will usually recommend organic / non-gmo ingredients whenever possible.
Sourcing good quality ingredients can be difficult sometimes. Did you know that most of the olive oil in grocery stores aren't truly authentic? Or that most seafood is farmed and sourced from China? These are just a couple of examples of confusing product labels.
How do we find the BEST ingredients? If you're like me, then sourcing clean ingredients is important to you! So, I've created a favorite shop page with all of my recommendations. Here you can find all of the best places to source good quality ingredients!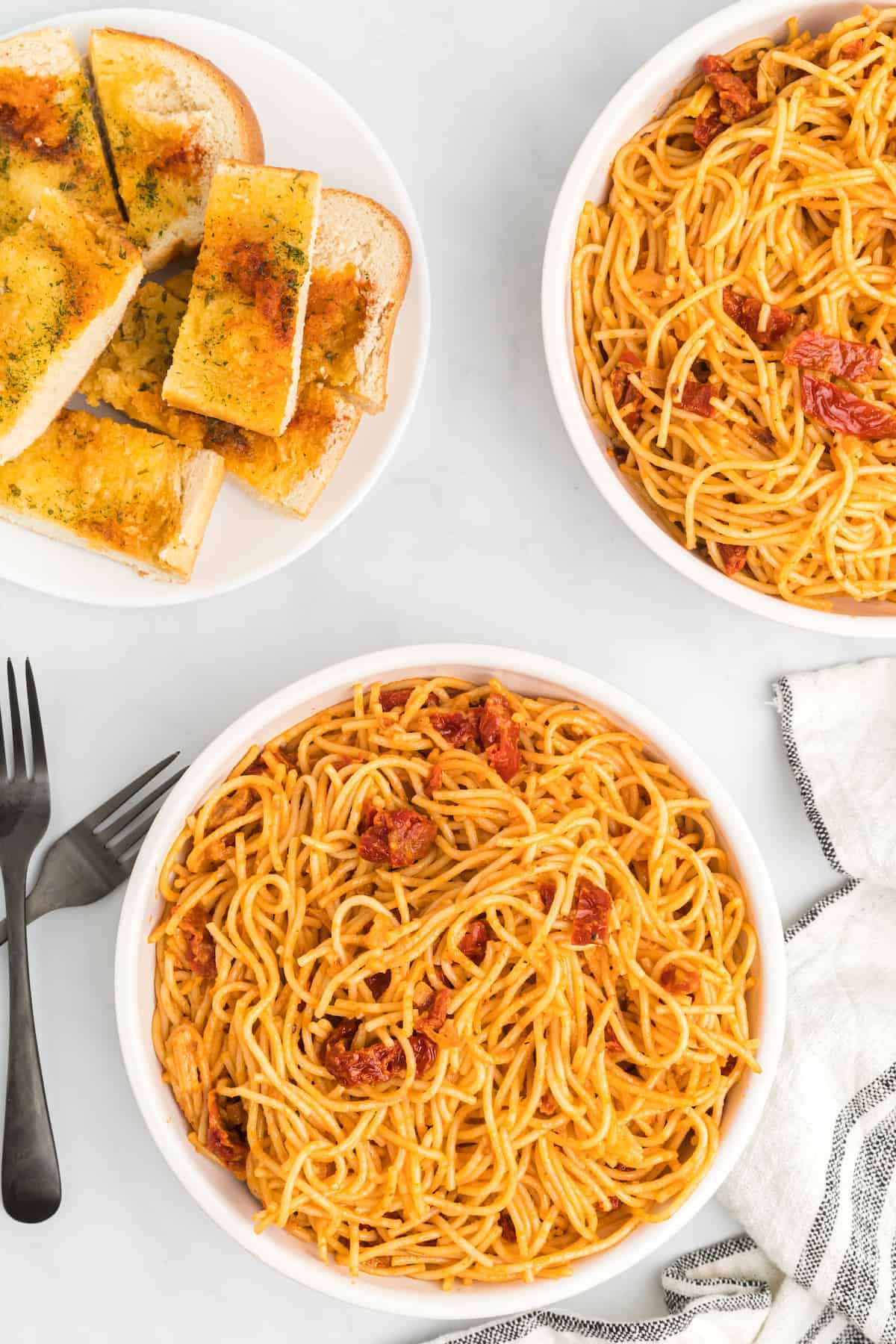 How to store leftovers
If you have leftover sun-dried tomato pasta, they can be stored in the refrigerator for about 3-4 days. Store them in an airtight bowl or container in the fridge. Reheat on the stovetop over medium-low heat until warmed through.
more favorite pasta recipes
Pasta is such a great pantry staple to keep on hand and these pasta dishes are so satisfying!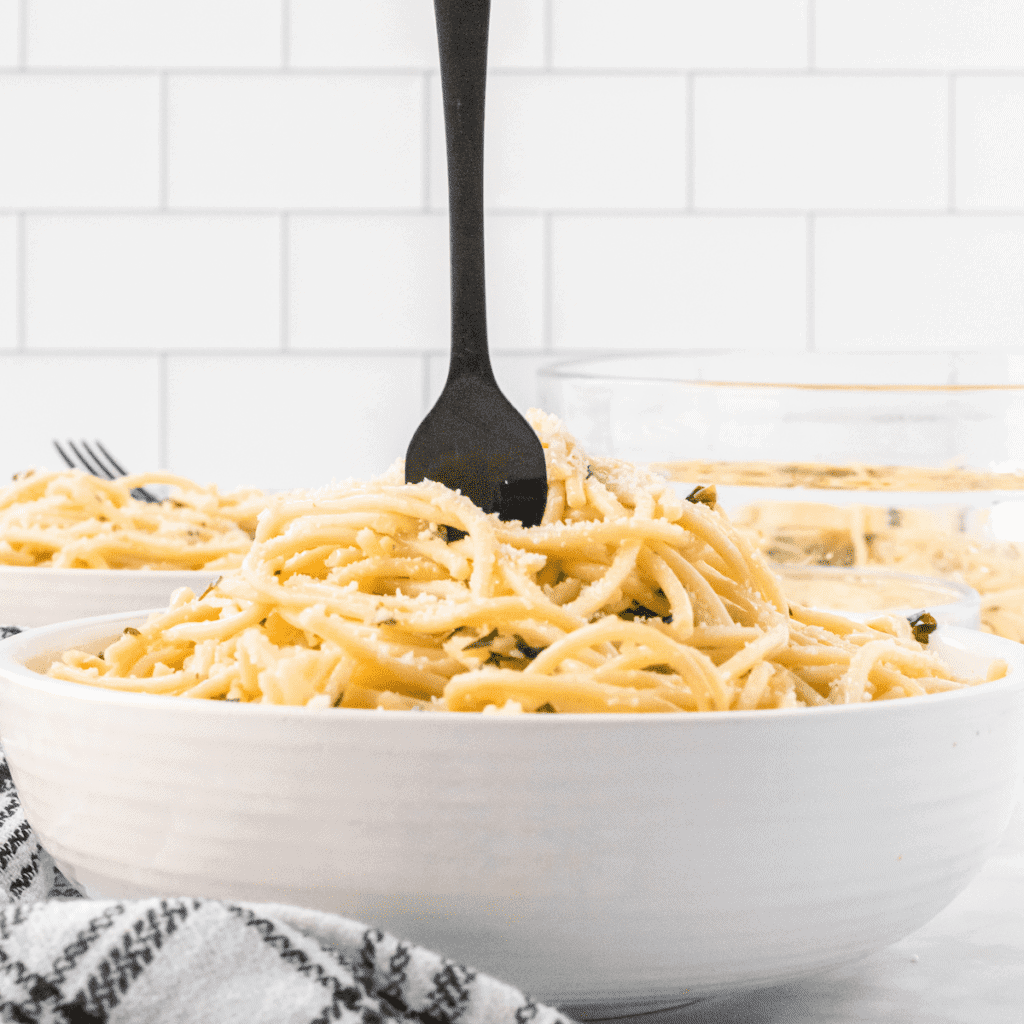 FAQ (frequently asked questions)
What flavors pair well with sun-dried tomatoes?
Basil and some other fresh herbs taste really good with sun-dried tomatoes. Here are some more favorite flavor pairings for sun-dried tomatoes: lemons, capers, chicken, ricotta, shrimp, artichokes, and toasted Italian bread or sourdough.
What kind of pasta do you use for cream sauce?
Generally, it is recommended to use a wider pasta noodle. For this recipe, you can use anything that you prefer or have on hand. The sauce will stick to the pasta noodles well and we have tested a variety of noodles for this sauce. Here are a few pasta pairing suggestions: pappardelle, rigatoni, fettuccine, linguine, spaghetti, and penne pasta all work great.
want more recipes?
Check out the recipe index where you can discover more homemade recipes from my homestead!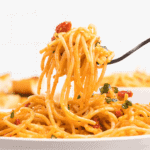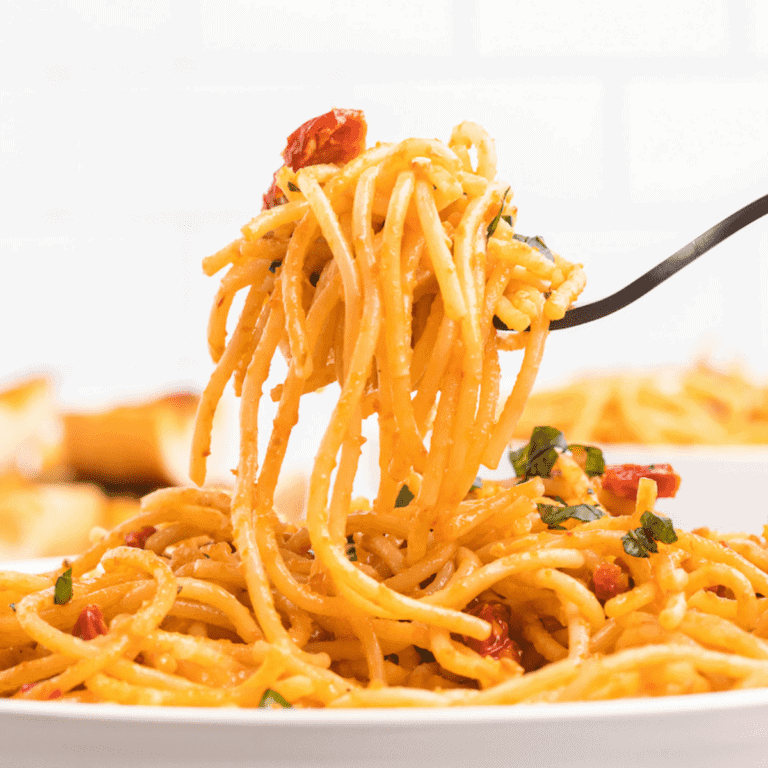 Creamy Sun-Dried Tomato Pasta
This easy pasta with sun dried tomato cream sauce is a delicious combination of flavors and textures. This simple pasta is great during the summer with grilled meat or fish.
Ingredients
⅓ cup quality extra virgin olive oil
1 medium onion finely chopped
2 cloves garlic chopped
½ cup jarred sun dried tomatoes julienned and drained of oils
2 tablespoons tomato paste
1 cup pecorino cheese fresh shredded
1 cup heavy cream
½ teaspoon salt
½ teaspoon Primal Palate Amore seasoning or Italian seasoning of choice
1 pound pasta
fresh basil as garnish optional
Instructions
Cook pasta according to package instructions – be sure to salt the pasta water.

In a large skillet, heat up the olive oil over medium heat and add onions and garlic. Sauté until soft and onions are translucent.

Stir in the sun-dried tomatoes and tomato paste. Add the salt and Italian seasoning.

Whisk in the heavy cream and freshly shredded pecorino cheese. Stir well until the cheese is melted and the cream is well combined.

Remove from heat and stir in the cooked, drained pasta. Serve immediately.

If using the fresh basil as a garnish, add just before serving.
Nutrition
Serving: 1cCalories: 357kcalCarbohydrates: 11gProtein: 8gFat: 32gSaturated Fat: 14gPolyunsaturated Fat: 2gMonounsaturated Fat: 15gCholesterol: 62mgSodium: 831mgPotassium: 507mgFiber: 2gSugar: 5gVitamin A: 1182IUVitamin C: 18mgCalcium: 229mgIron: 1mg
Tried this recipe?Give it a 5 star rating and pin it to your Pinterest account!
where would you like to start?