Have you been building up your home kitchen garden? I'm sharing a few of my favorite flowers and herbs to add to the potager garden design.
It almost seems a little crazy to be planning a garden right now. With the cabin fever, the ice and snow storms, and bitter temperatures, I am ready to get my hands back in the soil. So, I'm planning out my new potager garden right now.
Since the move, all of our gardens will be starting over from scratch. We moved in the middle of winter and with snow covered grounds.
This land is beautiful and has an amazing layout already. So, I'm pretty eager to share the completion with all of you once I'm able to get going on that project.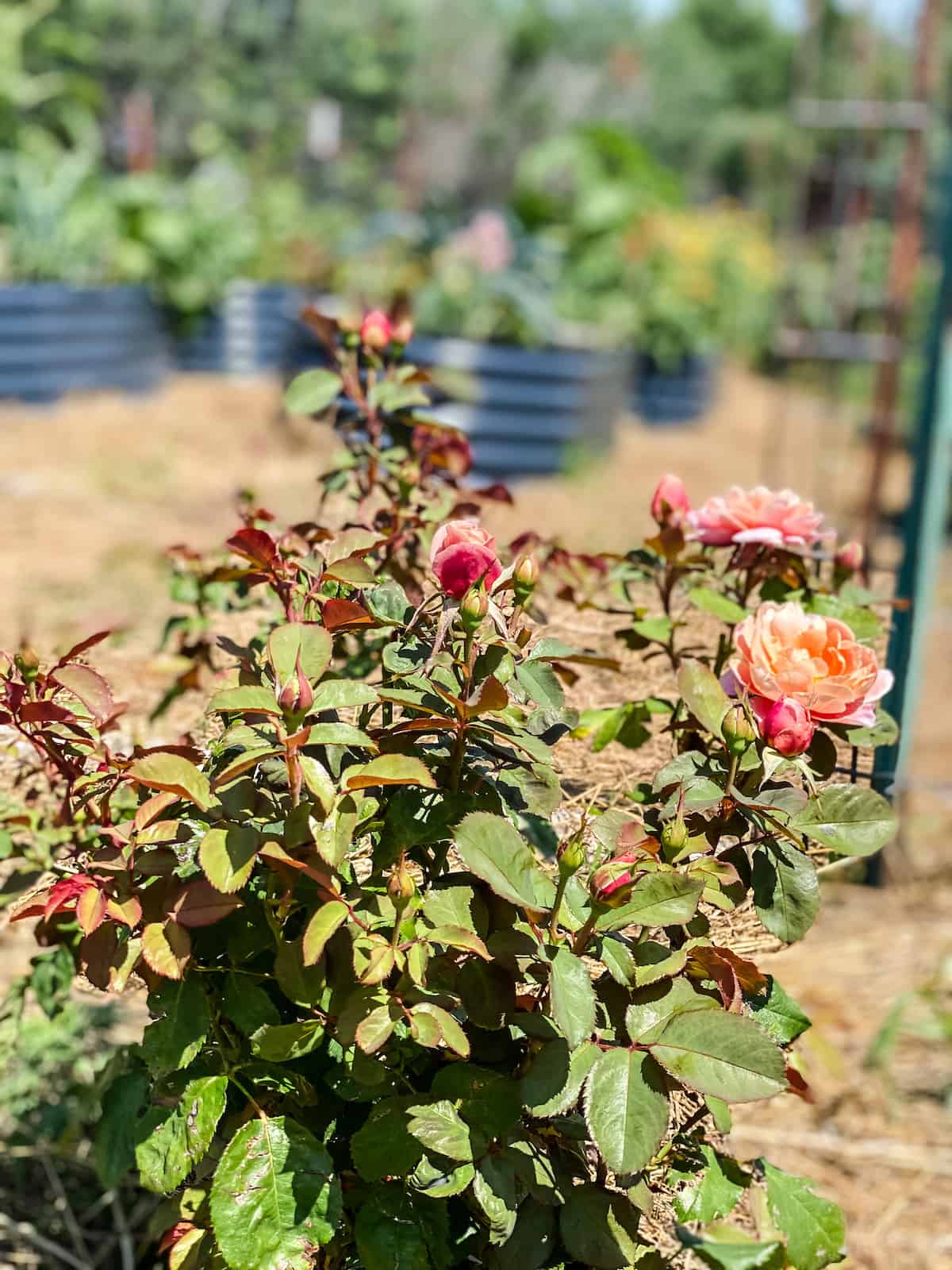 Potager Garden Design
As I begin planning the gardens, I'm sharing some of my favorite herbs and flowers for a potager garden. Last year, I shared some of my plans for designing the potager garden.
And this year, it's a completely new project! New land and completely new design and structure. The new potager garden will be a true kitchen garden since I'll be able to access it from my kitchen door. And not completely across the yard as I had at our old home.
This new potager garden will also flow into the greenhouse and raised garden beds. I have plans to add walkways and fencing so all of the gardens can be accessed together.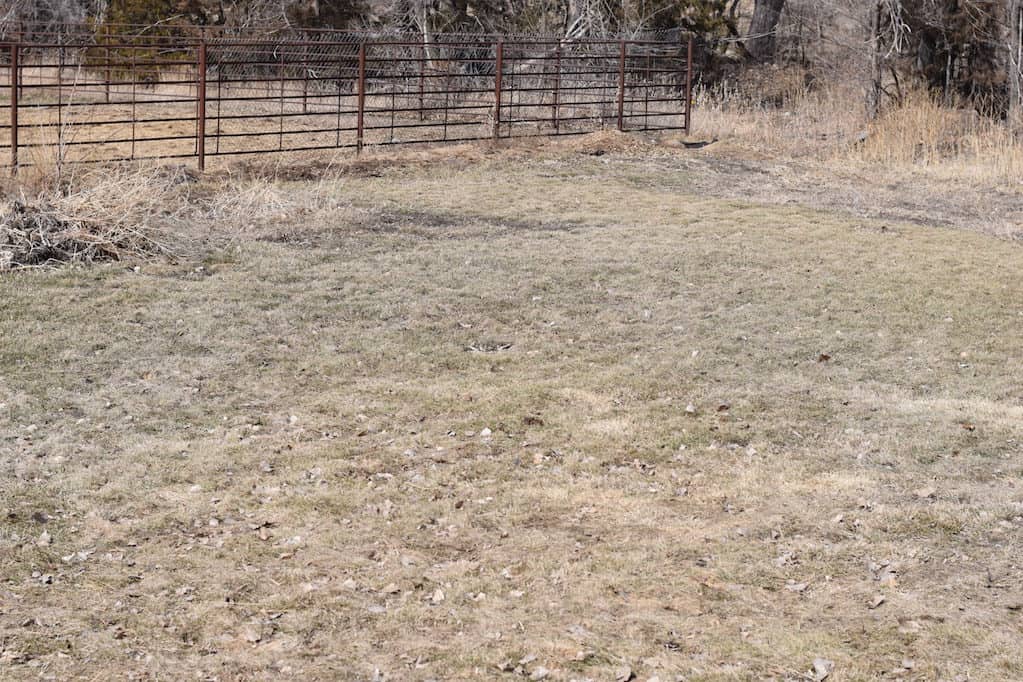 I know its pretty brown and gross looking, but this is the future home of my greenhouse and the greenhouse garden areas.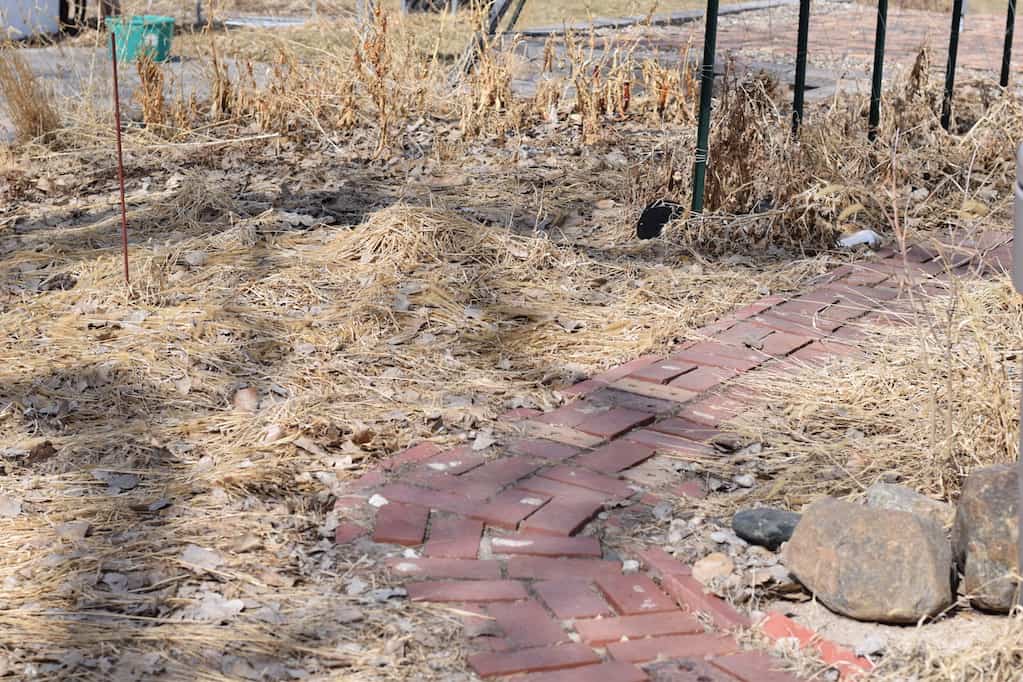 I'm not sure what was growing here previously, but my plans are to make this area the new front of the potager garden. Can you just see the potential on the sides of the brick pathway?
I'm pretty excited that they are already laid out!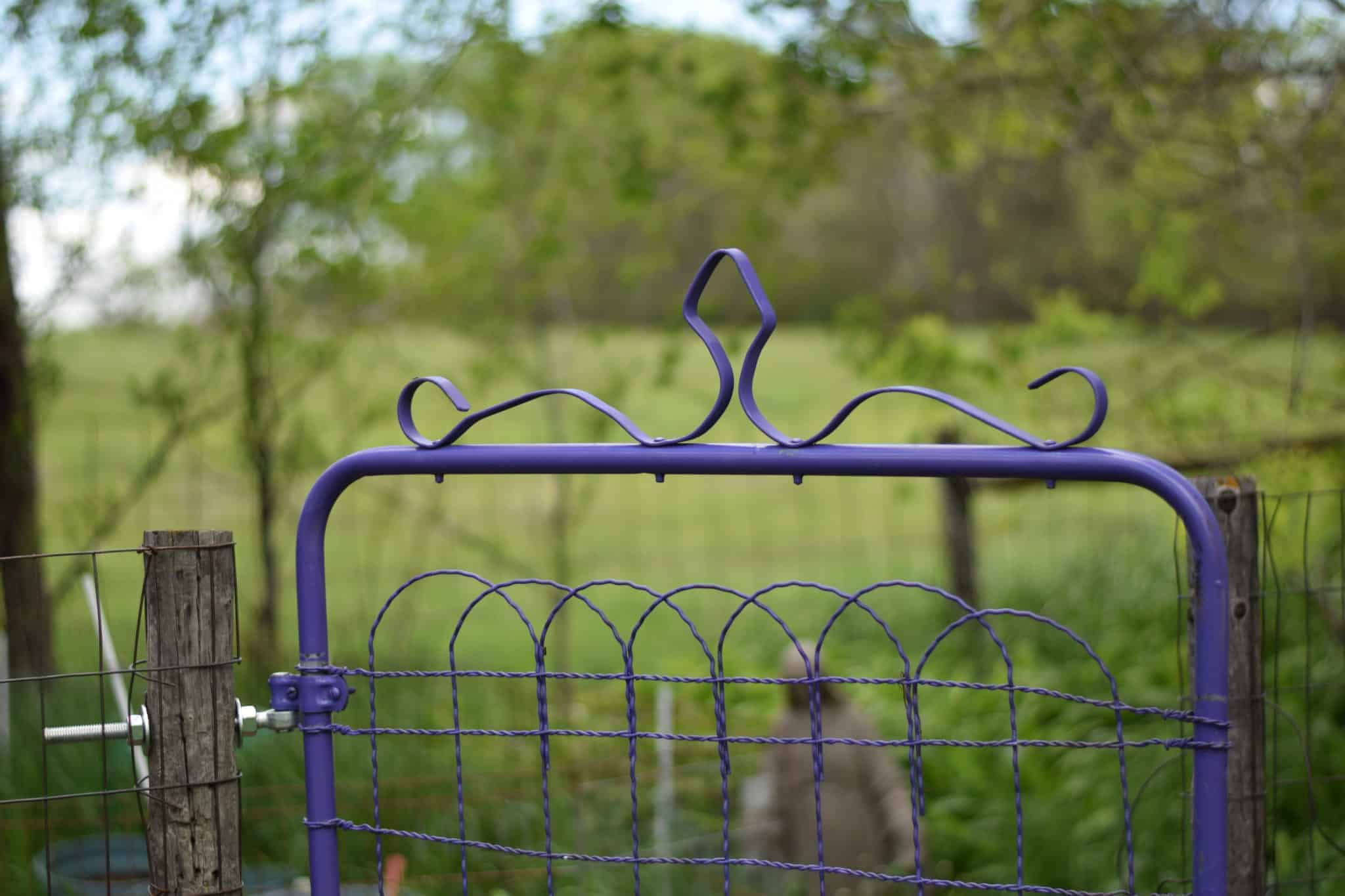 And you know, I totally saved my purple gate from the old house! All of this dead and brown land will soon be filled with greens and plenty of color!
Herbs and Flowers for a Potager Garden
I love adding a variety of culinary herbs mixed with flowers and medicinal herbs to my gardens. Here's a few of my favorites that aren't too hard to find or grow.
In addition to adding these to the potager garden design, I like to have some florals and herbs in pots scattered around the deck, front porch and even inside the home.
Here are a few of my favorite herbs and flowers to add to my potager garden design.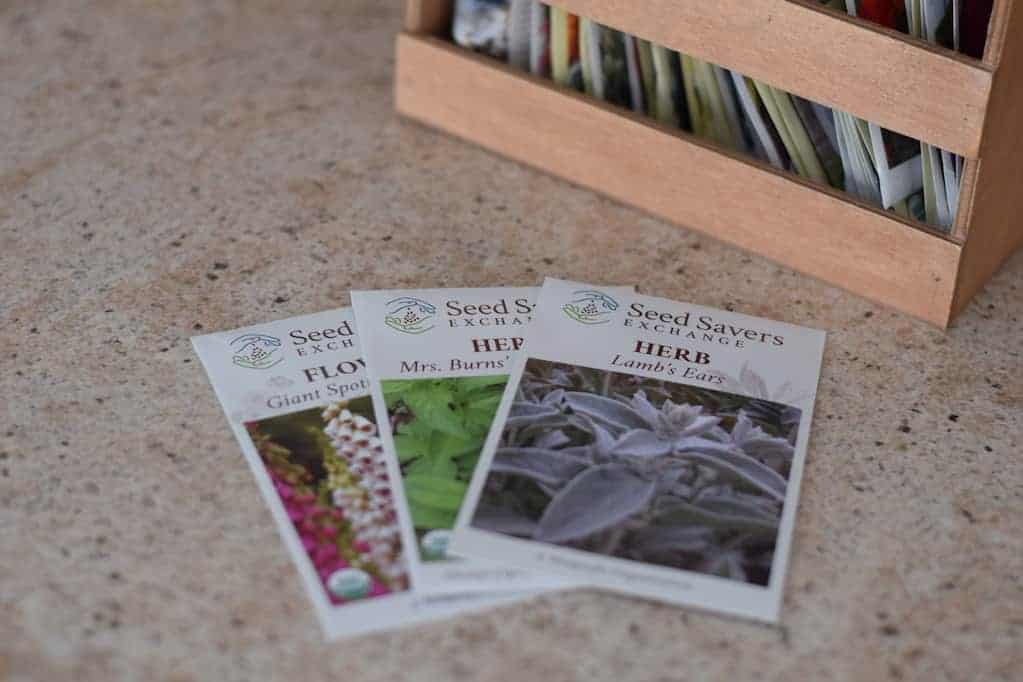 Climbing Vines
I love to add climbing vine florals along my fence lines surrounding the potager garden. The add a bit of whimsy and stunning appearance to the potager garden design and layout.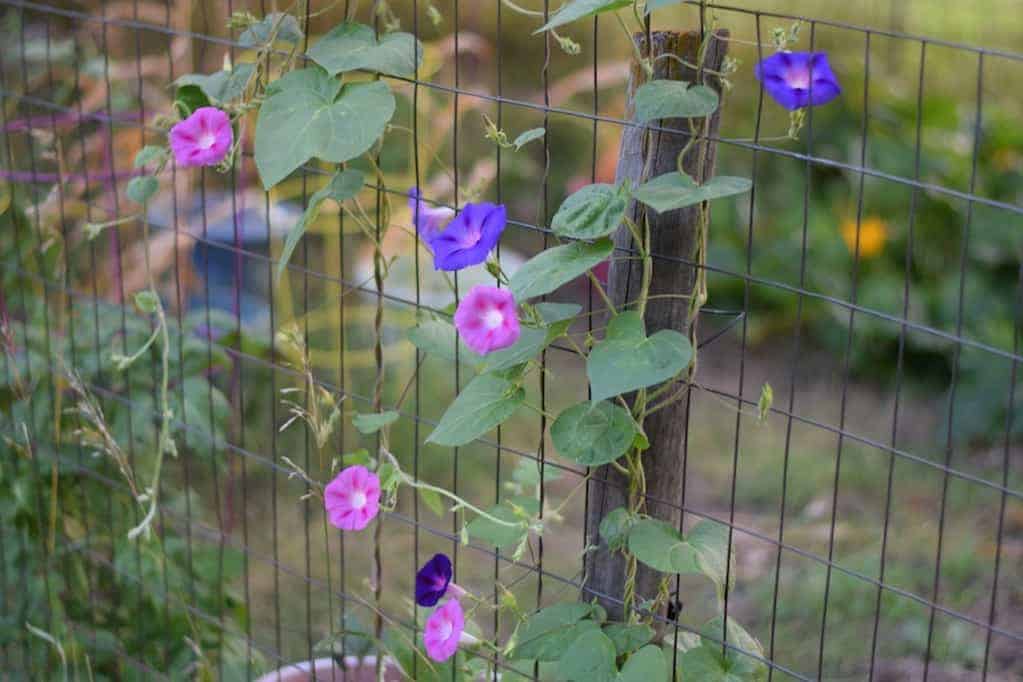 Morning Glory
Morning Glory are easy to grow and they provided me with blooms nearly all summer long. They're great along fence lines and trellises.
White Cypress
These vines have the cutest fern like foliage. If you like climbing vines, these are a great edition.
About 90% of my garden seeds comes from Seed Savers Exchange. I have used their seeds for years and the quality is hard to beat, in my opinion.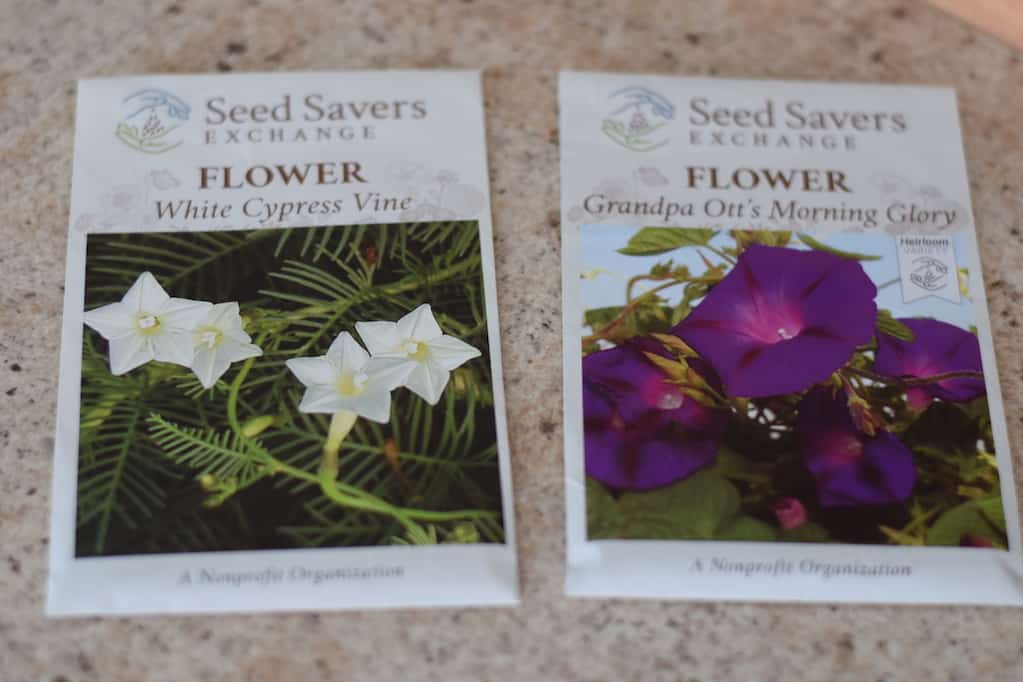 Climbing Roses
This will be a new edition to my potager garden this year. I love the Eden climbing rose, especially for the fuller blooms it provides. I feel that it'll give a perfect English cottage and romantic vibe that I'm going for.
My plans are to convince my husband that I need a trellis arch over my purple garden gate as an entrance to the greenhouse gardens. And that's where I'd like to grow the Eden Climbing Roses.
David Austin Roses also make great additions to the potager garden design.
Here's some tips on pruning and trimming Eden's climbing roses.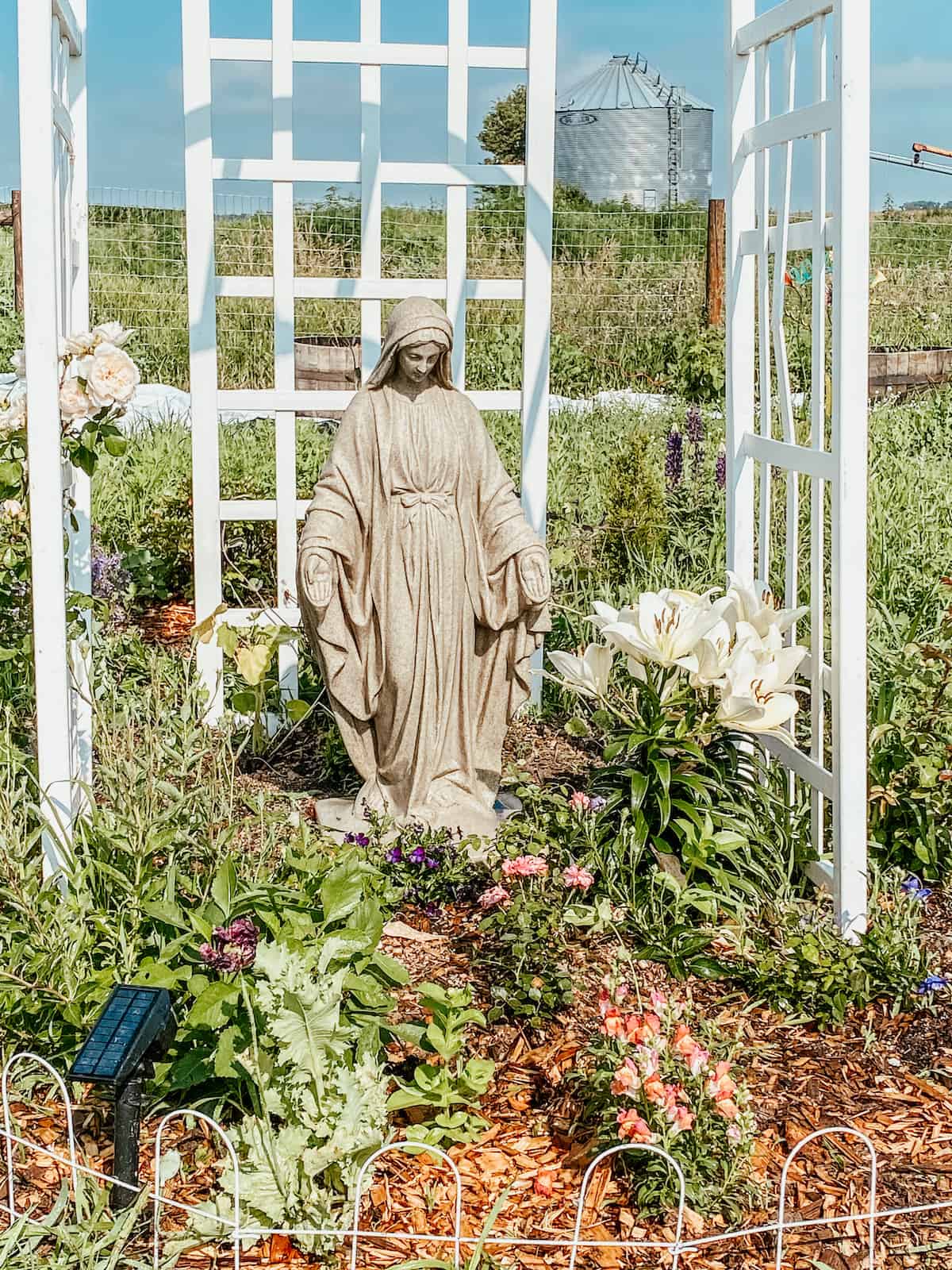 Other florals
Soft florals like tulips, daylilies, and Johnny jump ups make great additions to the potager design! I love adding a variety but sticking within the same color palette.
When designing your potager, I typically go for pastels.
Culinary Herbs
A potager garden is basically a French kitchen garden. It's a blend of culinary herbs, vegetables, and florals to give it a visually appealing and romantic design.
I mix some of my culinary herbs with some medicinal herbs because I find them all practical for a variety of uses in the kitchen and in the home. So this list will include some of my favorite easy to grow varieties.
There are so many varieties of culinary herbs, I'm going to share just a few of my favorite varieties to add some aesthetic beauty to the potager garden design.
Here are 7 Flavorful Perennial Herbs to add to the potager.
Borage
Not only is this herb pretty, its an awesome plant for pollinators. It's also a great choice for companion planting. It does well with strawberries and tomatoes, among others.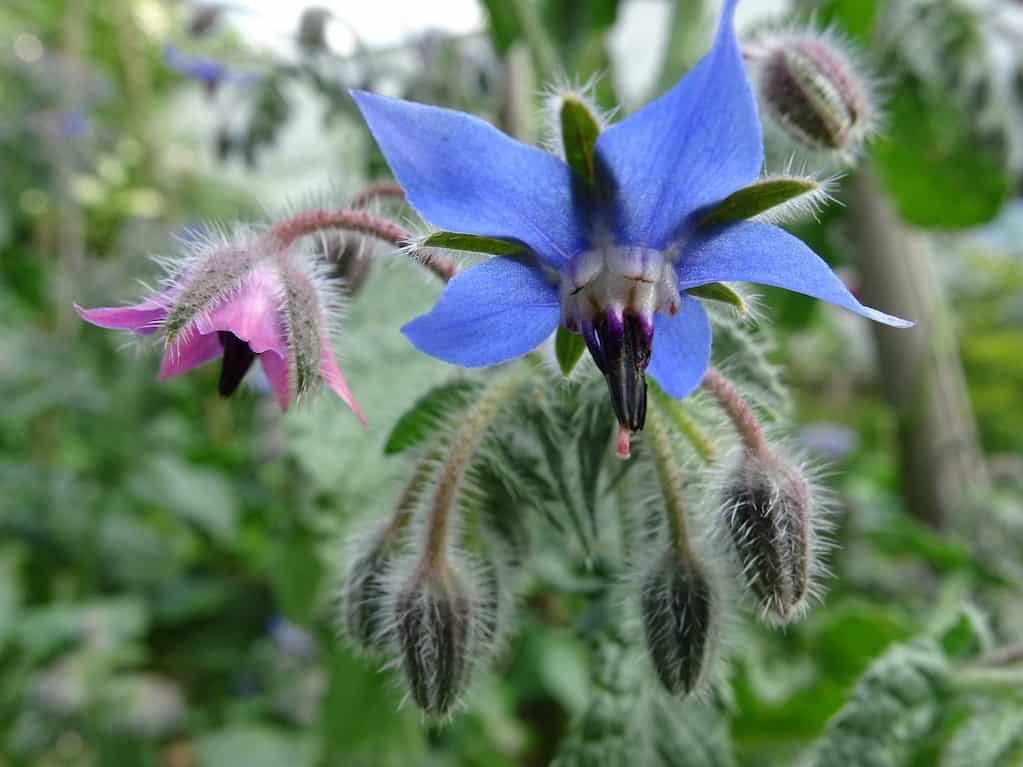 Thyme
Thyme will give the garden a nice mix of white florals with green foliage. Because of the beauty, it makes a great addition to the potager garden. Here are some great tips on how to grow thyme.
Lamb's Ears
Just the name alone is adorable to me. This herb provides a lovely silvery green foliage, pink and purple flowers will bloom later in the summer months.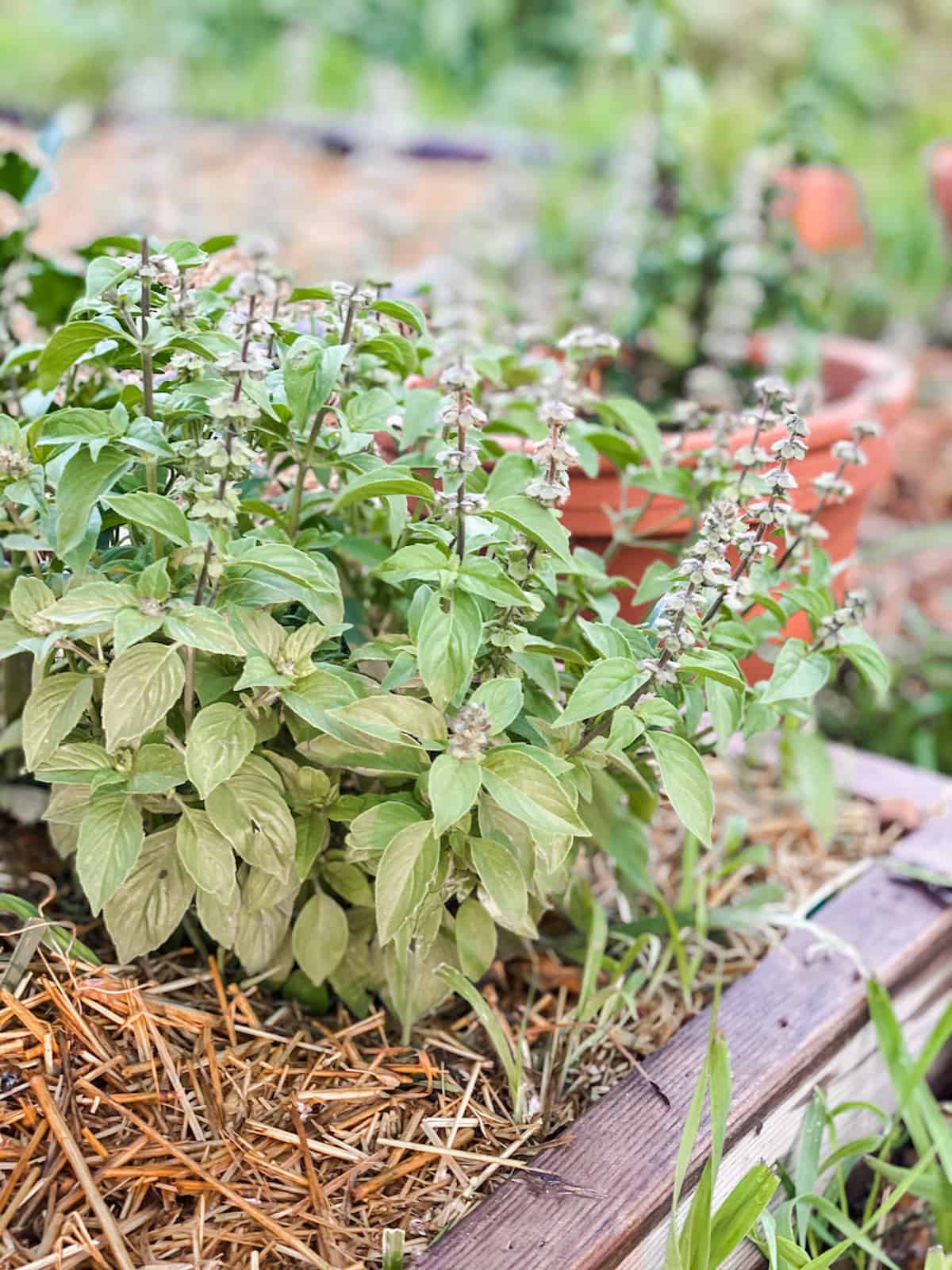 Lavender
Oh, sweet lavender. Definitely in my top five favorite scents and florals. An herb that serves many benefits, like its calming effects. Plus, it's so pretty! Need some tips on growing lavender, check out this post.
Chives
Chives are so versatile in my opinion. I use them in a variety of dishes and when eaten raw, they provide a soft onion like flavor. Plus, they provide cute little purple flowers. They almost remind me of the Dr. Seuss story, Horton Hears a Who. Yes, I live in a fantasy world sometimes.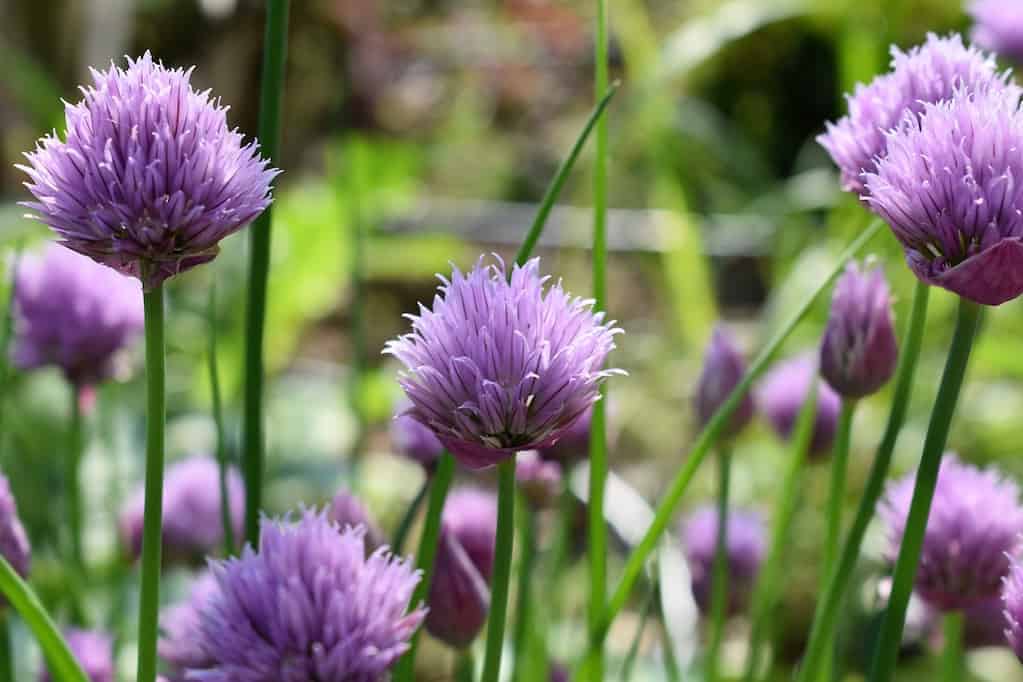 Sage
Perfect for savory dishes, like roast chicken or thanksgiving dinner, sage is a definite must need herb for the kitchen garden. There's something so romantic to me about walking outside of my kitchen door, and cutting fresh herbs for my family's dinner.
Find tips and ideas for using sage here.
Hyssop
This is a new addition to our potager garden design this year. I wanted to include it because I'm an obvious fan of blue and purple florals.
But also because it is another great option for pollinators. We have bees kept nearby the gardens and I want to provide them with a variety of options.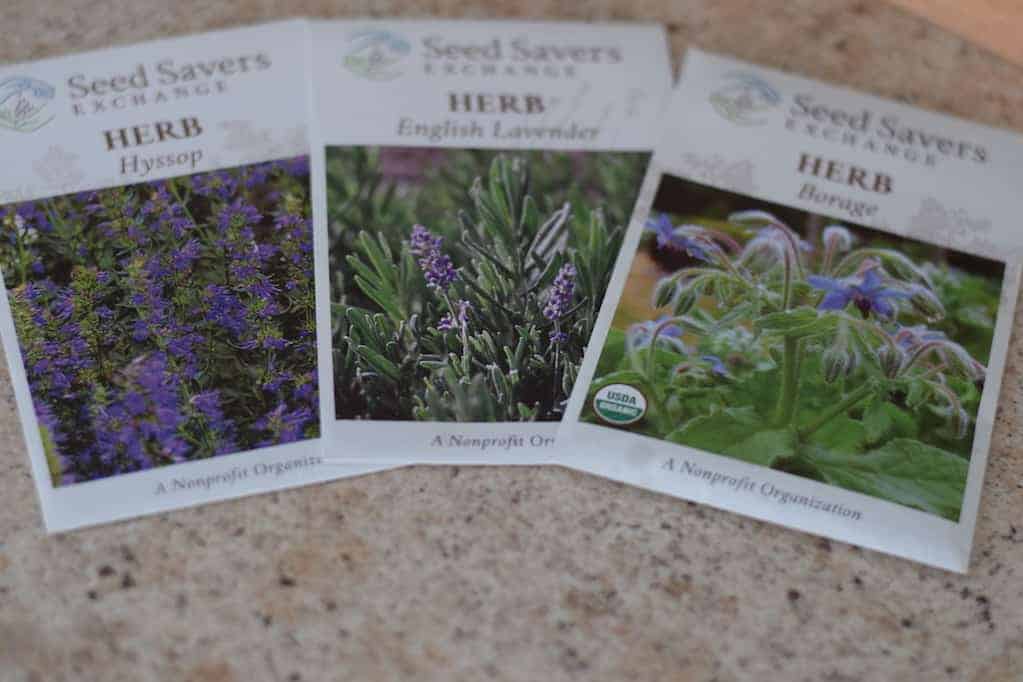 And lastly I wanted to give a very special honorable mention to the Giant Spotted Foxgloves. To me, nothing says potager garden than this beauty.
Don't you just envision the French potager or an English cottage when you see these glorious florals?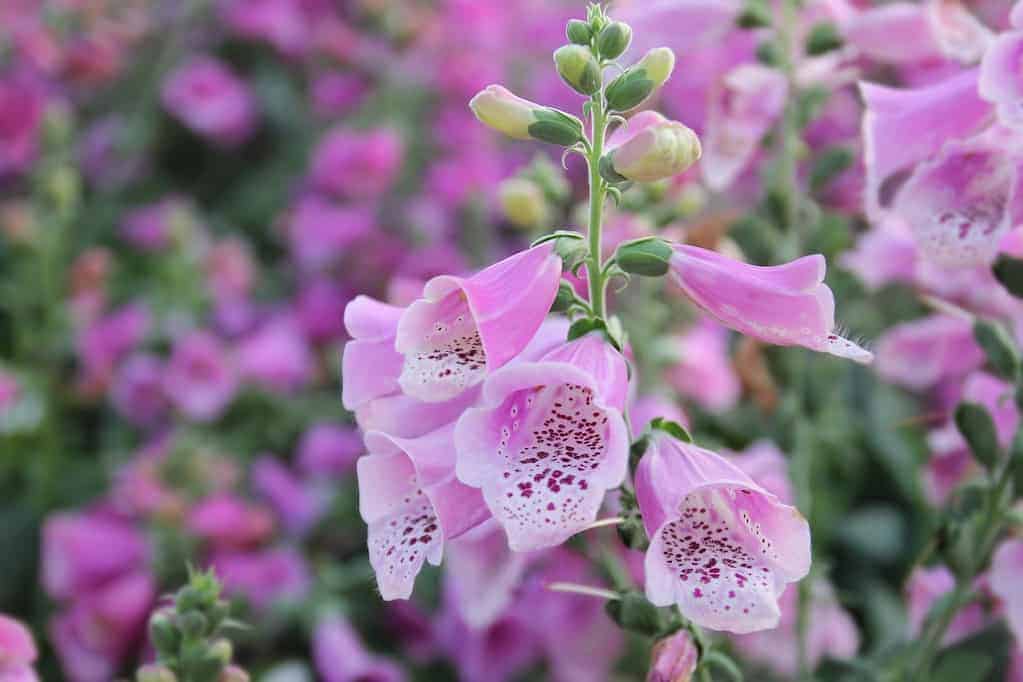 I've always enjoyed the beauty of gardens. When I was younger, The Secret Garden was one of my favorite books. I was excited to watch this version of the story in grade school.
And now that I'm older, I enjoy reading the Beatrix Potter classics to my children. If you're looking for some inspiration for your own potager garden design, check out this lovely book!
Very inspiring and adorable, in my opinion.
where would you like to start?