I have desired my own greenhouse to extend our growing season. And I've dreamed of just how to build a greenhouse on our homestead for quite awhile. Probably for as long as we've been on this homestead journey!
This last spring my husband finally listened to all of my hints and started to build my dream greenhouse.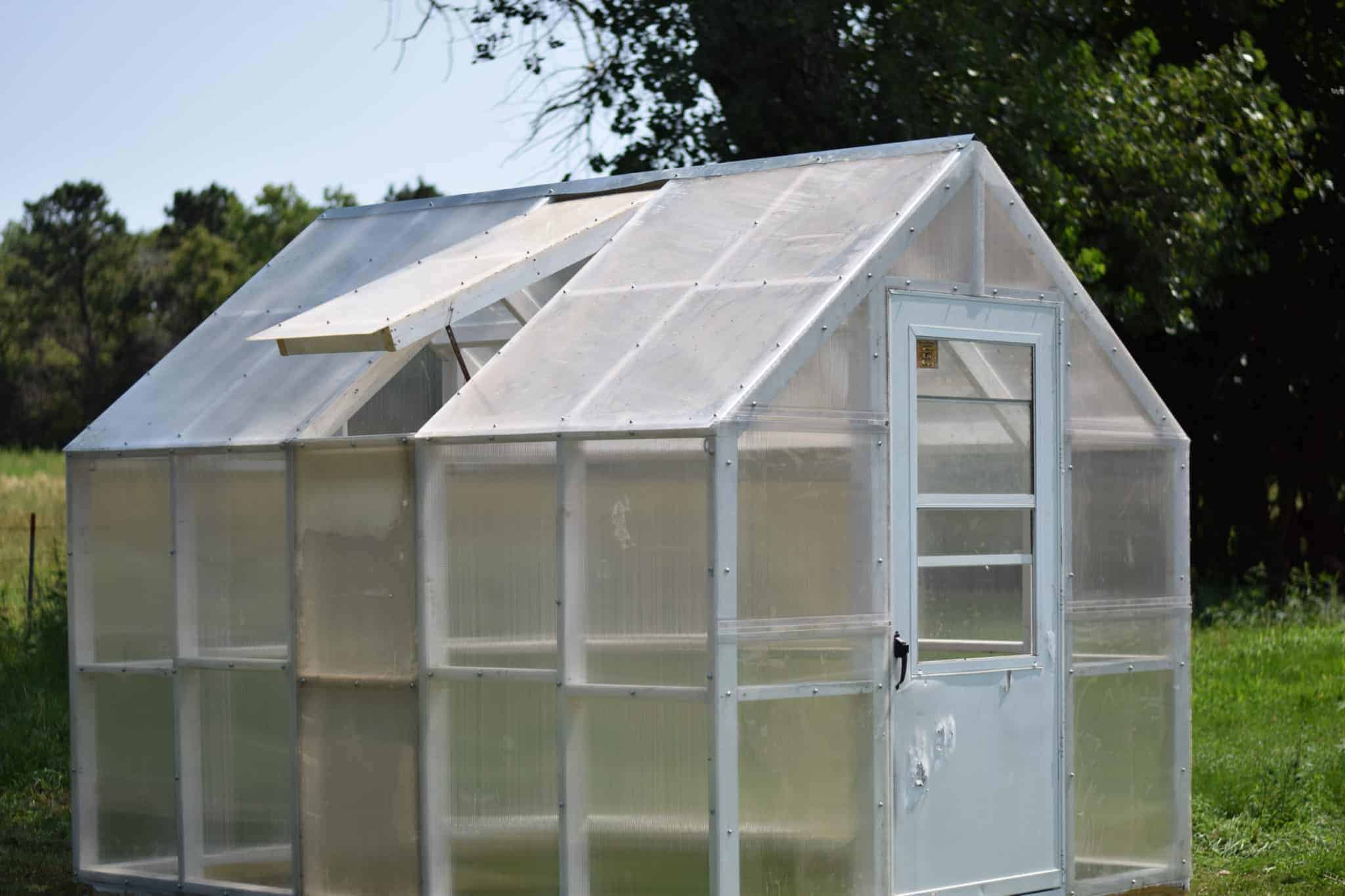 Gosh, I love him.
Ya know, I would have been satisfied with a simple hoop house, but my very loving husband had other ideas.
When he started to research and come up with a plan, he decided to "do it right" as he says. And what this means, I'm not entirely sure. But I do know that he built this thing pretty solid.
And boy, am I glad he did. It is super cute! And it's built tough which should withstand some of those crazy Nebraska winds.
Why We Decided to Build a Greenhouse
Not only does this greenhouse make my dreams come true. There is a lot of practicality involved here. Extended growing season, for one!
I'm currently planning out our fall garden with the some of the cold sensitive plants inside. This season, we will have homegrown lettuces and fresh herbs ready just as the weather starts to cool down.
I will no longer need to start all of my seeds in random places throughout the house, seeking out the best lighting and flat surfaces where they are free of toddler curiosity.
We have been on a mission to grow as much of our food as possible and building a greenhouse helps contribute towards this goal.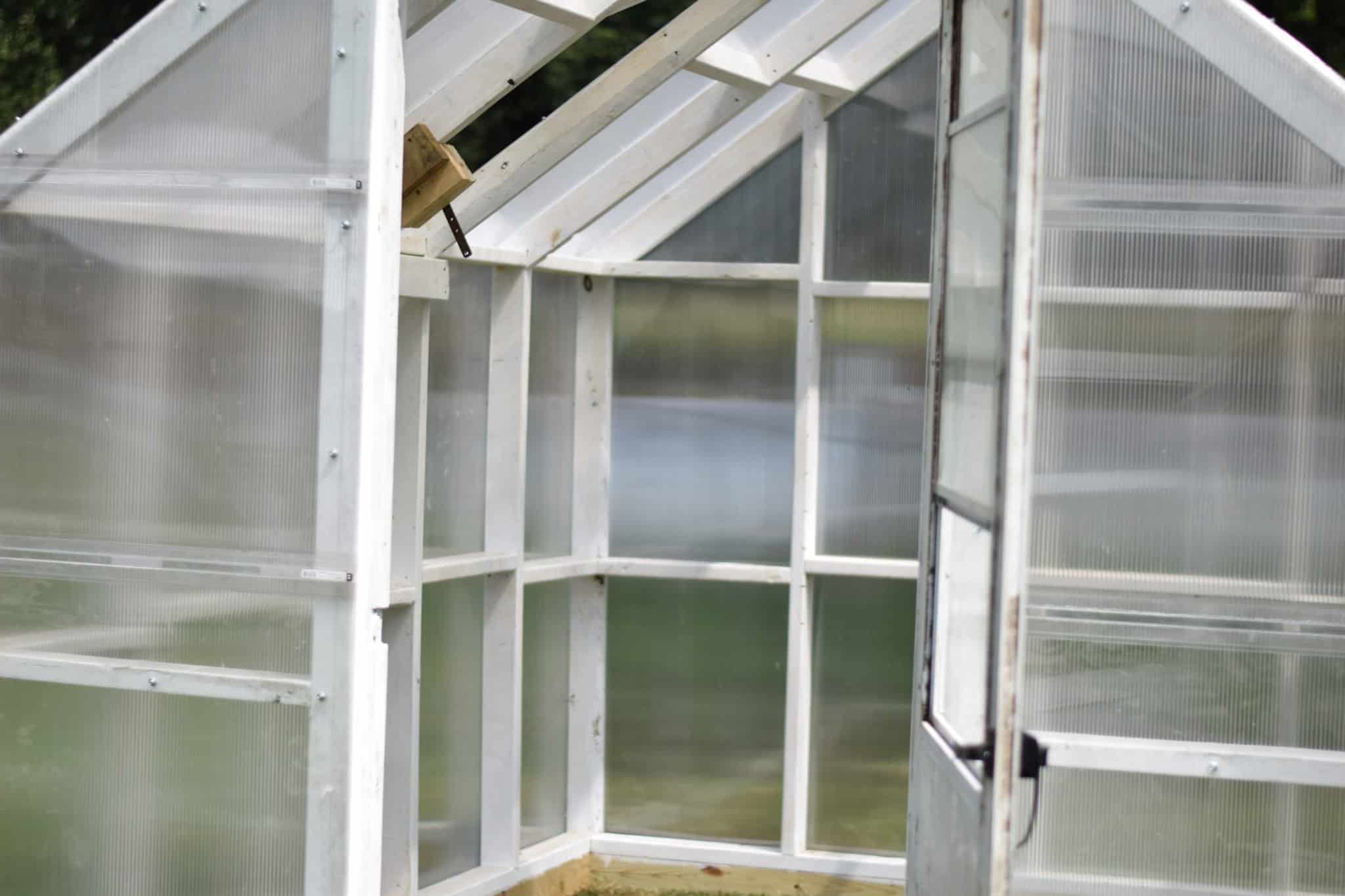 How to Build a Greenhouse – Supplies & Costs
This greenhouse project wasn't exactly cheap. We splurged on it because we wanted something that would last for many years to come.
We opted to use Polycarbonate Sheets for our greenhouse. Good call, husband. I love the look!
Our greenhouse isn't too large, but is the perfect fit for our family's home garden. And a welcome addition to our other garden plots.
The dimensions are 10′ by  8′ and stands about 8 1/2′ tall.
All in it cost slightly above $750. The most expensive pieces were the plastic sheeting that we chose. But we needed something durable that would withstand the strong winds.
Here's what we used to build the greenhouse:
Approximate dimensions:
These were 4×4 timber
2 base ends, dimensions 3 1/2 x 3 1/2 x 96″
2 base sides, dimensions 3 1/2 x 3 1/2 x 113″
And these were 2×4
2 sole plates ends, dimensions 1 1/2 x 3 1/2 x 89″
2 sole plates sides, dimensions 1 1/2 x 3 1/2 x 120″
12 wall stud sides, dimensions 1 1/2 x 3 1/2 x 57″
1 ridge support, dimensions 1 1/2 x 3 1/2, 91″
2 back studs, dimensions 1 1/2 x 3 1/2, 76″
2 door frame sides, dimensions 1 1/2 x 3 1/2 x 81″
1 cripple stud, dimensions 1 1/2 x 3 1/2 x 16″
1 door header, dimensions 1 1/2 x 3 1/2 x 32″
2 knee wall caps, 1 1/2 x 3 1/2 x 120″
1 ridge pole, 1 1/2 x 3 1/2 x 120″
12 rafters, 1 1/2 x 3 1/2 x 60″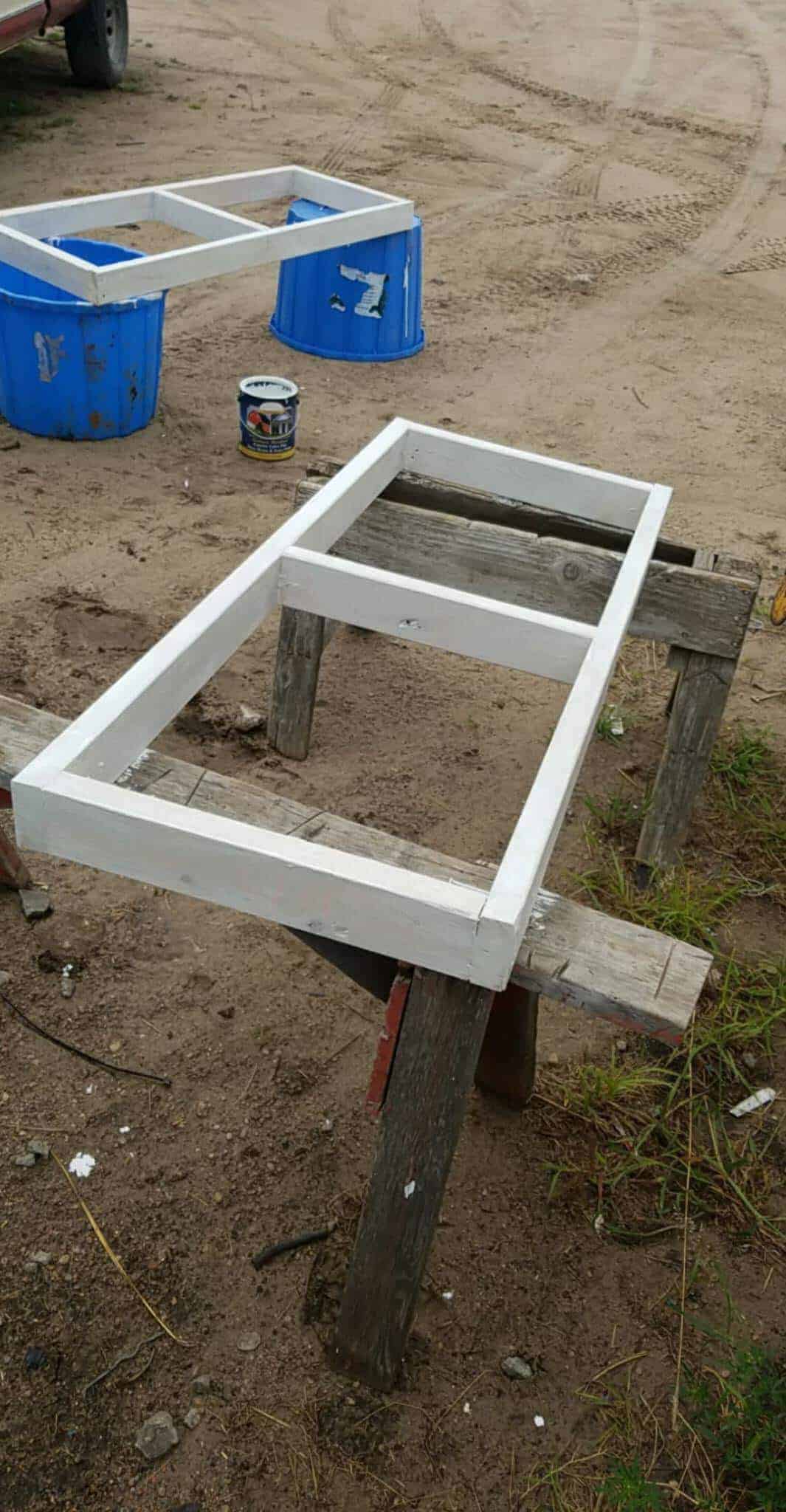 He also made two vents, they were cut to fit inside of the rafters. One on each side and are held up using a metal sheet and pin. I'm sure there's a technical name for these things, but I'm not exactly sure what.
Approximate dimensions – always take actual length and angle measurements on structure before cutting. There's a saying and maybe you've heard it before. "Measure twice and cut once".
How to Build a Greenhouse – Steps
My loving husband decided to build the greenhouse in the shop and move it over to its new location once he finished.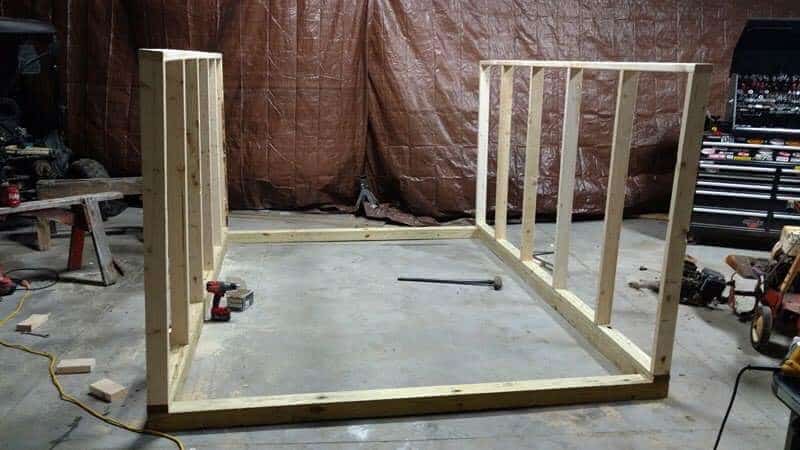 After he measured and cut the pieces, his first step was to build the base and then frame for the wall. Once he built the wall frames, he attached them to the base using those 3″ deck screws.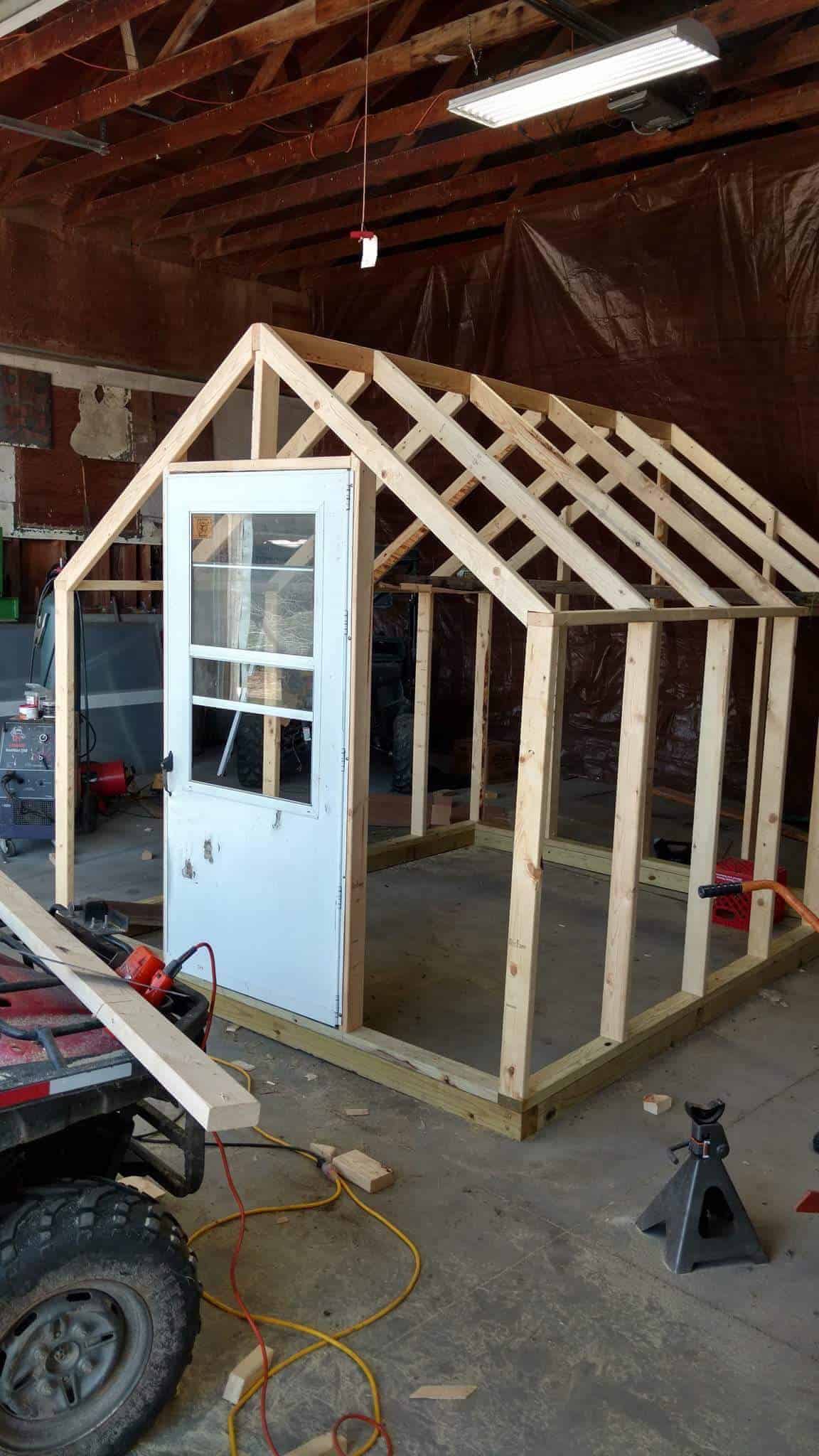 He found an old screen door that my mother in law was no longer using and trimmed the door frame to make it fit. Then he added the rafters.
And because he's extra sweet, he painted it all white for me. What a guy I have!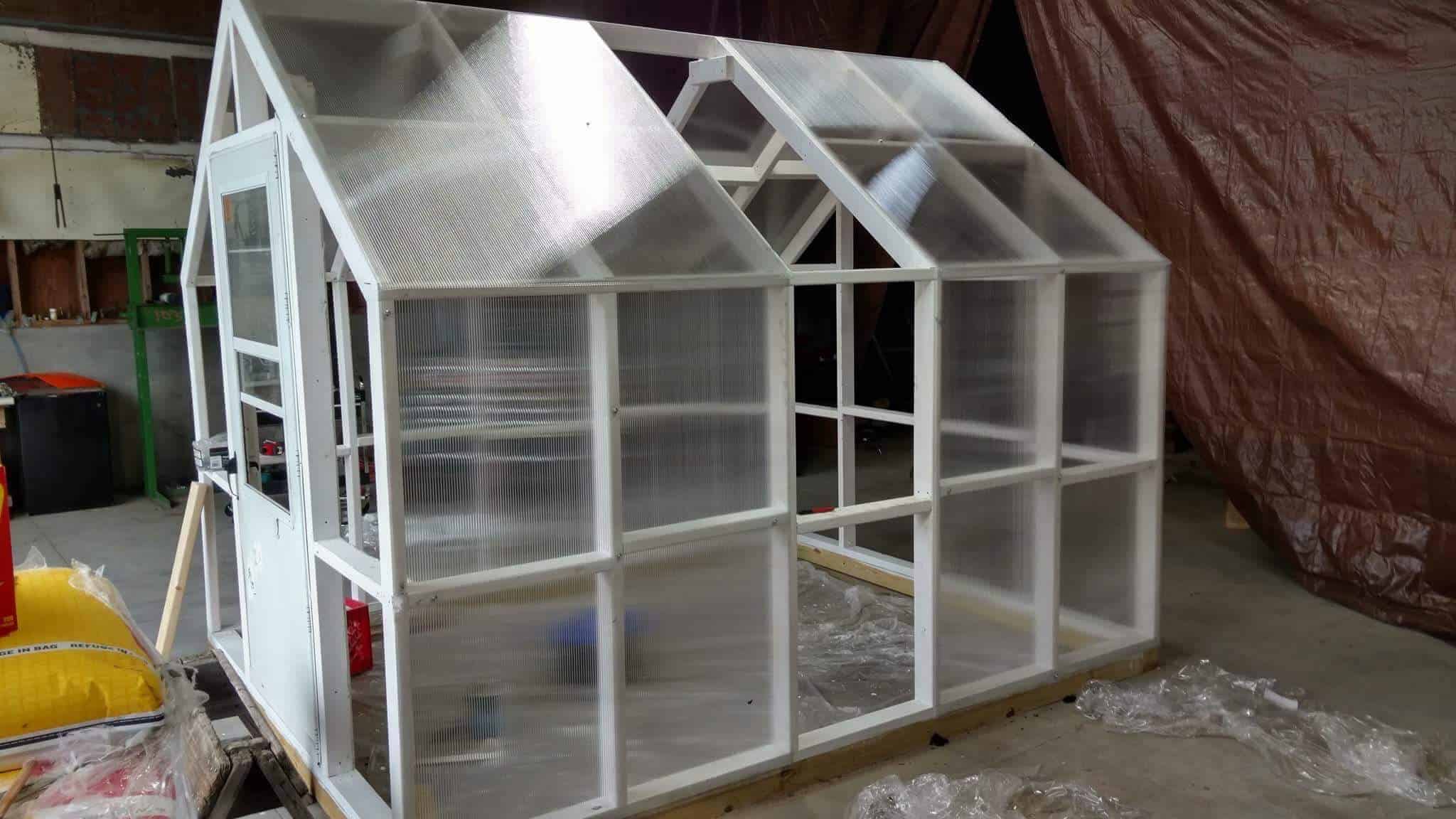 Next, he started adding the plastic sheeting, secured with screws. This sheeting came in 8′ pieces so he cut them to size.
He also cut scrap lumber to size and added them between the wall frames for additional stability. (see photo above)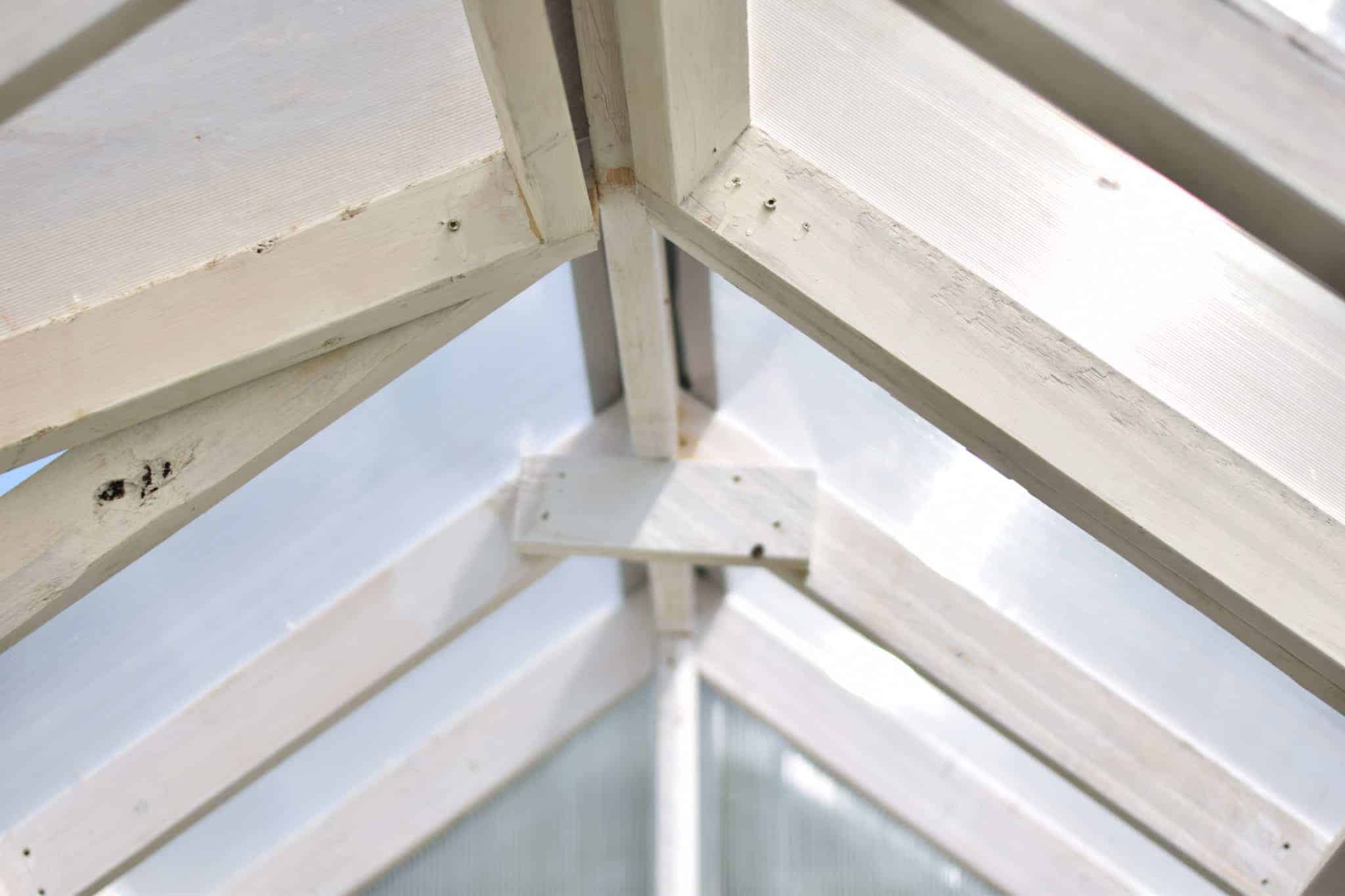 To give it a little more stability, he added scrap pieces of wood on the arches in the rafters.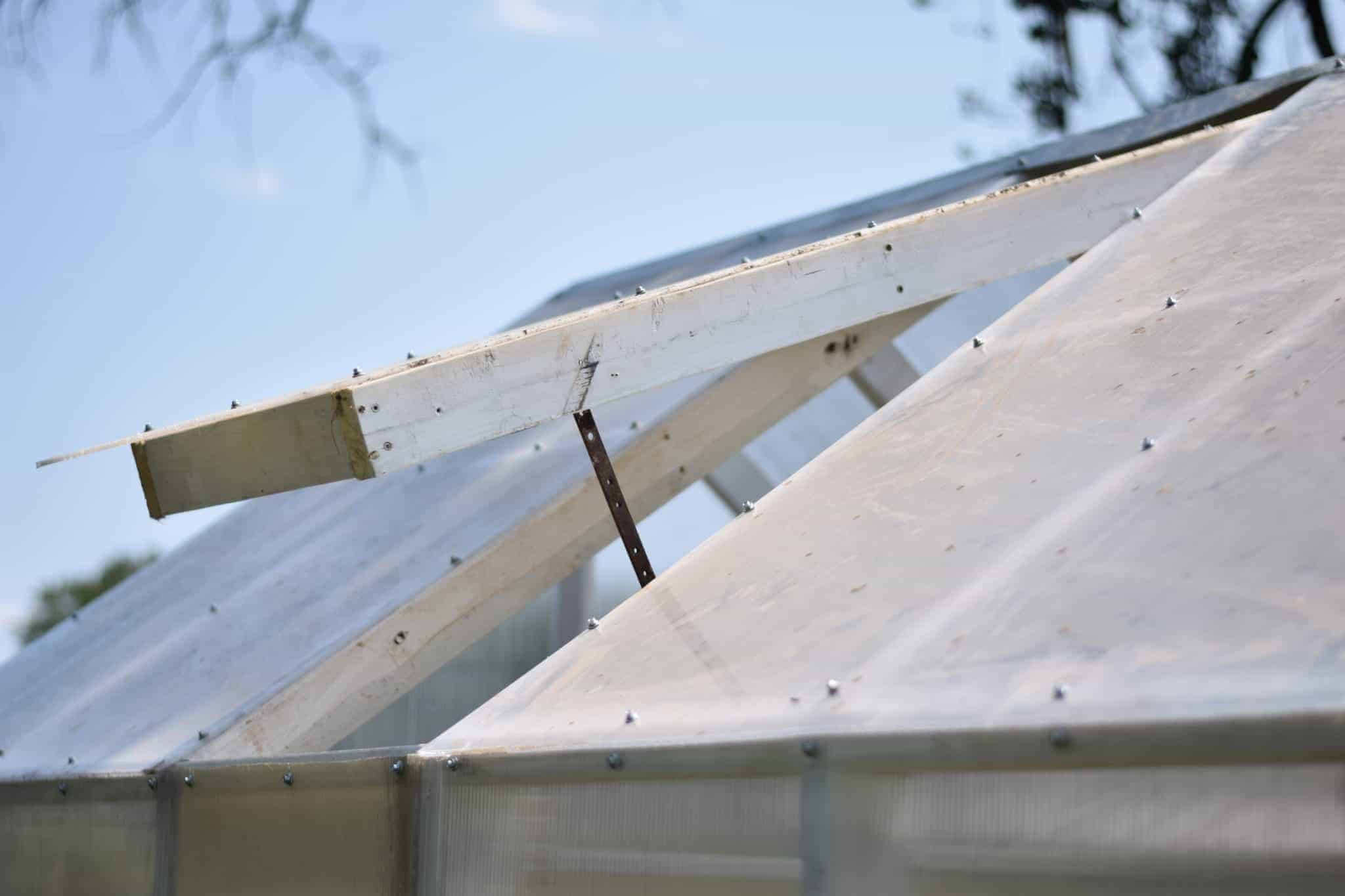 For the vent, he just measured the space between the rafters and made two of these pieces to fit.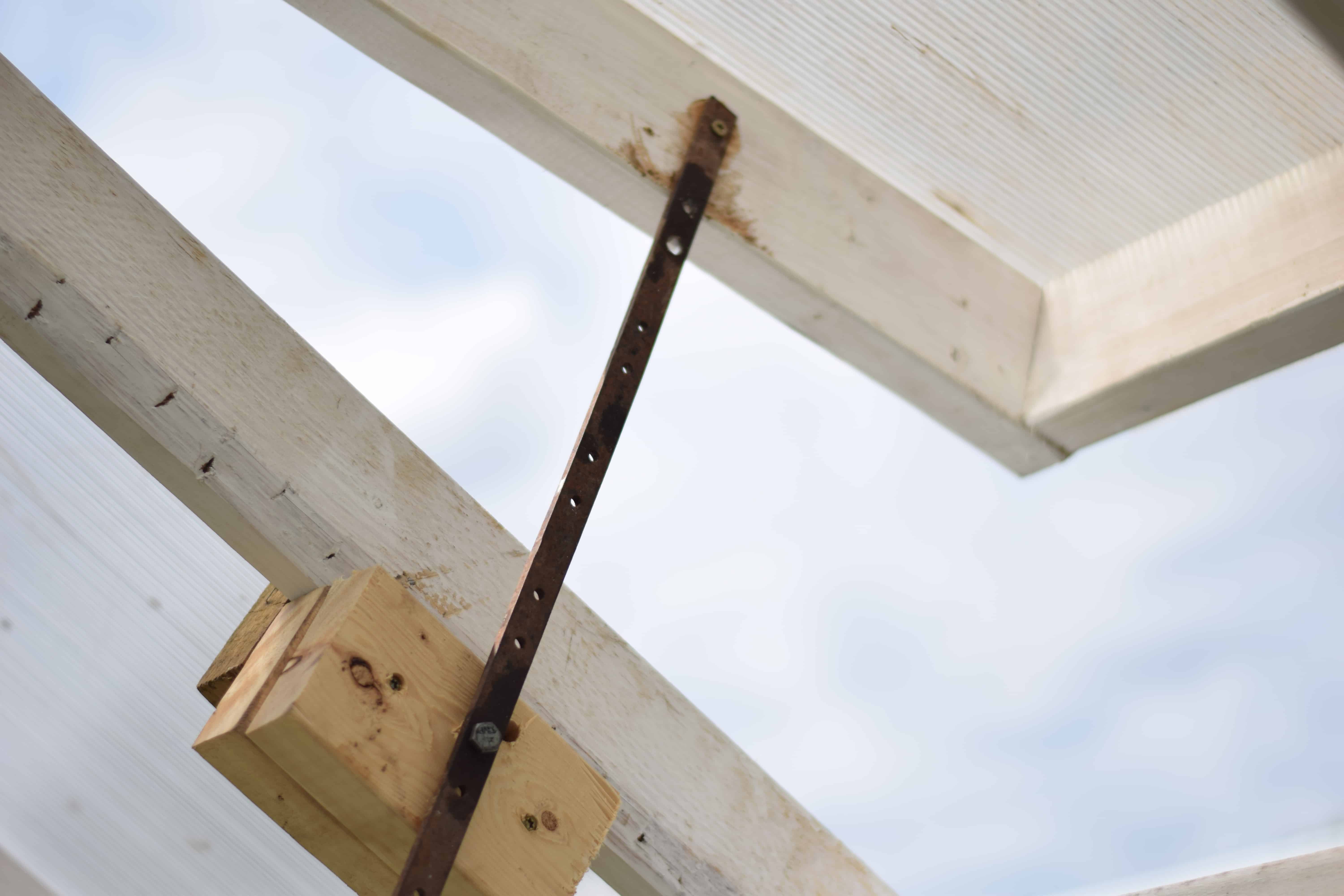 From the inside, the vents are being supported by this metal sheet and pin so I can easily open and close it to my height preference.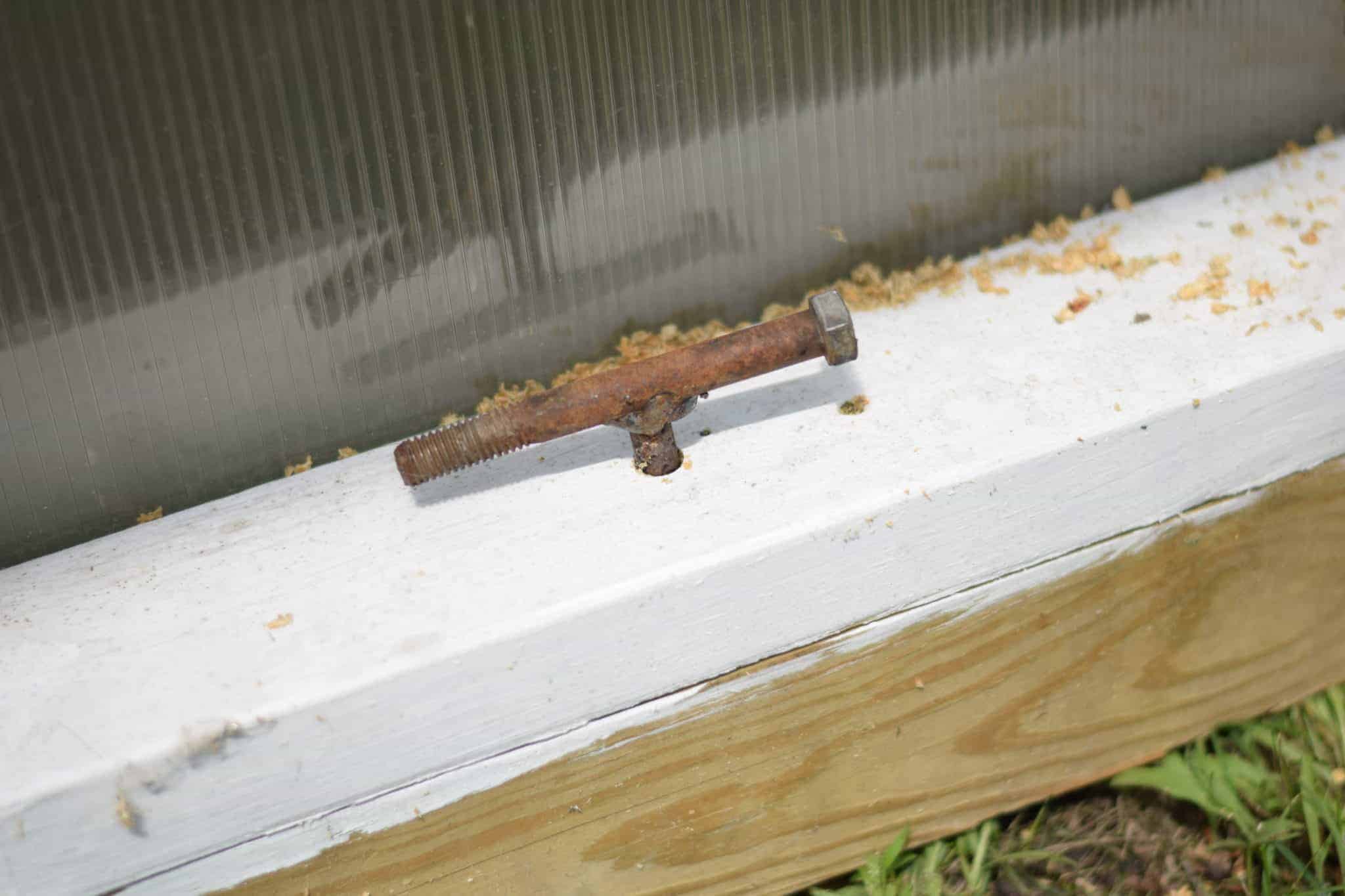 He secured the greenhouse in the ground with these metal rods that are welded into t's, one on each side.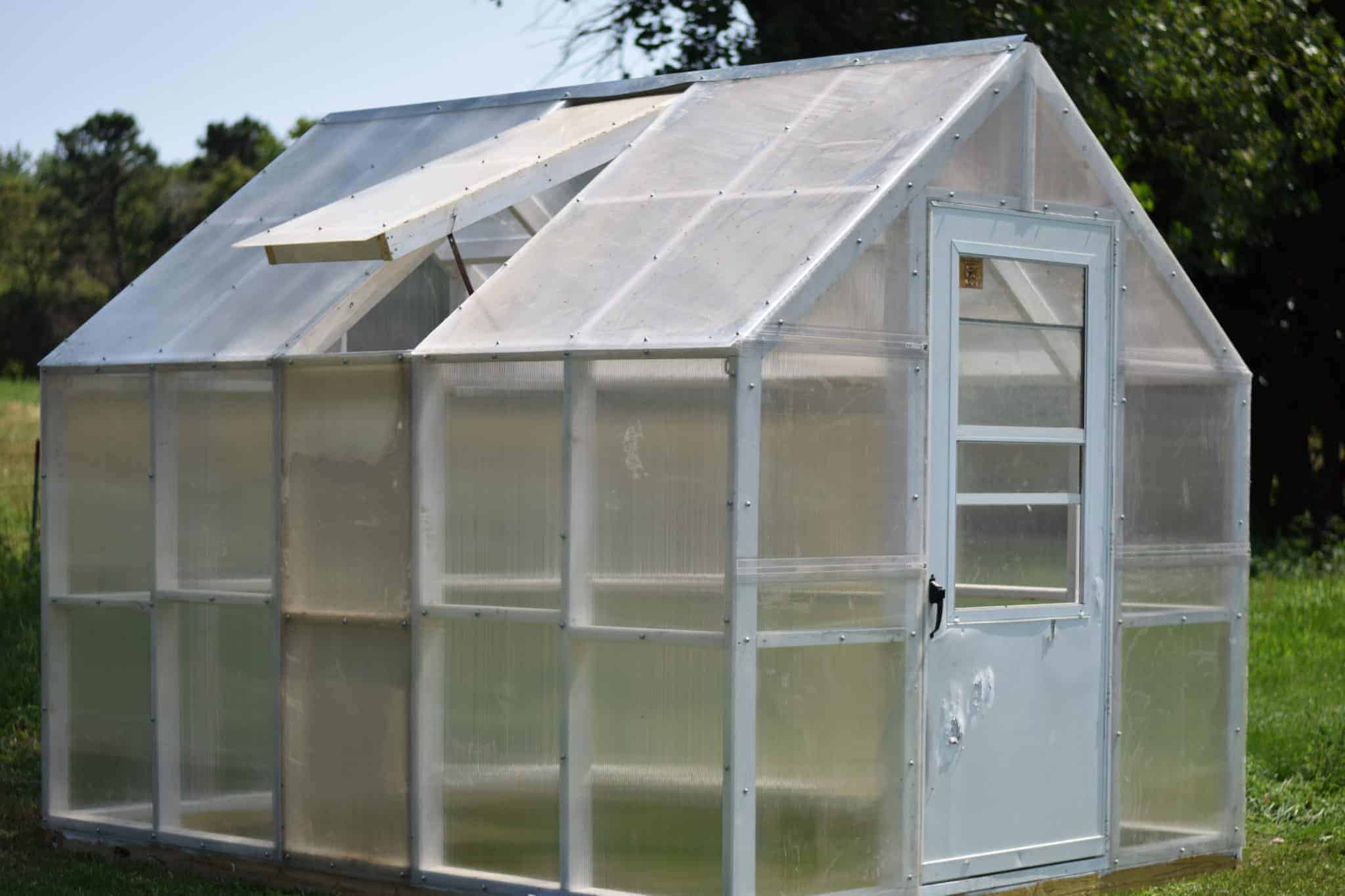 Lastly, he added an 10′ rain cap to the top of the roof to keep the rain out.
You all don't even know how long I have waited for this greenhouse to arrive in its location so I can use it! If you're married to a rancher, you'll understand!
Between the cows and our extreme weather, this has been many months of me trying to practice patience. And really that looked a little more like nagging on my part.
But it's here and I love it. Just in time for me to start my fall garden!
For the interior of the greenhouse, I am adding some shelving and we are building raised beds near the outside.
Recommended Posts:
How to Create a Potager Garden
How to Build a Super Frugal Goat Shelter