There are many possibilities with starting greenhouse gardening. But what to grow in a greenhouse?
After my husband built my dream greenhouse, I was excited to put it to use!
Two of my favorite things about gardening in a greenhouse is the extended growing season and starting my seeds early every spring. Because once the snow melts, I get a little impatient and want to get my hands dirty again.
I'm sharing a few of those best greenhouse growing varieties and where I purchase most of my garden seeds and supplies.
What to Grow in a Greenhouse
If you are a beginner gardener, it is really important to know what growing season you live in. This will help greatly with planning out your garden. It also helps with seed starts and knowing what to plant in your greenhouse based on the seasons.
You can even grow year round in a greenhouse in most climates with a few added tools.
Ensuring that you have proper lighting and use of heat mats to start seeds are some key tools to keep handy.
An outdoor safe and greenhouse appropriate heater is also very helpful in making greenhouse gardening successful in winter months for most climates and garden zones.
For the warmer months, having proper ventilation and sometimes greenhouse fans are needed for growing success.
Growing Based on the Seasons
Knowing what types of food grows best based on the seasons will be helpful in planning out year round gardening in a greenhouse.
Some of these things will also vary depending on if you want to grow directly in the ground in your greenhouse or if you plan on growing using a container gardening method.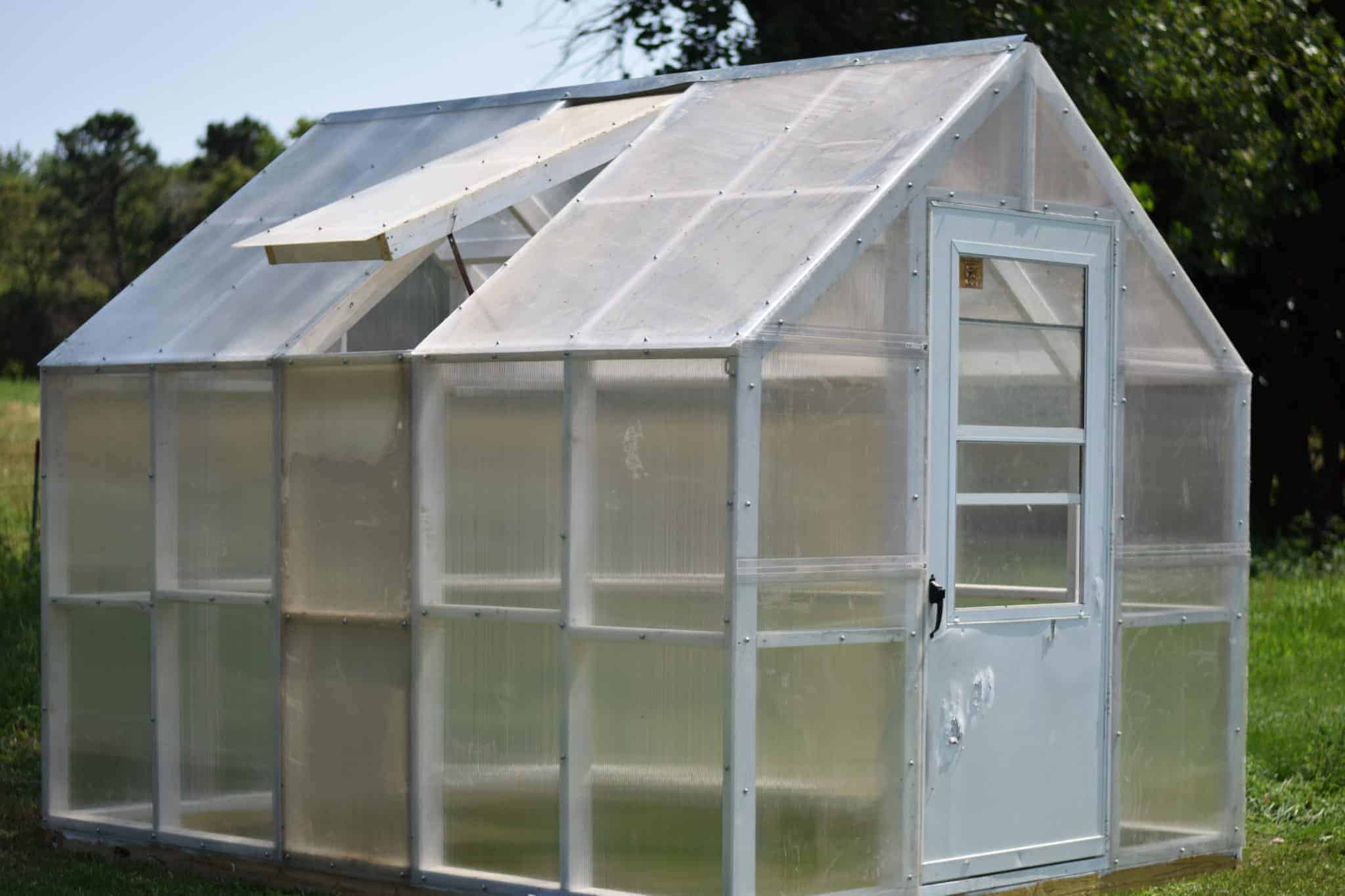 What Grows Well in a Greenhouse During the Warmer Months:
Tomatoes. Determine your space and the variety of tomato that you want to plant in your greenhouse. Some varieties take up a large amount of space.
Last summer, I grew a new variety of tomato plants that I didn't have time to prune and it pretty much took over our other tomato plants.
Peppers. These are usually slow growing and need warm temperatures for proper and fast growing.
Zucchini & Summer Squashes. These are another type of plant that you'll want to ensure you have the adequate space planned out. They are a pretty fast growing crop which means you could see a pretty good bounty through the season.
Beans. There are a ton of variety of beans that will do well in a greenhouse over the warmer months. Be sure to check out the recommended growing conditions for your specific variety.
Cucumbers. As with outdoor growing varieties, greenhouse cucumbers will provide more yields if they are grown vertically.
Melons. Some varieties of melons, such as watermelons, grow well in a greenhouse. These plants usually grow pretty big, so ensure you have the adequate space before planting.
Eggplants. The soil needs to be a consistent warmth for eggplants to be successful. They also can not germinate in cooler temps, so starting and growing in a greenhouse is a great option.
What Grows Well in a Greenhouse During the Cooler Months:
Herbs. So many varieties do well in a greenhouse almost all year round with the right conditions. When the temperatures are too hot or cold in the greenhouse, then I would move them indoors to keep them growing.
A couple of our favorite herbs to grow in a greenhouse are basil, cilantro, chives, dill, mint, and parsley. Mint is very invasive so it does well in a container where its not going to take over the garden.
Green Onions. These typically do well in a cooler or a climate controlled environment making them a good candidate for greenhouse growing. They typically grow best in a temperature of 55-75 degrees.
Garlic. Growing your own garlic is not too complicated if you ensure they have enough regular sunlight. They also prefer soil between 40-50 degrees so making sure that they have a heat source during the winter is important.
Brassicas. Some of the more commonly known brassicas are broccoli, cauliflower, brussels sprouts, cabbage, kale, collards, kohlrabi, and radishes. Theses are all ideal for greenhouse growing.
Microgreens. Growing microgreens is incredibly simple and they grow relatively fast. Growing mats and adequate lighting will help with growing success.
Lettuce. Temperature control is crucial for growing lettuces. Too hot or too cold and it just won't thrive. Lettuces need a cooler environment of about 45-65 degrees.
Spinach. Just like salad mixes, spinach needs a cooler environment to thrive. They also tolerate the cold fairly well once they're well established. Spinach will need adequate protection from the cold while they are still young.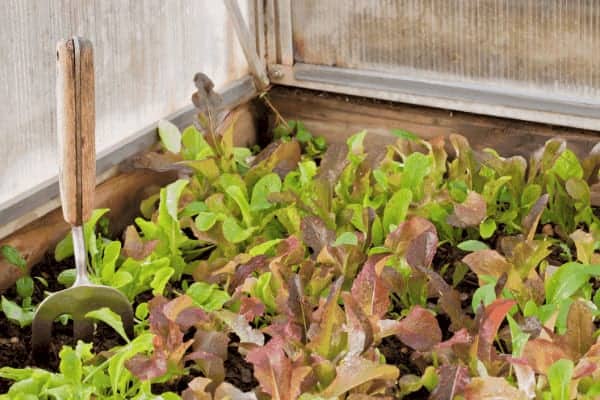 Some more tips for growing in a greenhouse
Lighting is key to successful gardening. If growing in a greenhouse during winter or in places where the weather is often gray and gloomy, invest in a good grow light.
A greenhouse safe heater for winter months and a fan for the hotter summer months will be helpful for temperature control. Keep better control with this temperature gauge.
Proper humidity control is also key. Since so many varieties of plants have different requirements, reading your seed packet and planning like items together will be helpful.
If growing in the winter months, make sure you winterize properly before the cold weather hits.
A good heat mat will be great for seed starting your plants in a greenhouse.
Where I Purchase Seeds
Over the years, I have experimented with a variety of seed companies. I've had better success with some companies than with others. In the most recent years, I have become a loyal seed and transplant purchaser from two awesome companies.
Seed Savers Exchange. This my absolute favorite seed company. I've had the most success with purchasing seeds from Seed Savers. And their transplants have always done really well for me.
Baker Creek Seeds. If you are looking for some really cool varieties of plants, this is the place for you. They are well known for their rare seed varieties of plants.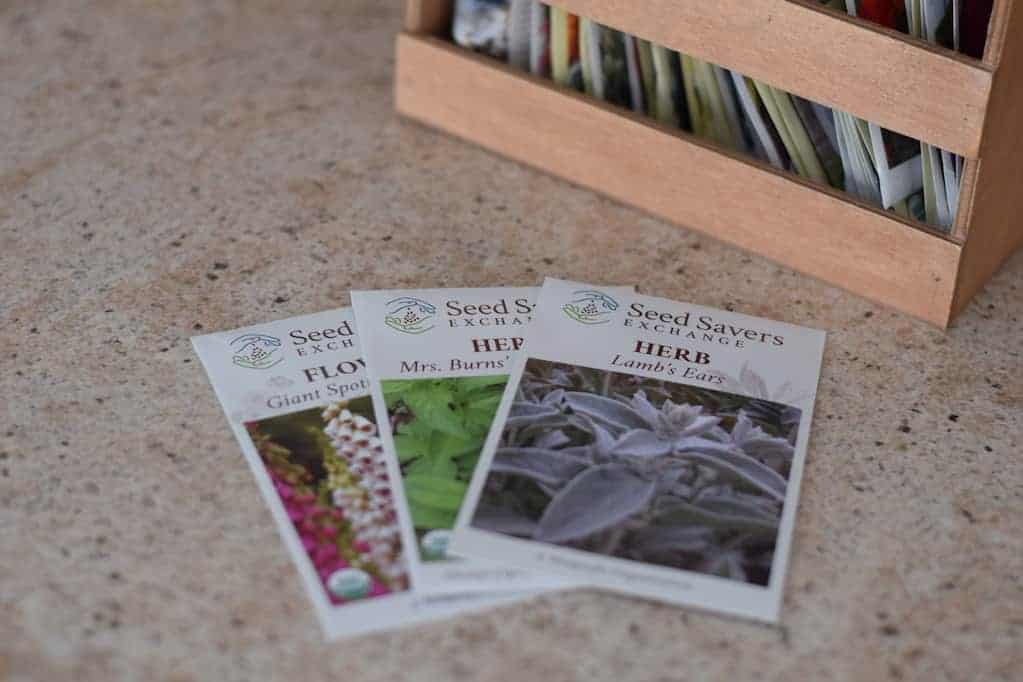 More Gardening Posts: