As we are slowly getting settled into our new home on the ranch, I've been putting together several DIY projects. The most recent completion was repainting our farmhouse dining room table.
This table has seen better days. It just needed a complete revamp. The staining that was on it, just looked odd next to the flooring in this house and it really bothered me.
Here's a before picture.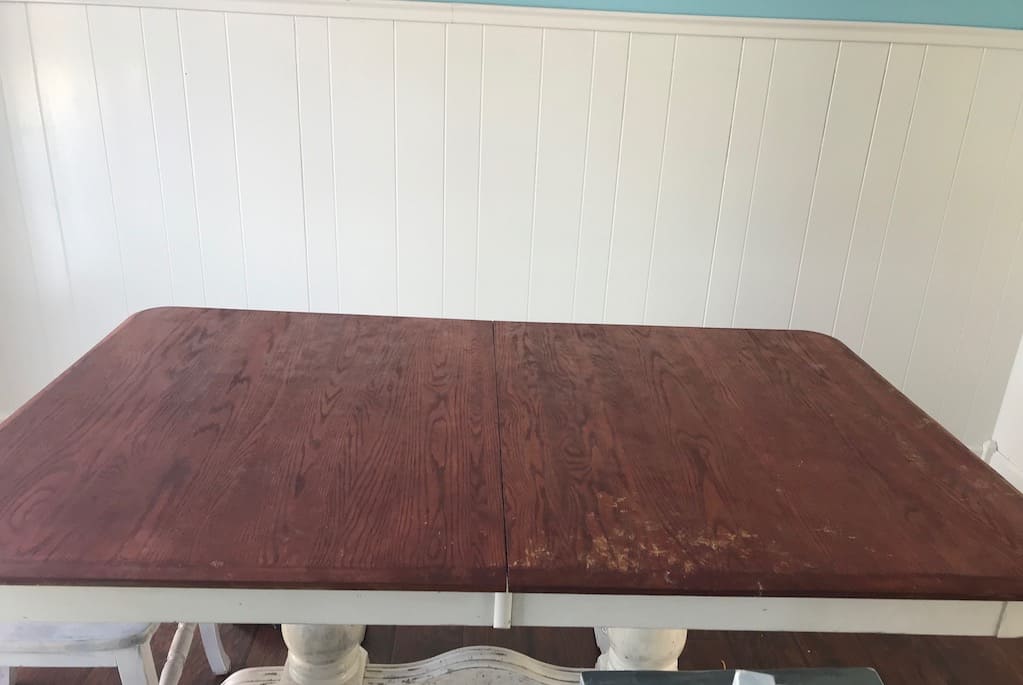 I love this farmhouse dining room table, but it was in definite need of some work.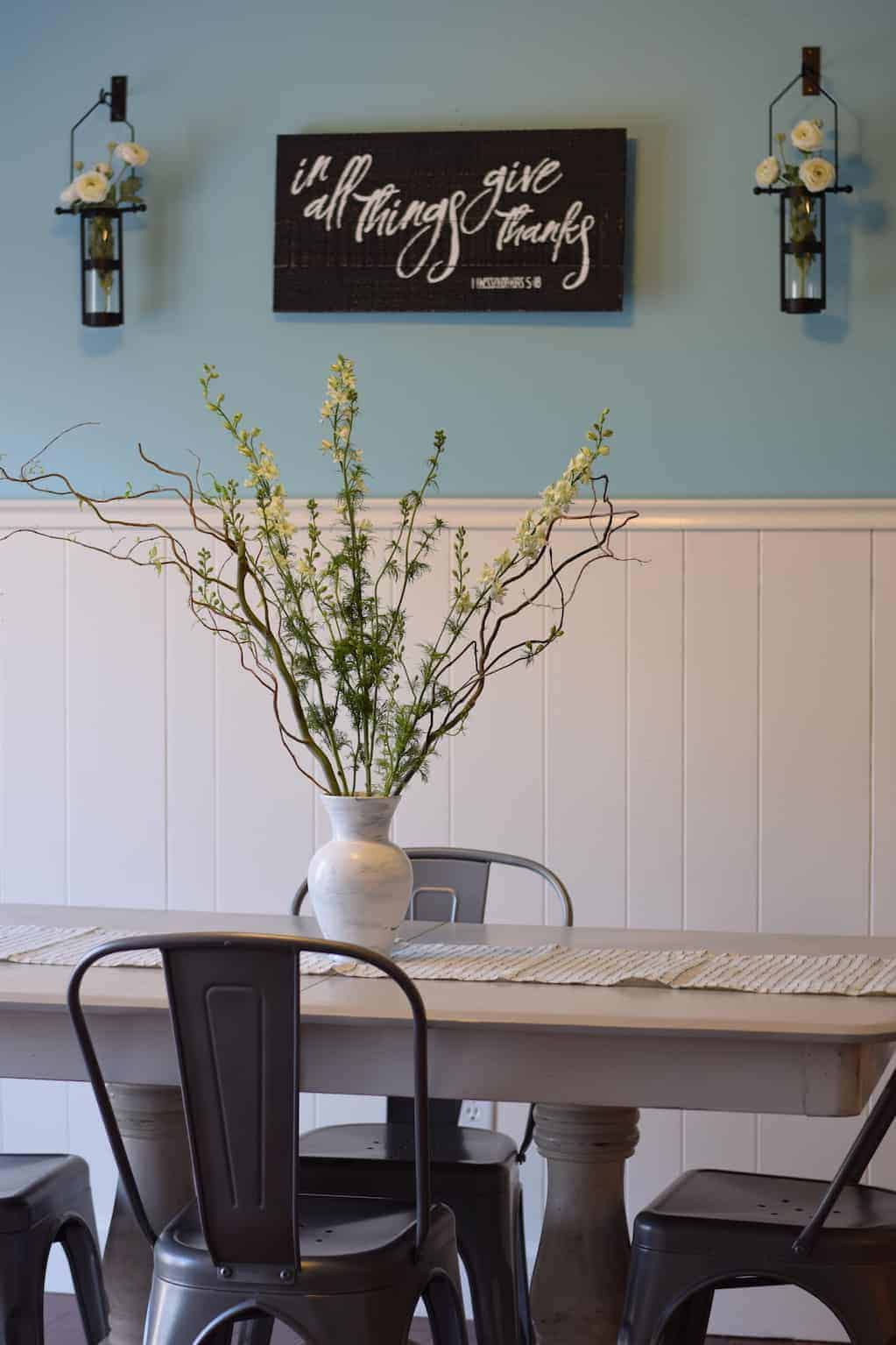 And when I finished the table, here's what it looked like.
So much more bright and cheery! This project wasn't overly complicated, however, it was very time consuming.
Having small children running around was definitely a factor for me completing it quickly.
How I Gave my Farmhouse Dining Room Table a Refresh
When we originally bought this farmhouse dining room table, the bottom portion was already distressed. So that saved me some extra time on this project.
The first step that I worked on was to remove all of the dark wood staining. I used this mouse sander. I definitely recommend this tool if you work on small home DIY projects often. It was a huge time saver for me.
After I removed the old color and cleaned the table, I applied a light coat of paint primer.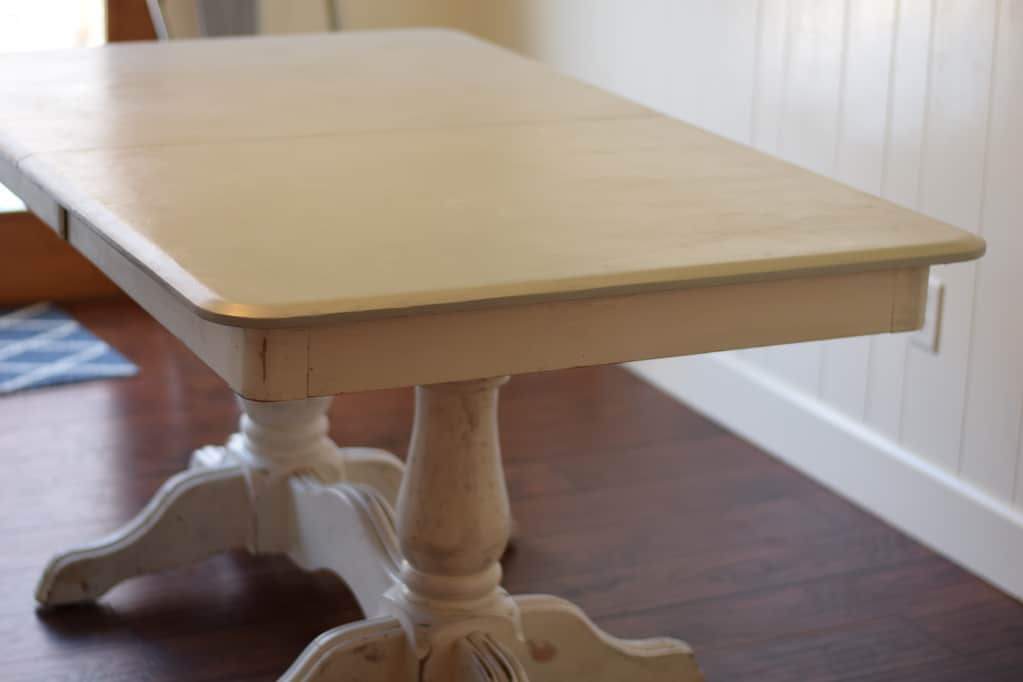 The bottom half of the table was already painted and distressed so I didn't really need to do anything with that on this current project.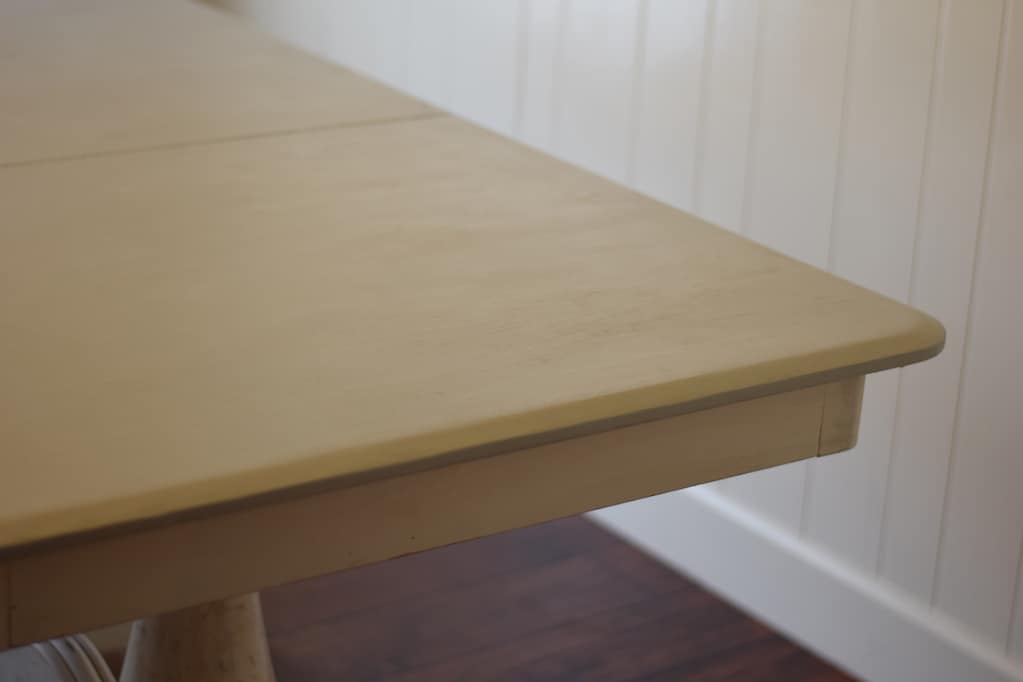 I added two coats of paint using this General Finishes Milk Paint in Seagull Grey. I allowed the paint to dry overnight. Because of my small children, after bedtime was the only free time I had to paint.
After the two coats of paint, I applied two coats of this Minwax paste finishing wax in natural. And again, I allowed each coat to dry overnight before applying the next coat the following night.
I know that a lot of people prefer a different finishing touch like a polyurethane or similar products. I chose the wax for the ease of use.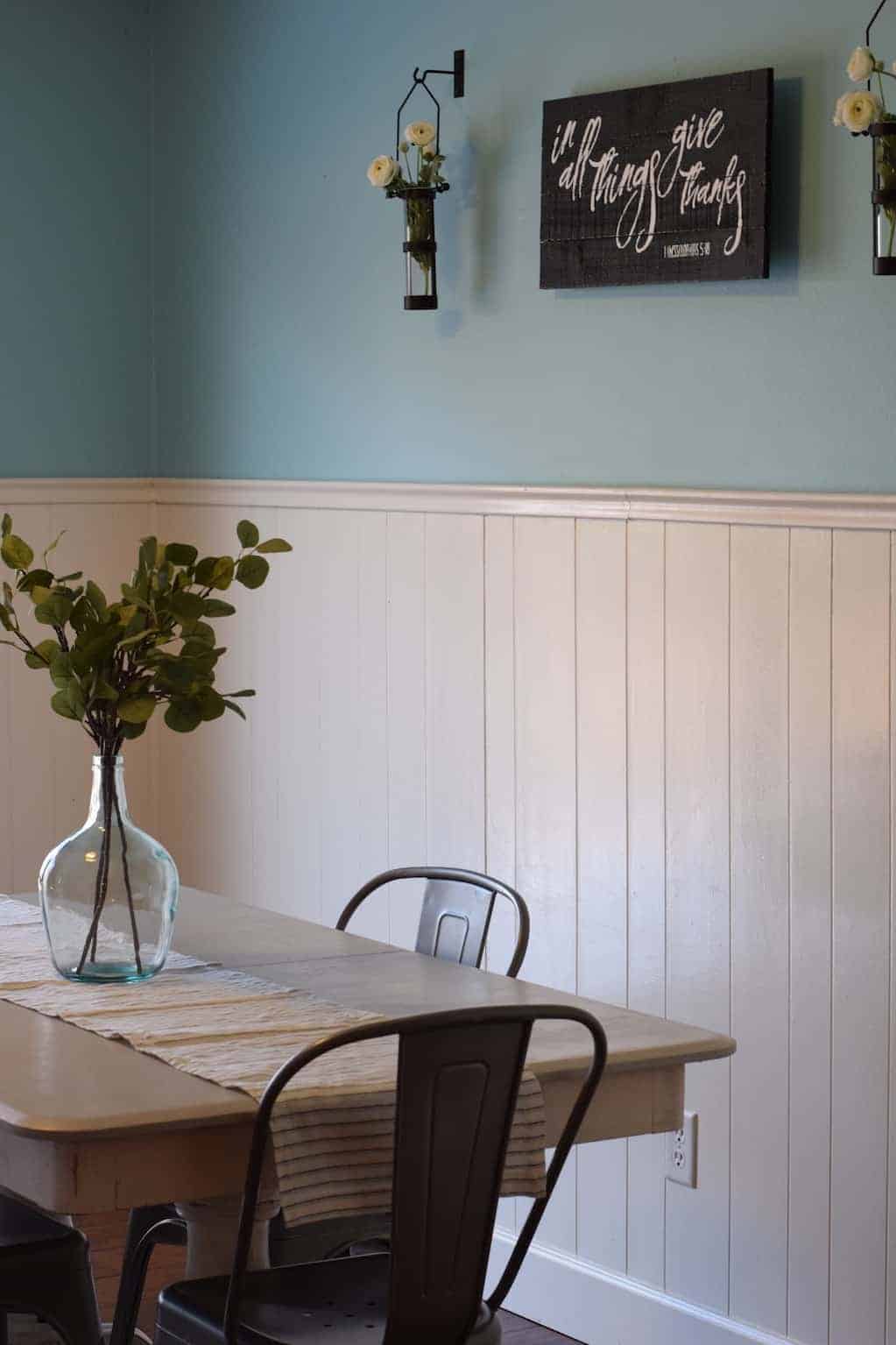 It has held up well with my wild farm kids!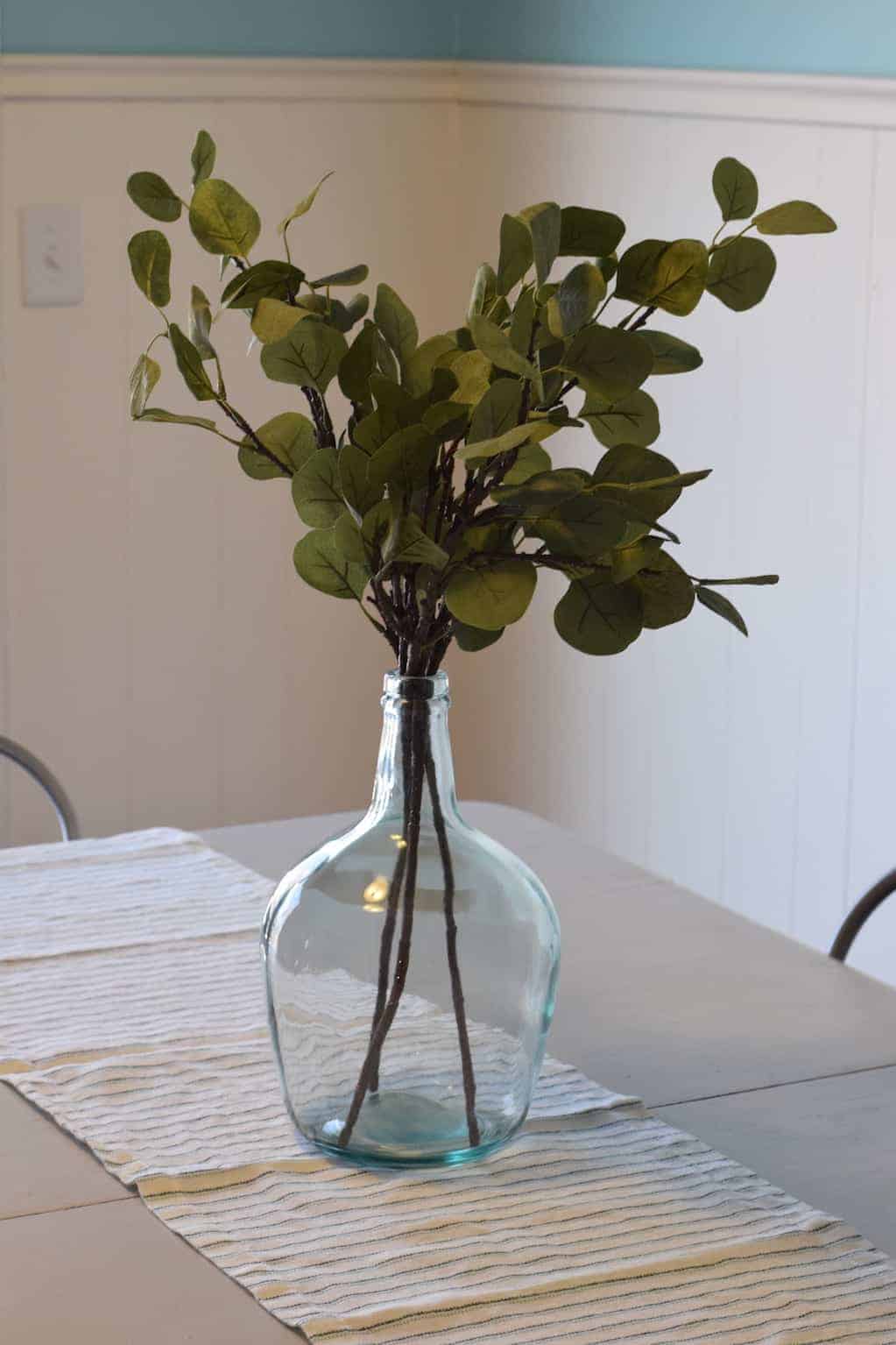 Farmhouse Dining Room Table Decor
This blue demijohn and the eucalyptus leaves are both available on Amazon. This table runner is from the Hearth and Hand with Magnolia Spring line at Target.
Please don't judge, I know it desperately needs to be ironed and I still haven't unpacked all of our boxes. So my iron is still to be found. Ha.
I replaced my old dining chairs with these super cute metal chairs to give our farmhouse dining room table a touch of the modern farmhouse style.
My next big project is to repaint the dining room and kitchen. This blue color is what we moved in to the house with, but its just not my preference. I have a nice soft grey that I recently purchased for this project.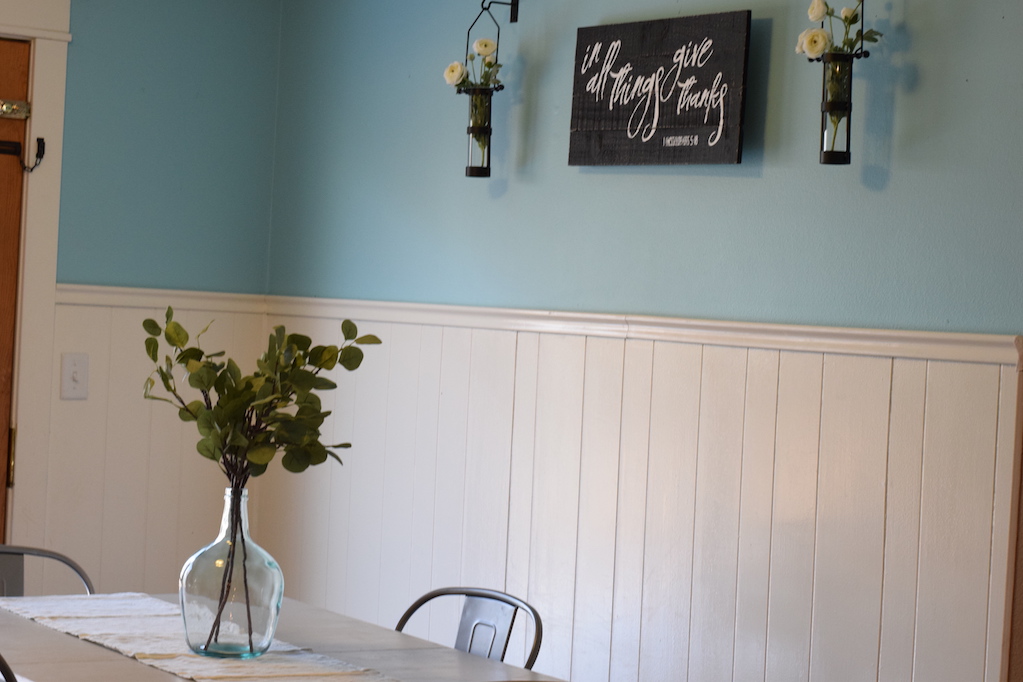 The image on the wall and the white Ranunculus flowers are both available at Hobby Lobby currently.
The hanging vases are another Amazon purchase. You can find them here.
Here's where you can find all the products mentioned in this post.
where would you like to start?