This Ninja Foodi Ravioli is a delicious and easy to put together appetizer or anytime snack. It uses the air fryer method and is ready in under 20 minutes.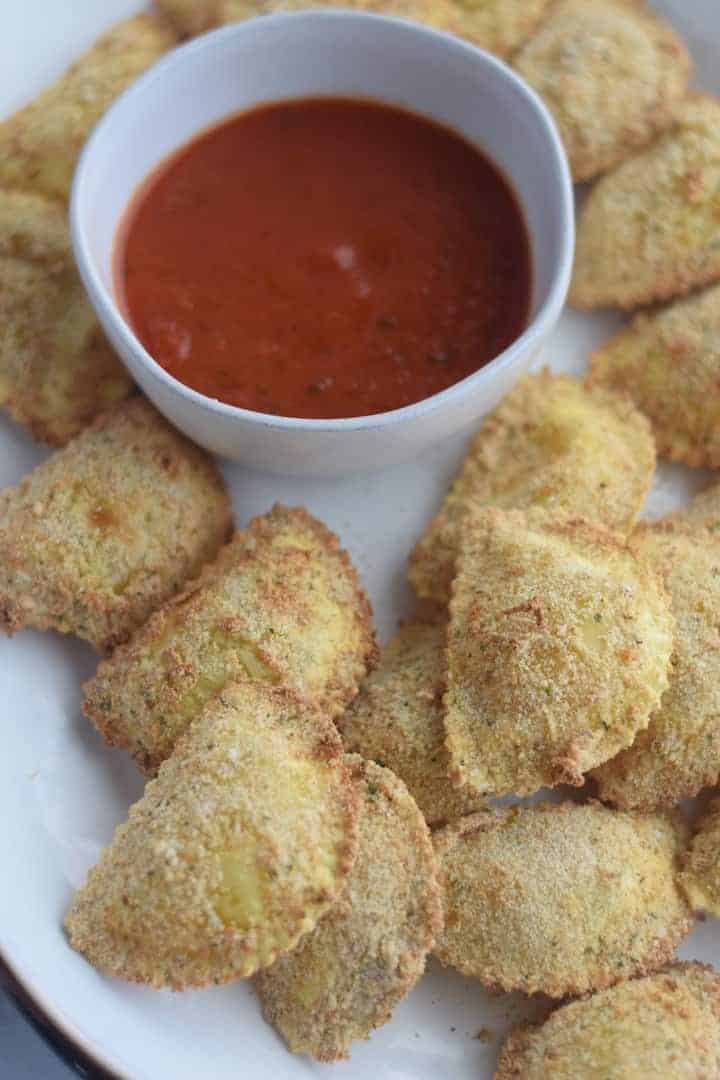 Ninja Foodi Ravioli
This is perfect and yummy appetizer that takes little effort and pairs well with a variety of meals!
This Ninja Foodi ravioli only uses three simple ingredients – store bought ravioli, eggs, and Italian seasoned bread crumbs.
It pairs nicely with a marinara or your favorite tomato pasta sauce.
And it uses the Air Crisp function which can easily be adapted to most air fryers.
Ninja Foodi Recipes You May Like:
What type of ravioli to use
For this recipe, you can use any fresh or store bought ravioli. If you use store bought, grab the refrigerator version over frozen.
How to Make air fryer ravioli in a Ninja Foodi
Begin by assembling the ingredients. Coat the ravioli in the egg mixture, then coat in the Italian style bread crumbs.
Place inside of the air crisp basket (that came with the Ninja Foodi) in a single layer.
Crisp for about 5-6 minutes or until lightly golden brown.
Serve with your favorite tomato sauce or a simple marinara sauce.
Why air fry ravioli?
There's some really great benefits for using an air fryer over conventional frying methods.
Such as, it's lower in fat because you don't need to use oil to cook the ravioli.
Also, an air fryer doesn't leave behind horrible fried food smells in the home. It is something that keeps me from frying food around here!
And it is quick! These ravioli air fry in about 5-6 minutes. Easy, peasy.
More Delicious Recipes: