Do you know how to clean the air in your home naturally with simple natural products? I'm sharing a few simple swaps or changes to create clean air in the home.
I've been on a big mission to live naturally and green in our home for a few years now. We have made several great transitions, but definitely aren't perfect.
Our home detox is making great progress by working small. Today I'm sharing how to clean the air in your home, naturally.
Because one of the biggest things we want in a natural home environment is one free of toxic air.
Did you know that the air in the average home is 3-5 times more polluted than the air outside? And with about 87% of people (more during the recent events) spending most of the time indoors.
There are many contributing factors to this indoor air pollution, and I'm going to share some of them here!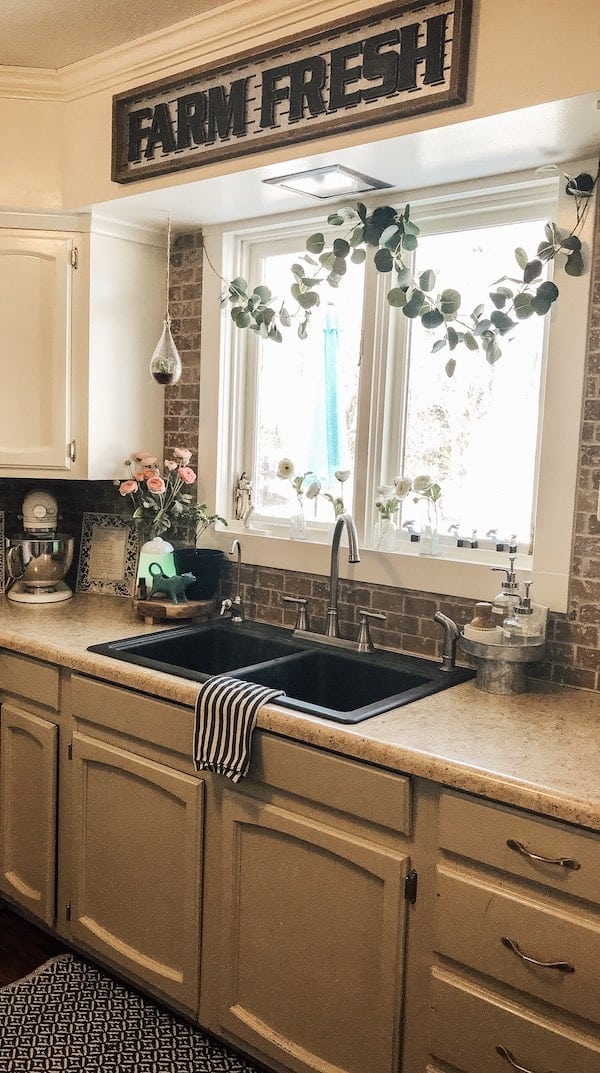 How to Clean the Air in Your Home
I think that a good idea to making any changes towards a more natural lifestyle is to start small. Make small changes over time!
Don't get overwhelmed. I was pretty stressed when I started working on making our home more natural. But where do you even begin?
My first step after researching natural living ideas, was to begin to include my family in making small changes. When I got my family involved, it helped us to make the transition more smoothly.
Because my children are pretty young, I've found that giving each family member something to take a part of individually helps them to feel proud and take ownership of these changes.
One of the best changes to make in the home is to clean the air! And according to the Environmental Protection Agency, indoor air pollutants are 2-5 times higher than outdoors.
Many diseases & illnesses have been tied to poor air quality.
That's sounds pretty crazy, right?
And I'm not writing all of this to scare you. I'm just sharing what we've become aware of and how we made changes.
So, let's chat about a few of the natural ways to clean the air in your home.
Related: 10 Toxic Items in the Home (and what to replace them with)
Volatile organic compounds – what you need to know!
Ok, so what exactly are volatile organic compounds and why does it matter?
Volatile organic compound (VOCs) are chemicals in many products that are in the home. Some common VOCs are formaldehyde, benzene, ethylene glycol, many other household fumes and odors.
Here are some common sources of VOCs:
cleaning products
air fresheners
scented candles
cigarette smoke / secondhand smoke
building materials like plywood & glues
many more…
So, let's start by ditching the fumes!
With a few small changes, cleaner air in the home is possible! I'm sharing my favorite tips and resources here.
#1 Clean the Home (Often!)
Keeping the home clean and doing so regularly is a huge way to improve air quality in the home. And having a solid routine is key.
In addition to keeping on top of house cleaning, using natural products is essential. Using products that are full of unnatural ingredients will just add toxic chemicals back into the air.
And I don't know about you, I sure don't want my family breathing in those chemicals.
Honestly, when discovering exactly what was in all of the commercial cleaning products is what pivoted me into a more natural lifestyle. I was pregnant with my first child and I began to research, everything.
Related: Getting Started with Natural Cleaning Products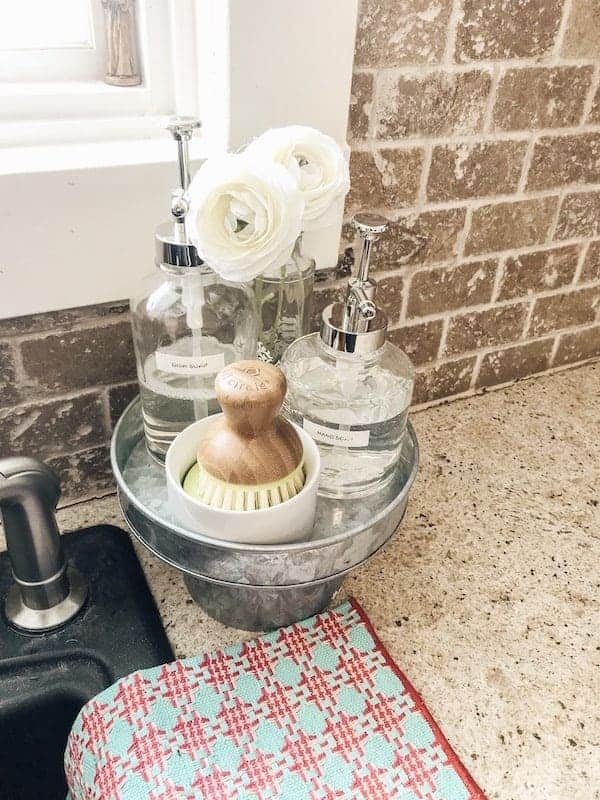 #2 Use Charcoal Filters
I love these natural little air filters, they really are one my favorite natural air purifiers. I have them placed in various locations around the house including the inside of the refrigerator!
Each little filter covers about 90 square feet. And they work to remove odors, allergens, and harmful pollutants.
One filter lasts a long time and is rechargeable by placing it in the sun.
This is the charcoal filter that we use and love!
These bamboo charcoal filters also help to prevent mold by absorbing moisture. Which is pretty awesome since mold is such a horrible pollutant.
#3 Diffuse essential oils
Instead of lighting up a candle that could potentially have harmful chemicals, reach for some essential oils. These potent little gems are a powerhouse for cleaning the air.
I keep them in a variety of locations throughout our home. One that is most often used is in our kitchen and helps keep cooking smells from taking over the house.
Here are a few essential oils that will help clean the air in your home:
Citrus oils like lemon, wild orange, bergamot, and lime
Tea tree oil is known for germ fighting and air purifying
Lavender is pretty calming and also smells great!
Doterra makes a purify blend and their On Guard blend are great choices
Eucalyptus is another favorite of mine that smells super fresh!
I like Mountain Rose Herbs essential oils! And most of them are organic!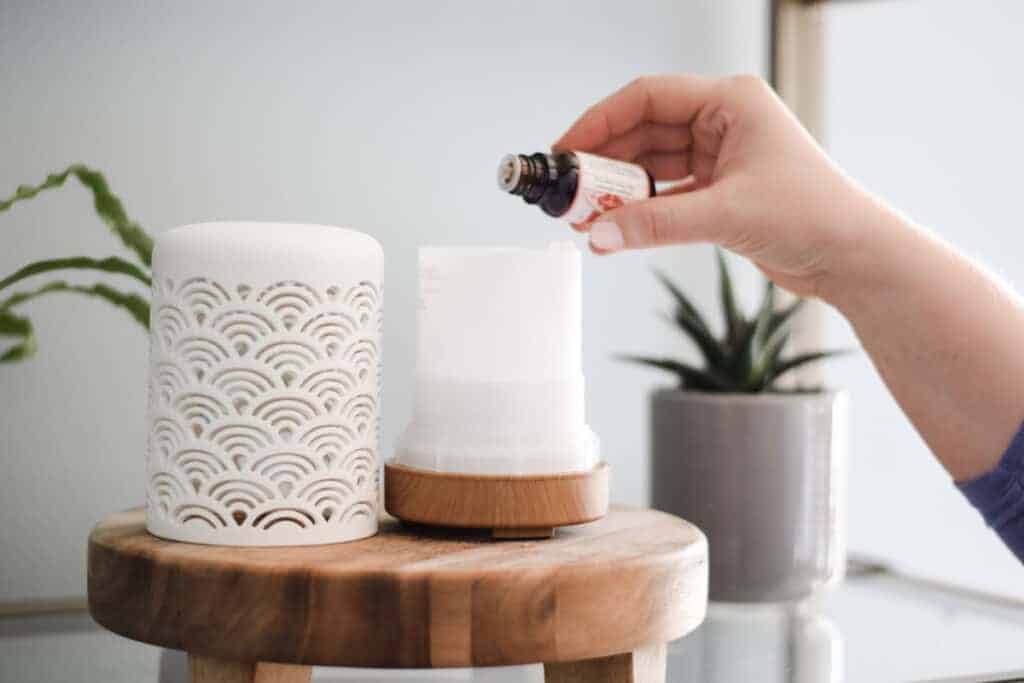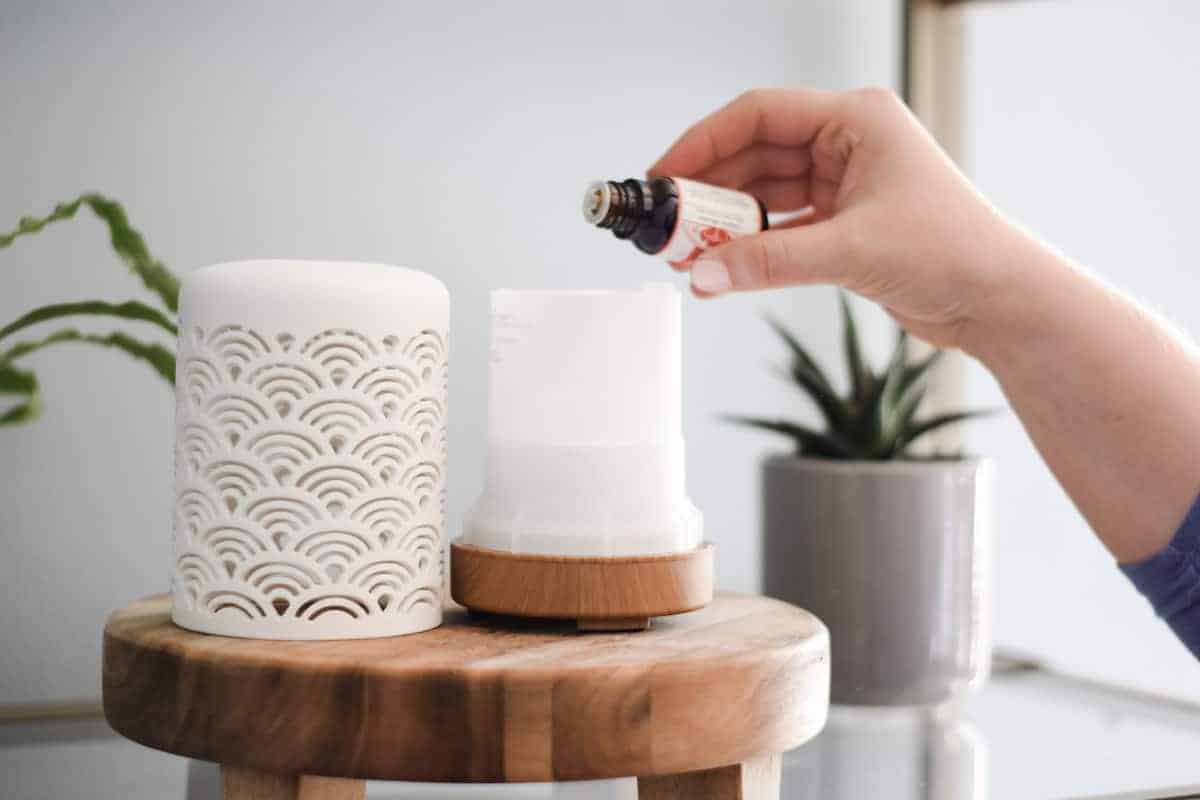 #4 Add air cleaning houseplants to your home
Not only do they make really cute home decor, houseplants can actually serve a great purpose. There's a huge selection of houseplants that help clean and improve the quality of the air.
Indoor plants help clean the air by absorbing toxins and improve the home's air quality.
Here are a few plants to consider: spider plant, English ivy, bamboo palm, golden pothos, peace lily, snake plant, boston fern, and devil's ivy.
Here are 15 Best Air Cleaning Houseplants with tips on how to grow and care for these plants.
Plus, there's many more added benefits of houseplants. They help reduce stress and are therapeutic, for starters. They really make a great addition to any living space or home office!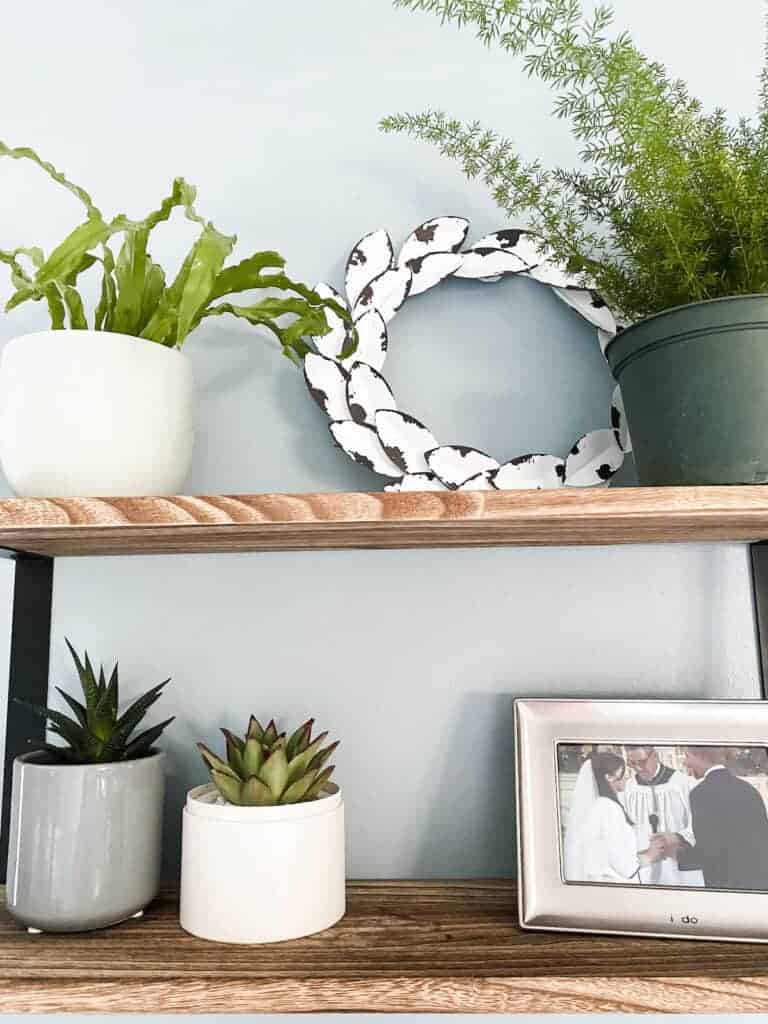 #5 Open Windows
I know it is such a simple thing. But I often don't even remember to open a window to let in fresh air. So this is also a great reminder for myself! But it really is the best way to freshen up and clean out air.
Especially during the winter months, this is usually not on my mind!
However just opening a window for about 5 minutes on a daily basis will make a huge impact. And I don't notice the heat escaping in such a short time frame during the winter months.
The best way is to avoid the growth of mold is to allow proper ventilation in the home and also keep humidity levels down. Proper air flow is a great way to help prevent mold spores from growing.
#6 Try Himalayan salt lamps
Some of the many health benefits of a Himalayan salt lamp include decreasing air pollution and negative ions in the home.
This works because they are made from a solid block of Himalayan salt that has been hand carved. The warming of the salt particles when the lamp is turned on helps to give those awesome benefits.
#7 Beeswax candles
Oh my, did you know that most scented candles contribute towards poor indoor air quality? Before I began my natural living journey, I had scented candles burning in various places of my home.
But… they are a serious problem! Scented paraffin candles are a big contributor towards releasing toxic chemicals into the indoor air we breathe.
If you want to use candles for a relaxing vibe, reach instead for naturally made beeswax candles!
Read the label or product information really well though. Some are not authentic and are filled with bad ingredients. Or make your own!
#8 Hepa filter vacuum
HEPA stands for high efficiency particulate air. Using a vacuum cleaner that has a hepa filter will help to trap the dust particles instead of releasing them back into the air for us to breathe!
These filters also trap mold spores, presents left from dust mites, pet dander and much more.
#9 Use an air purifier
Air purification can be a really good option for many homes. Especially for children with breathing trouble, asthma, or other respiratory problems.
We recently added this air purifier to the home and recommend it. Its on wheels so we can easily move it around the house as needed!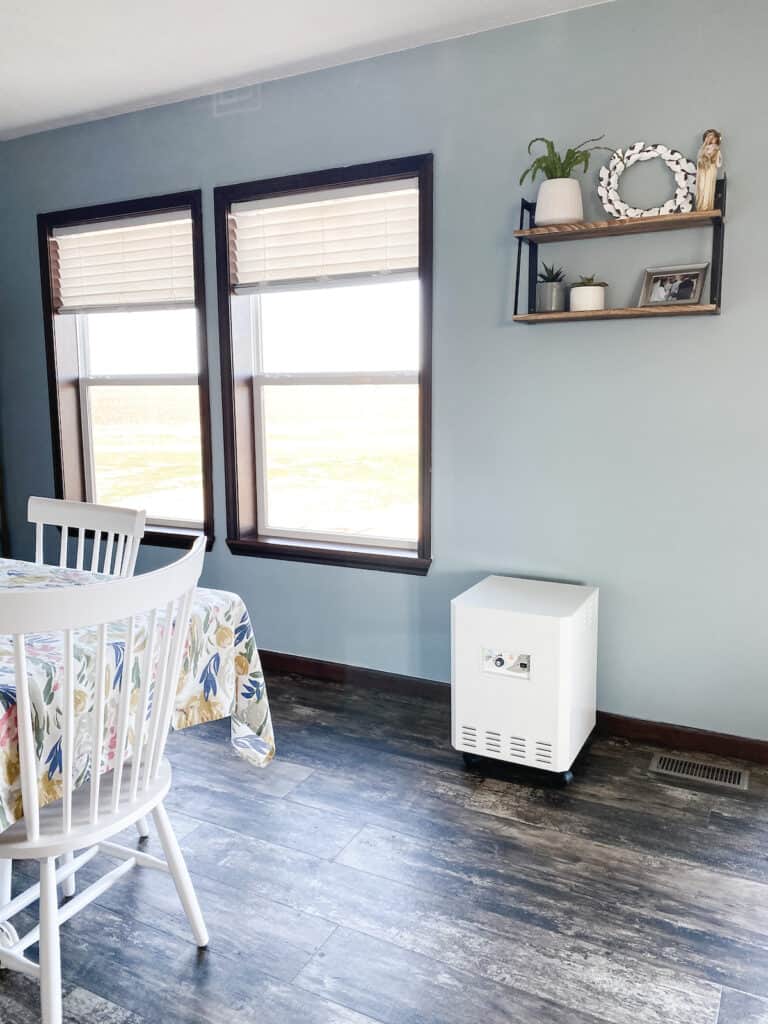 #10 Don't wear shoes indoors
By simply taking your shoes off at the door, you greatly help to keep the home air clean. Think about it – we can walk in some pretty disgusting things throughout the day.
And those things can be brought indoors and lead to toxins in the air. Things that some of us are more sensitive to, such as like pollen. But also we can bring in pesticides, fungi spores, bacteria, mold, and even feces.
I know…gross, right?
When it comes to the health and well being of my family, I want to ensure that I'm providing the best environment!
So making these few changes over time has helped me feel like there's a bit of an impact.
Here are a few more tips for cleaning the air in the home:
Use an air purifier & change the filter regularly
Vacuum often and keep the canister and filters clean
Make sure your home is mold free
Keep your pets groomed to keep the dander away
Run the air conditioner if you have one (great air filter system!)